Britney Spears and Sam Asghari Are Engaged! See Her Incredible Ring
Britney gushed that she "couldn't believe it" as she shared the happy news of her engagement to long-term boyfriend Sam Asghari. It comes as her father Jamie files to have her conservatorship removed and Britney to take control of her life again.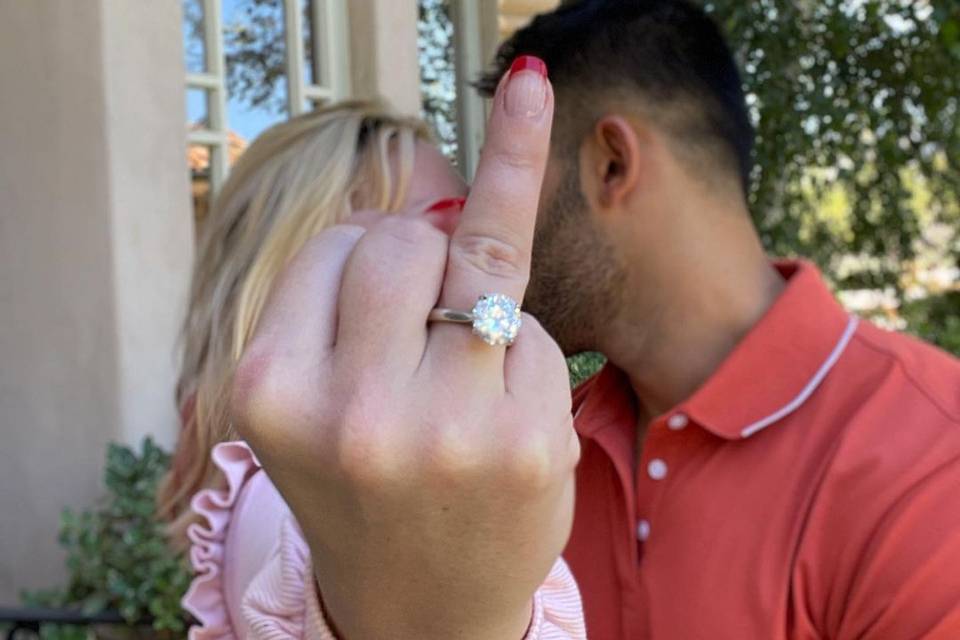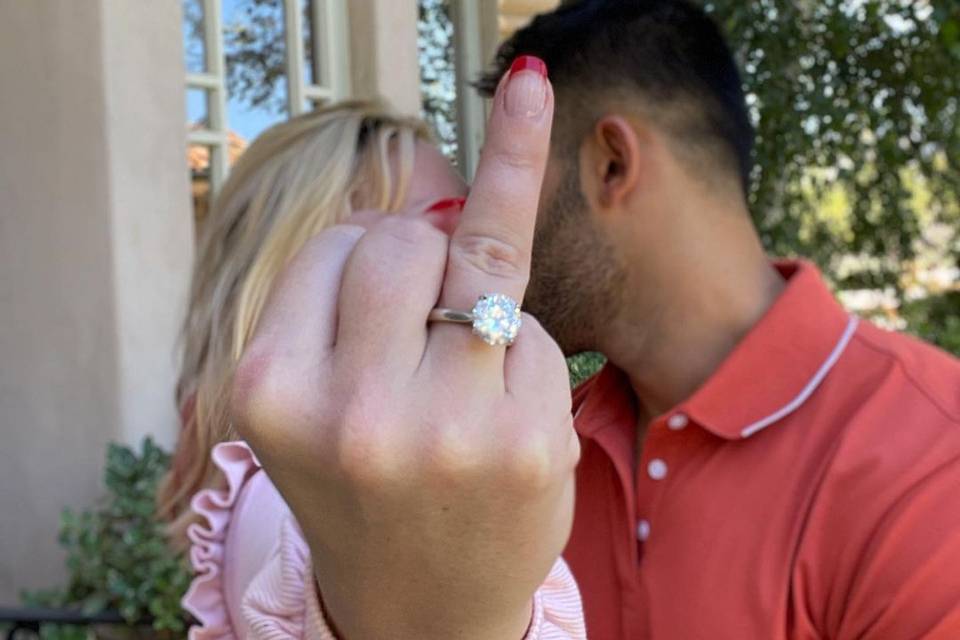 Britney Spears has announced her engagement to boyfriend Sam Asghari in an excited Instagram video.
The Toxic singer showed off her incredible diamond ring as she posed with Sam, writing, "I can't f***ing believe it."
Britney, 39, looked overwhelmingly happy as she showed off the massive piece of bling, while wearing a cute pink dress, black choker and hair dyed red at the ends.
The ring is reported to be a four-carat, round brilliant diamond in a platinum cathedral setting with a floating solitaire design. It also is apparently engraved with the word 'Lioness'.
View this post on Instagram
Her post was full of well wishes from fans and celebrities. "Congratulations love!! So happy for you! Welcome to the club!" wrote Paris Hilton, while Drag Race's Michelle Visage added, "CONGRATULATIONS!"
In a cheeky aside, Oscar-winning actress Octavia Spencer wrote, "Make him sign a prenup", which was liked by nearly 20,000 of Britney's fans.
Actor and fitness trainer Sam has been dating Britney since the couple met on the set of a music video in 2016.
He also posted a photo of the couple kissing and Britney flashing her ring, with emojis of a king and a queen.
View this post on Instagram
Britney is currently fighting to end her 13-year conservatorship which has prevented her from marrying Sam, 27, or having more children.
It was imposed in 2008 and only since last year has she been able to go before a judge to ask to end the "abusive" conservatorship.
Her father Jamie recently stepped down as conservator and last week filed papers asking a court in Los Angeles to end the conservatorship entirely.
This welcome development has paved the way for Britney and Sam's engagement and we couldn't be happier for the pop queen.
Sam's manager Brandon Cohen confirmed the news to People magazine and said: "The couple made their long-standing relationship official today and are deeply touched by the support, dedication and love expressed to them."
View this post on Instagram
Britney has been marred twice before. She married her childhood friend Jason Alexander in Las Vegas in 2004, but the marriage was annulled after just 55 hours.
In the same year, she married dance Kevin Federline with whom she has sons Sean Preston and Jayden James. They divorced in 2007.
Iranian-born Sam has stood by Britney throughout all the ups and downs of the past five years and we wish them all the best for a happy marriage!