Dreaming of a wedding abroad filled with romance, views and wonderful weather?
If so, Lake Garda in the north of Italy is an ideal spot. The scenic surroundings and alpine region make this Italian region a seriously popular wedding destination for UK couples.
READ MORE: 17 Reasons To Get Married in Italy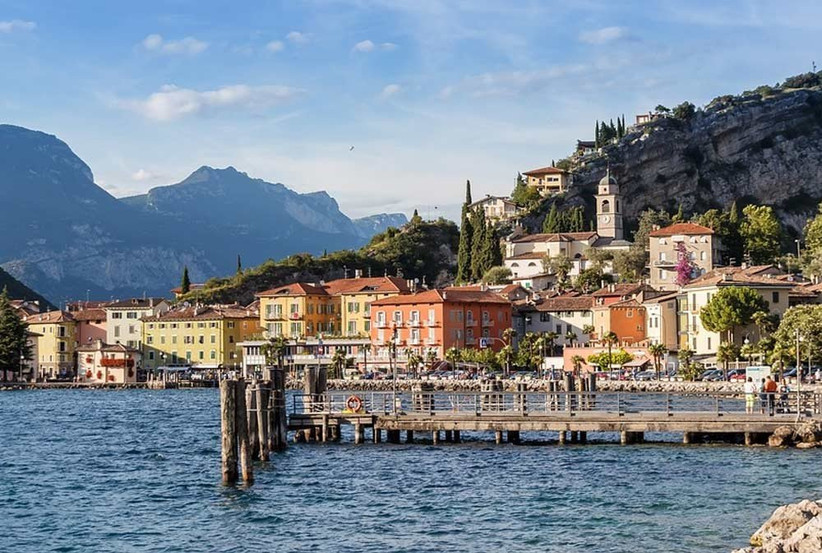 About Lake Garda
This area of Italy is famed for its luminous environment, flourishing vegetation and transparent water are all factors that come together to make this lake the most charming in Italy.
Not only are there untold amounts of scenic locations to spend your days, host your weddings and celebrate after, there are also plenty of other activities that you can enjoy.
Boat trips on Lake Garda, water sports, and shopping are just some of the many things that the lake can offer you and if you plan on extending your wedding trip, you could even enjoy some day or short break excursions.
Places such as Venice, Verona, Florence and Milano are all within reach for a shorter trip so you can easily spend a day or overnight stay in one of these other sought after Italian locations and then return to the lake for a few more days in paradise.
When spending time in Lake Garda itself, be sure to enjoy the fine wine tasting tours and picturesque lake front walks and strolls, they're amazing for calming wedding nerves and spending precious time with the love of your life.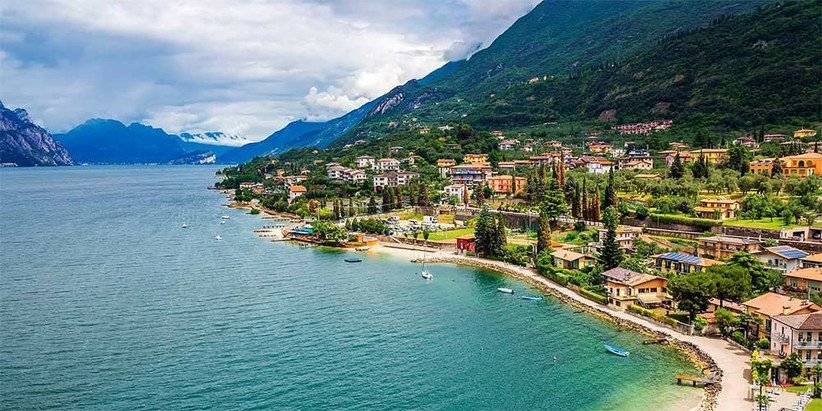 Within the Lake Garda, there are a few different areas that you can choose to stay in:
Bardolino
Couples seeking stunning views of the lake and colourful harbour will just love Bordolino. The town itself is home to some seriously cute and charming cobbled streets filled with restaurants and bars where you can celebrate your marriage in style. (P.S – the red wine is amazing!)
Malcesine
With plenty of medieval architecture and outdoor terraces, the backdrop here for your wedding photographs will be unbeatable. Situated on the eastern shore of Lake Garda, Malcesine also has opportunities for hiking, skiing and mountain walking on the gorgeous Monte Baldo.
Garda
Garda is a truly historic town which will greet you with a sophisticated and relaxed atmosphere, perfect for couples who want a tranquil vibe for their wedding. There are also amazing ferry connections with the nearby towns so you can split the day up and have your ceremony in Garda, and then sail off to Bardolino which is just two miles away for a fun reception!
Riva del Garda
Situated north of the lake, Riva del Garda is a truly picturesque resort set within a medieval walled town that is beyond stunning to look at. If you and your partner would prefer an intimate and traditionally Italian wedding, this is the perfect place for it.
Information on Lake Garda
When it comes to traveling to Lake Garda from the UK, there are three nearby airports for you to choose from: Brescia (30 minutes), Venice (2 hours) and Trieste (3+ hours).
Planning a wedding in Italy can be such fun for the bride especially. With the incredible culture, natural style and charming wedding venues make it impossible to not have a picture-perfect wedding day.
Lake Garda is the ideal home for a glamorous wedding whether it's in the sunny summer climates or the frosty winter months, you can really plan something incredible.
Taking full advantage of the five islands including Isola del Garda and Isola San Biagio, and using fancy and sophisticated repection décor, your wedding in Lake Garda will be something that you, your partner and your guests will most definitely never forget.
With so many other Italian destinations that are also tempting to visit, why not extend your wedding celebrations and also enjoy an Italian honeymoon break straight afterwards.
With locations like Tuscany, Lake Como and Sorrento also within the country – the possibilities to enjoy a getaway in Italy really are endless!