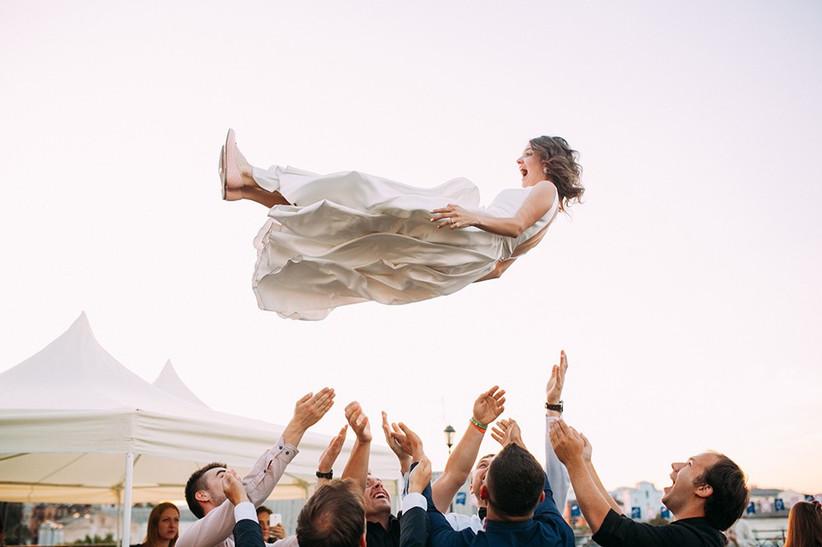 Are you and your partner rockers at heart? If you'd rather air guitar your way down the aisle and head-bang through your first dance, we've picked out some of our favourite rock wedding songs to inspire you.
From serious rock anthems to the slightly more tongue in cheek, you're sure to find some inspiration here. Scroll down for the full Spotify playlist.
If you're looking for an unusual first dance song, we have a roundup of those too!
Canon Rock in D Major – Pachelbel
So 'Canon in D' by Pachelbel is a classic, no one can argue with that. But if you want to give it a rock twist, use this amazing electric guitar version of the song – walking down the aisle has never been so cool!
You Really Got Me – The Kinks
The riff in this song is iconic – whatever part of your wedding you use it in, your guests will instantly recognise it. To really add to the atmosphere, why not ask your wedding band to perform it?
Good Riddance (Time of Your Life) – Green Day
Whilst the title isn't that cheery, this could definitely work as a wedding song. 'In the end it's right, I hope you have the time of your life'!
No One Knows – Queens of the Stone Age
This song is rocky and sentimental – we love the lyrics: "Heaven smiles above me/What a gift here below/But no one knows/The gift that you give to me/No one knows".
She Drives Me Crazy – Fine Young Cannibals
If you want a classic 80s sound at your wedding, consider this classic by the Fine Young Cannibals. It's perfect for dancing to if you're crazy about your other half.
You Shook Me All Night Long – AC/DC
Couples who love rock guitar solos and heavy anthems should consider 'You Shook Me All Night Long' by AC/DC – air guitars at the ready.
Brown Eyed Girl – Van Morrison
If the bride is brown-eyed you need to include this classic from Van Morrison. It's a lovely first dance song but would also work really well for a father/daughter dance.
Marry Me – Train
You only have to browse our real wedding section to know this song is a classic when it comes to weddings. It's a great alternative 'walking down the aisle' song.
I'd Do Anything for Love (But I Won't Do That) – Meatloaf
What won't Meatloaf do for love? We don't know. But we do know this is an excellently atmospheric first dance song.
White Wedding – Billy Idol
What's a wedding without this song? Tell everyone what a nice day it is for your white wedding by including this song in your wedding playlist.
Champagne Supernova – Oasis
Those who love their 90s Britpop should definitely consider this classic from Oasis. Watch all your wedding guests throw their heads back and join in with the singing.
Love Her Madly – The Doors
If you love her madly, choose this lovely song by the Doors! The lyrics perfectly some up someone madly in love.
I Don't Want to Miss a Thing – Aerosmith
Everyone knows this song from the 1998 film Armageddon. If you want your rock music with a side of romance, this is the tune for you.
Iris – Goo Goo Dolls
A sentimental classic, 'Iris' by the Goo Goo Dolls is a dreamy choice of first dance song for rock fans.
Everlong – Foo Fighters
This is a beautifully romantic offering from the Foo Fighters, and there are plenty of acoustic versions around too if you fancy a softer take on it for your first dance.
How Sweet It Is (To Be Loved By You) – James Taylor
Brides and grooms who want something a little more upbeat should consider dancing to 'How Sweet It Is (To Be Loved By You)' by James Taylor.
Wild Horses – The Rolling Stones
Do you feel like wild horses couldn't keep you away from your loved one? You need this Rolling Stones classic played at your wedding.
Shut Up and Dance – Walk the Moon
This is a more recent release from pop rock band Walk the Moon – those that just can't wait to get on the dance floor should include 'Shut Up and Dance' to get the party started.
You Never Can Tell – Chuck Berry
Why not recreate the iconic Pulp Fiction dance scene, set to this Chuck Berry song about a wedding? It's the perfect choice of first dance song for film lovers.
Dance Dance – Fall Out Boy
Couples who had an emo phase should definitely include this upbeat offering from Fall Out Boy – it'll get everyone dancing. Just go easy on the eyeliner.
On Call – Kings of Leon
This gorgeous Kings of Leon song is all about being there for someone. It's ideal if you want a meaningful wedding song with a rocky edge.
Starlight – Muse
This is arguably one of Muse's prettiest songs – we can see it fitting in perfectly at an outdoor wedding party as everyone dances under the stars.
Friday I'm in Love – The Cure
Are you having a Friday wedding? Get everyone dancing to 'Friday I'm in Love' by the Cure – no one will be able to resist.
I Believe in a Thing Called Love – The Darkness
How could we write a list of rock wedding songs and leave out the Darkness? As soon as your guests hear the opening bars of the song they'll be filled with joy…
I Want to Hold Your Hand – The Beatles
There's a plethora of Beatles songs to choose from when it comes to wedding music, but we love the slightly more rocky edge of 'I Want to Hold Your Hand'.
Addicted to Love – Robert Palmer
Imagine leaving your wedding ceremony to this song; it's upbeat and catchy and will make everyone feel even more cheery.
Nothing Else Matters – Metallica
Heavy metal fans need to include rock gods Metallica on their wedding day. 'Nothing Else Matters' is romantic and rocky.
It Must Be Love – Madness
This is another great song to leave the wedding ceremony to. Madness will always put a smile on people's faces and get them ready to party.
Luna – Smashing Pumpkins
Any song that repeats 'I'm so in love with you' is a winner when it comes to wedding music. Grunge fans should consider this – it's definitely an unusual first dance song.
Crazy Little Thing Called Love – Queen
Queen have a song for every occasion – this is great for a spirited first dance or for dancing down the aisle to after your ceremony. Consider 'We Are the Champions' or 'Bohemian Rhapsody' for the end of the night.
Use Somebody – Kings of Leon
Because 'Sex on Fire' is not appropriate for a first dance! 'Use Somebody' has all the makings of classic rock song and is easy to dance to.
Sunshine of Your Love – Cream
Fans of the 60s should consider this iconic Cream song. It made it into the Rock and Roll Hall of Fame's '500 Songs That Shaped Rock and Roll'.
Are You Gonna Be My Girl – Jet
Everyone knows this song! But does everyone have it on their wedding playlist? It's the perfect first dance song for the couple who are anything but traditional.
Still in music mode after reading our round up of the best rock wedding songs? Why not check out our ultimate wedding DJ playlist for even more music recommendations from the 1950s right up to the present day.