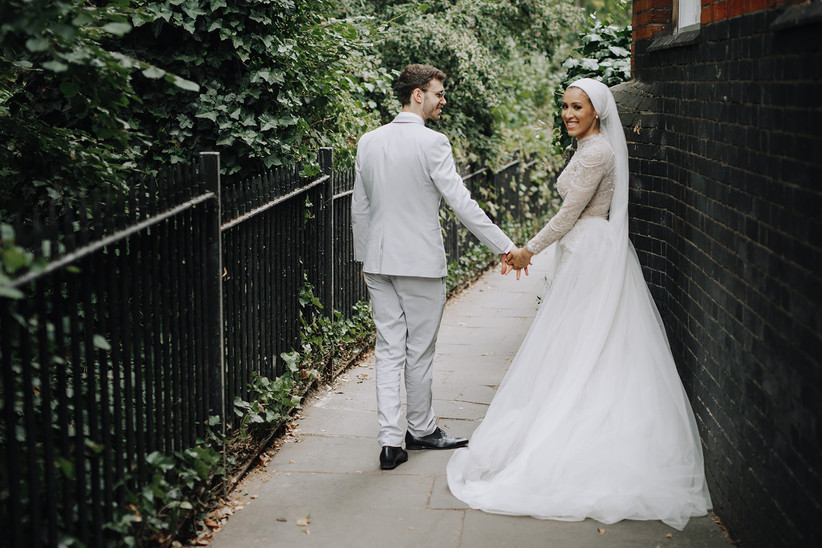 We do love a contemporary city centre wedding here at Hitched HQ and Aliyah and Zayd's central London wedding day certainly delivered our urban wedding day dreams. From the warehouse style wedding venue to the laidback florals and the bridesmaids in trainers, we love how personal and relaxed this day was.
Aliyah and Zayd met at a party aged 18 and Zayd met Aliyah's mum that same day.
Zayd planned the proposal to perfection, although he didn't plan on a certain TV personality being part of the surprise! "The proposal was at Jesus College May Ball and I planned it for about 6 months. I bought a nice tux, I made sure that all my friends knew so that they would be there to share the moment, and I found a ring.
"It was only the day before that I finalised my proposal speech with a friend. It was also on that day that I found out that I would be on stage right after Katherine Ryan's set which I couldn't believe. I thought that I was just going to go up on stage and say the speech, but to my surprise, Katherine introduced me onto the stage and started ad libbing some jokes with me!
"Then I gave the proposal speech – Aliyah said yes! – and it was a magical moment to have all my friends around congratulating us in such a fantastic setting."
After this incredible proposal, Aliyah and Zayd set to work planning their big day at Islington Town Hall and Islington Metal Works with 100 guests.
Photographer: Rachel Takes Pictures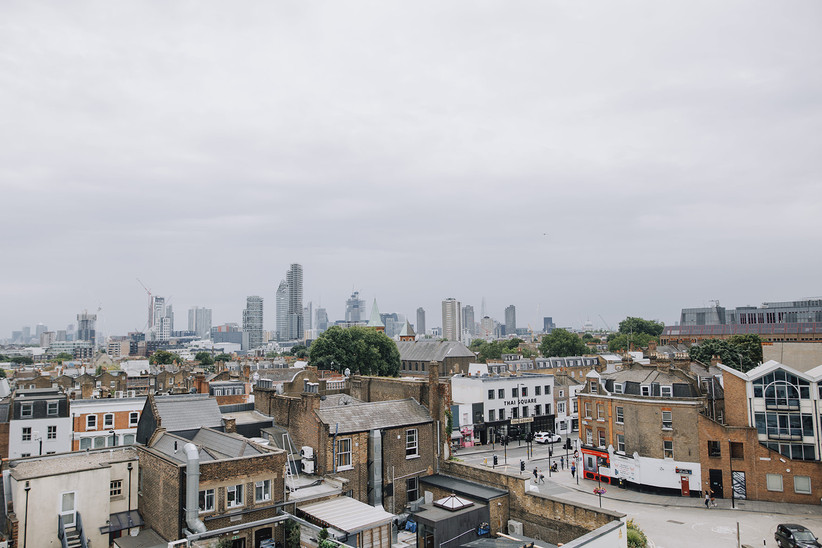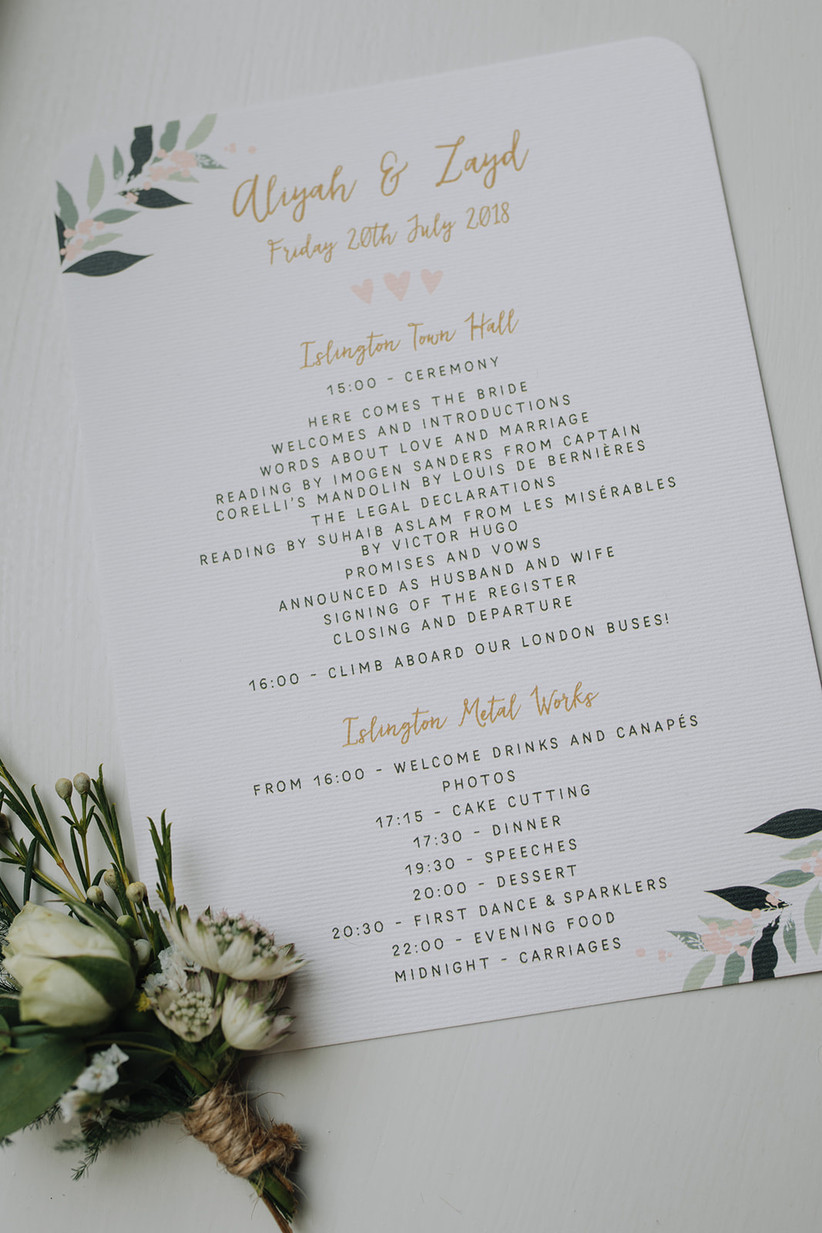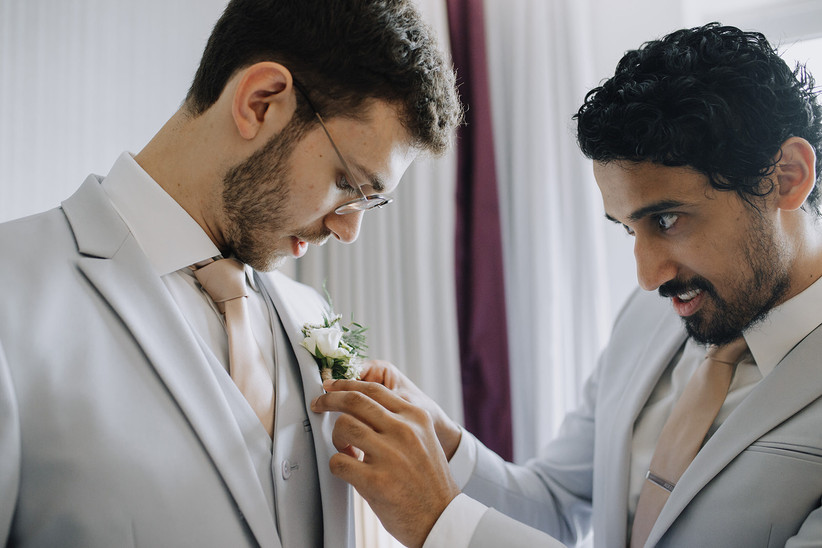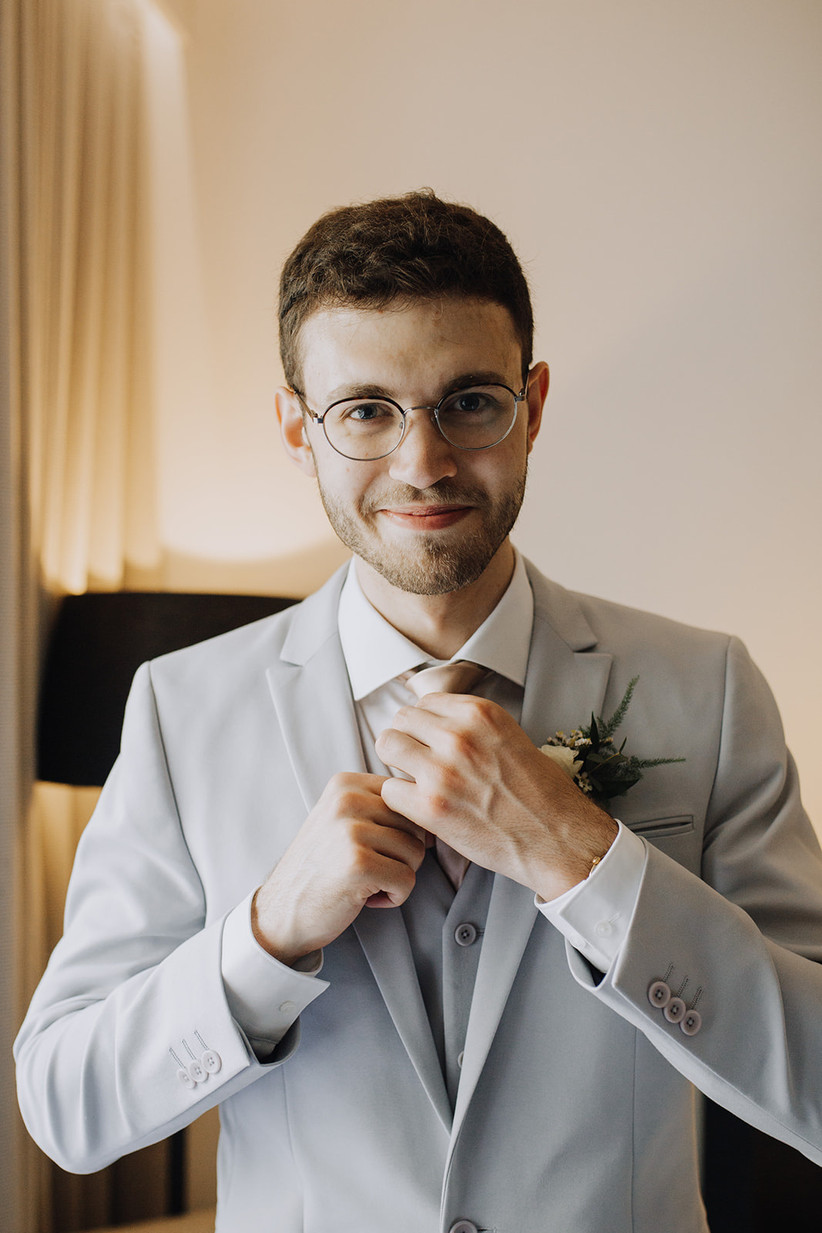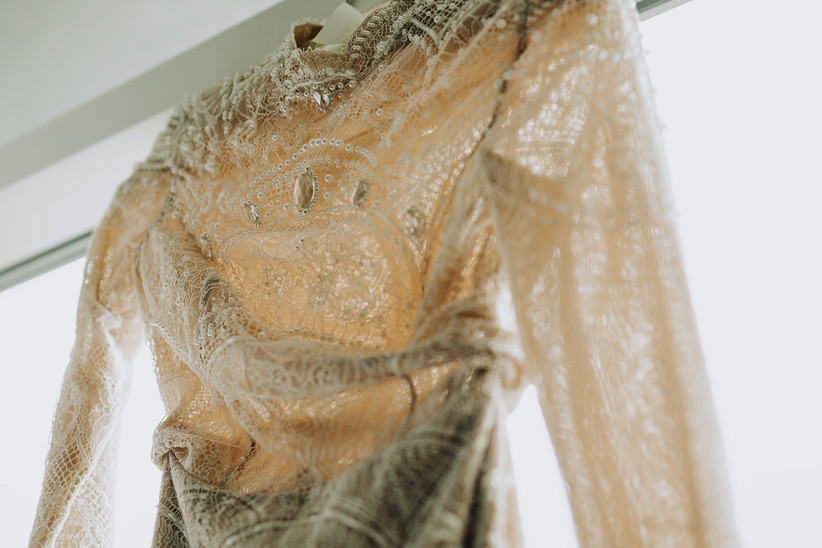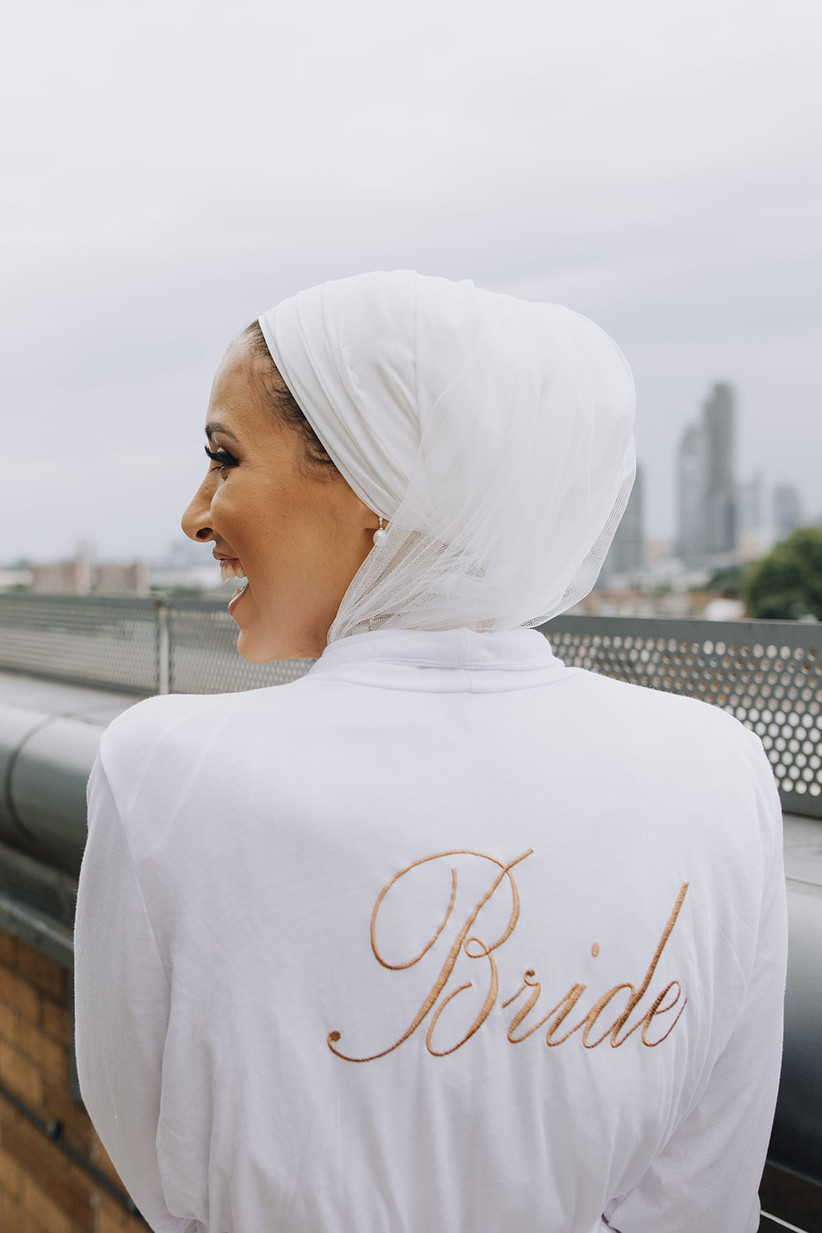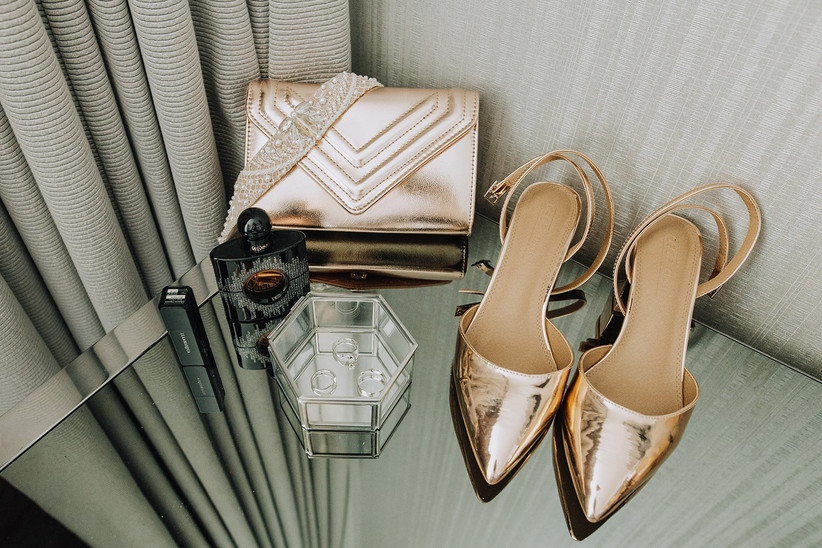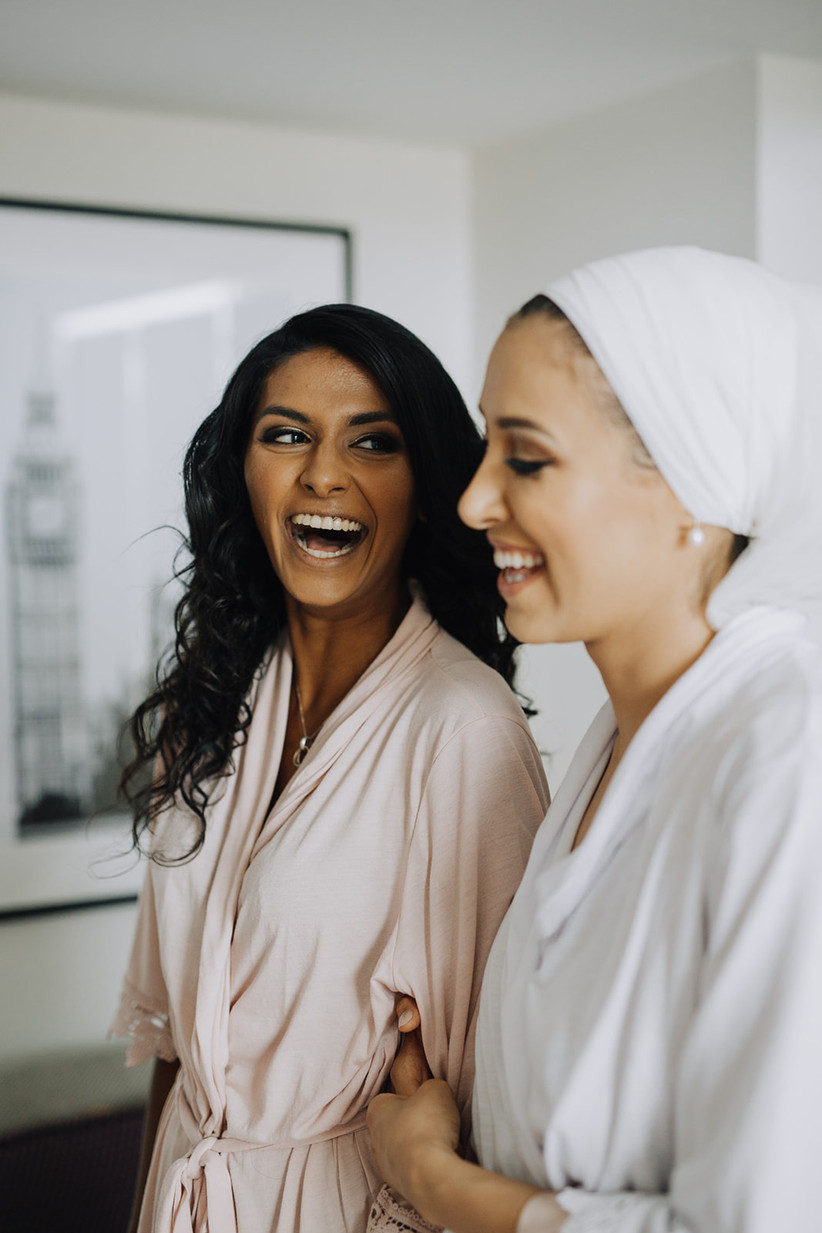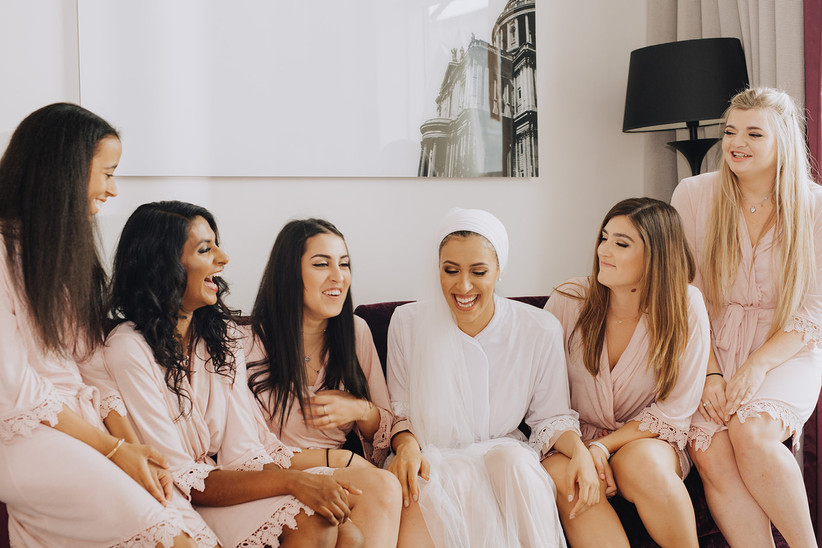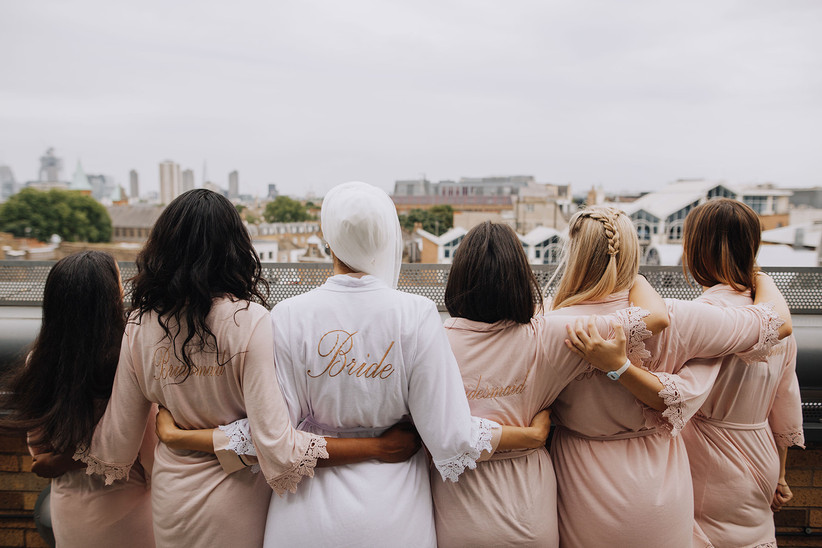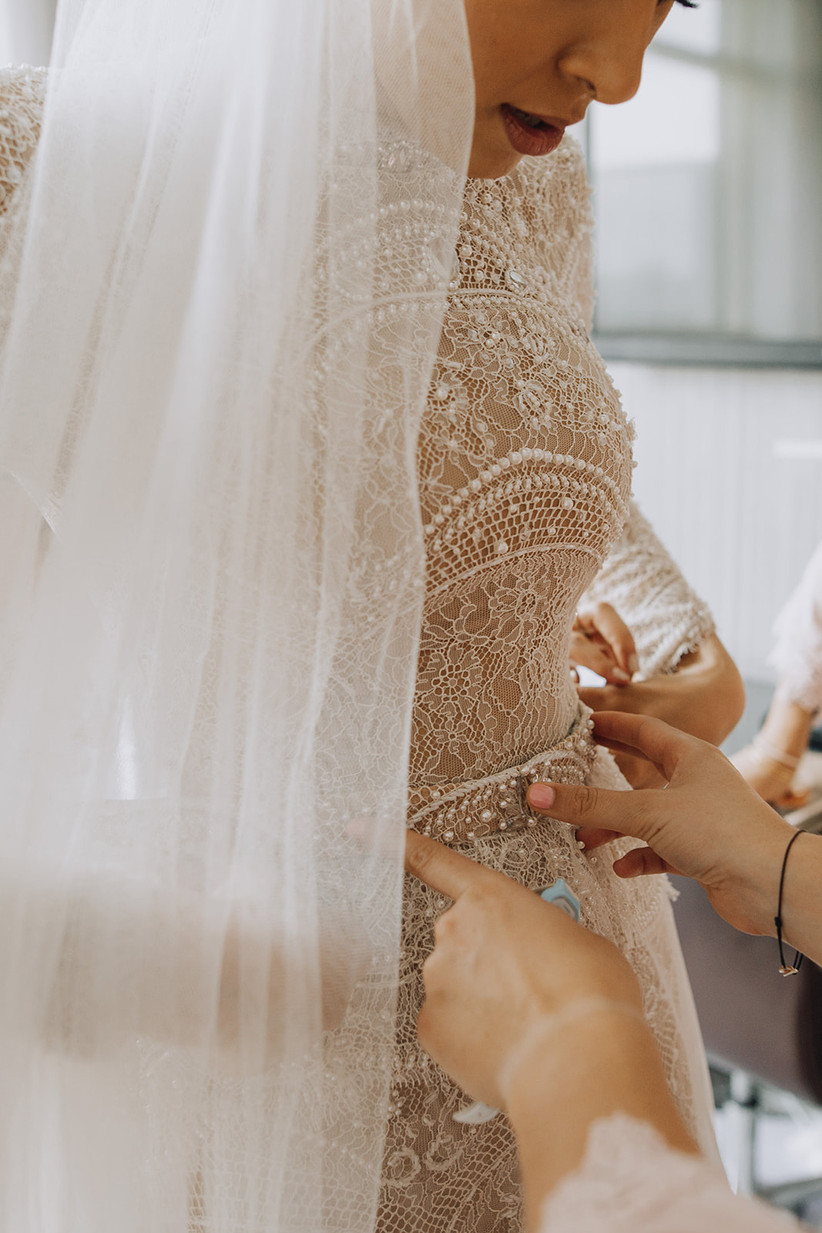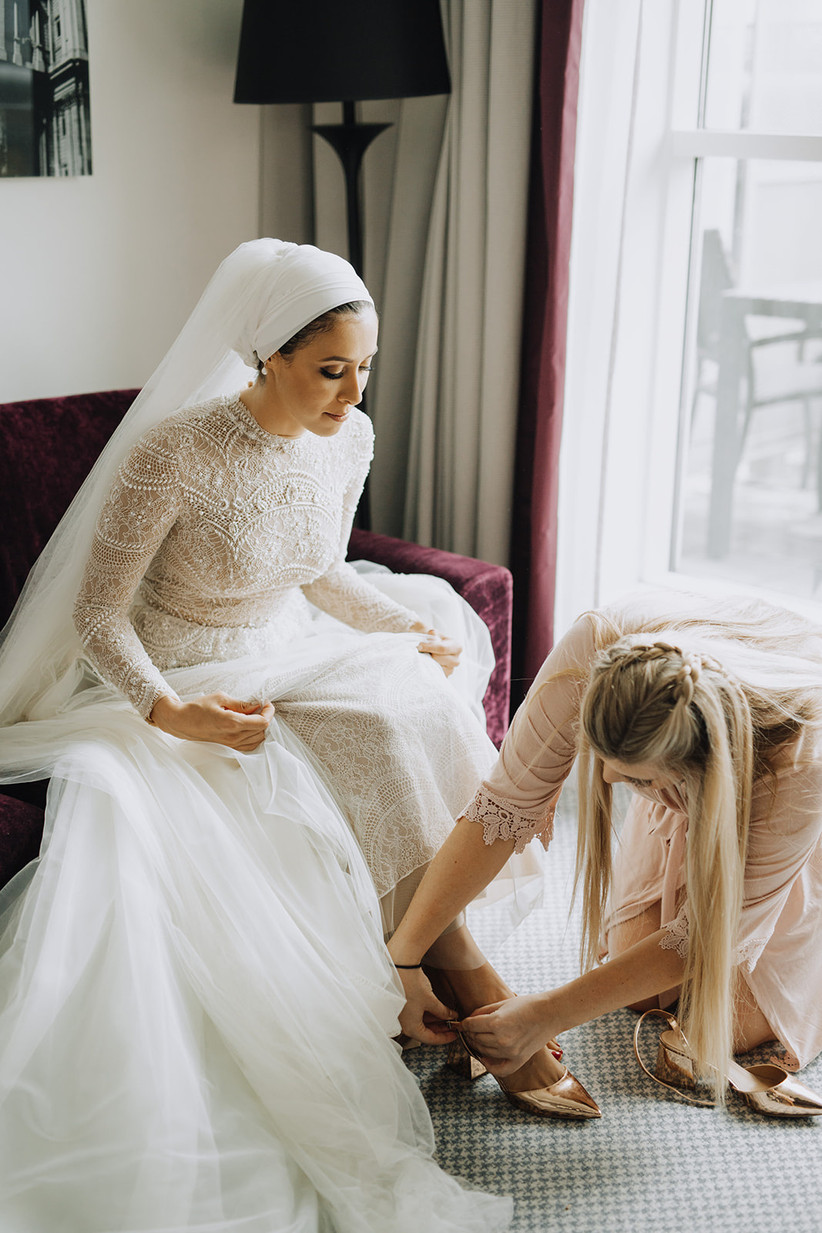 The Wedding Dress
Aliyah wore a stunning, nude, embellished Ersa Atelier gown with long sleeves and a detachable tulle skirt bought from Morgan Davies Bridal. She accessorised the look with a full-length veil, fabulous metallic court shoes and pearl drop earrings.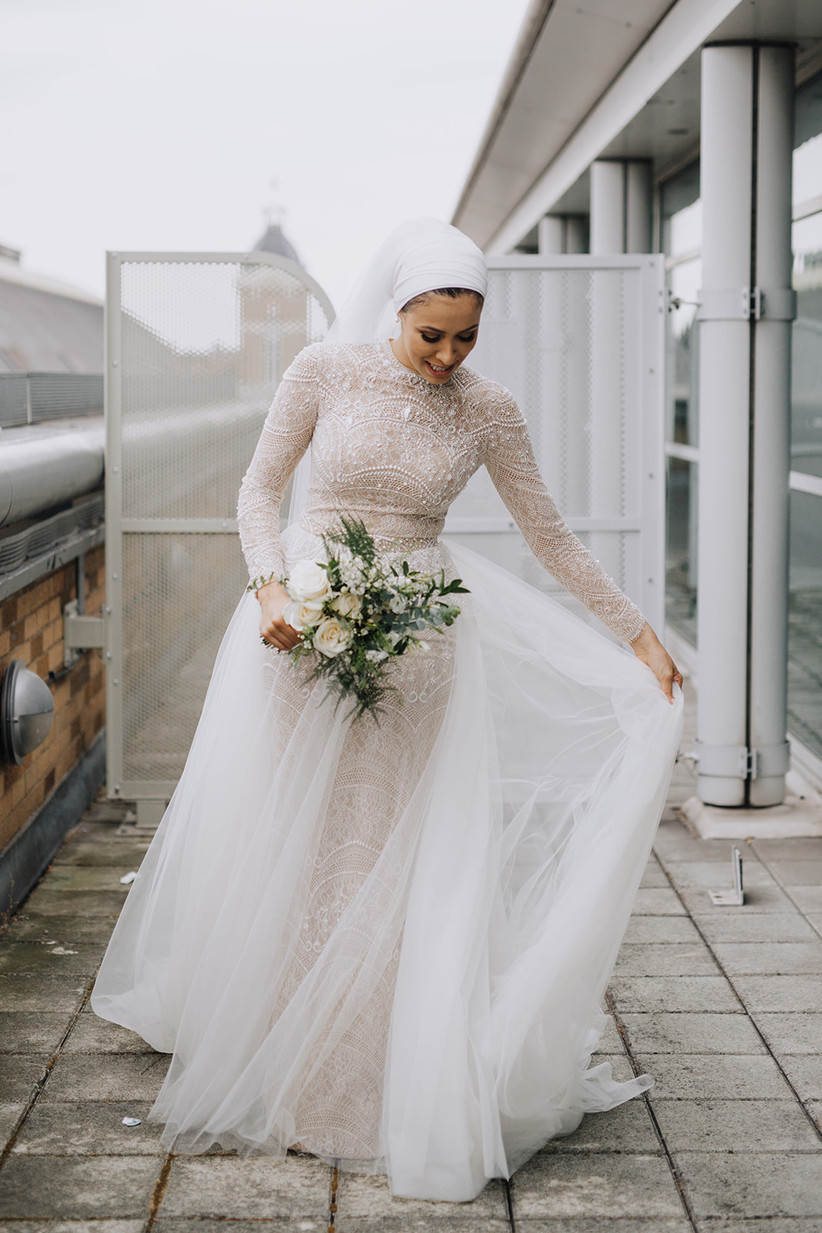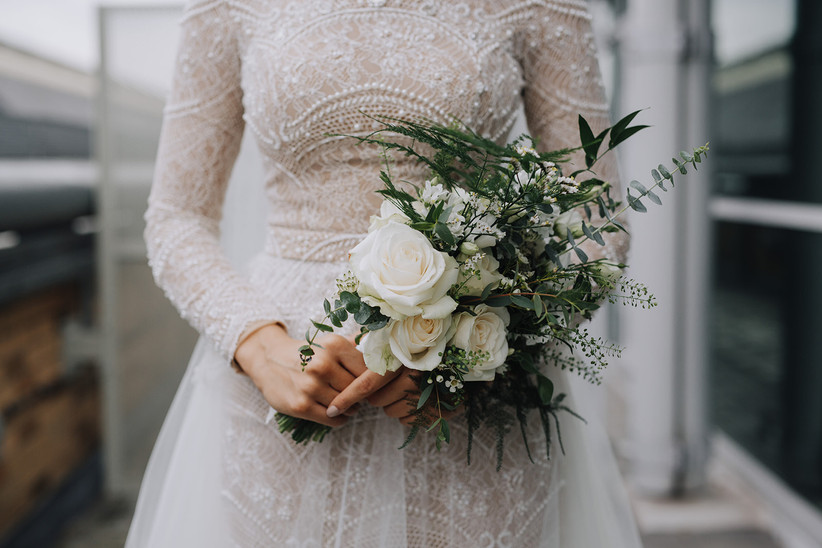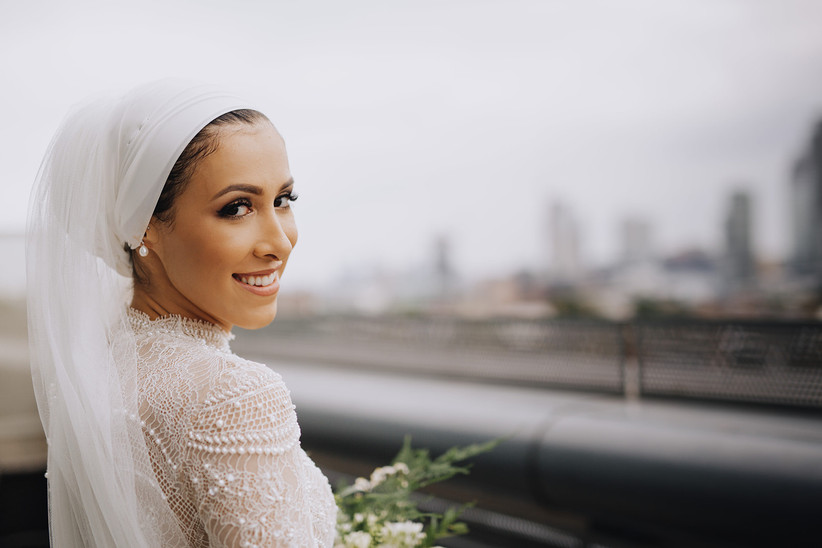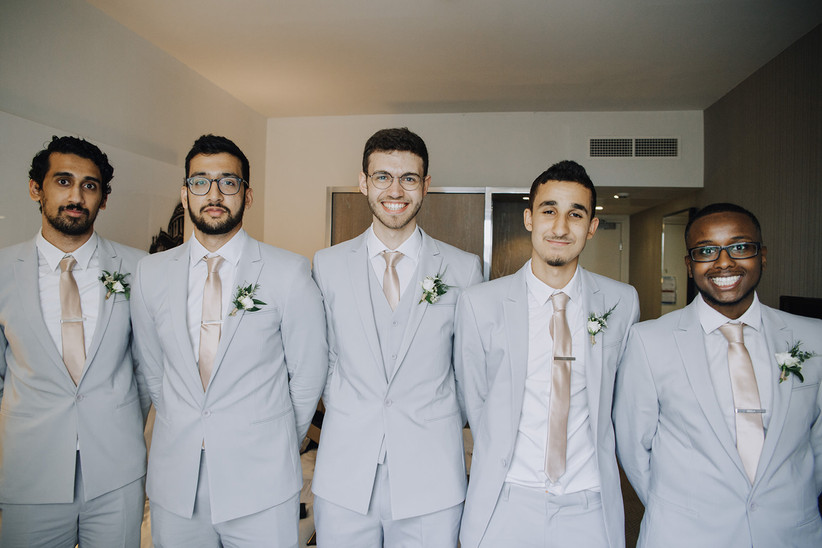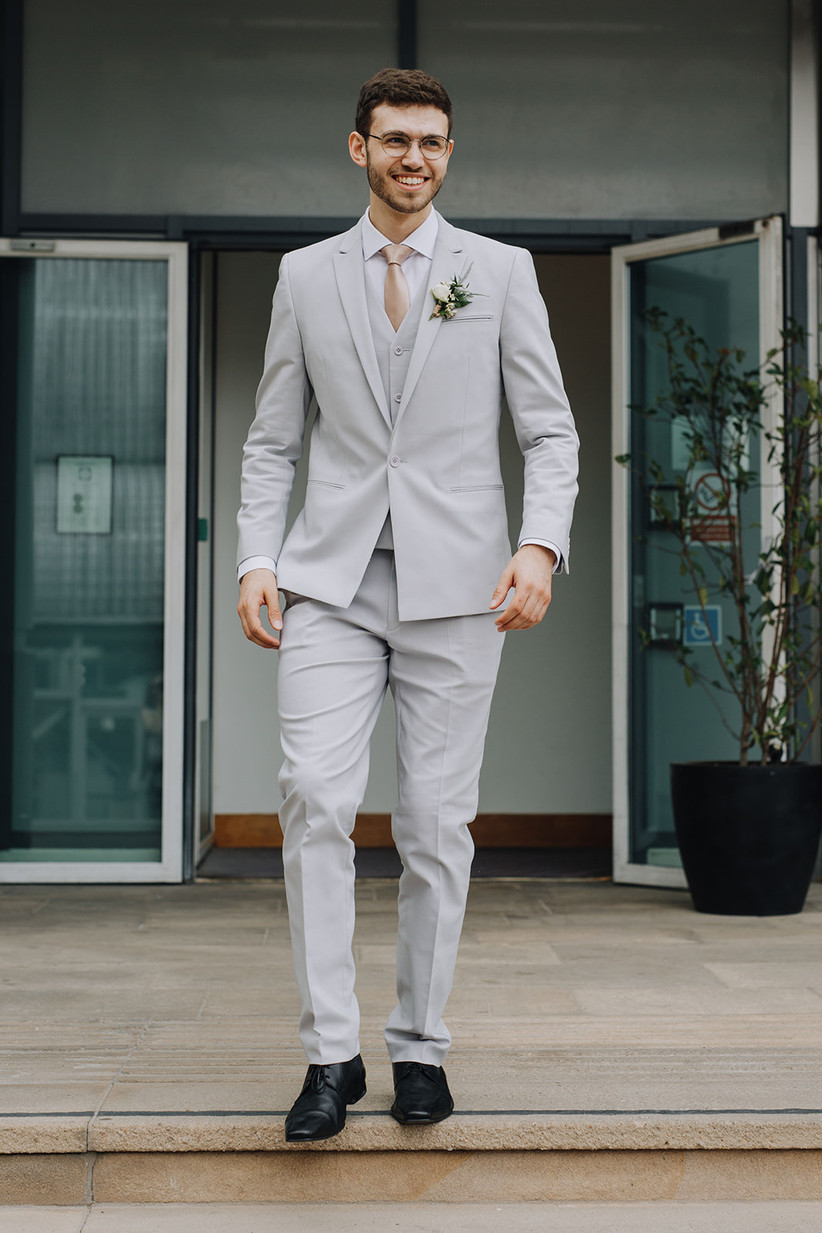 The Bridal Party
When it came to the groomsmen and bridesmaid outfits, the couple turned to online favourites, ASOS. The men looked dapper in pale grey suits with pastel pink ties and simple white and green buttonholes. Aliyah's girls' dresses featured blush tulle skirts and sparkling bodices.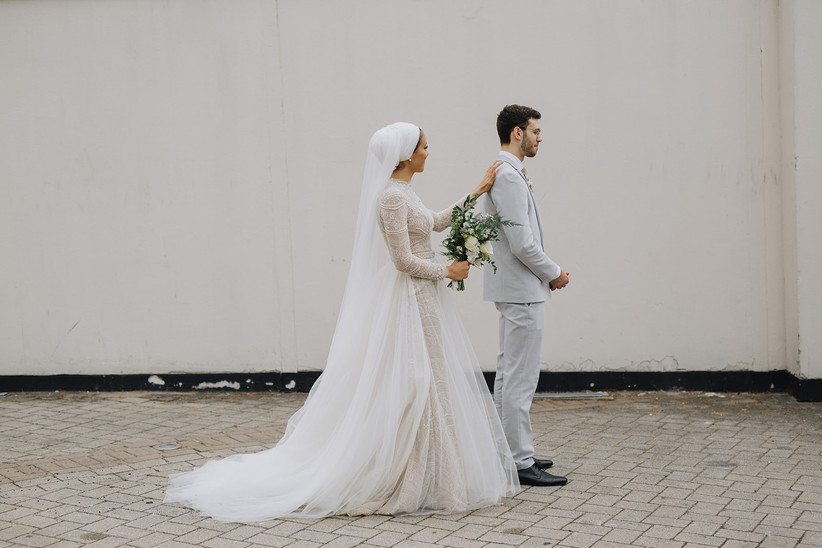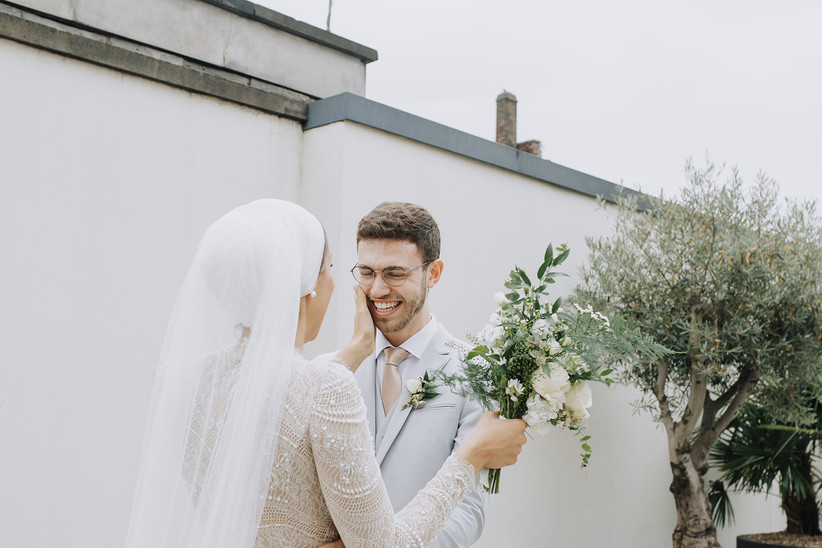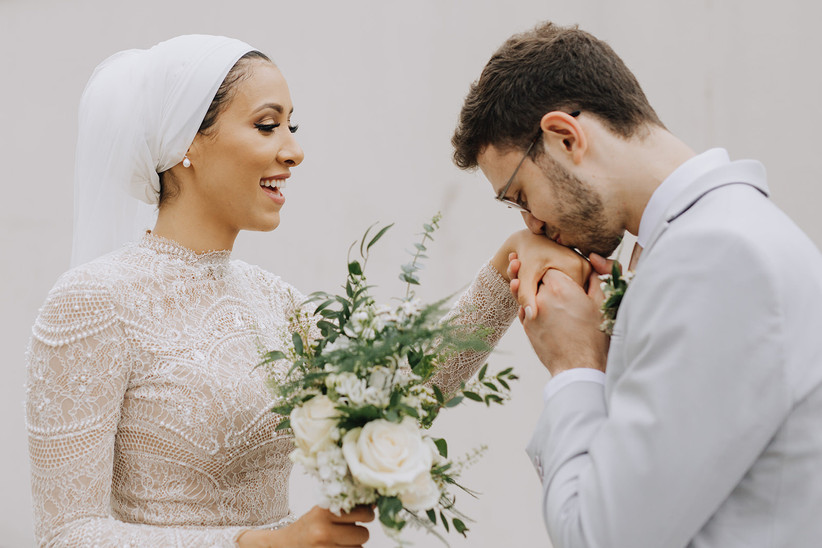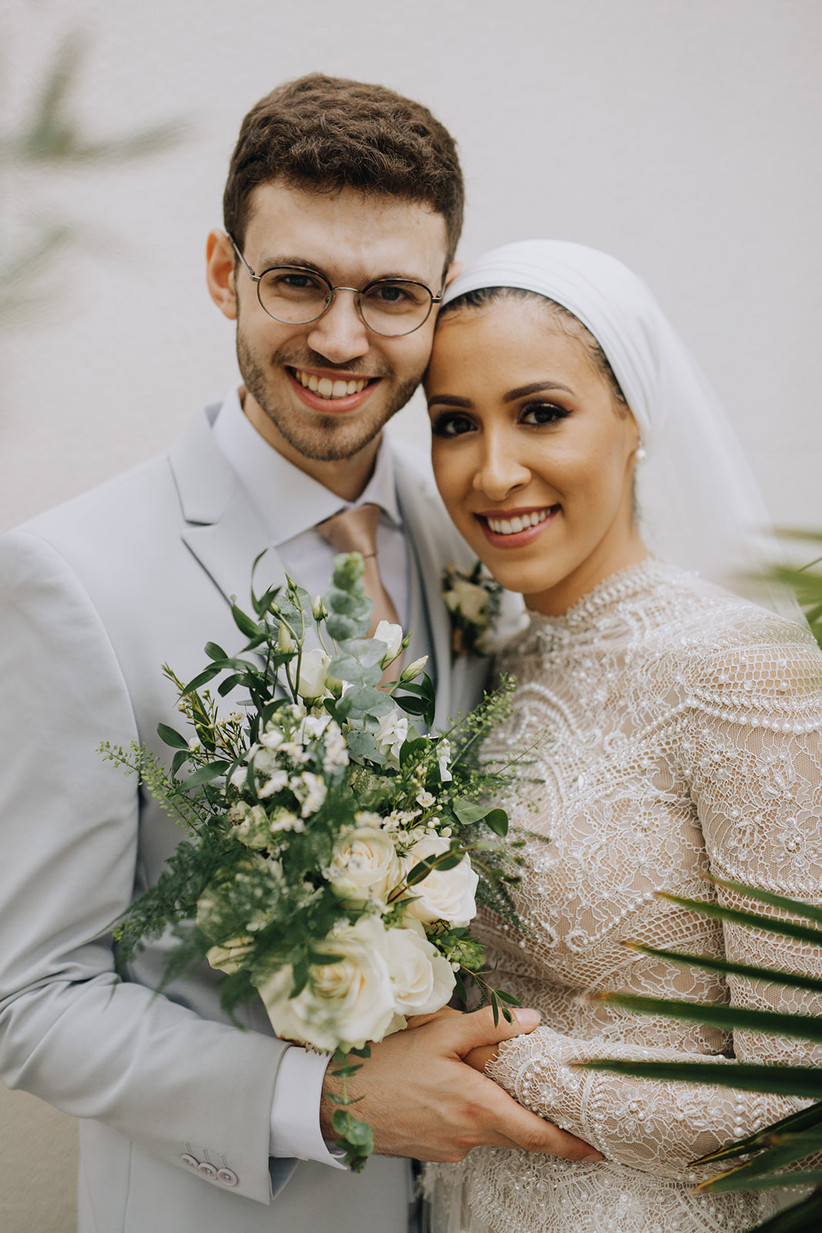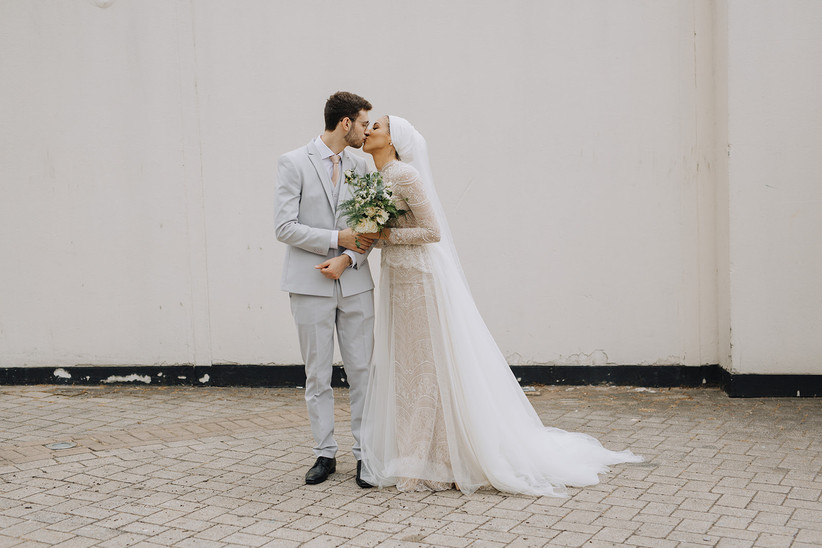 The Wedding Venue
The couple were keen on a city centre wedding and knew they wanted Islington Town Hall from the start. They soon discovered their perfect reception venue in Islington Metal Works.
"We knew we wanted to have our ceremony at Islington Town Hall as we'd seen so many happy couples having their confetti moment on the steps and we just loved the location.
"For the reception venue, we chose the Metal Works as it was very much our style and in a fantastic location. They also did the catering themselves, had a massive prop cupboard so almost all of our decorations were already there, and they styled the venue with plants and flowers to match the ones we'd chosen for ourselves, so it ticked off a lot of our to do list!" explained Aliyah.
Zayd felt the contemporary and quirky vibe of the venues also suited the couple down to the ground. "As a couple, we bring together quite a blend of different cultures and backgrounds, so a traditional setting – or a more mainstream setting – wouldn't quite have been us. We instantly fell in love with the venue because it was super quirky and I feel as though it genuinely reflected us as a couple: young, fresh, vibrant, (and a little rough around the edges!)."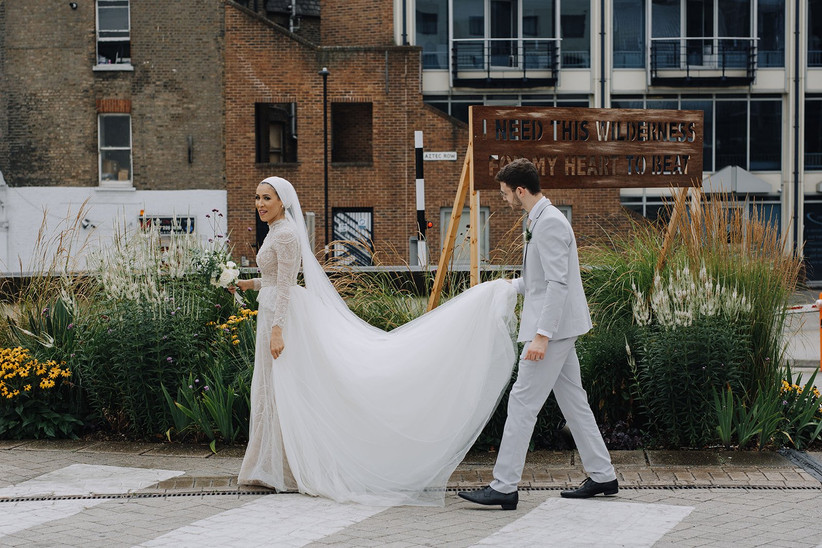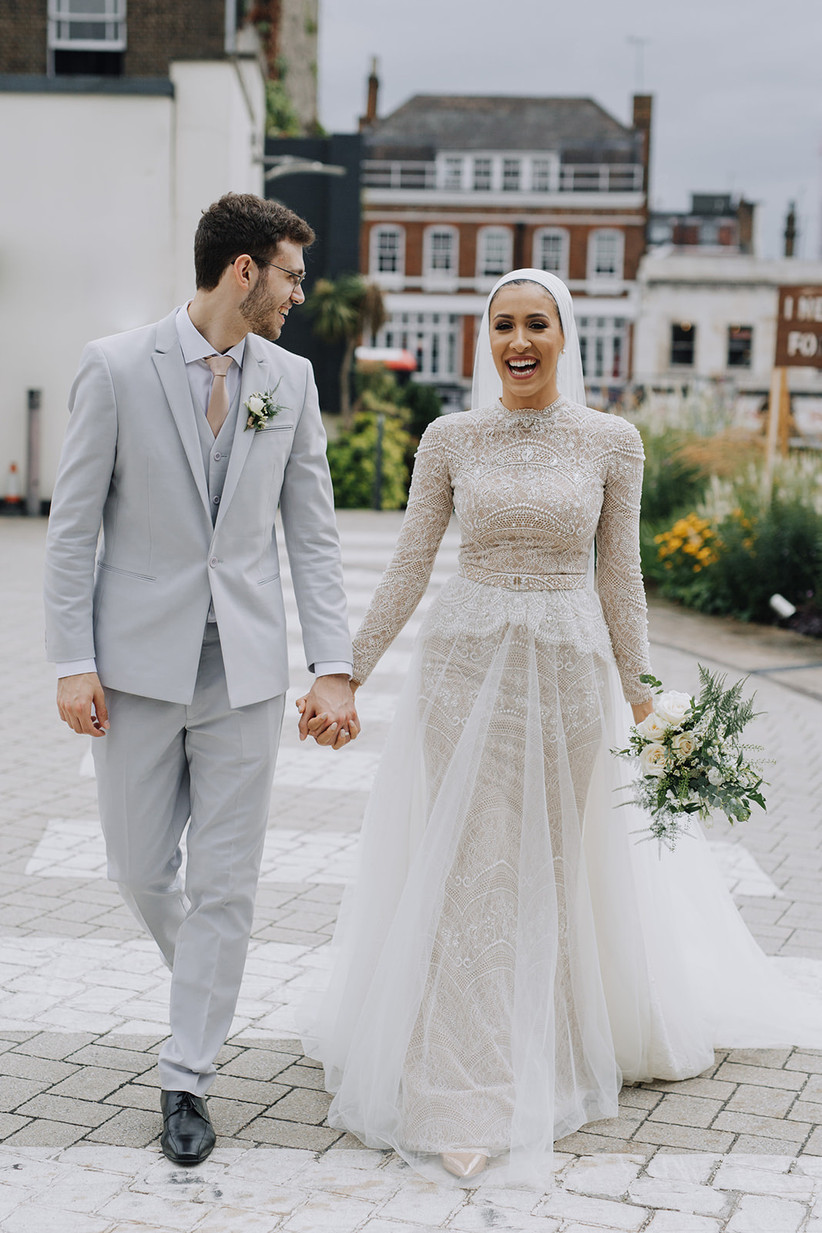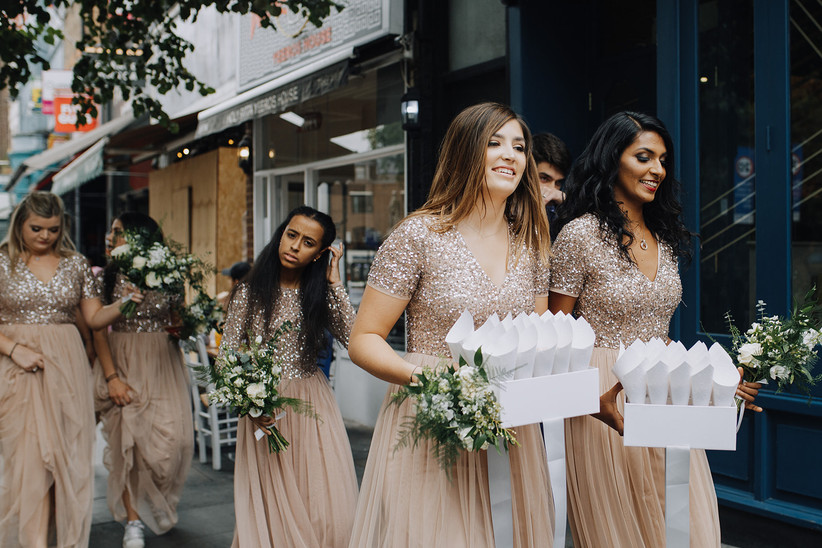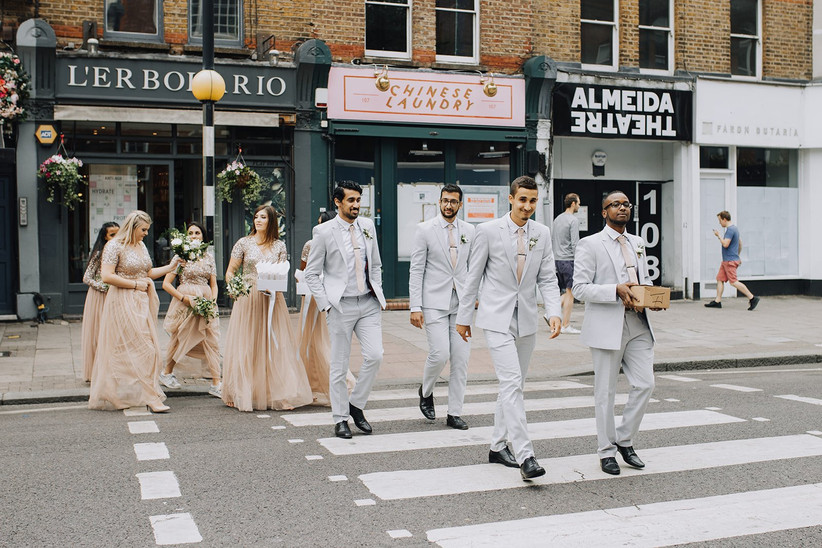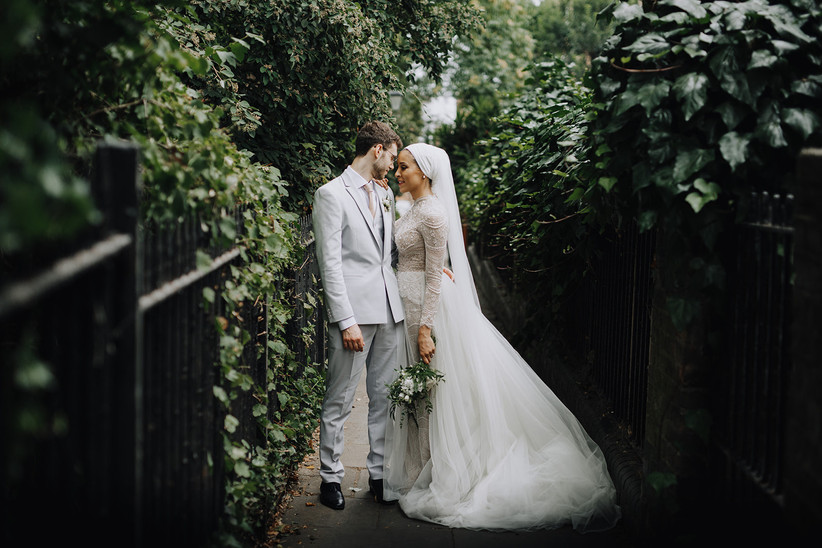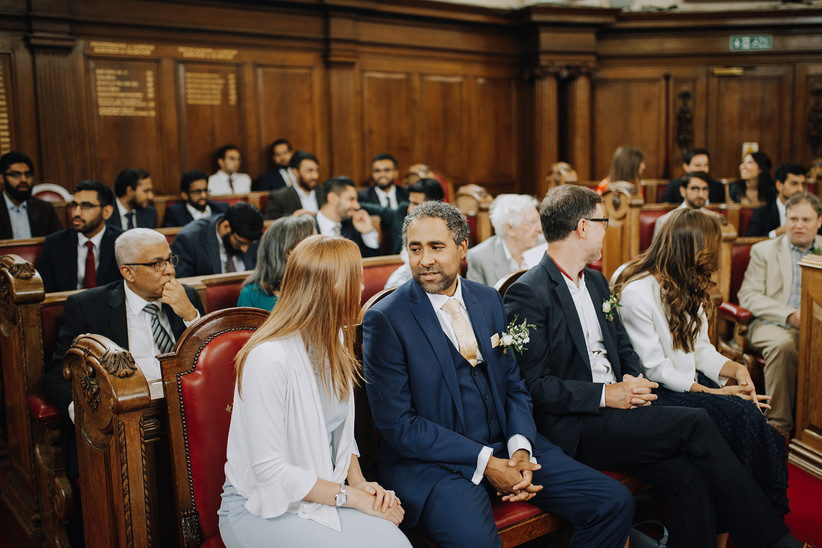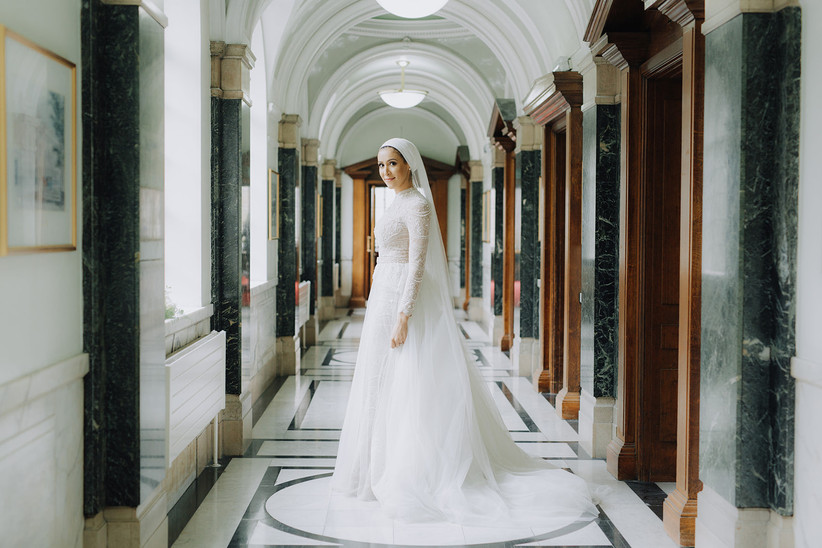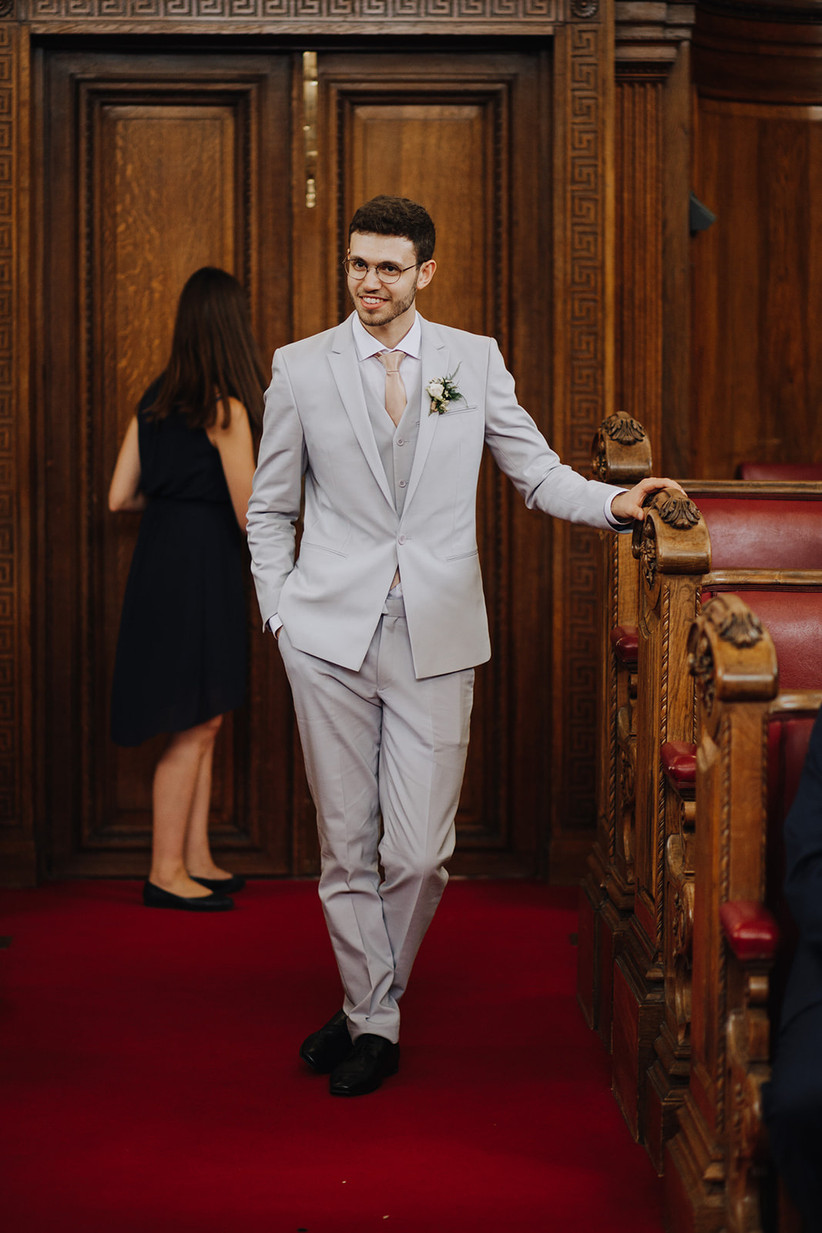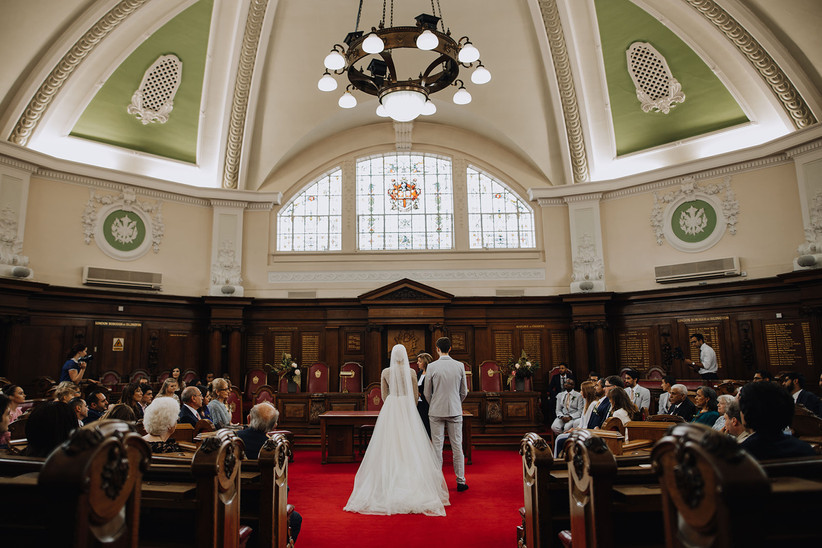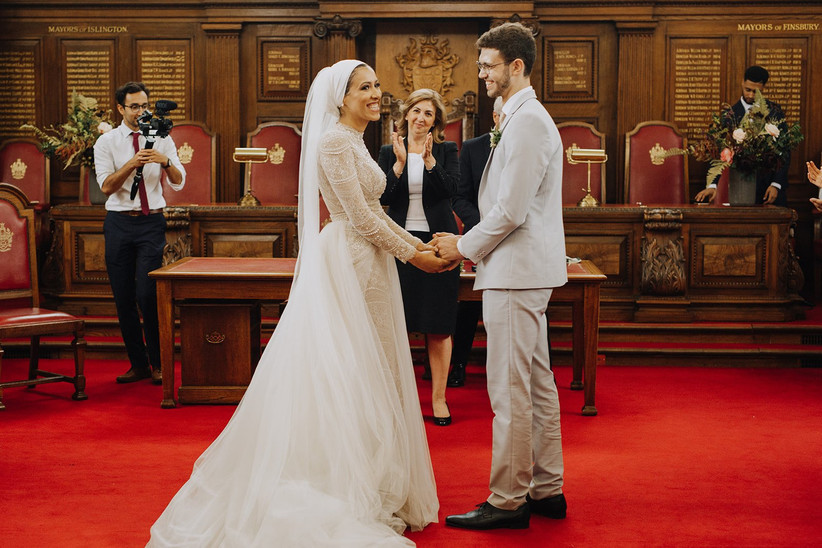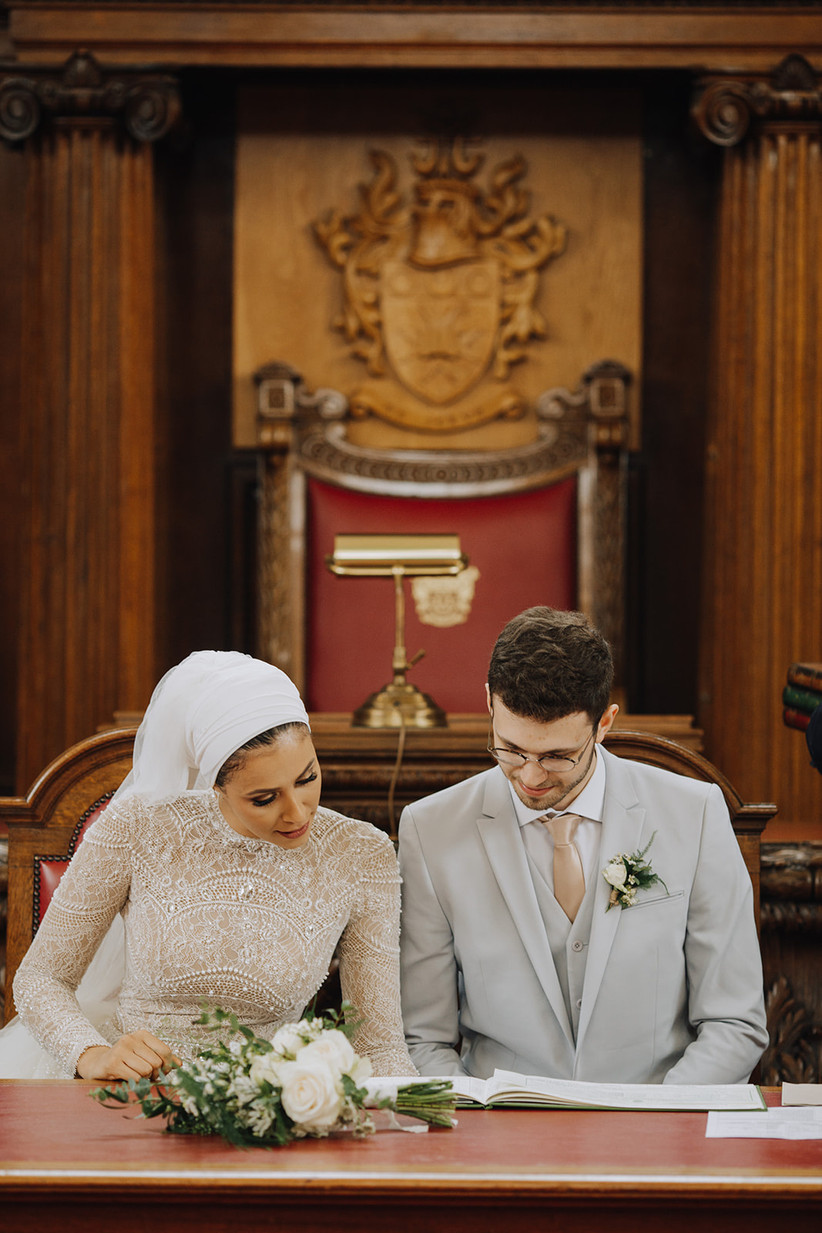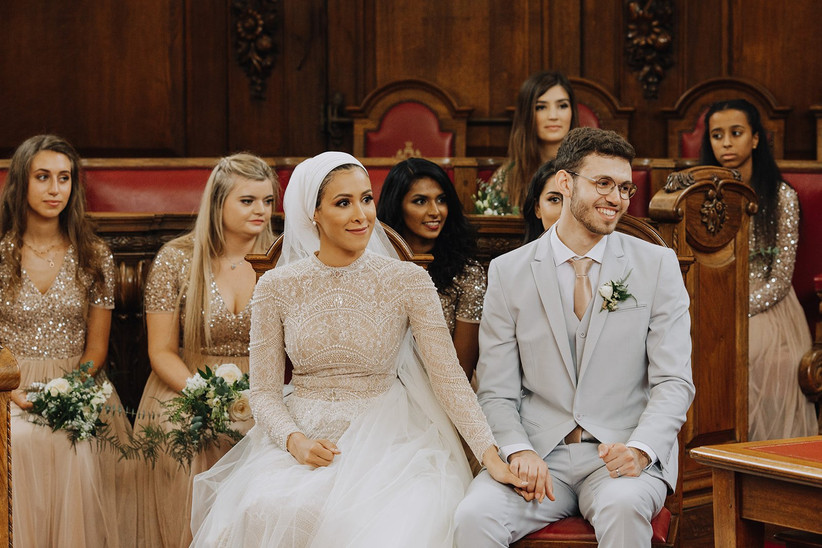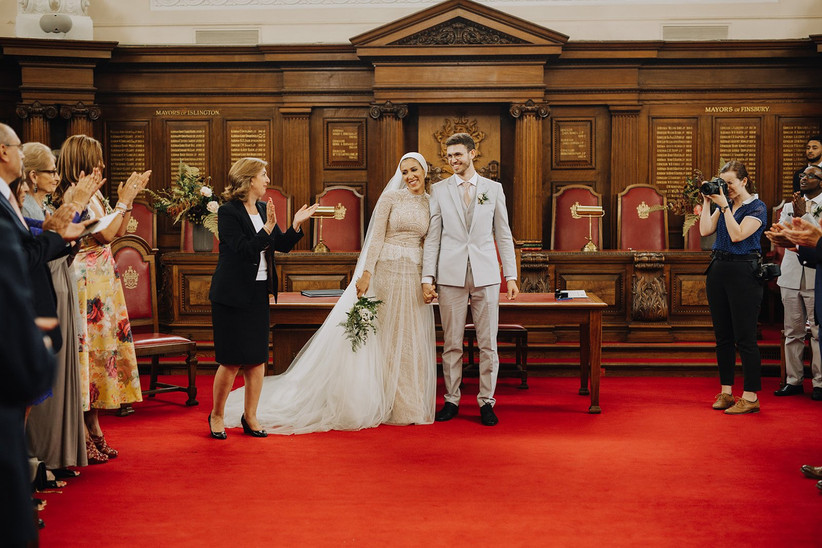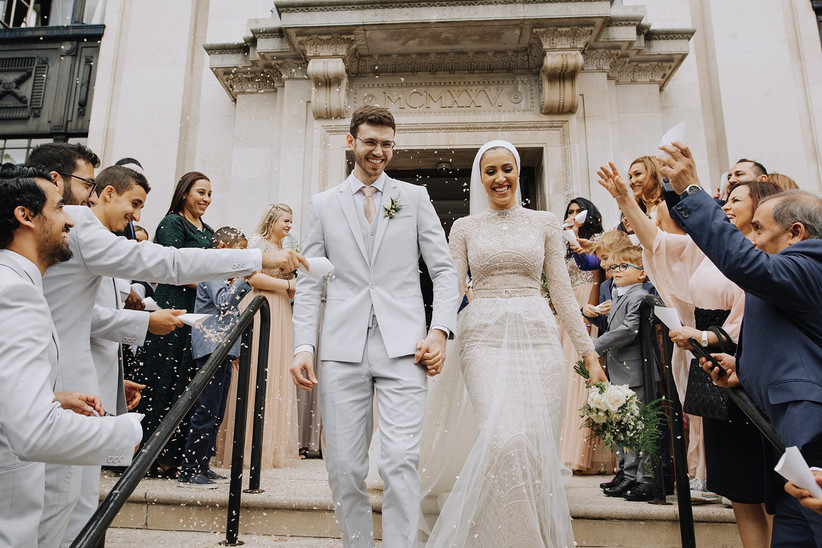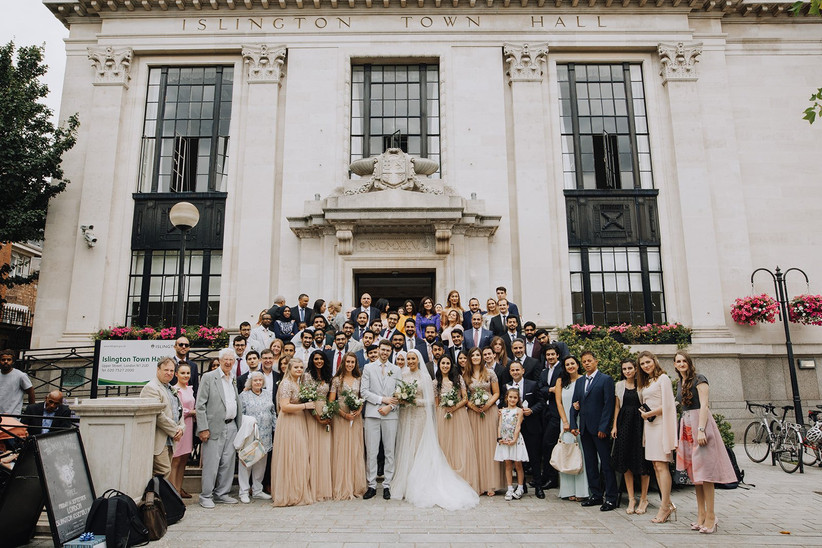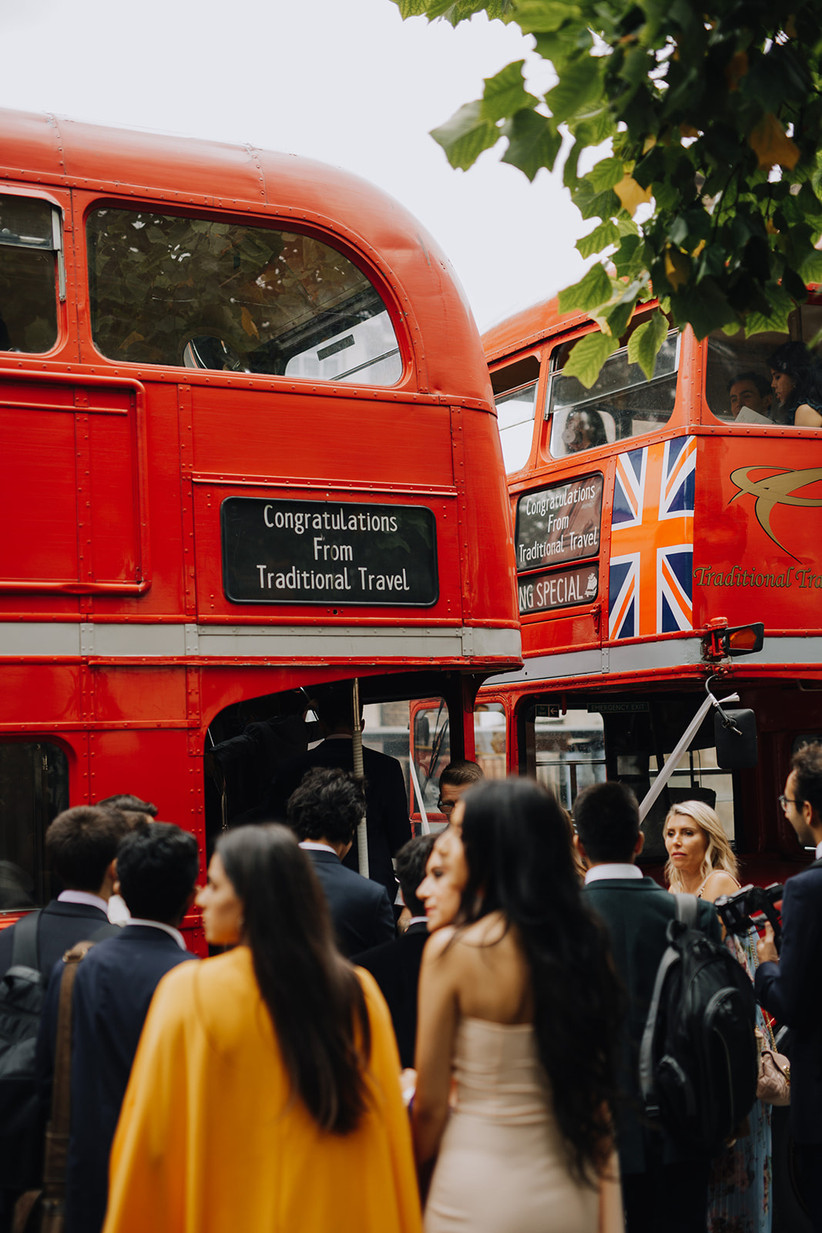 The Décor and Personal Touches
Aliyah and Zayd decided not to theme the wedding and rather let the city centre backdrop become a key part of the day. "We didn't have a theme as such, but we called it our urban fairy tale.
"We were in central London, so the city backdrop was already there, we just had to add the colours and details, which we tried to keep classic and romantic, opting for mostly white and blush. "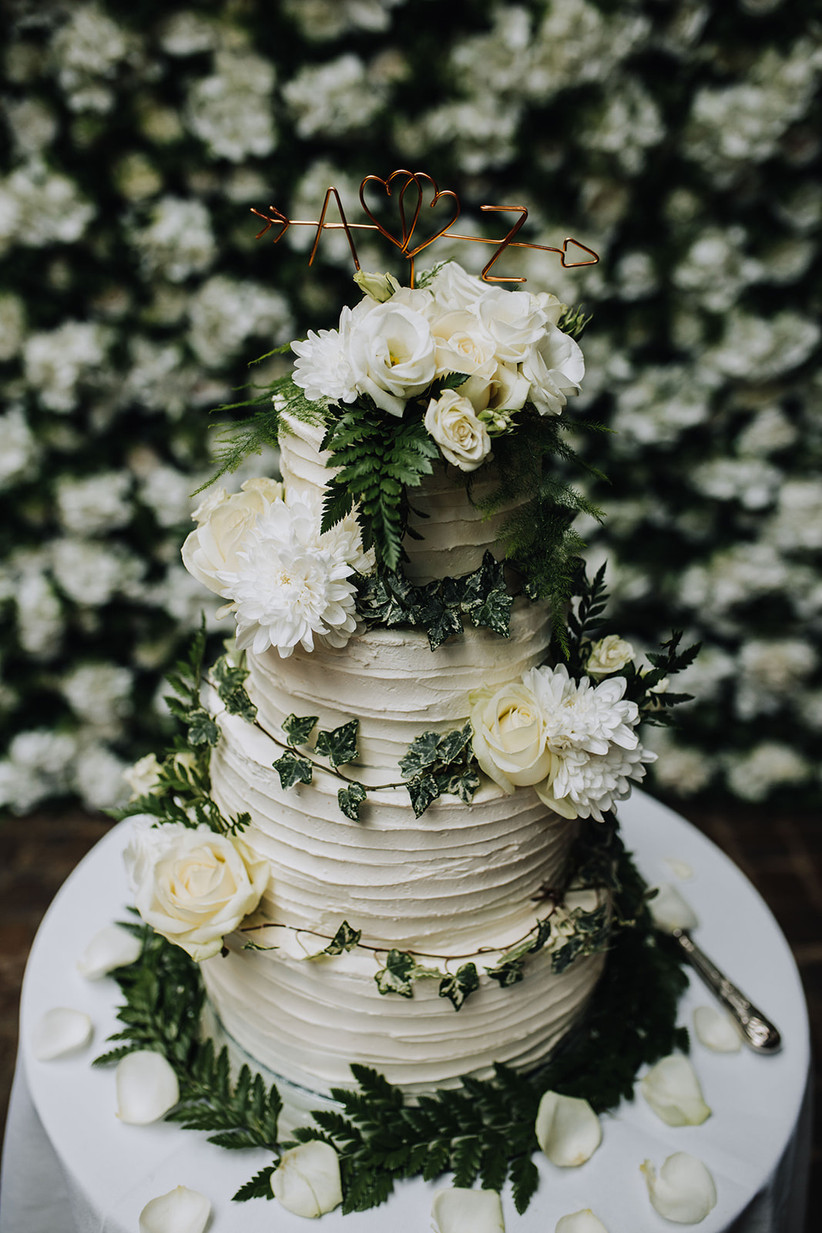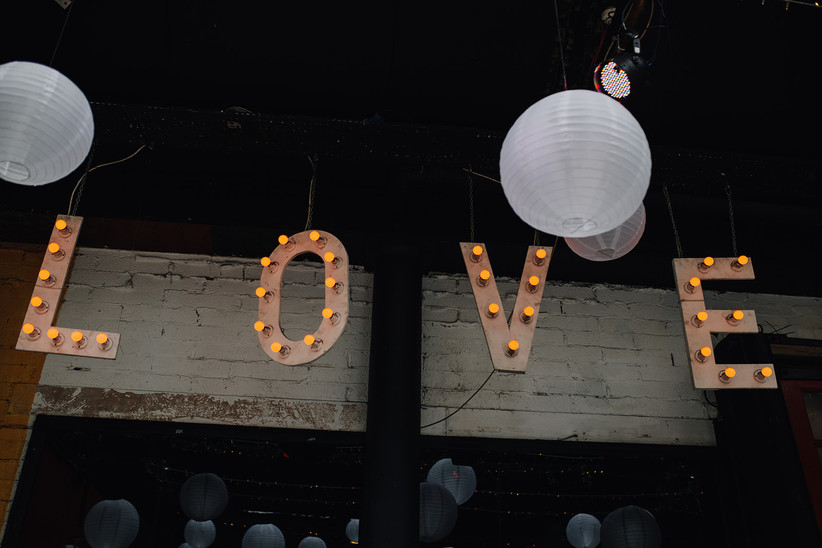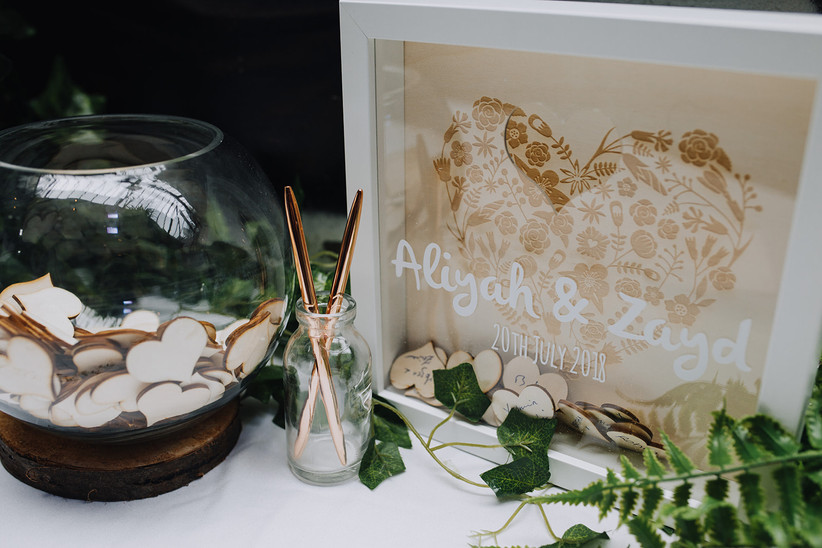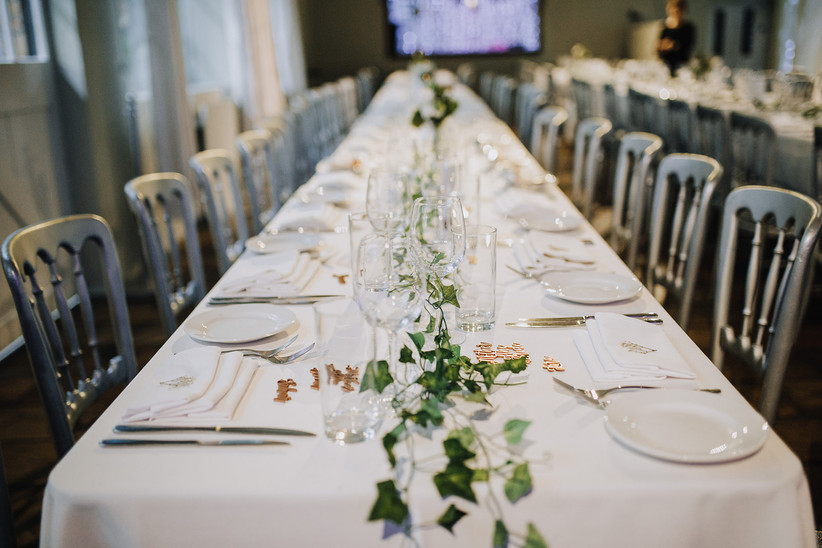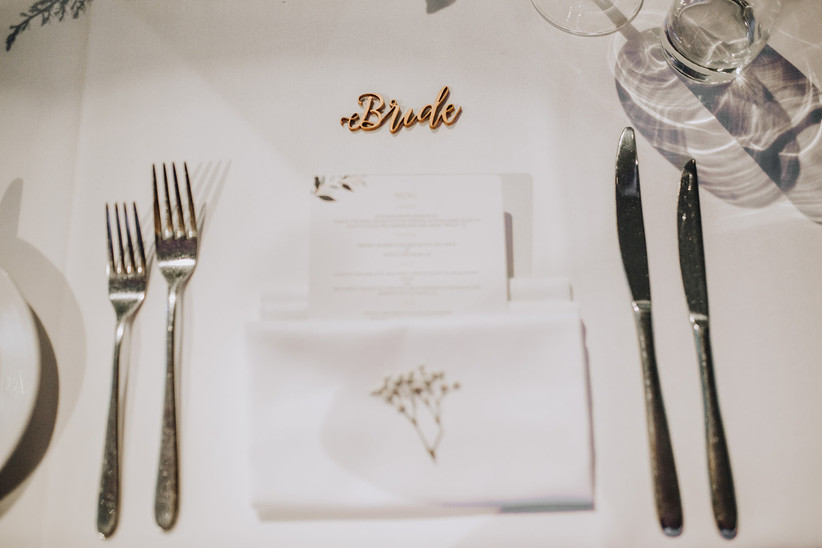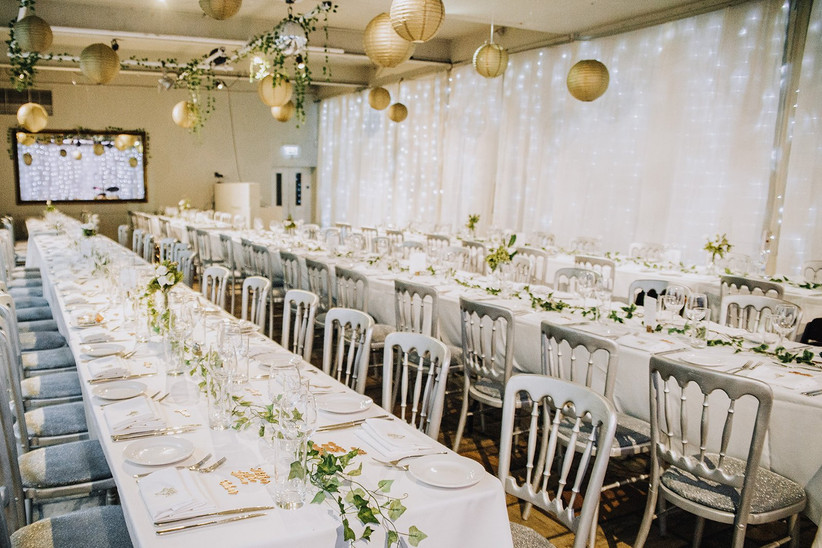 The Wedding Cake and Flowers
Aliyah and Zayd chose the fuss-free White Noise colourway from the 'ready-to-wear' range by Hackney-based florists Grace and Thorn when it came to their wedding flowers.
Their gorgeous three-tier wedding cake was made by the team at The Little House of Baking and embellished with fresh flowers and foliage.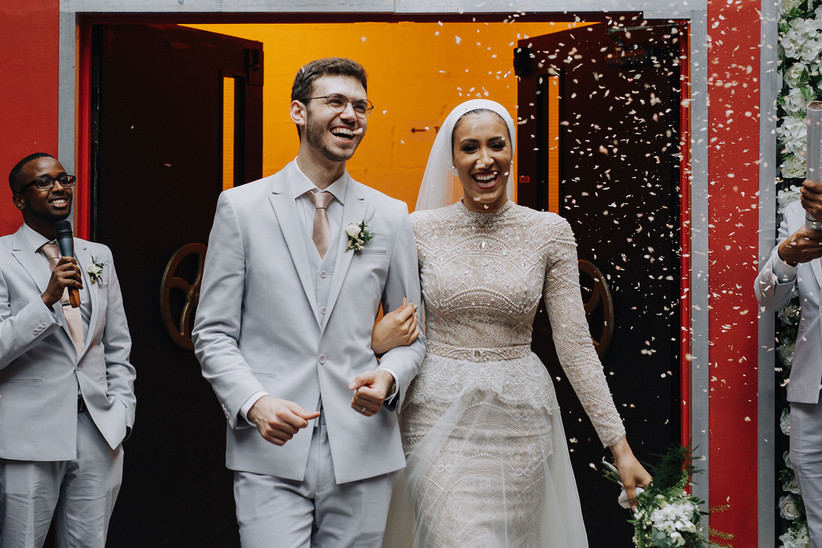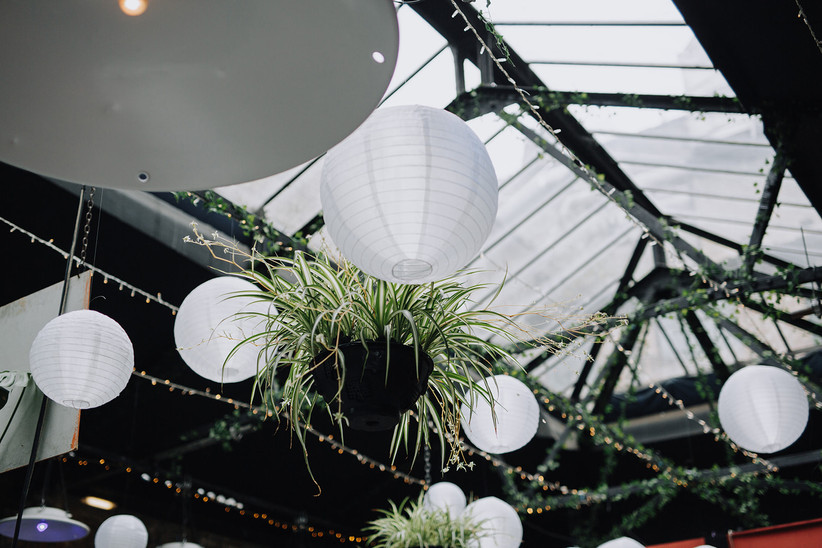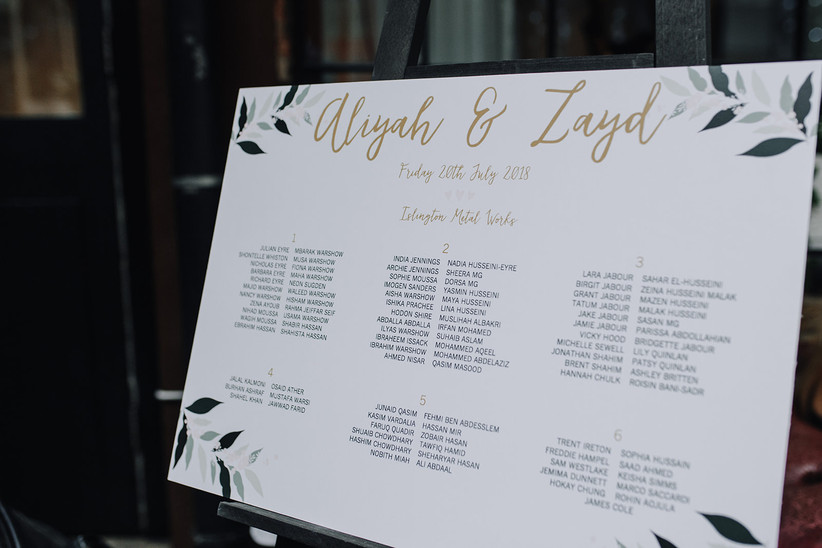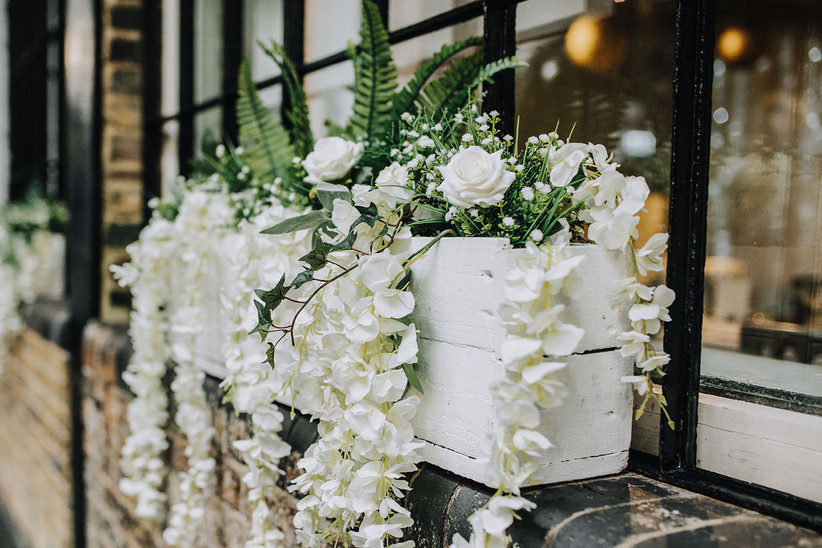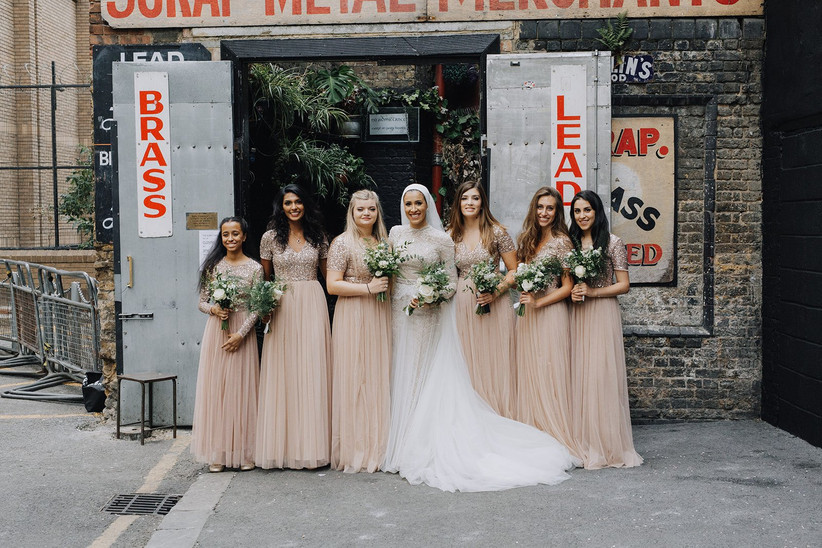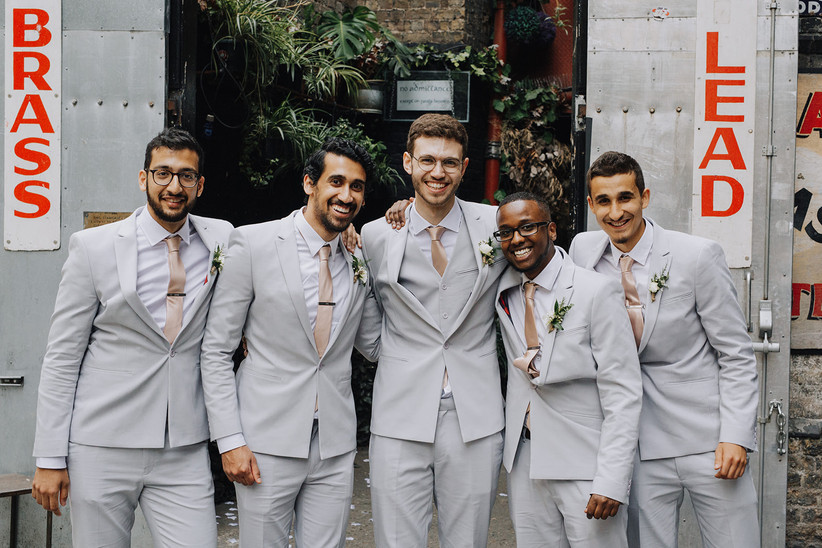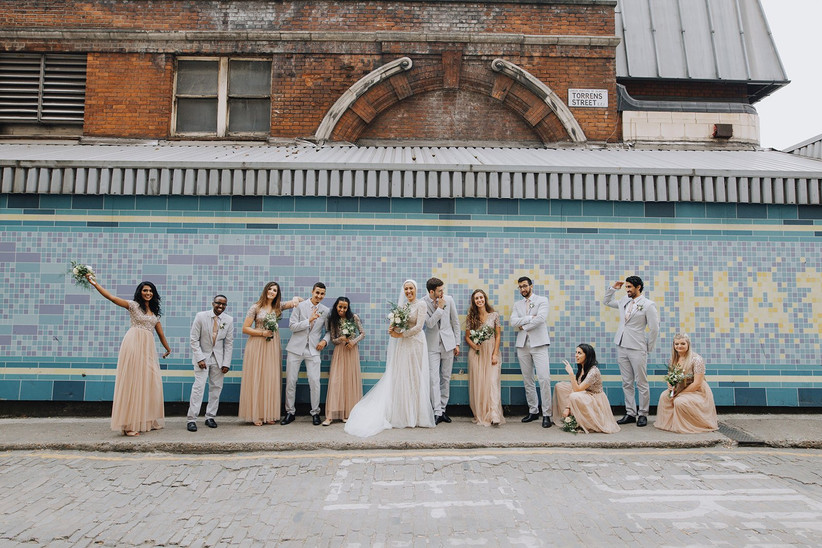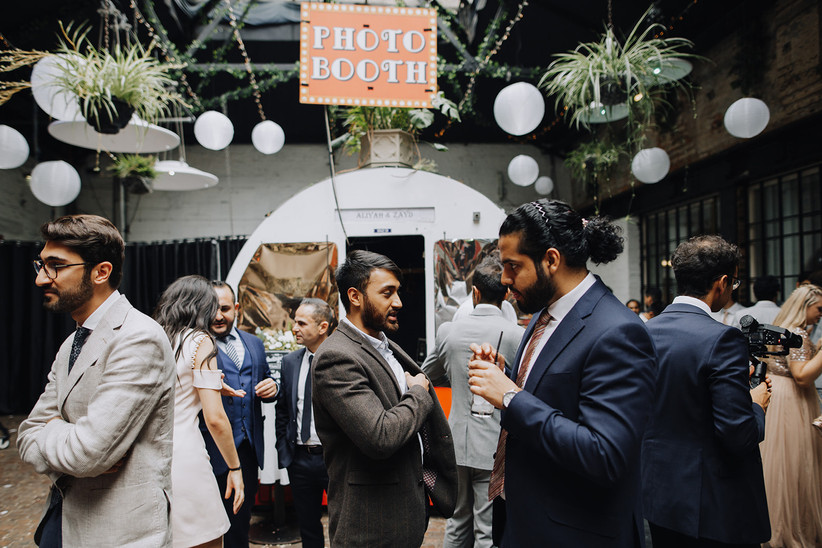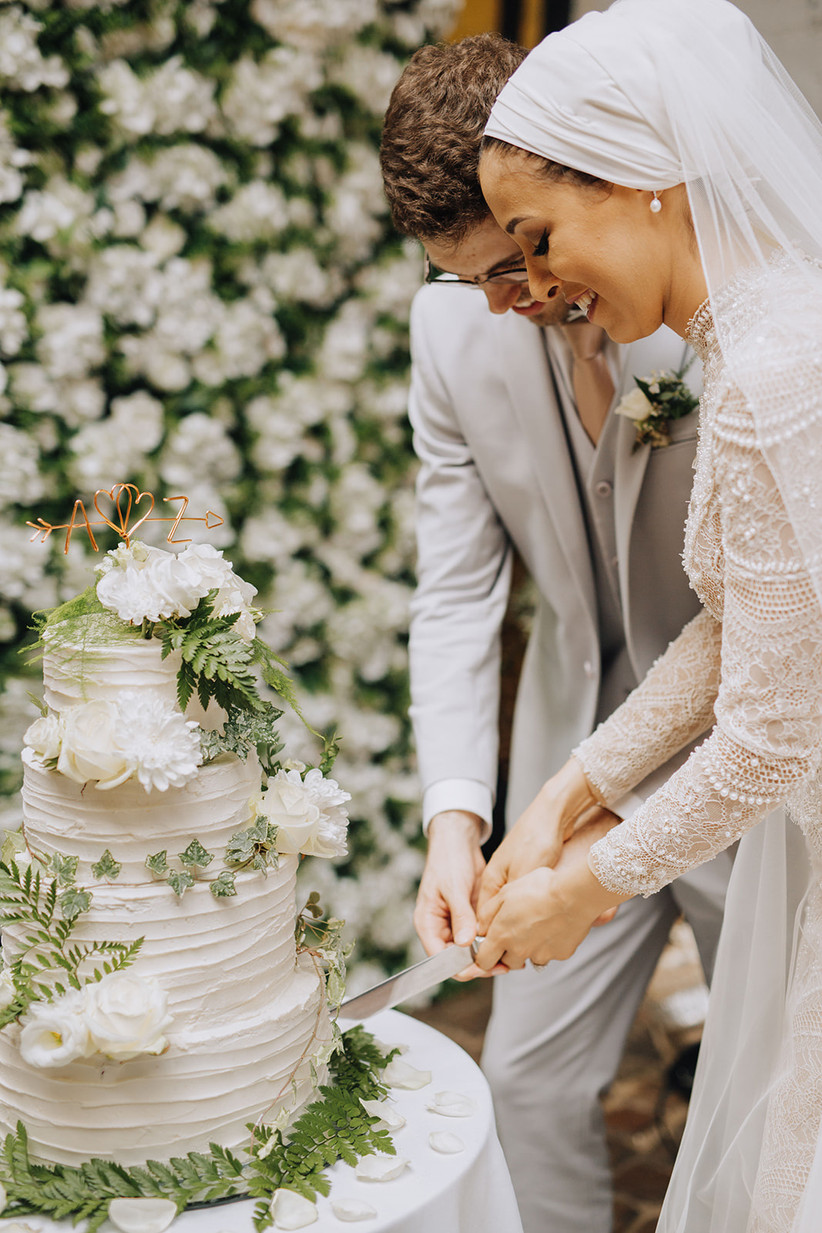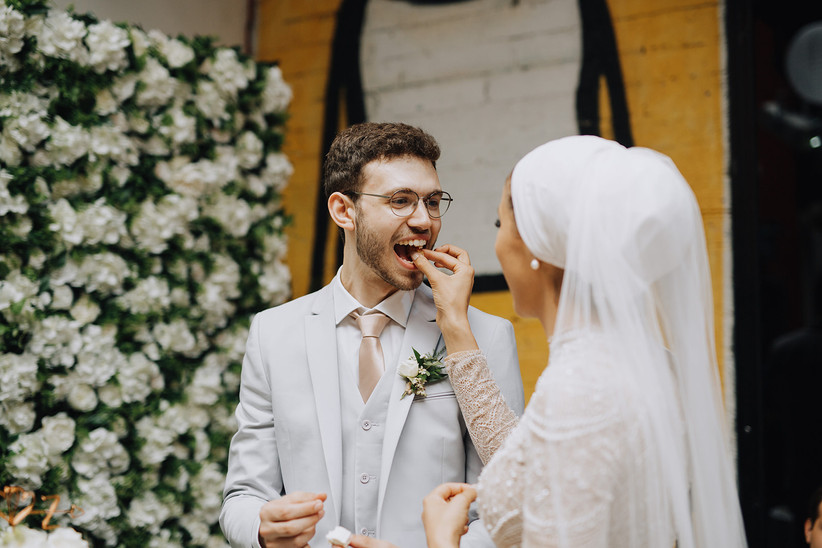 The Entertainment
Live music was a must for the happy couple and band Freddie and the Freeloaders kept everyone on the dance floor until midnight.
"Our first dance was to our band's rendition of Perfect by Ed Sheeran – I think Ed has become a cliché choice, but we don't care! We really were just kids when we fell in love.
"All our guests had sparklers during our first dance. It was a pretty last-minute decision, and I'm so glad we did it as it definitely added an air of magic to the moment."
The most memorable part of the day for both Aliyah and Zayd was the first look.
"The first look was my favourite part of the day for sure. I genuinely believed that I wasn't going to cry, but when I saw Aliyah for the first time that day, looking stunning in her dress, I couldn't help but let out a couple of happy tears."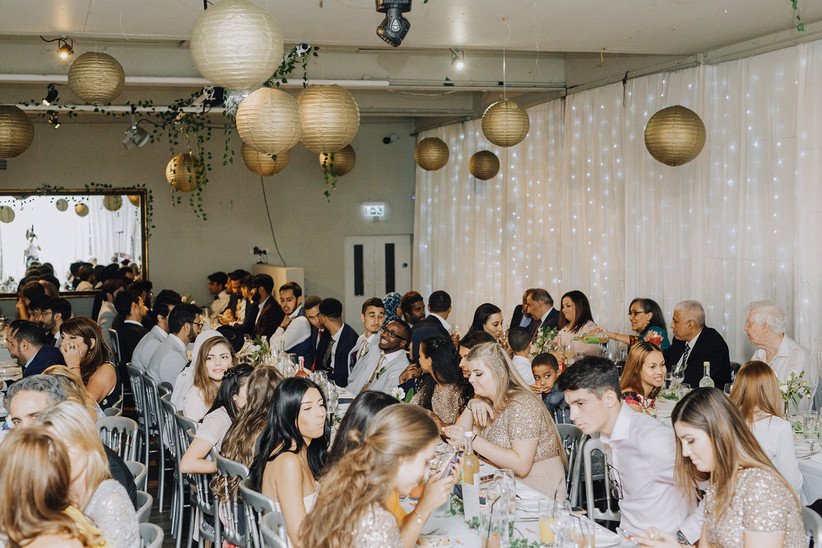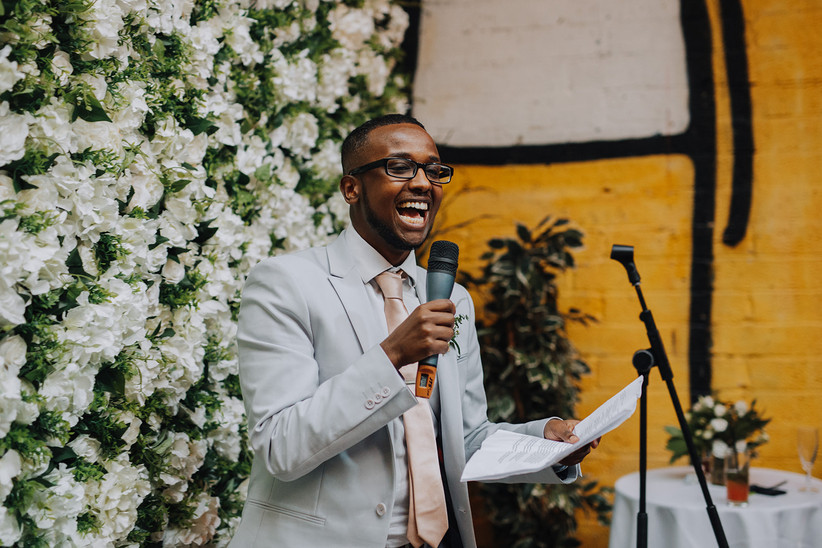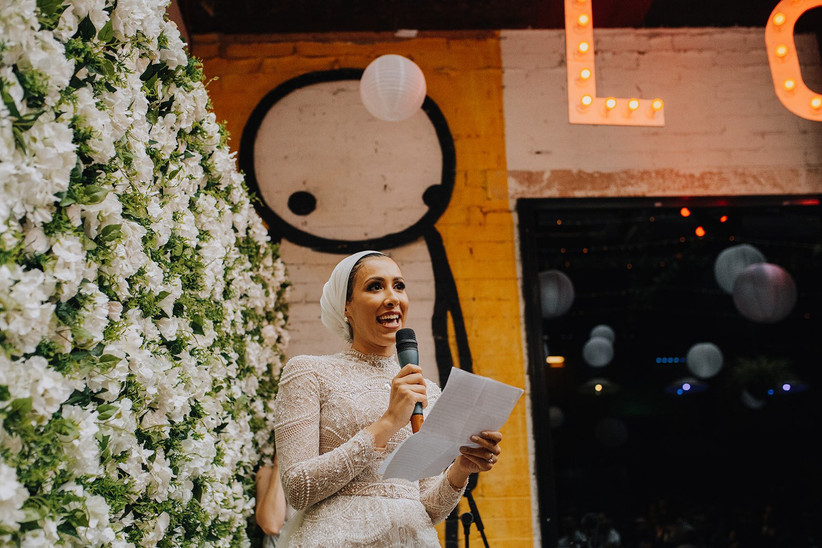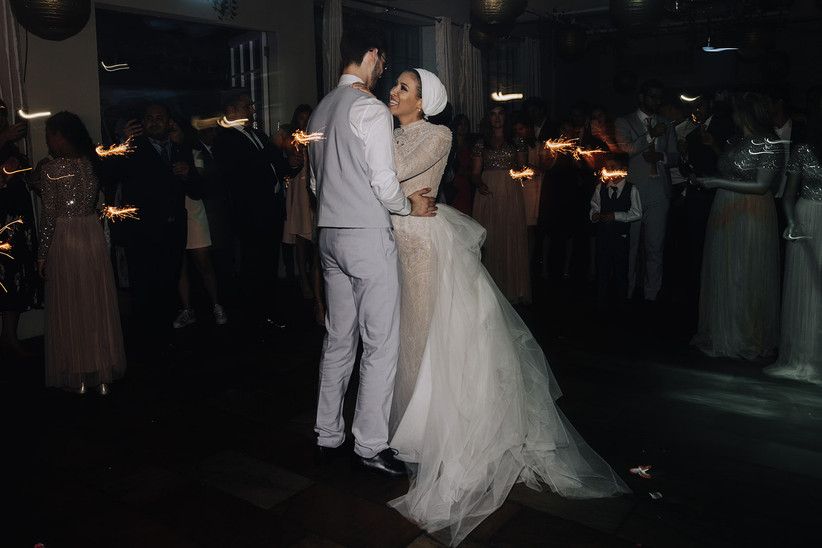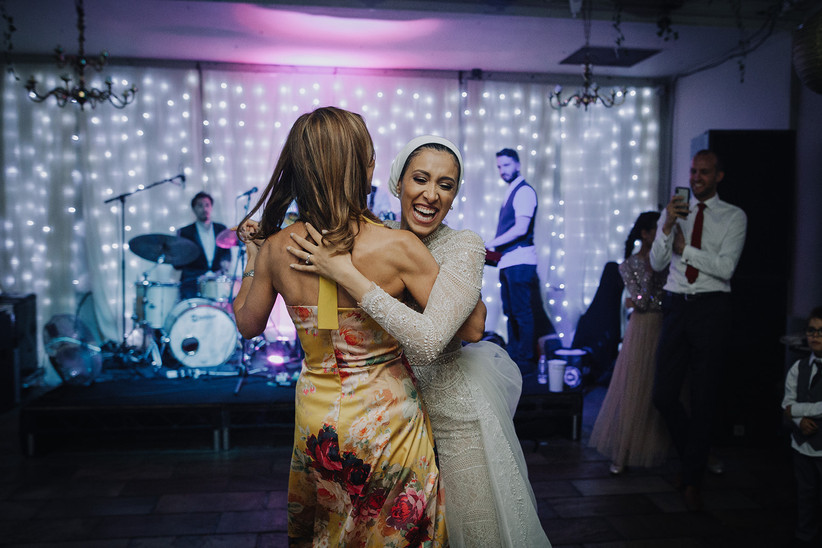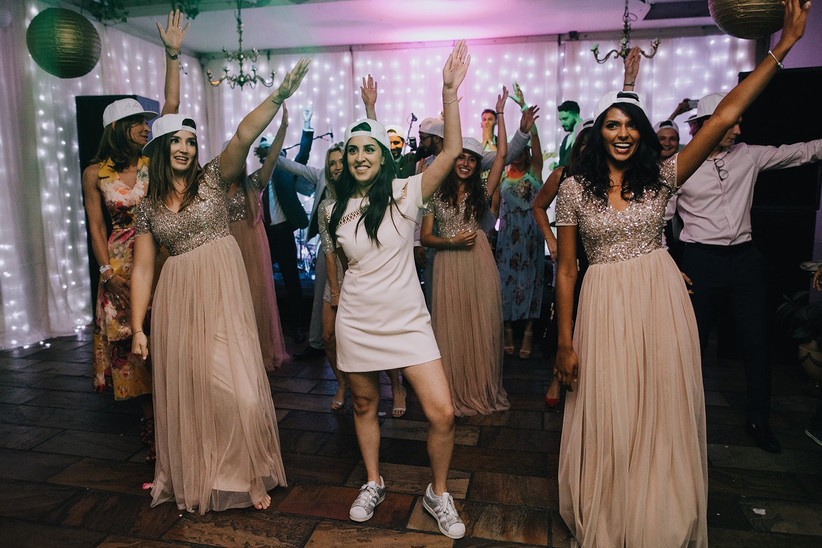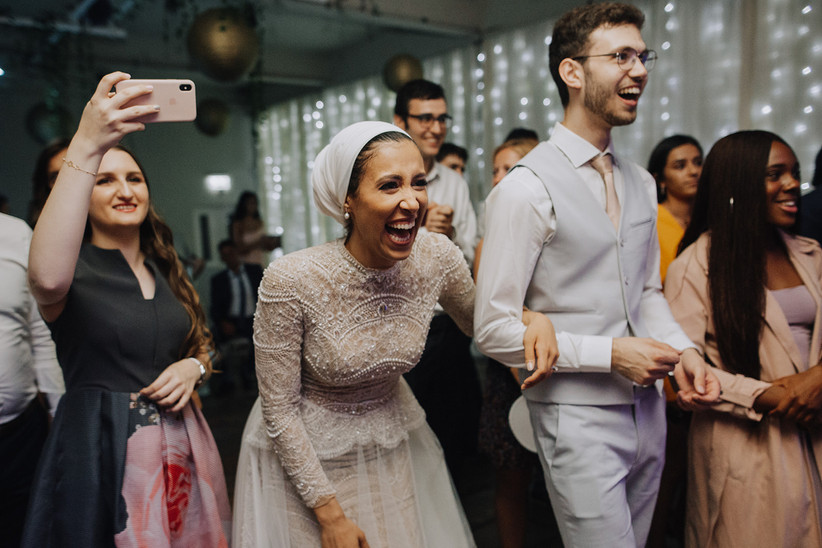 The Suppliers
Photographer: Rachel Takes Pictures
Venue: Islington Town Hall and Islington Metal Works
Wedding Dress: Ersa Atelier at Morgan Davies Bridal
Groomswear: ASOS
Bridesmaid Dresses: ASOS
Flowers: Grace and Thorn
Entertainment: Freddie and the Freeloaders
Wedding Cake: The Little House of Baking
Thank you Aliyah and Zayd for sharing your gorgeous day with us!