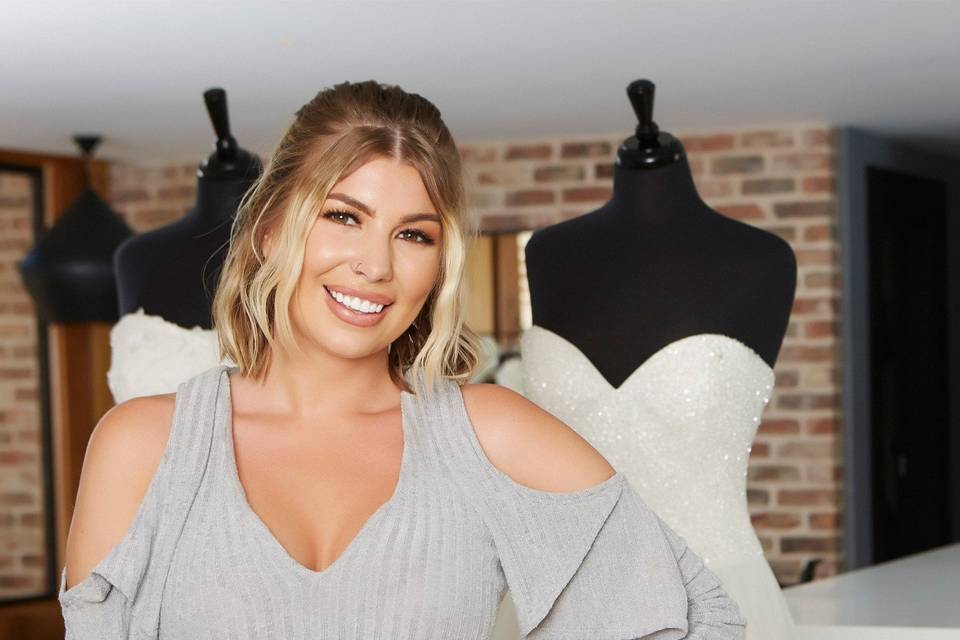 Second Chance Dresses host Olivia Buckland revealed that she may auction off her wedding dress for charity.
The Love Island star married Alex Bowen in a star-studded ceremony in September at Gosfield Hall in Essex wearing a stunning wedding dress by Enzoani.
Image: Instagram/@oliviadbuck
The figure-hugging mermaid lace and tulle Mina gown features a scalloped sweetheart neckline with sparkling beaded spaghetti straps on the front. But the back is the star of the show, thanks to the sexy low illusion back with covered buttons. Olivia added extra lace to the stunning cathedral veil.
READ MORE: 20 Elegant Wedding Dress Designs
She confessed that her role on her new TLC show – where one bride-to-be meets three pre-loved dresses and their owners to decide if she wants to buy one for her big day – has made her rethink what she wants to do with her dress now the wedding's over.
READ MORE: 7 Smart Ways to Reuse Your Dress After the Wedding
"It's such a hard decision because I've seen the joy on the bride's face when they find a dress they wouldn't have been able to afford usually. We've had a dress for £6,000 and it's been sold for £1,200. The opportunity you can give another bride by selling your dress when all it's going to do is sit in your wardrobe, it opens up a lot of doors.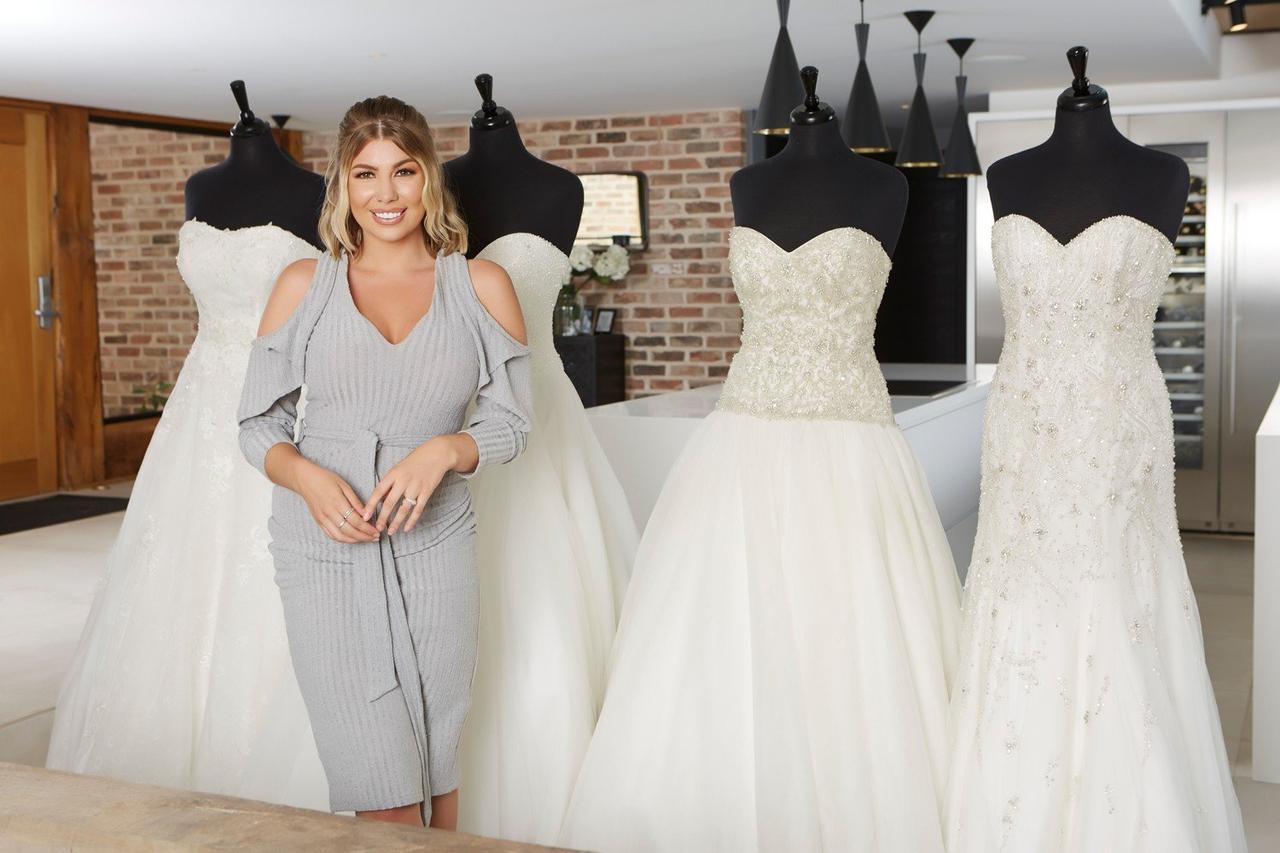 Image: TlC -James Rudland
"I considered maybe selling mine at auction and trying to raise money for charity. I know some people create a christening dress out of it for their daughter, there's so many things you can do, and after doing this show it makes me want to pass it on to someone else.
READ MORE:  Olivia's Essential Wedding Day Advice For Brides
"After the wedding my mum said, 'You need to put it back in the bag and we'll get it dry-cleaned and store it', and I was like, that's so mad. All that time I worried about the dress and cried over it and stressed over it and now it's going to be put in storage and I think it's sad, so I'm still toying with the idea of auctioning it," she said.
If you don't manage to get your hands on Olivia's own dress, don't worry. Here's the exact dress she wore, the Mina by Enzoani.
Olivia revealed that she very nearly bought a £10,000 Berta gown for the day before realising it was a huge mistake.
"I went to The Wedding Club to try on dresses. I had no idea what I wanted but I felt I had to be very glam and very show-offy and that's not me as a person: I'm pretty chilled, I will wear no make-up, I'll dress in Alex's clothes. So I tried on a Berta for £10,000, stunning, absolutely incredible and I loved it, but I felt so uncomfortable in it because I felt it was wearing me completely.
READ MORE: The Best Wedding Dress Shops in London
"I almost bought it because of what I thought other people would think of me wearing a Berta. 'Oh Berta, that's an expensive dress, how incredible'," she admitted. "But I went home and had a word with myself. No, this isn't right, you don't feel like you. My mum could see it too, and I ended up going for a dress half the price. It becomes about what other people think and that's what's scary."
Image: Instagram/@oliviadbuck
She's helping brides tackle their wedding dress dilemmas in her new show Second Chance Dresses. Her biggest piece of advice is always to try a wildcard dress, which in the show is a surprise dress of Olivia's choosing.
READ MORE: 43 Mistakes to Avoid When Buying Your Wedding Dress
"Do you know how awkward it is for me when they hate it?" she laughed. "You've got to have a thick skin in this show, because the sellers have it a lot worse. They're putting the dress of their dreams up for this other bride to scrutinise right in front of their face, and if they don't like it, our brides have gone IN. They don't hold back."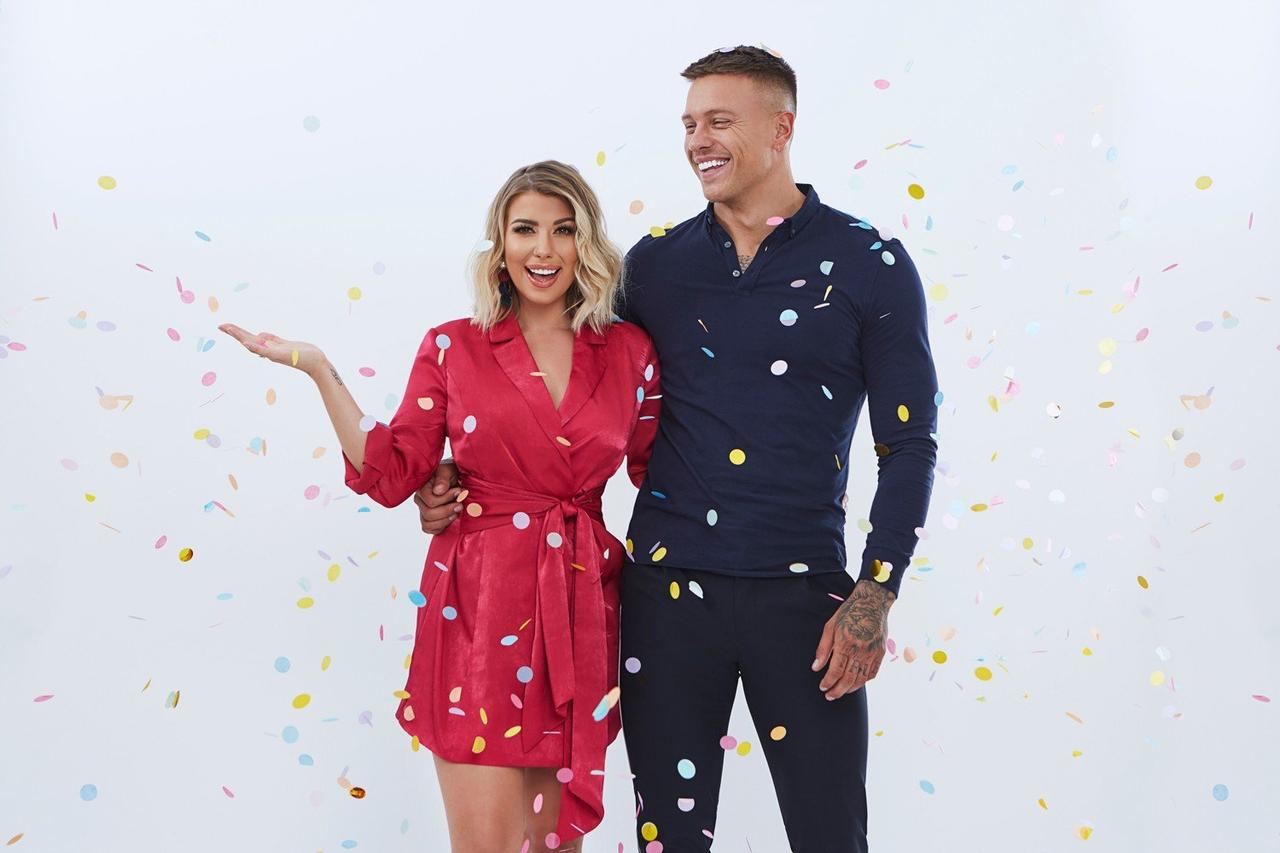 Image: TLC – James Rudland
With her wedding being shown on TV in Olivia & Alex Said Yes, Olivia revealed she felt a bit like Meghan Markle when she married Prince Harry.
READ MORE: The Most Beautiful Lace Wedding Dresses
"I've had people tweet me saying I'm more excited about Olivia and Alex's wedding than I was the Royal Wedding. That is nuts! It is pressure. Sometimes I wish I just eloped and bought a flowy, pretty dress and just ran away, but me and Alex are party animals, we love doing it big and we had to remember that," she said.
Love It or Hate It? Olivia Weighs In On 2018's New Wedding Dress Trends
Dresses With Pockets
Image: Jesus Peiro
"I love dresses with pockets! I'm obsessed with it. Any dress with pockets, even if not a wedding dress, I just feel it's so chic.
"I thought Meghan Markle should have had a structured dress with pockets, I think she would have looked amazing because she's chic, she's modern. I did like the dress she wore but I thought it was a bit ill-fitting which disappointed me."
READ MORE: 15 Perfect Plus Size Wedding Dresses
Two (or More) Wedding Dresses
"I'm not having two dresses. It was another thing where I thought people would expect me to have two and I was going to. But then I thought, no, it's one special dress for your one special day and if I have two it would take away from the first one. And if I loved the first one that much, I shouldn't have got the second one."
Sexy Sheer Dresses
Image: Berta
"I'm very torn on this. I love looking at them on Instagram, I love the thought of them and they look beautiful on the models, but practically on your day, when you Nan is there watching you get married, I don't really see it! I like a bit of sex appeal, but I think that's taking it too far when you can see the cups in the bra and it had sheer panels down the side. There's taking it sexy and there's taking it sex – that's too much."
READ MORE: 33 Seriously Sexy Wedding Dresses
Plunging Cleavage
"That depends on the body type of the woman. If I wore a deep plunge, I'd look like I was half-naked on a beach because I've got quite big boobs, but if you've got a small chest it always looks really chic and really great. It looks great on other people but not on myself. A nip slip wouldn't be great."
Bridesmaids in White
Image: Instagram/@chloelewis91
"There was a wedding Chloe Lewis from TOWIE was at and she wore white as a bridesmaid. She looked stunning! In pictures it looks stunning, classy, elegant, it's really clean. I don't hate it but I wouldn't do it personally; I like the bride to stand out among her bridesmaids."
READ MORE: Amazing Wedding Dresses Under £1,000
Visible Tattoos
"It depends if it's a tattoo that has a meaning you don't like anymore. If you've got someone's name on you, probably cover that up! I think tattoos look great with wedding dresses; I love the juxtaposition between a really elegant dress and tattoos. For practicality reasons, if you're going to cover it up, you need to get a proper tattoo cover-up foundation. If you're doing to possibly ruin your dress from it rubbing, don't bother."
If you want to know the trends you should be following, check out the biggest dress trends of 2018 and our favourite new pre-wedding trend – the bride and bridesmaid dressing gown!
Catch Olivia in Second Chance Dresses, Fridays at 8pm on TLC.