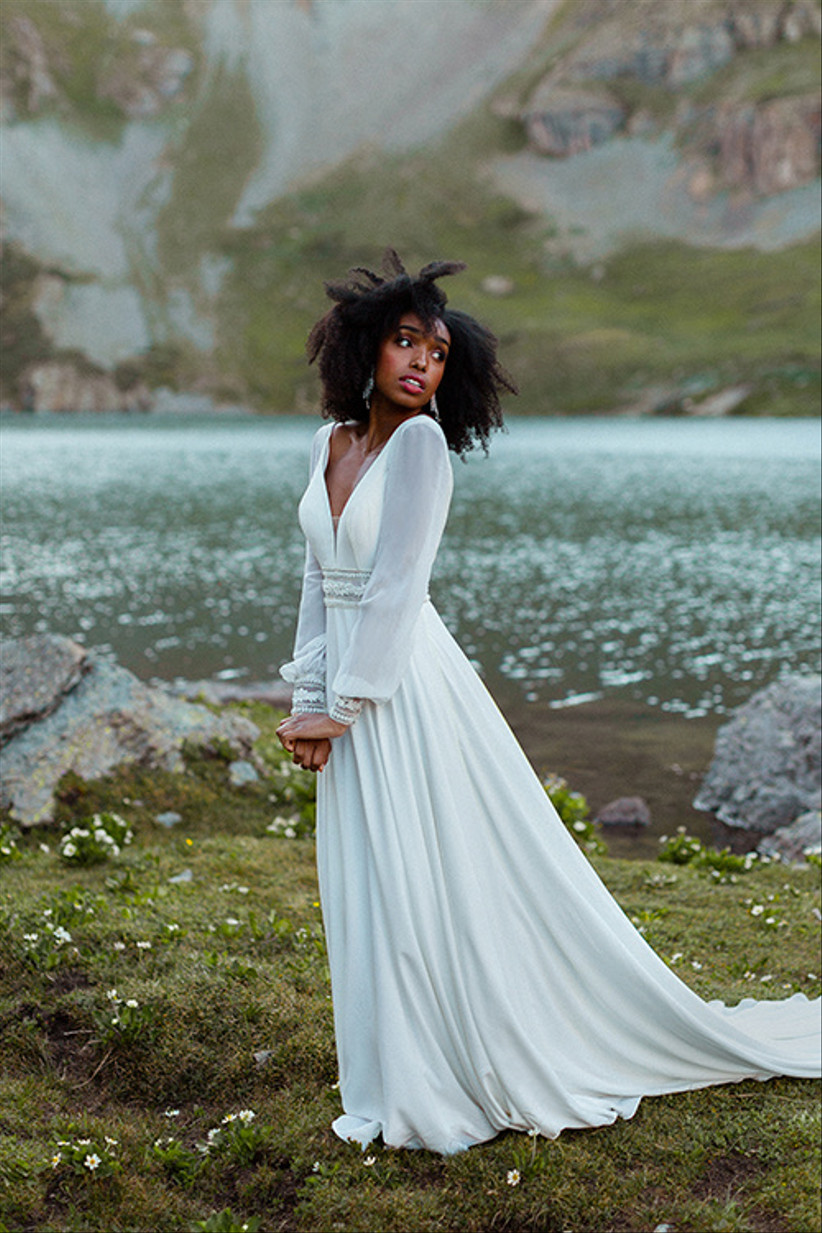 What does the perfect wedding dress look like? Of course, your exact answer will depend on individual taste. However, there's one quality that defines bridal perfection, whatever the style: a design that manages to be both timeless and contemporary.
This is exactly what you get with each of Allure Bridals' wedding dresses. There are nine bridal lines to suit a range of aesthetics, including vintage-inspired Madison James, delicately pretty Allure Romance and boho Wilderly Bride. What they all have in common is a commitment to fine design, with modern silhouettes that celebrate your figure.
When it comes to wedding dresses, the details really do make all the difference. An Allure Bridals gown is constructed with infinite care - each design element is hand-sewn and has been chosen to elevate the look, whether delicate beadwork or a stunning statement back. What's more, they have designs for grooms, bridesmaids and ushers, so your whole wedding party can benefit from that same attention to detail.
Are you ready to meet some of their wedding dresses? As an introduction to the beautiful world of Allure Bridals, we've picked our favourite looks from the new collections.
Allure Bridals Wedding Dresses 2020/2021
1. Style 3356 from Allure Romance, Fall 2020 Collection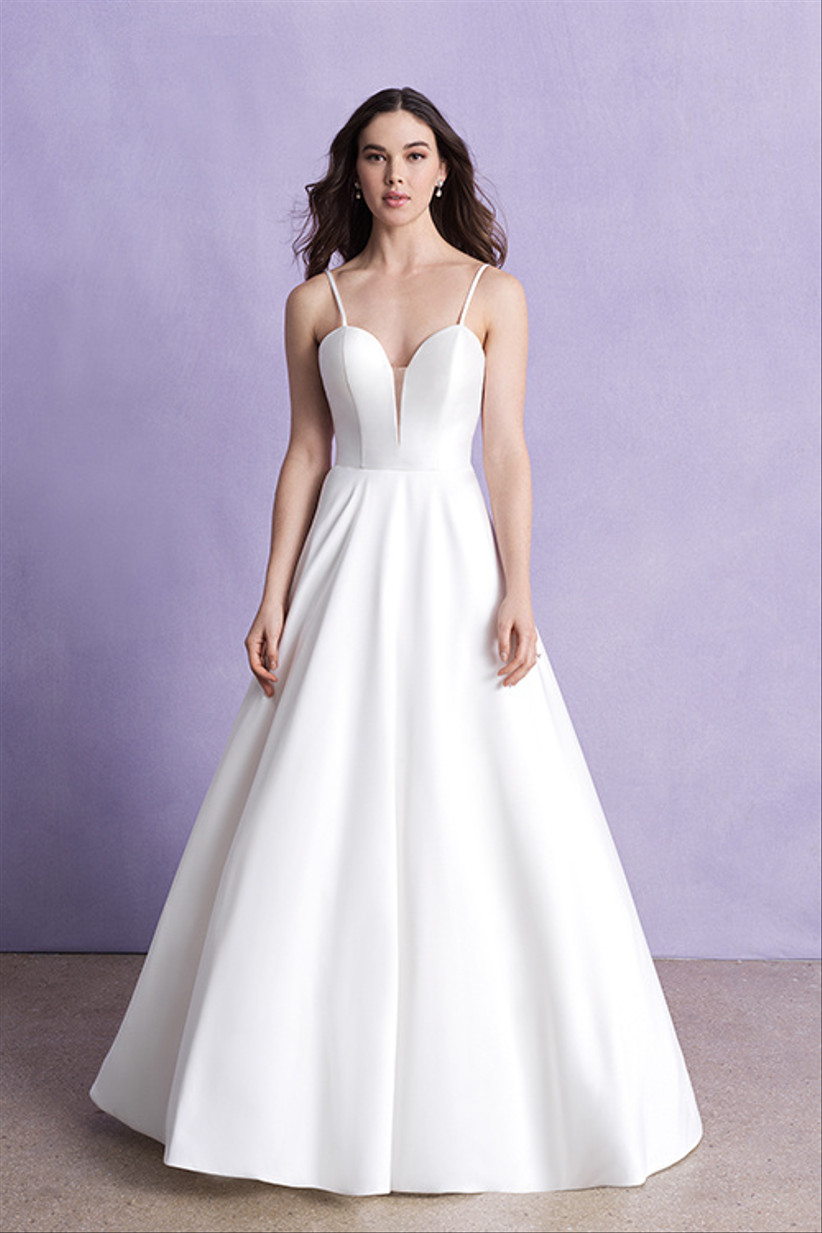 Bridal ballgowns don't have to be sparkly or detail-heavy. Style 3356 is a ballgown for brides with a minimalist aesthetic - a sophisticated take on a classic look, crafted from luxurious Mikado silk.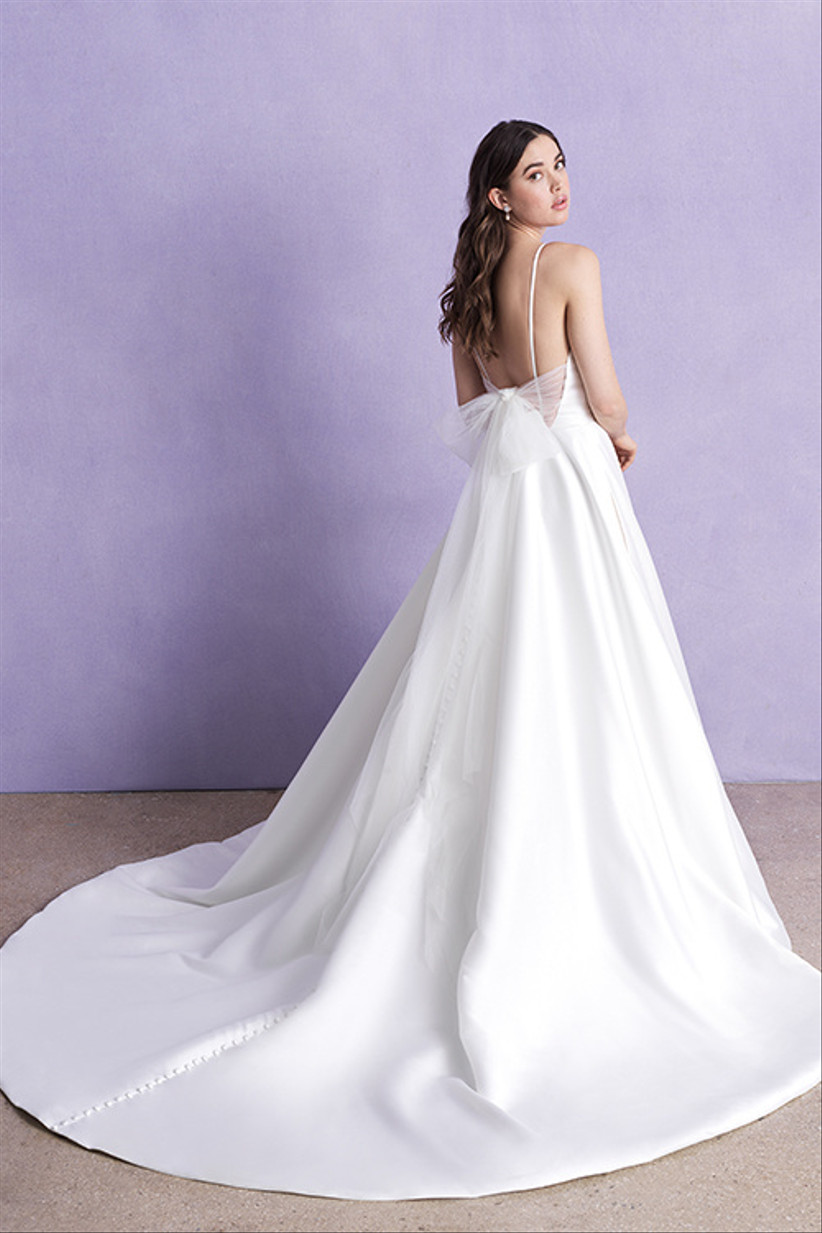 The illusion bow at the back brings a perfectly judged note of softness to the dress.
2. Style C584 from Allure Couture, Fall 2020 Collection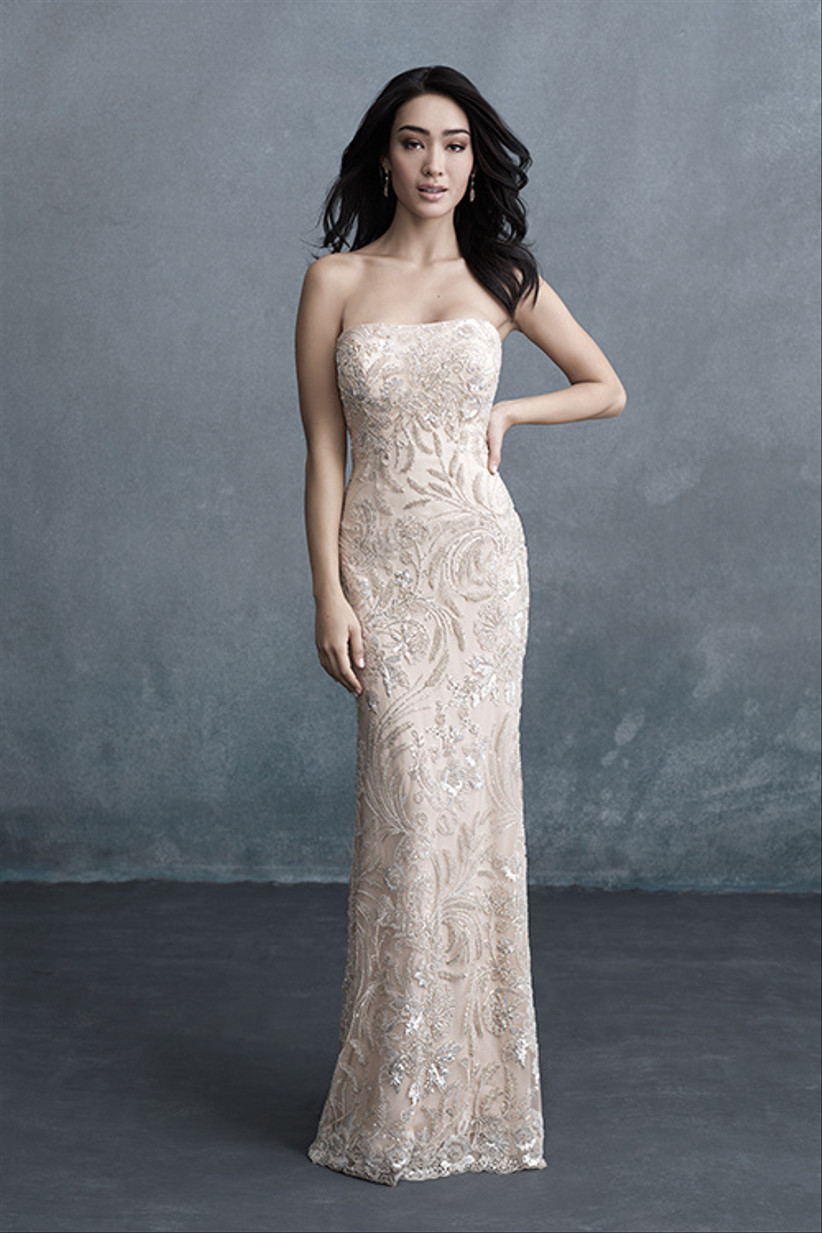 Style C584 lets you switch up your bridal look between simple and show-stopping. The dress itself is a wonderfully elegant beaded sheath.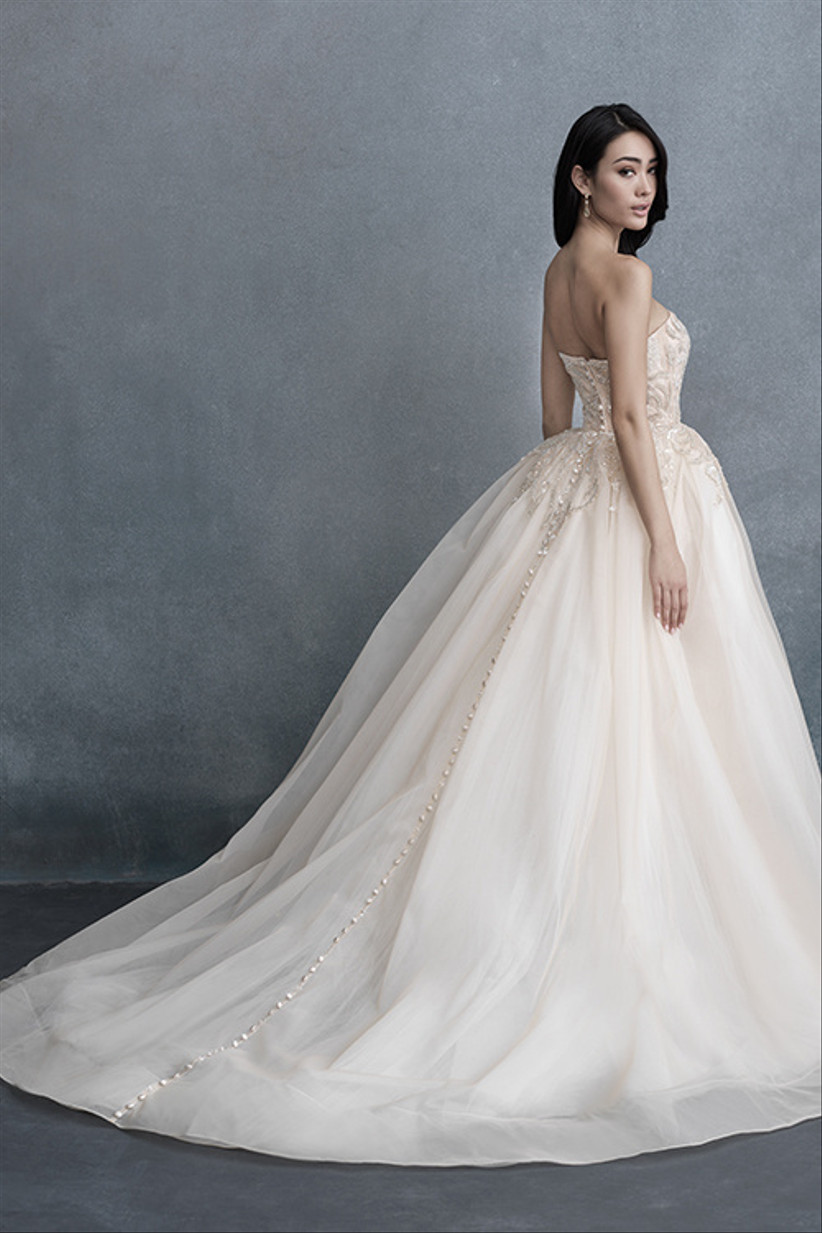 Add the detachable tulle train and you get a gloriously dramatic effect that's perfect for a glamorous wedding.
3. Style F209 from Wilderly Bride, Fall 2020 Collection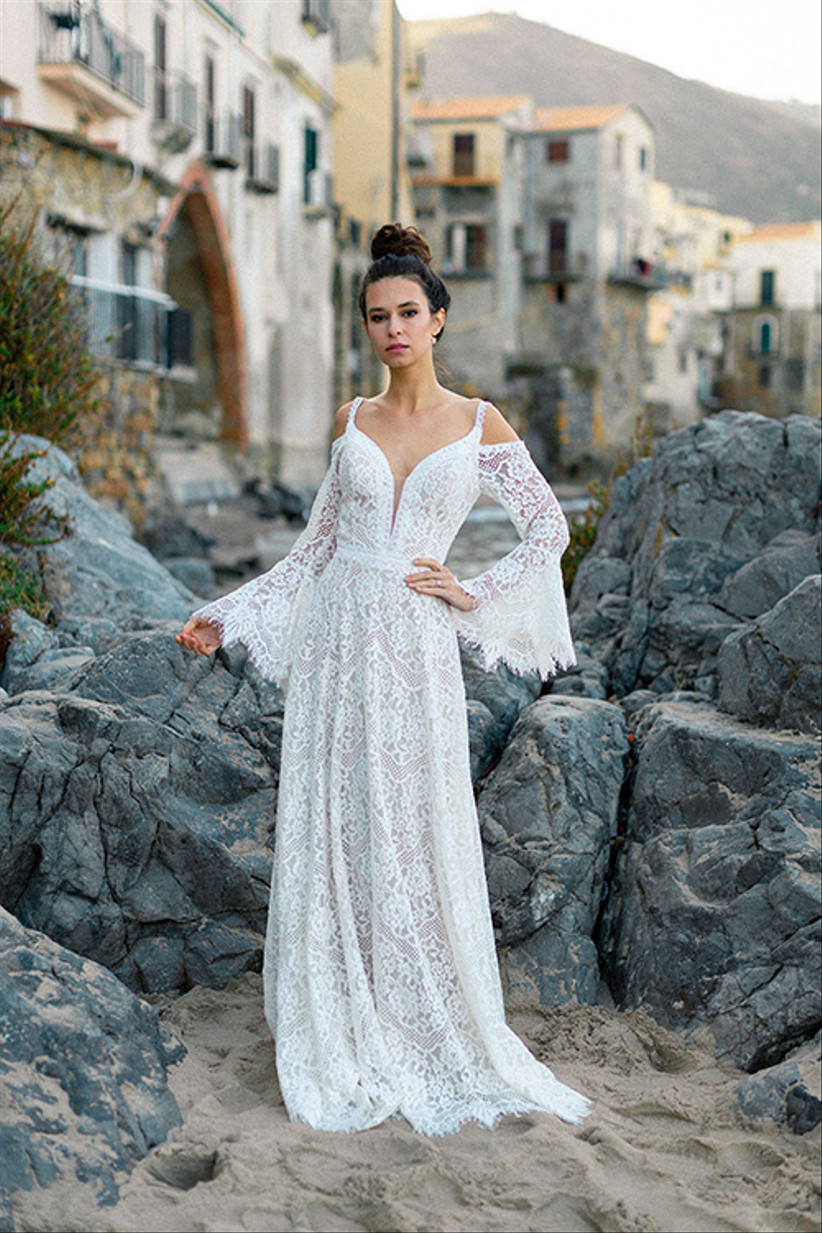 We love the attitude of this wedding dress. It has the dreaminess of a classic boho gown, but with an undeniable fashion edge thanks to the cold-shoulder design and those amazing sleeves.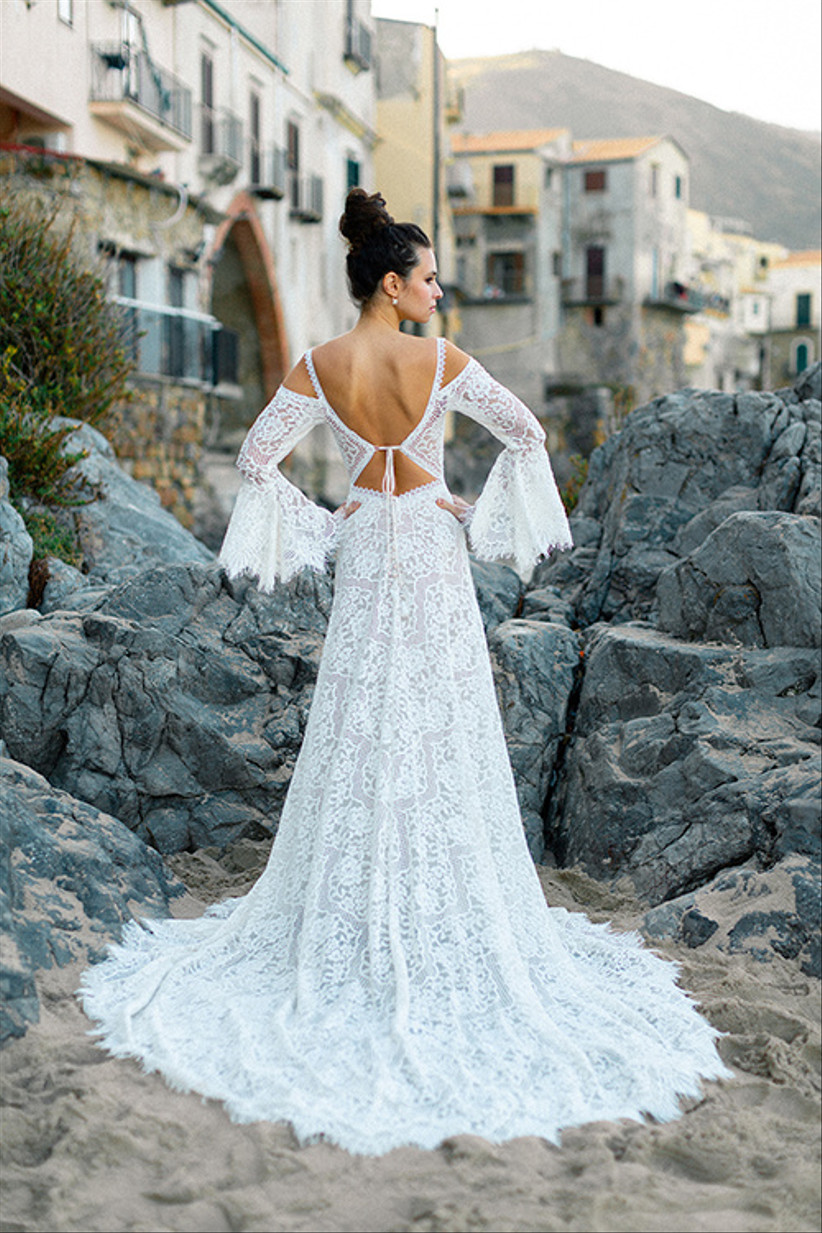 That statement back with tie really brings it all together. This is one for the cool-girl brides.
4. Style 9762 from Allure Bridals, Fall 2020 Collection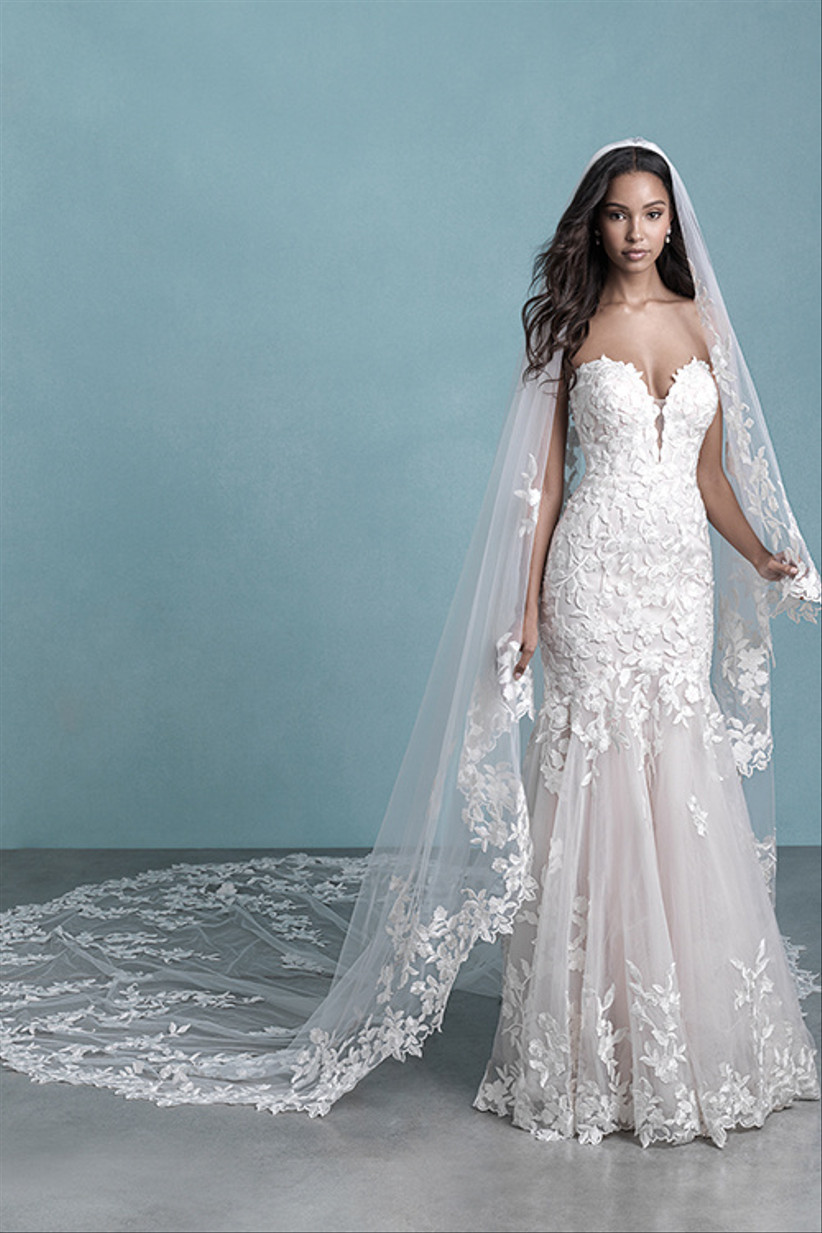 We cannot get enough of the botanical lace appliqués on style 9672 - this is pure prettiness distilled into a wedding dress. Pair with veil VO32 for the ceremony.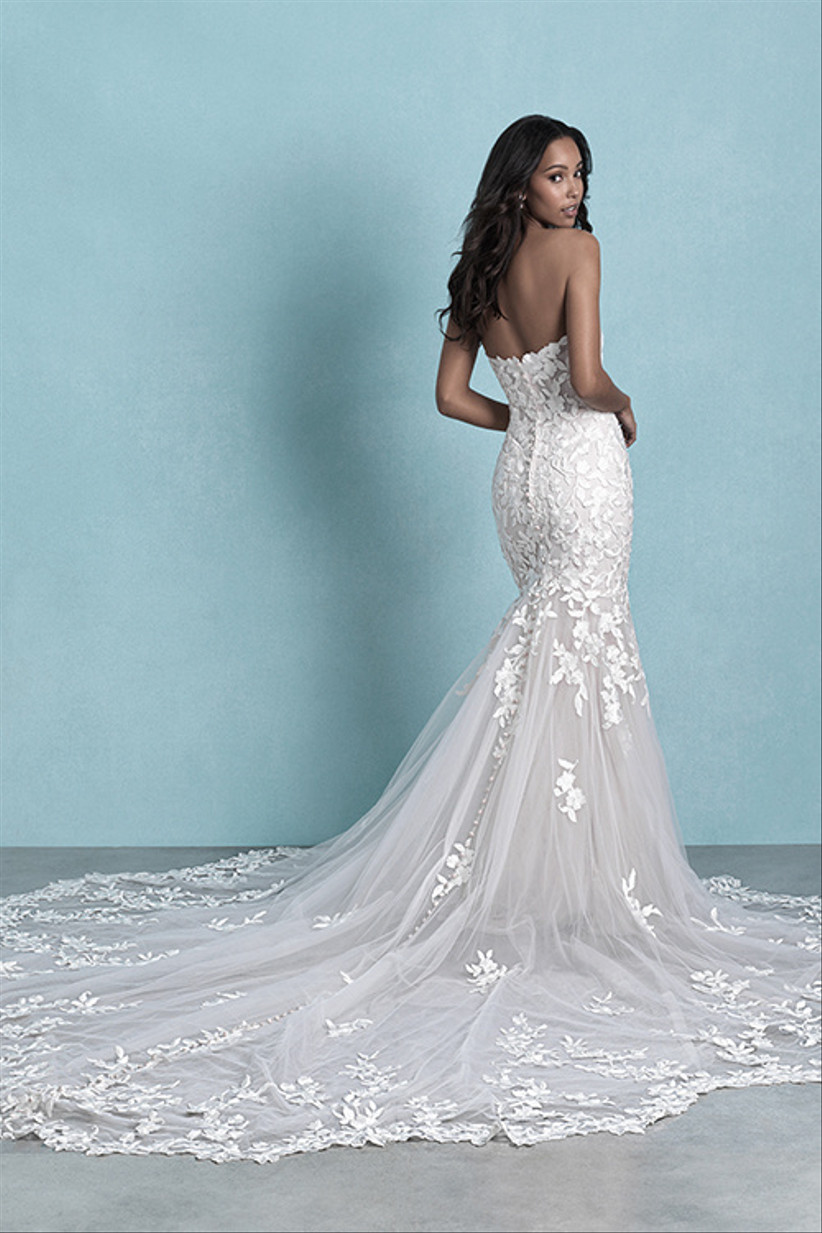 The way the fluted skirt flows at the back is bewitching.
5. Style E108 from Abella, Fall 2020 Collection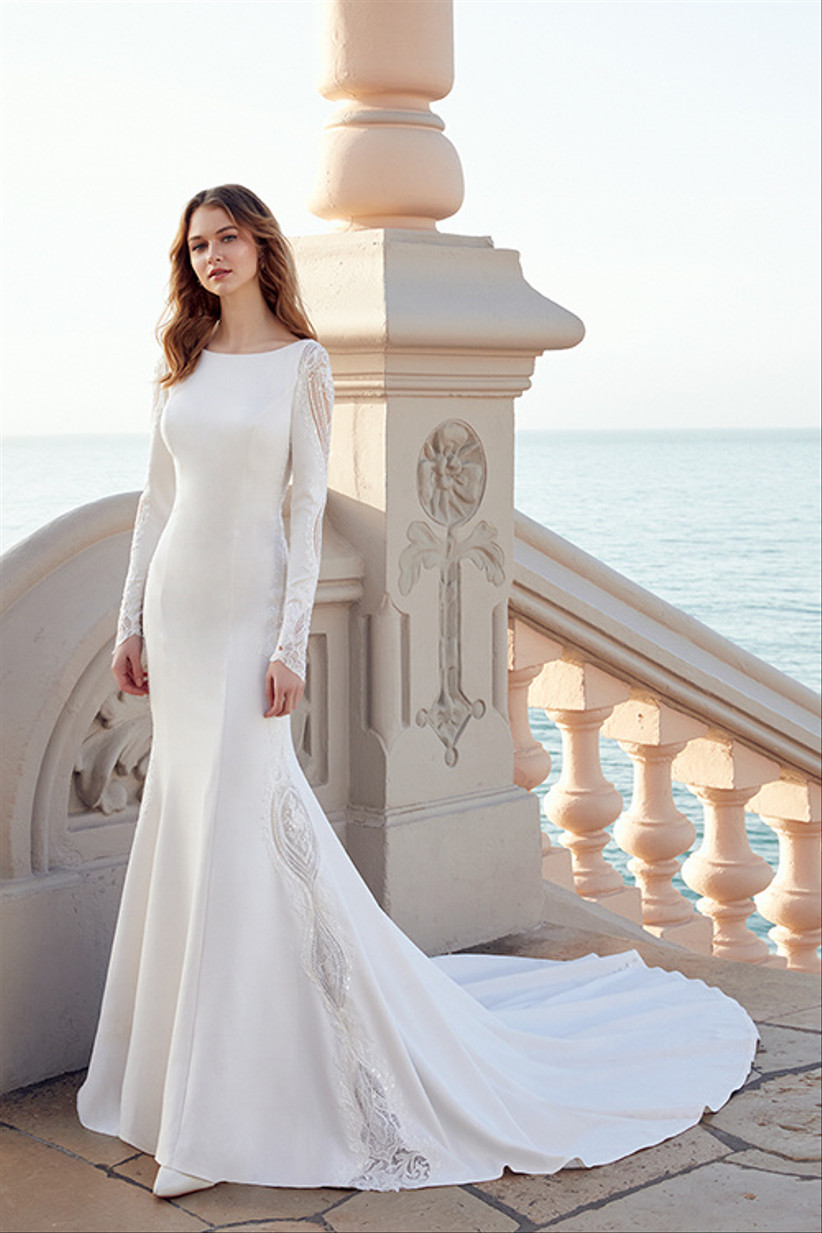 Style MJ615 is bridal sophistication from head to toe, with a figure-skimming silhouette that moves into a perfect train.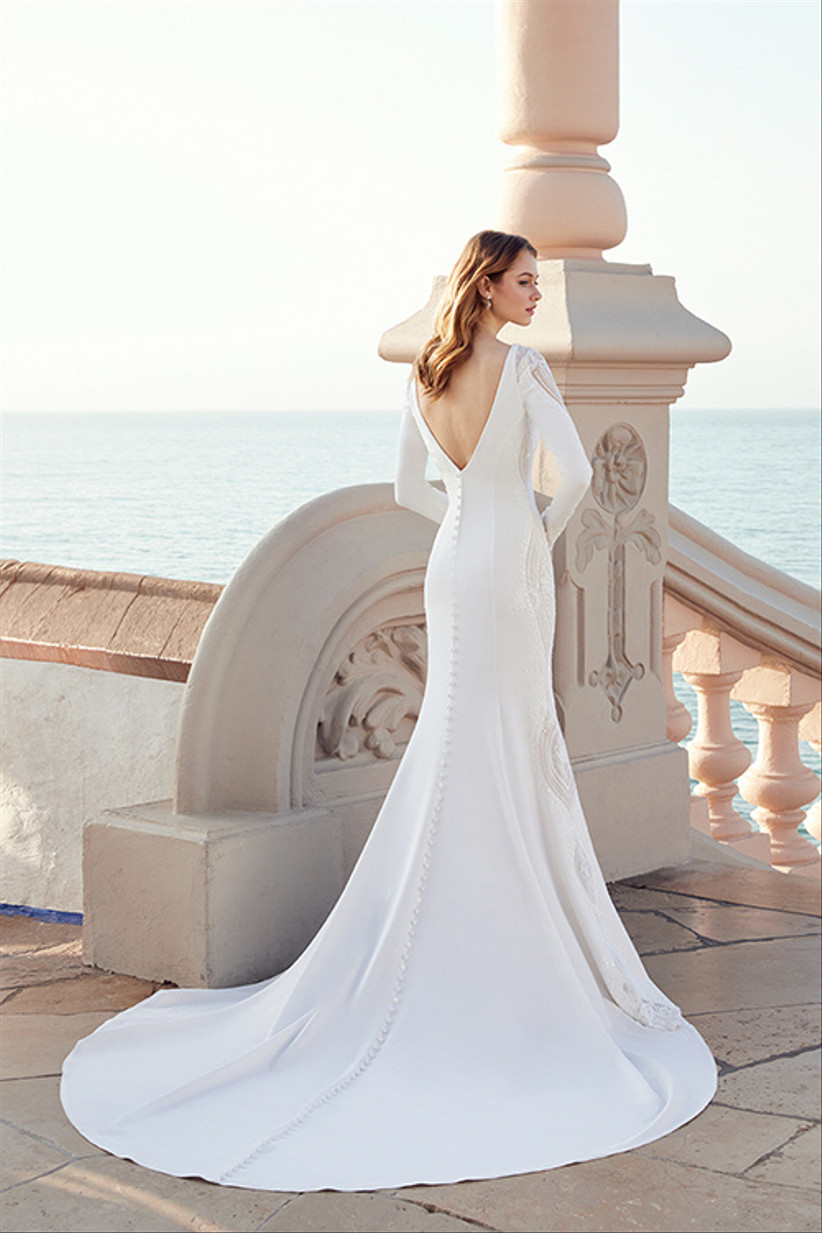 Sparkling lace cut-outs at the sleeves and sides add extra interest, and the low back is subtly sexy.
6. Style MJ664 from Madison James, Fall 2020 Collection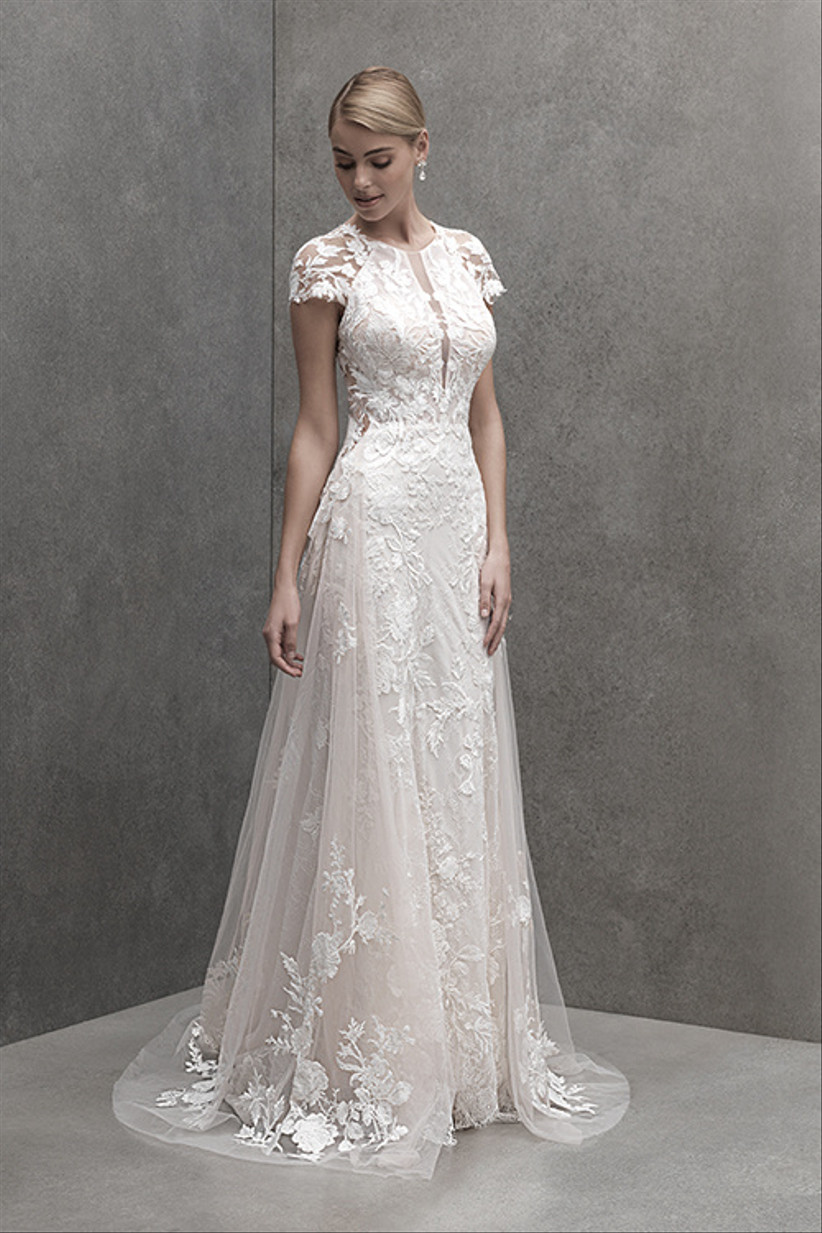 Style MJ664 feels both elegant and pretty, with hints of sparkle coming through courtesy of the sequinned appliqués.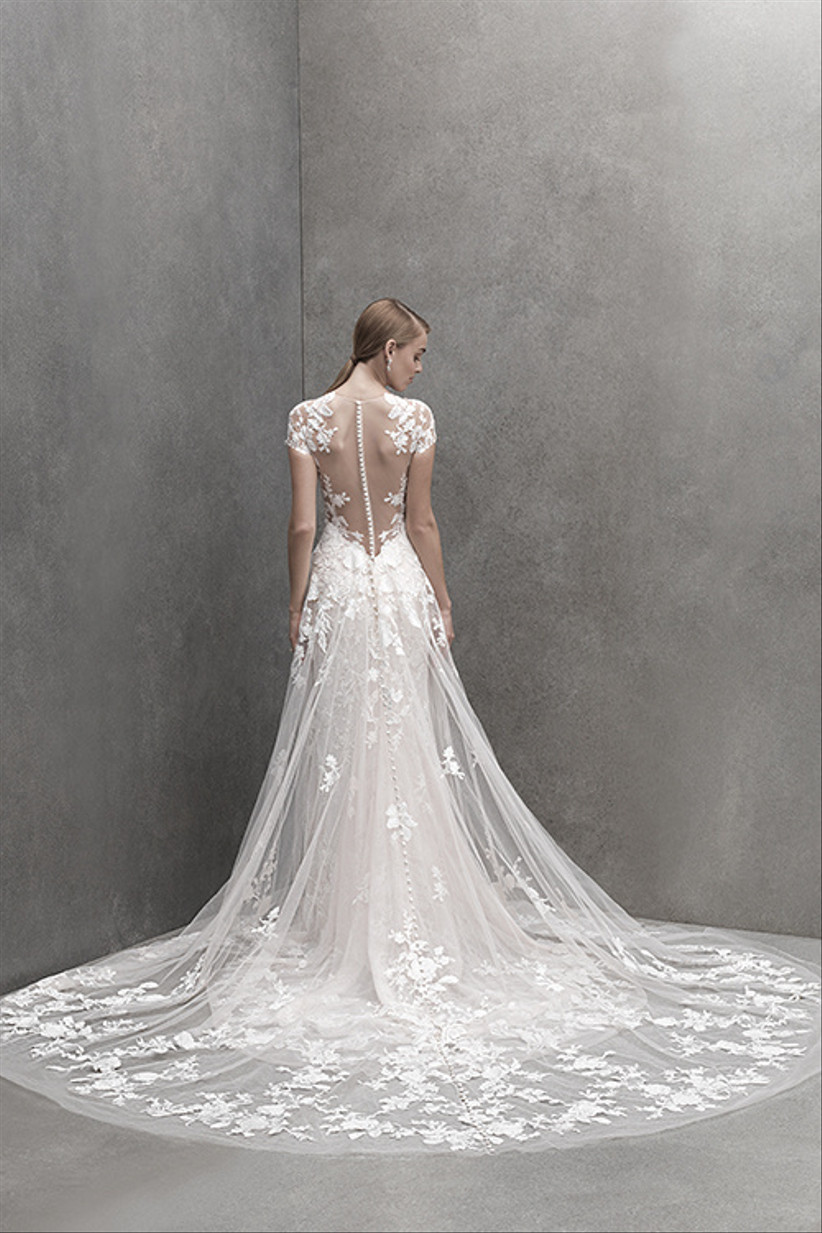 We love a wedding dress with a statement back, and this is surely one of the most enchanting we've seen.
7. Style 9804 from Allure Bridals, Spring 2021 Collection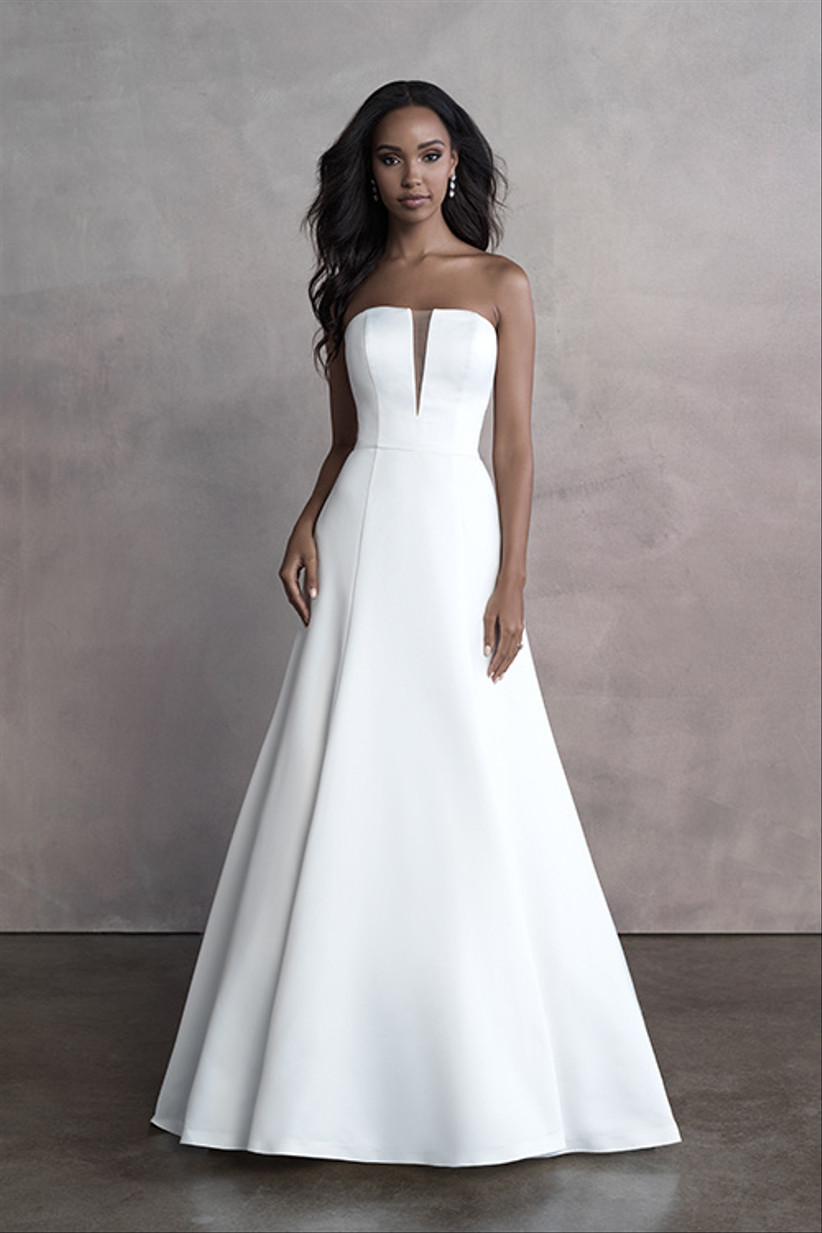 A simple wedding dress needs to be perfectly cut to make an impact - and that's certainly true of style 9804 - just look at the shape of that A-line silhouette.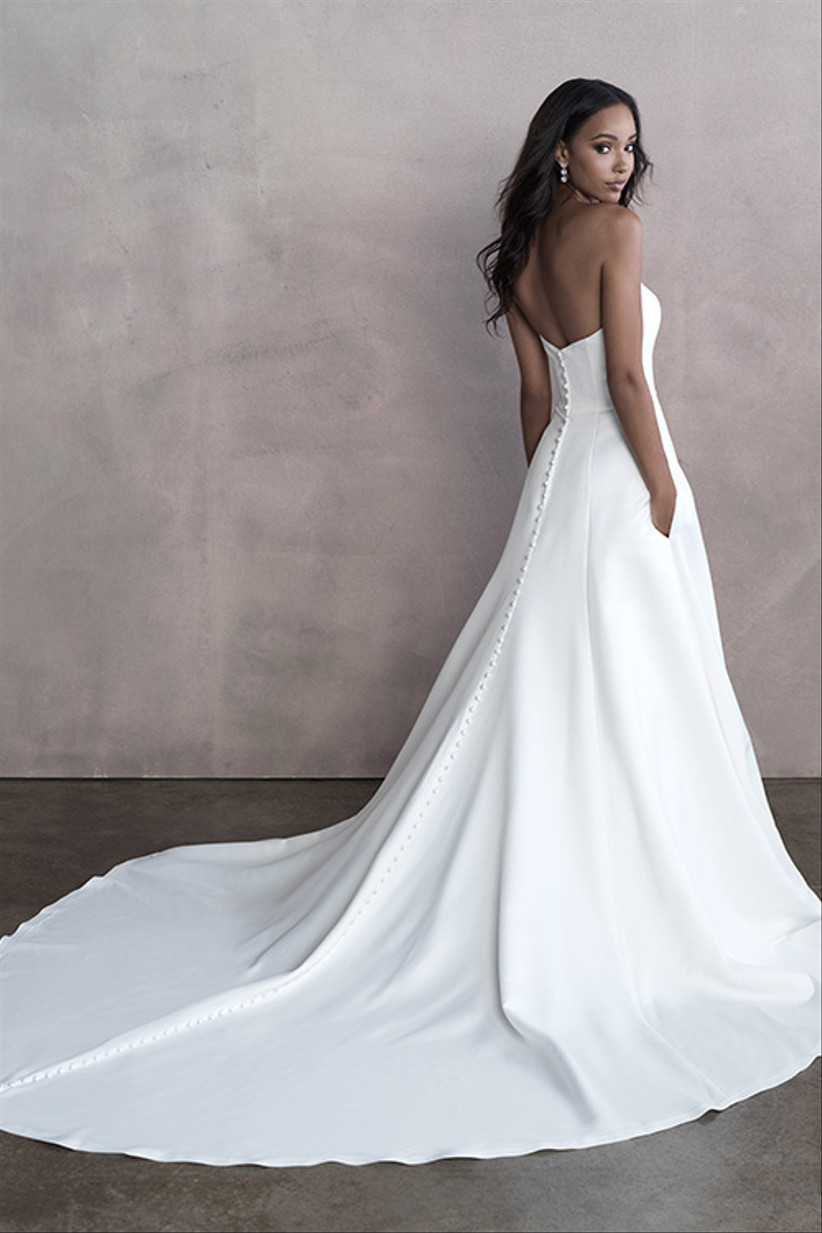 We suggest keeping your bridal look simple for the day, then adding jewellery and hair accessories for some evening reception glamour.
8. Style 3407 from Allure Romance, Spring 2021 Collection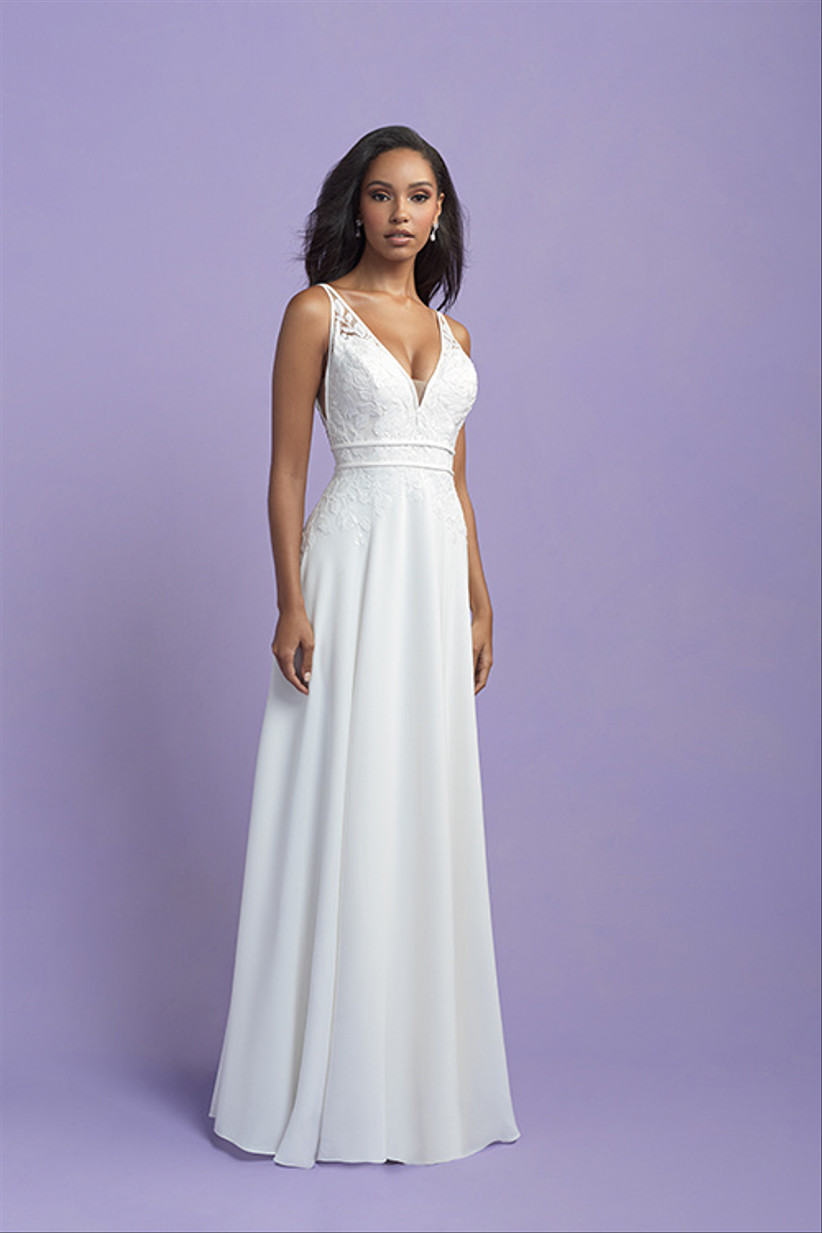 This wedding dress is a modern classic. The silhouette is pure red carpet, and the plunging neckline keeps it current.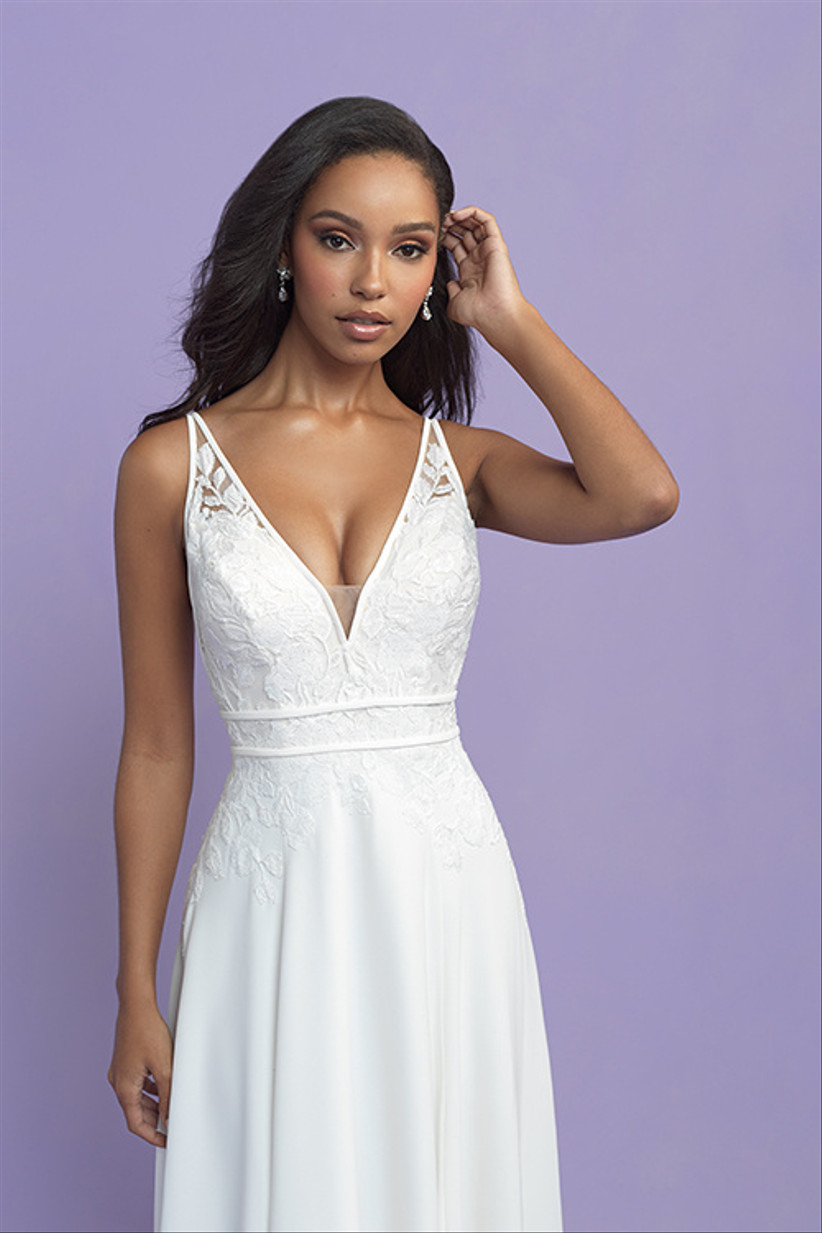 The lace on the bodice is pretty but also subtle enough not to overwhelm a bride.
9. Style MJ708 from Madison James, Spring 2021 Collection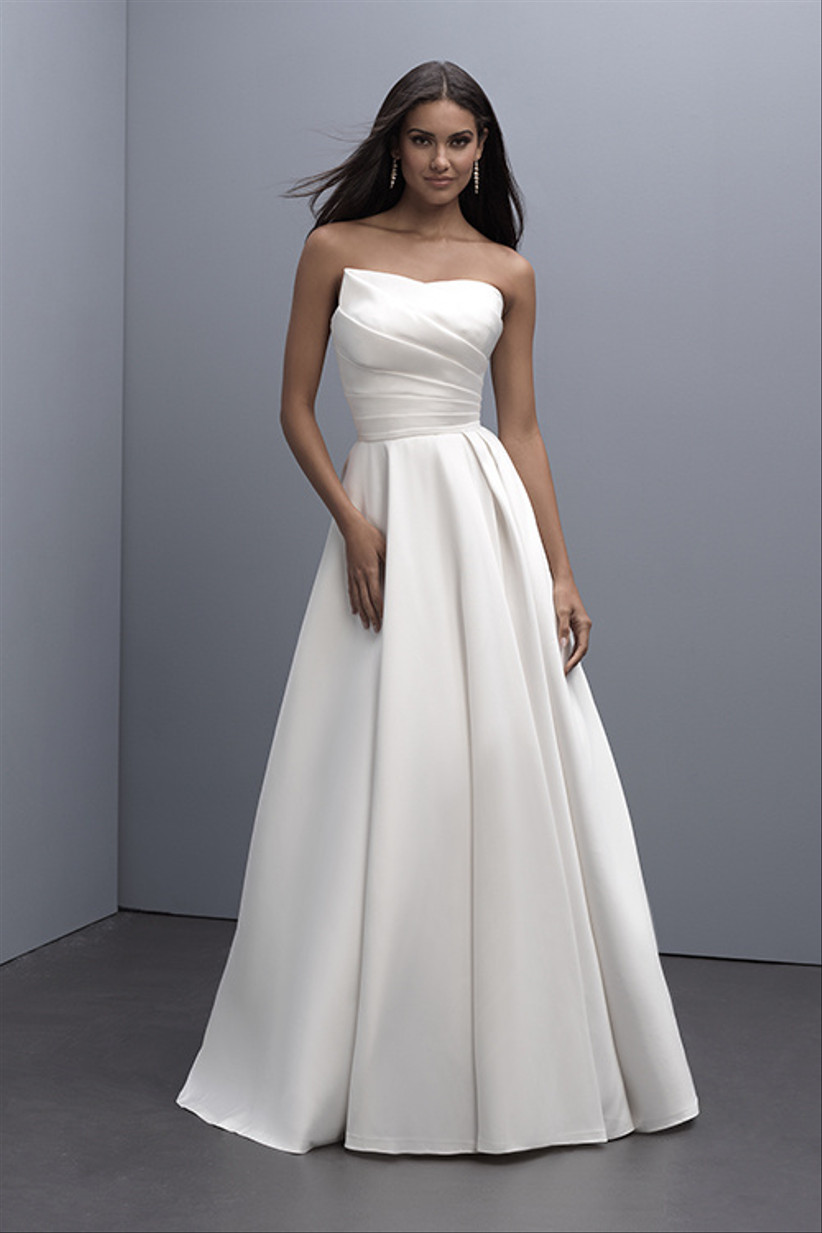 Bridal glamour doesn't have to involve sparkle. What makes Style MJ708 so undeniably captivating is that incredible sculptural bodice, leading into a wide-pleat skirt.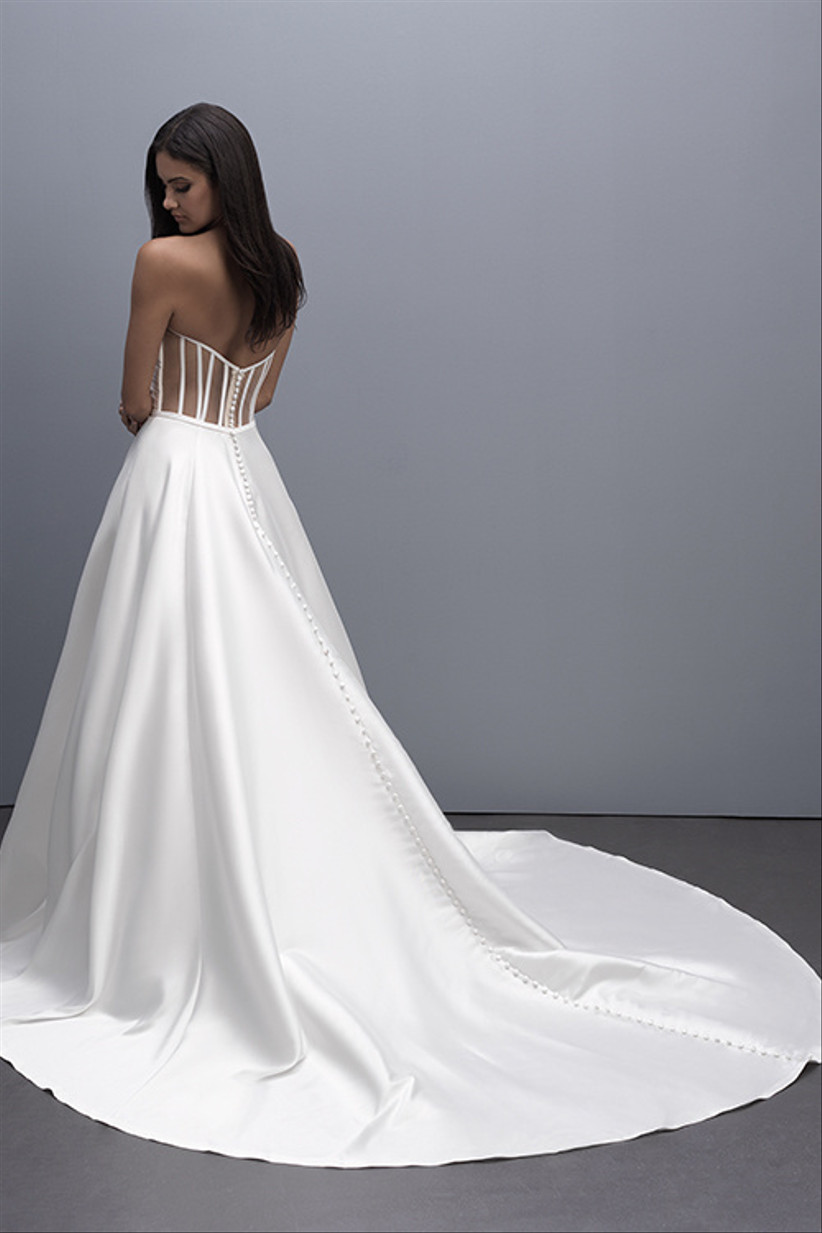 Then you turn around and reveal a uniquely stylish back that has the same precision design as the front. A triumph.
10. Style E150 from Abella, Spring 2021 Collection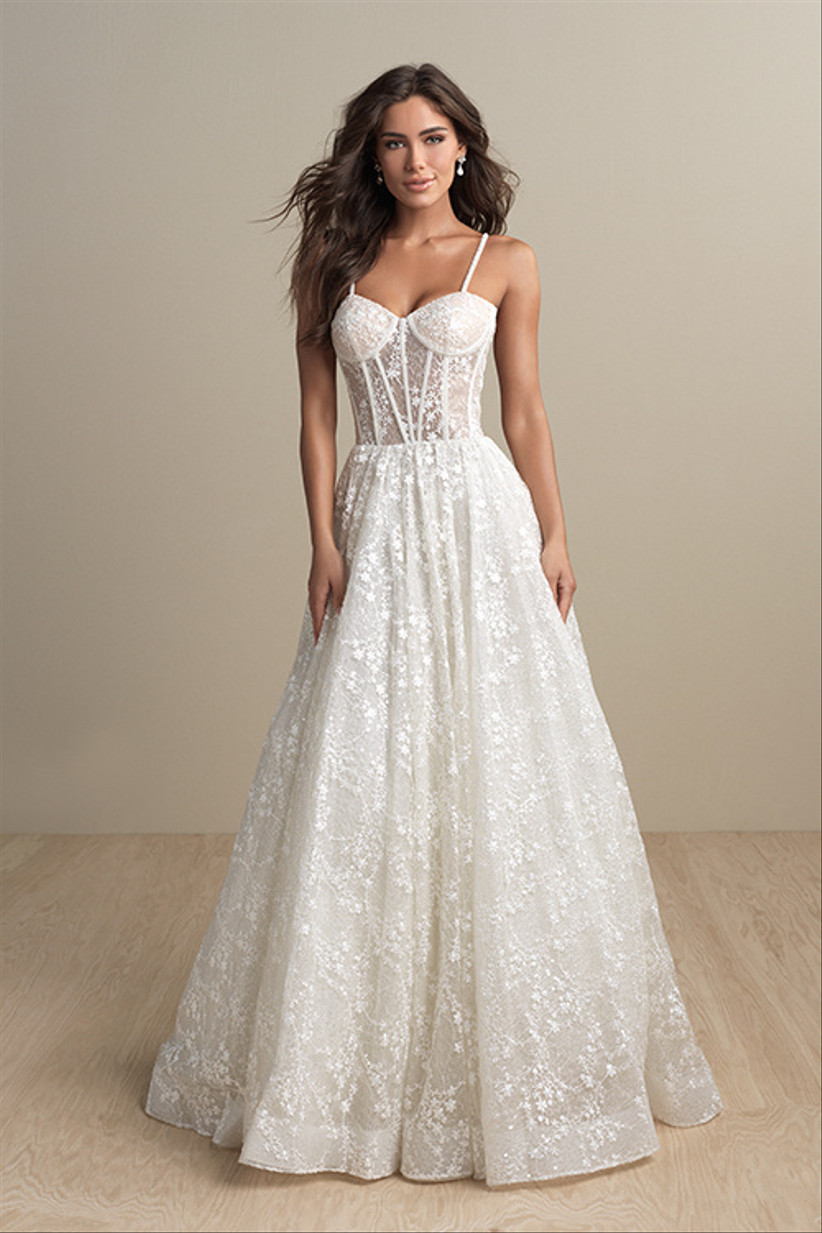 This wedding dress is gloriously sexy, thanks to the exposed boning and spaghetti straps.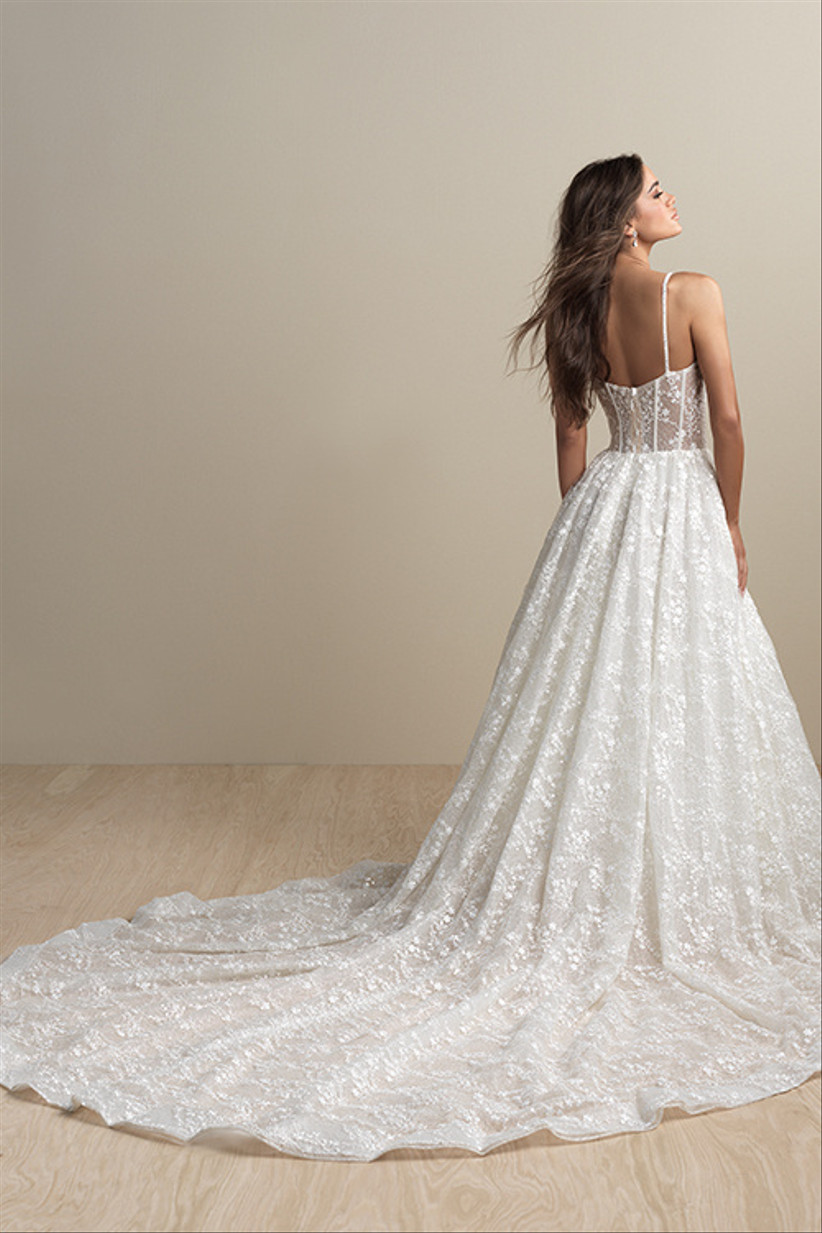 The floral finish, however, keeps it romantic, too, and that sparkling tulle skirt brings a fairytale note to the overall look.
11. Style C600 from Allure Couture, Spring 2021 Collection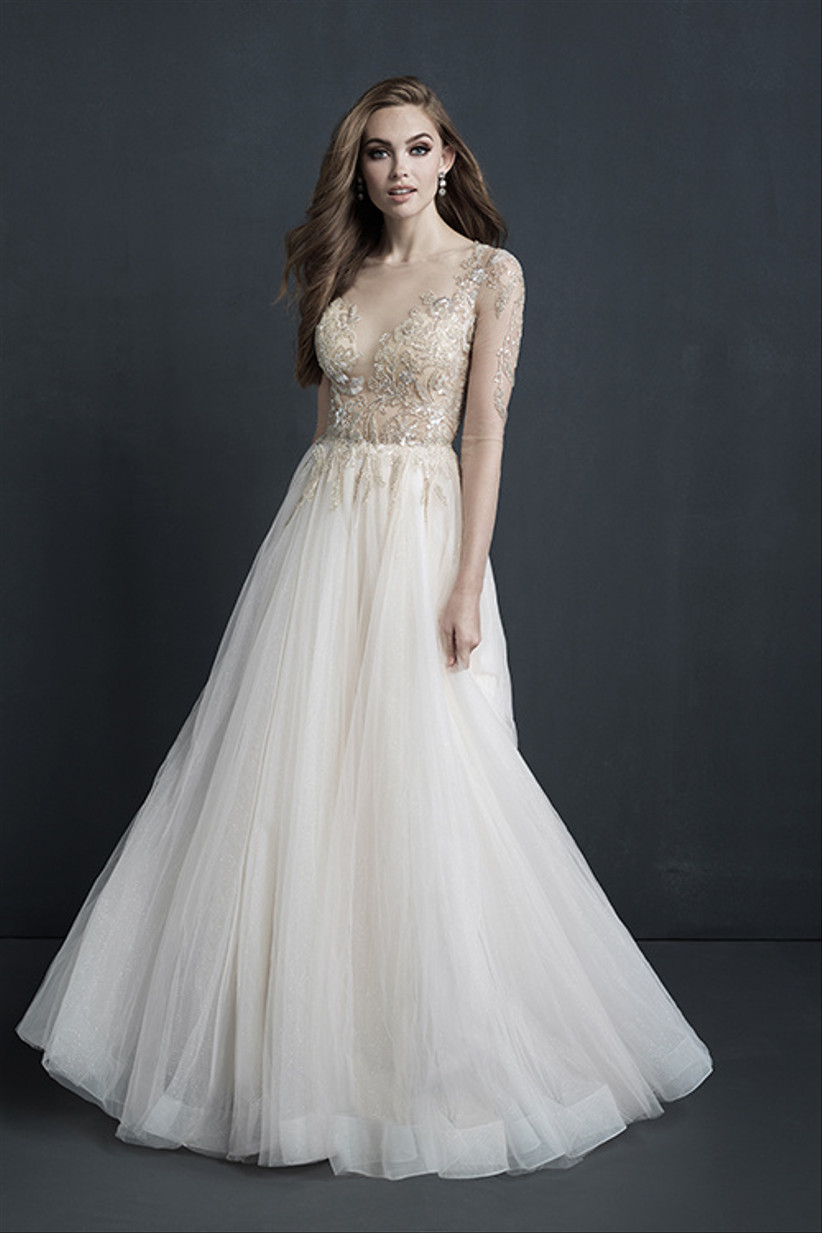 This wedding dress is thoroughly enchanting. The sparkling appliqués work perfectly against light-as-air tulle.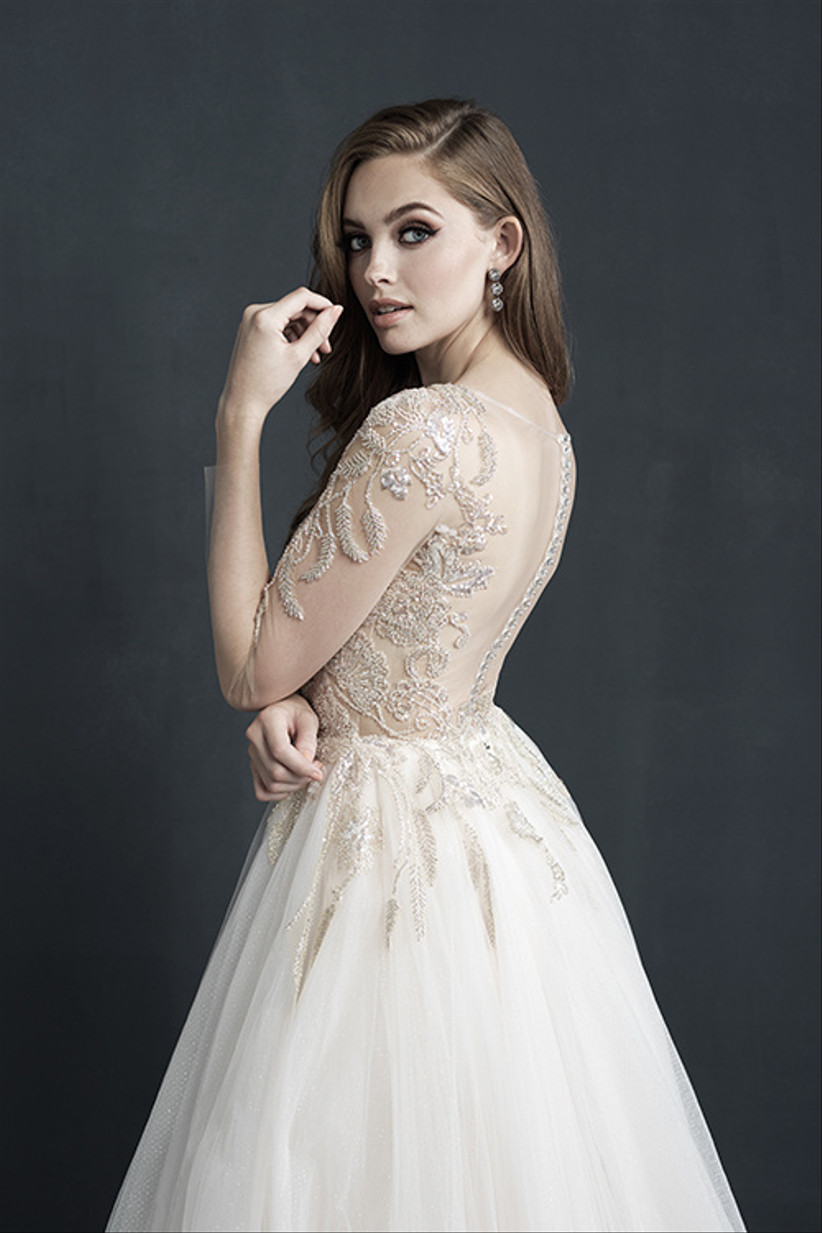 The attention to detail here is incredible - just look at how the intricate appliqués of the bodice flow onto the top of the skirt.
12. Style F221 from Wilderly Bride, Spring 2021 Collection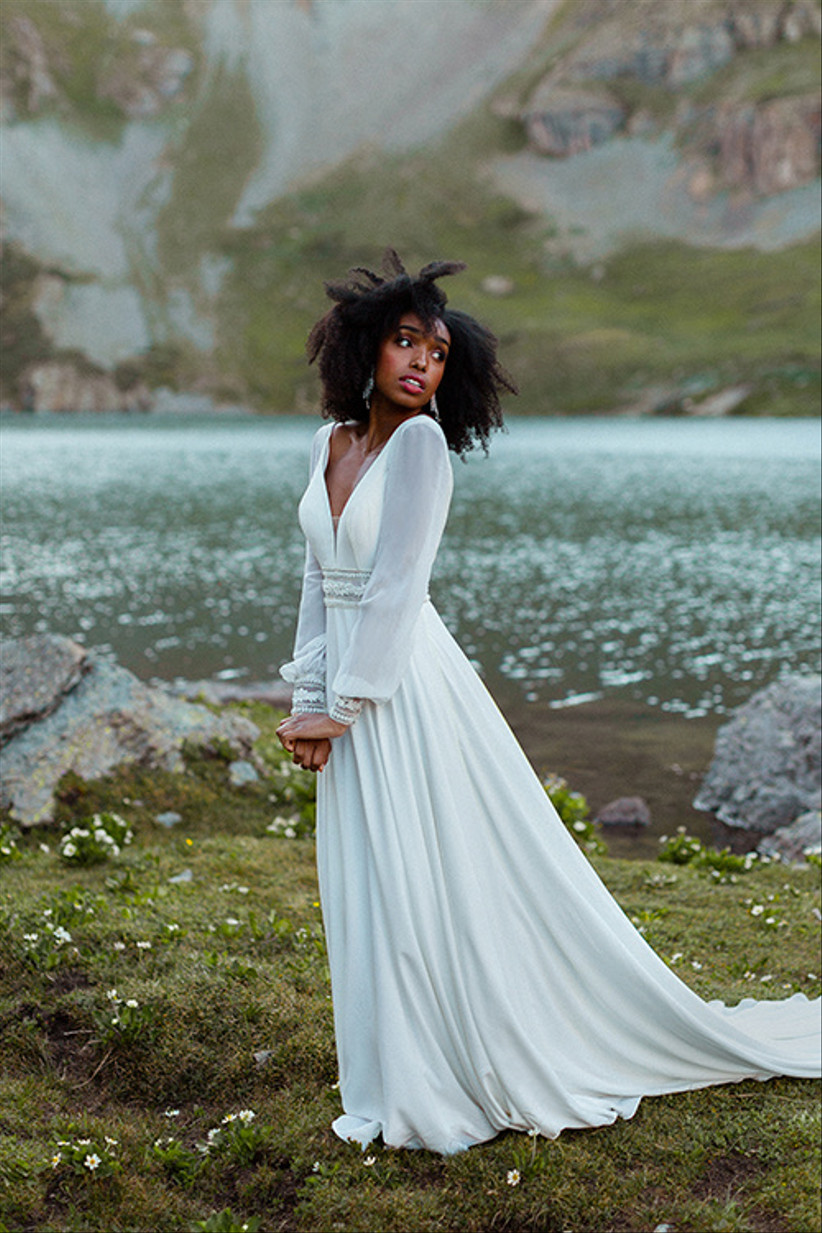 This wedding dress is the sophisticated way to do boho, with delicate chiffon sleeves and a statement beaded waistline.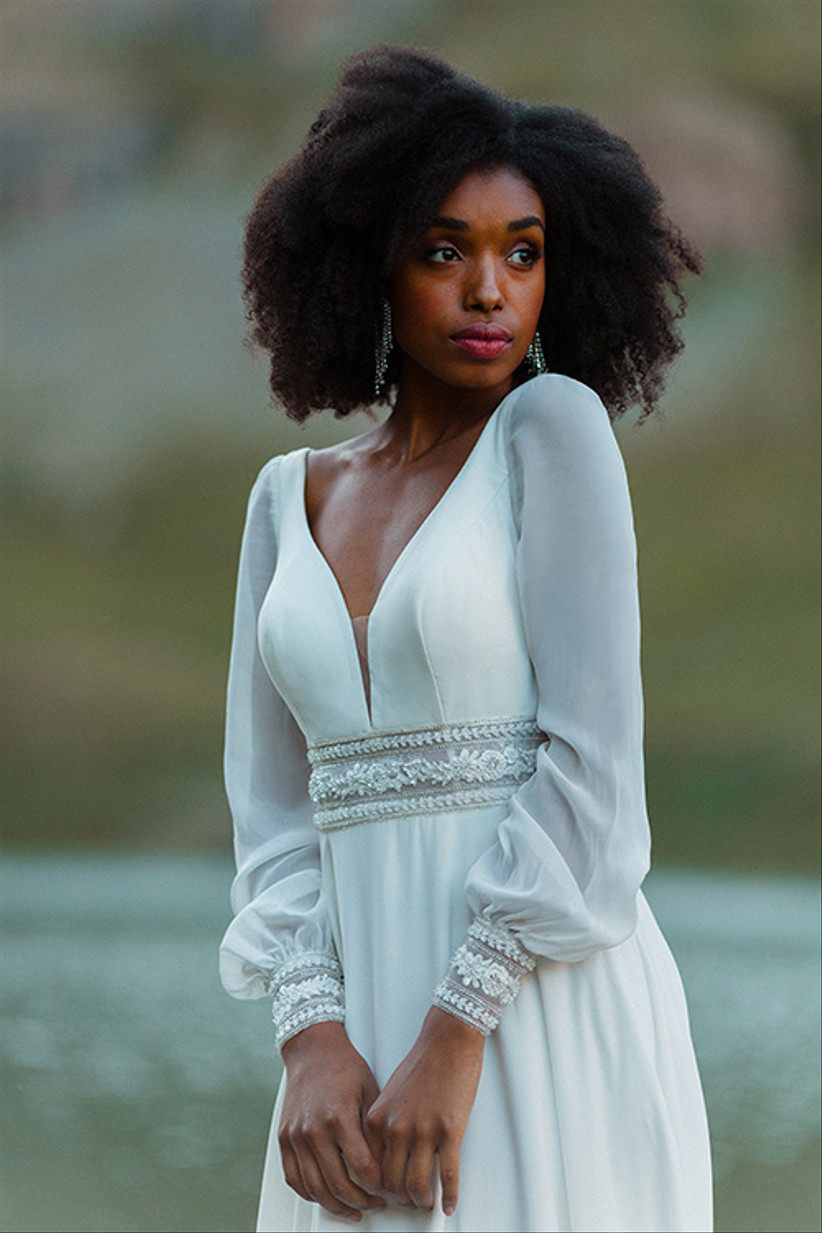 The A-line silhouette is universally flattering.
You'll find even more wedding dresses to add to your must-try list at allurebridals.com.
READ MORE: 32 Questions to Ask Before Buying a Wedding Dress