Made In Chelsea's Lucy Watson and James Dunmore Secretly Marry in Greek Ceremony
The reality TV couple jetted off to Kefalonia, the same island where they got engaged one year ago, to celebrate their wedding day with their famous friends.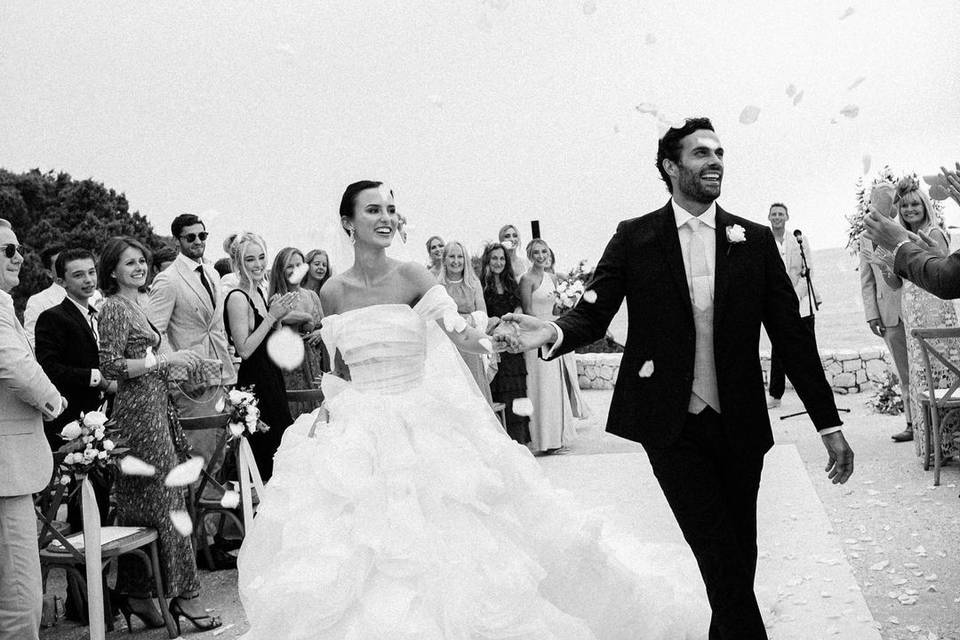 Made In Chelsea stars Lucy Watson and James Dunmore have revealed they married in a secret ceremony in Kefalonia in Greece.
After dropping hints across her Instagram, Lucy and James finally shared gorgeous photos of their wedding day, showcasing Lucy's stunning, ruffled Natalie Rolt wedding dress with a Bardot neckline.
Lucy, 30, and James, 32, looked spectacular standing in front of the sea in her photo, while sharing a happy first kiss as husband and wife. She captioned the snap with their wedding date: "12.09.21".
View this post on Instagram
James shared a romantic photo of the couple walking down the aisle after exchanging their vows. "My wife and I," he wrote, proudly.
In the background, Lucy's sister Tiffany is visible as a bridesmaid, beaming as her sister walked down the aisle to a shower of petal confetti.
The photo reveals the couple had an outdoor wedding ceremony with guests seated in rows looking out to sea.
View this post on Instagram
Lucy had begun teasing fans a few weeks back about her upcoming wedding, including an Instagram story of her wedding dress being packed up to be shipped across to Greece. However, it was their wedding guests who first confirmed that they had indeed celebrated their special day on the picturesque island.
Fellow MIC co-star Joshua "JP" Patterson posted a snap of himself with Sam Thompson and a friend dressed up to the nines. He wrote: "The calm before the storm with these two celebrating the special day."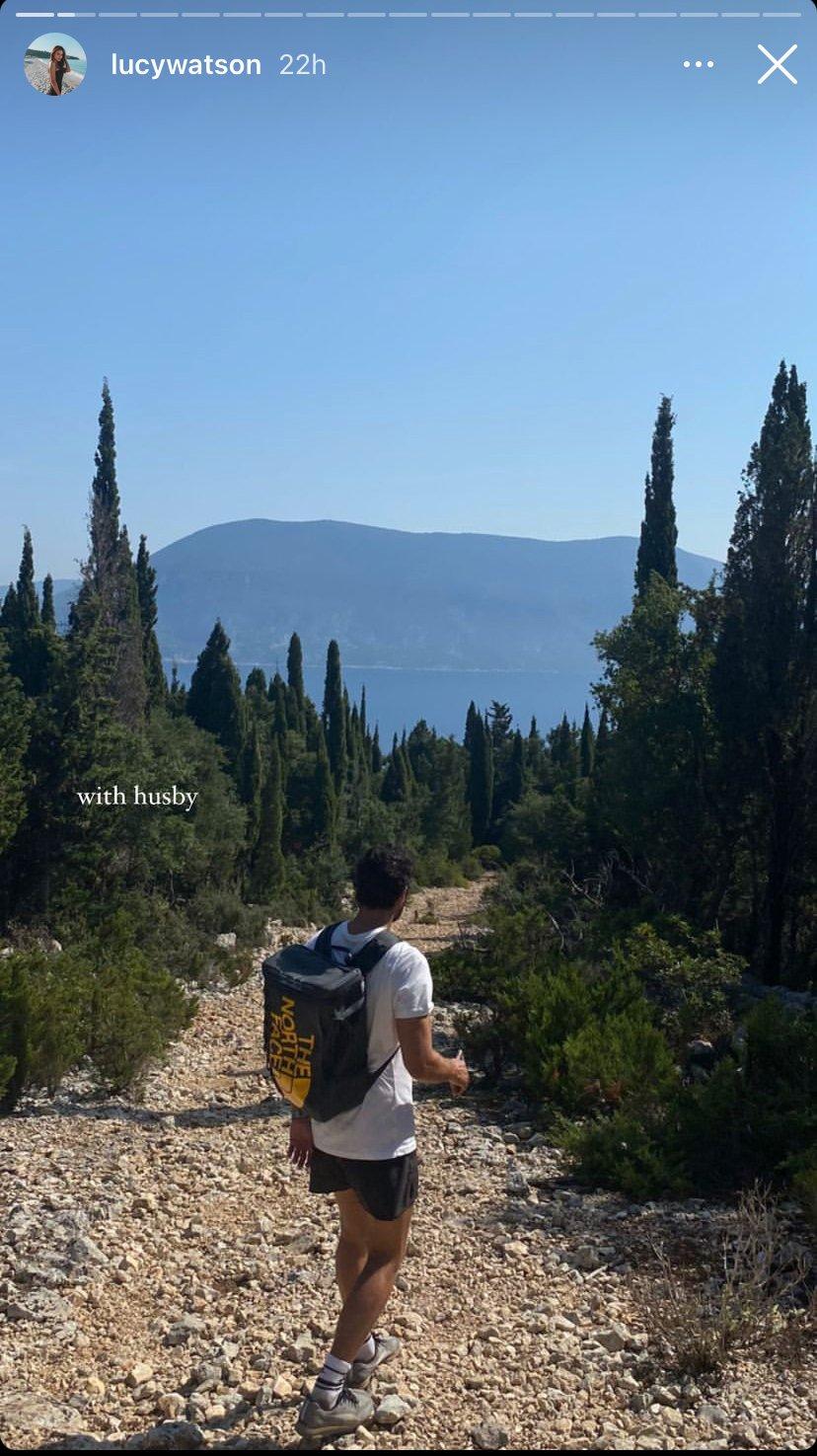 He had earlier posted a photo of himself and Sam knocking back the beer at a boozy dinner, confirming they were in town for pal James' wedding.
JP wrote, "We're reunited for Dunmore's wedding, let the celebration begin. Ouzo please waiter!"
Sam was dressed in a three-piece suit and a buttonhole, indicating he was part of the wedding party.
View this post on Instagram
Famous friends were quick to congratulate the pair. Former TOWIE star Lucy Mecklenburgh wrote, "Wow wat a dress!!! Congratulations," while MIC co-star Sophie Haboo - which is dating the couple's close friend Jamie Laing - added, "So beautiful!!! x".
Binky Felstead sharing an emoji of three white hearts, echoing Lucy's sister Tiffany's post of three red hearts.
View this post on Instagram
Two weeks ago, Lucy celebrated her hen party on the island, sharing an image of herself looking stunning in a pair of bridal white trousers, a gold top and a veil.
Kefalonia holds a special place in Lucy and James' hearts as they have been vocal supporters of Animal Rescue Kefalonia, volunteering at the animal shelter and rescuing their cat Leo from there.
The couple met on Made In Chelsea six years ago in 2015 and fans have watched their love blossom on-screen.
View this post on Instagram
Lucy revealed that James had proposed in September 2020 on a sunset cruise around the waters of Fiskardo, a historic harbour village that's considered one of the most beautiful parts of Kefalonia.
She told fans in December: "He got the hotel we were staying in to send me a letter saying we were going on a free yacht trip (awkwardly I wasn't that surprised). He had booked the boat and planned everything.
"The boat was stunning and I was trying to get content for the hotel. There was a full vegan meal and Champagne and we went on a crazy beautiful tour of some private islands. Some of the prettiest scenes I've ever witnessed.
View this post on Instagram
"We went to take a photo together and there he was on one knee. I was literally in shock, my heart didn't beat for like 3 seconds.
"We then spent the day on the boat and had the best time with another couple we're friends with, watched the sun go down. It was perfect."
In a beautiful full circle moment, they returned to the same spot to celebrate their wedding day. Congratulations to Lucy and James! We can't wait to see more photos.