Getting Married on a Cruise
We've got the ultimate guide to saying your vows on board a cruise ship
We have included third party products to help you navigate and enjoy life's biggest moments. Purchases made through links on this page may earn us a commission.
If you love the idea of getting married looking out on to the ocean but aren't keen on a destination wedding, then why not consider getting married on a cruise ship.
Besides being ultra-romantic, getting married on a cruise ship can take the stress away from the traditional way in which to plan a wedding. With your wedding and honeymoon rolled in to one, you'll be able to plan your cruise ship wedding with ease, and with the help of the dedicated staff on board.
A cruise ship wedding works well for all types of guests as they can all make it a holiday as well as being part of your wedding experience. If you plan on having a cruise ship wedding then you'll need to accept that not all of your guests may be able to afford both the time away and the cost of a cruise style holiday. Couples who choose to get married on a cruise tend to have smaller weddings, but can still enjoy everything that a traditional wedding entails. You may even find getting married on a cruise to be more cost effective than if you were to have a larger celebration at a wedding venue on land.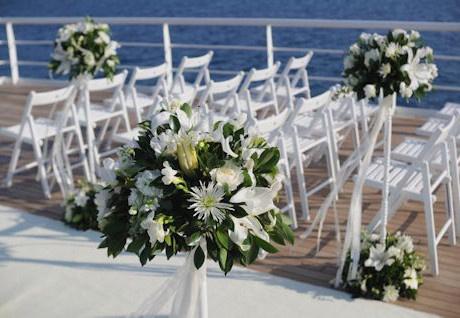 Each cruise liner will be able to offer different options when it comes to planning a wedding on board, plus they should all have the choice of getting married inside or outside along with access to a wedding photographer, florist, hair stylist, wedding cake choices and more. The team will also be able to arrange wedding music, and if you forget to buy your wedding rings in advance then the on-board jeweller of most cruise liners may be able to help you there as well!
A benefit of getting married on a cruise ship is that you'll be able to take as much luggage on board as you like; this means that you won't have any restrictions when it comes to carrying your wedding dress, as you may do if you were flying to a destination to get married abroad. You should also be able to choose which day of your cruise you tie the knot.
Some cruise liners even have their very own wedding chapel on board. Weddings take place almost every day on cruise ships and you may find that you are not the only couple to get married on that particular day. However, the planning team behind the scenes are used to helping couples plan their weddings all the time. They'll be able to speak to you in advance of you travel, so that you'll know exactly what to expect, and don't be afraid to treat your cruise wedding any different than you would if you were getting married on land.
In terms of legalities, you may need to obtain a marriage license from the specific country that your cruise has docked in, but getting married out at sea is also an option. If you wish to get married in one of the destinations en-route of your cruise journey then speak to the wedding team to see what is going to be possible.
After your cruise wedding enjoy a sumptuous wedding breakfast in one of the restaurants with your guests, and don't forget to book breakfast in bed the following morning. A full stock of champagne should be on board for you to toast your marriage every night of your cruise, following your wedding, and you may even get little added extras such as chocolate covered strawberries in your room or a celebration cake during your honeymoon if you make the staff fully aware of your situation.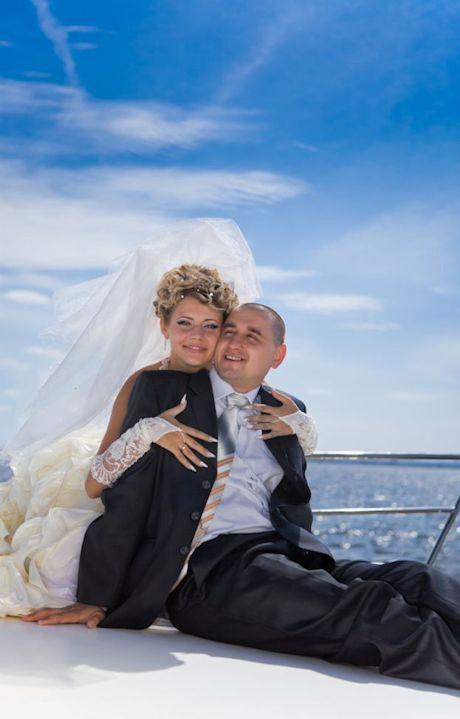 Hundreds of cruise ships leave the UK each week and travel to destinations all around the world. Popular cruise companies include Princess, P&O, Celebrity, Royal Caribbean and Cunard; all of who plan thousands of weddings on board each year.
A romantic cruise wedding could be the perfect way to start your married life, and, if you have an amazing time then why not consider renewing your vows on board a cruise liner in the future!