Why We Need Love Island 2021's Female Friendships More Than Ever
Let's be honest, Kaz and Liberty are the only couple who deserve to split £50,000.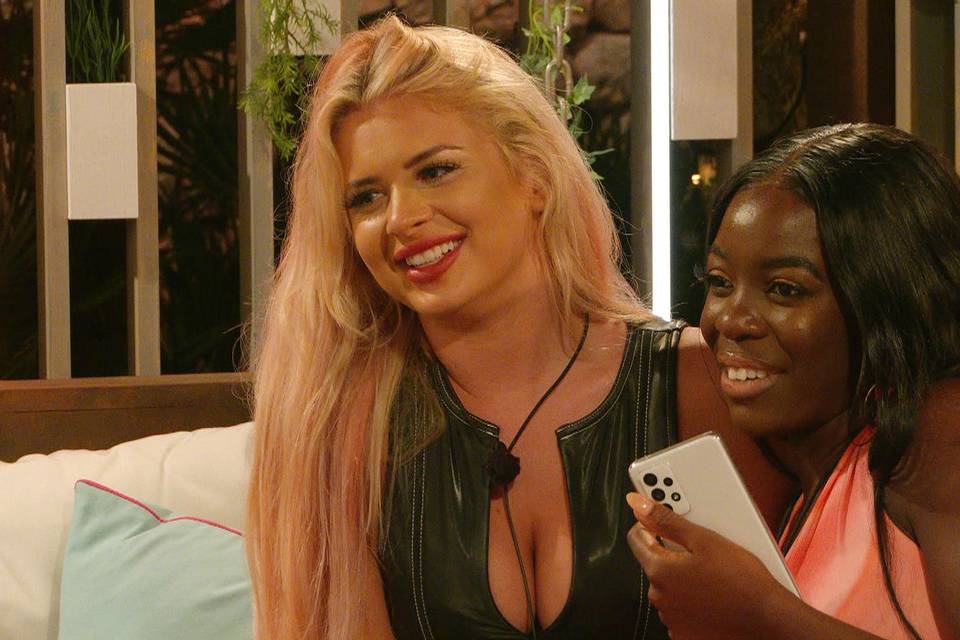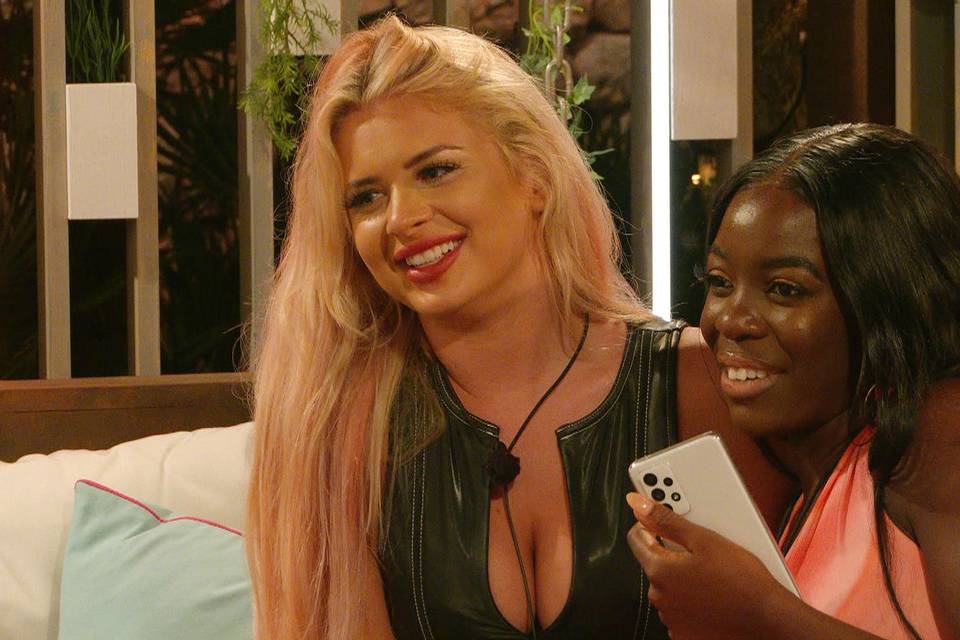 Faye didn't miss a trick when she quickly dubbed this series of the ITV2 show 'Friendship Island'.
Excluding Millie and Liam's off-the-charts sexual tension, Love Island 2021 has about as much sizzle as a microwaved sausage. Barely two weeks into the hot, young singletons setting up camp in Majorca, Kaz and Aaron cemented themselves as the 'brother and sister' friendship pairing, while Sharon and poor, unwanted Hugo were platonically spooning in bed.
In theory, all the contestants are there to find love - and split a £50,000 cash prize with their partner - but the mismatched couples of this year have left the viewing public wondering, 'If these gorgeous people can't find love in a romantic, paradise villa purposefully designed for it, how the hell will we find it at All Bar One on a Saturday night?'
Luckily, there's something else going on in the villa which has captured the nation's hearts: the female friendships. Female friendships are the soul of the show; as essential to its success as a large iced coffee is after being kept awake by Chloe and Toby canoodling all night.
View this post on Instagram
From Cara De La Hoyde and Olivia Buckland to Olivia Attwood and Amber Davies to Dani Dyer and Samira Mighty to Maura Higgins and Molly-Mae Hague, the villa runs on fierce female loyalty and sweet pep talks.
So often are women set up as rivals - see Maura and Molly's first round fight for Tommy Fury's heart - that it's so refreshing to see their friendships rise above the drama of the villa and the ladies have each other's backs when put to the test.
One of the all-time highlights of the show remains Anna Vakili eviscerating Michael Griffiths for betraying Amber Gill when he recoupled with another girl after Casa Amor. "You're a little boy after the way you treated Amber," she screamed, with a raw passion that every woman whose best friend has been hurt by their partner could relate to.
As this season builds up to the test of Casa Amor and potential heartbreak, our hope for the perfect coupling rests on the shoulders of the girls in the villa. The standout friendship of Kaz Kamwi and Liberty Poole has us tuning in far more than watching attractive couples spit a roast dinner into each other's mouth. Because, let's face it, they're the two best people in there.
View this post on Instagram
Liberty is a true sweetheart, whose abounding lovability has managed to secure an undeserving Jake a guaranteed spot in the final, while Kaz is a gorgeous, funny, bundle of energy that attracts everyone to her like a compass to the north star.
Their relaxed laughter, confidence-boosting chats, hyping each other up, and genuine concern for the other's happiness is what viewers will leave this series smiling about. That, and Liberty pieing Toby to get back at him for Kaz.
Those platonic moments - wholesome, real emotions set against a backdrop of forced challenges and contrived 'bombshell' arrivals - are exactly what we need after a year where our friendships have been forced onto Facetime calls, Zoom meetings and WhatsApp groups.
When we've been stuck in lockdown away from our besties, it's comforting and buoying to see how steadfast the power of female friendship is - even if it's strangers on our TV screen.
View this post on Instagram
It would be remiss if we didn't give an honourable mention to the bromances too, like Chris and Kem (what a shame that rap career went nowhere) and Tommy and Curtis. Often chalk and cheese personalities who'd never cross paths in real life, thrown together by fate, to remind men of the joy they can share if they shed off the bindings of toxic masculinity.
But what sets the female friendships apart is what they can teach us outside the villa. We've all sat and watched while women have been gaslighted or manipulated by boys who string them along, and it's always their villa BFF who builds them back up; who shows them their worth; who doesn't let the guys get away with it.
View this post on Instagram
When Curtis ditched an inconsolable Amy Hart in Series 5, it was Maura, Lucie Dolan and Molly-Mae who circled her like protective mother swans, wiped away her tears and gave her the talking to of a lifetime. You can bet none of the men of the villa would have told Amy the truth she needed to hear. And outside the villa, we can take a leaf out of their book: women will always be stronger as friends than as rivals, and when romantic relationships fade, they'll be the ones left behind that you can rely on.
It's a cliched saying, but 'be the woman who fixes another woman's crown without telling the world it was crooked' is essentially the Love Island girl mantra. Although in their case its an elaborately plaited hairdo, not a crown.
In six series, only two winning couples have stayed together, whereas friendships have been made that will last a lifetime. Kaz and Liberty, we're rooting for you. Pop that Champagne, girls, the £50k is yours!