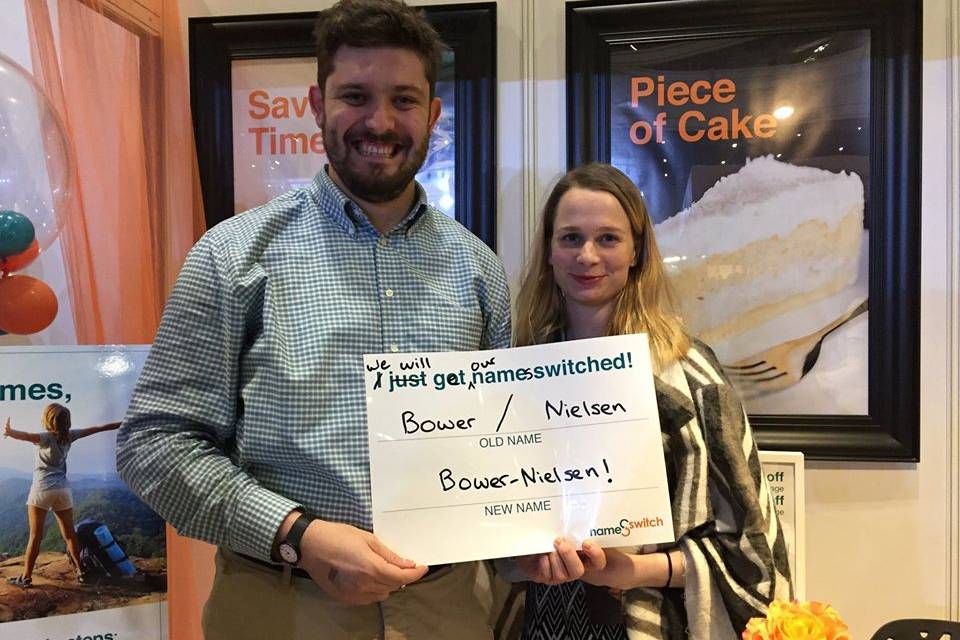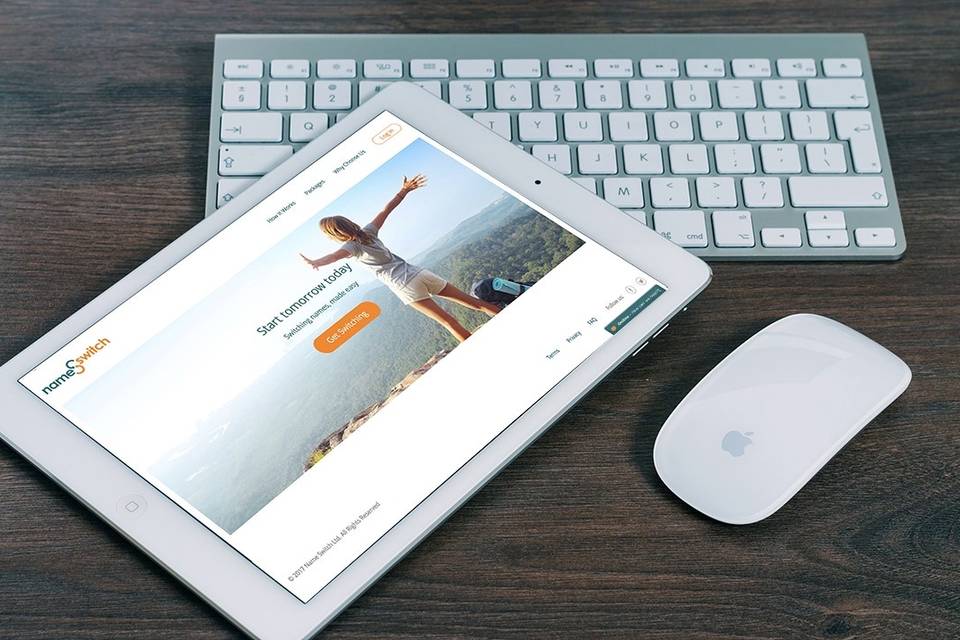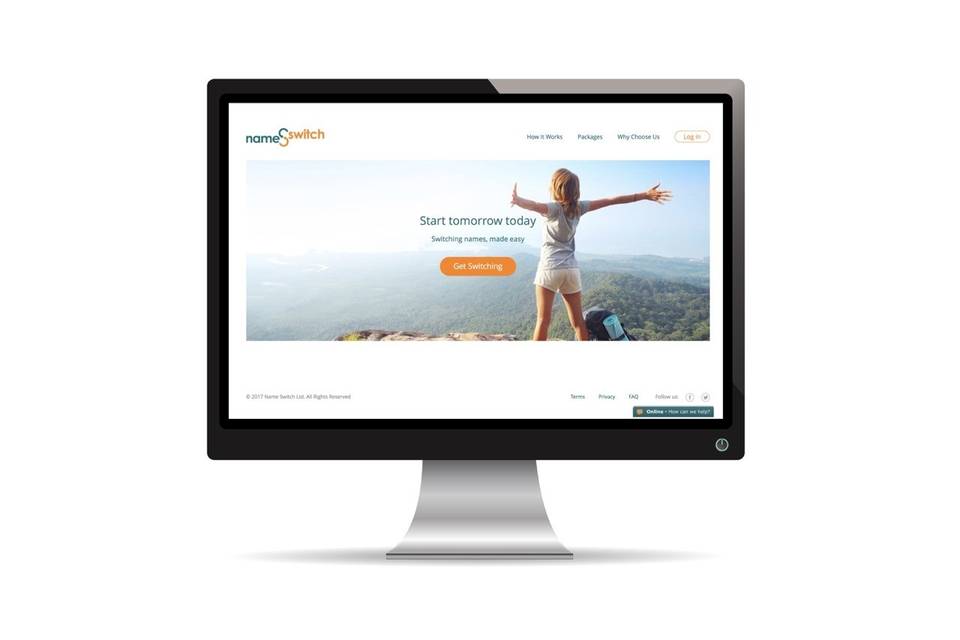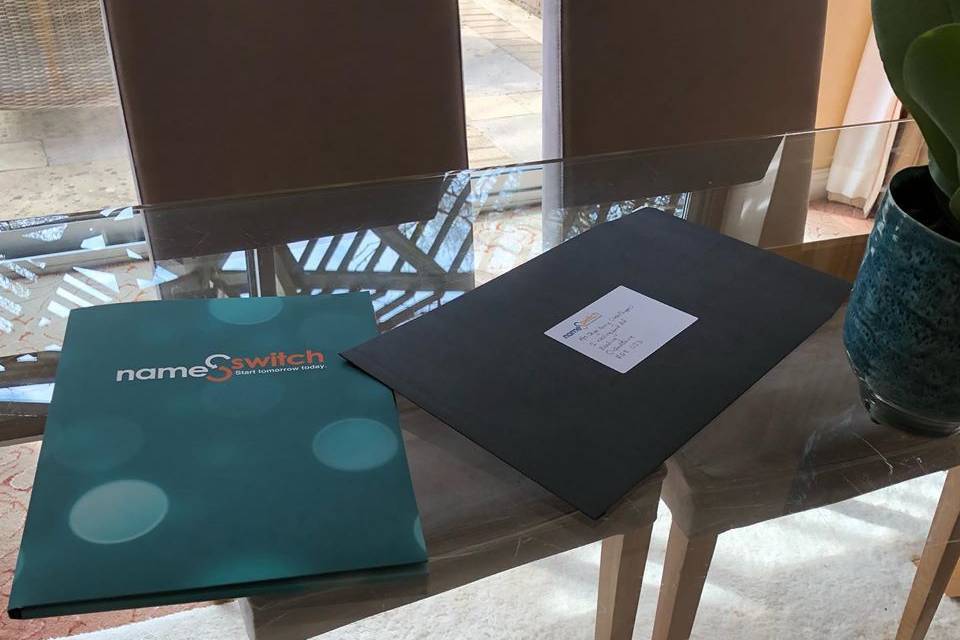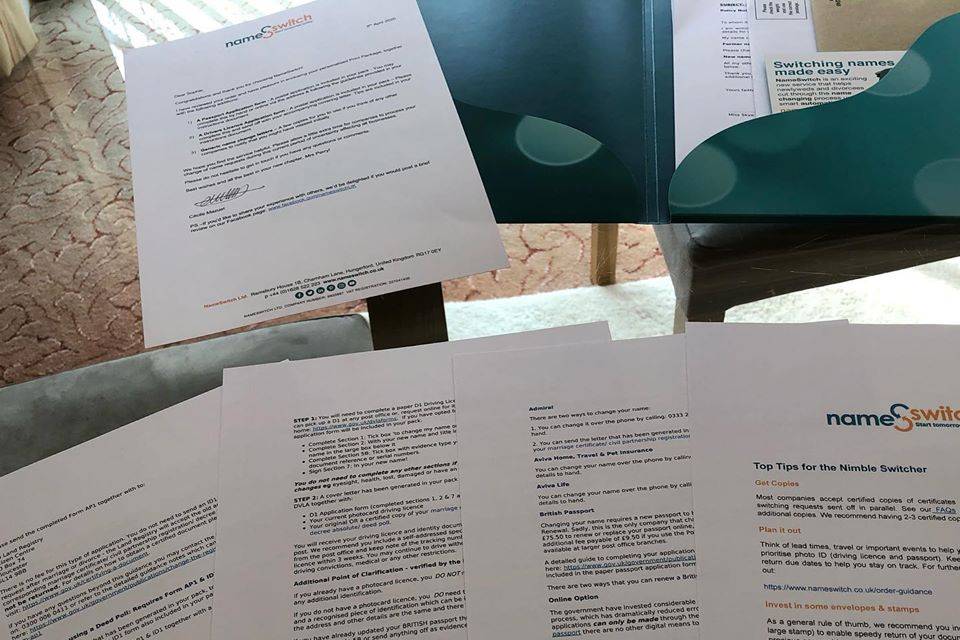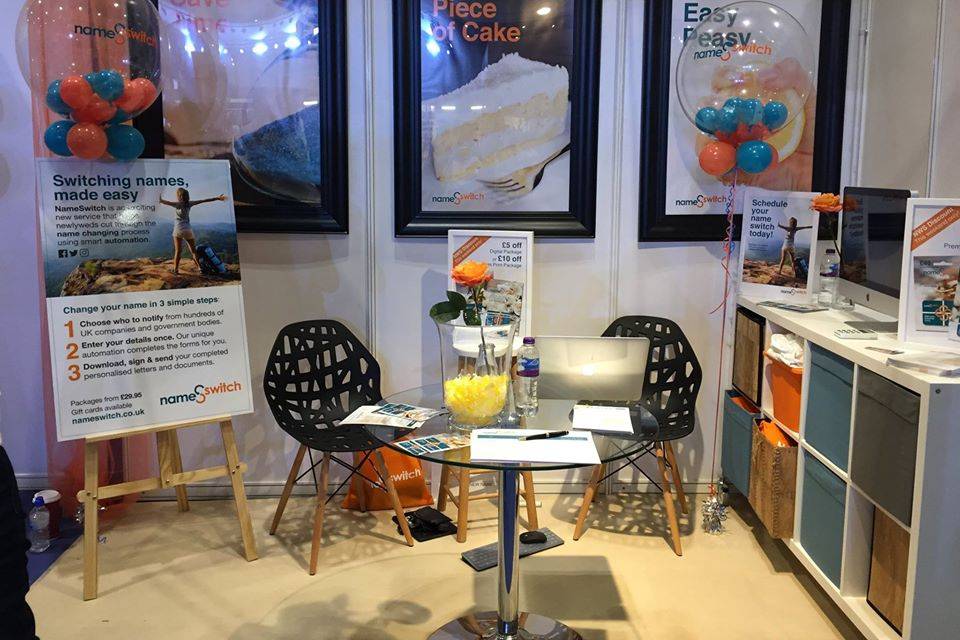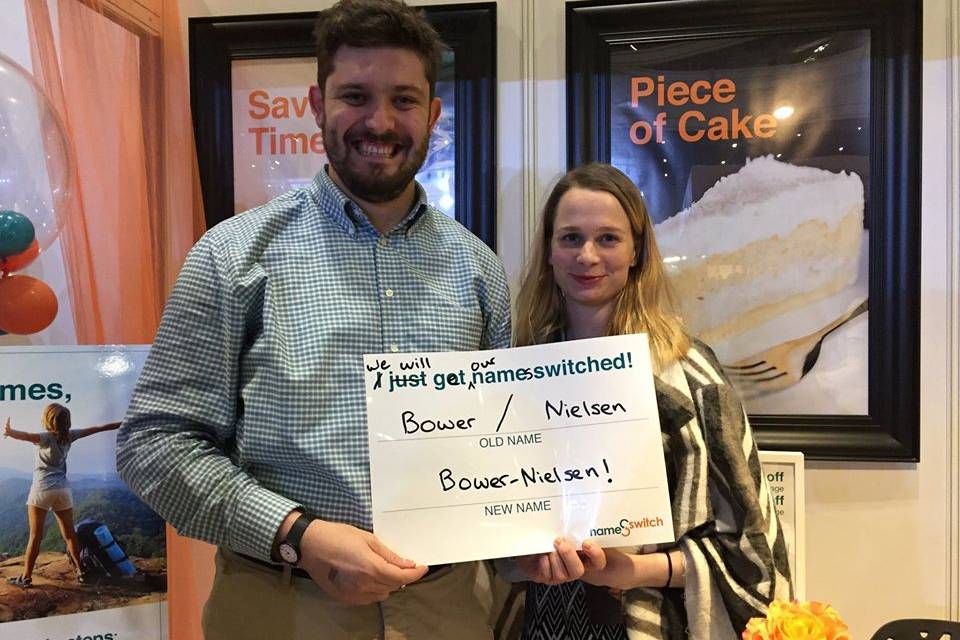 About
Founded, developed and supported in the UK, NameSwitch is run by a highly passionate and experienced team who have been on-board since the initial concept in 2015.
Packed with useful tips and FAQ's - we are on-hand to help with any additional queries you may have. Whether it is a passport name change, changing your name after divorce or how to hyphenate your last name just simply click to chat, give us a call or email us and we'll be more than happy to help.
Security and Safety are of utmost importance to us. We use the latest security encryption and we are committed to ensuring that your privacy is protected - We will not sell any of your personal information to anyone.
We've done the boring legwork so you can just focus on the good stuff – leaping straight into your new chapter with a brand-new name, officially, everywhere.
Catering to all genders, straight and same-sex couples. We are here to support you every step of the way to help you through your name-changing journey.
Check out our fantastic and affordable NameSwitch packages to suit your needs, and let us take the hassle out of changing your name today!
Highlights
Served in
Aberdeen & Deeside, Amalfi Coast, Argyll, Bedfordshire, Berkshire, Bologna, Bristol, Buckinghamshire, Caerphilly, Caithness, Cambridgeshire, Capri, Cardiff, Carmarthenshire, Central & Glasgow, Ceredigion, Cheshire, Co Antrim, Co Armagh, Co Down, Co Fermanagh, Co Londonderry, Co Tyrone, Conwy, Cornwall, Cumbria, Denbighshire, Derbyshire, Devon, Dorset, Dumfries Galloway & Ayrshire, Durham, East Central London, East London, East Riding of Yorkshire, East Sussex, Essex, Fife & Angus, Flintshire, Florence, Fort William, Gloucestershire, Greater Manchester, Guernsey, Gwynedd, Hampshire, Herefordshire, Hertfordshire, Highlands, Inverness, Isle of Anglesey, Isle of Man, Isle of Skye, Isle of Wight, Isles of Scilly, Jersey, Kent, Lake Como, Lake Garda, Lake Maggiore, Lancashire, Leicestershire, Lincolnshire, Llansantffraid-ym-Mechain, Lothian & Borders, Merseyside, Merthyr Tydfil, Mid Glamorgan, Middlesex, Milford Haven, Monmouthshire, Moray & Banff, Neath Port Talbot, Newport, Norfolk, North London, North West London, North Yorkshire, Northamptonshire, Northumberland, Nottinghamshire, Orkney, Outer Hebrides, Oxfordshire, Pembrokeshire, Perthshire, Powys, Puglia, Rome, Ross-shire, Rutland, Sark, Shropshire, Sicily, Somerset, Sorrento, South East London, South West London, South Yorkshire, Southern Isles, Staffordshire, Stirlingshire, Strathspey, Suffolk, Surrey, Sutherland, Swansea, Torfaen, Tuscany, Tyne & Wear, Vale Of Glamorgan, Venice, Warwickshire, West Central London, West London, West Midlands, West Sussex, West Yorkshire, Wiltshire, Worcestershire and Wrexham
Recommended by 100% of couples
Quality of the Service

Rating 5 out of 5

Response time

Rating 5 out of 5

Professionalism

Rating 5 out of 5

Value for Money

Rating 5 out of 5

Flexibility

Rating 5 out of 5
Amy

Married on 14/12/2018

My husband will be very happy!

I have been married over 2 years but have only just plucked up the courage to change my name. I was scared I would miss something out and it would take too long to pull all the necessary information together. Fortunately nameswitch has made it really simple and has taken most of the effort out of the process. Thank you! My husband will be very happy! ??

Abi

Married on 27/01/2016

Quick & Easy!

I requested my name change documents before the wedding and they arrived within 2 days. Once I was back from honeymooon I spent half an hour putting the letters in envelopes with a copy of our marriage certificate, everything was then switched over. It was really that simple. Would recommend this service to everyone!

Abs

A really fantastic service

A few weeks ago I tweeted about wanting to pay someone to help with all the admin of changing my name after getting married.
There are almost 30 organisations I need to inform and, hating life admin as I do, just thinking about it was bringing me out in cold sweats.
Luckily, Name Switch replied to my tweet offering their services, and I cannot recommend them enough.
I've now got template letters to send to all the relevant organisations, and I know which ones I'll need to see in person and what I'll need to take with me when I do.
A really, really fantastic service.
Thank you Name Switch!

Emily

A really useful service

Really useful service. Not only did they send standard letters to send to each company I needed to change my name with, but most helpful were the accompanying instructions telling me the procedure for changing my name with each company, the documents they would accept, address to send it to etc. Even if I could have done the letters myself this helpful explanatory document saved loads of time which otherwise I would need to have spent checking each company's website for their specific name change procedure. Staff also friendly and service very quick. Thank you!

Emma

So straight forward

Really helpful, great website. Helps to make the process as straightforward as possible. I really appreciated the quick download time, and the personalised instructions for each company / business. Such a time saver, and has helped to make the process much clearer. I will definitely be recommending you, thank you!

Elaine

Fast process

NameSwitch is so easy to use and well worth the money. I found the pre-populated cover letters and forms saved a lot of time and having all the instructions in one place has made the process much faster and less annoying!

Michelle

A superb service

This was so easy! I was really worried about how I was going to get all my name changes done. Name Switch did it all for me! superb service and really good value for money.

Lianne

Simple & Easy

Really simple service, made my life a lot easier after changing my name!

Gemma

Highly Recommended

I had no idea where to start with the process of changing my name, and Name Switch made it easy! It was a really simple process and I opted for the printed package which was really helpful as I don't have a printer at home. The guidance document was really detailed and having all of the letter templates personalised saved me loads of time. I would highly recommend the service!

Annette

Worth every penny

Fast and brilliant service, they have taken the stress out of the dreaded name change process after marriage. Worth every penny!!

Louise

Great service

Great service and super helpful!

Katrina

Personable and helpful with very swift responses

This is an excellent service - the daunting task of name changing with so many elements that can be forgotten or very time-consuming - made easy and straightforward. Their customer service was very personable and helpful with very swift responses and I haven't had any issues regarding their instructions. Money well spent and would definitely recommend this service!

Jodie

Would recommend

I am so glad I discovered this service on a wedding website! I found the idea of changing my name after marriage so daunting and didn't know where to start. NameSwitch has made this process so much easier and The Girls went out of their way to send over more information after I'd signed up with all my info. Would recommend to ANYONE. Thank you NameSwitch!

Cecilia

Highly Recommended

easy to use service. saved hours of searching online for company information. seamless process. packaged well and clearly marked out pre written letters. very good service definitely recommend nameswitch!

Susie

Excellent!

I was confident that I would be able to change my name by myself, but what most appealed to me about Name Switch is that they had done all of the leg work involved in finding out the specifics of each company. That time-saving element really appealed to me, so I signed up!
Their How To guides were excellent with detailed instructions for each company. It made everything so straightforward and stopped me having to dig around on numerous websites to find the same info. Within one afternoon I had everything I needed gathered together, and two weeks later I had quickly and easily changed to my married name. It was brilliant!
I would absolutely recommend this service, even if you feel confident you could achieve the same processes yourself the money is well worth the time saved.