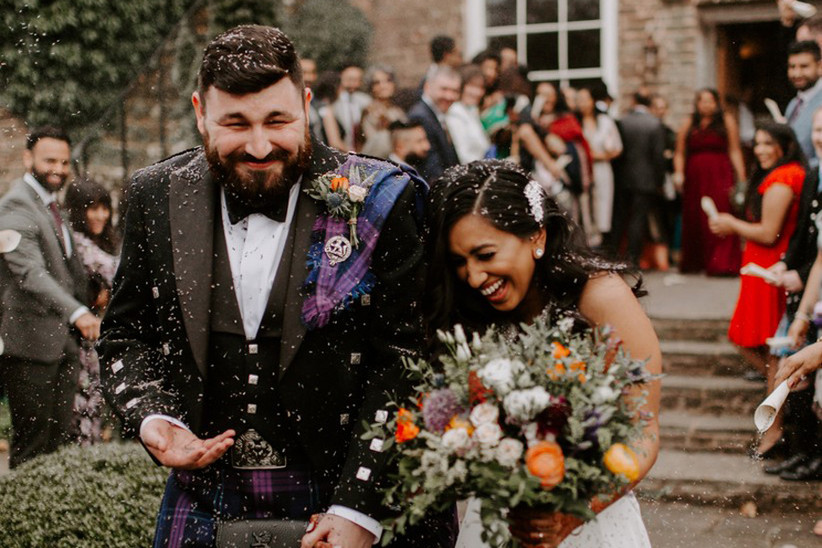 If you're dreaming of a barn wedding filled with country vibes and laidback details, then you've come to the right place for inspiration. From fairy lit beams to wildflowers in jam jars and a fruit-topped naked cake, Deepa and Paul's nuptials tick all of our barn wedding must-haves.
Deepa and Paul's relationship started out in secret after meeting at work in 2014. "We joined the company within a few months of each other from the same consultancy firm and a group of us used to hang out regularly and we got to know each other.
"We decided to keep our relationship a secret for about a year from everyone at work, which proved tough at times but was worth it. Everyone was really happy when we finally told them, and the rest is history!"
Paul's surprise proposal came after a meal at one of their fave high street restaurants. "Paul mentioned we should go out for dinner and, as I had no idea, I insisted we go to Prezzo and use the voucher I had (not the romantic dinner he had planned!).
"We came home and as I was putting my leftover honeycomb cheesecake in the fridge, he got down on one knee. It was perfect and I loved that he did it in such a casual way in our home."
In the months that followed, the couple began planning their colourful and laidback wedding at the stunning Dewsall Court, Herefordshire.
Photographer: Viivi N. Media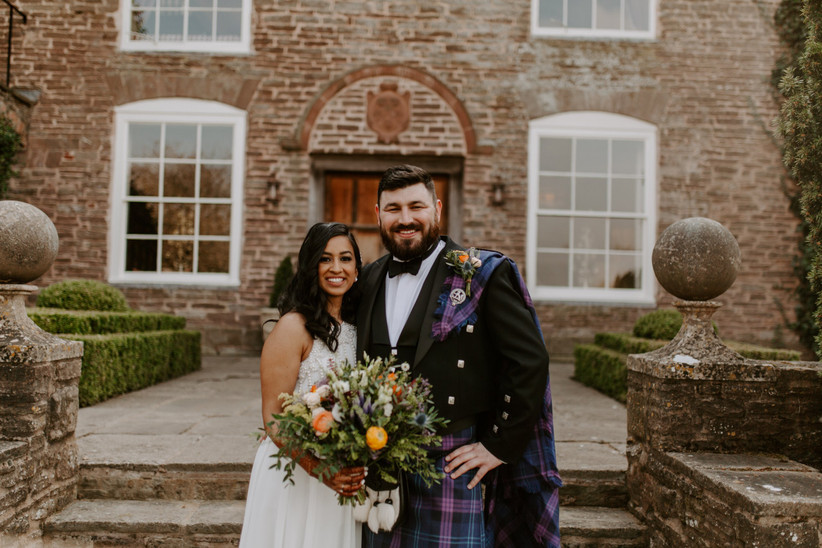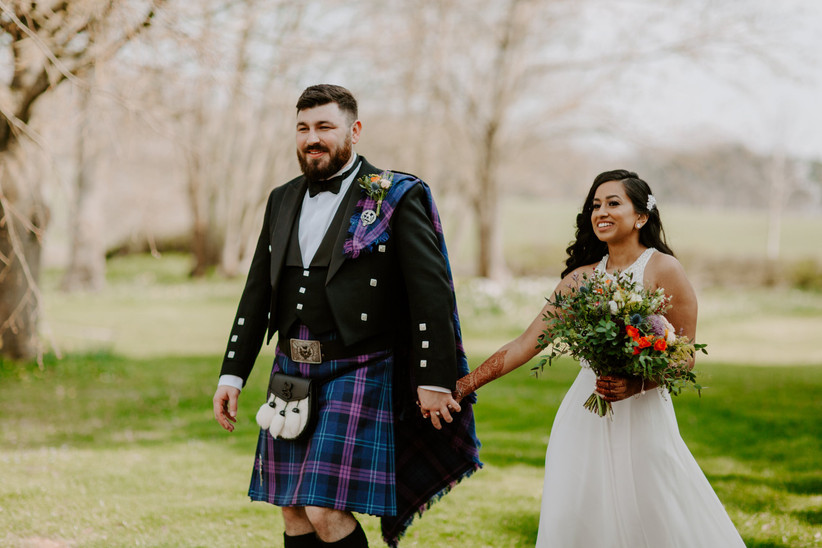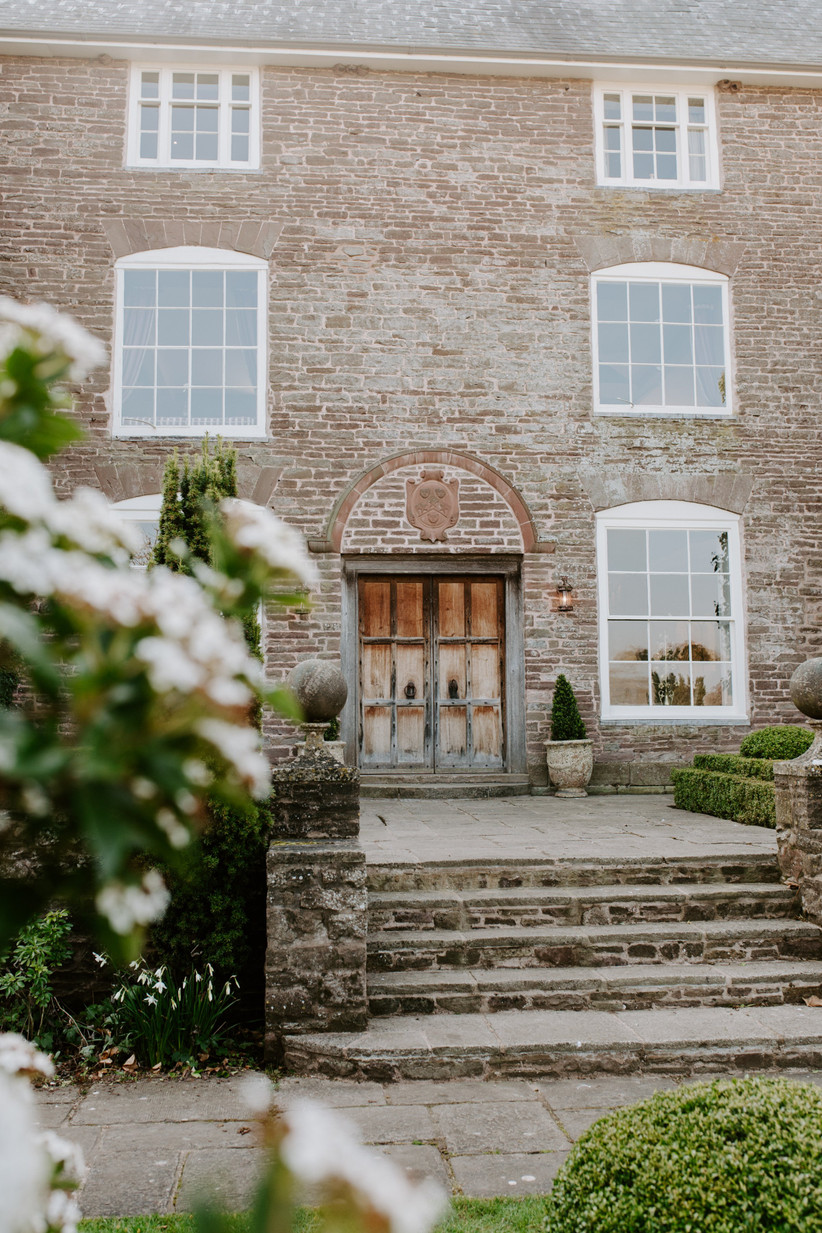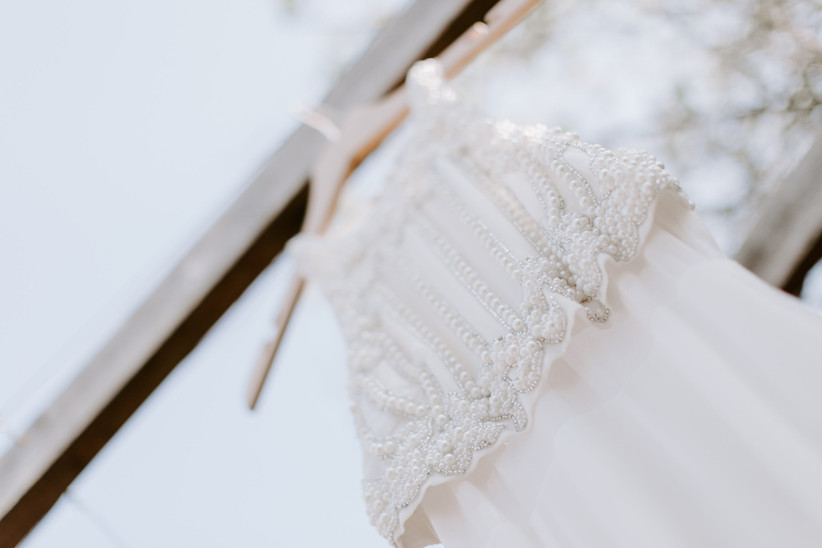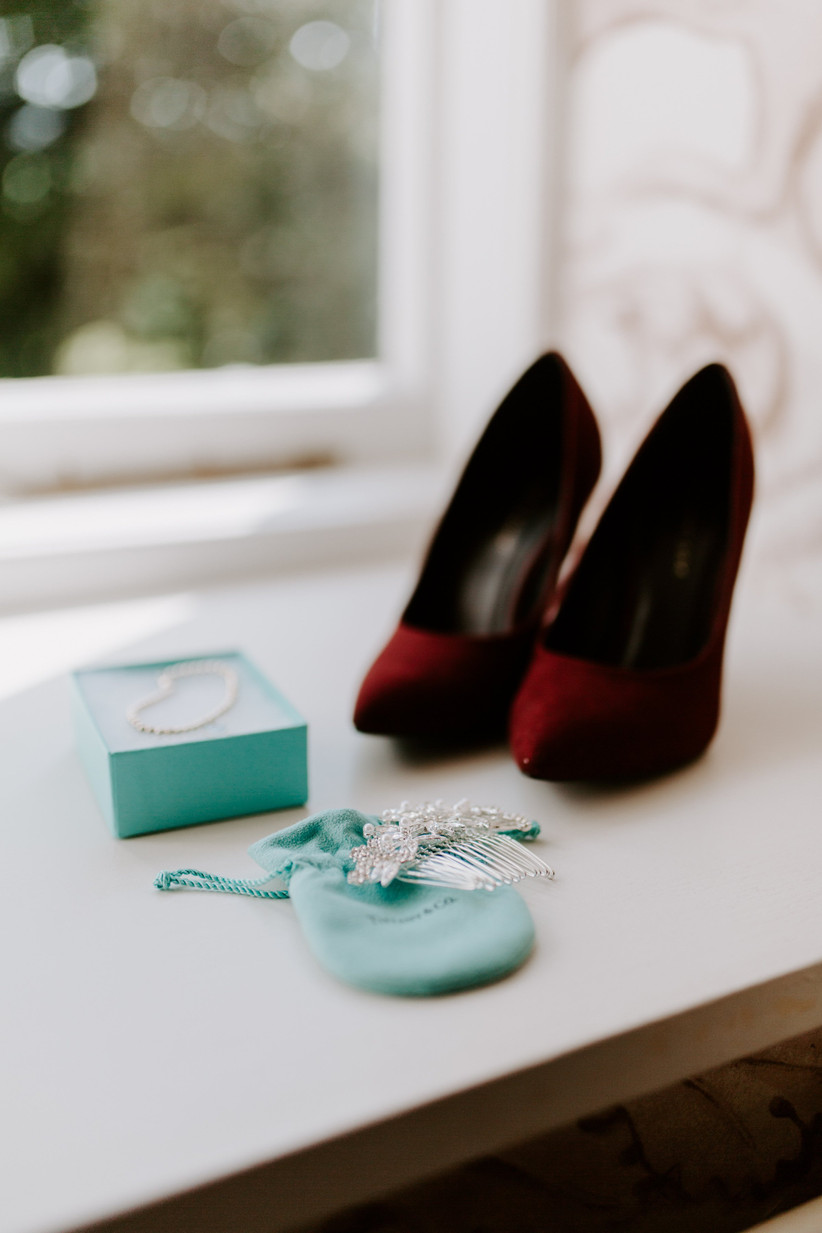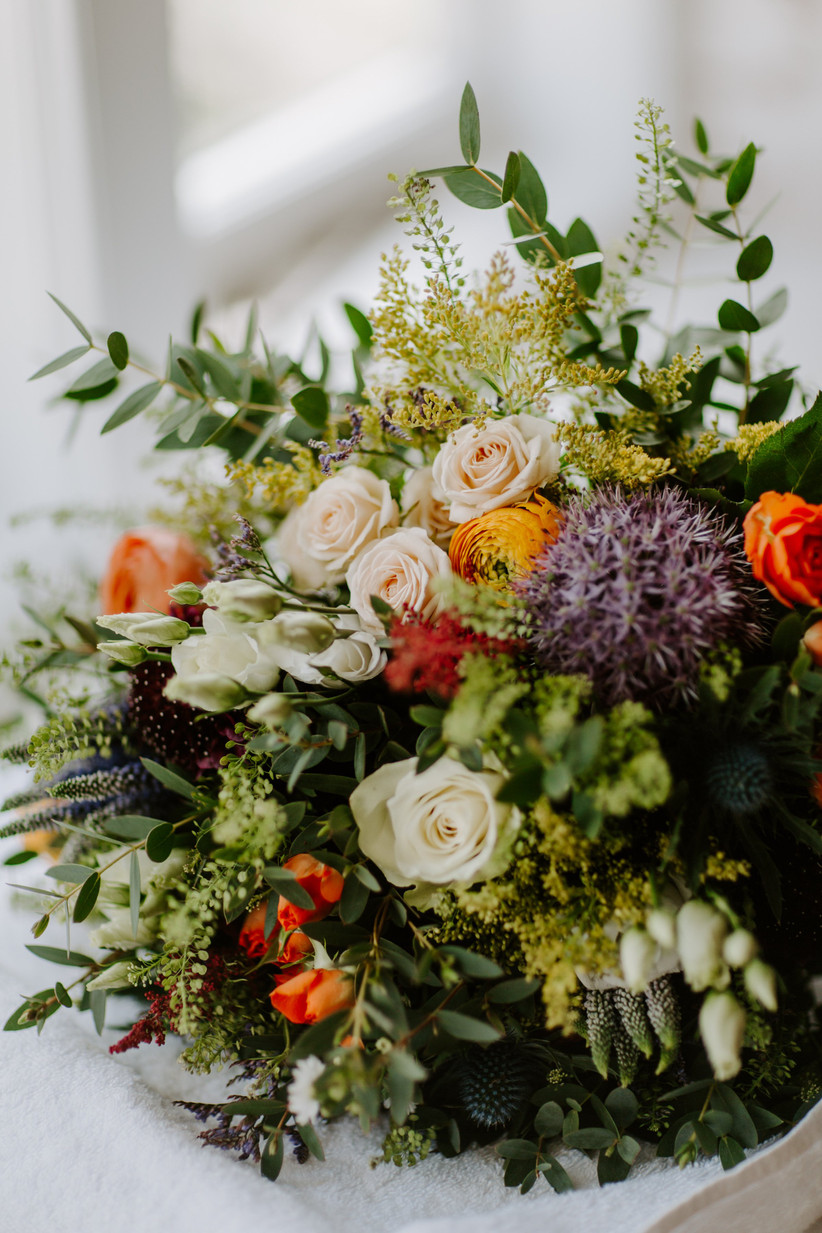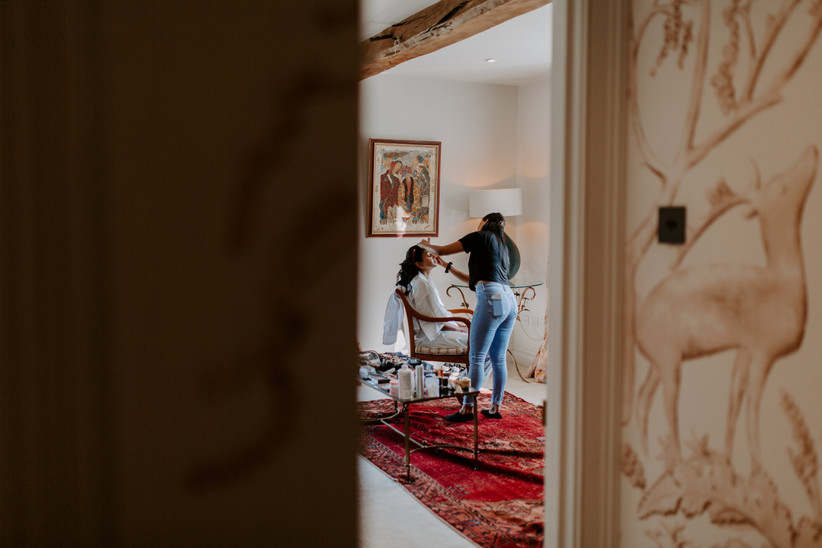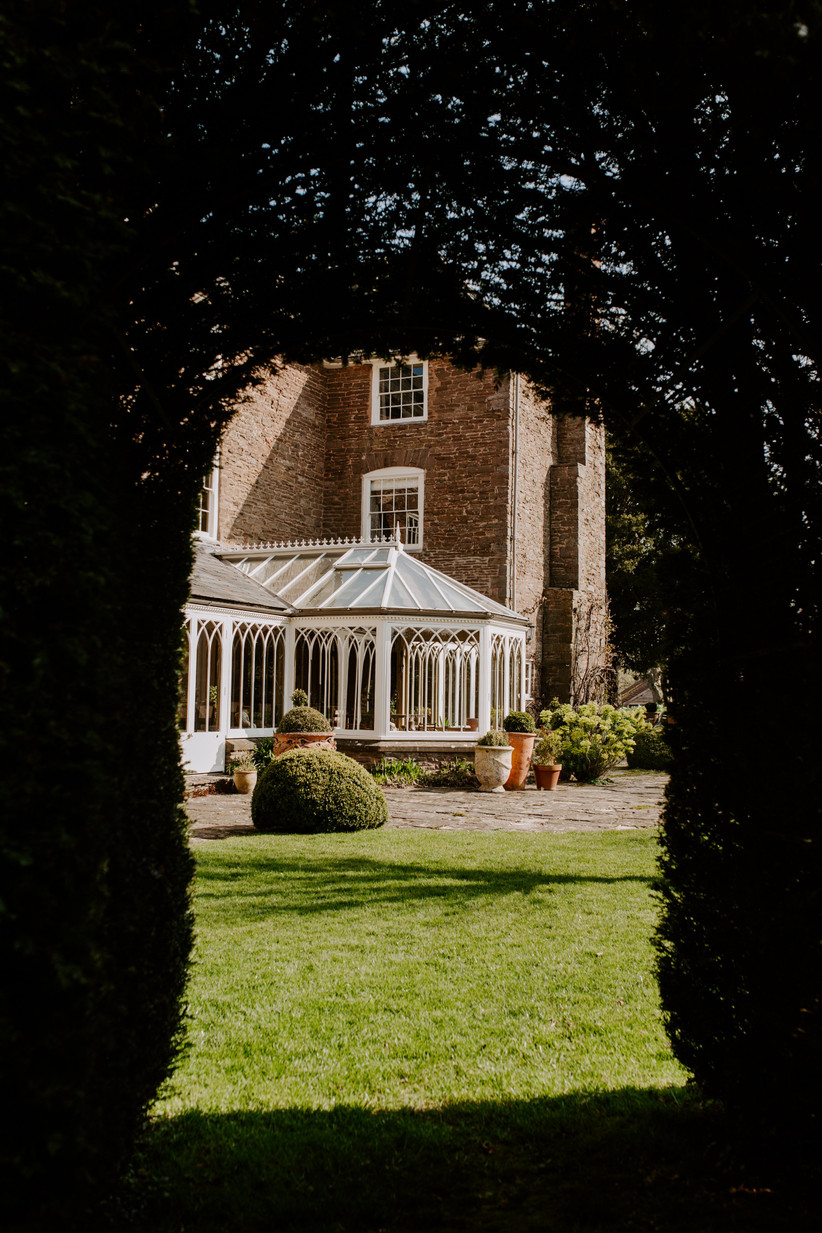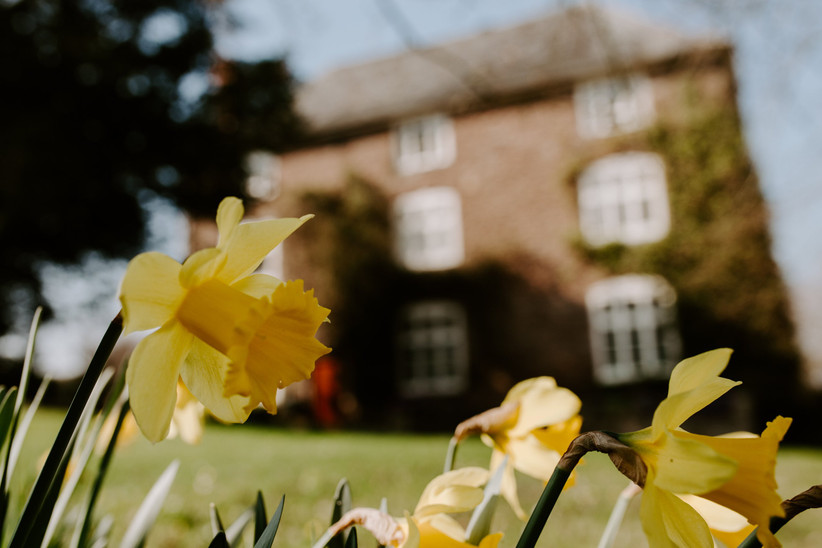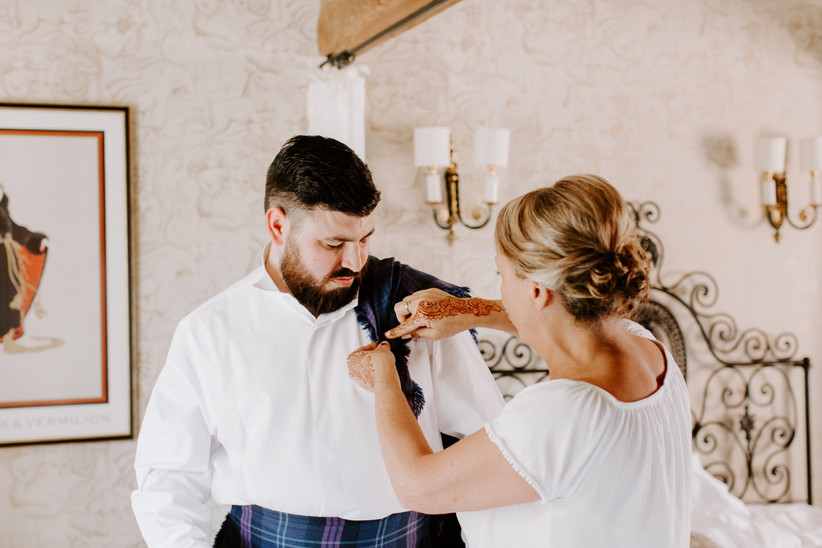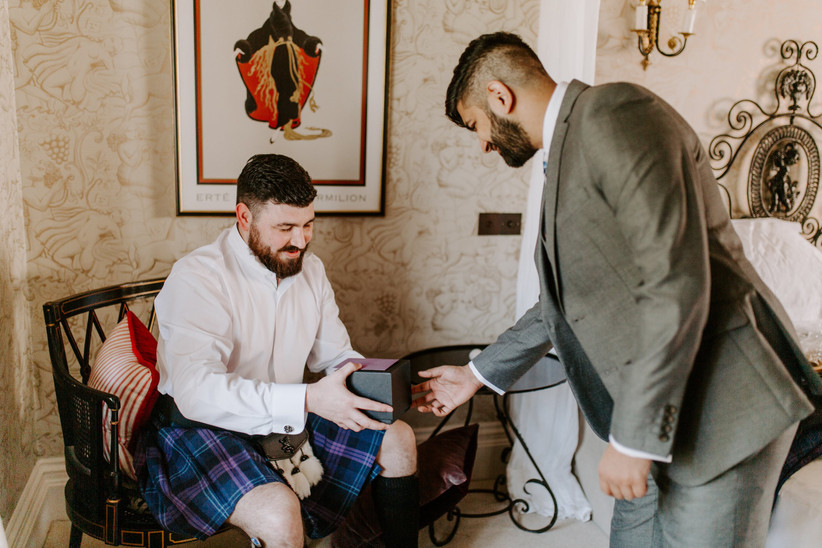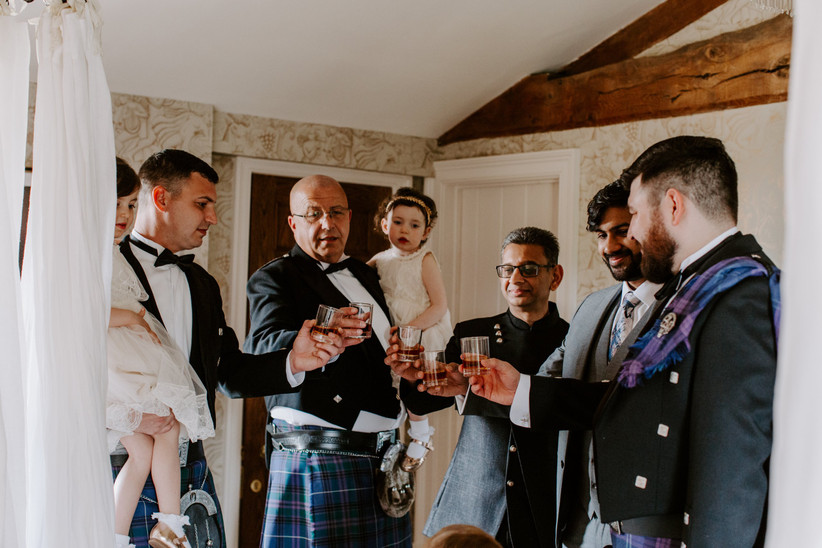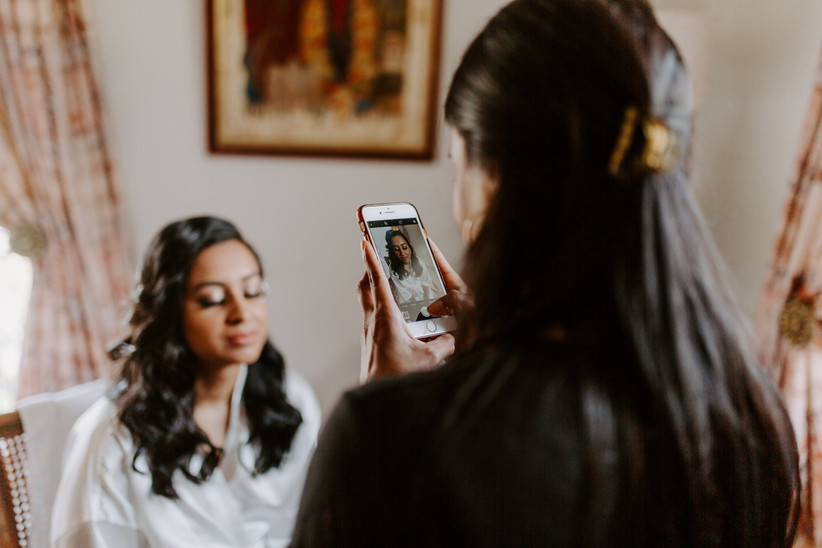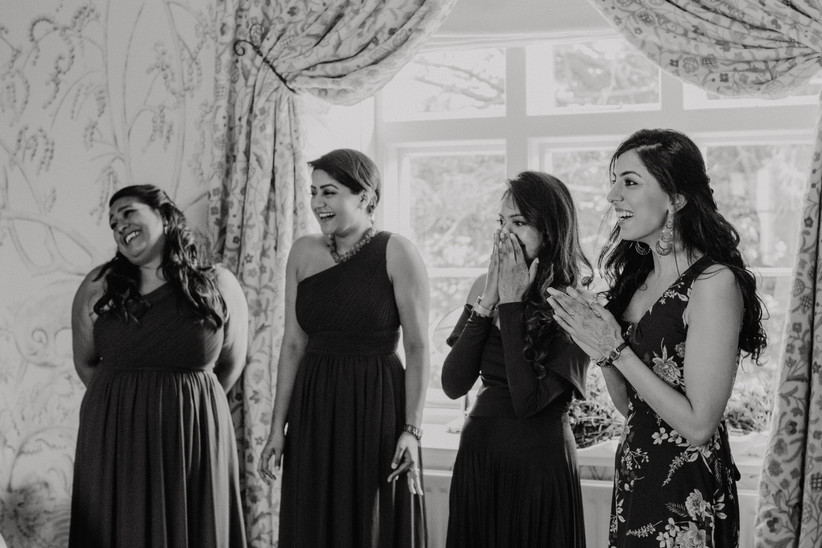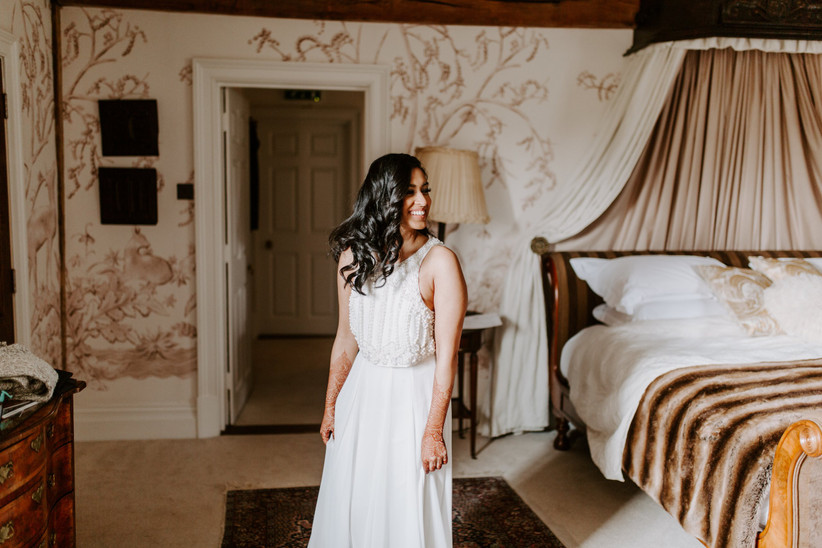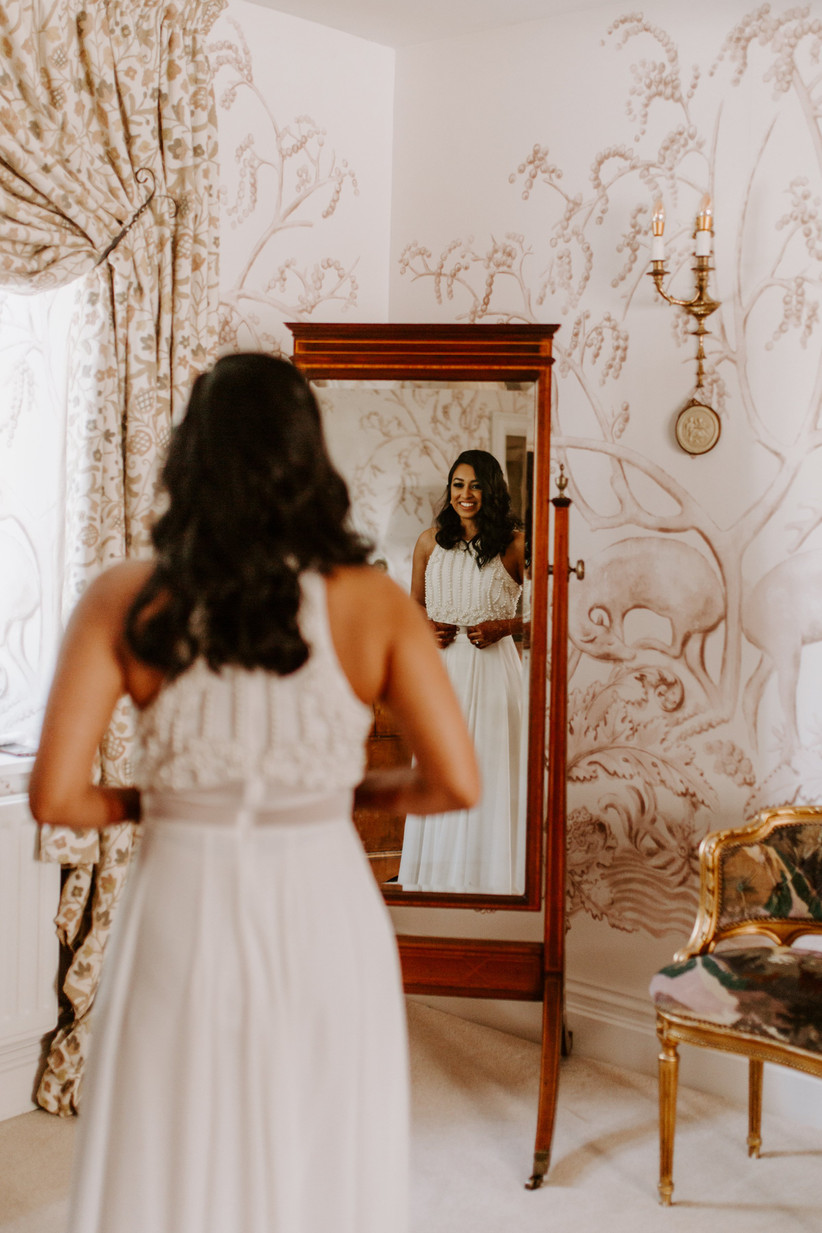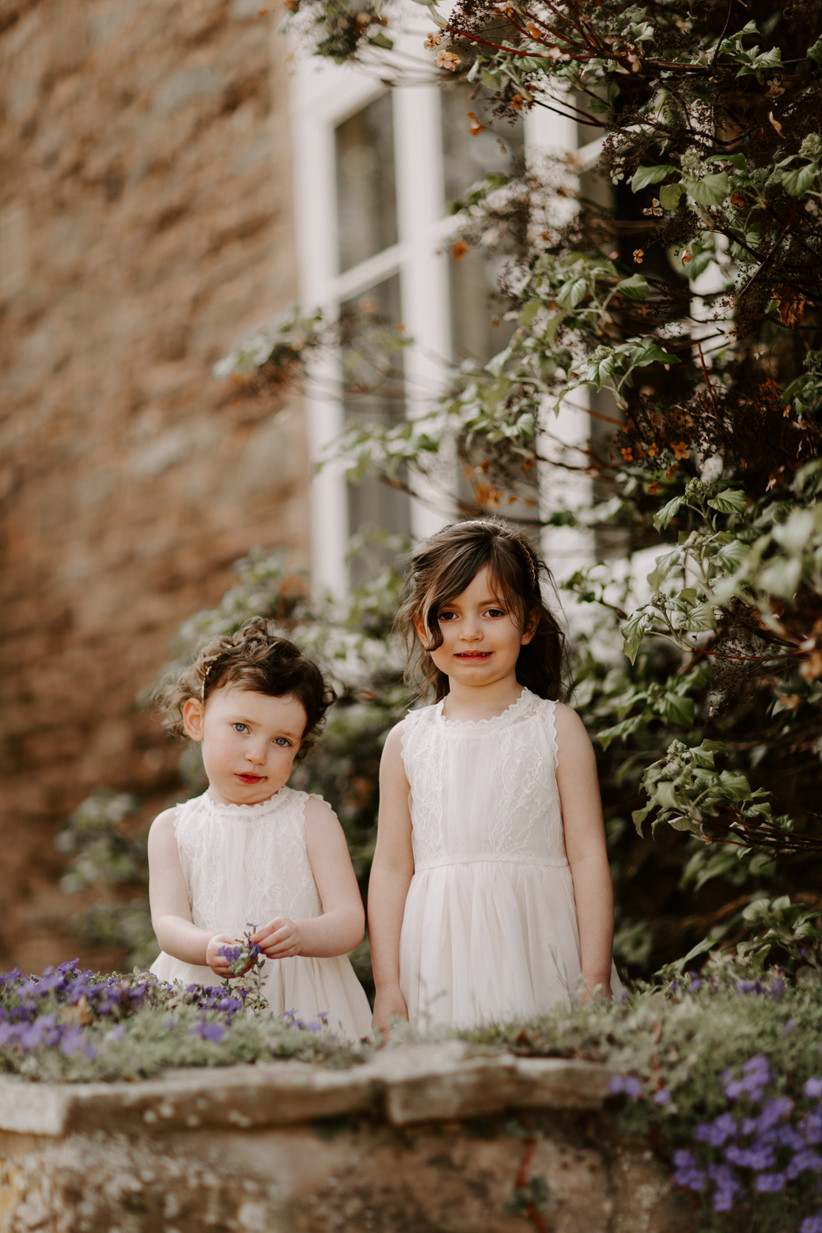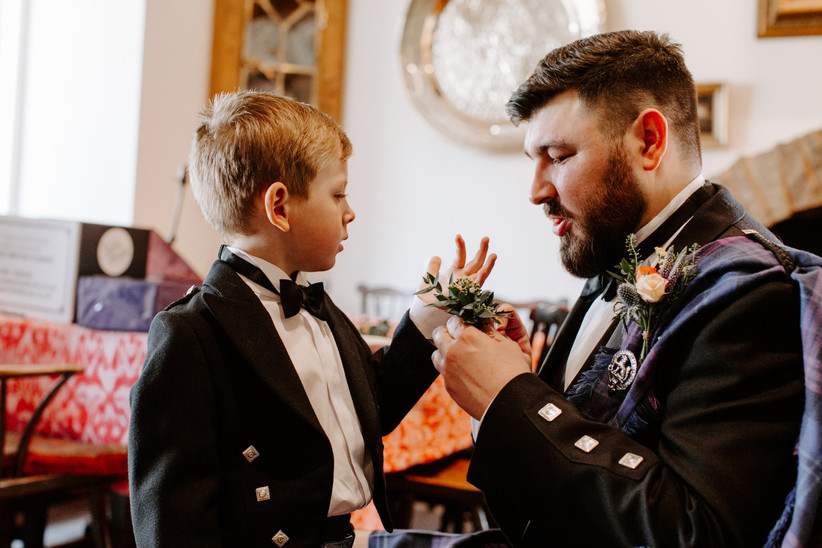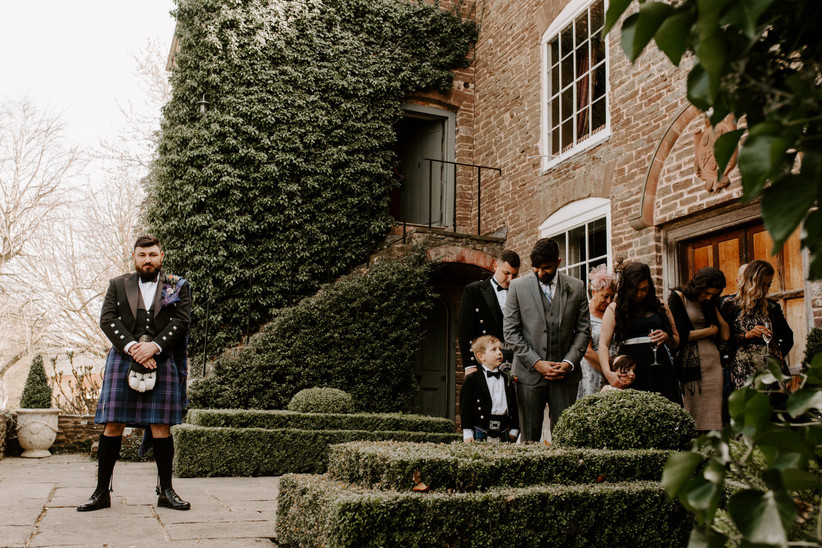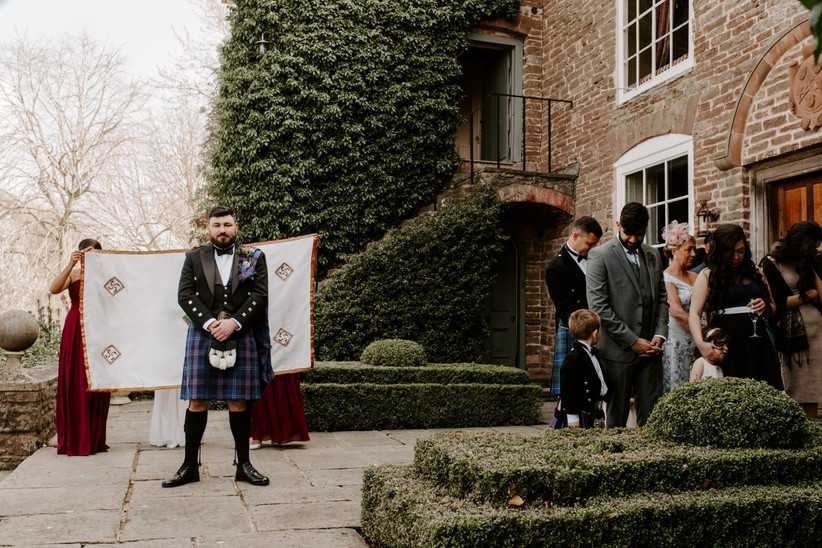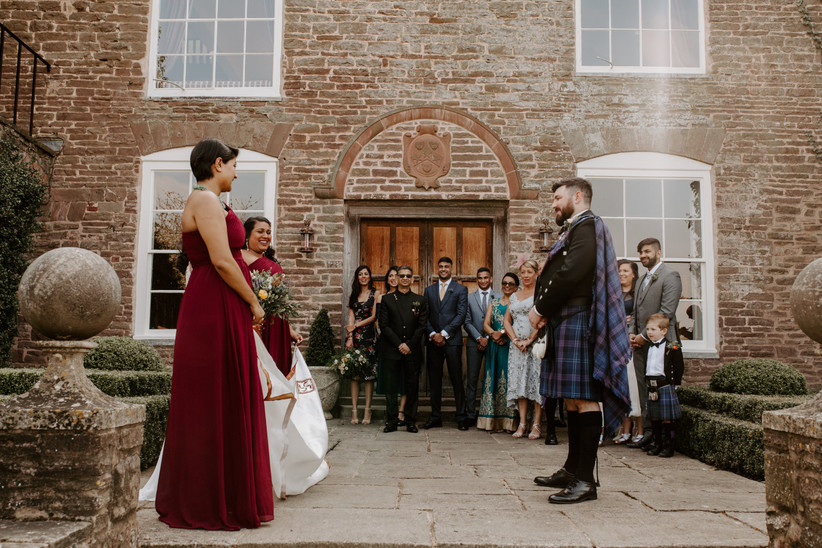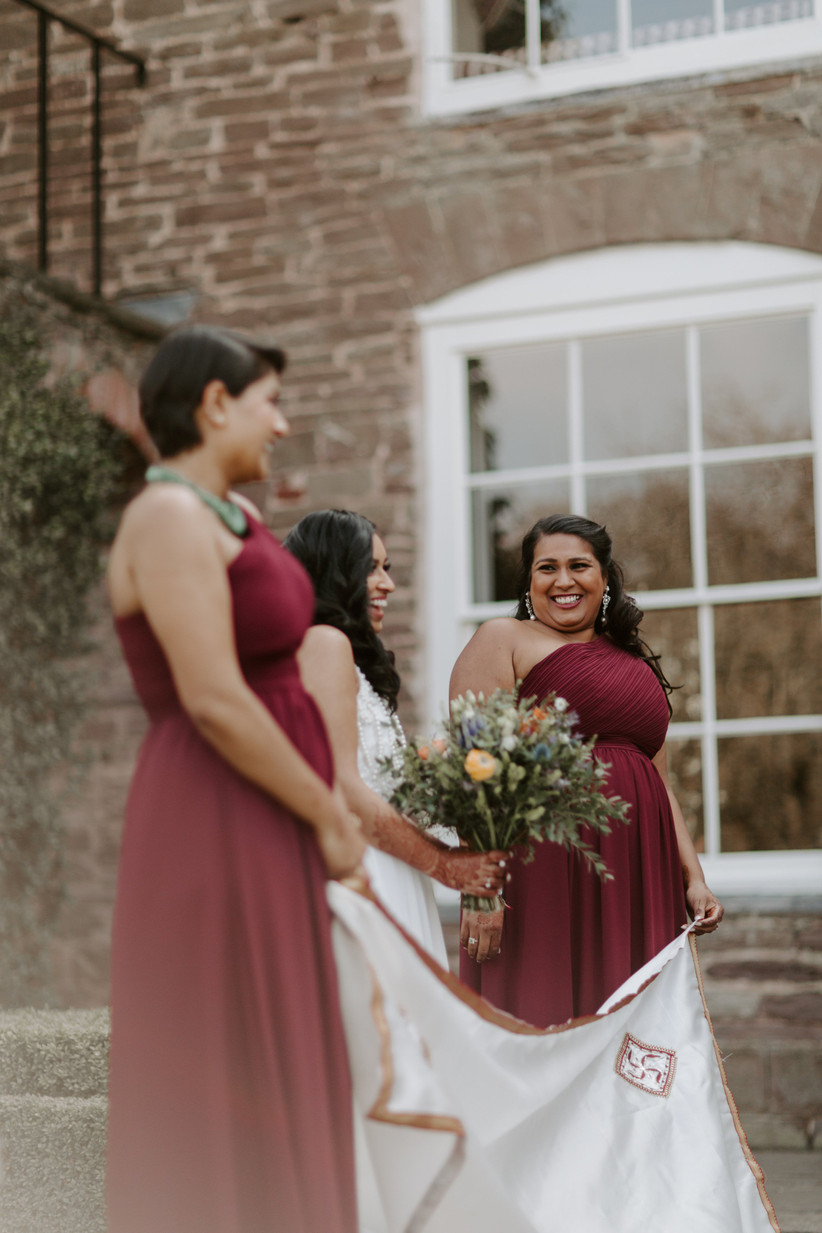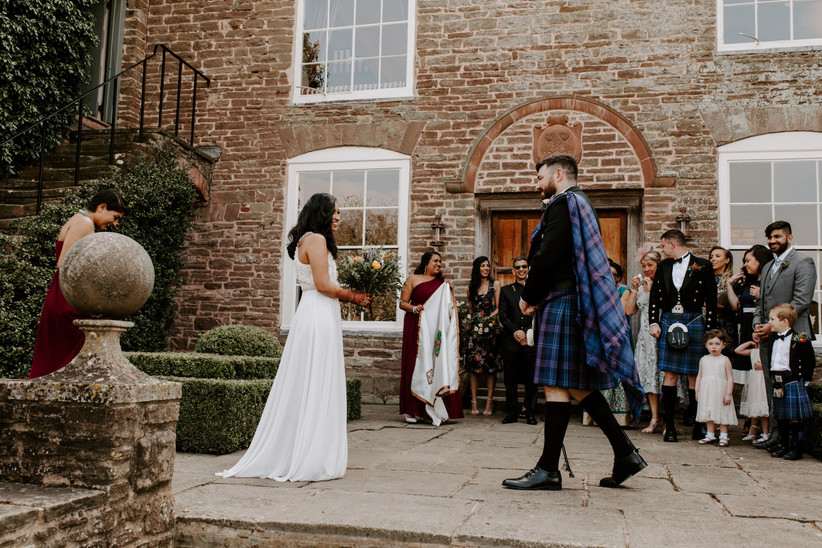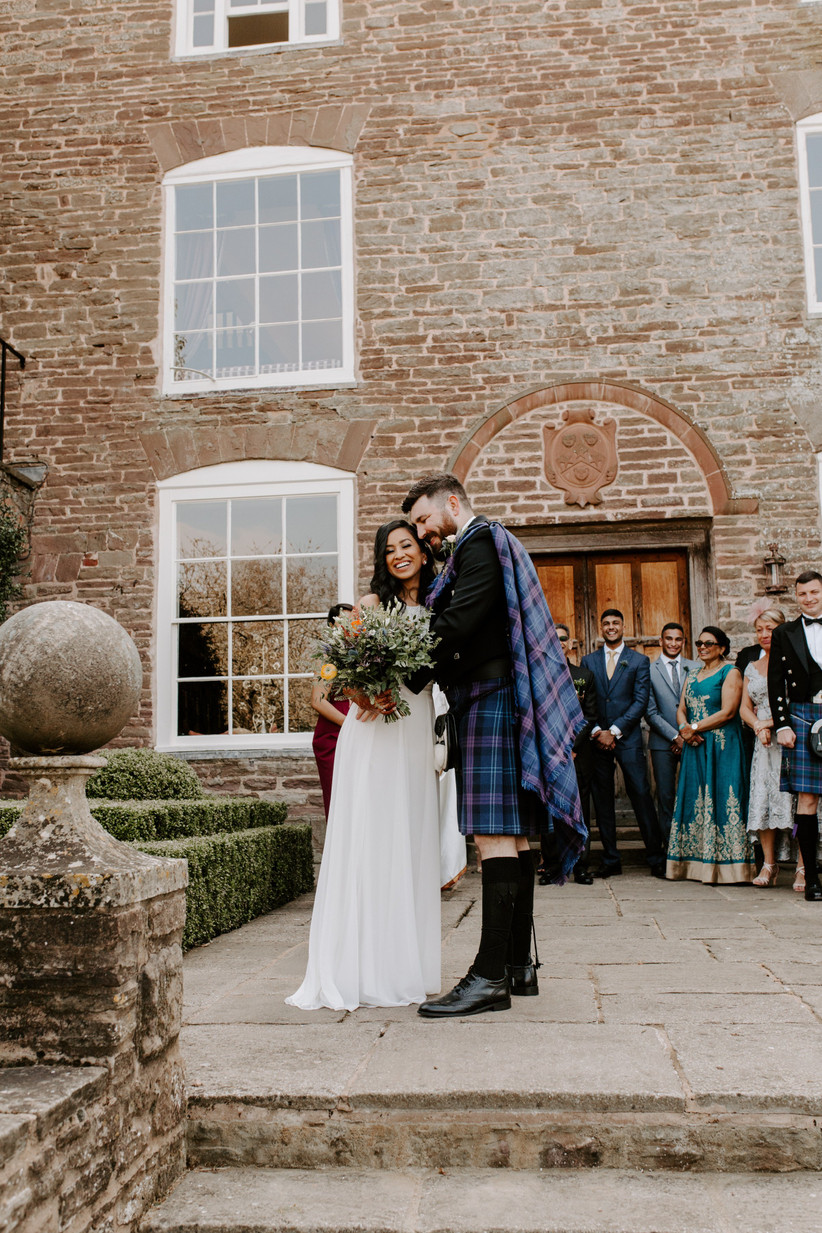 The Wedding Dress
Deepa chose a beautiful, low-key gown from ASOS. "It looked like a two piece from the front. It had a loose top half decorated in pearls and silver threading. It came in at the waist and had a simple flowy skirt, tailored to have a small train."
The bride finished her look with maroon shoes that matched the bridesmaid dresses, a silver Tiffany & Co. bracelet, diamond earrings – borrowed from her mum – and a pearl headpiece from Debenhams.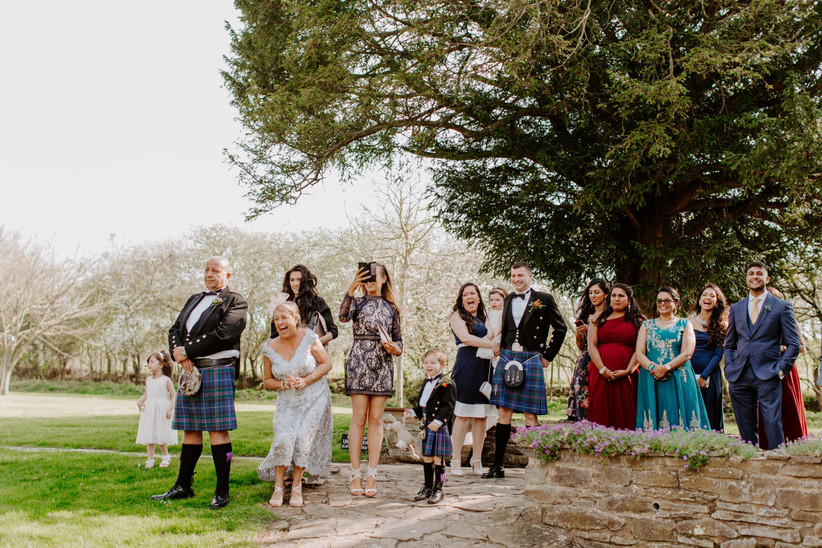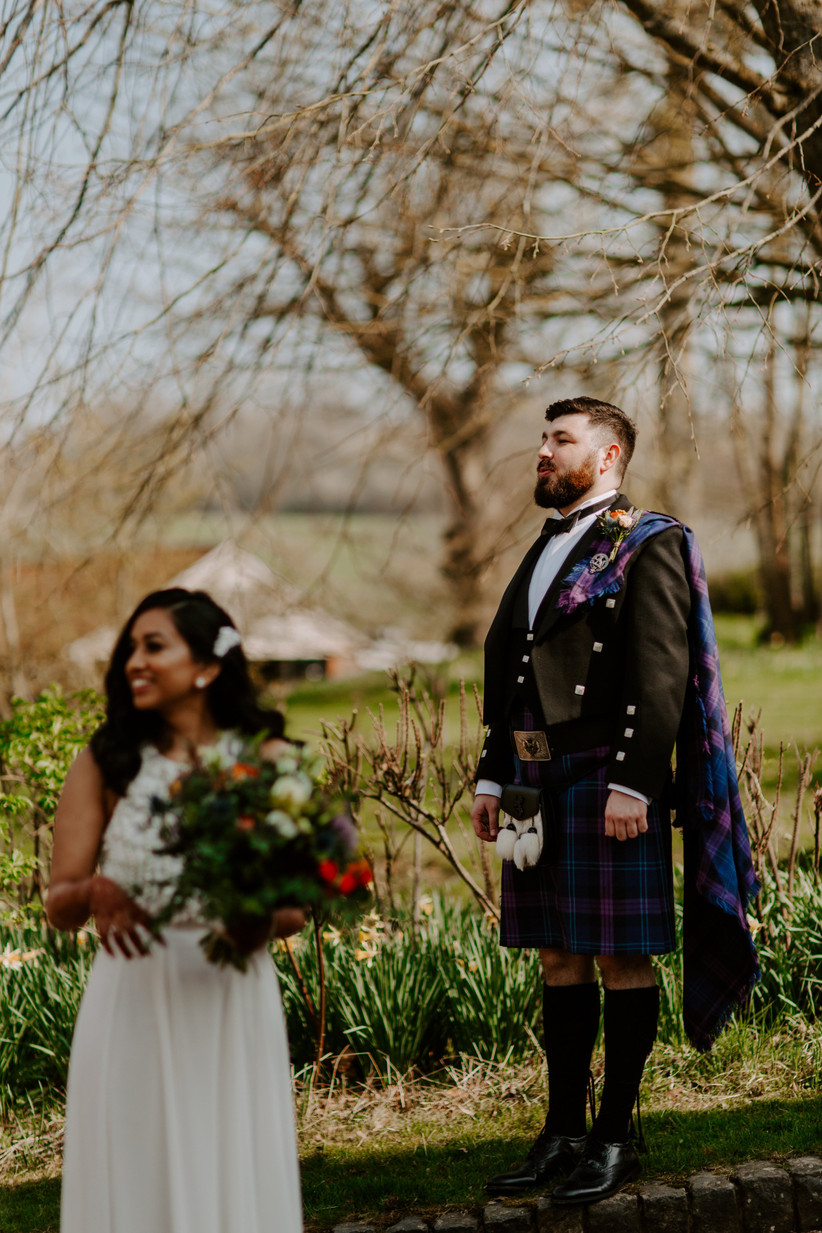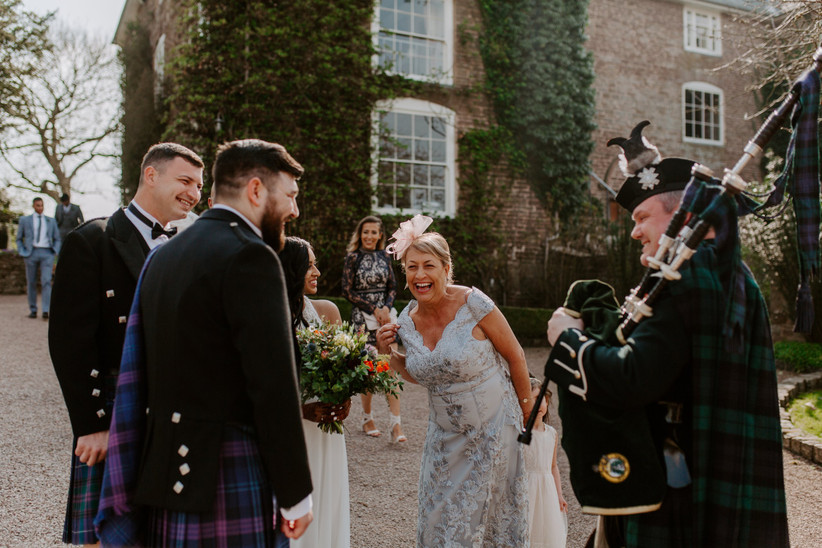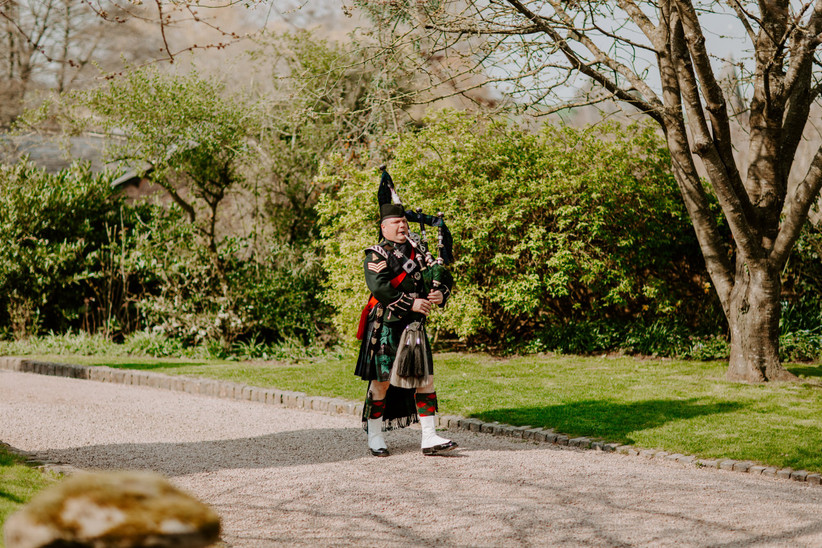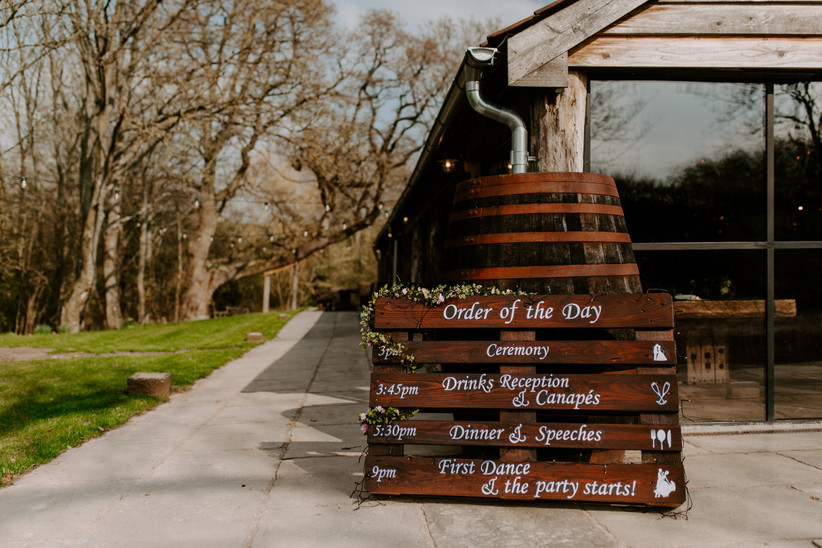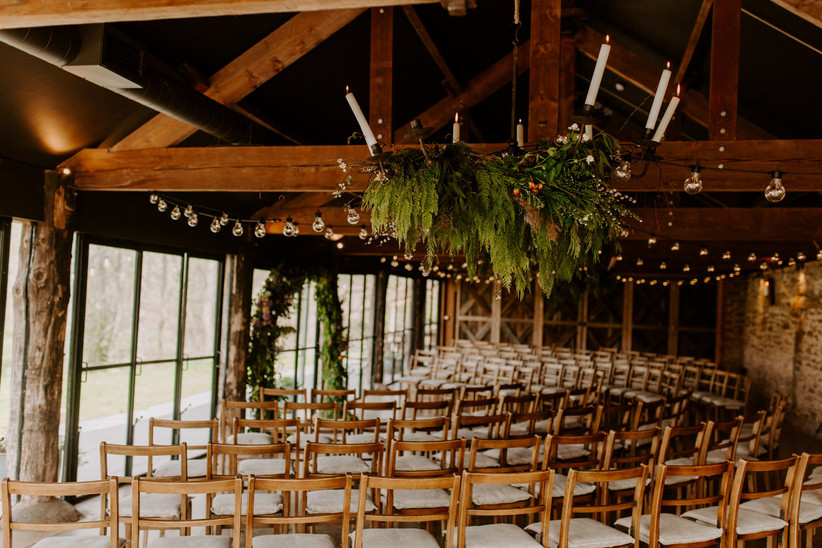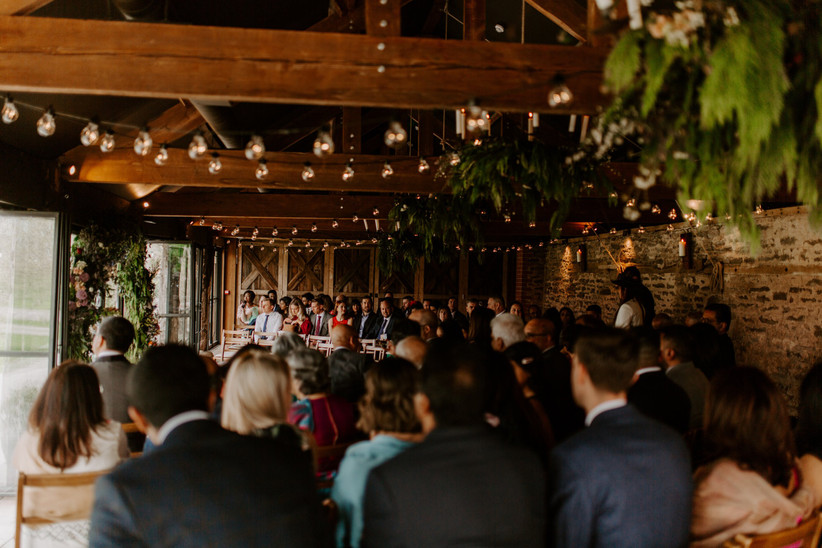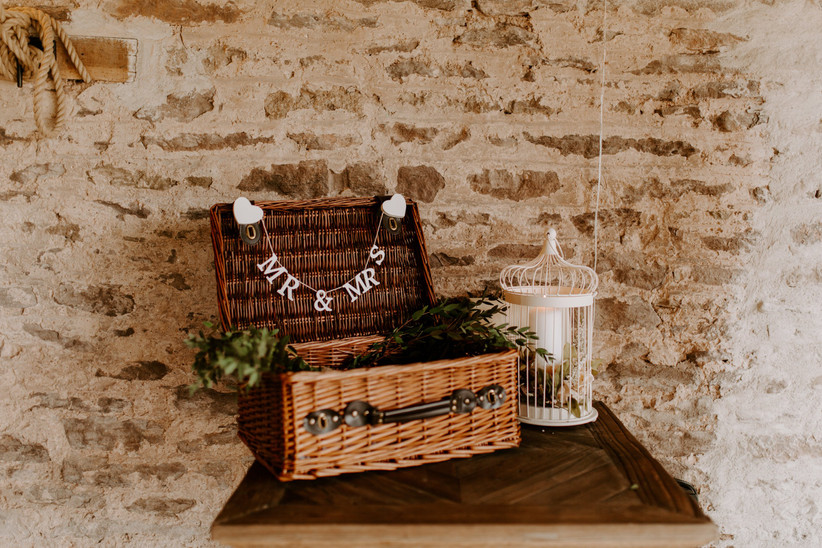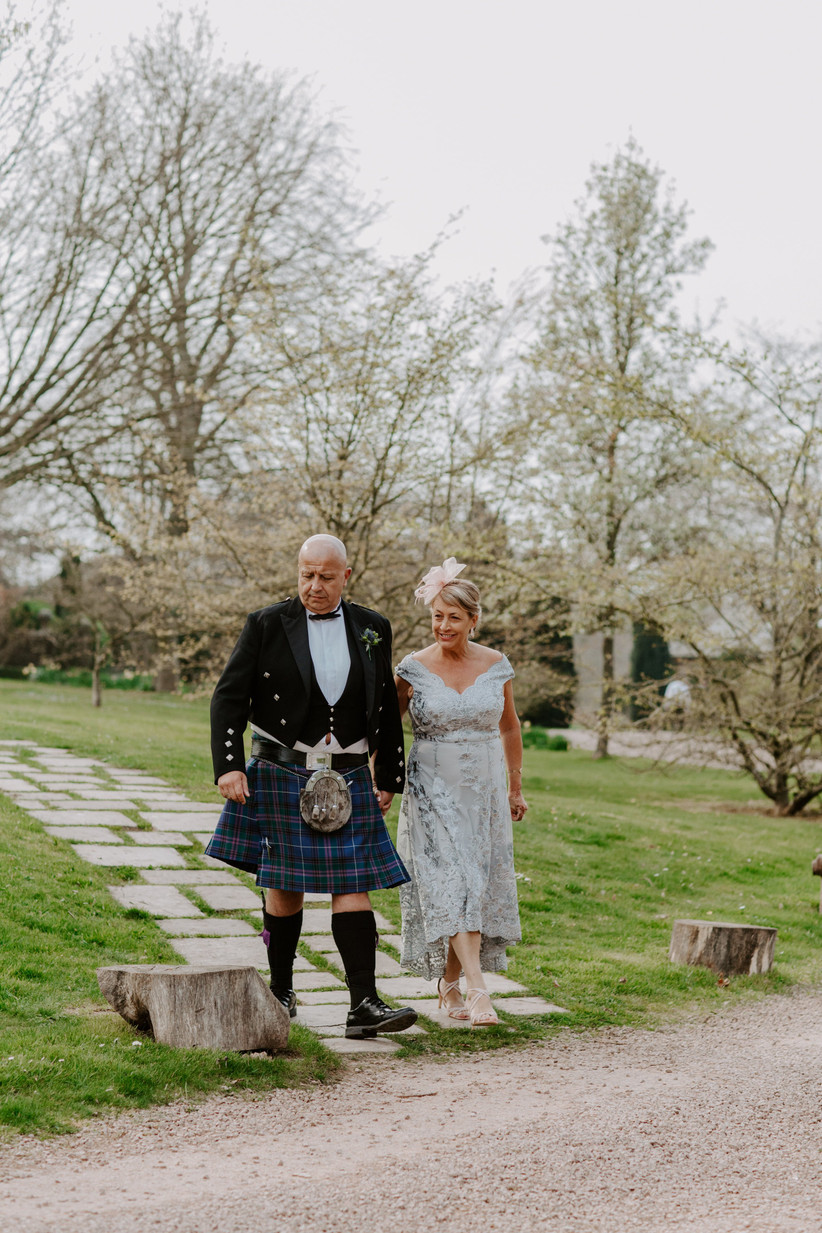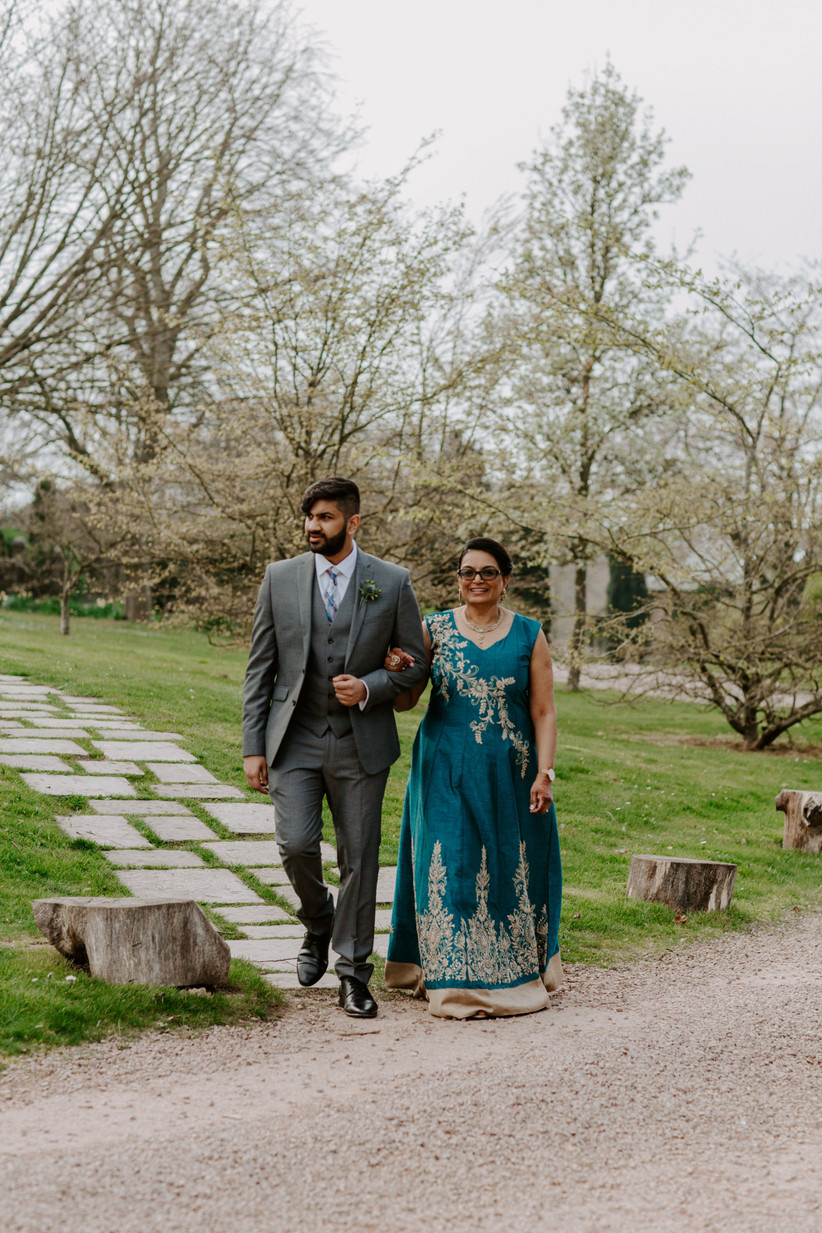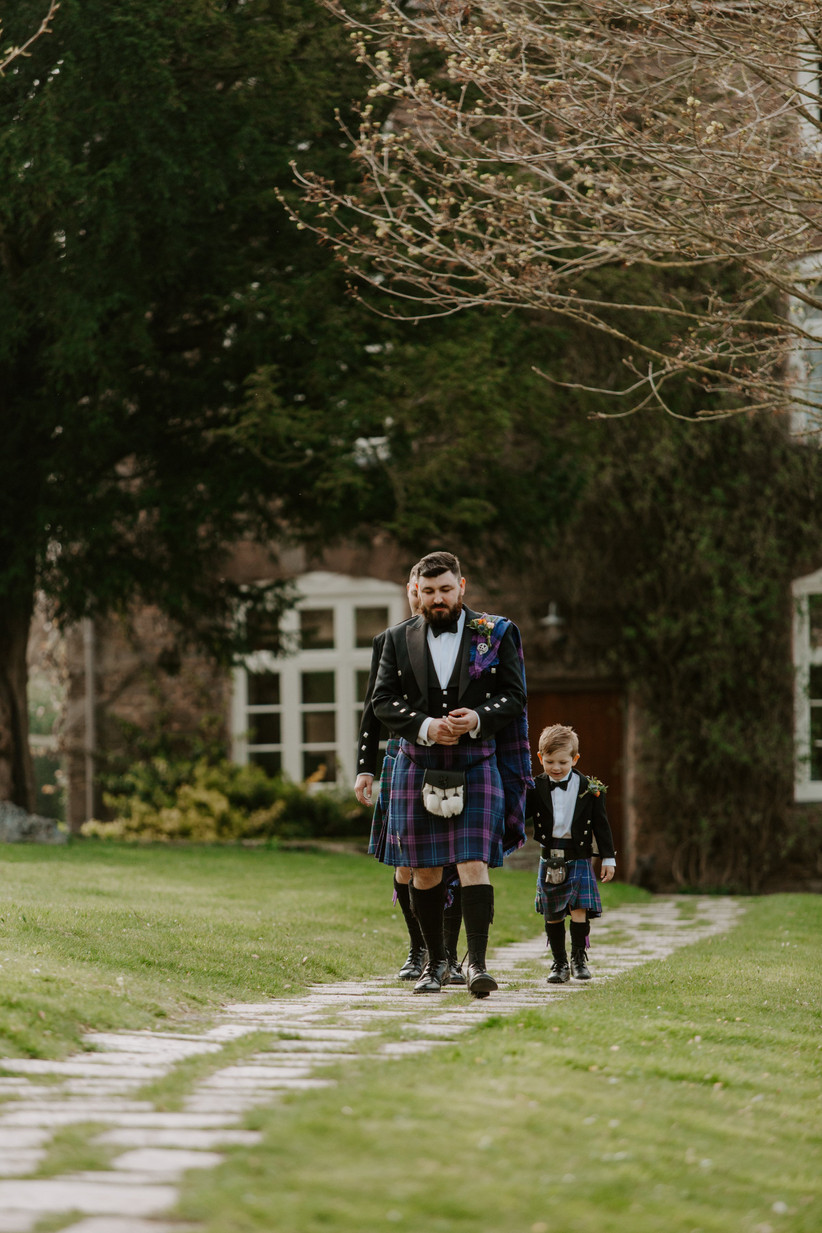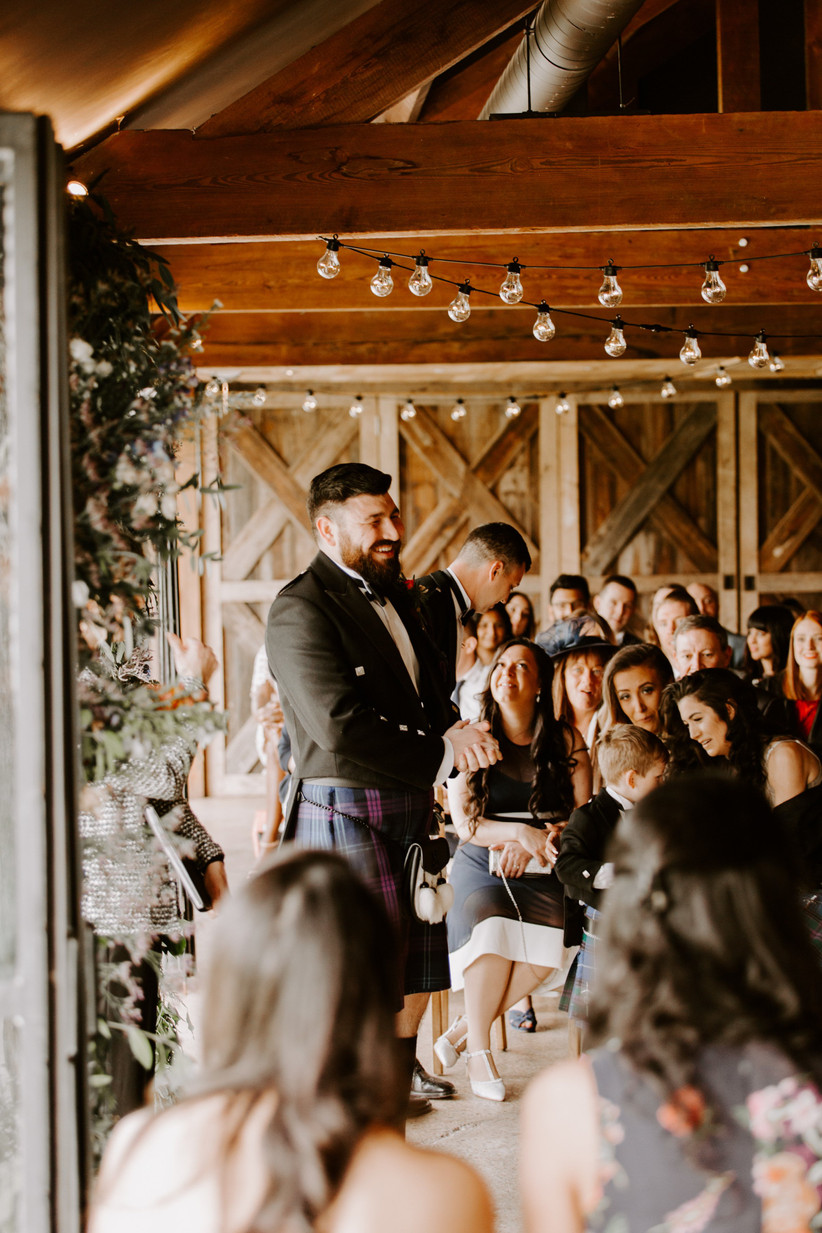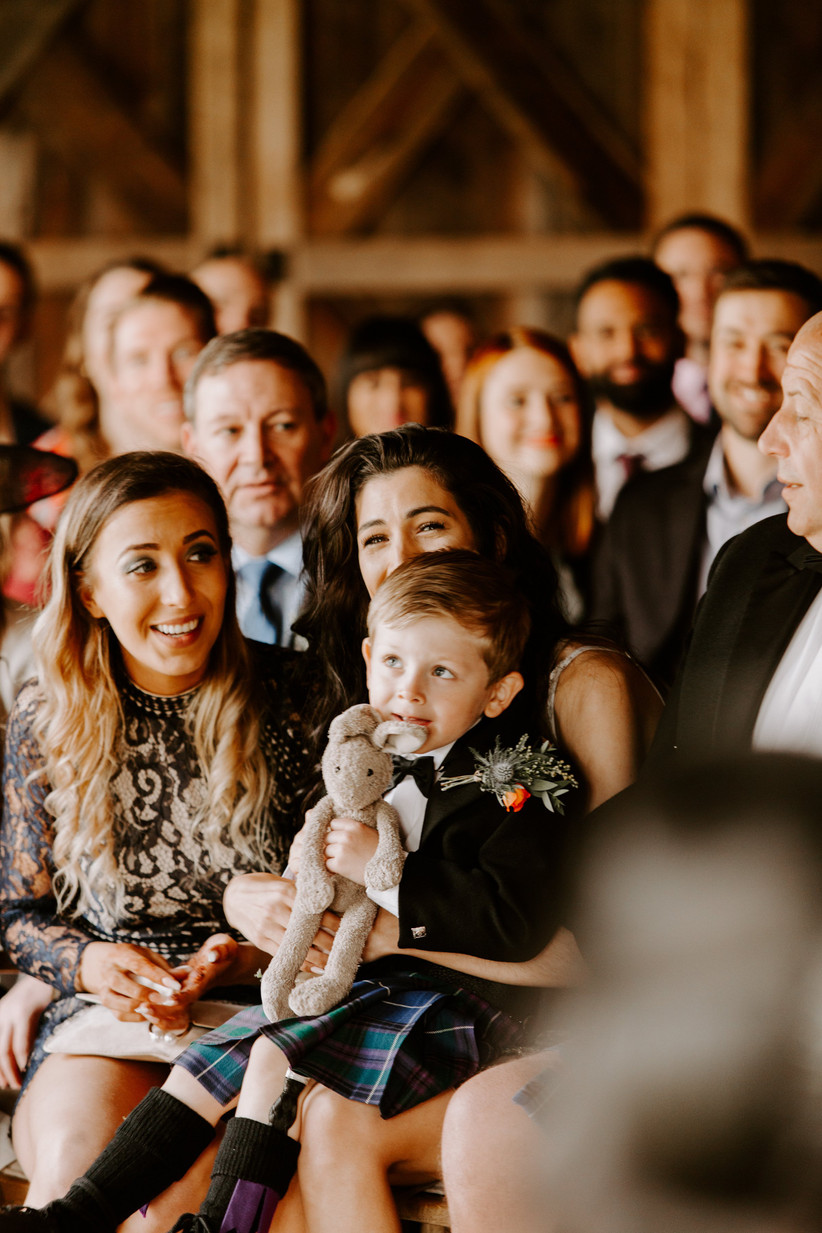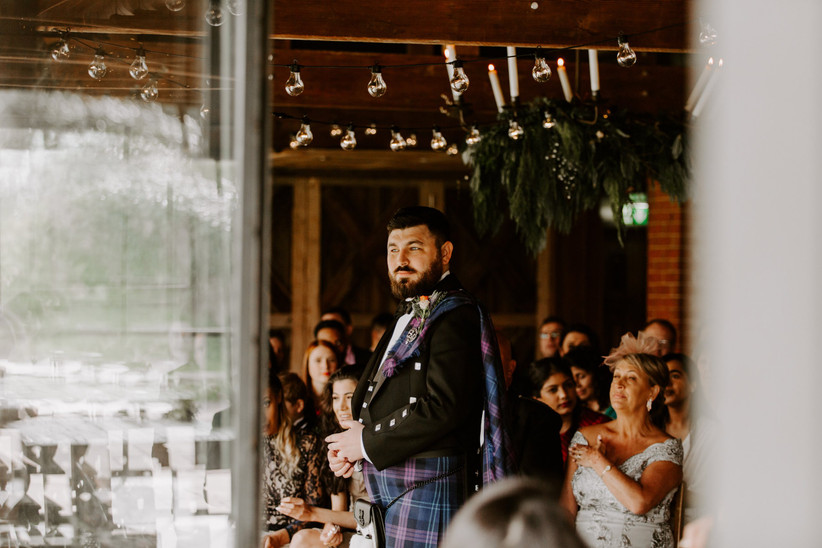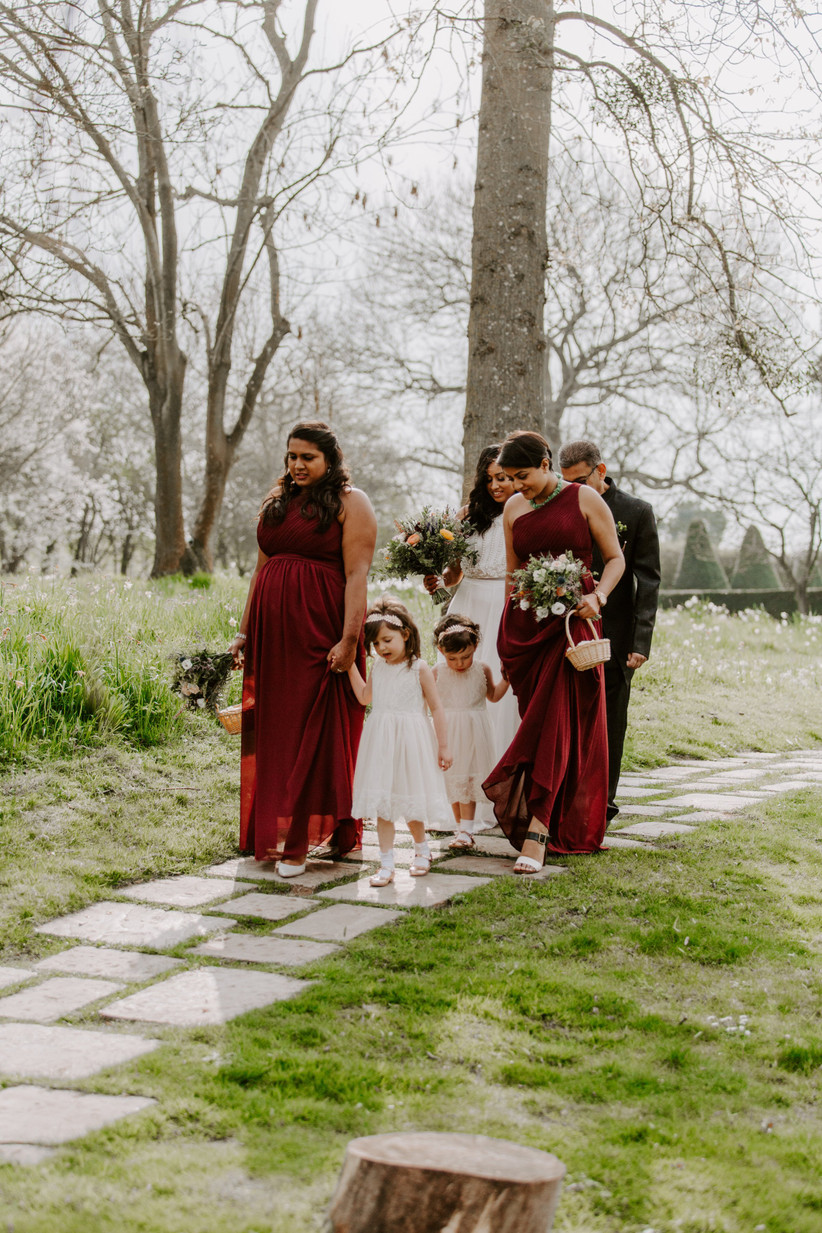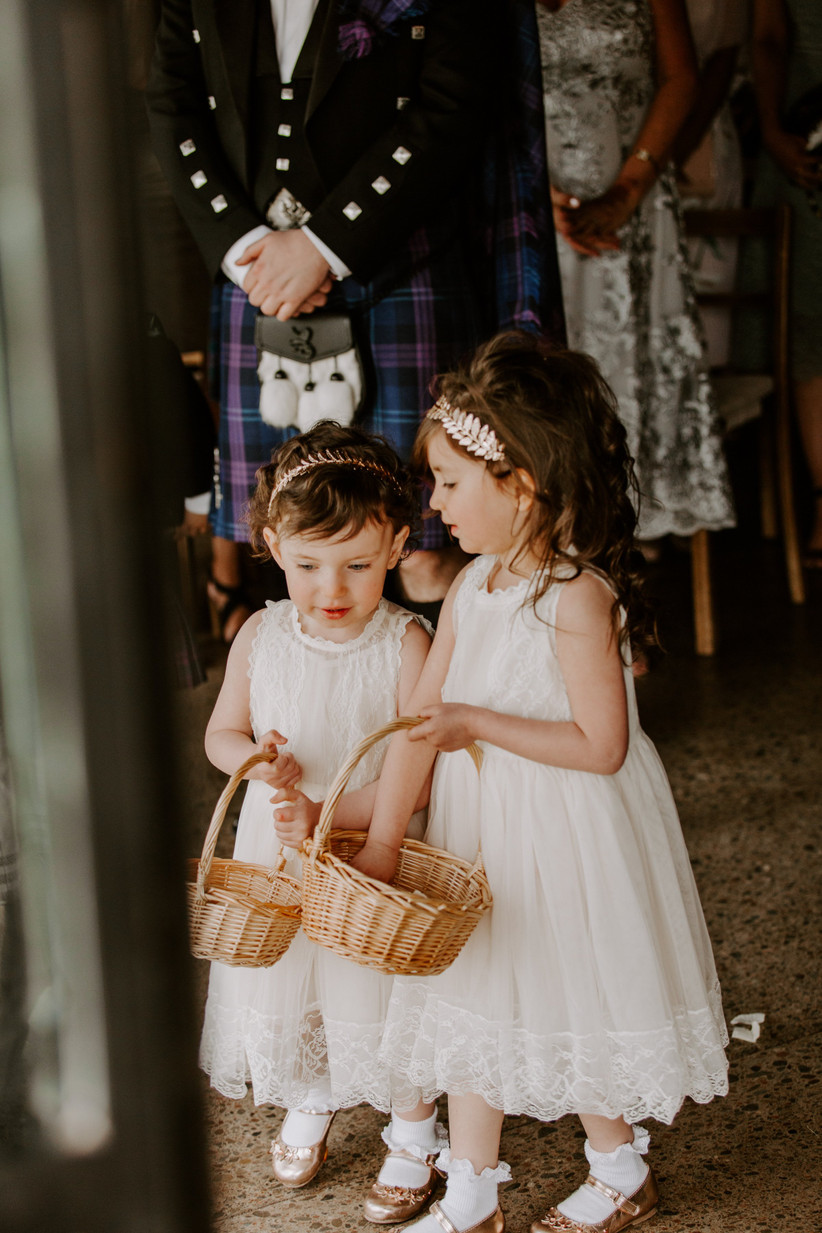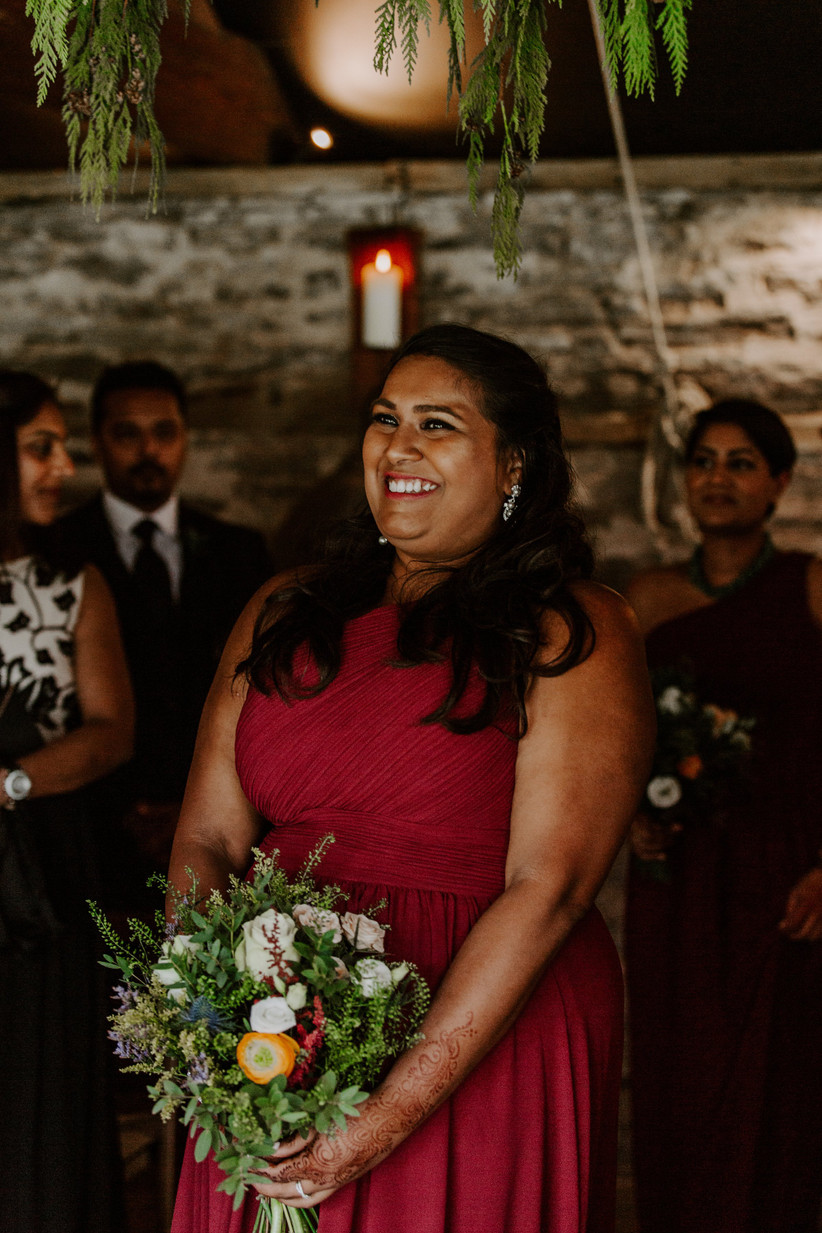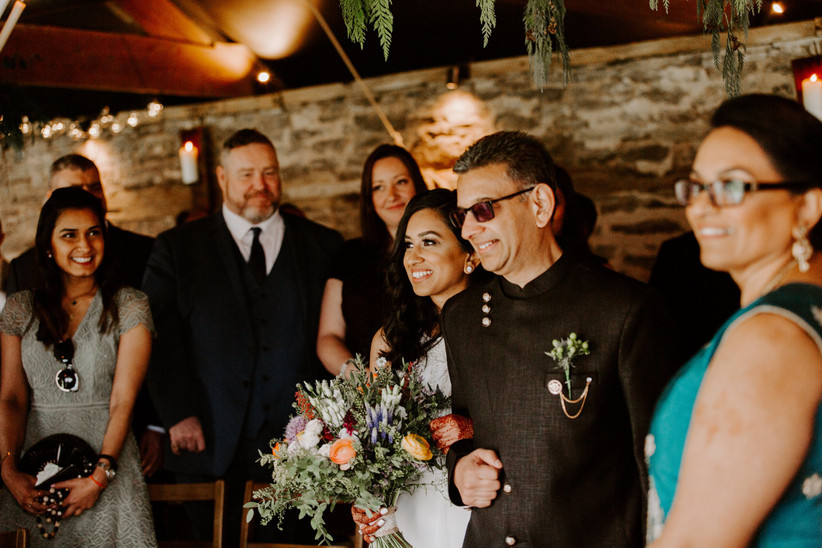 The Wedding Party
"I wanted the bridesmaids to be comfortable, so they tried on a number of dresses until they found one they both liked. They had maroon, one shoulder dresses."
For her flower girls, Deepa turned to an unexpected source to find the right dresses and accessories. "The flower girls' dresses were from Amazon and looked like vintage lace. We wanted a rustic wedding look, and these went really well. I also got their gold hairbands from Amazon too."
The groom and his groomsmen all wore traditional kilts as a nod to Paul's Scottish heritage. The men of the wedding party all accessorised their blue and purple tartan with a classic Scottish thistle and a peach rose buttonhole which matched the wedding flowers. Their page boy looked particularly sweet in a miniature version of the adults' kilts.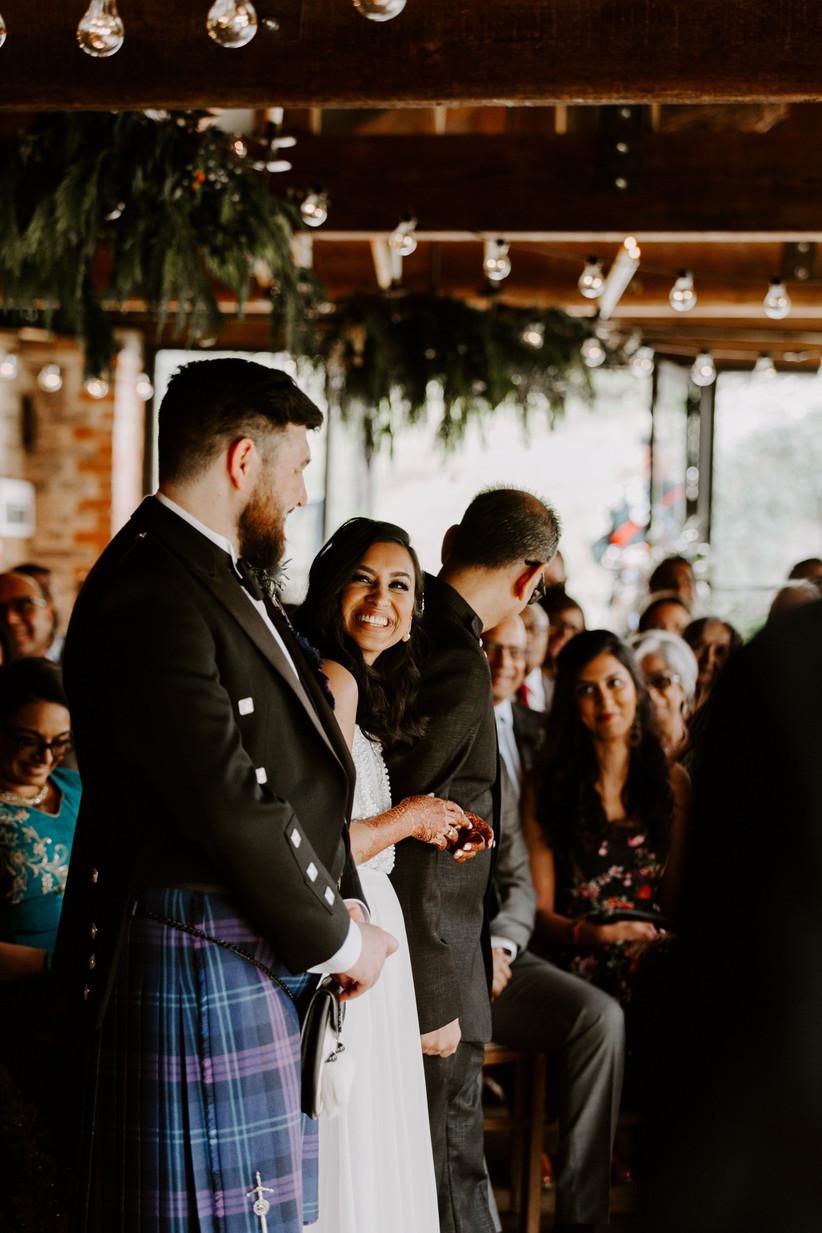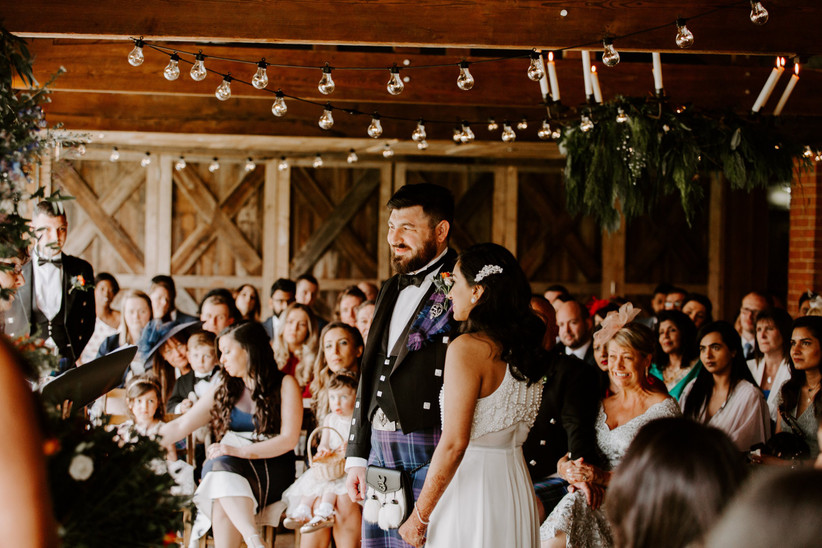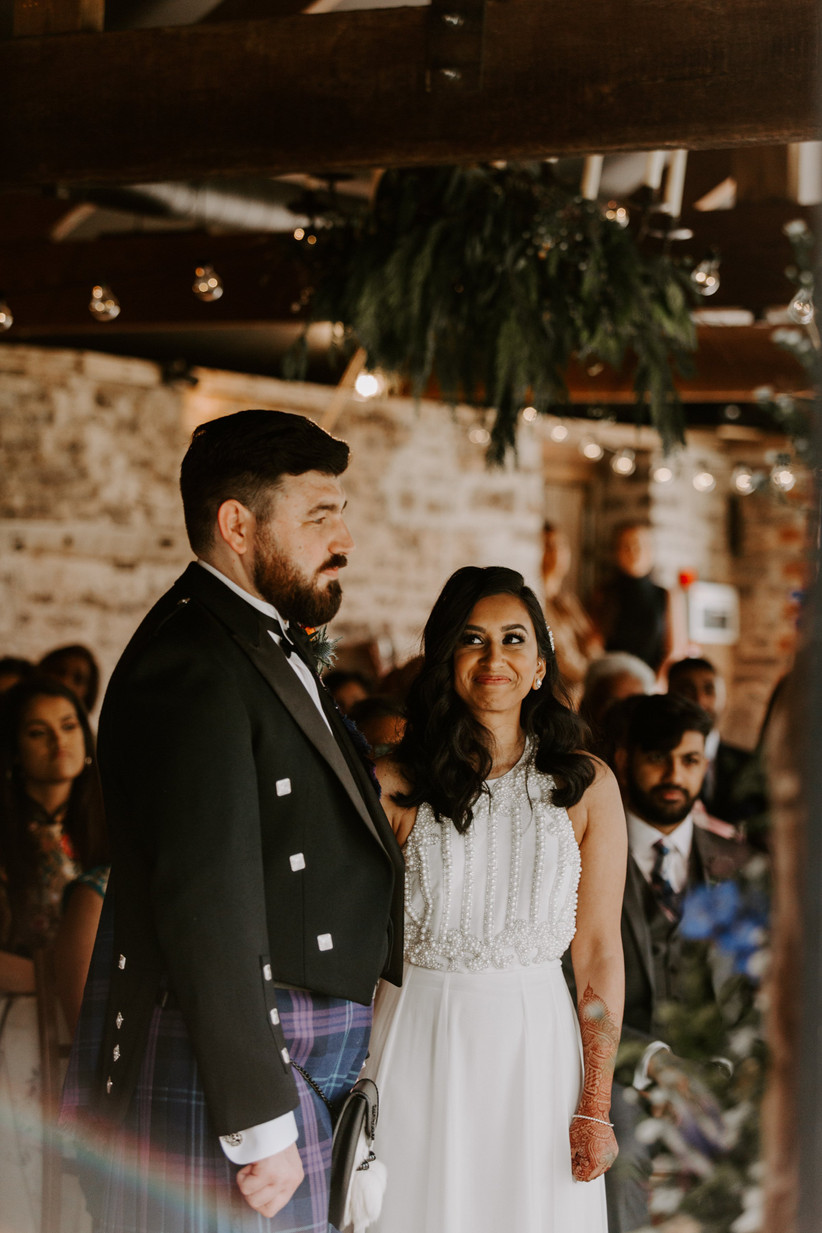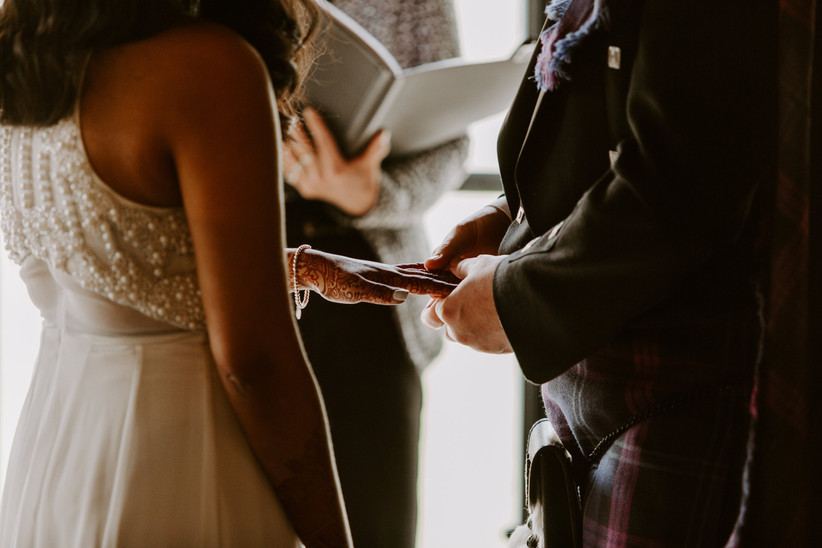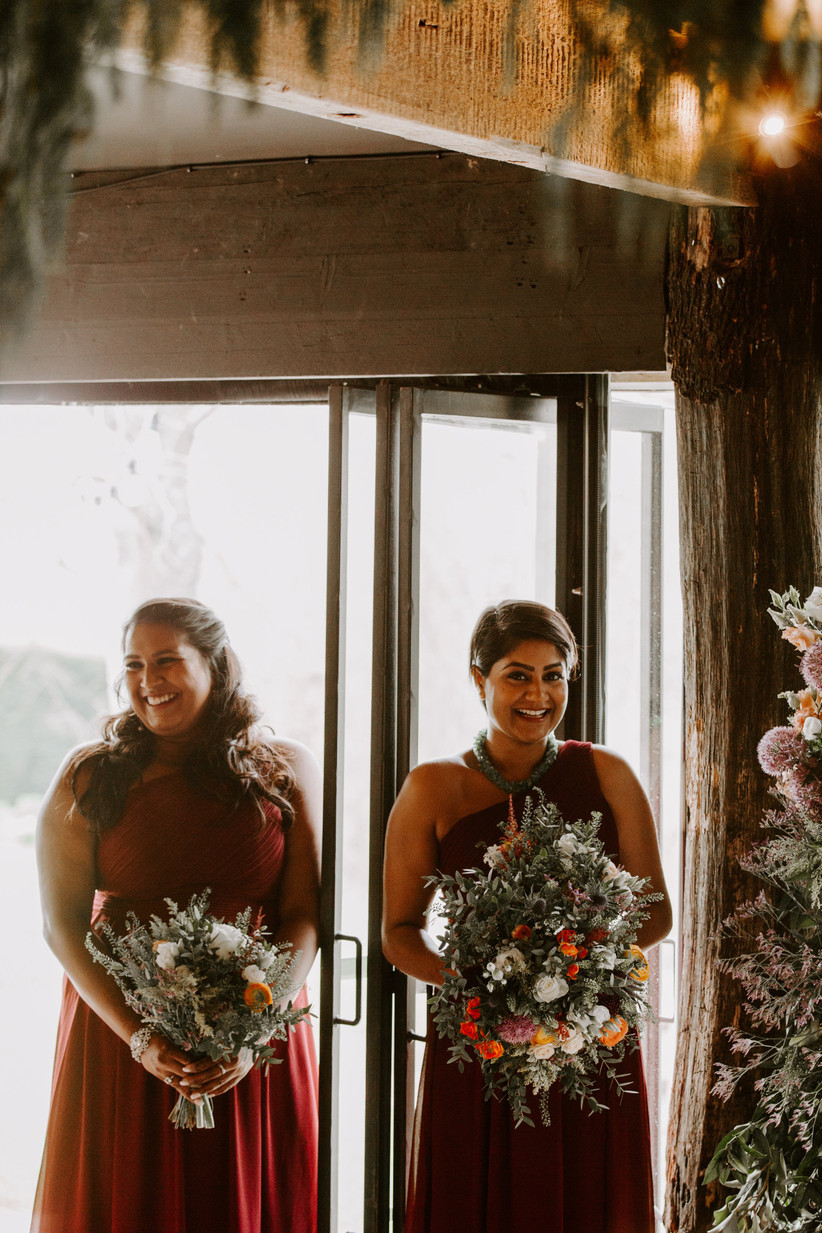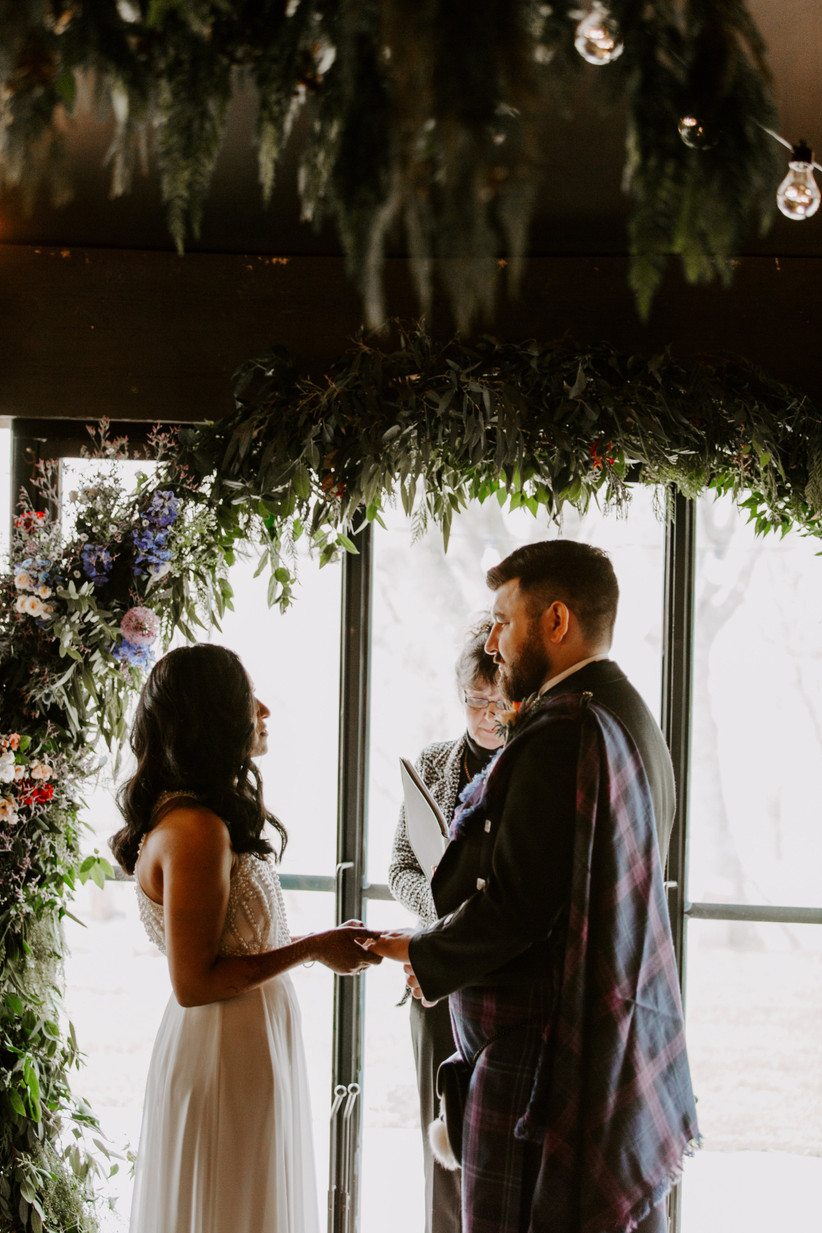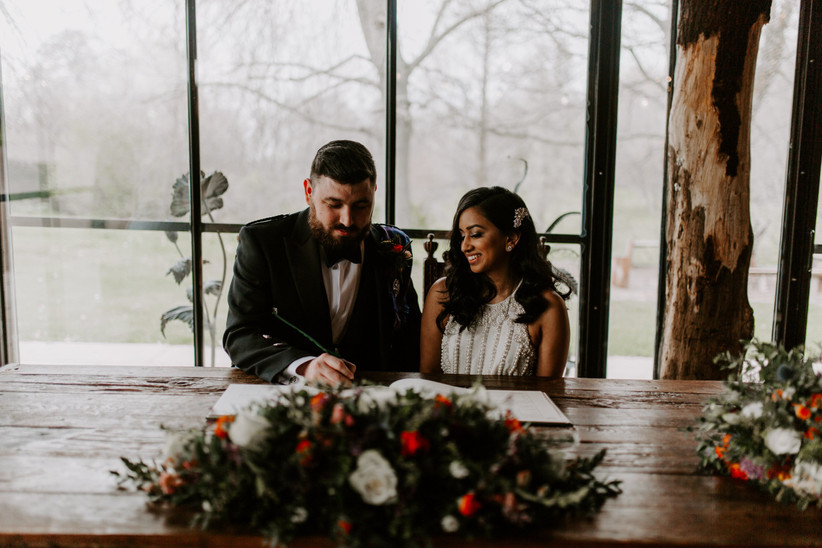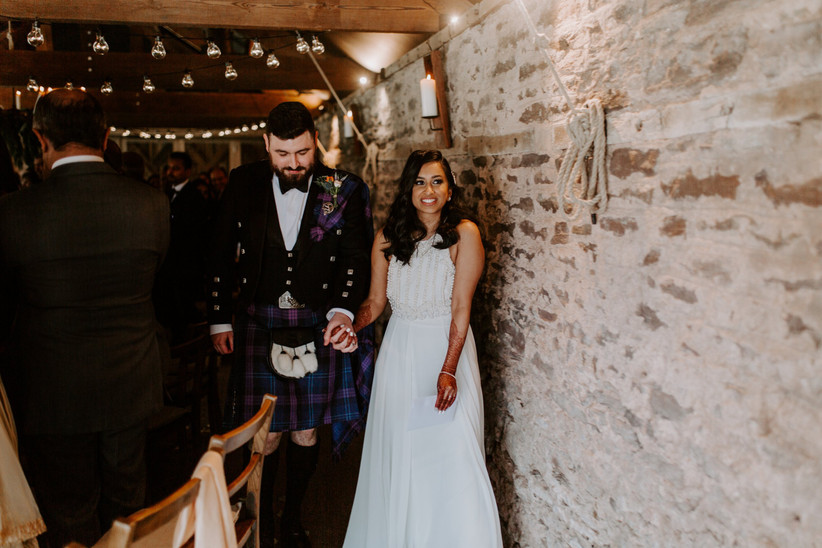 The Ceremony
Going against the tradition of not seeing the bride until she's walking down the aisle, Deepa and Paul decided to do a 'first look' before the ceremony which turned out to be one of the most memorable moments of the day. "We did a first look moment before our ceremony - the look on Paul's face when he saw me is something I won't forget."
The couple then exchanged "simple and straight to the point" vows in a civil ceremony at the stunning Dewsall Court.
"The barn we got married in had low beams and a rustic effect and didn't need much decoration. We had semi-circle seating for the ceremony as we wanted everyone to be able to see and have a shorter aisle, we kept everything quite bare really.
"We did have two large pedestal flower arrangements, one either side of the door, and a round arch at the end of the aisle and a large wooden table at the side to sign the register and two throne-like chairs.
"We also had an old pallet at home which we varnished and decorated to show the order of the day, and we left this leaning against a barrel outside the barn."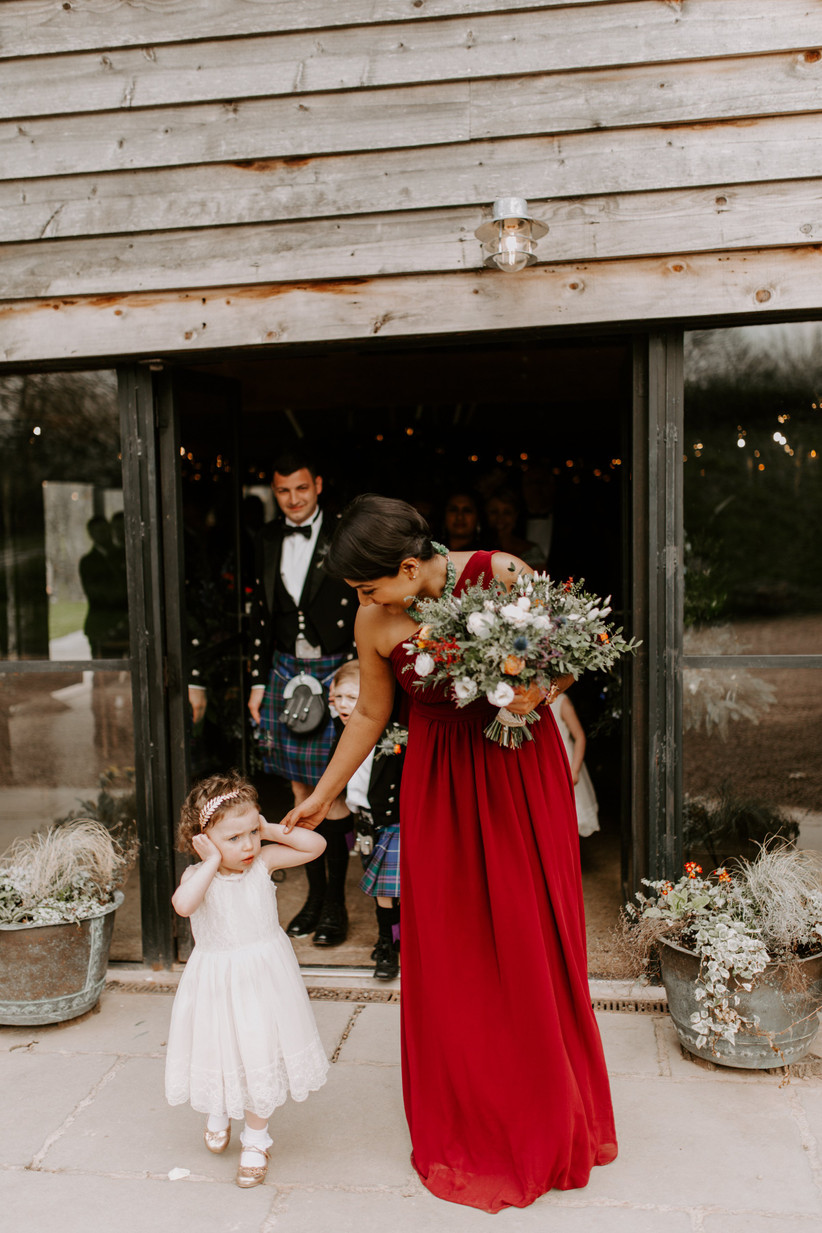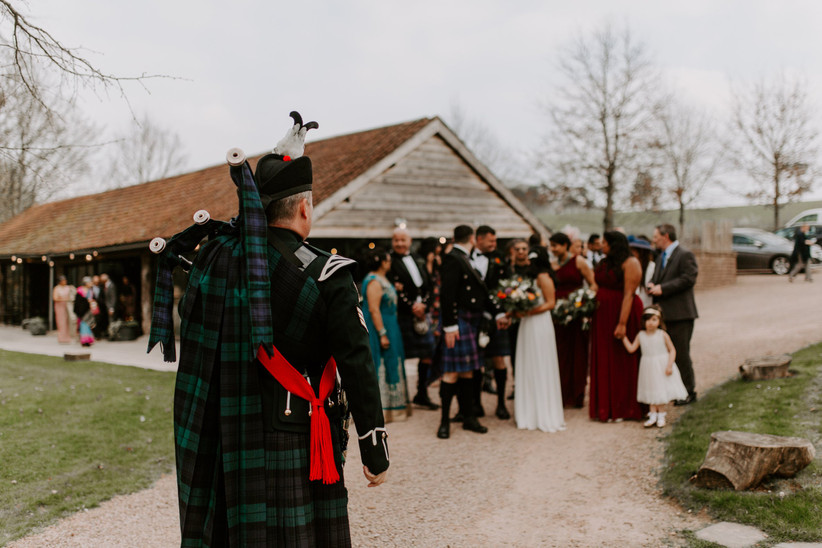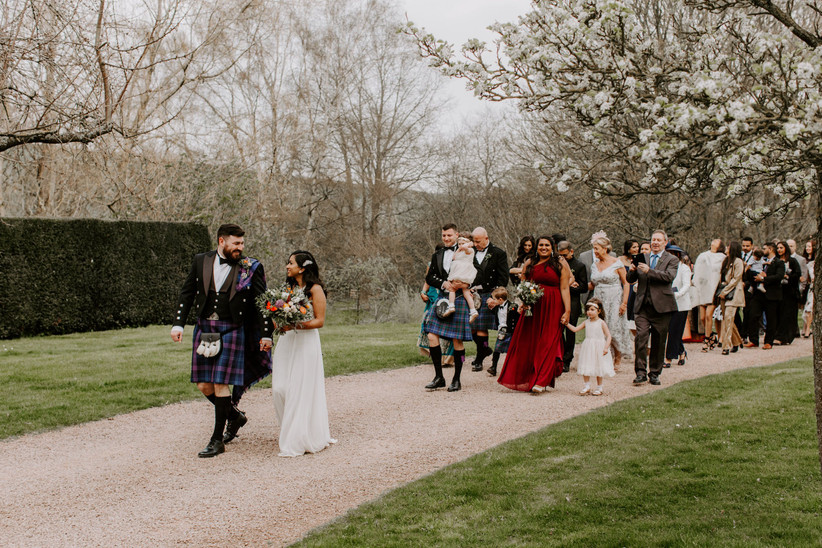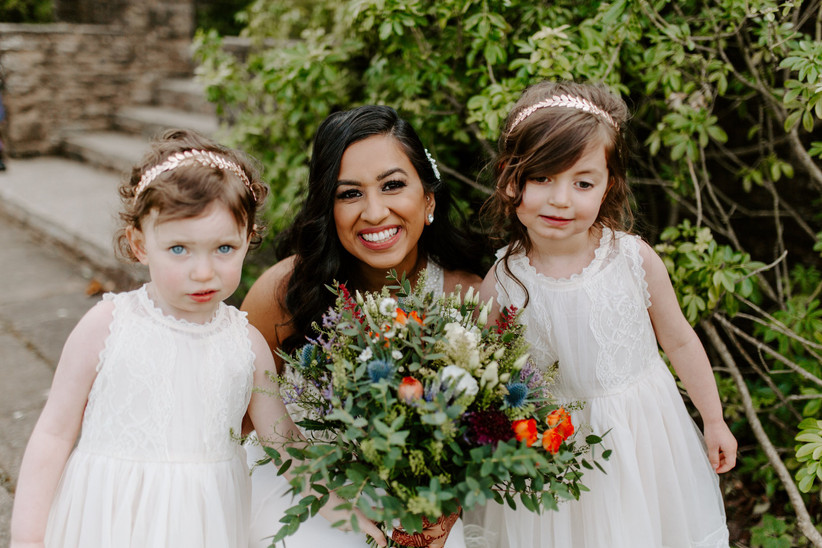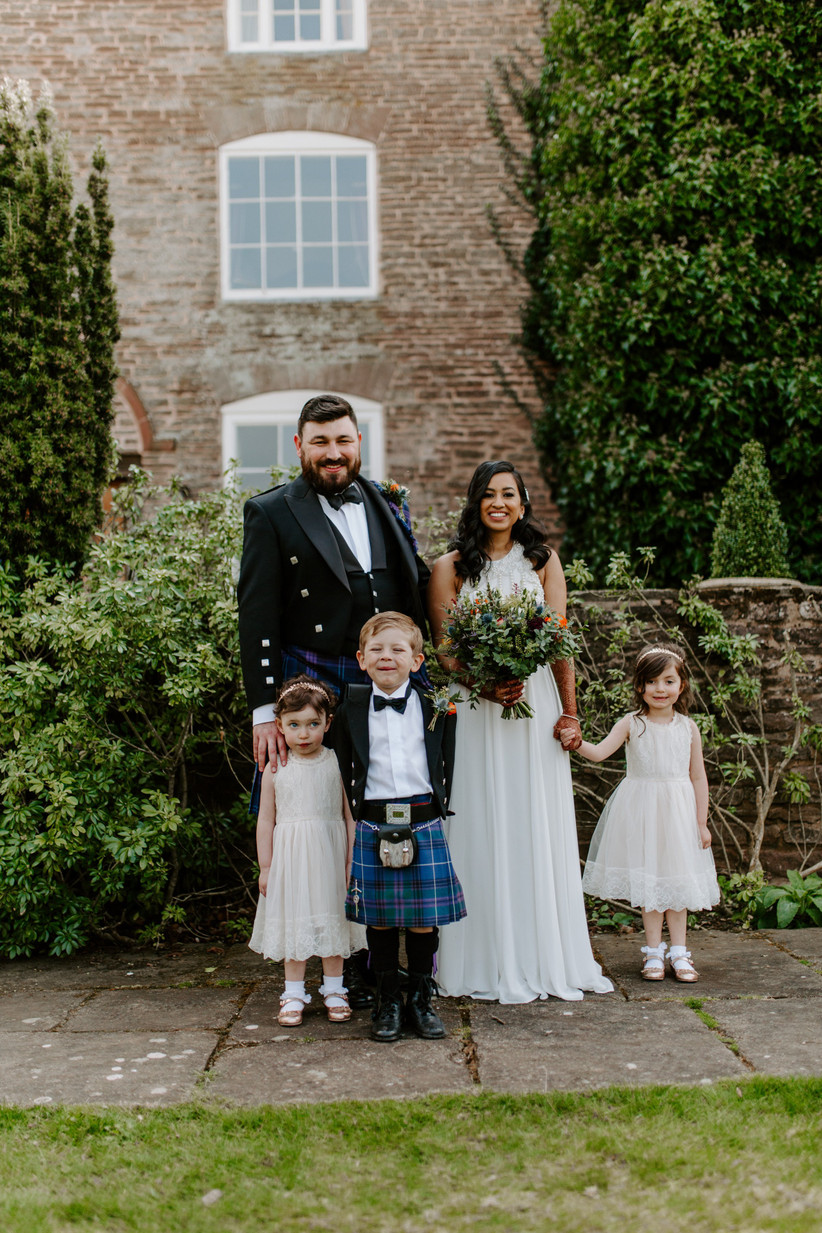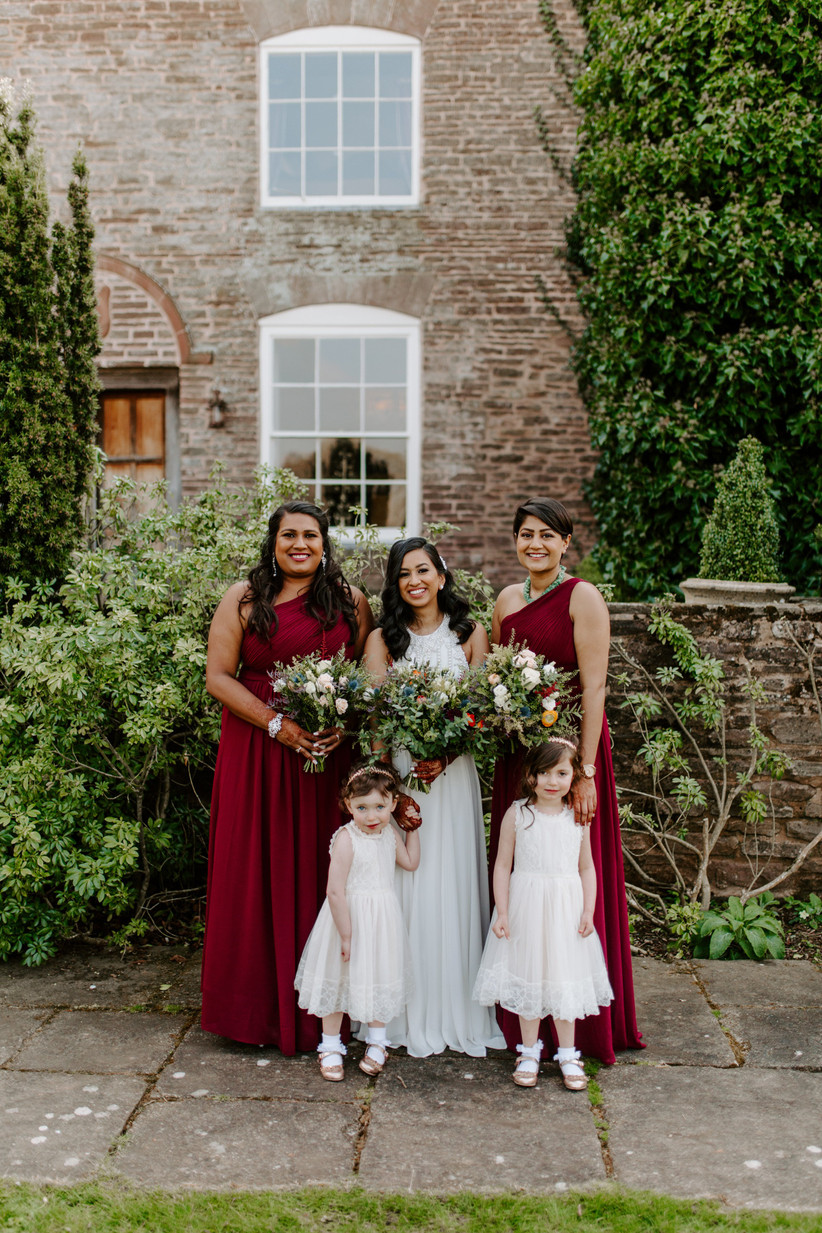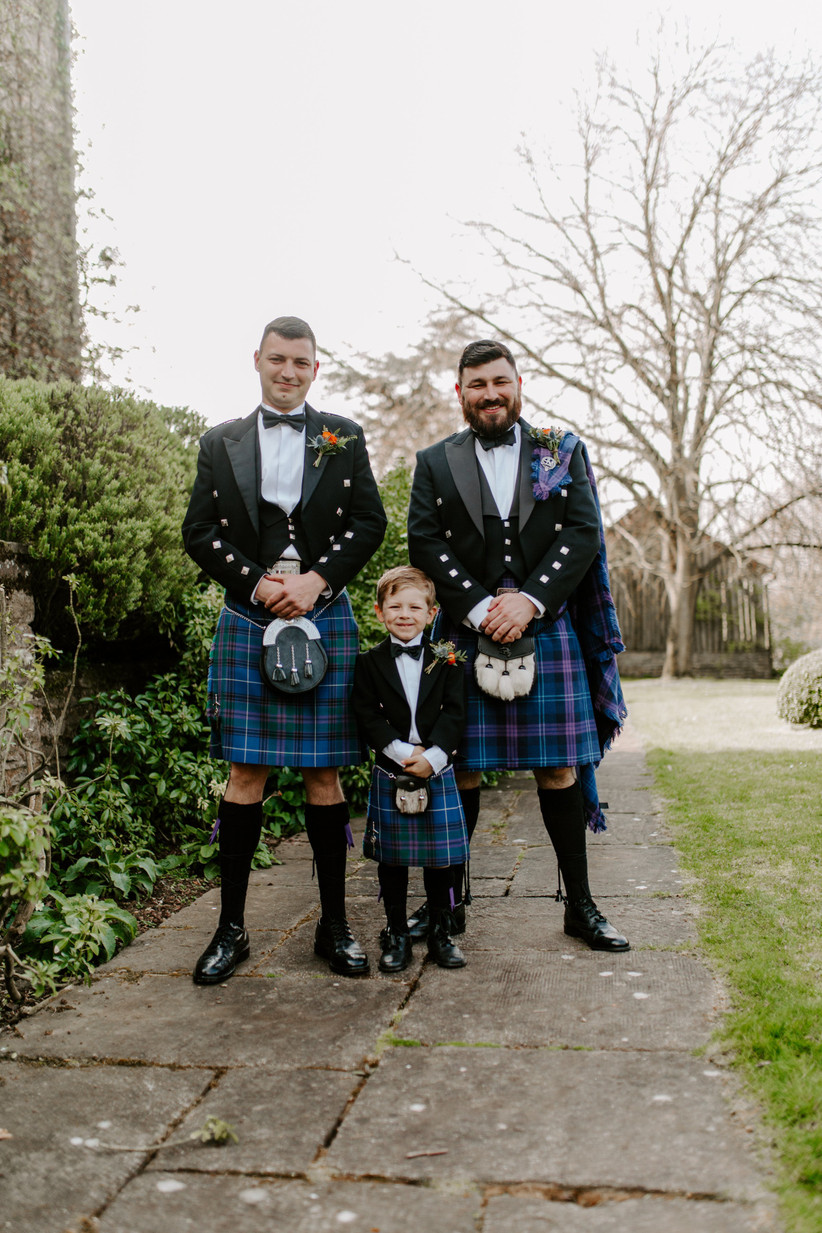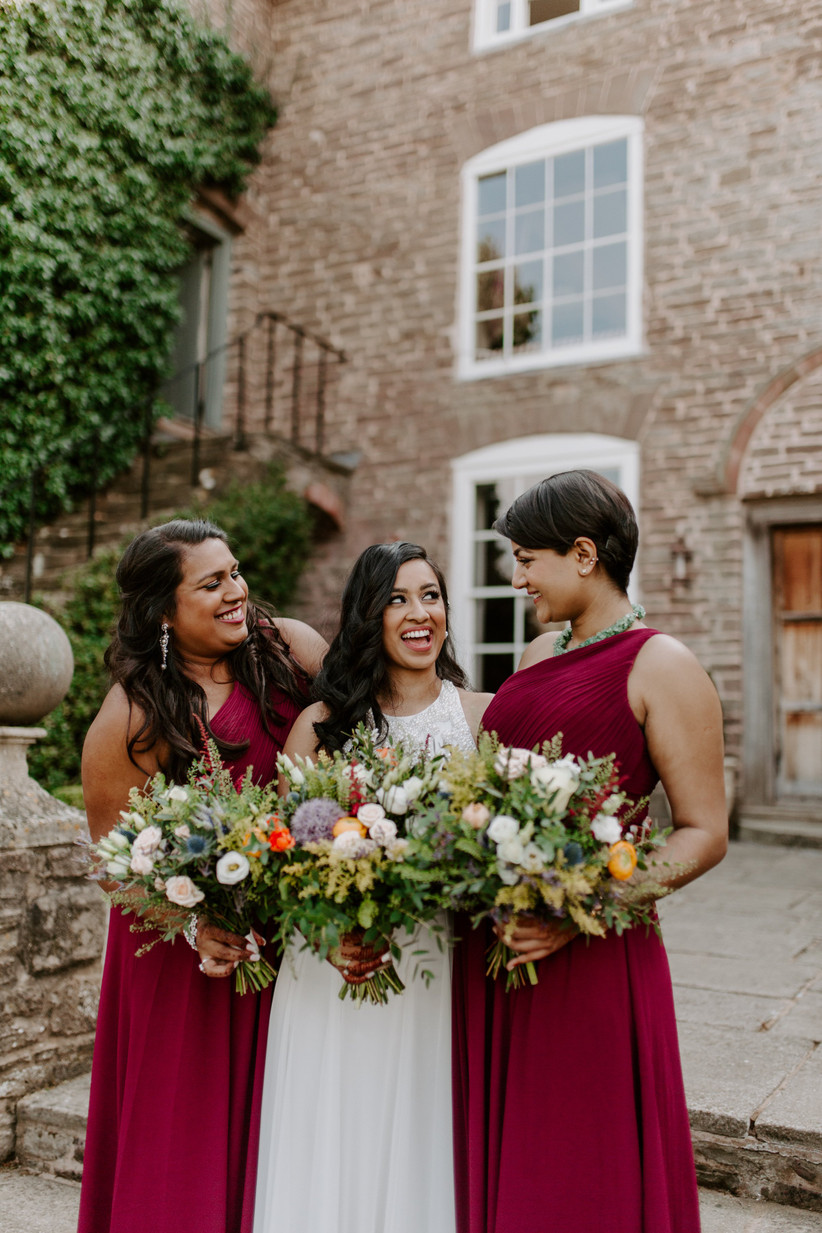 The Venue
Deepa and Paul chose Dewsall Court for both their ceremony and reception and, thanks to the hard work of the team, were delighted with their choice.
"When you book with Dewsall Court, you also get a wedding planner. We had a couple as one unfortunately moved on from the venue, but we finalised all our plans with Laura. She was great! We had a pretty clear idea on what we wanted after finding our venue and she worked with us to make our wedding perfect.
"Dewsall court has a standard outline for a plan and Laura worked with us to tailor it to our day – it all seemed pretty easy!"
The rustic barns, exposed brick buildings and relaxed feel at Dewsall perfectly suited Deepa and Paul's laidback wedding style. "Everyone says the wedding reflected us perfectly. It was a really calm and relaxed atmosphere, and everything ran smoothly."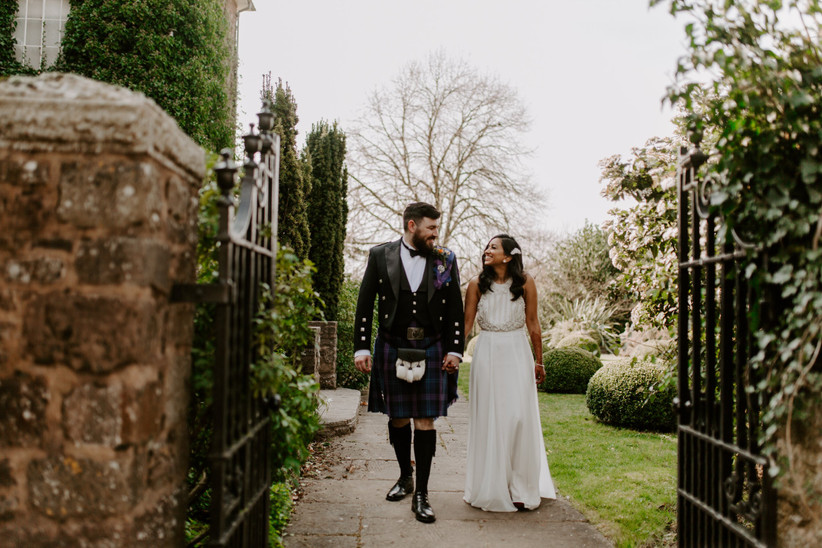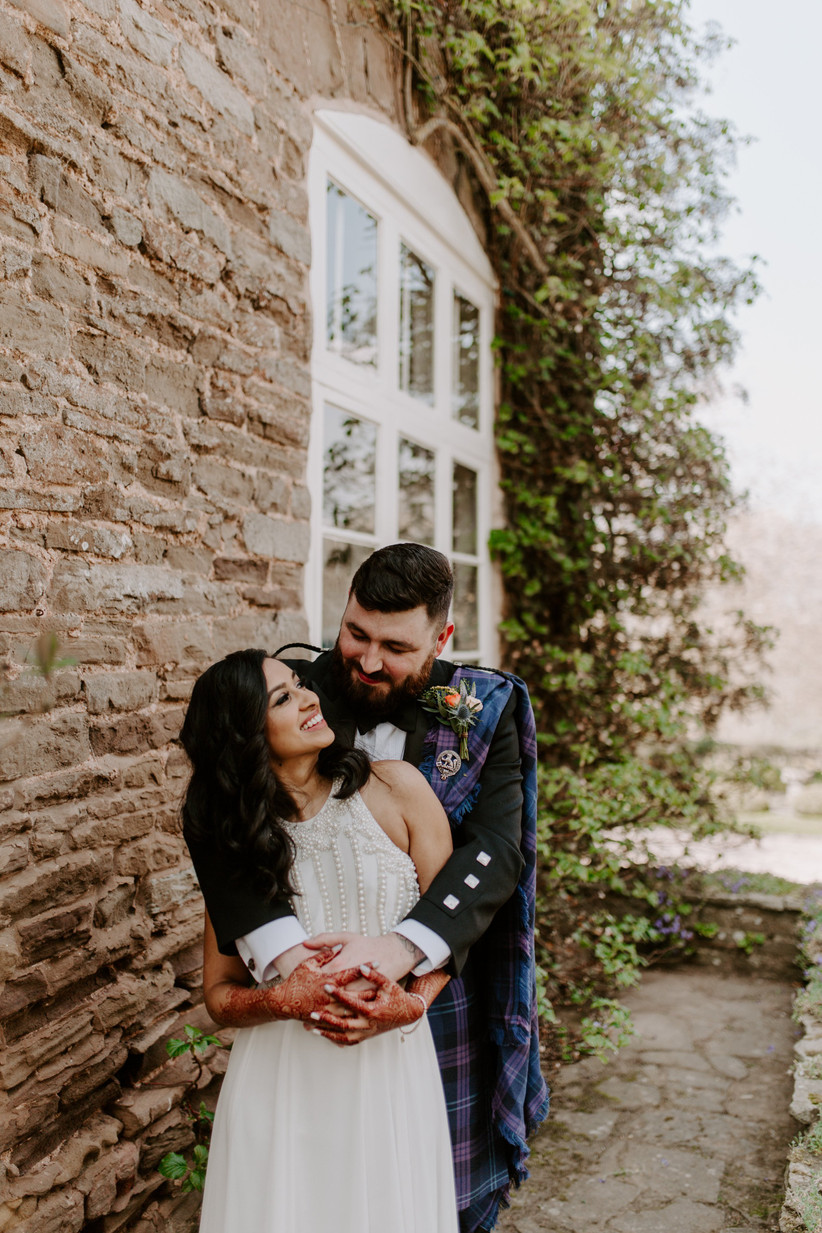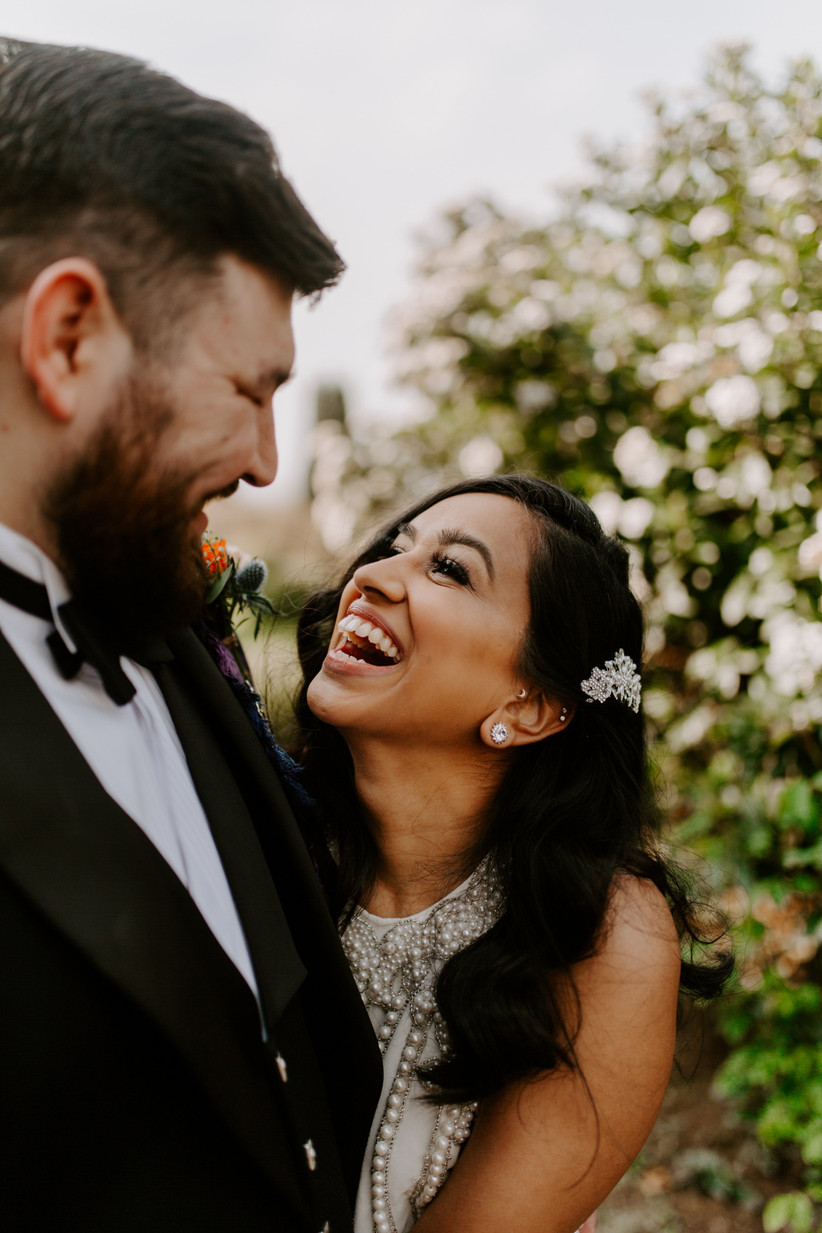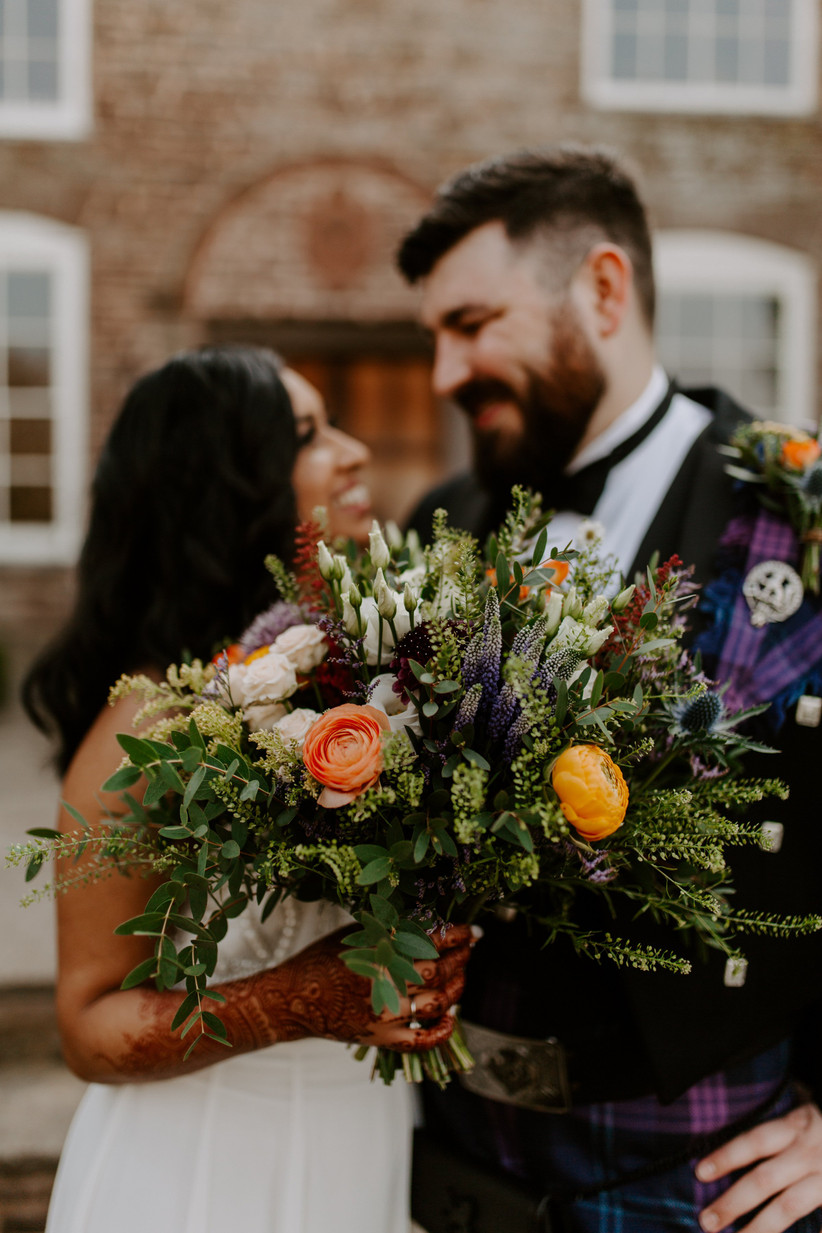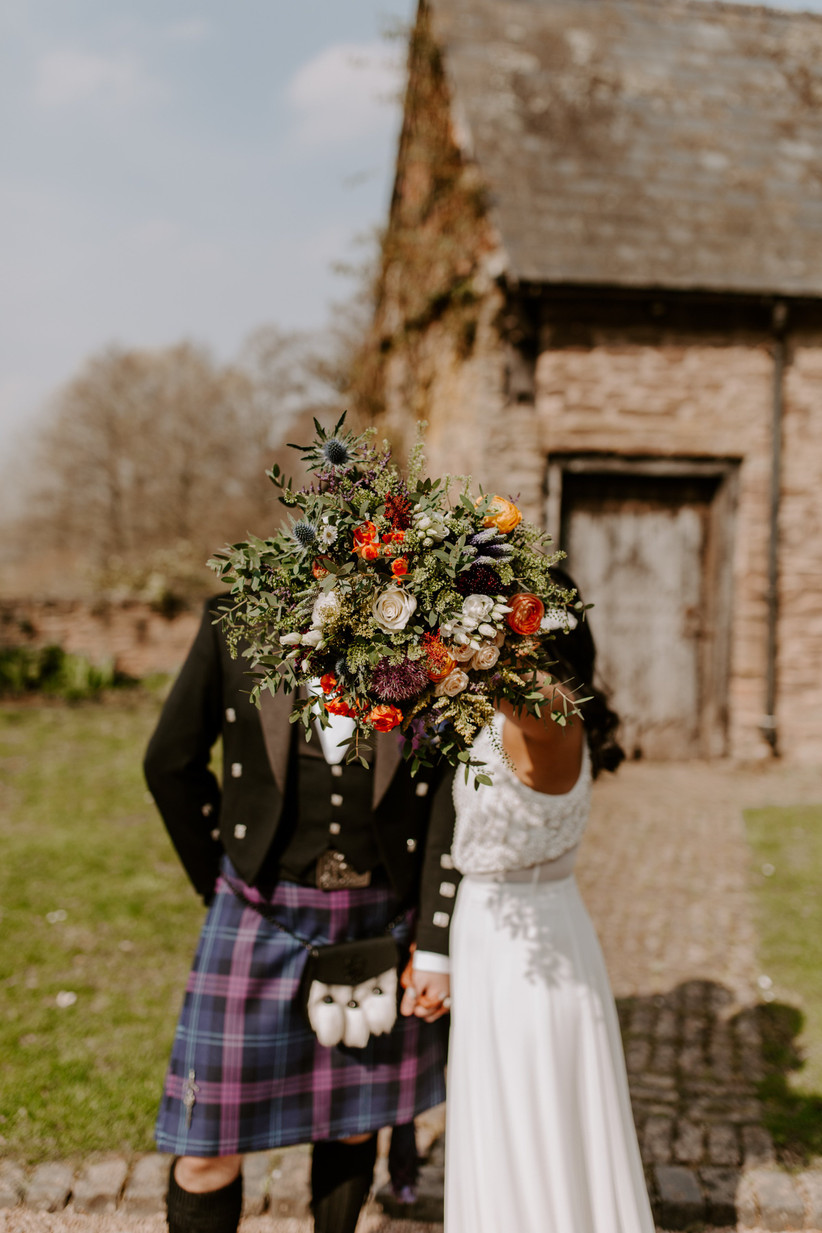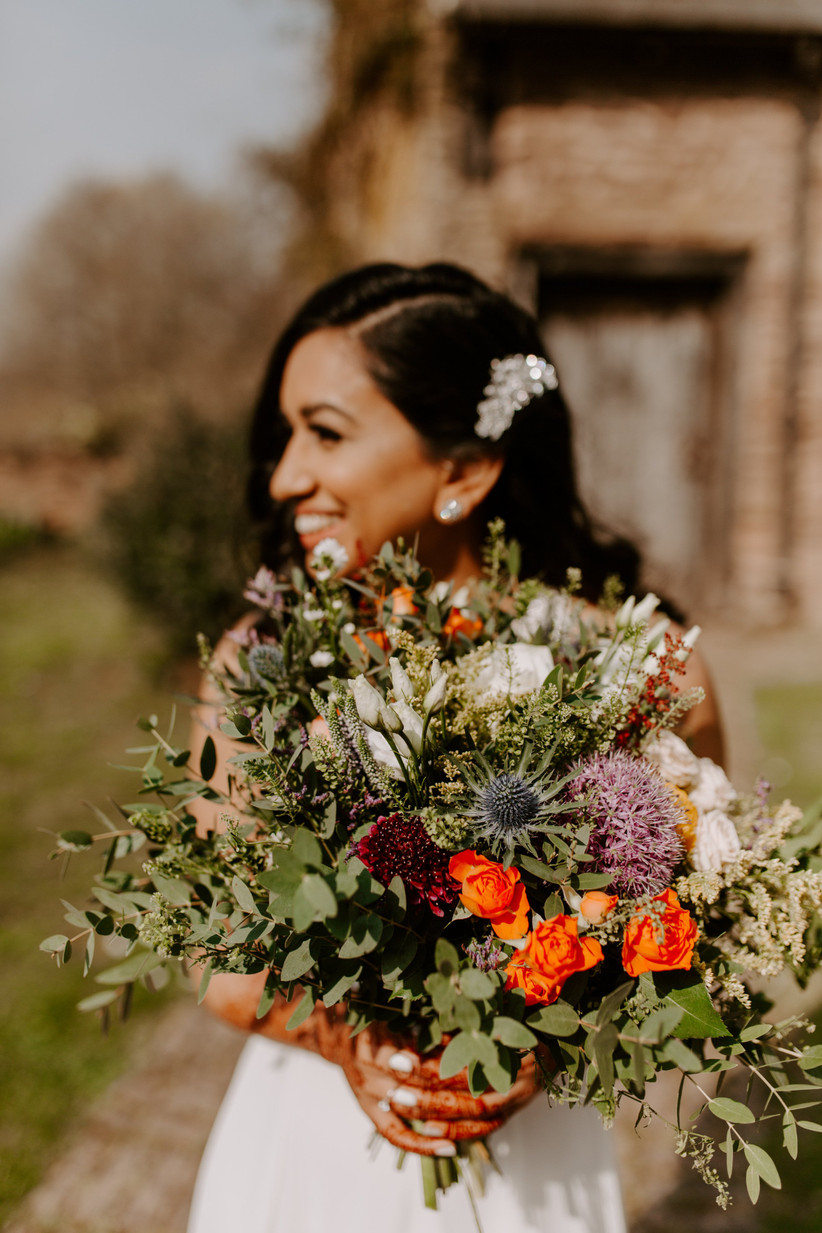 The Wedding Flowers and Cake
The couple were open to the ideas of their florist, The Great British Florist, when putting together their floral look.
Rather than decide on a set colour scheme and flower selection, the couple were happy to let the experts take the lead – although one Scottish plant was a must.
"As Paul is Scottish, we wanted to include thistles in all our flowers. I didn't actually specify any specific flowers to my florist apart from thistles and just asked her for a wildflower theme and to do whatever she thought would look good. Giving them the freedom to do what they wanted worked out amazingly as I wouldn't have ever been able to specify what they created.
"Again, for the bouquets and button holes I just asked for a wildflower theme and the florists did their thing!"
When it came to the cake, Deepa and Paul relied on the skills of Deepa's cousin, Anika. "It was a four-tier naked Victoria sponge covered in fruit and cream – it looked and tasted amazing!"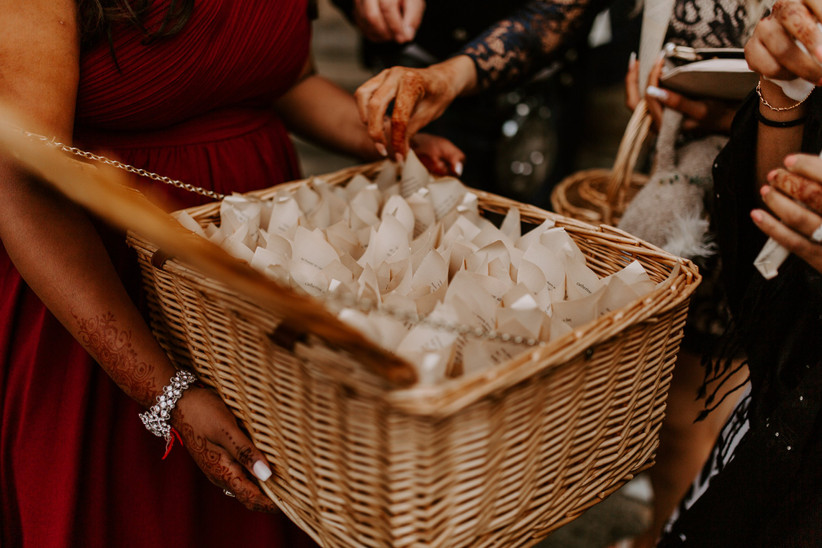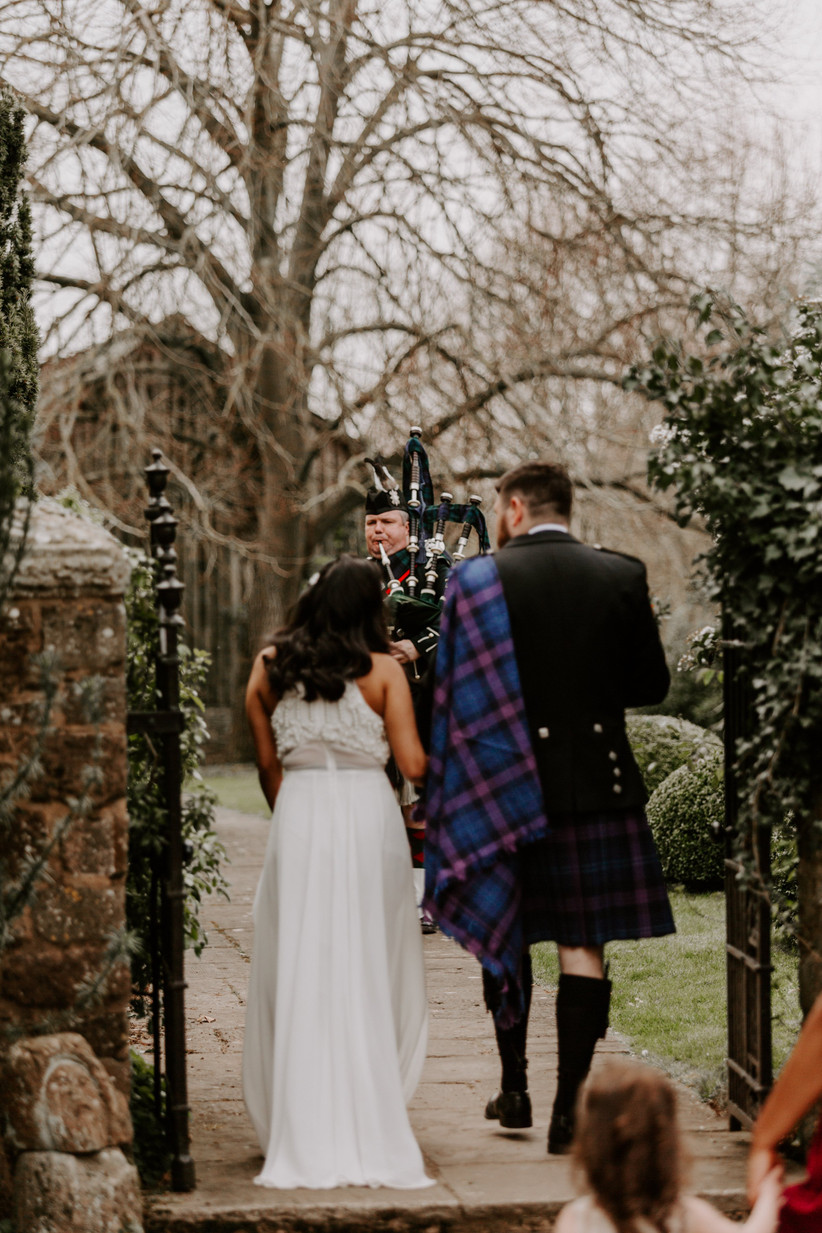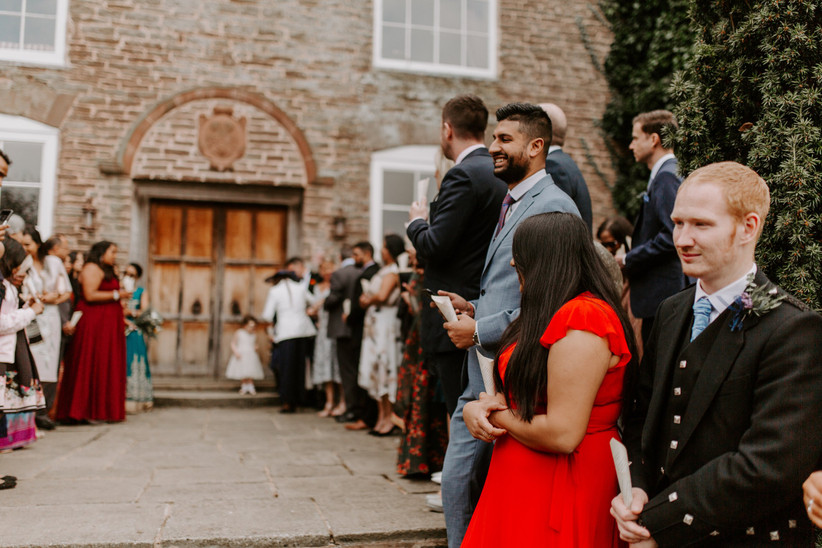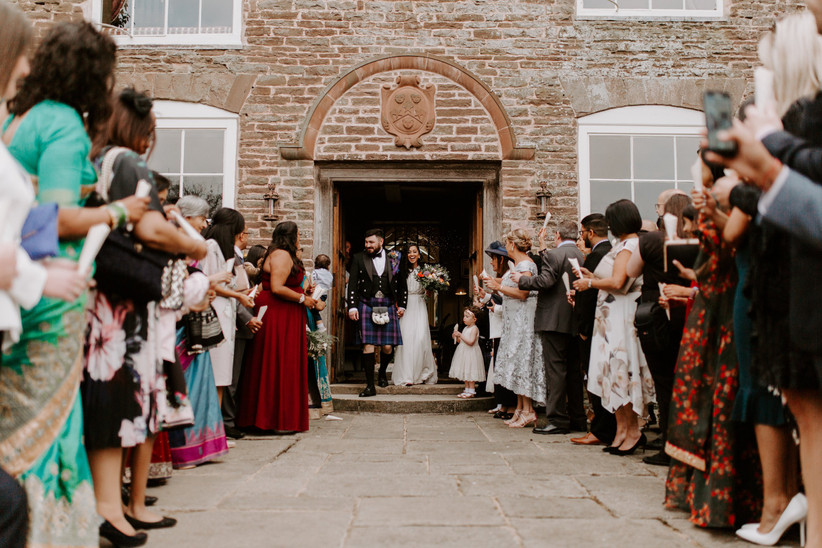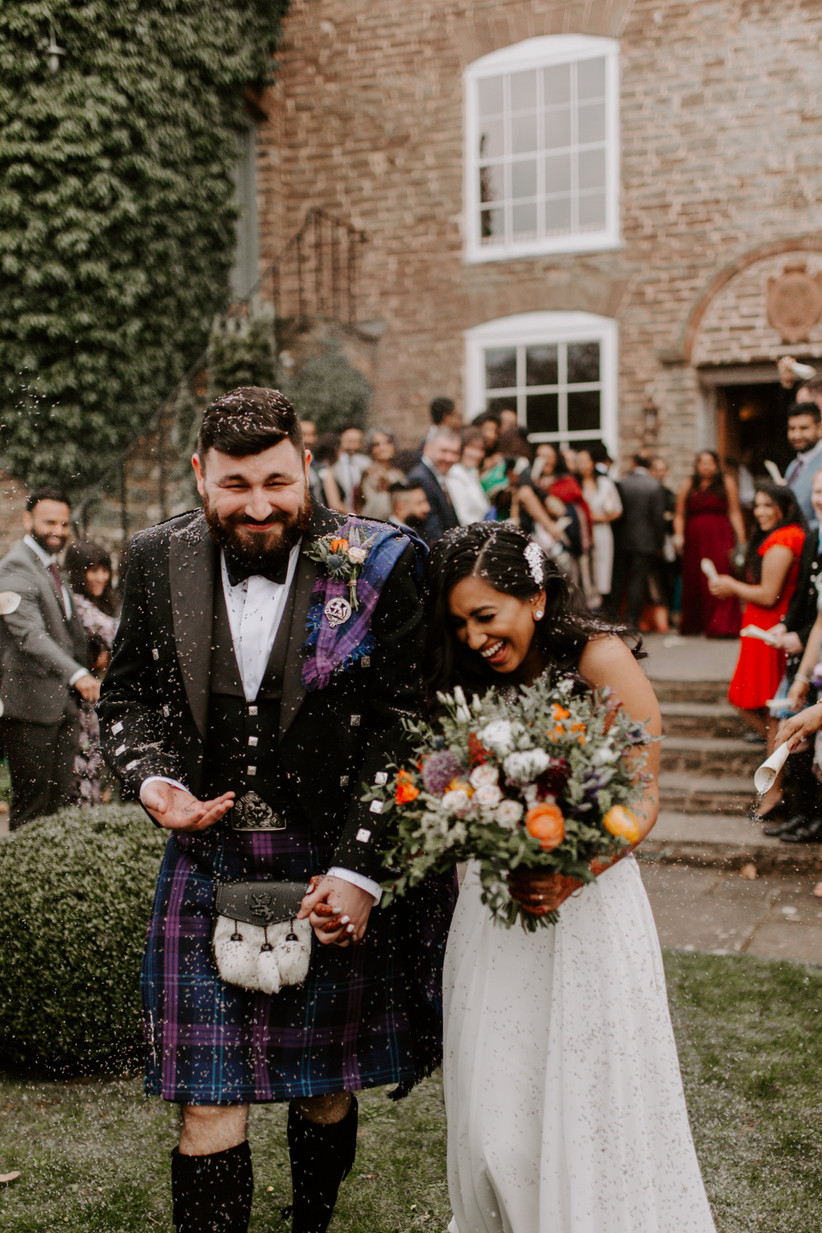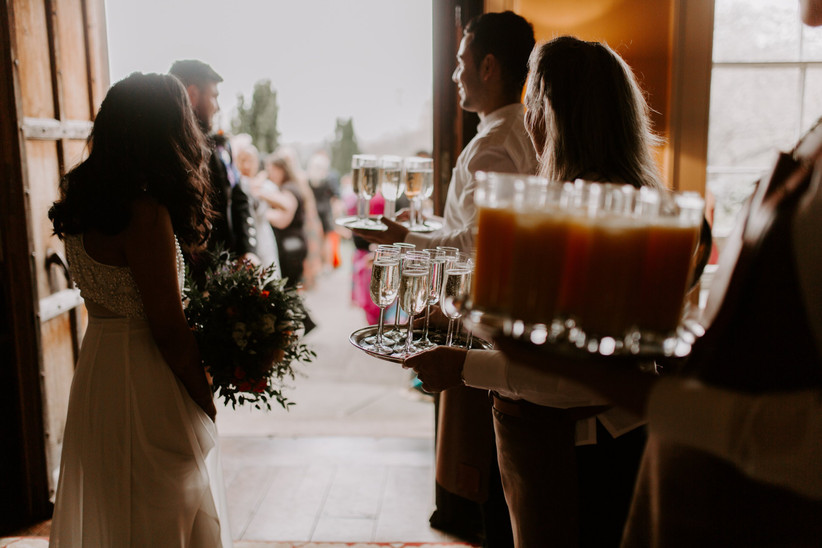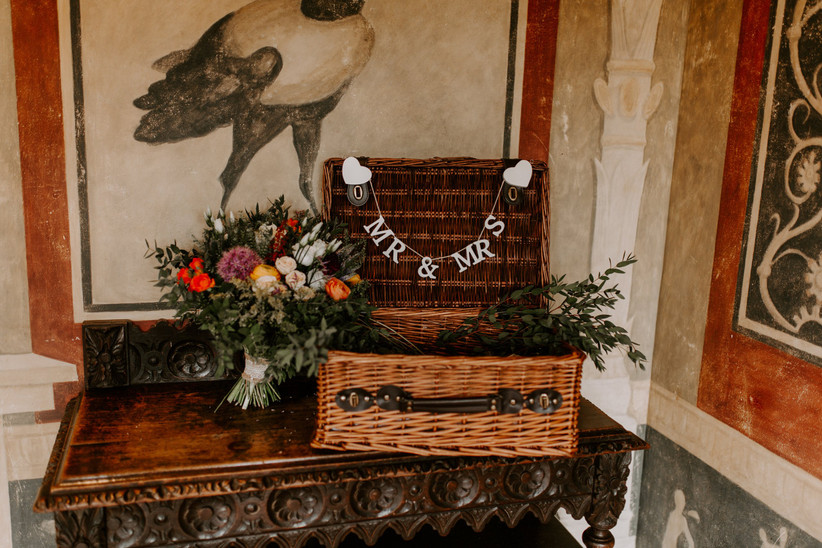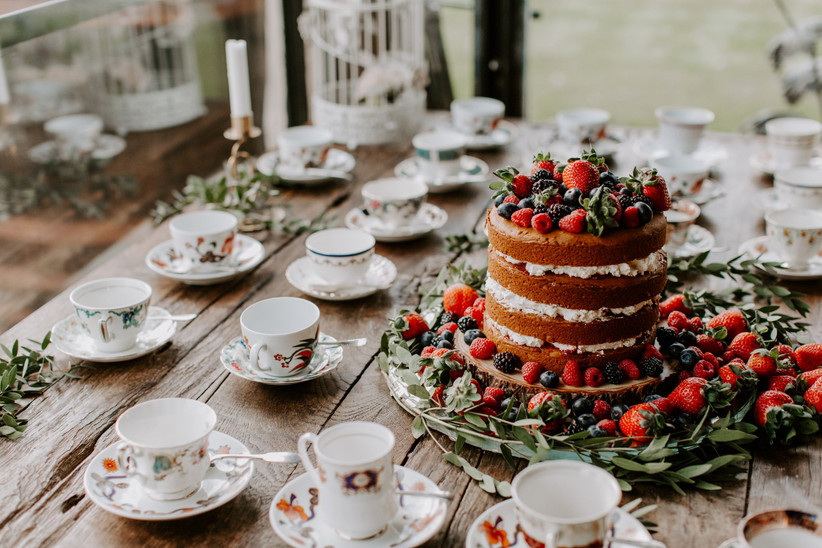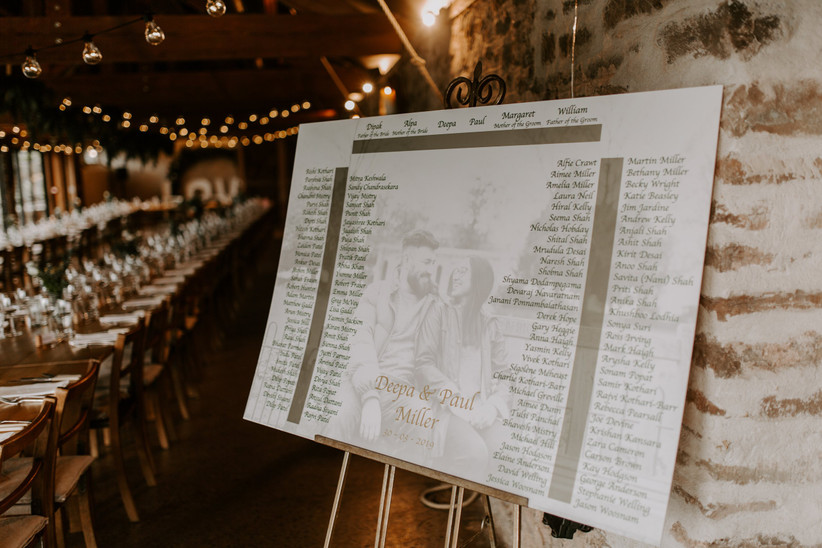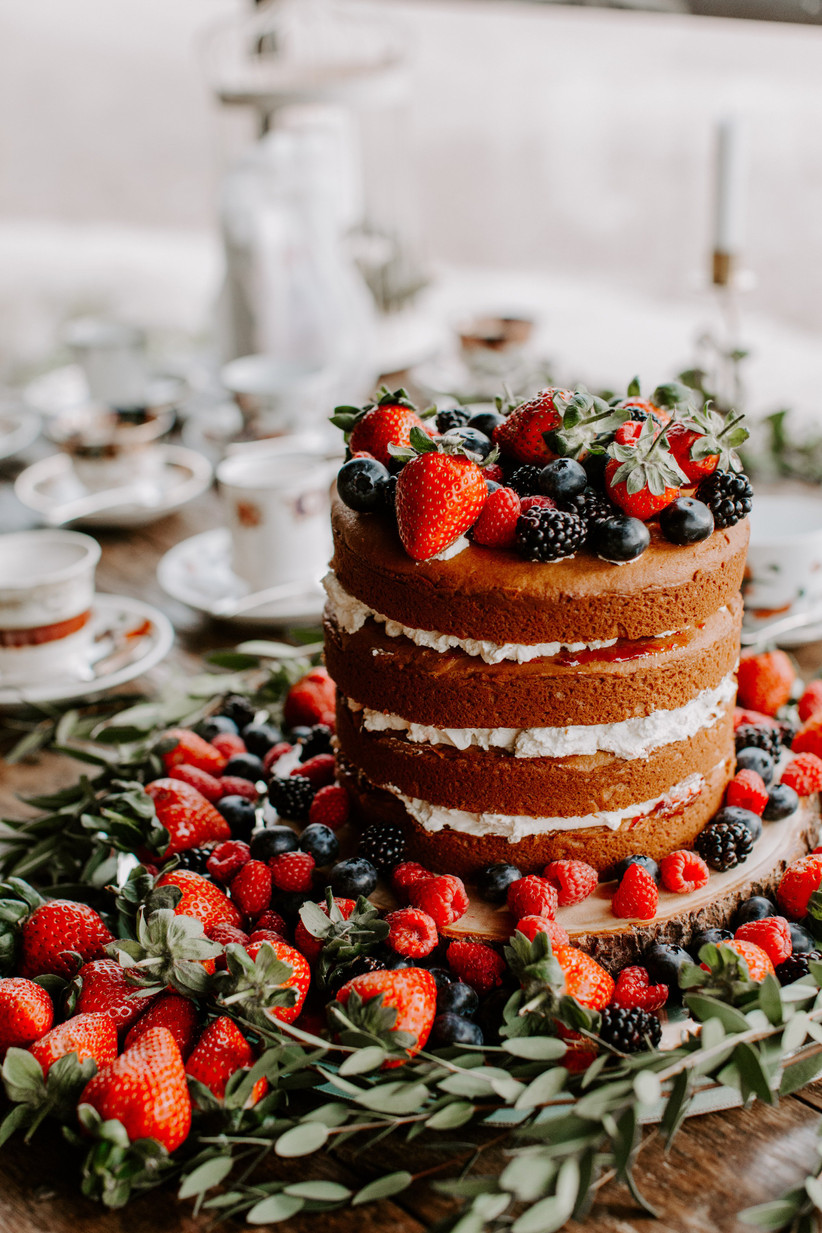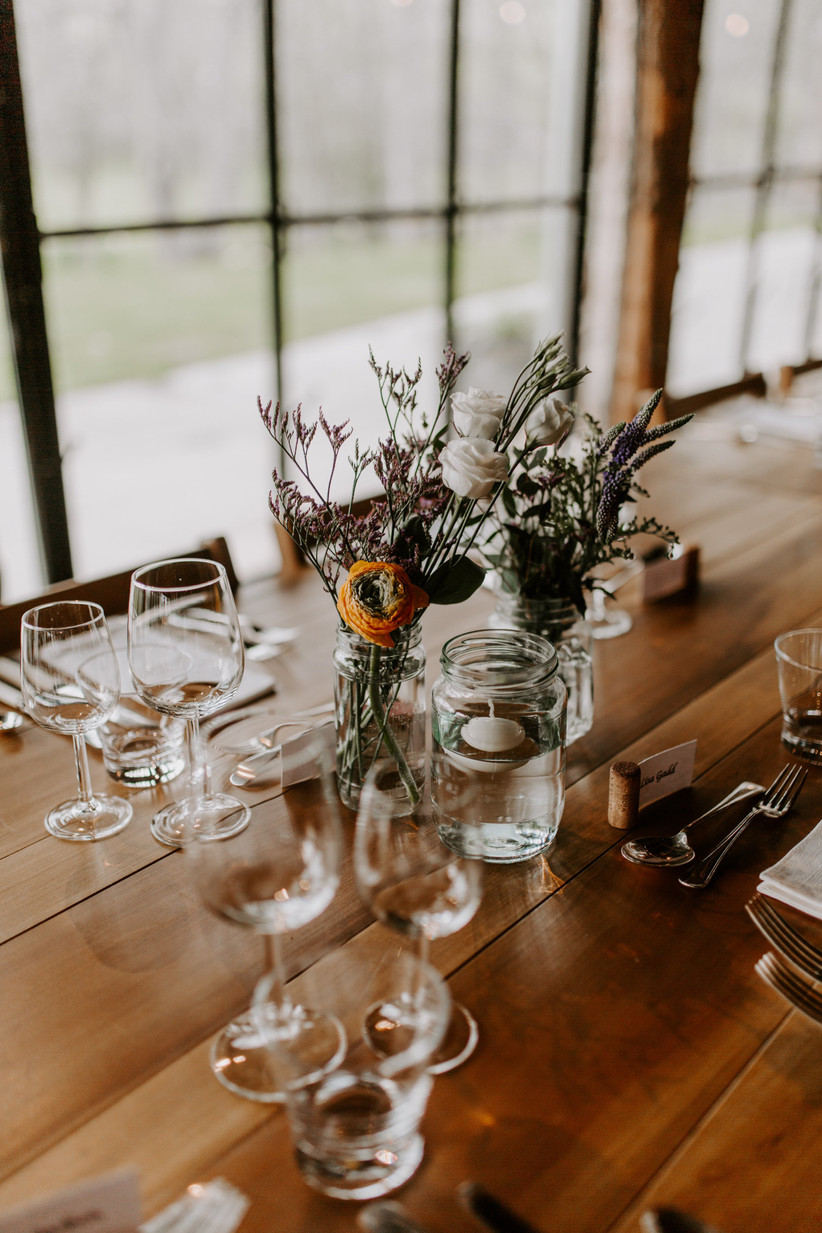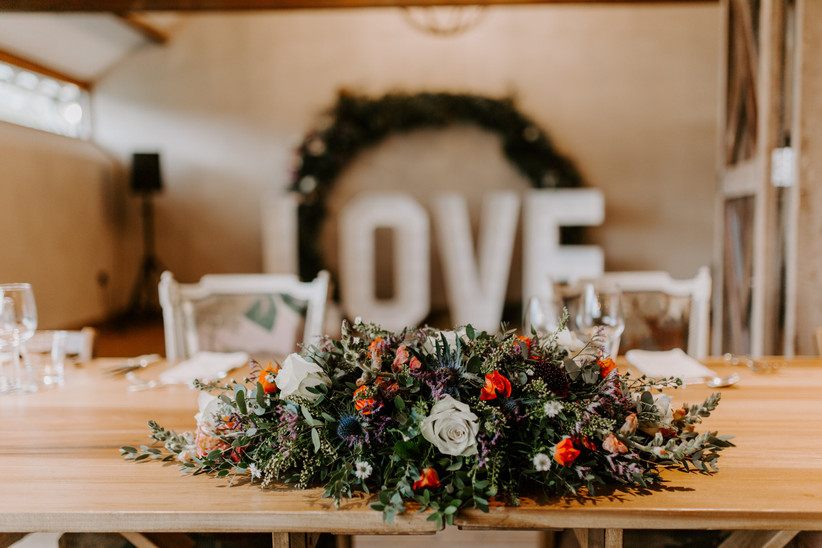 Décor and Special Touches
The couple kept the rest of their décor pretty simple, incorporating jars with a selection of blooms as centrepieces. The tables and chairs were kept bare, with just corks cut to display place names as the only embellishments.
"We also had zig-zag lights across the ceiling and beams. We had a large LOVE sign with lights on the dance floor and we had dried lavender for confetti cones that I handmade from instructions in a book called The Wedding Day from a charity shop."
The confetti cones weren't the only handmade addition to this homespun wedding, Deepa and Paul also designed and downloaded their stationery from Etsy. The couple also used shots from their pre-wedding shoot to create a personalised table plan.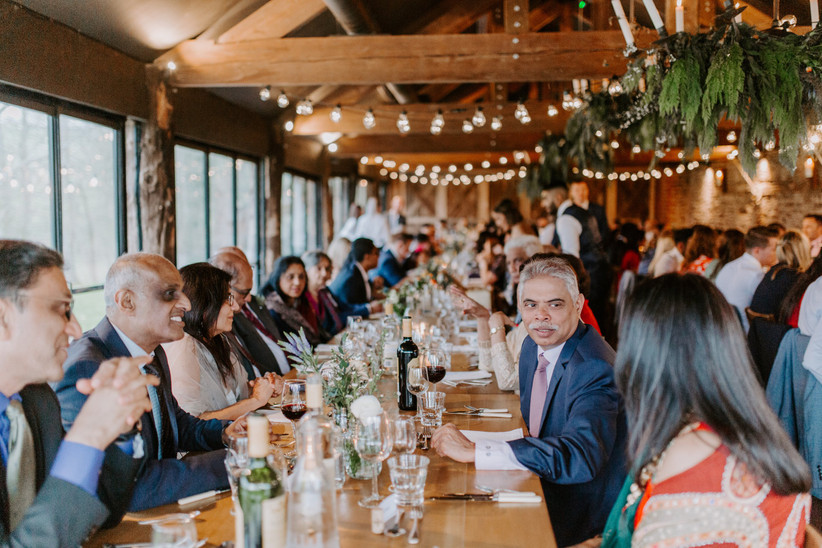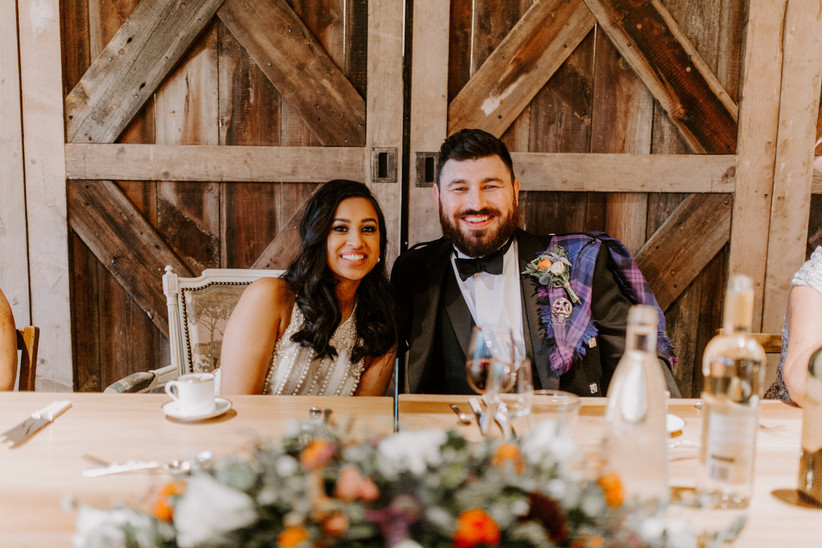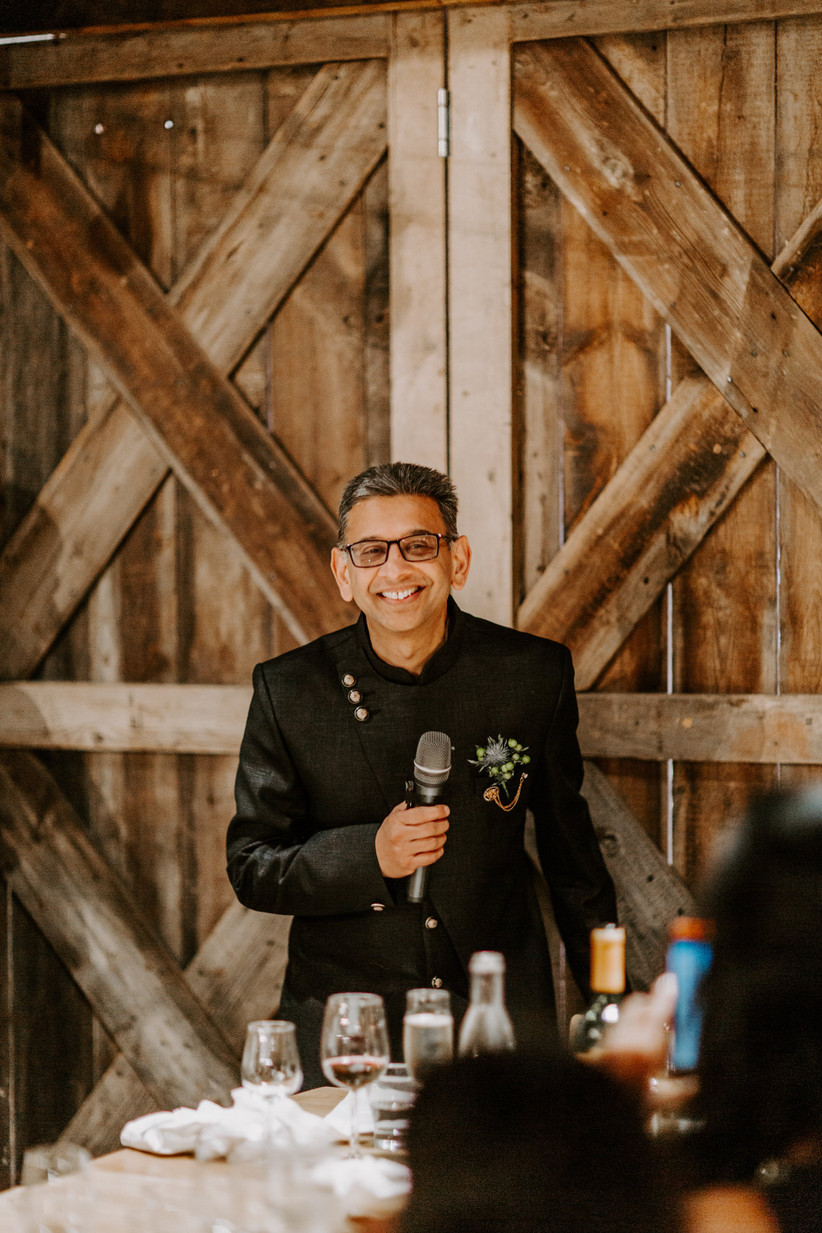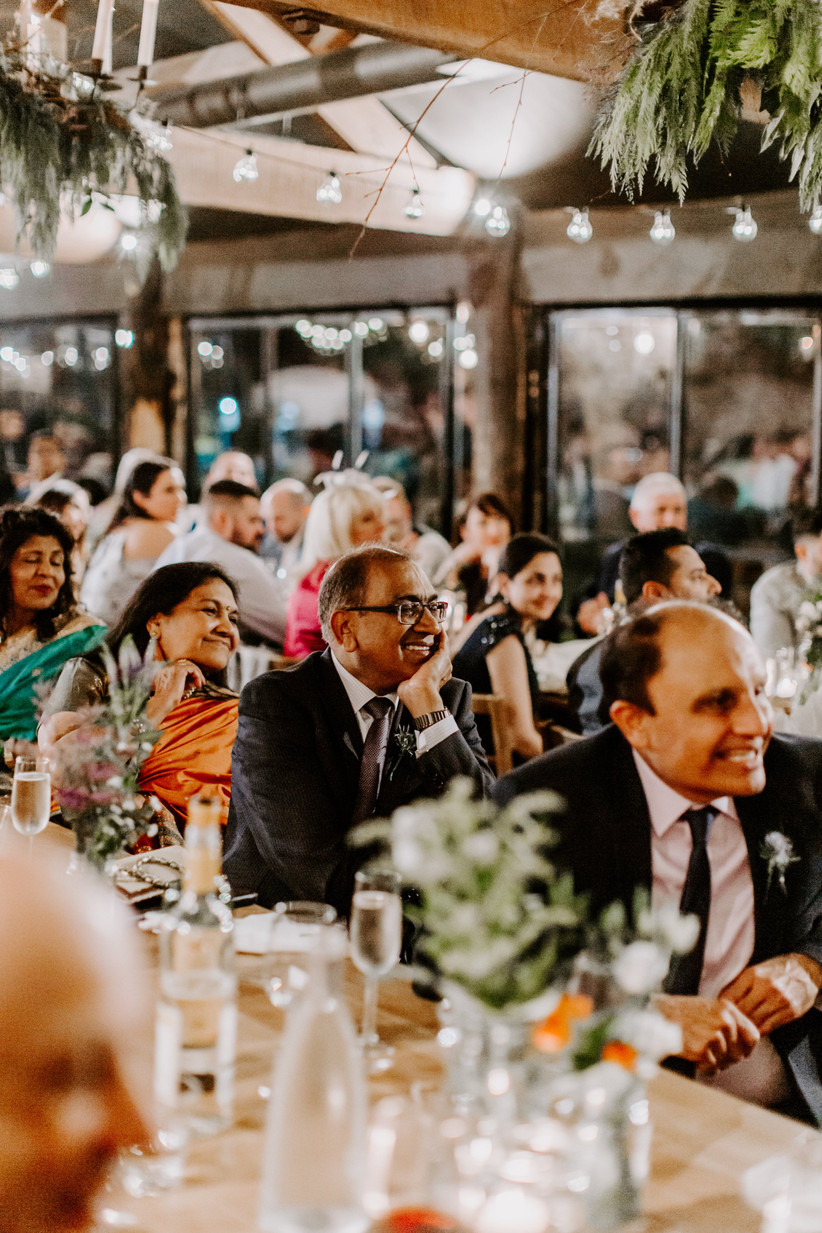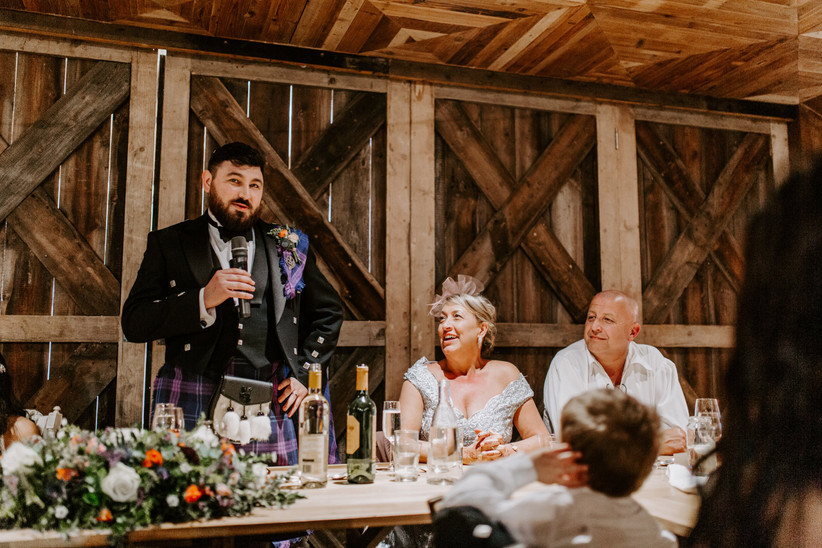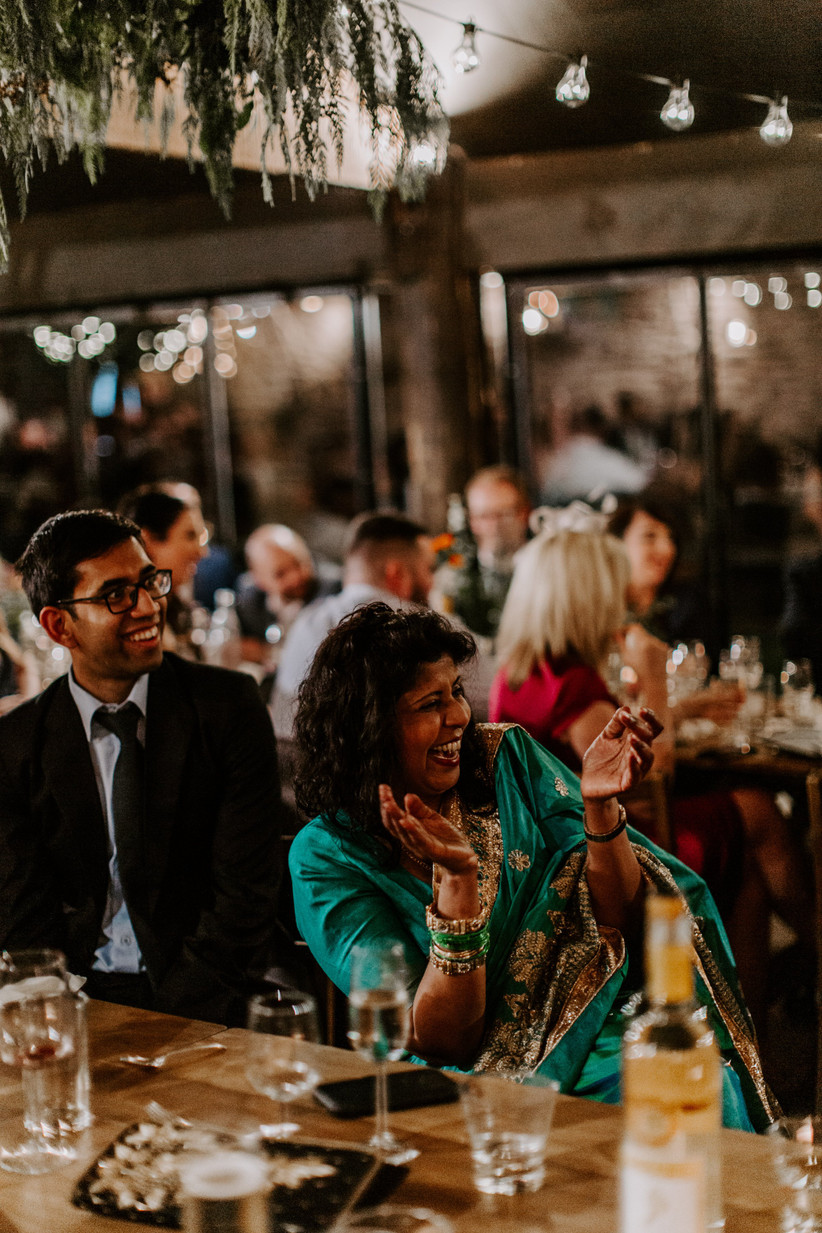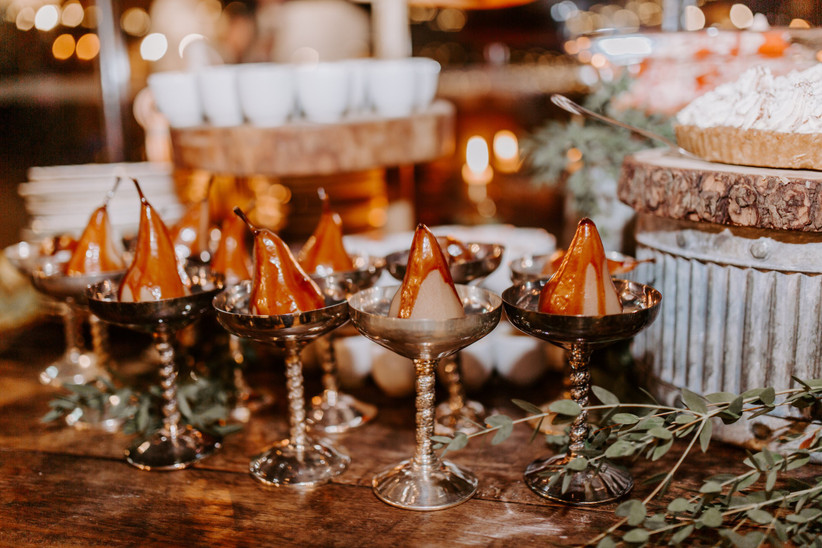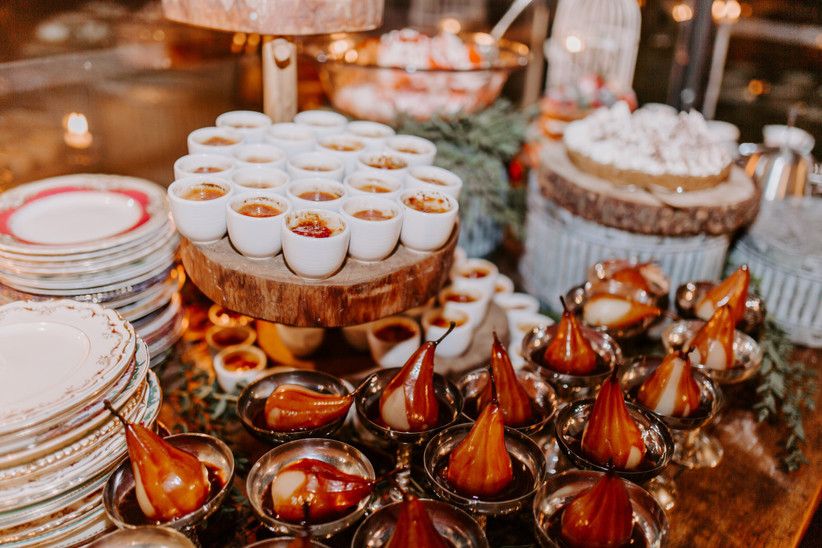 The Entertainment
Deepa and Paul had playlists for both the pre-reception drinks and wedding breakfast before moving onto to DJ Pete for the evening party. The night began with the couple's first dance to an acoustic version of Just You and I by Tom Walker.
"We ended the night with a Scottish tradition with Loch Lomond. The party ended at midnight, but the family staying at the venue ended the night with either a tea or one last whiskey!"
When it comes to advice for couples planning now, Deepa and Paul encourage people to consider DIY options and explore the high street. "We did quite a few things ourselves, to save on cost but also to give a personal touch. We decorated our wedding cards, printed them at home and hand delivered a lot of them.
"We made our place cards, created the centrepieces for the tables, used an old basket for our card box, had a family member make the cake and decorated a pallet to show the order of the day - to name just a few things!
"I know your wedding is something you don't want to skimp out on, but I really saved a lot of money on my dress and bridesmaids dresses by checking out high street retailers and not just boutiques. That meant we got to put all the money we saved towards what people really cared about – the bar!"
Cheers to that and thank you Deepa and Paul for sharing your gorgeous day with us!
The Suppliers
Photographer: Viivi N. Media
Venue: Dewsall Court
Wedding Dress: ASOS
Bridal Accessories: Debenhams and Tiffany & Co.
Florist: The Great British Florist