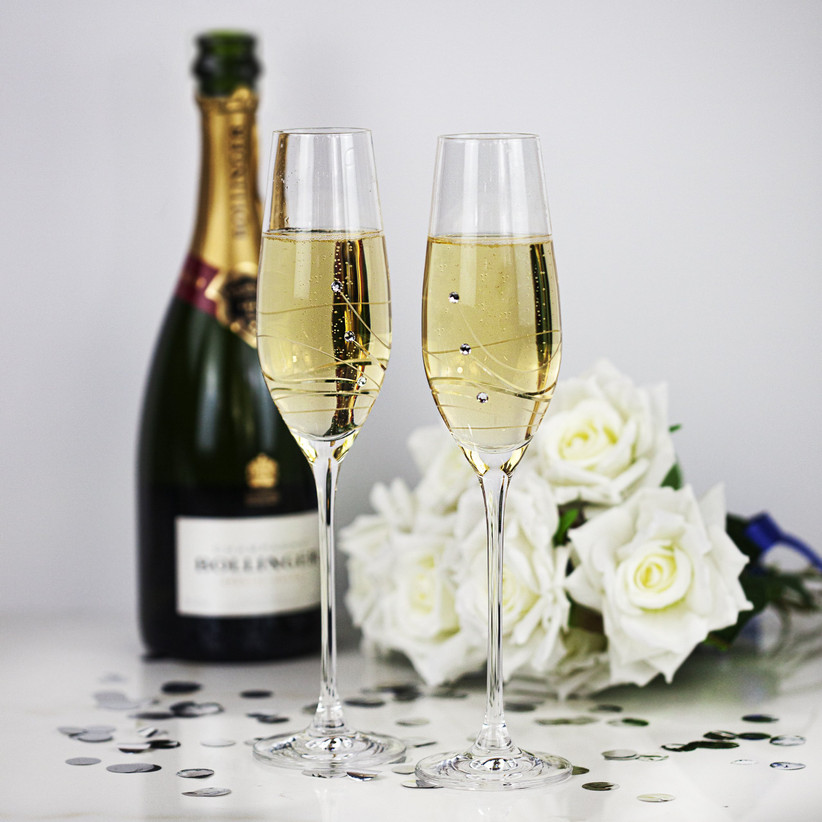 When it comes to choosing a gift for your favourite newlyweds, there's a wealth of options out there making narrowing it down to the perfect present a tricky task.
We reckon the ideal wedding present should be something that reflects who they are as a person or couple, something that will last the years and something that's just a little bit personal.
To help you nail your newlywed gifting, we chatted to the team at Farrar & Tanner – one of our favourite online wedding shopping destinations – and handpicked the very best wedding gifts from their collection.
From champagne flutes to cake knives and hip flasks to sleek and modern homeware, all gifts are hand-crafted and high-quality, and many can be personalised with a name, date or special message, making them a guaranteed hit with the newlyweds in your life.
Personalised engravings cost just £5-8 and Farrar & Tanner offer a no quibble returns policy on all gifts including those that have been personalised – so you can shop with confidence!
Raise a Toast
Cheers! At Farrar & Tanner, they have everything your favourite couple needs to raise a toast in style, from silver plated, Swarovski studded Champagne flutes to cake knives engraved with a bespoke message. Check out our top picks from the range.
Culinary Concepts 'Let's Get Hammered' Champagne Bath with Leather Handles – £125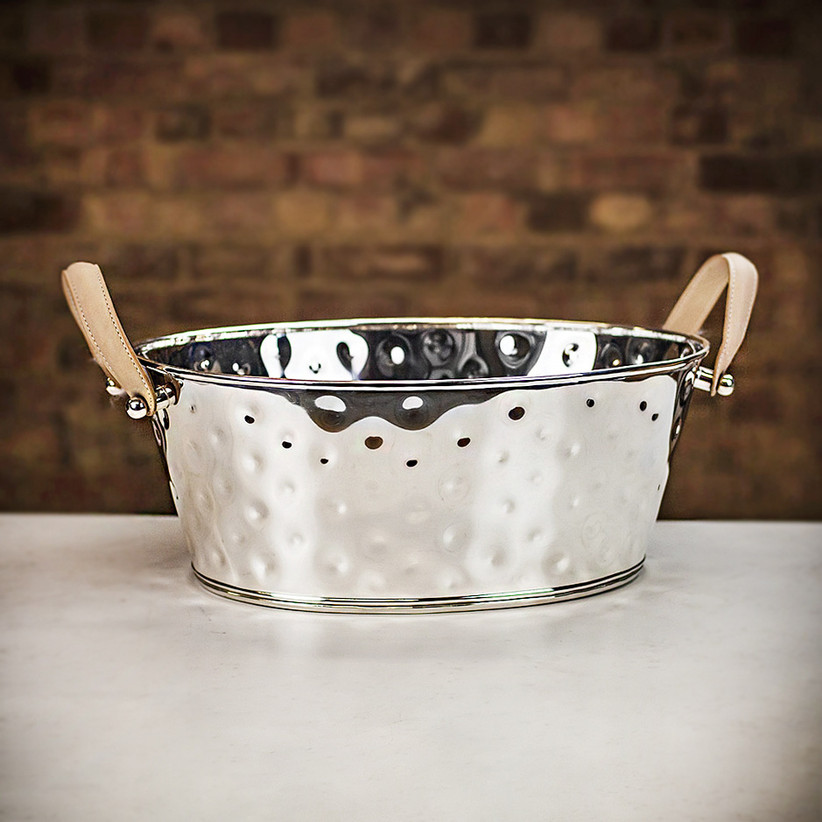 Do they love to entertain? This nickel-plated, hammered champagne bath will make a stylish centrepiece for their drinks table or trolley. Complete with leather handles, it can easily be transported and can carry three bottles of wine – nice!
Culinary Concepts 'Let's Get Hammered' Pair of Silver-Plated Champagne Flutes – £59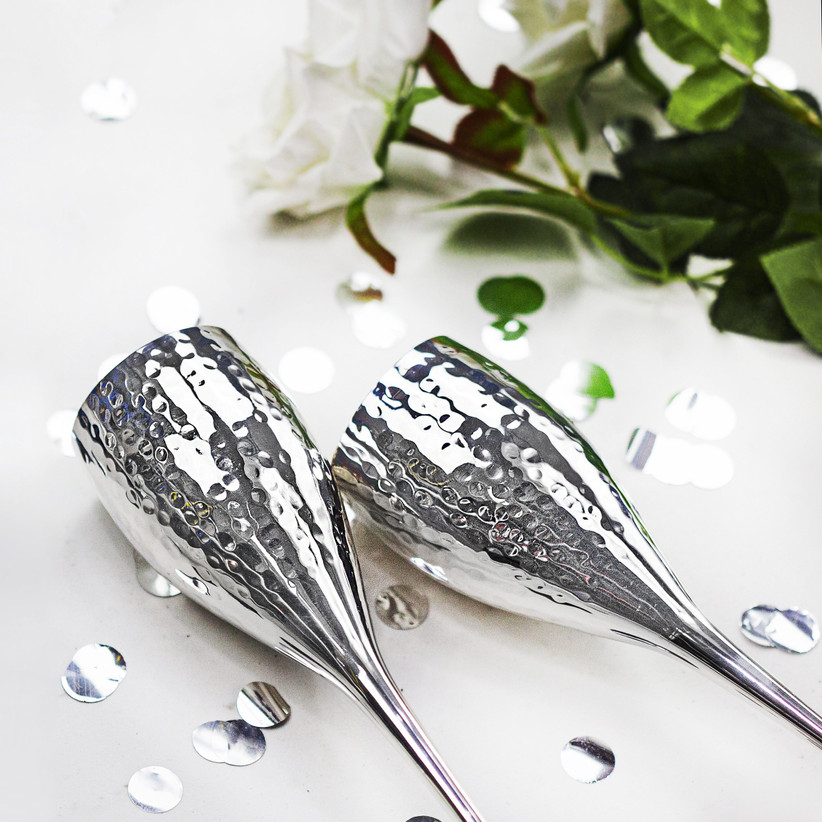 Give their Friday night fizz an extra touch of luxury with these gorgeous silver-plated, hammered champagne flutes – designed to ensure drinks remain chilled for longer. Plus, you can add a personalised engraving for just £8.
Albert Legacy Silverware Silver-Plated Wedding Cake Knife – £65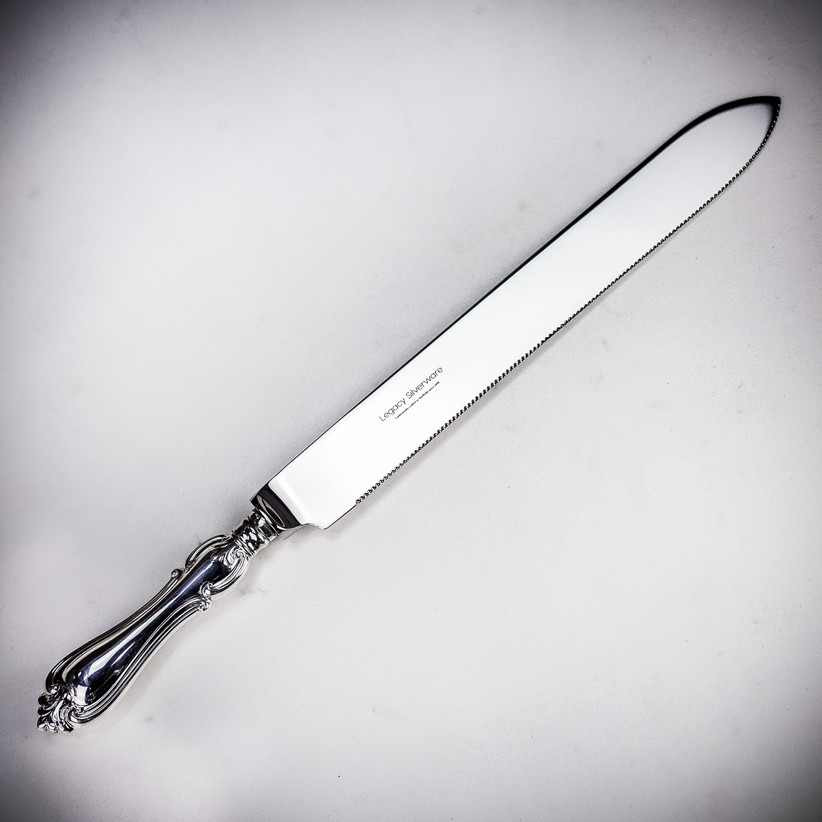 Gift them this silver-plated knife before the big day so that they can make sure it's in place for the big cake cutting moment! It will make the tradition even more special and act as permanent keepsake from one of their most memorable moments – especially when gifted with a personalised engraving.
Culinary Concepts Silver-Plated Palace Champagne Bath – £80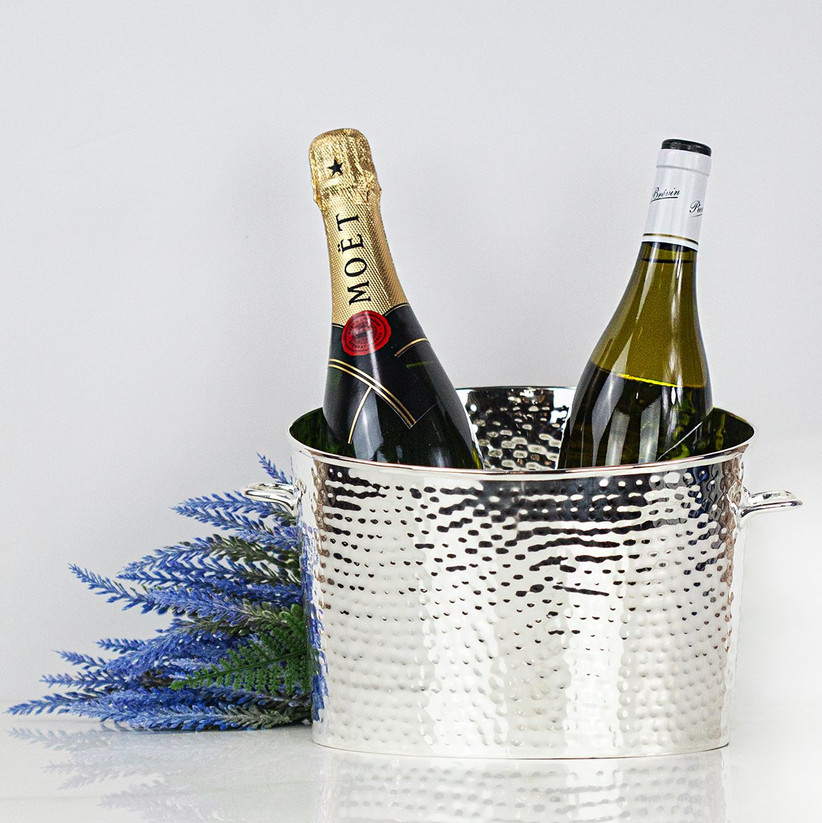 This small but impressive silver-plated champagne bath will add a touch of class to any gathering. Designed with an eye-catching hammered finish, it can house two bottles of their favourite plonk.
Dartington Swarovski Pair of Champagne Flutes – £49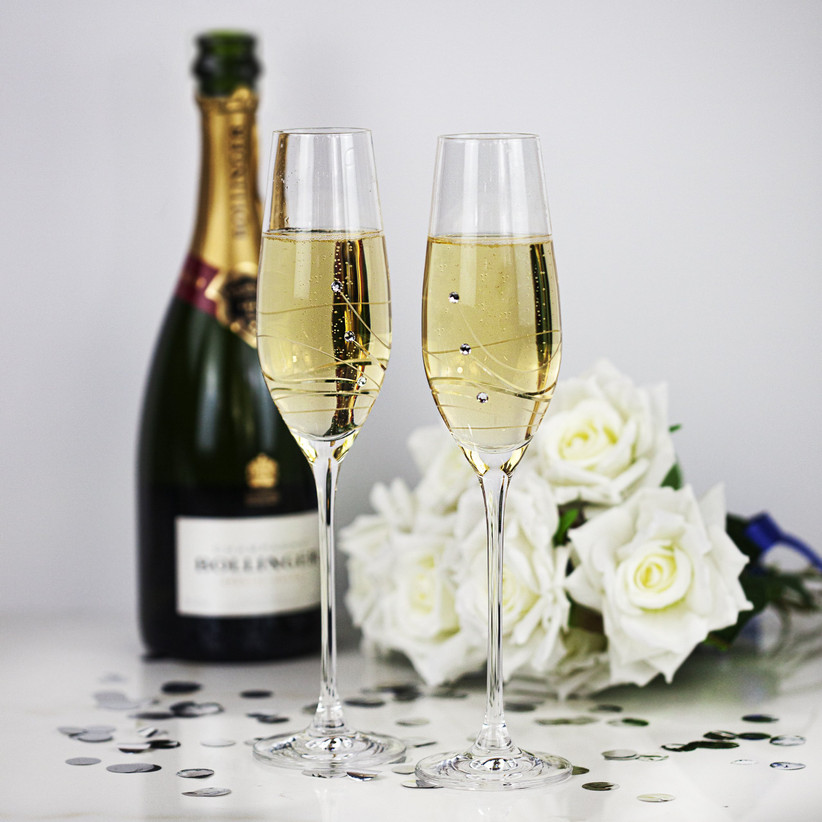 Shaped to release the bubbles and enhance the flavour of their favourite champagne, this gorgeous gift is guaranteed to go down a treat. We love the delicate stems and sparkling Swarovski details too!
Wedgwood Vera Wang Silver-Plated Infinity Cake Knife & Server – £60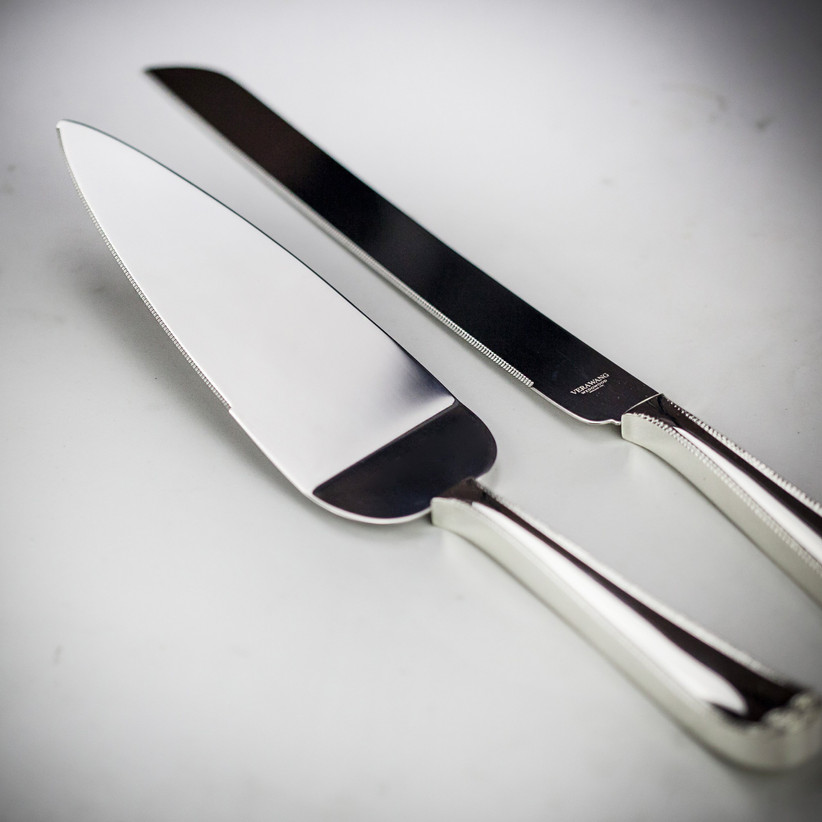 This stunning silver-plated cake knife and server set features a beautiful and meaningful infinity knot design on the handles. The blade can be personalised with an engraving and the set comes in a presentation box.
Wedgwood Vera Wang Pair of Silver-Plated Infinity Toasting Flutes – £75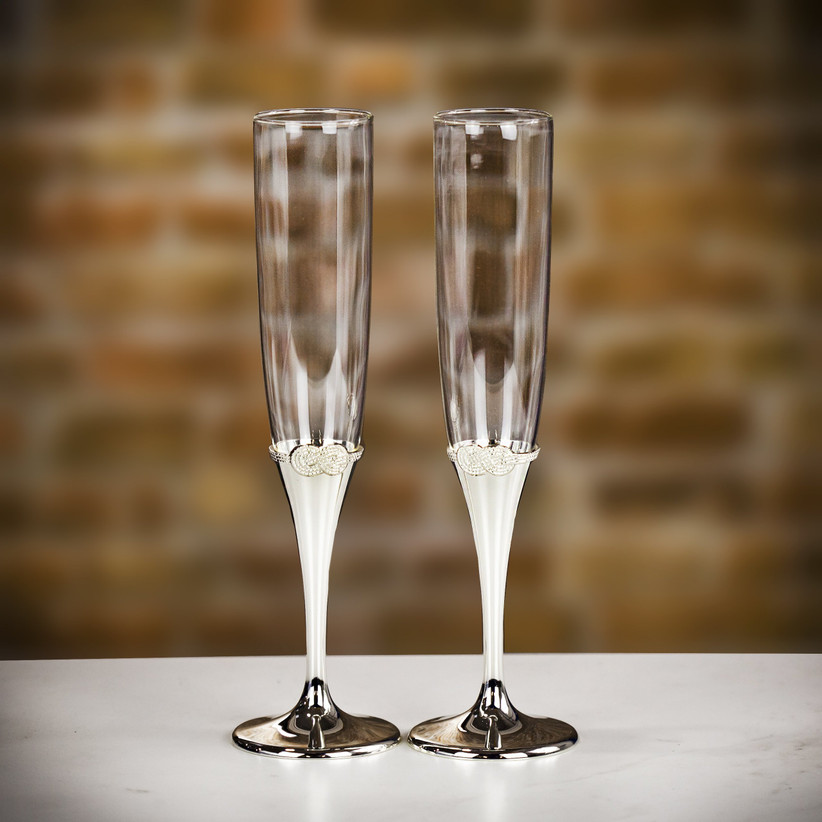 Why not treat your favourite couple to some matching silver-plated toasting flutes too? These elegant glasses bring Vera Wang's iconic wedding style to drinkware and, with the option to engrave a personal message, they'll make the perfect keepsake.
Wedgwood Vera Wang Pair of Silver-Plated Toasting Flutes – £75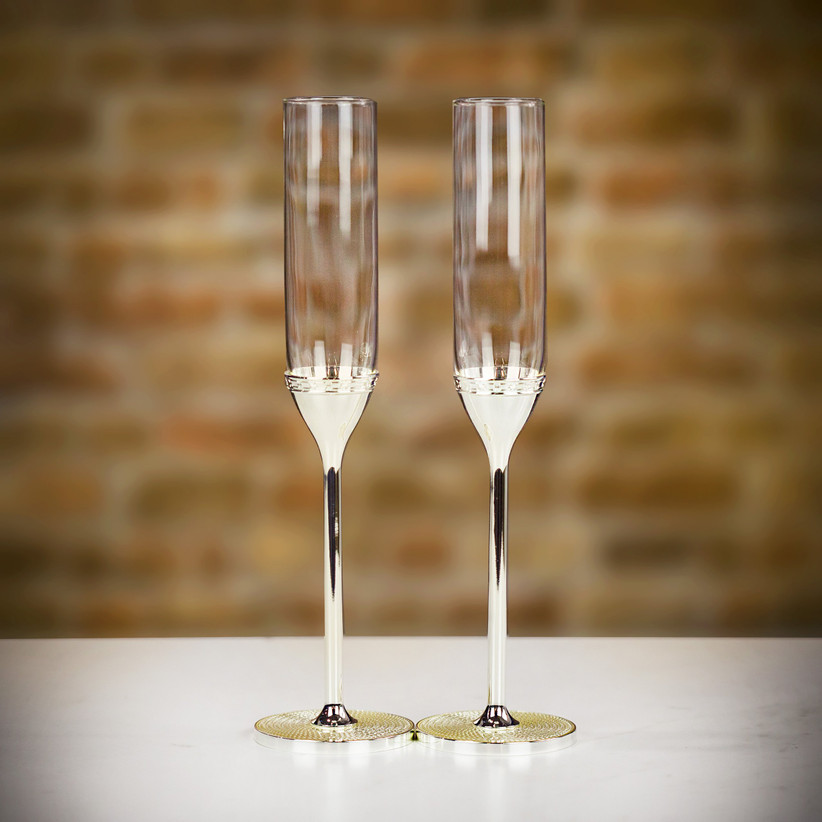 These contemporary champagne flutes feature a silver-plated chain design around the top of the silver and at the base. We think these beauties would look right at home in a stylish drinks cabinet!
Gifts for Grooms
Finding the perfect present for a Groom can be taxing. Luckily, Farrar & Tanner have carefully curated a selection of fine gifts for men, like stylish pocket watches for him, or a range of elegant hip flasks for his best man and ushers. Most items can be personalised with a name, date, or special message. Here's our pick of the best.
Pinder Brothers Half Hammered Kidney Pewter 6oz Hip Flask – £35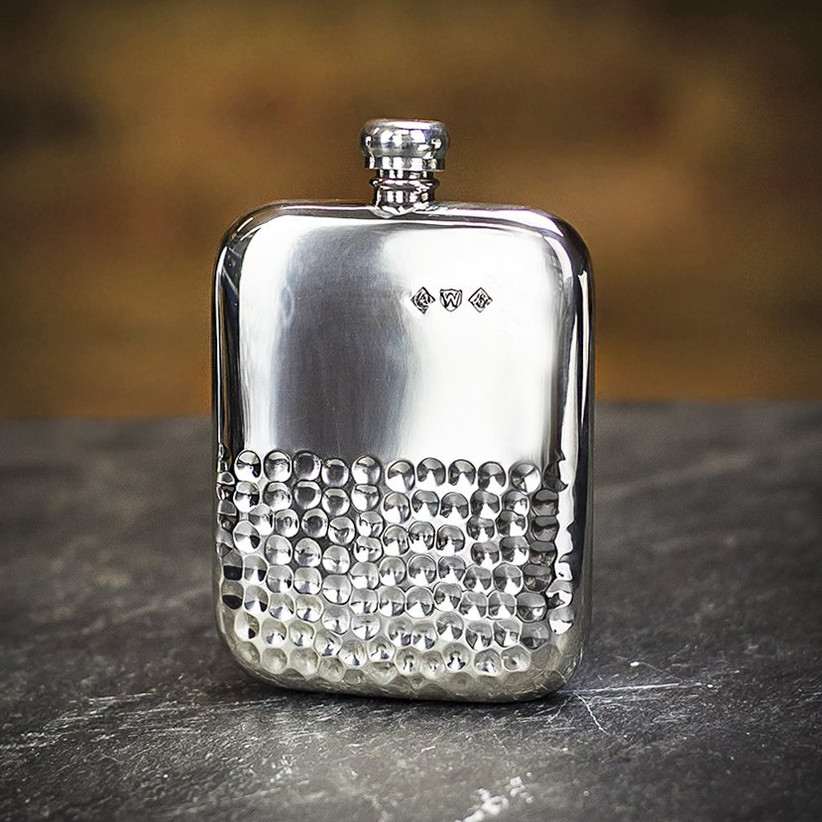 Giving the classic kidney shape a contemporary makeover, this hip flask will make a striking addition to the groom's drinkware collection. We love the half hammered and half smooth finish, plus it can be personalised with an engraving for just £5.
Jean Pierre Tourbillon Chrome Plated Cufflinks – £95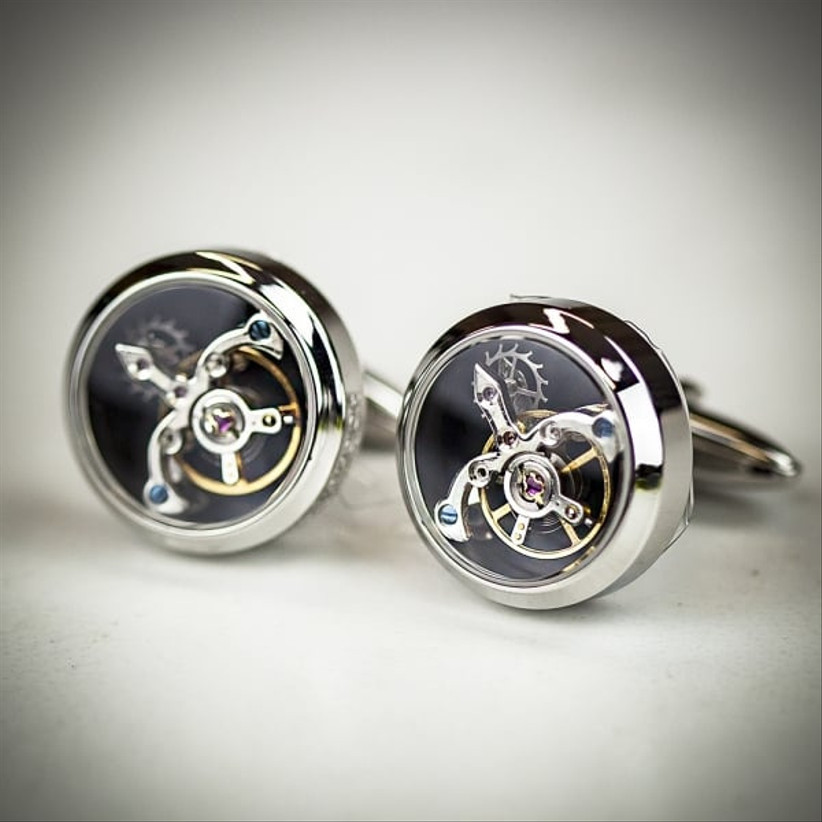 This striking cufflink design features moving flywheel details and distinctive blue screw heads, all displayed through a small window. We reckon they're perfect for grooms with contemporary and quirky style.
Jean Pierre Open Back Half Hunter Skeleton Pocket Watch – £265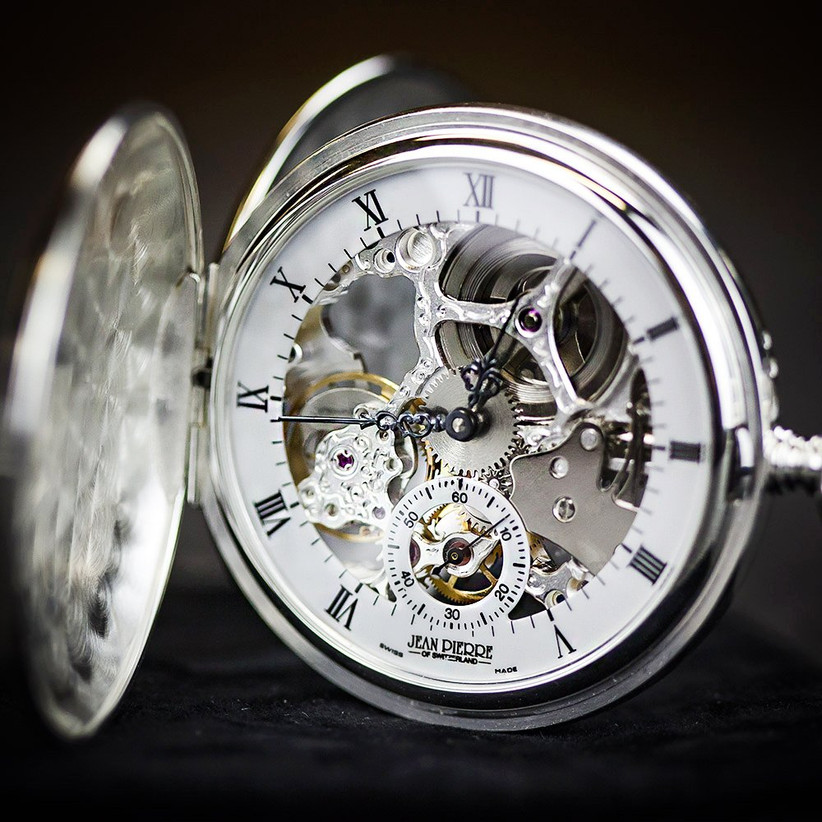 This luxurious crafted pocket watch is the ideal gift for close friends and family members. The chrome-plated watch features highly detailed skeleton movement and comes with a classic white dial, period hands and traditional roman numerals.
Pinder Brothers 6oz Pewter Flask with Brass Plate – £30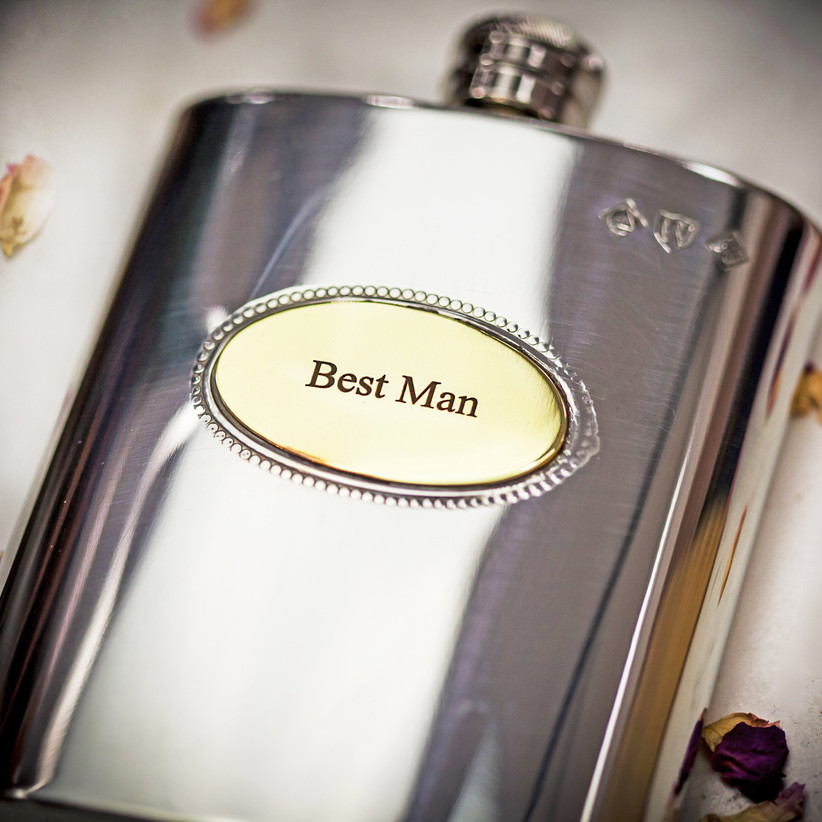 The perfect keepsake for the whiskey loving groom, this pewter flask comes with a brass plate that can be personalised with a name, date or other personal message.
Farrar & Tanner Solid Sterling Silver Large Oval Hinged Cufflinks – £85
These large oval hinged cufflinks are crafted in Birmingham by RJ Smith for the Farrar & Tanner collection and feature sterling silver and Birmingham hallmarks as a stamp of quality craftsmanship. Add an engraved message of up to five characters for a personal touch.
Mount Royal Double Hunter Skeleton Pocket Watch – £95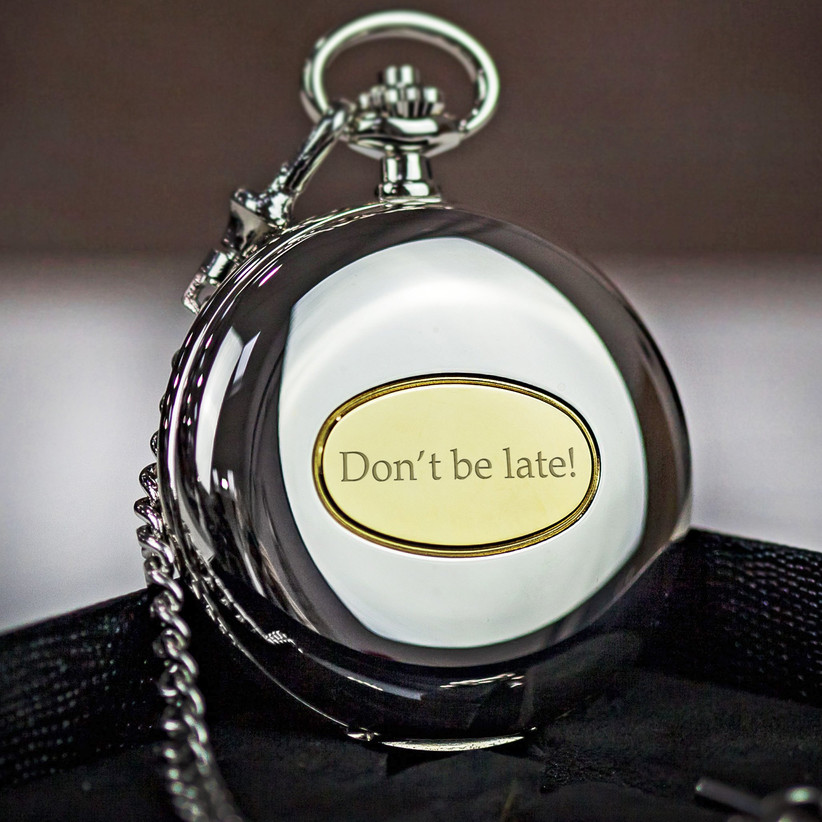 Treat the groom to a double hunter pocket watch finished in chrome with a classic white dial and roman numerals. The watch and chain come in a presentation box and the watch case can be engraved with a special message.
Wedding Gifts
Farrar & Tanner stock a wide range of premium gifts for newlyweds, with options to suit the unique needs and personality of every couple. Why not personalise your selection with a name, date, or heartfelt message? We'd be personalising the gifts below if we were you!
Forge De Laguiole 6 Steak Knives in a Black Box – £455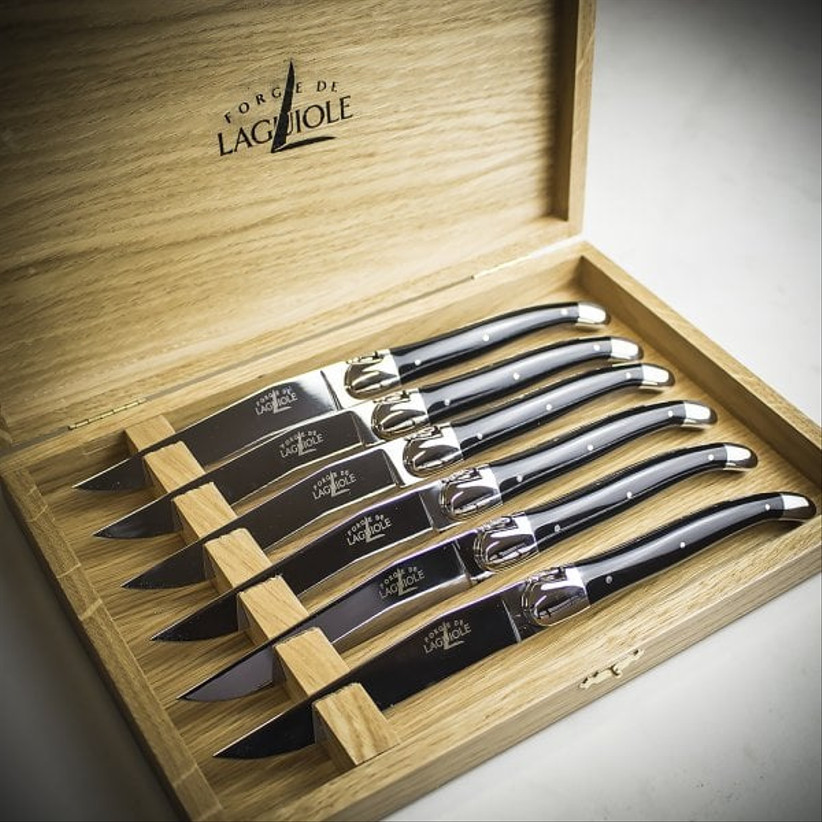 Are the couple in mind total foodies? We bet they'd appreciate a luxury knife set like this one by Forge De Laguiole. The set features six regular size table knives made from high grade stainless steel complete with lightweight black acrylic glass handles. This gift also comes in a light oak box.
Legacy Silverware Rattail Cutlery Canteen with 6 Place Settings – £350

Give their kitchenware collection a boost with this stunning silver cutlery set. With 44 pieces each designed based on an original from 1910, these will never date and will fit in beautifully with any interior style.
Arthur Price of England Kings Cutlery Canteen with 6 Place Settings – £249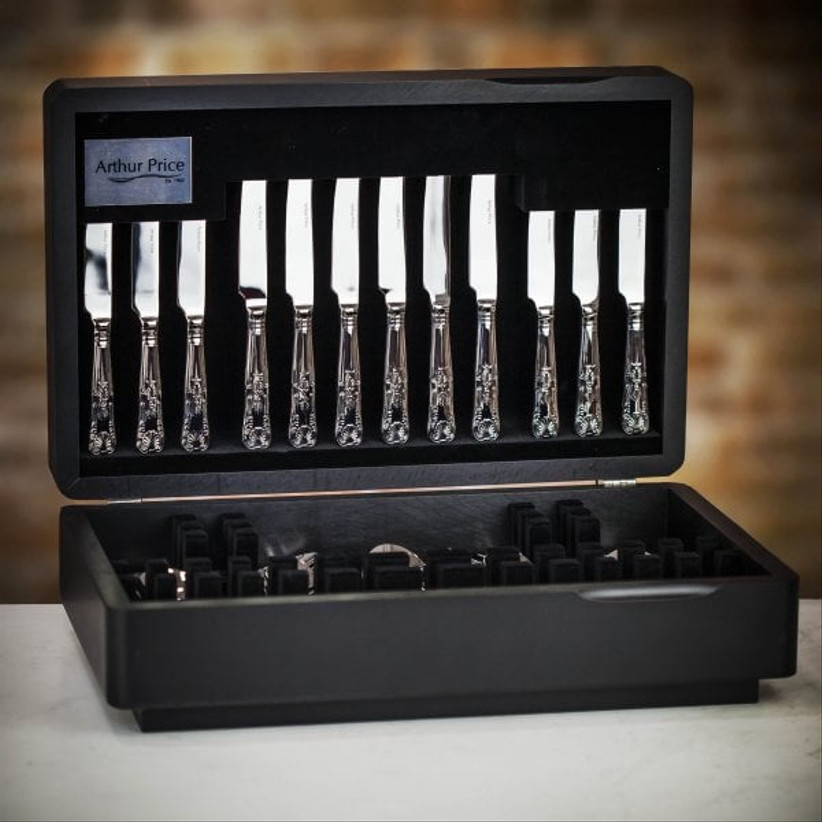 Displayed in a black cabinet, this 44-piece cutlery set is crafted from stainless steel in the design originally used for King George III. Your personal message can be engraved in silver plate on the lid of the box.
Sabatier Maison Stainless Steel 5 Piece Knife Block – £84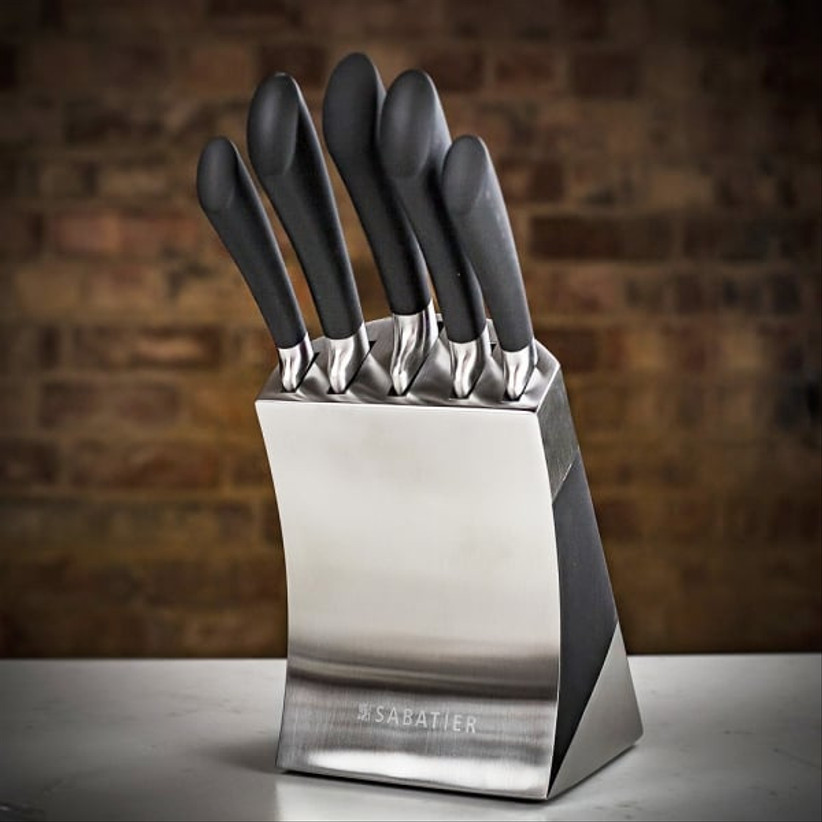 This stainless steel 5-piece knife block set will be right at home on the kitchen countertop of your favourite foodie newlyweds. The knife blades are made from taper ground MoV steel with hollow steel handles and are used by professional chefs, plus they feature soft grip for comfortable use. The block can be engraved with your message.
V Sabatier Knife Block with Five Knives – £126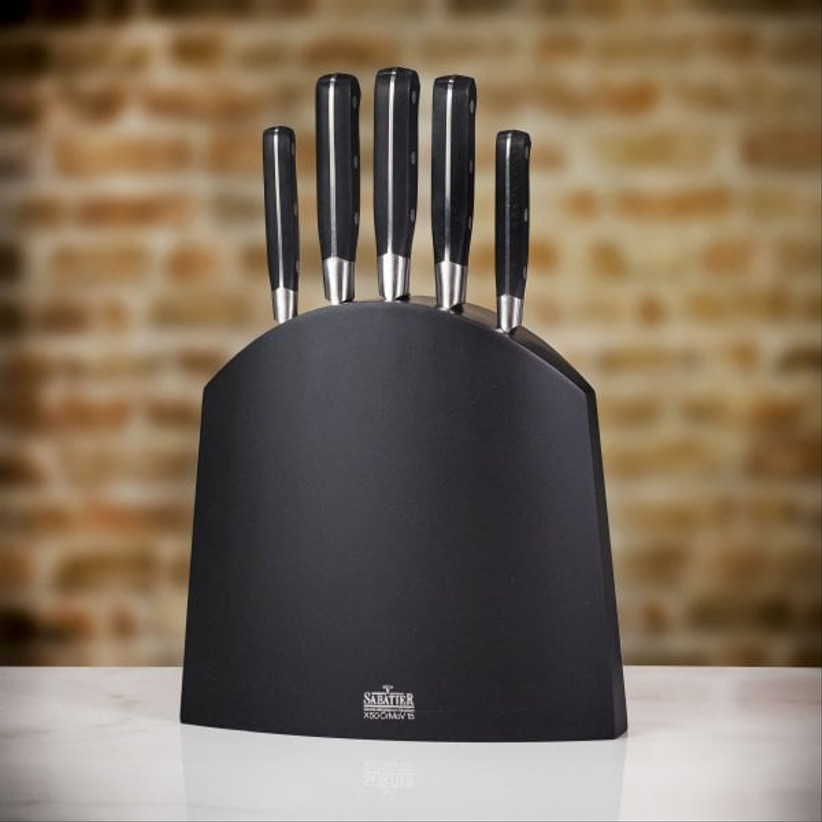 If you think black is more their style, why not choose this black five-knife set? The compact, slim block design is perfect for slotting into smaller spaces. Knives include a bread knife, paring knife, multi-purpose knife, 15cm chef's knife and a carving knife.
Robert Welch Radford Five Piece Cheese Knife Set – £85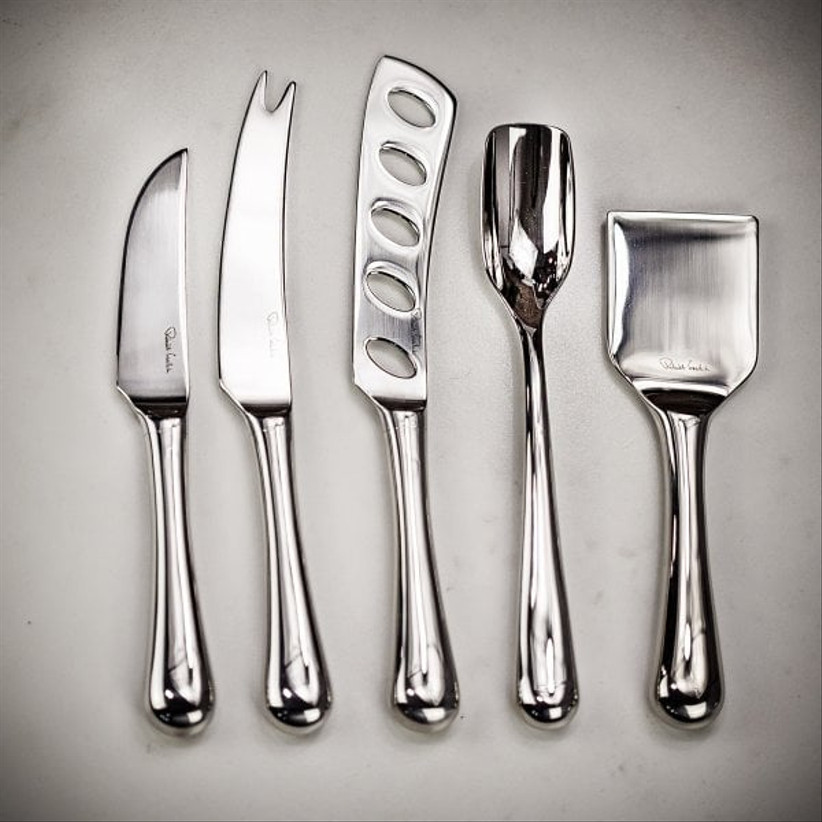 Do the newlyweds know their gouda from their gorgonzola? Treat them to this gorgeous cheese knife set by Robert Welch. The knives come in a light oak presentation box, giving them a luxury feel.
To check out the entire Farrar & Tanner gifting collection head to farrar-tanner.co.uk