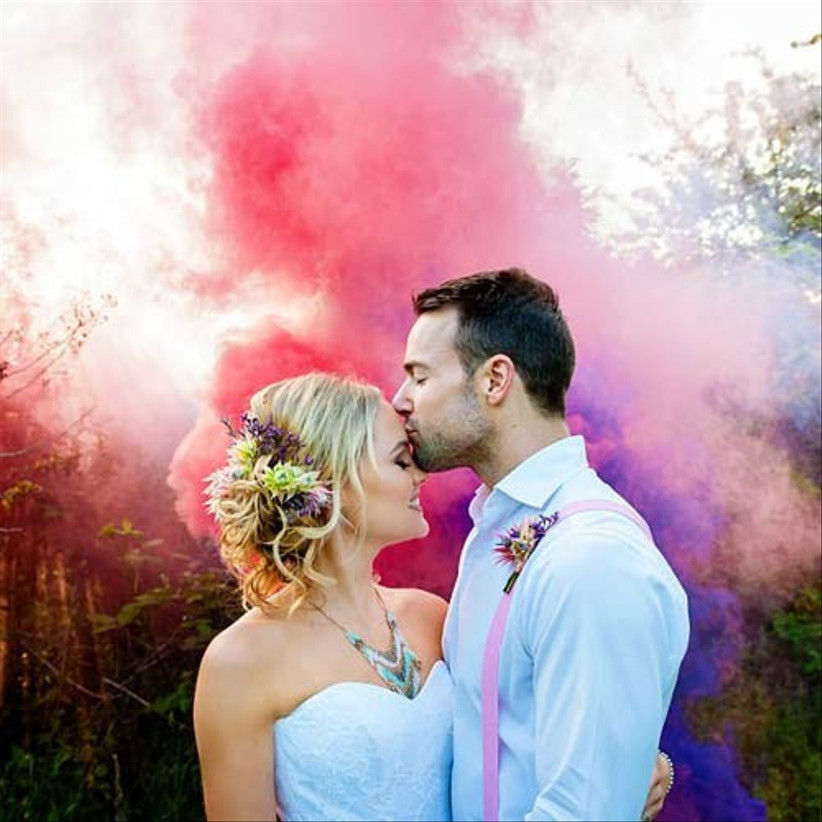 Every couple wants to have wedding photographs which people look at and think 'wow'.
At the Hitched office we love looking at perfect pictures of couples that we want to re-create – from the engagement shoot photos to amazing pictures of the the big day.
To help inspire your own wedding photos, we have put together a selection of gorgeous couple photos that give us serious relationship goals.
Happy Groom
This picture put a huge smile on our faces because it's always nice to see a groom so excited about his nuptials. His smile says it all and he literally couldn't look happier to have married his beautiful bride.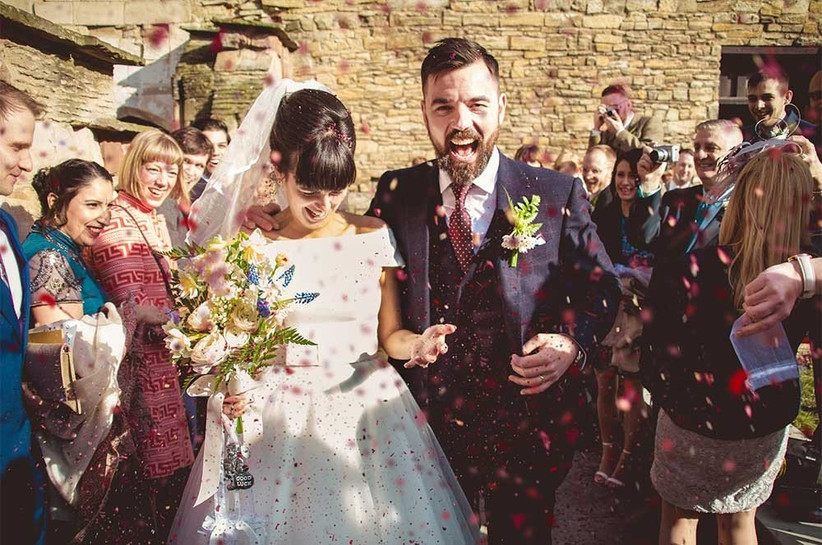 Image Credit: Venue – Gloucester Blackfriars Priory, Photographer – Kate Jackson Photography
Night Time Sparklers
This picture feels really magical and enchanting with the beautiful addition of the sparkles. It almost looks like a scene from a fairy tale movie, which means their first dance must have been to a Disney wedding song.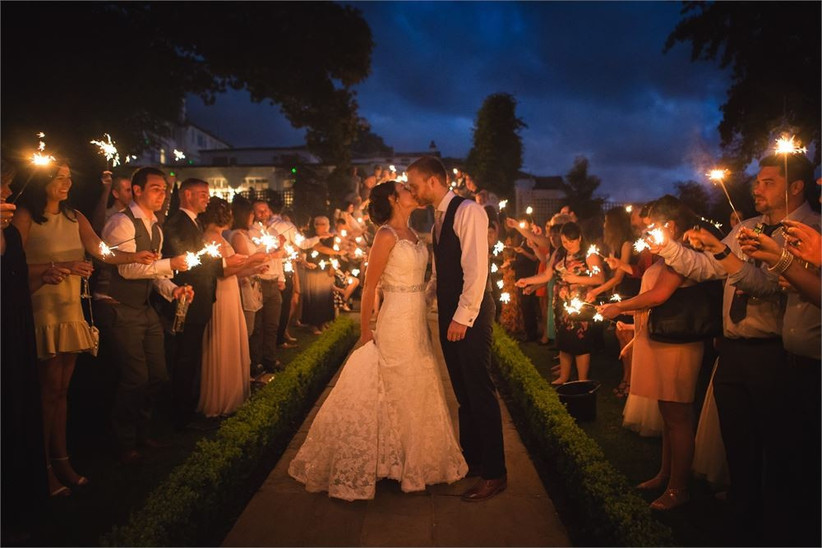 Image Credit: S2 Images
Tattooed Smiles
We love this tattooed bride and her groom – the way they're looking at each other couldn't be more filled with love if they tried. We adore their cool and quirky style and this picture is gorgeous.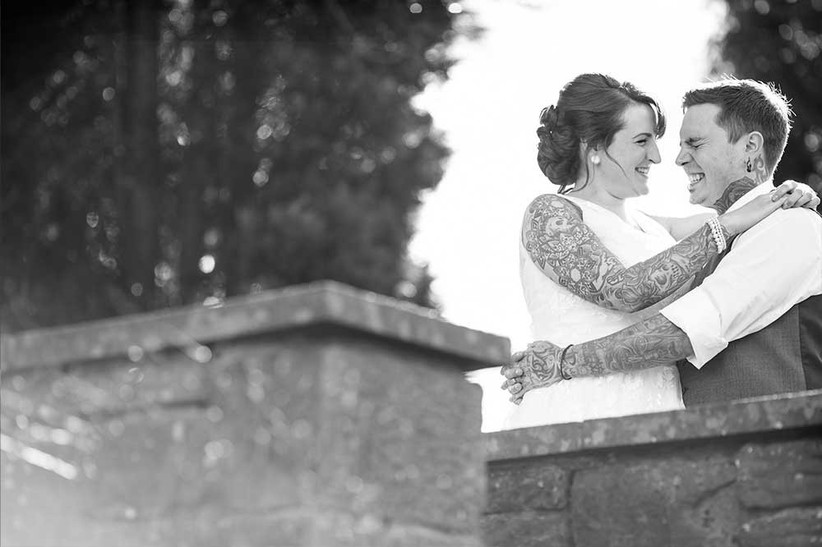 Image Credit: Tux and Tales
All About the Bride
This picture really is all about the bride. She is dancing in her gorgeous wedding outfit and her groom is watching her in awe with a look of love on his face. The dome setting makes for the perfect backdrop and frame for them both.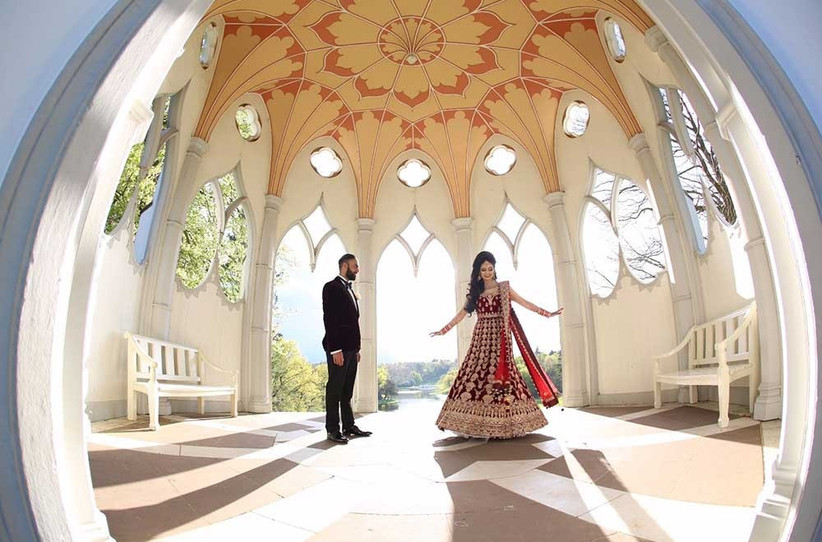 Image Credit: The Conservatory at Painshill
Marilyn and Elvis
Couples who are planning a vintage wedding can get some serious inspiration from this super retro pair. Their style is to-die-for and the picture is adorable. We love the character similarities with Marilyn and Elvis and think that this couple's style is definitely worth stealing.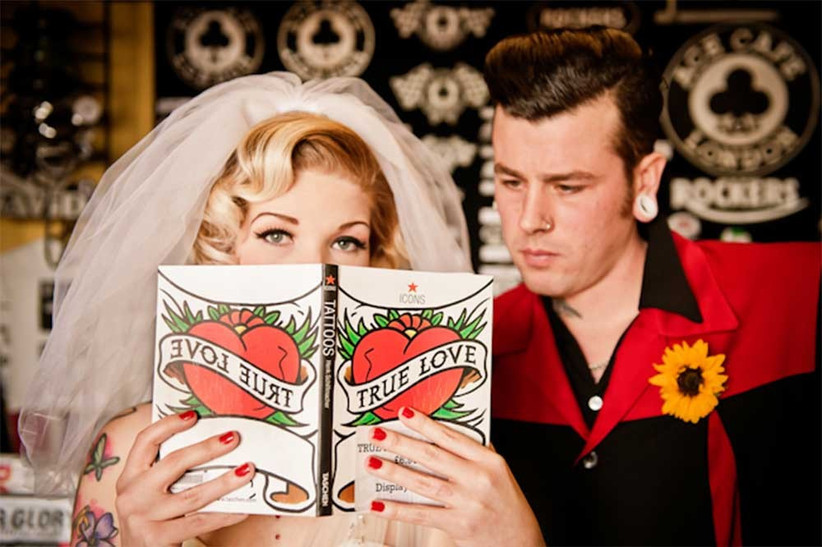 Image Credit: Kat Forsyth
Close Up Smiles
Full of sentiment and importance, this photo is an emotional shot of the couple showing every bit of excitement on the brides face. We love the fact that her groom is so close, showing exactly what marriage is all about.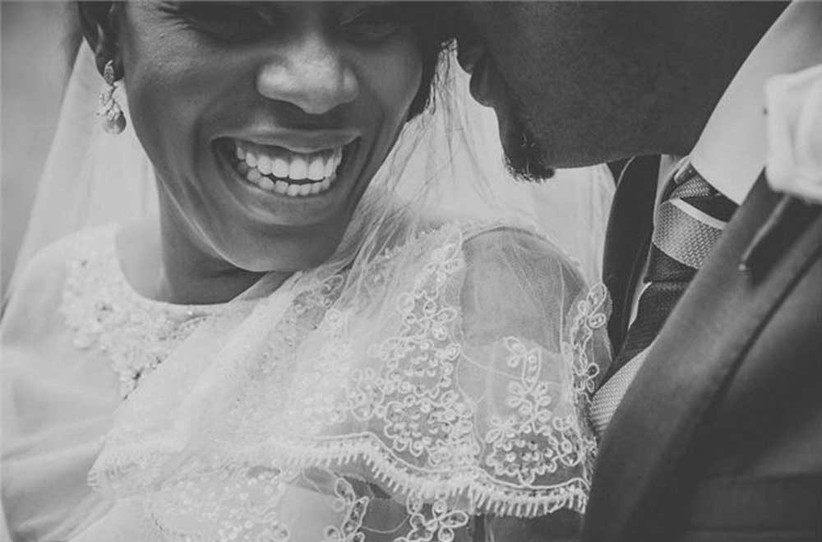 Image Credit: Dominika Miechowska
Confetti Celebration
This handsome pair must feel so blessed to have this amazing shot marking their celebration. What a fantastic shot to have in their wedding album. The colours are bright and vibrant and the happy couple are the centre of attention, as they should be.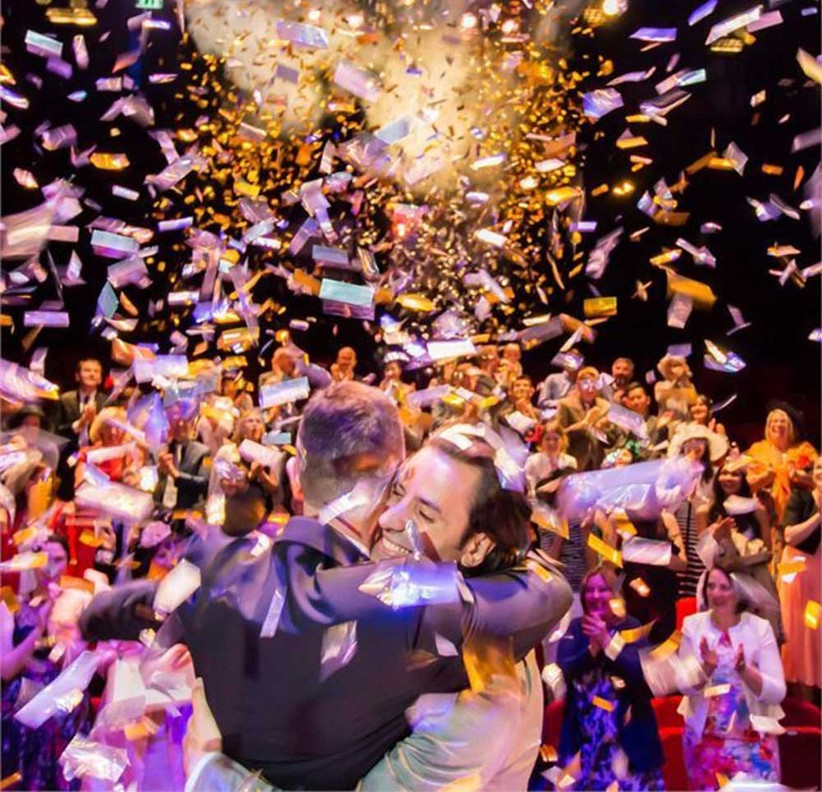 Image Credit: Amy-Rose Photography
Beach Romance
The beach was the perfect destination for this tranquil shot of the bride and groom. The natural light from the sunset makes the bride's dress detail and hair look absolutely beautiful.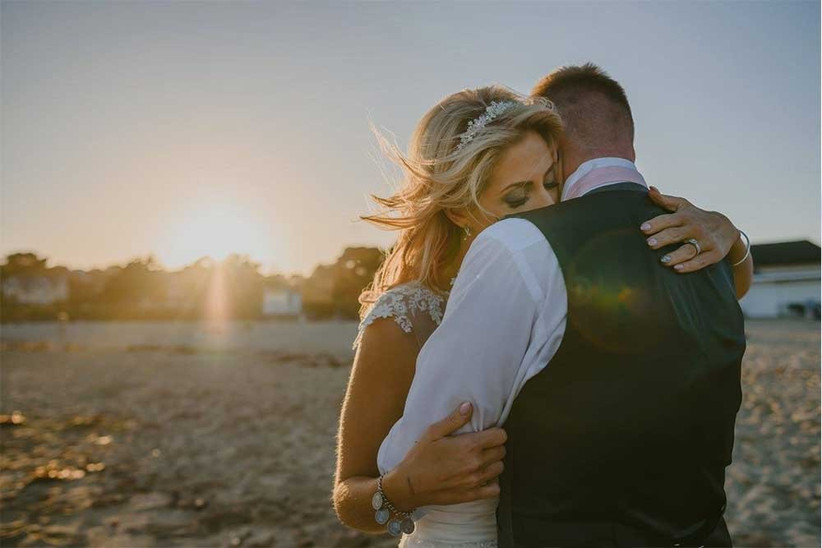 Image Credit: Keith Riley
Venue Credit: Greenbank Hotel
Giraffe Photobomb
This funny wedding photo is an amazing shot and a memory that will stay with the tattooed bride and her husband forever. They definitely get the award for best photo bomb ever, and tallest wedding guest for that matter!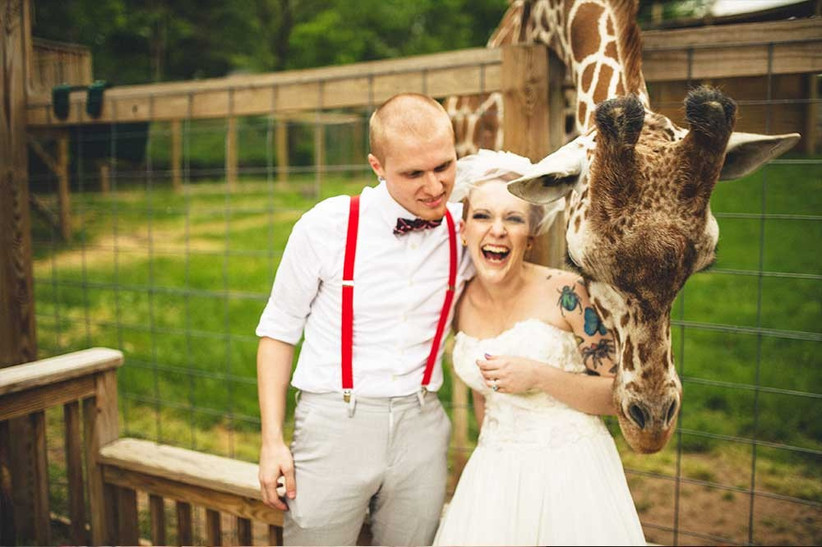 Image Credit: Tattooed Bride Photographyer Allebach Photography
Wow!
This picture sums up the look that all brides want to see on their groom's face when they reveal their wedding day look. This groom is overwhelmed and so happy to see his blushing bride and we can only imagine how happy the bride was to see this reaction.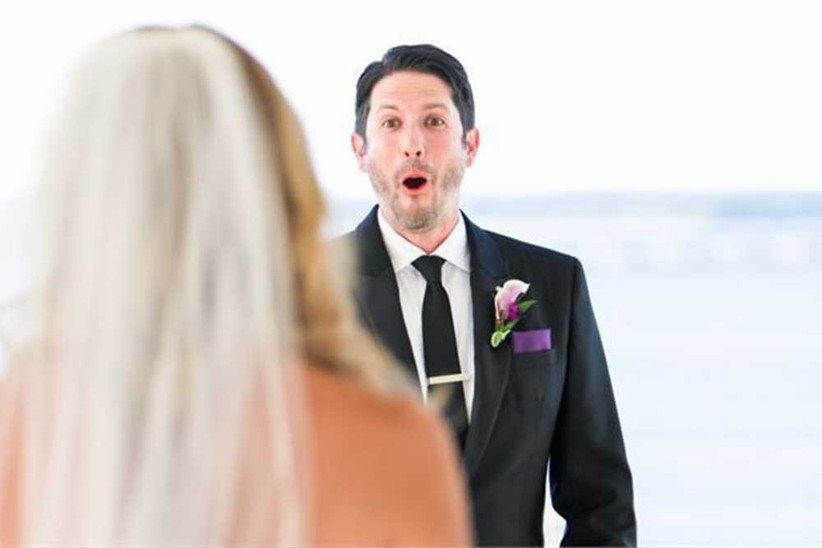 Image Credit: Vintage Heart Photography
Romantic Stare
Looking into each other's eyes is what makes this candid shot so romantic. It's an undeniably stunning picture which we are totally in awe of. Could you have a better altar pic?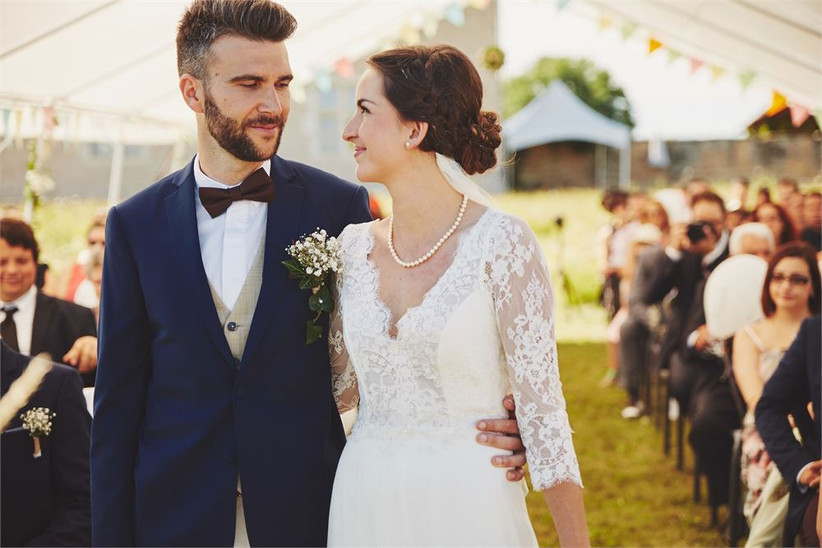 Image Credit: Cooper Studio
Stunning Shadows
Wherever this photo was taken, we need to visit. The photographer, along with the bride and groom has created something so special. If we were this couple we would get this printed onto a canvas and have it in our home, it's that nice.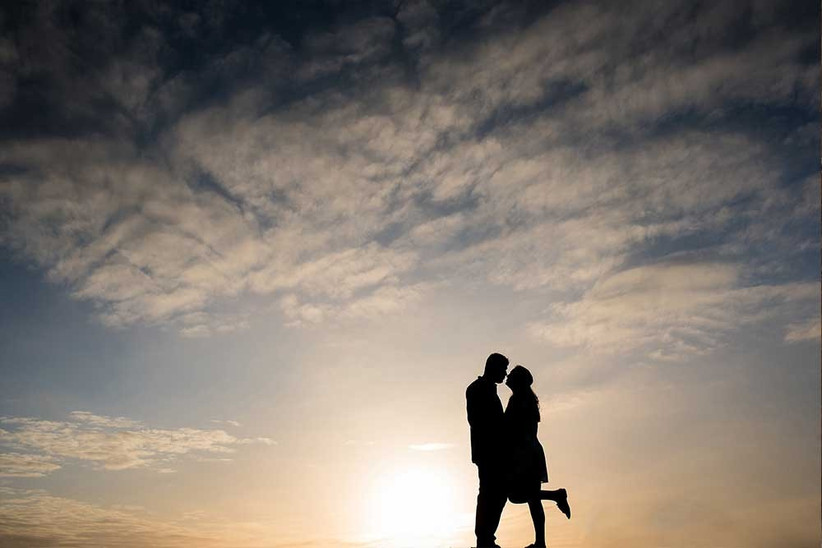 Image Credit: Rachael Pereira
Kilted Gentleman
These two gorgeous gentlemen not only look amazing, but they take an stunning photo too. We love the groom in his kilt and the way he is appreciating his handsome husband in his dapper grey suit.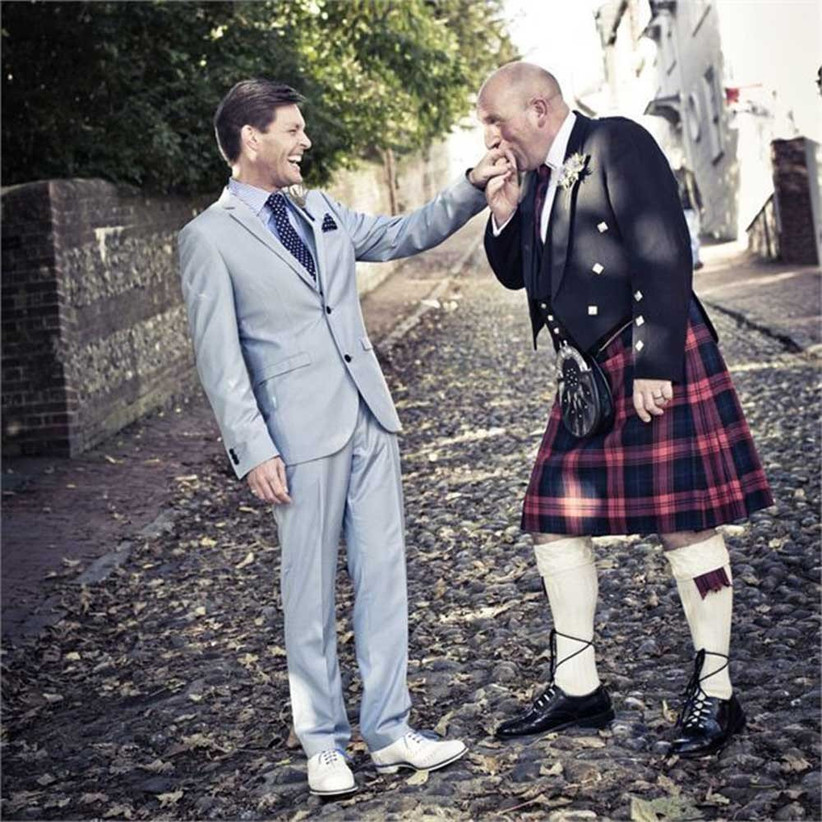 Car Kissing
What a fun idea for a wedding photo. This beaut pair of brides are sharing a cheeky kiss between the car doors of a classic London black taxi. Photos that aren't made up from the typical wedding poses can sometimes make for the best ones, much like this.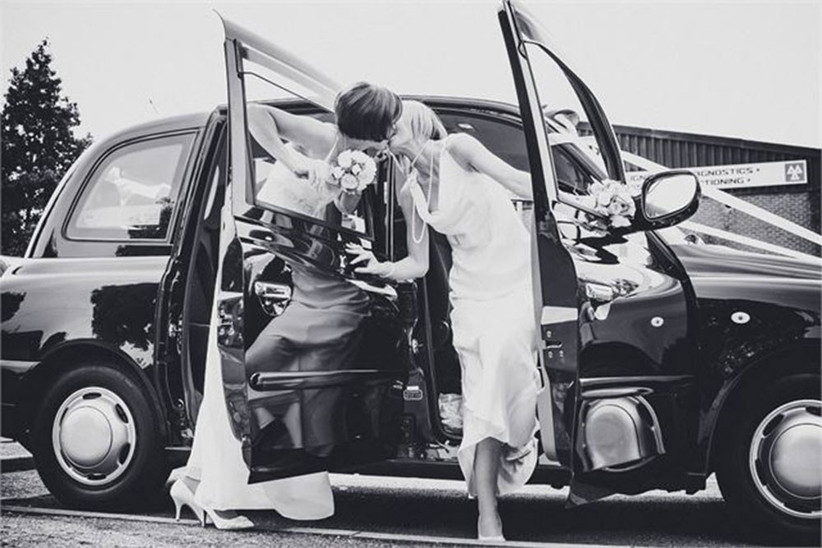 Image Credit: Slepokur Photography
Wild Love
This couple have it all going on with this photo. The array of autumnal leaves couldn't be complementing their outfits and the bride's bouquet any more if they tried.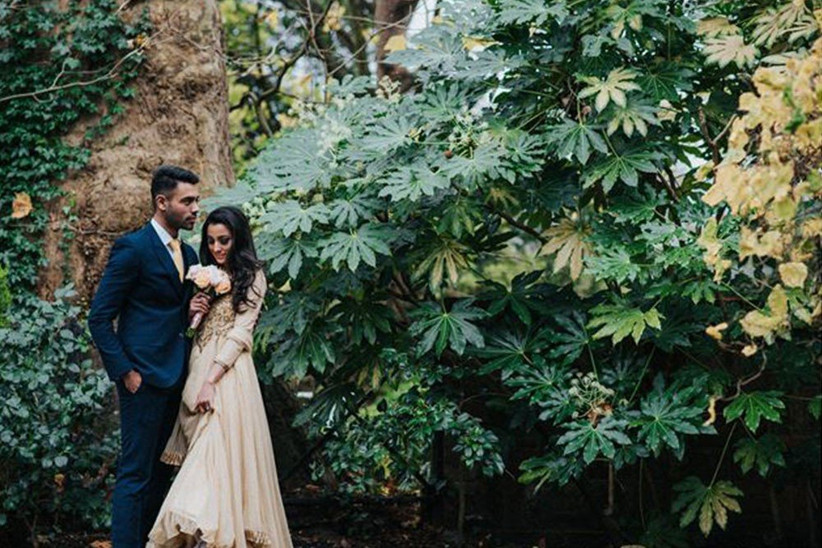 Image Credit: Dominika Miechowska
The Rings
Girl power is everything in this shot. This bride is showing her groom exactly where she wants that wedding ring and he is more than happy to oblige. This is also a milestone within the day so it's really important to get it on camera.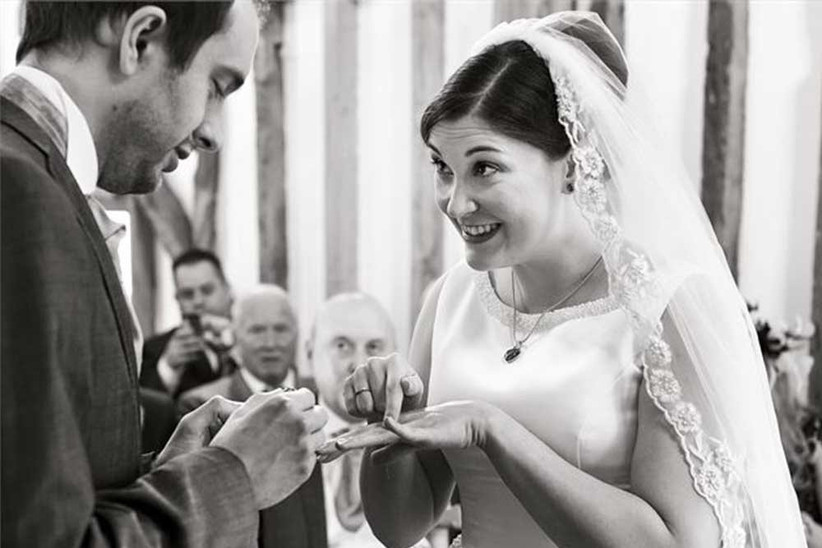 Image Credit: The Studio Without Walls
Festival Kiss
This floral couple have been caught sharing a kiss by their photographer and it has made a gorgeous natural photo with no posing, just the bride and groom together. We love the florals that surround them and there really is nothing better than a festival themed wedding.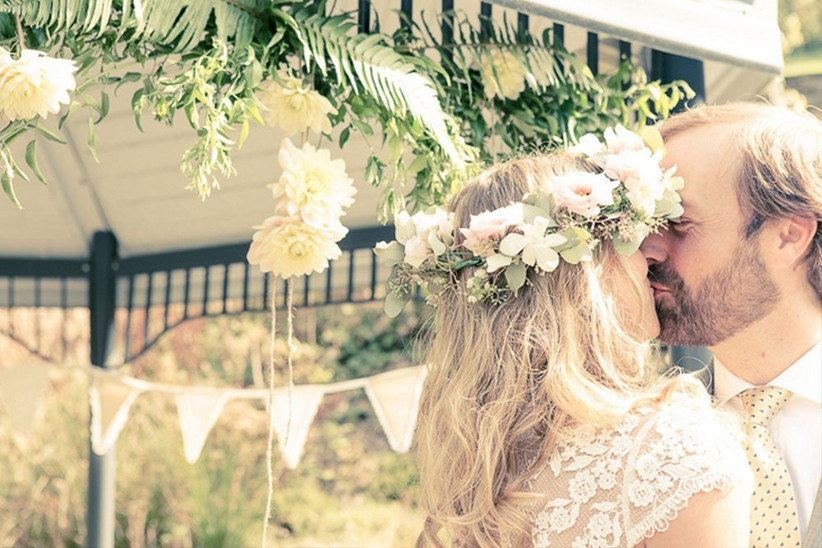 Image Credit: Holebeck Ghyll Country House
Fields of Love
We couldn't have possibly picked a better setting for a romantic wedding photo and this couple fit the scene perfectly. The idyllic setting is like something out of a hopelessly romantic film. We think this photographer may be a genius.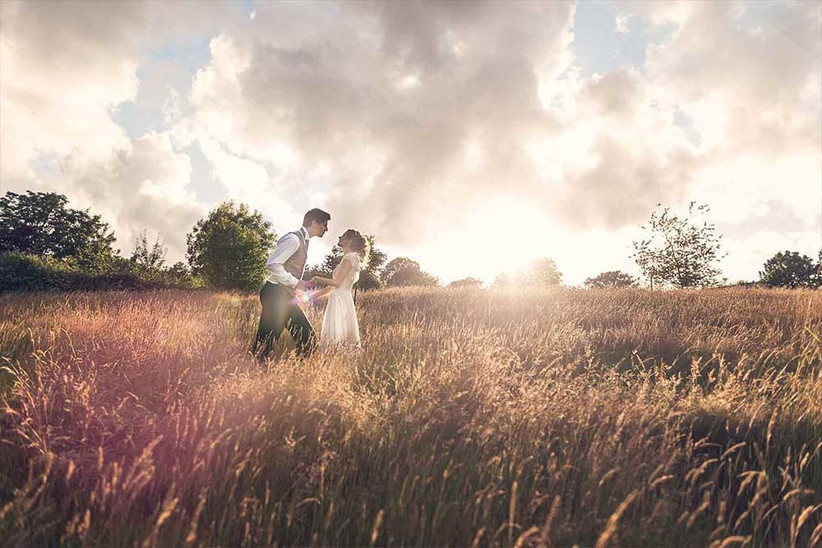 Image Credit: The Green Cornwall
Here They Come
What an action shot this is. The bride looks like she hasn't got a care in the world (now all of her wedding planning worries are gone) and the groom is determined to whisk her away so he can have her all to himself. These two look like such a fun couple.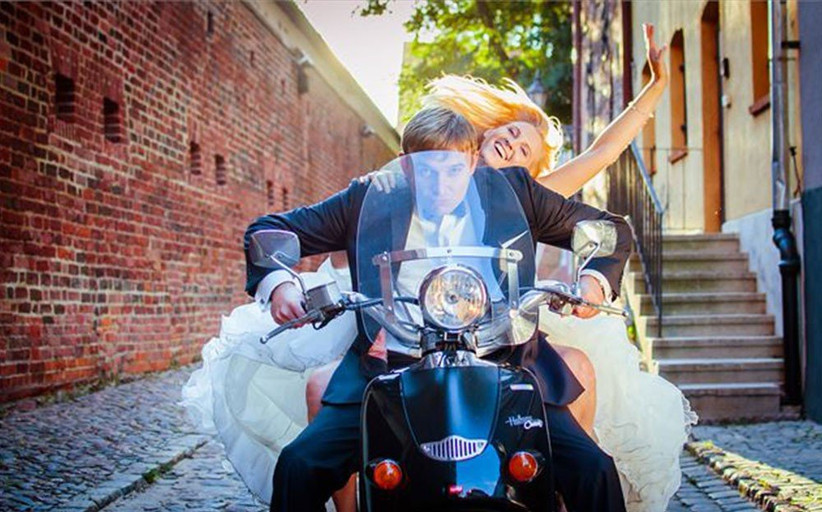 Image Credit: Slepokur Photography
Blushing in Blue
Firstly, this bride's coloured wedding shoes are on our must buy list for sure – they're fabulous. It's such a great, secret way to get your 'something blue' into the day. How content and relaxed do this sweet couple look?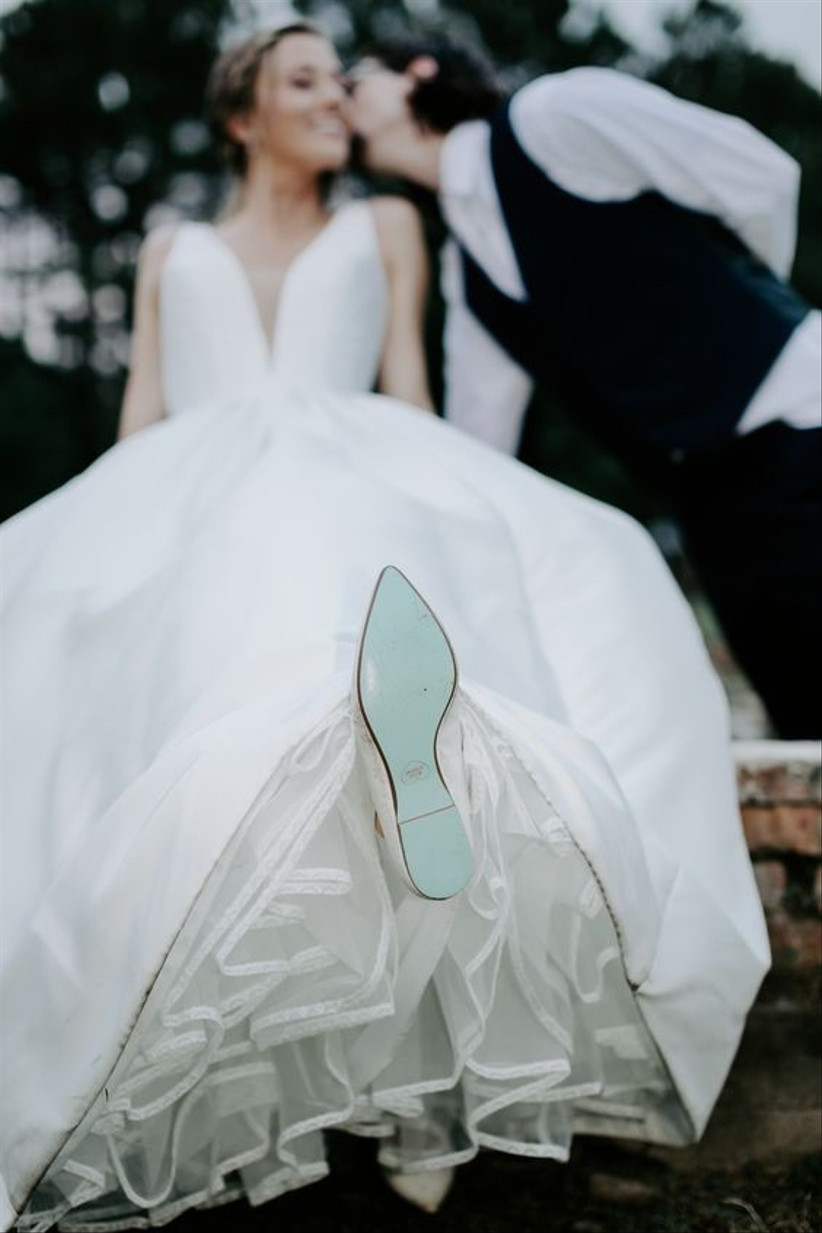 Image Credit: Pinterest
Married Bliss
The bride and groom are a picture of joy in this stunning black and white shot and couldn't look more delighted to have become man and wife. The confetti and guests are the perfect extras to their immense photograph.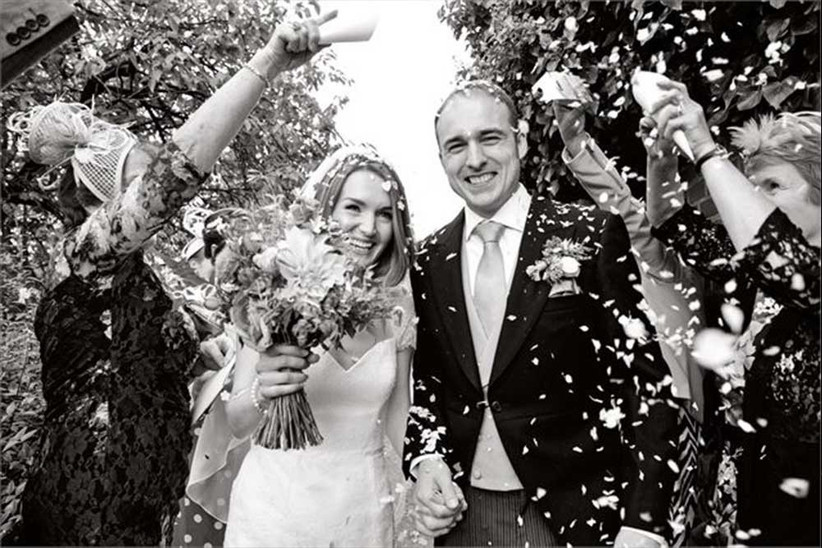 Image Credit: The Studio Without Walls
Dramatic Landscape
The backdrop this picture has makes it so much more than just a picture of the bride and groom. It adds atmosphere and sets a really dramatic scene that is enchanting and pretty.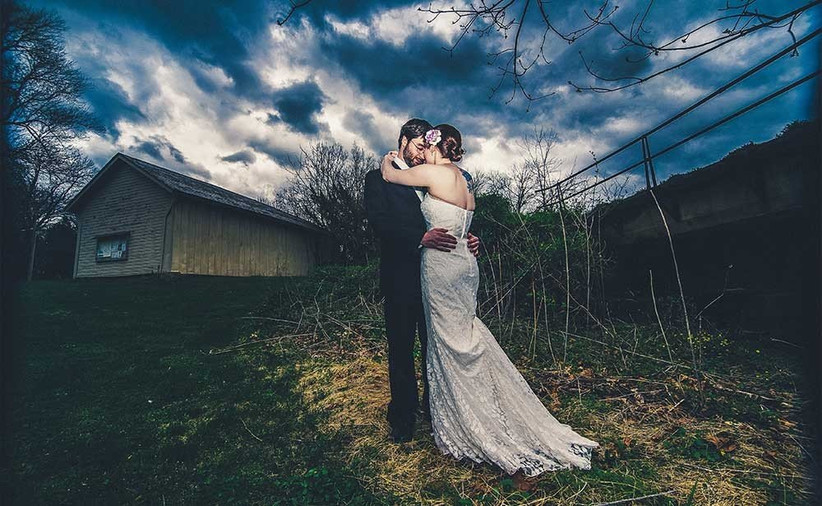 Image Credit: Tattooed Bride Photographer Allebach Photography
Joy Ride
This picture literally looks like it's out of a 1950's glamorous movie and we are so jealous of it. What a stunning shot of you and your loved one to look back on in years to come. It's so cute because it showcases the happiness that comes after the vows have been said.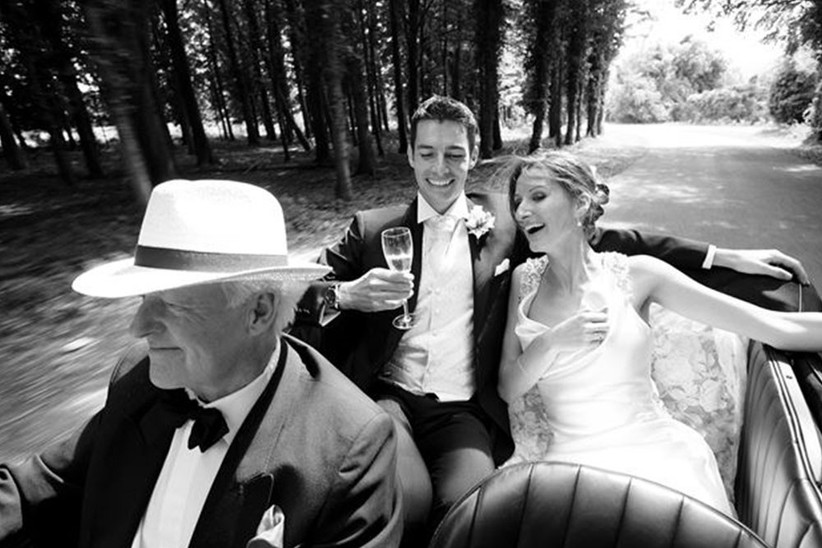 Image Credit: Peartree Pictures
Wedding Chilling
When the wedding day all gets too much to handle, this is exactly what couples should be doing. This pair know how to wind down and take a break from all the madness and we love their relaxed attitude…and the sunglasses.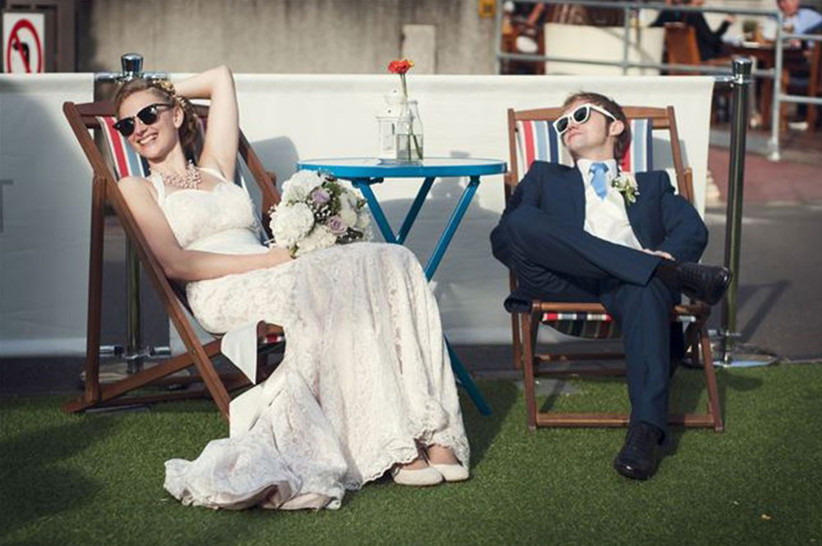 Image Credit: Dominika Miechowska Photography
Scenic Photograph
Every married couple need a picture in front of some stunning scenery, just like these grooms. The warm sunset is the perfect companion for this newly married pair.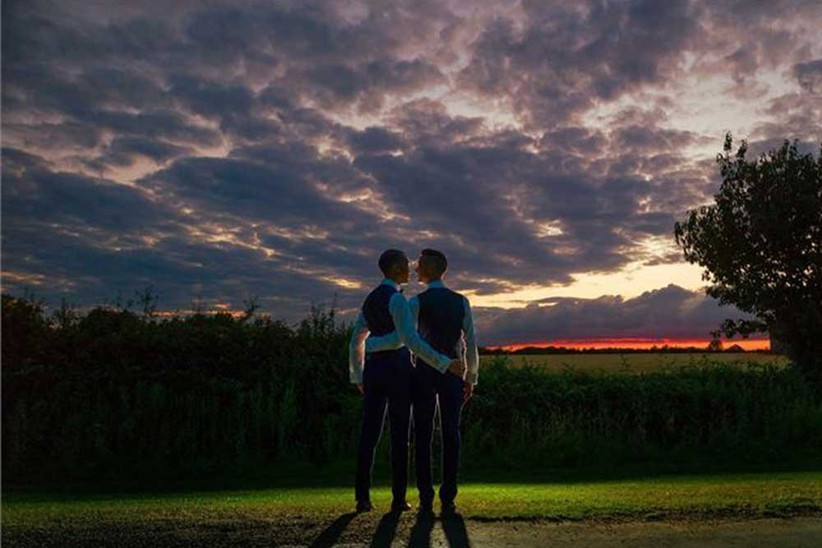 Image Credit: Fennes
Natural Settings
Outdoor weddings with lovely scenery need to be made the most of and this couple have done exactly that. The picture is innocent and loving, and one to be admired.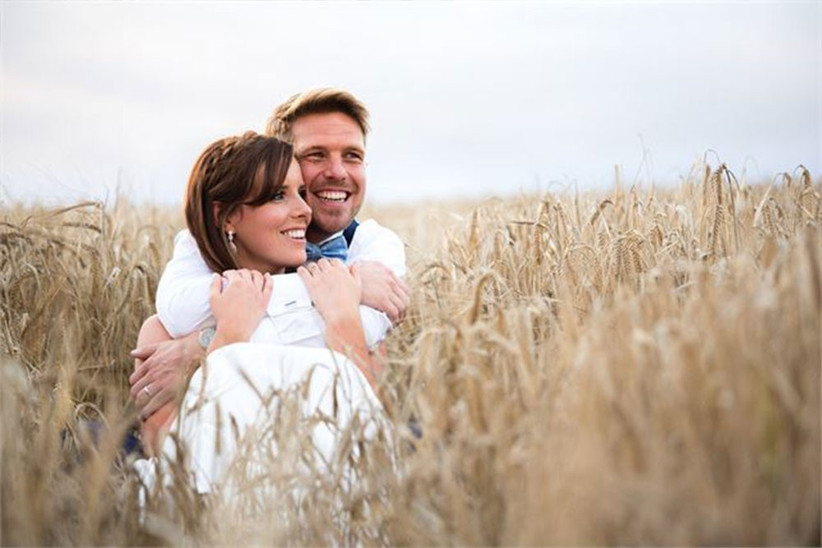 Image Credit: Laura Ellen
Under the Veil
The 'togetherness' in this picture is undeniable. Having both the bride and groom under the bride's veil not only represents unity in their relationship, but it also looks incredibly stunning!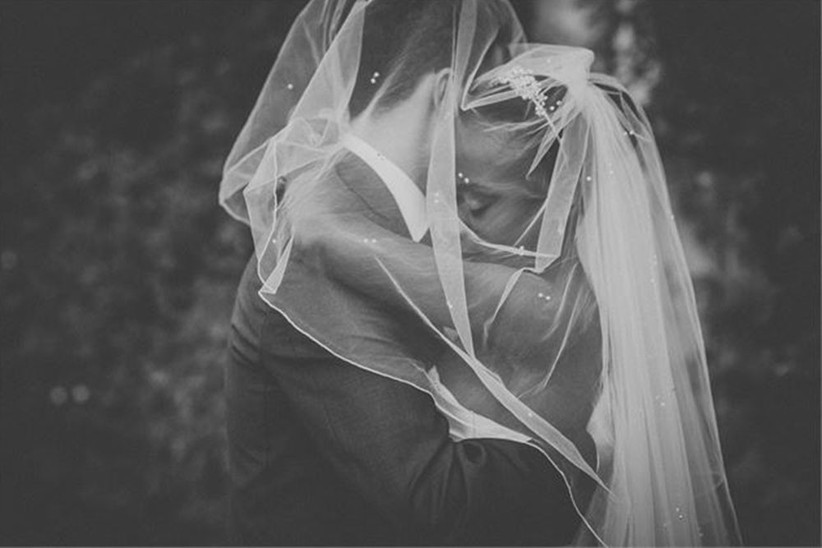 Image Credit: Dominika Miechowska
Doggy Date
From the people who brought you animals at weddings, here we have a relationship goals picture where we're not sure which relationship is stronger here. Man's best friend or man's new bride? Either way, we know who the star of the show is!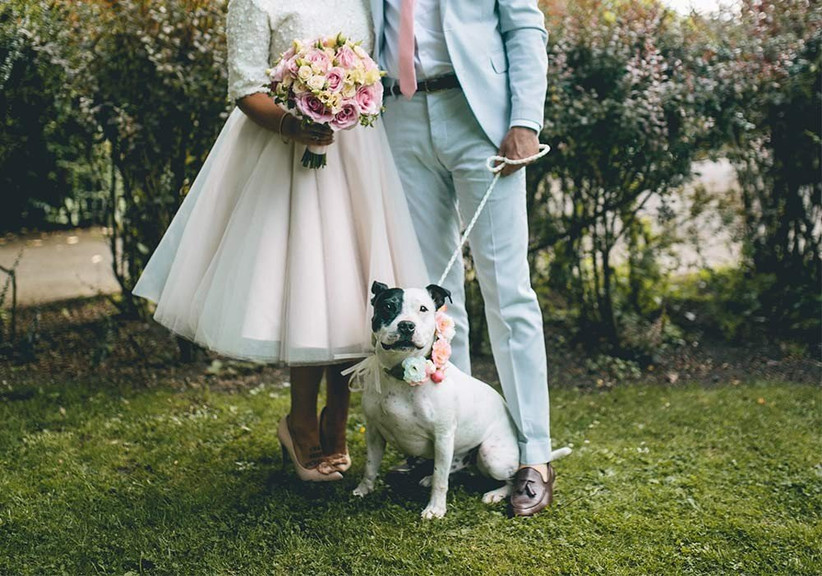 Image Credit: Story + Colour
On Your Bike
Who would have thought that a beautiful bride and groom would take such a stunning wedding picture on a tandem bike? This spectacular shot is totally out there and unique. Couples who want to get less traditional shots on their wedding day should use this as inspiration – just hitch up your dress and get pedalling!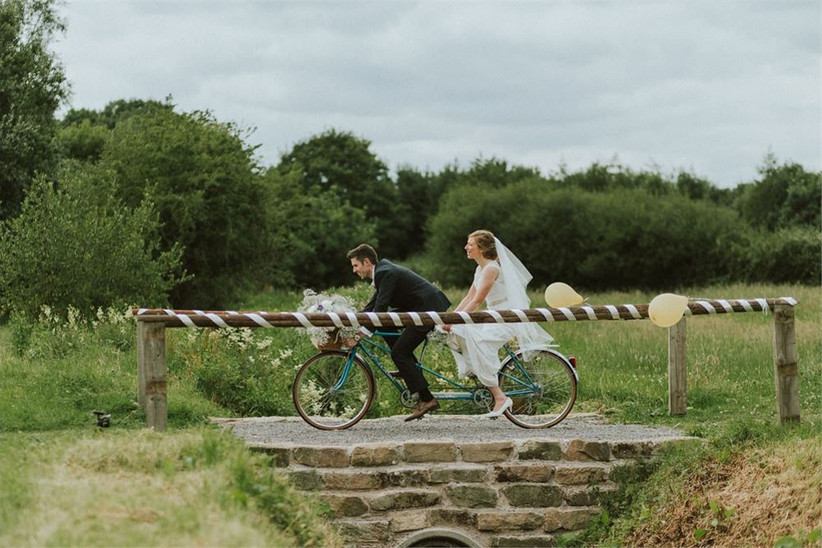 Image Credit: The Hidden Hive
Funky Loving
This bride gets extra points just for her amazing hair colour and style. Her quirky look along with her groom's bright, bold suit and tie make for the perfect trendy couple and this picture is just the cutest.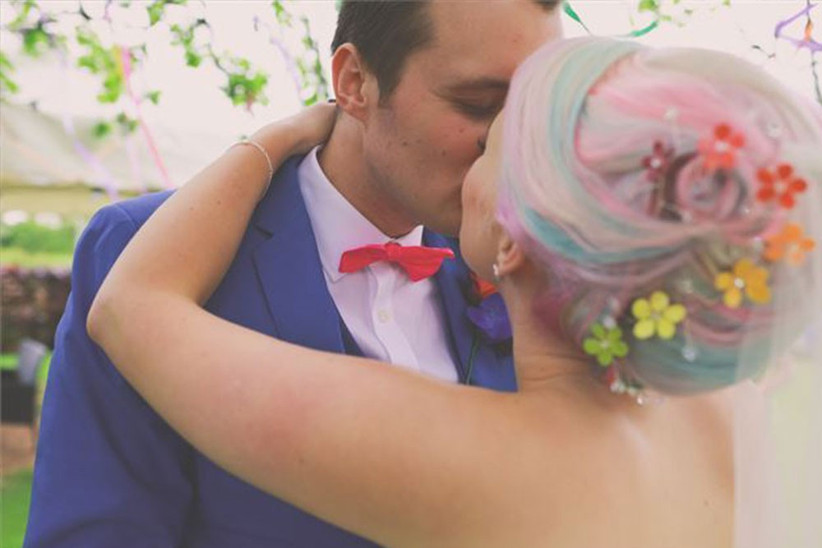 Image Credit: Andy Bennett Photography
You May Now Kiss the Bride
The cute factor of this picture comes from the groom's reluctant, yet secretly-happy facial expression. It shows the comedy in their relationship and her vintage bride look makes the picture extra pretty.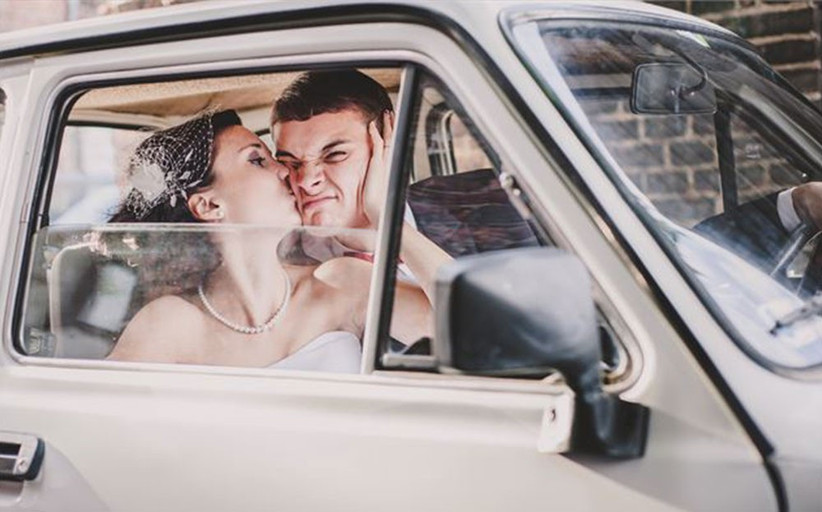 Image Credit: Slepokur Photography
Stunning Couple
This couple made it into 'relationship goals' because this photo is just so beautiful. We actually sat in awe of their wedding attire and overall look for way too long. He is such a handsome chap and she is primed to perfection, and their calming expressions show how comfortable they are in each other's company.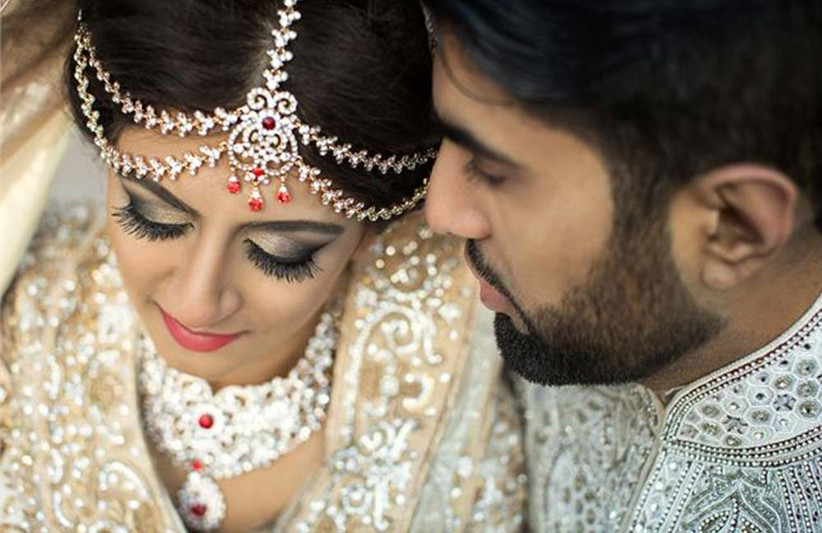 Image Credit: S2 Images
Love Songs
We can only imagine what's going on in this picture but we really hope that the groom is singing his bride a romantic love song. If we could be a fly on the wall in any of these pictures, it would definitely be this one for sure.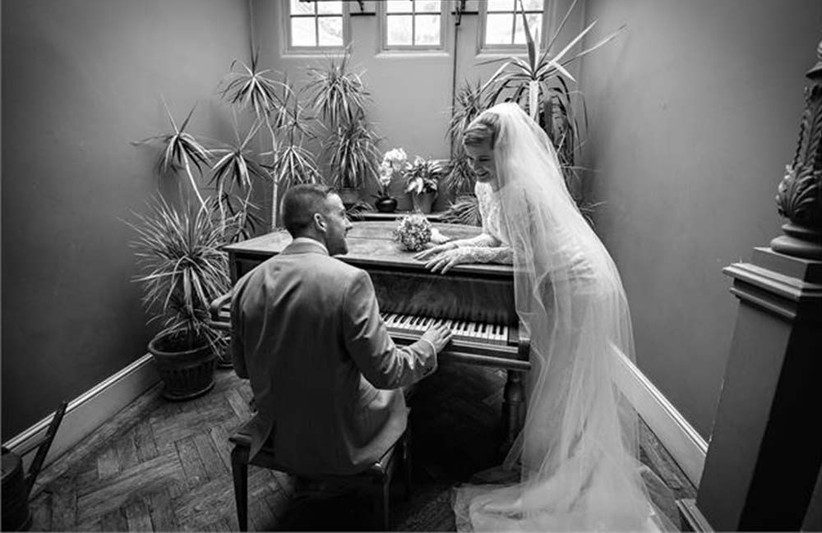 Image Credit: Guy Milns Photography
Action Couple
Skiing down a mountain is not what most brides plan on doing in their wedding dress, but we admire the skill and courage of this active couple. Their love for the snow has turned into a seriously worthy wedding picture!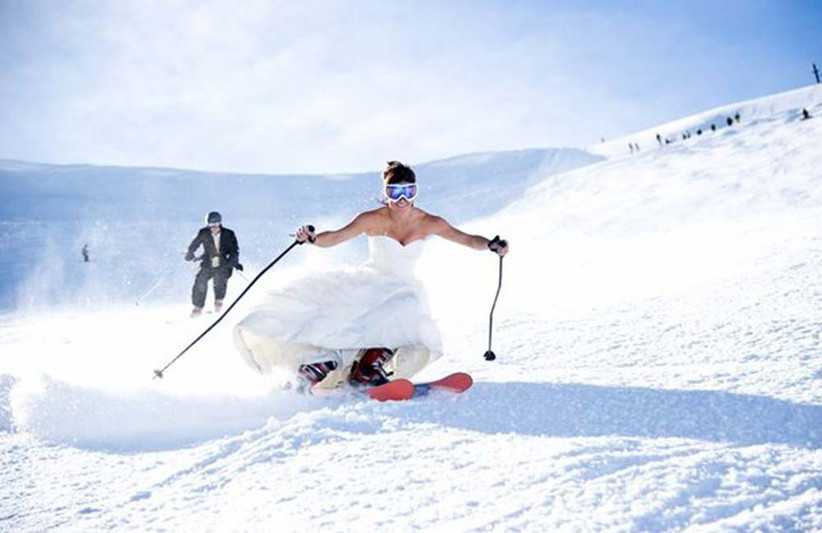 Image Credit: Martin James Photography
Emotions
At weddings, everyone always expects the bride to be the emotional one, but in this picture we see the bride smiling and the groom tearing up. The emotion in this image is enough to make anyone shed a tear – it is beyond cute.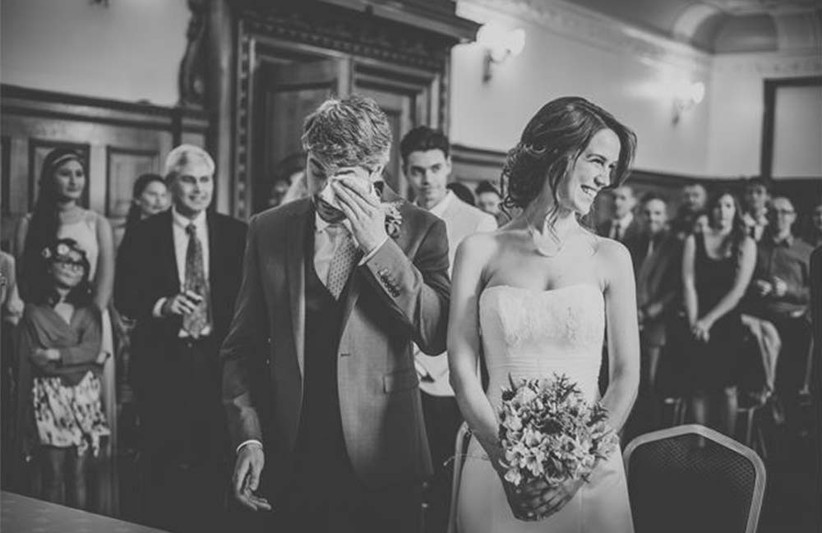 Image Credit: Dominika Miechowska 
Bubbles and Shades
We haven't seen a couple as cool as this since…ever. The stunner shades and bubbles blown just add to the brilliance of the picture and this true gentleman groom is even carrying his bride's bouquet – aww.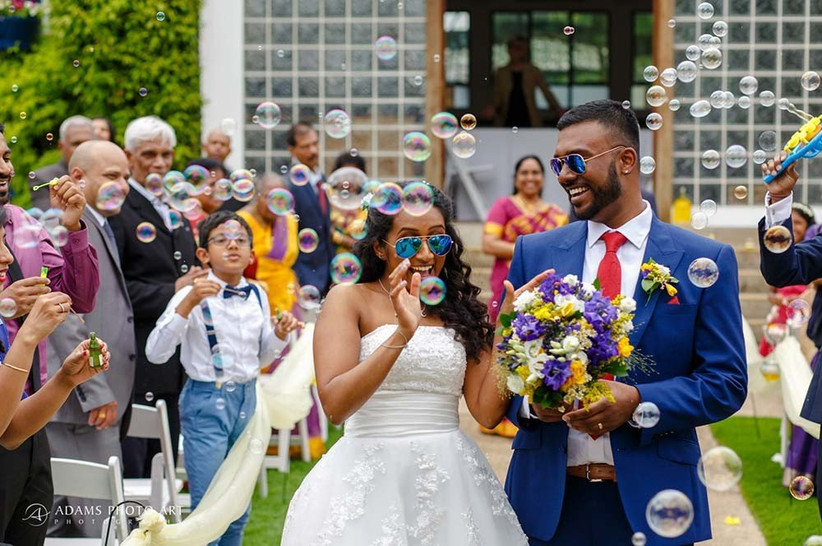 Image Credit: Royal Windsor Racecourse
River Romance
We just love that during all the stress and busyness of a wedding, this calm couple have managed to find enough time to take a ride down the river in a boat. They obviously value the time they spend together and know its importance and every couple can take something from that.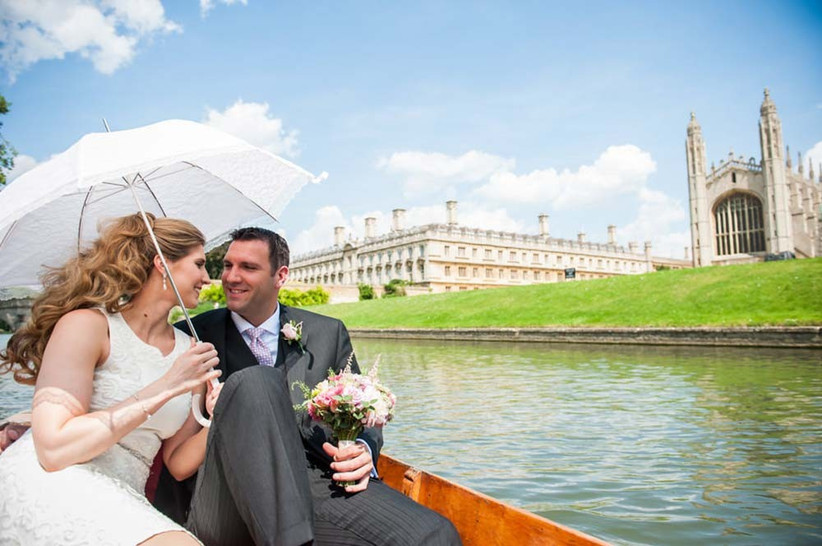 Image Credit: Kat Forsyth
Colour Explosion
This couple give us serious relationship goals – after losing all of their wedding photographs, this styled shoot was one of many adventures they partook in to recreate the photographic memories that they once lost. If that isn't inspiration, we don't know what is.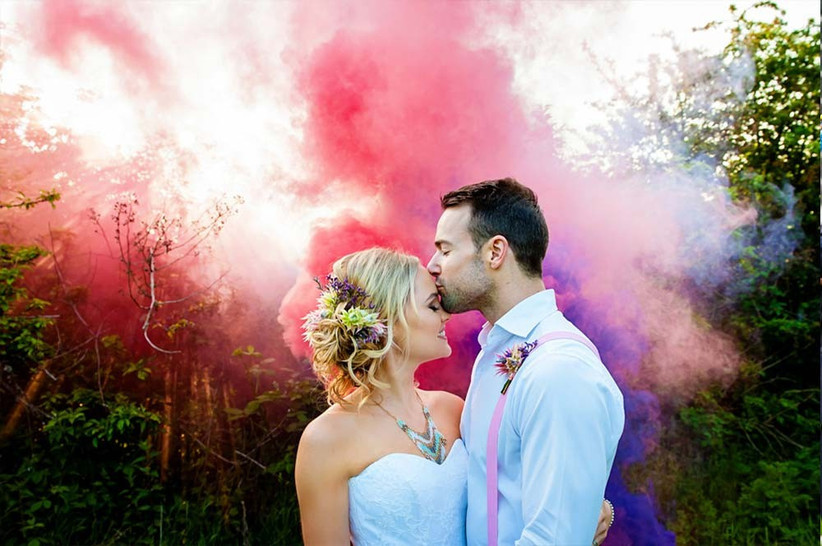 Image Credit: Kat Forsyth
Hi Five
What cooler way to seal your marriage commencing than with a hi five? Their faces are an absolute picture of happiness and a sense of "go us" which we absolutely love.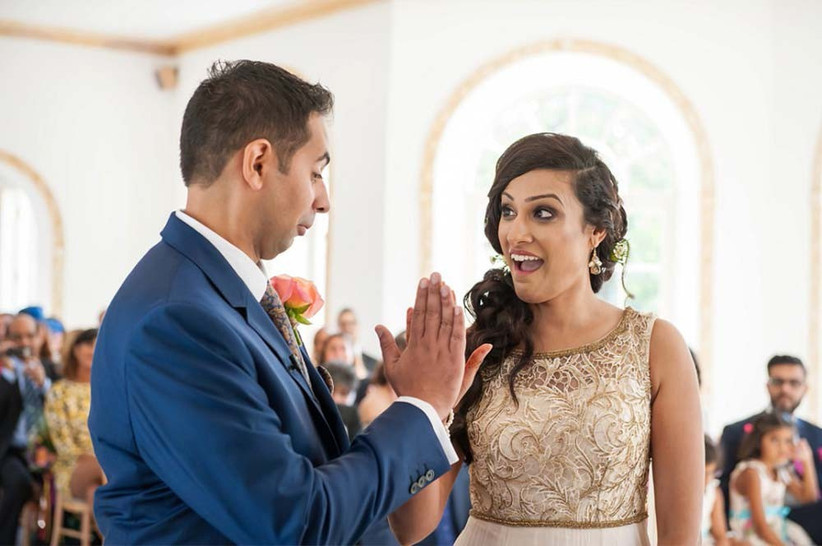 Image Credit: Kat Forsyth
Garden of Love
Amongst all of the crazily beautiful greenery in this picture, are a gorgeous couple who have the best taste in picture settings. They have taken to this picture like a duck to water and it grabbed our hearts the minute we saw it.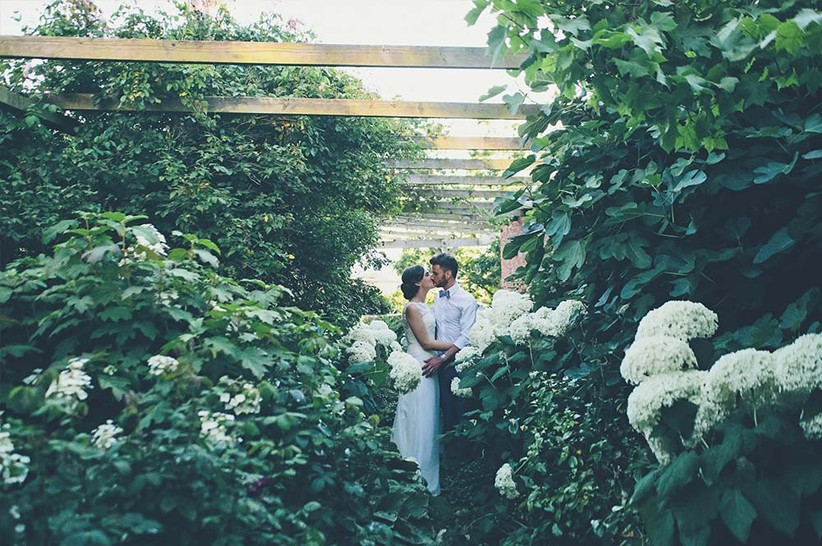 Image Credit: Dewsall Court
Put a Ring On It
Edgy couples will definitely want to recreate this alternative wedding picture. They are a funky styled bride and groom with some serious flair and are enjoying showing off their unusual wedding rings. Rock on!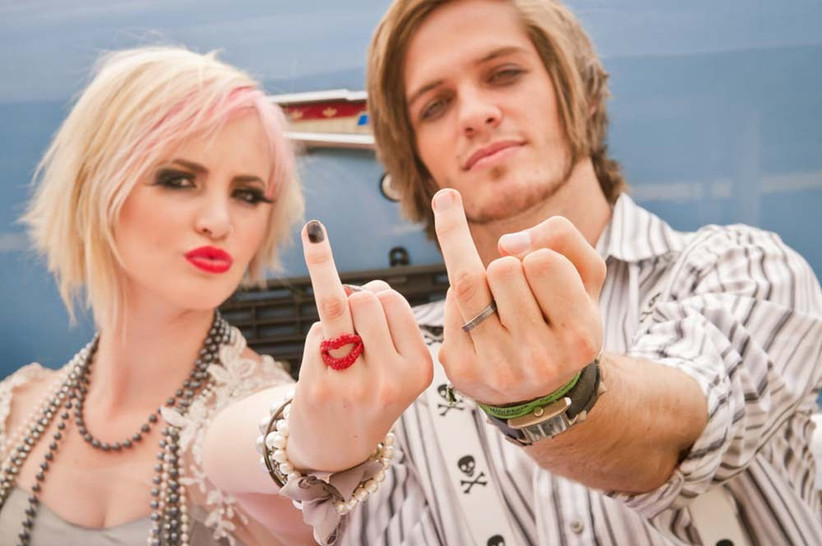 Image Credit: Kat Forsyth
Putting Your Feet Up
Relationship goals are one million percent defined by this bride and her groom. After a long and tiresome period of wedding planning, and then the energy that the actual day uses up, a massage is what every bride needs. This groom gets lots of brownie points for this.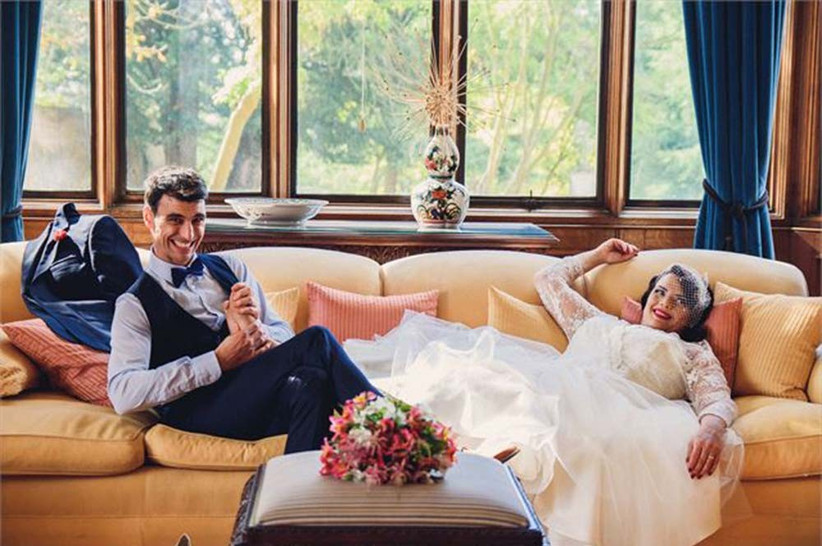 Image Credit: Dominika Miechowska
Colourful Confetti and Kisses
As well as the happy couple being elated about their marriage, the guests in the background may possibly be the happiest guests in history. The colourful confetti makes this picture even more glamorous, and we do love glamour.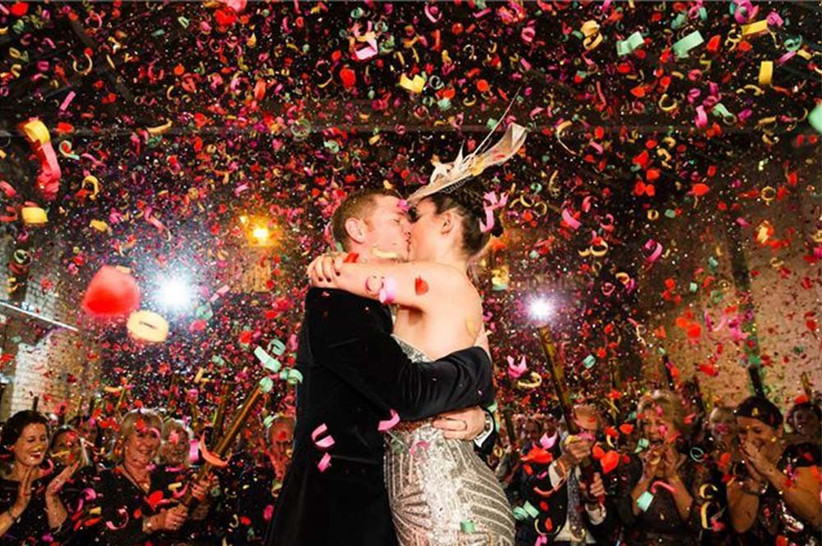 Image Credit: Chris Giles Photography
If you are the ultimate couple looking for more wedding inspiration, why not steal some ideas from these crazy celebrity gift lists?