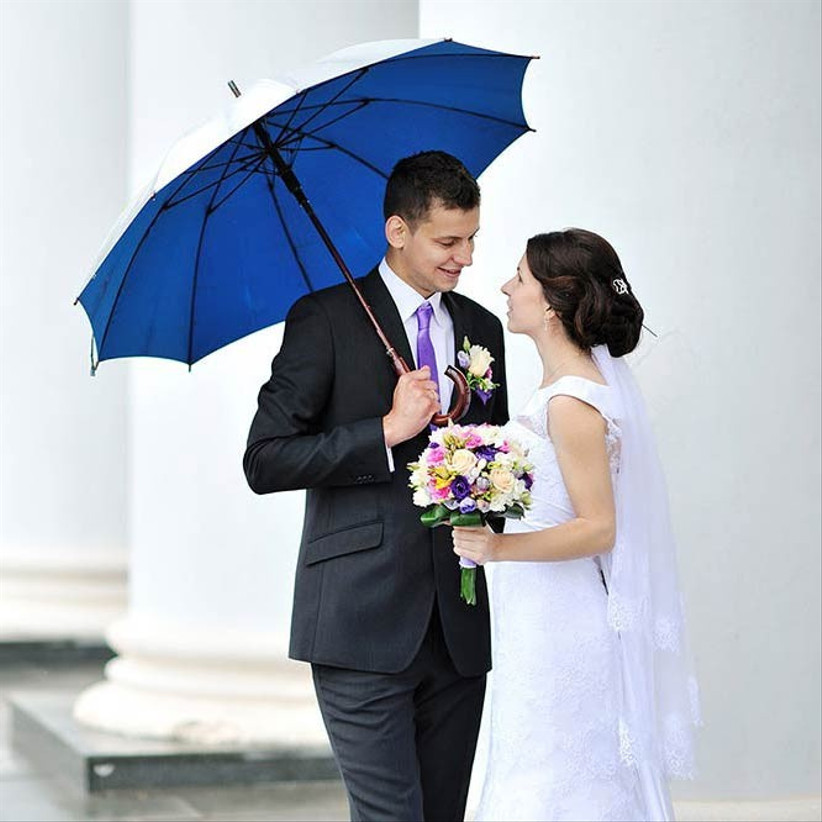 It's every bride's worst nightmare… the worry that rain will plague your wedding and ruin all your pictures.
It already feels like summer has been and gone in a flash thanks to our unpredictable Great British weather. So if you're a soon to be bride, then it's understandable you may be feeling a little tense about what the weather may bring on the big day!
But fear not, as we've rounded up some stunning photography along with tips that proves unfavourable weather doesn't have to spell disaster for your wedding. It can in fact, make for some very breath taking photos that you wouldn't have captured otherwise.
Talk To Your Photographer
Contact your photographer and discuss with them the possibility of rain and how they could still capture special moments without the image being ruined. They'll have dealt with dodgy weather conditions before and should be prepared for every weather eventuality.
This bride is clearly loving the rain, check out her cute white umbrella!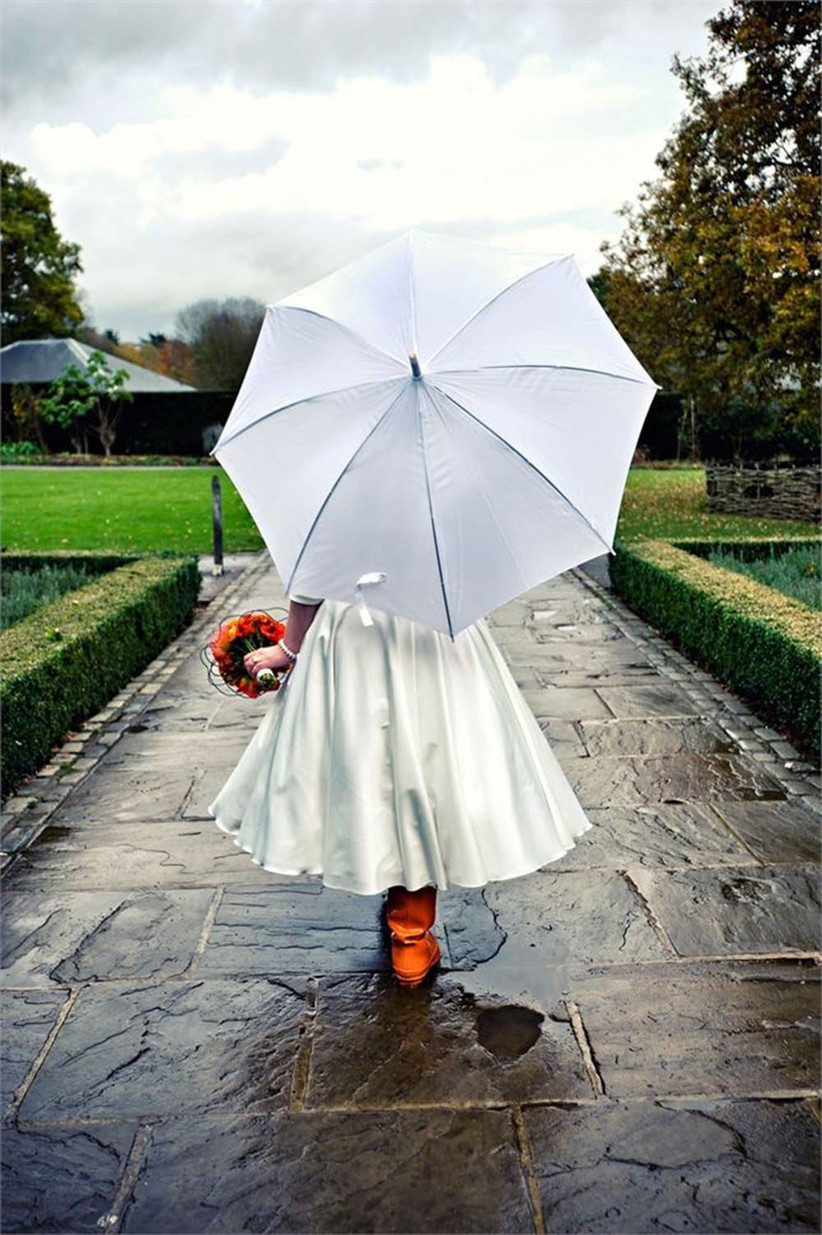 Photography Credit: Guy Milnes Photography 
Be Inspired By the Films
Have you ever noticed that in a lot of romantic movie scenes it's usually raining?! Just look to Ryan Gosling and Rachel McAdams in that famous kissing in the rain scene from 'The Notebook' for inspiration, or Audrey Hepburn and George Peppard's rainy embrace in 'Breakfast at Tiffany's'.
Rain can make for a stunningly romantic shot in real life too, as this beautifully lit photo proves!
Make Sure Your Venue Is Prepared
If any part of your day is planned outside, then your venue should also be prepared for rainy conditions and will move you to an indoor spot if need be.
Sometimes unexpected weather conditions can even make for some fantastic unplanned shots!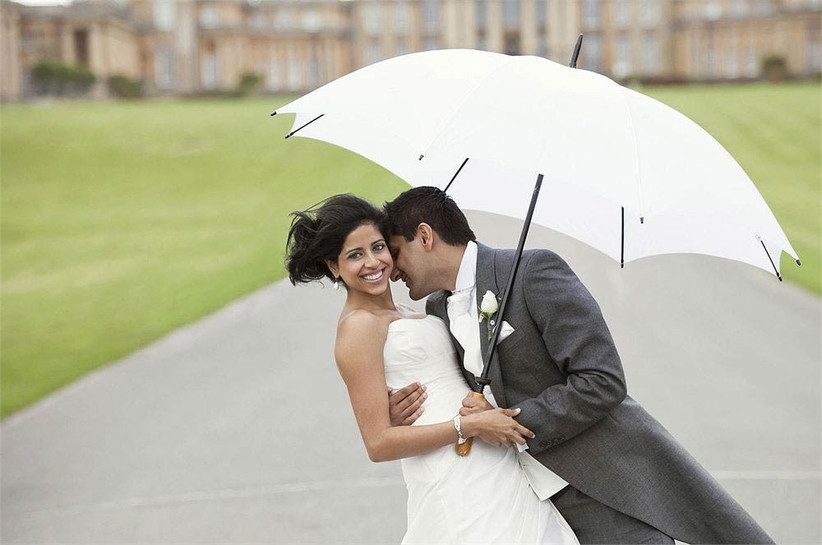 Photography Credit: Peartree Pictures
Umbrellas Make Great Props
Who knew that umbrellas could make such a style statement? If it pours, be sure to get a ridiculously cute shot of you and your partner sharing a big and bright umbrella.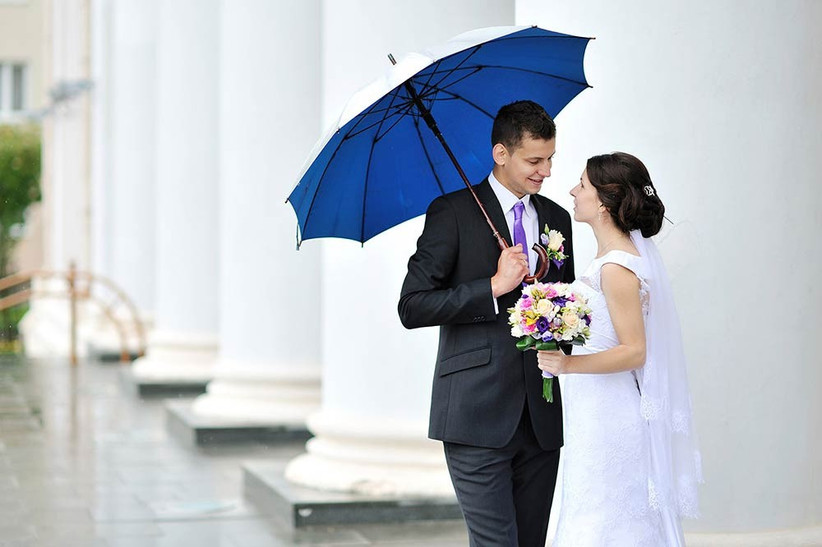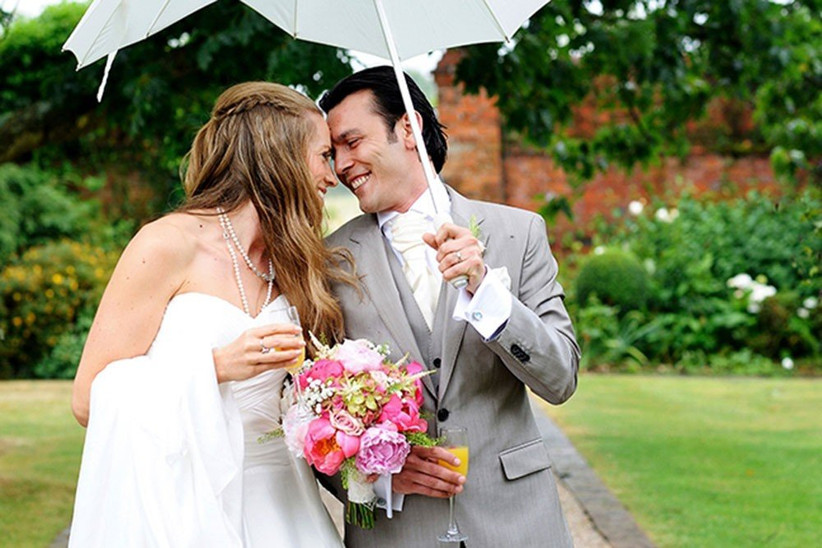 Photography Credit: The Studio Without Walls
Waterproof Your Makeup
You'll probably be making sure your mascara is waterproof anyway in anticipation of all the happy emotions your wedding day will bring! Whether you're doing your hair and makeup yourself, enlisting the help of a friend or family member, or getting everything done professionally, make sure high quality waterproof formulas are used where necessary and that there's a can of hairspray handy nearby so that your hair stays in place all day.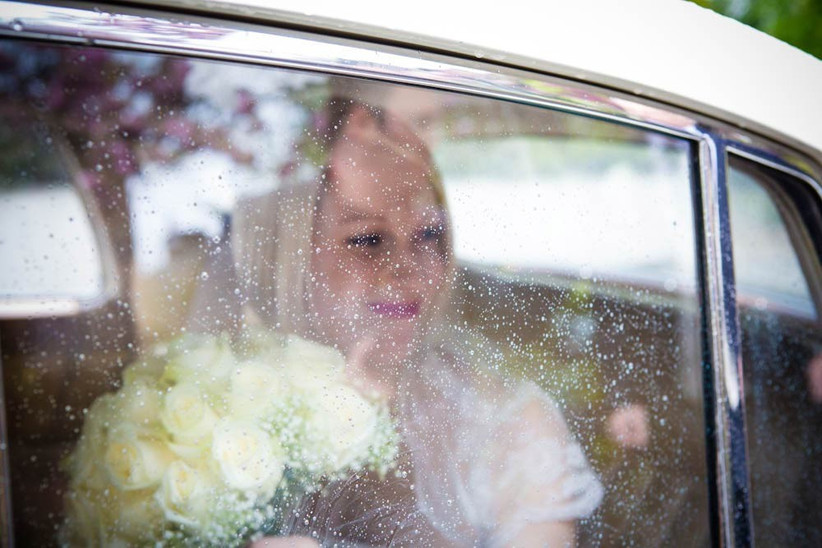 Photography Credits: Foden Photography 
Grab the Wellies
Wellies and wedding finery make a surprisingly good combination! If your wedding is in a location with the potential to get very muddy, perhaps you could provide yourselves and guests with a good old pair of wellington boots to wear so that no shoes get ruined.
It's a great opportunity to get some silly photos and you'll soon be laughing off the rain in no time! We love the little canine addition in this photo too!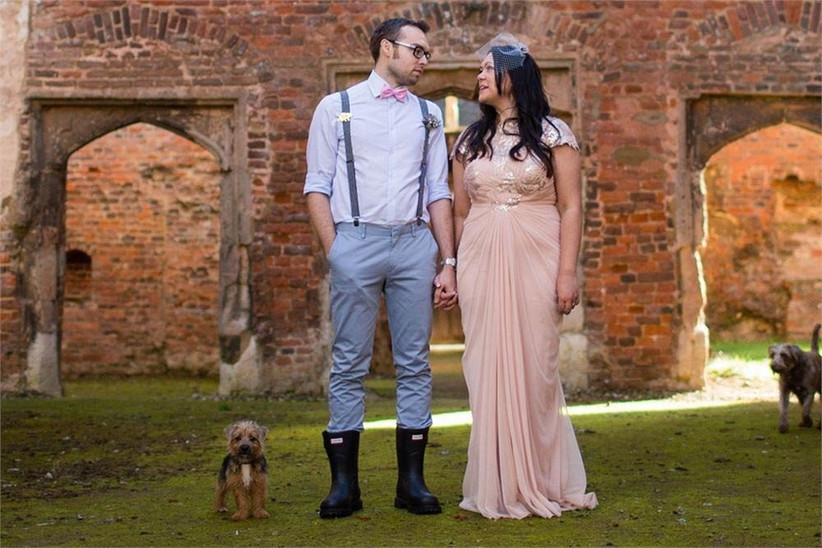 Photography Credit: Laura Ellen Photography
Wait For the Rainbow!
At the end of a downpour, there's usually a pretty rainbow waiting to appear at the end! An overcast sky contrasted against a colourful rainbow would make an amazing photo, as these couples prove!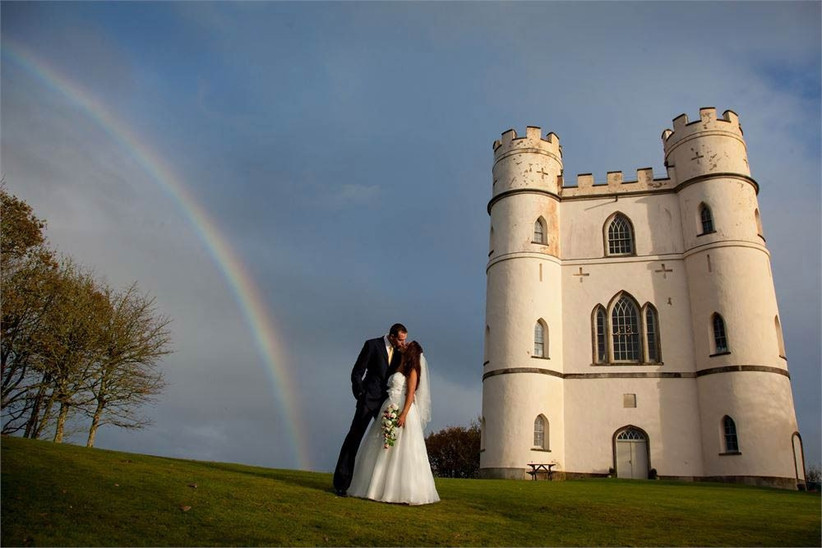 Photography Credit: Evolve Photography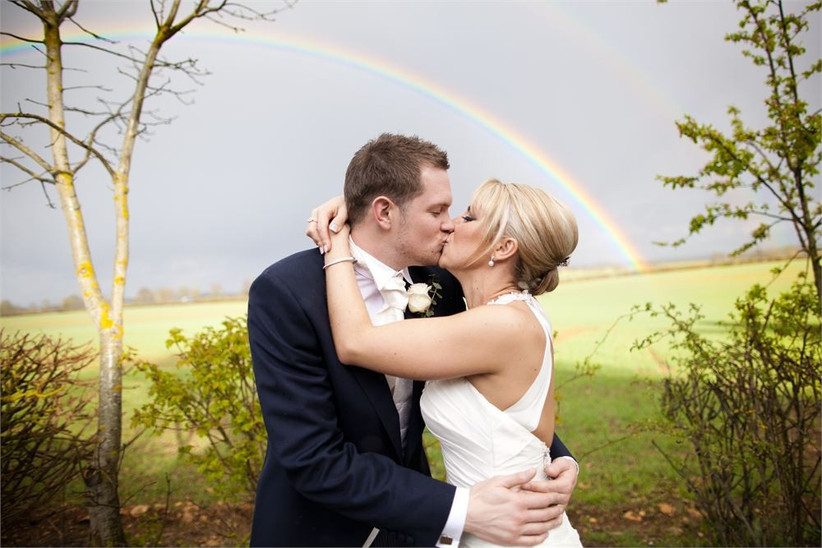 Photography Credit: Silverton Photography
Most Importantly, Don't Stress!
Your wedding day will be amazing regardless of what the weather decides to throw at you. Everyone's attention will be firmly fixed on you and your partner and not what the weather is doing, so relax and enjoy!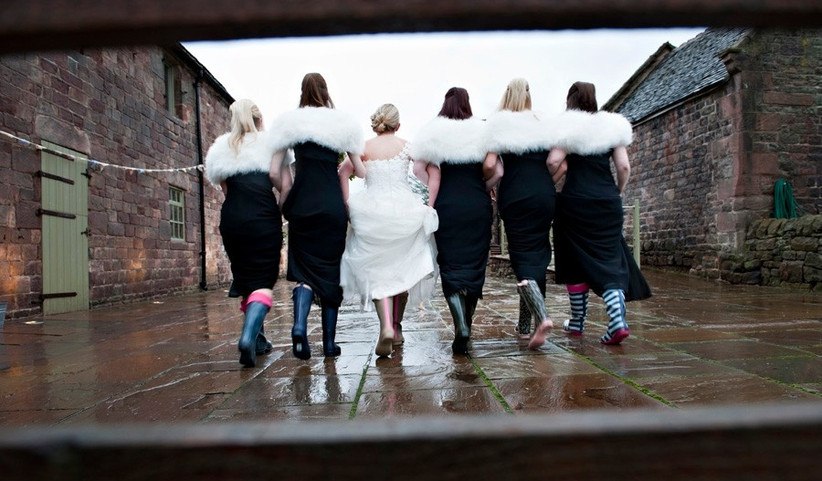 Photography Credit: Jon Thorne Wedding Photography