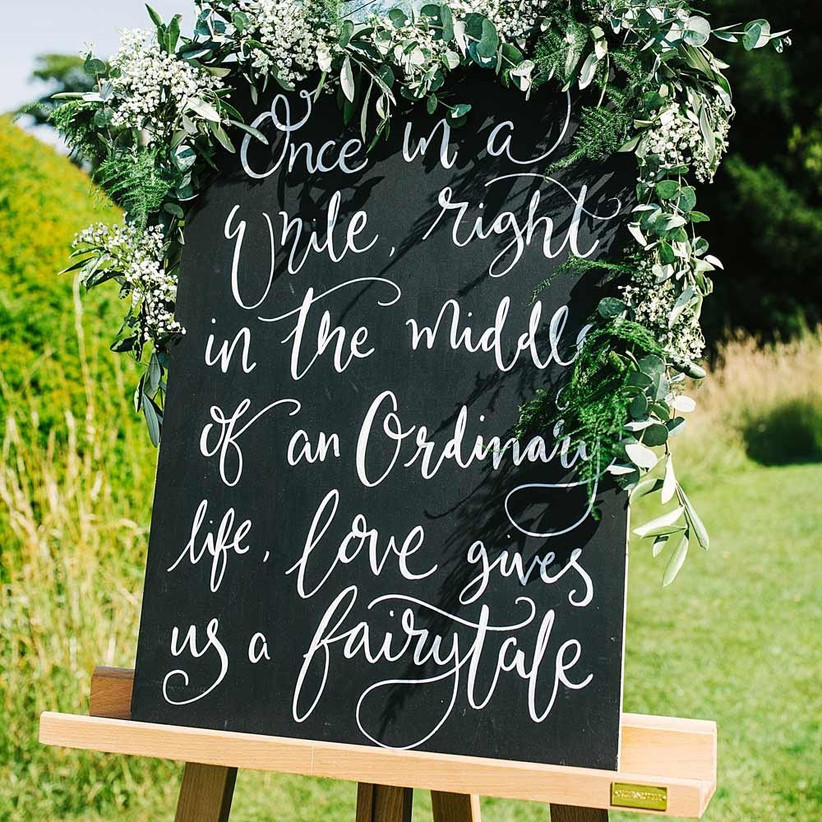 If you're planning a wedding in 2017, make sure you take note of the key 2017 wedding trends, including some hot 2017 wedding dress trends! These things will be big news for the year and will shape how weddings will look in 2018 too. Get ahead of the curve now.
2017 Bridal Fashion Trends
Wedding Dresses with Capes
Wedding dresses with capes have been emerging all over catwalks throughout 2016, ready to take aisles by storm in the year ahead. Designers such as Justin Alexander (pictured below) and Paolo Sebastian unveiled stunning designs complete with capes. They're perfect for making a statement.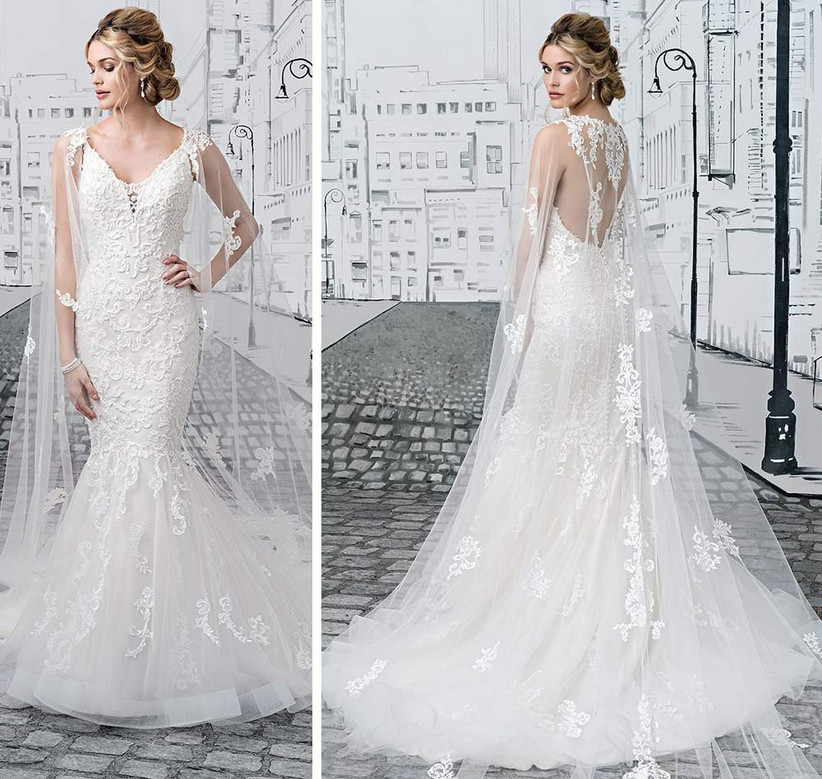 Bow Detail
Girly girls will love this hot new bridal trend – bows are having a moment and we couldn't be more thrilled. Whether it's a huge bold bow on the back of the dress or a tiny subtle detail on the waistline, pretty bows are back in vogue.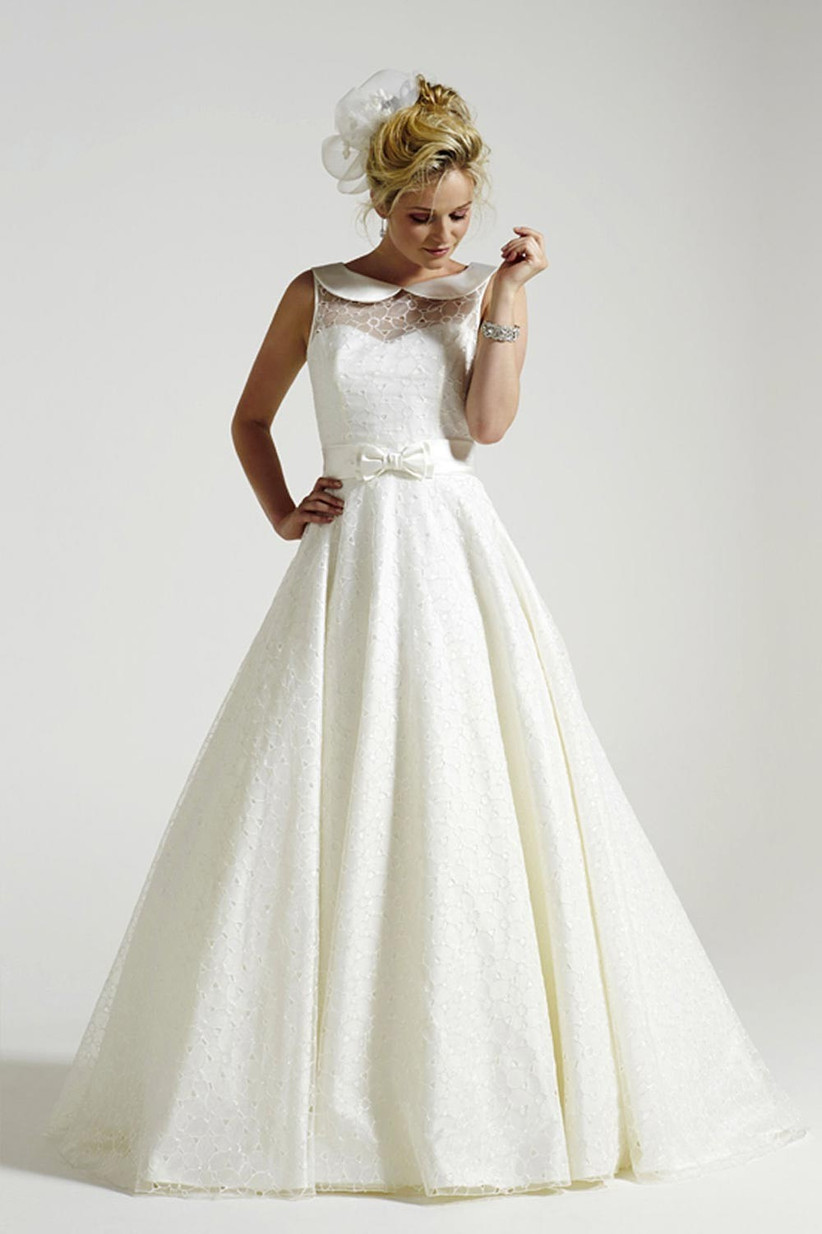 Image credit: So Sassi
Pastel Bridal Gowns
If white isn't really your colour, rejoice as pretty pastel wedding dresses are set to take centre stage in 2017. Consider gowns in soft shades of blue, pink or lilac to really nail this trend. We've got plenty of colourful wedding dresses to inspire you.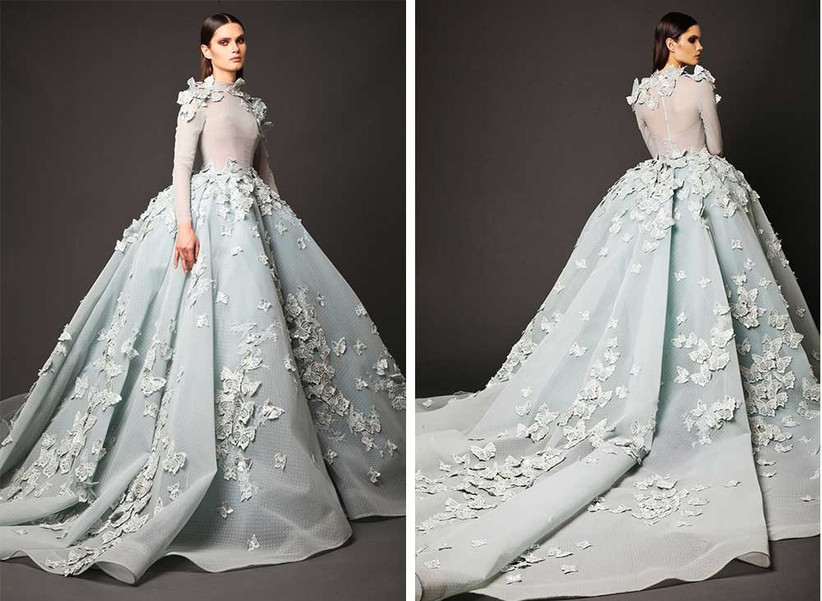 Image credit: Elio Abou Fayssal
Satin Wedding Dresses
Lace has been huge for years, so it's only natural that it's satin's turn to shine. This sophisticated fabric is perfect for capturing that glamorous vintage vibe. Go for a satin wedding dress if you love old-school Hollywood glamour.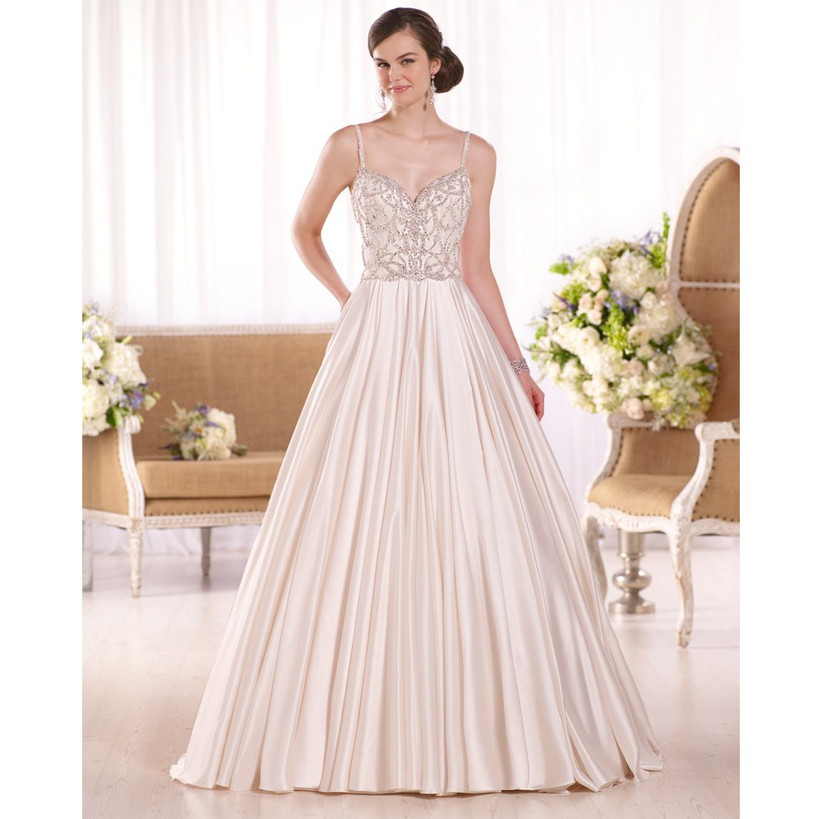 Image credit: Essense of Australia
2017 Wedding Catering Trends
Creative Catering
It was a wedding trend in 2016, but it's still going to be going strong in 2017 – get creative and go for unusual wedding catering, whether it's with a fun food truck or a themed food station.
We asked Alex Clarke, the owner of the George in Rye, to tell us about their amazing food stations: "More than ever we're seeing couples come to us with a really strong vision of what they want for their day and in particular, wanting to create a catering display that wows their guests. The Champagne & Oyster Bar is simply stunning – a treat for the eyes as much as the palette. Similarly the Doughnut Deli, a sugary wall of joy, is a popular choice for late night munchies."

Dessert Tables
Move over, sweet buffets. Dessert tables are the hottest new wedding trend and they're a great idea if you're looking for a creative way to display your wedding cake. Why not stir up some competition with your guests by asking them to participate in a 'bake-off' style challenge? You get lots of desserts and your guests will enjoy the show.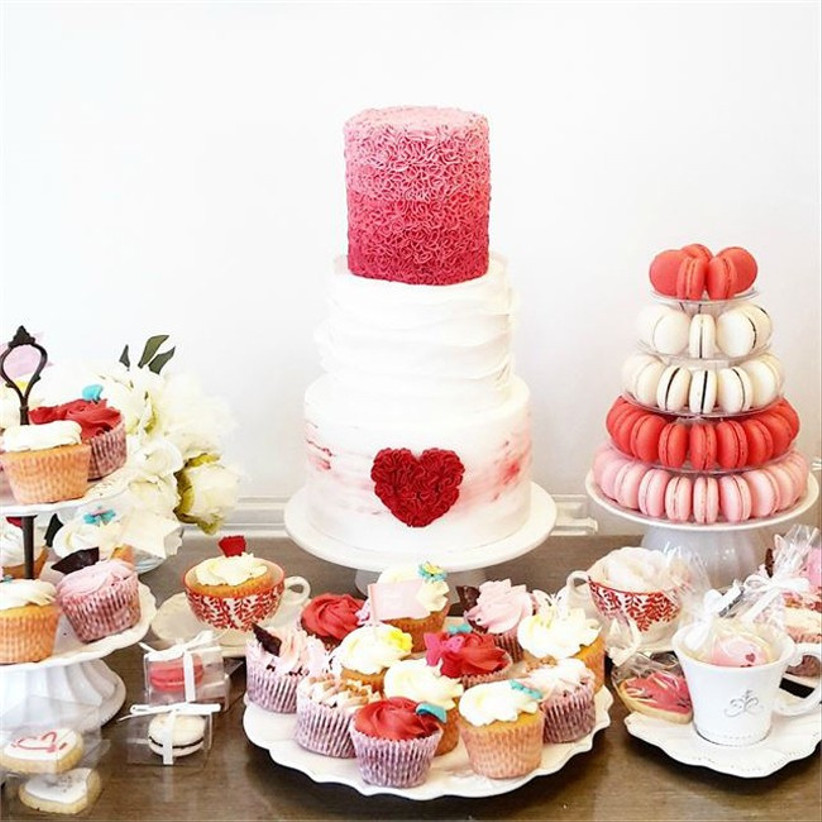 Image credit: Ginger & Cacao
Drip Wedding Cakes
Looking for a wedding cake that's anything but ordinary? Consider a drip wedding cake and be bang on trend. These creative cakes will look amazing at your reception and you'll almost not want to cut into them…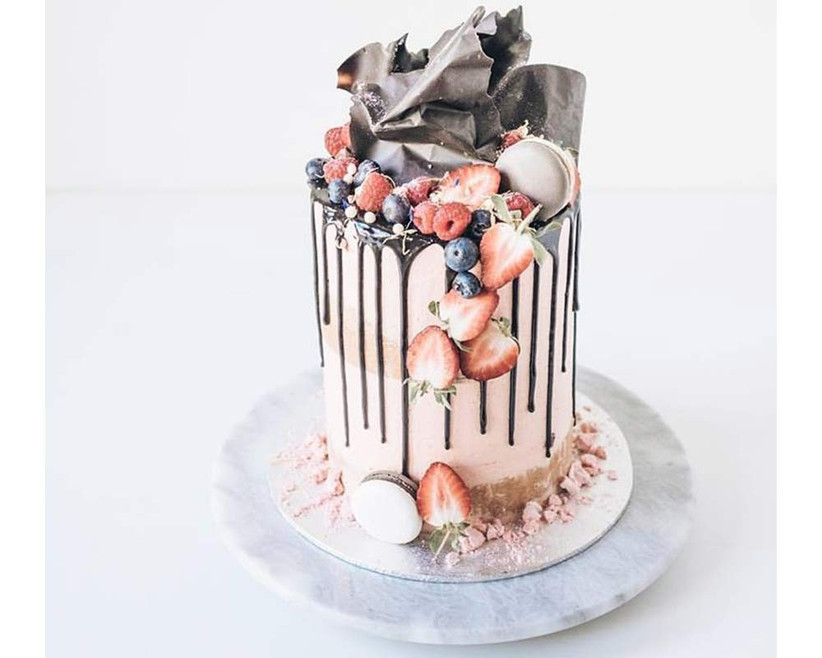 Image credit: Cakes by Cliff
Wedding Doughnuts
Alex Clarke touched on doughnuts above and with good reason – they're set to be a huge trend. We've got lots of doughnut wedding ideas to inspire you – ideal if you want to include your favourite sugary treat on your big day. They work well as favours, treats on a dessert table or even stacked up as a wedding cake alternative.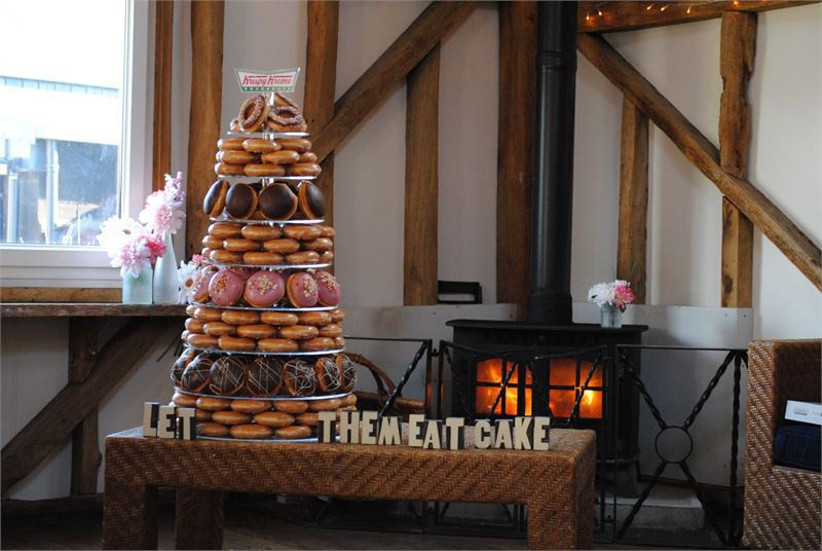 Image credit: Pit Hall Barn
Gin at Weddings
Gin is really having a moment and it's not going to go away. The world's hippest spirit works as a base in so many cocktails, and even featured prominently at Hitched Editor Caroline Bradley's wedding – cementing its status as a wedding must-have for 2017.
We've got lots of ways to include gin at your wedding – we think it's pretty ginspirational!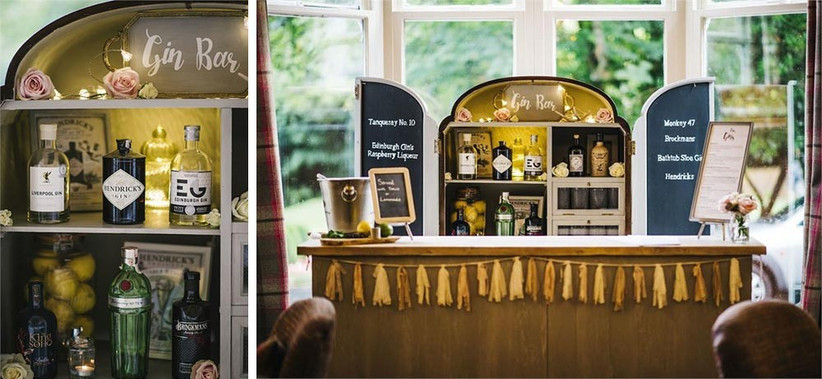 Image credit: Ashfield House
2017 Wedding Décor Trends
Industrial Luxe
After years of pretty vintage wedding ideas and gorgeous rustic wedding venues being in vogue, couples will be looking for something different in 2017 – something with a little more edge. Warehouse wedding venues are set to be huge – glammed up with candles, fairy lights and lots of gorgeous floral arrangements.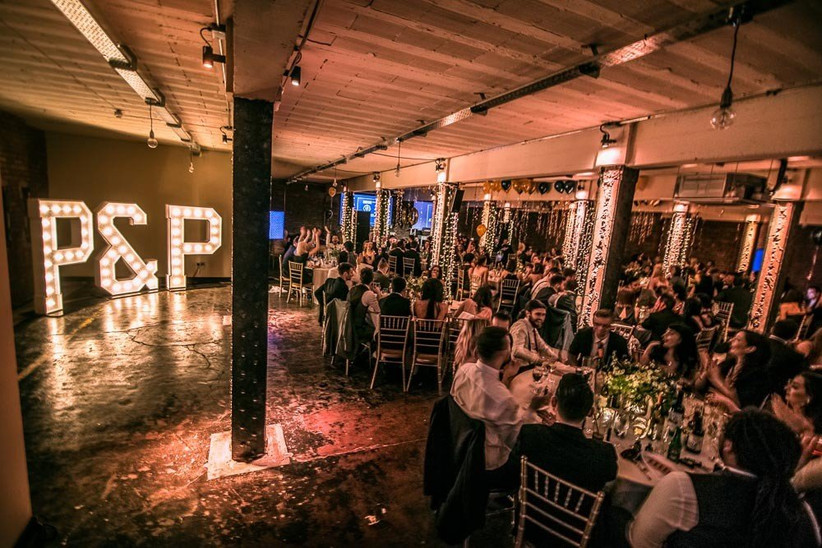 Image credit: Victoria Warehouse
Paper Flowers
Paper flowers are a cheap and pretty way to add to your wedding décor. A wall of paper flowers makes for an amazing backdrop to your top table, or in an unusual wedding photo booth. You can also easily make your own paper flowers for your wedding and use them in centrepieces and bouquets.
Geodes and Gemstones
Geology has never been cooler – geode wedding cakes have been taking social media by storm, and gemstone detailing adds a really luxe feel to your wedding décor. Consider using rough gemstones in your wedding décor for a look that is glamorous but not too 'done'.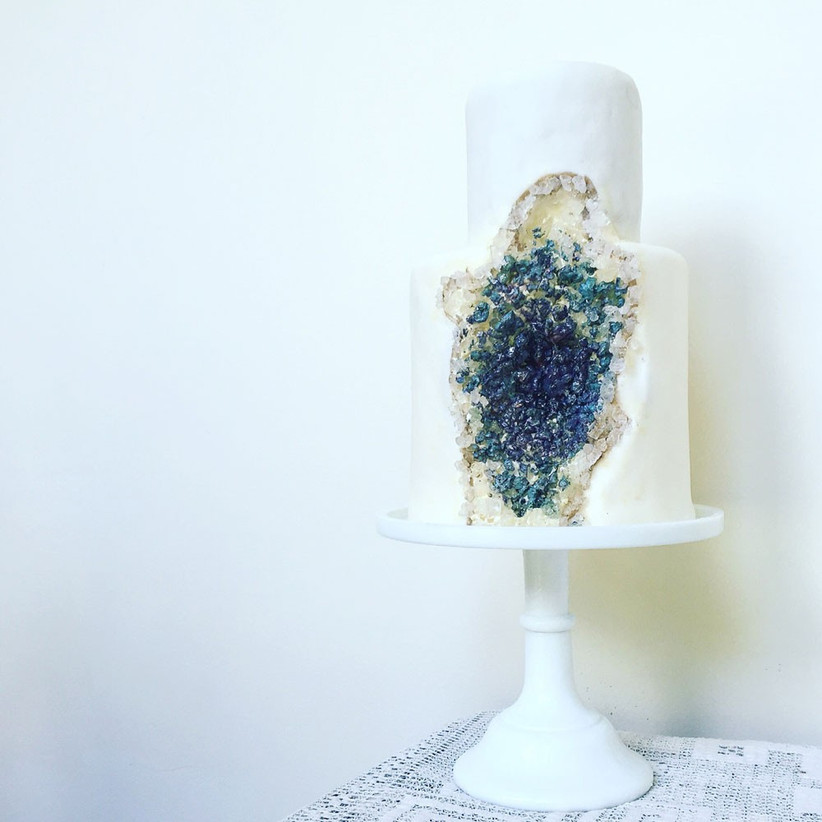 Image credit: Crumb & Berry
Star Themed Weddings
First geology, now astronomy – science has never been cooler when it comes to weddings. Jenny Packham recently revealed a beautiful star-print wedding dress and celestial stationery, starry décor and planet-themed table names are all seriously on trend.
Marbled Wedding Décor
This low-key wedding trend is about to go mainstream. Marbled wedding cakes are an easy way to ease yourself into the trend, but we've also got a guide to DIY wedding stationery which features a gorgeous marble pattern too.
Chalkboard Art
We've seen more and more of this rustic wedding trend here at Hitched HQ and we adore it. It's a stylish way to present your wedding signs, whether that's your favourite romantic quote or your wedding table plan. Embrace this trend now to be ahead of the curve.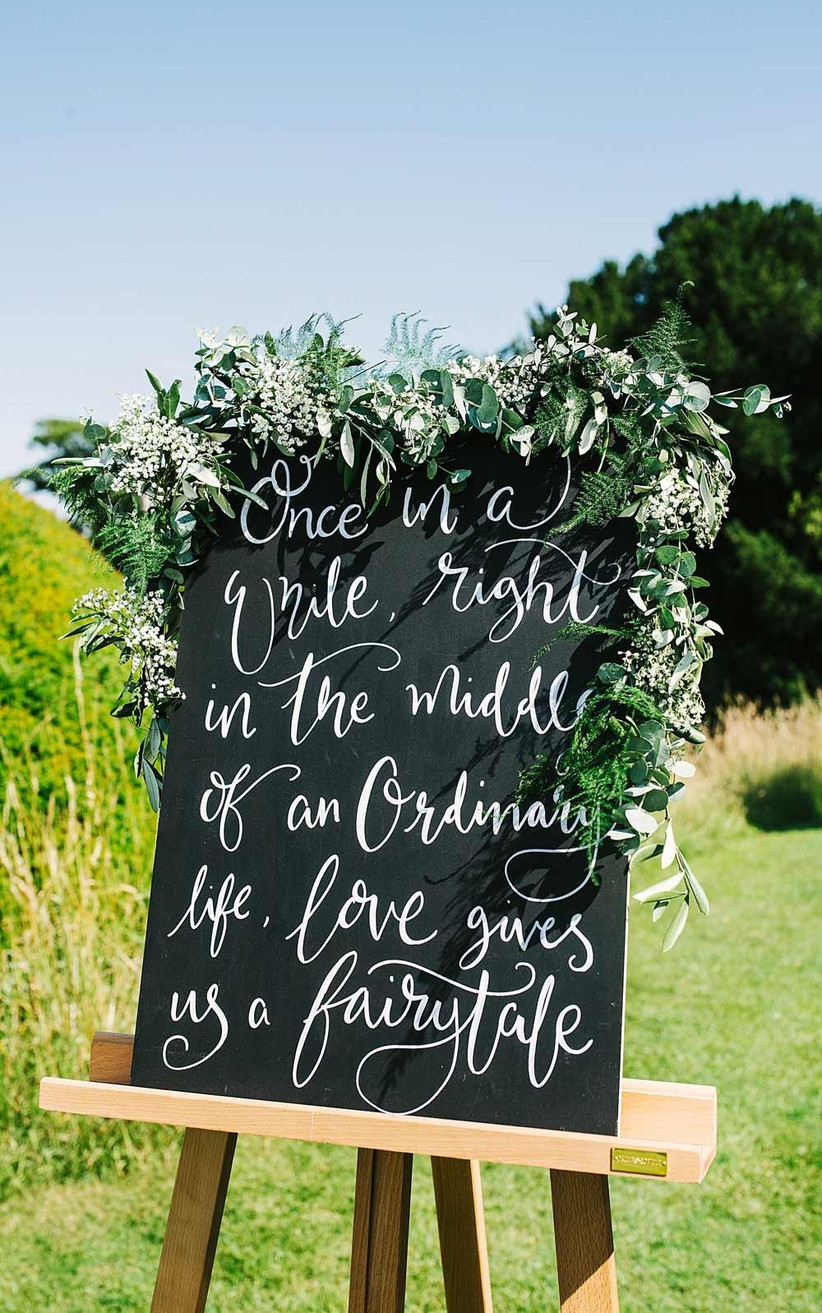 Image credit: The Chalk Spot
Has this got you totally excited about your wedding planning? Don't miss our 17 signs you're a wedding planning addict…