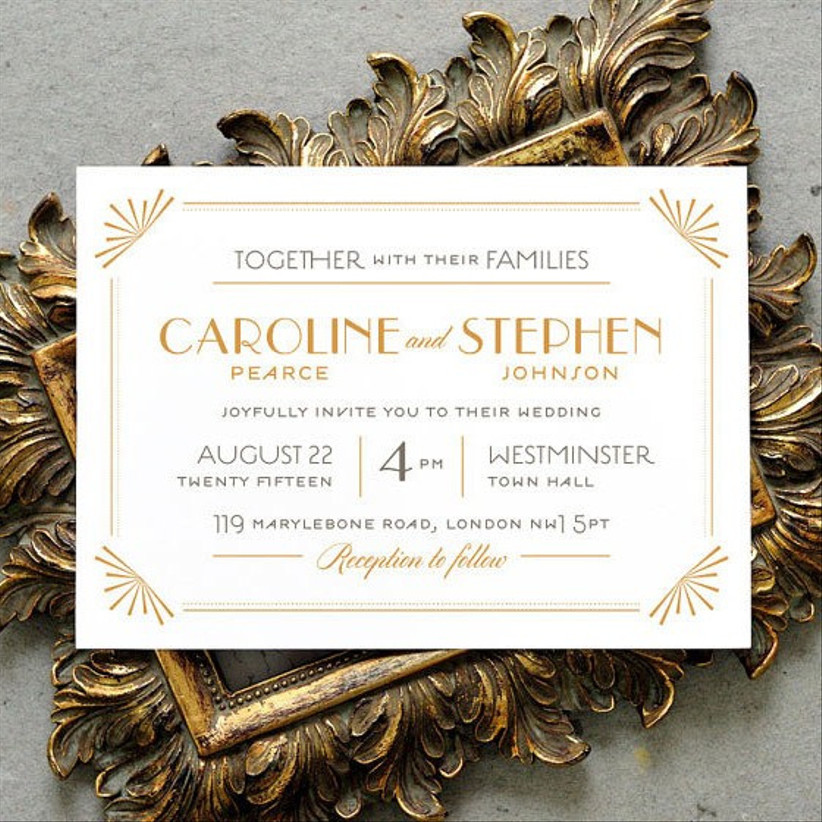 Choosing your wedding invites is an important task. The invitation gives guests the first taste of your wedding and it should reflect the amazing day that you are planning.
Wedding stationery can be an expensive business, which is why many brides are opting for printable wedding invites – where the supplier produces the invite and sends you a digital copy that you can print at home or take to your local printer.
There are some gorgeous designs available and we have selected some of our favourites.
READ MORE: What to Consider When Choosing Your Wedding Stationery
Junk and Glitter
These pink pretties from Junk and Glitter are perfect for a spring wedding and we love the informal font. If you like the artwork but aren't keen on the pink, you can choose another background colour.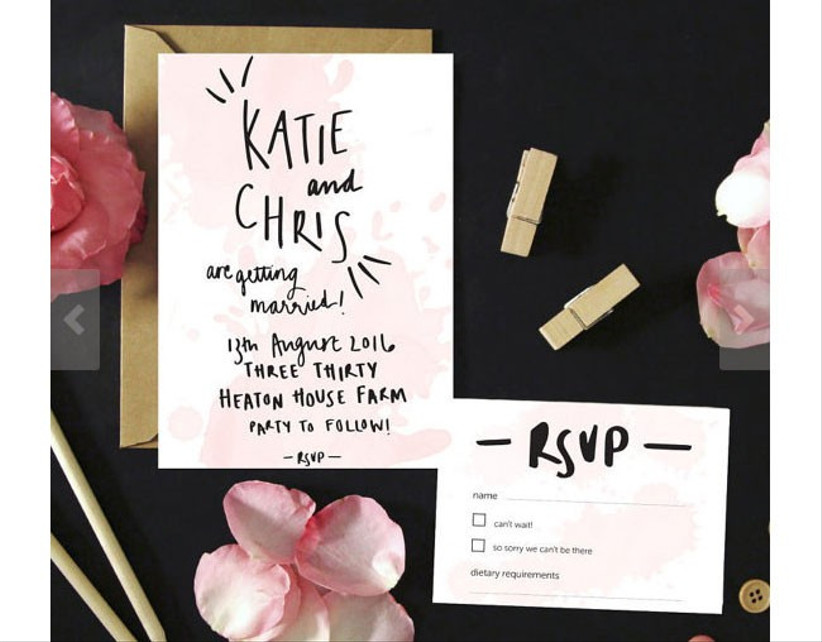 Wonderwall Print Shops
Manchester based stationery company Wonderwall Print Shop, have a range of awesome styles that give a modern twist to traditional romance. This floral wreath design is our favourite.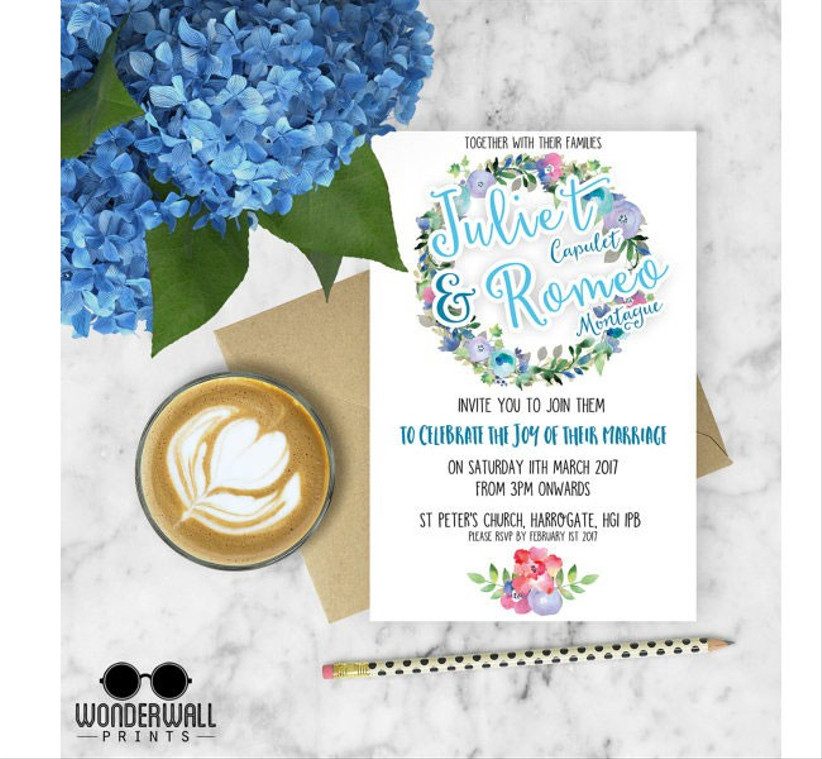 The Gold Studio
Perhaps you're saving you pennies for the wedding invites and want a cheaper alternative for your engagement party. We're obsessed with all things metallic and this simple design from the Gold Studio is super stylish and prices start at just £12. If you love metallics as much as us, check out these amazing metallic wedding cakes!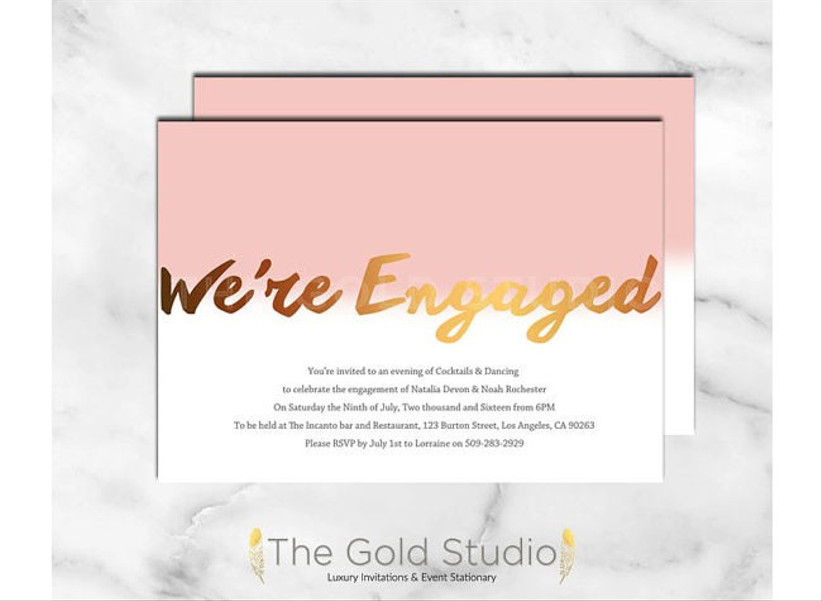 Your Mum Rang
If something traditional isn't for you, you might just love the invites by Your Mum Rang. Their funny designs are perfect for couples who love to party – this brilliant save the date is modern and fun. Can we go to this wedding please?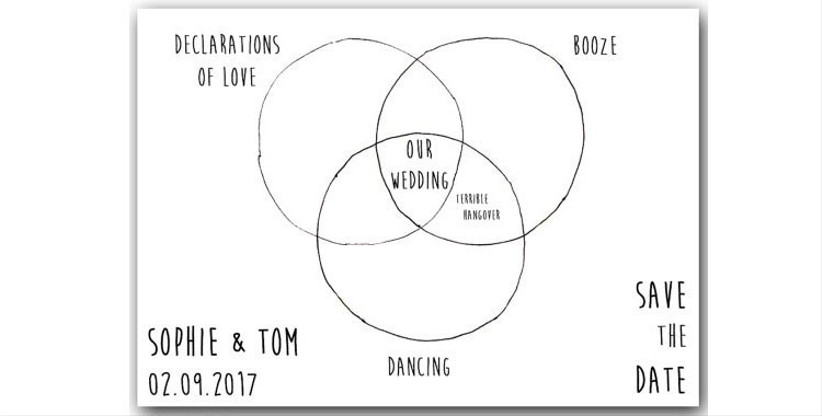 D Panesar Illustration
Bring a tropical feel to your wedding day with these invites from D Panesar Illustrations. We think the bright colours and bold fonts complement each other perfectly.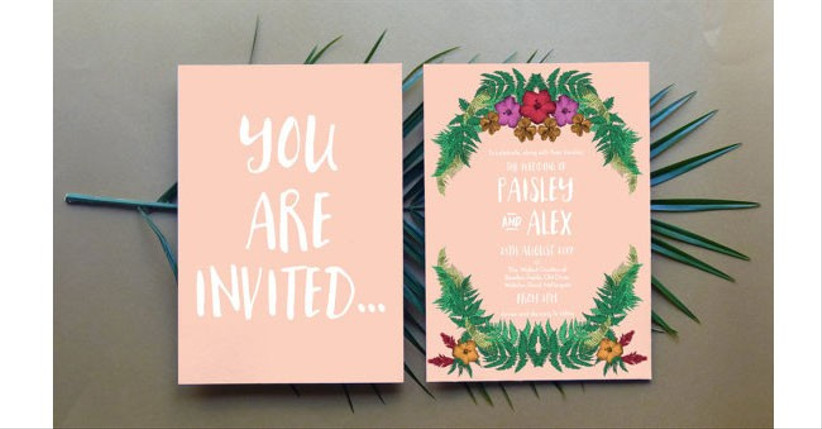 Jessie and Jabberwock
If you're having a summer garden wedding, this design from Jessie and Jabbewock is perfect for you. There's nothing like bunting and a bike to add a vintage feel!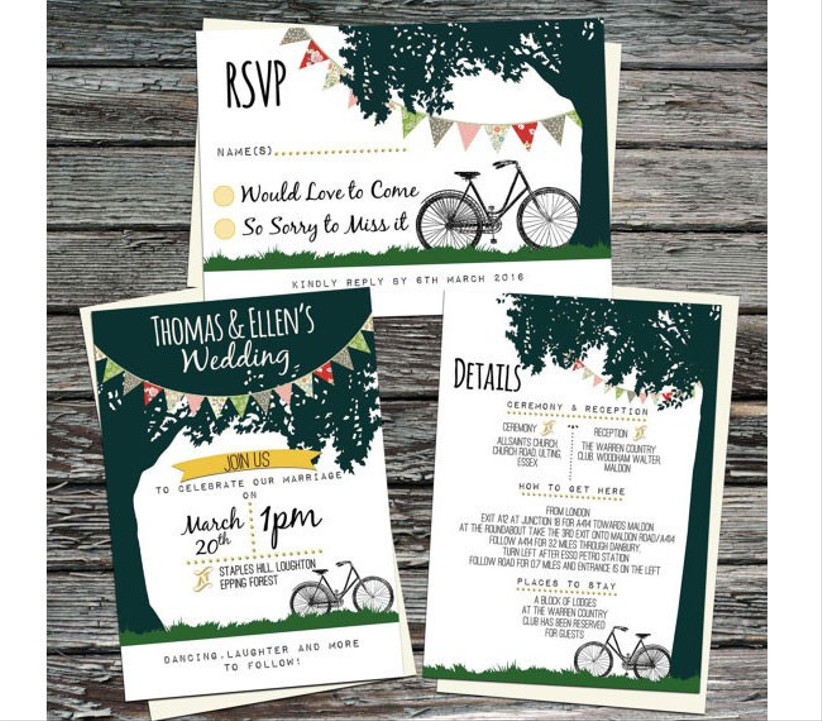 Designs AC
These lovely invites from Designs AC come complete with watercolour leaf details and the gold text can be changed to suit your theme (although we really love the gold!)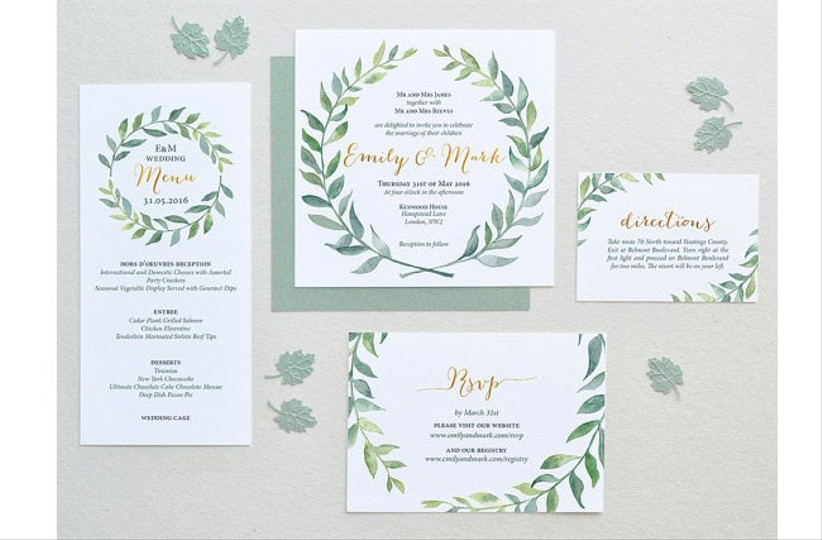 Retro Press
Retro Press have an amazing selection of invites in their boutique collection as well as offering a bespoke design service, creating unique artwork to match your style and theme. All their designs come with a PIY (print it yourself) option.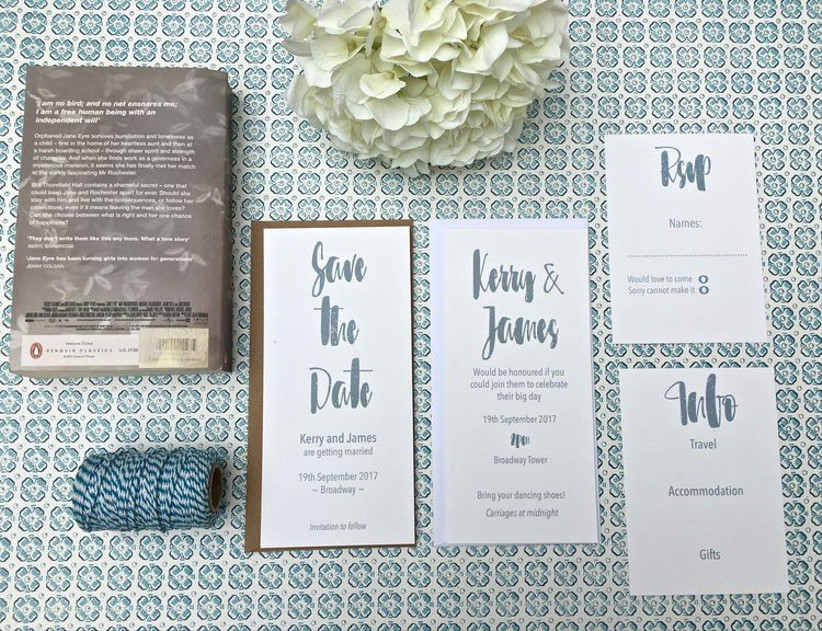 Appleberry Press
Appleberry Press have 3 self-print options, including this elegant a5 design which would be ideal for a vintage wedding. You customize the text at the point of ordering and the final design will be emailed to you!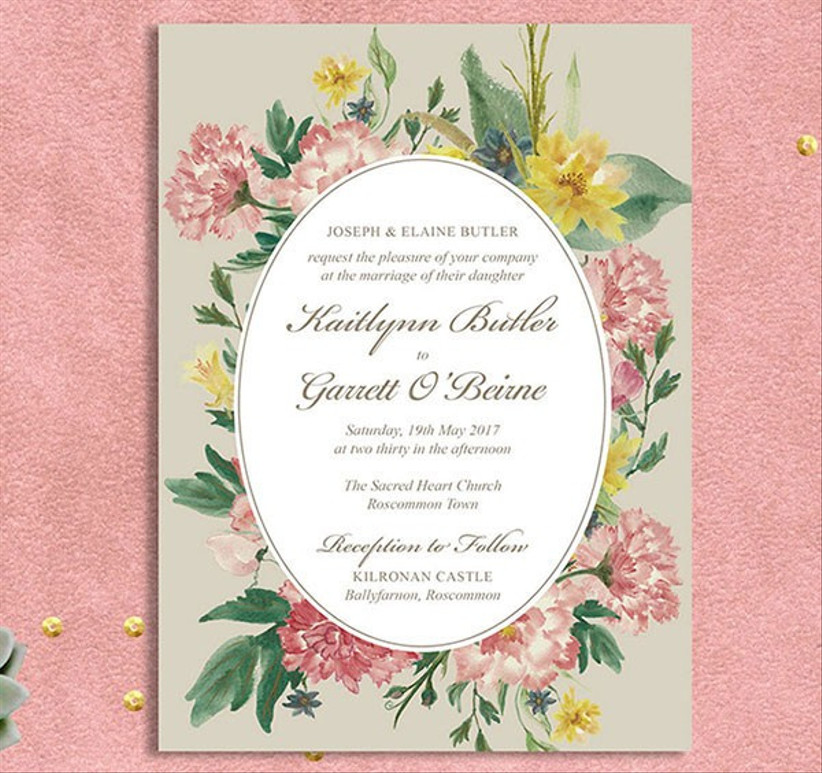 Heart Invites
This sweet design is by multi award winning wedding stationary designer, Heart Invites. They have a lovely selection of wedding stationery, from modern to vintage all their designs are super romantic.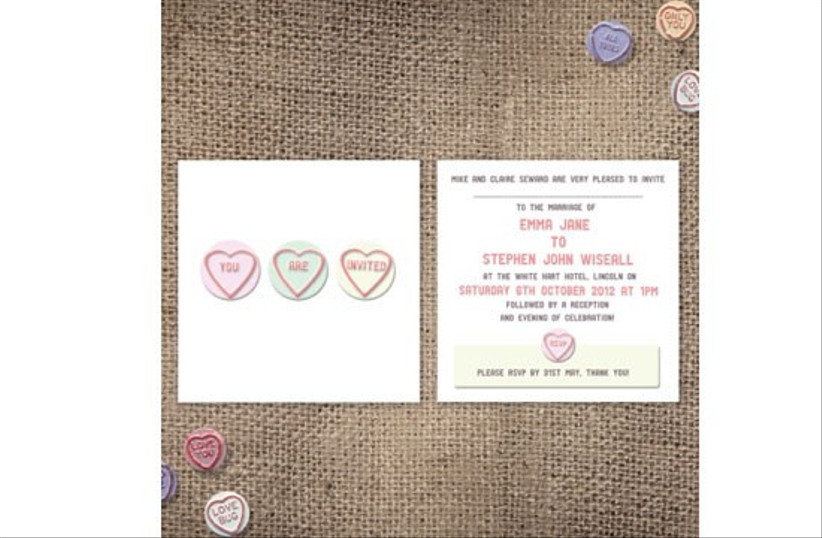 Printing Your Memories
We love that these invites from Printing Your Memories can be adapted to ensure the plane is making its way towards your wedding destination – perfect if you're having a wedding abroad. These are also a great option for travel-loving couples.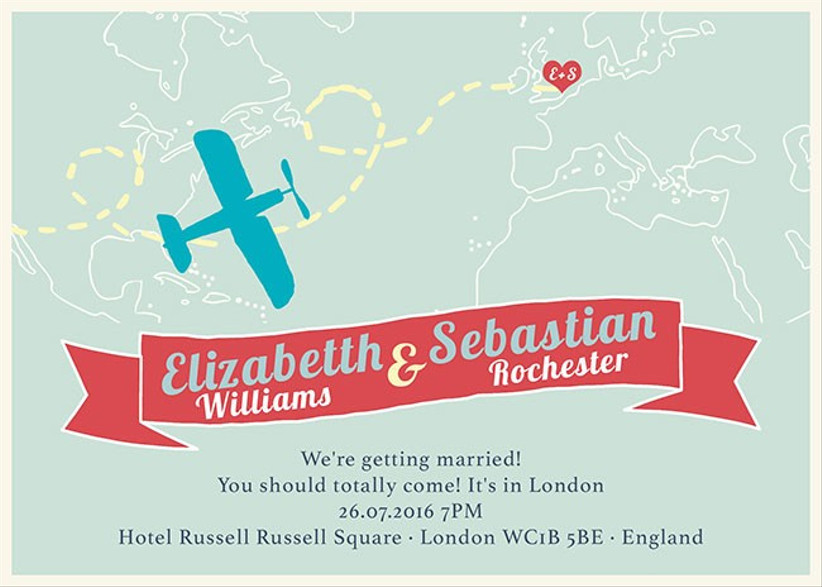 Amy's Avenue UK
This simple design is not only super pretty, but an ideal option if you're printing at home as it won't use too much ink! For £35 Amy's Avenue will send you digital copies of the invite, an RSVP card and personalised return address envelope designs.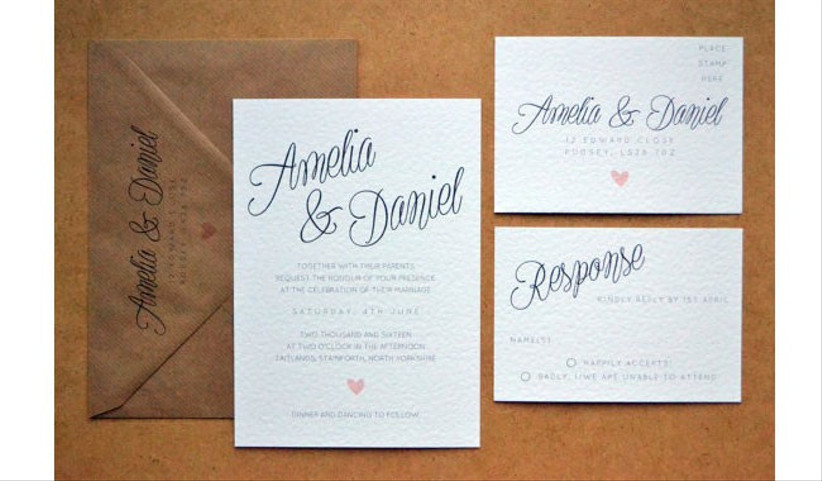 Penny Black Post
If you love the 1920s, you'll love the Glamourous Gatsby invites from Penny Black Post. The colours on the Art Deco invites can be fully customized to suit your theme. The final design comes in PFD or JPEG format.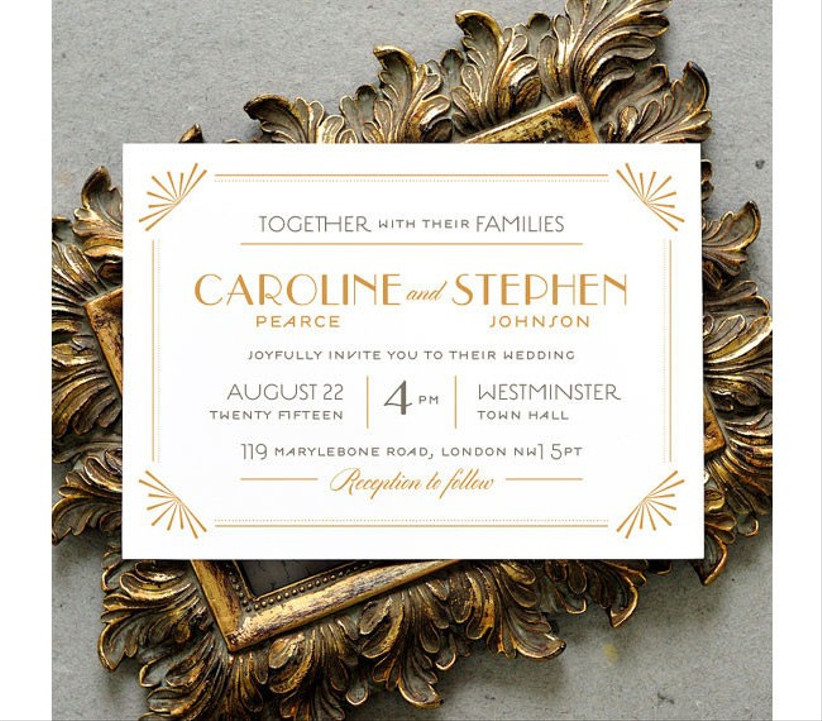 If you do decide to go for the self-print option, there are few things to consider:
Check The Details
Any reputable supplier will send you a copy of the invite to proof before producing the final version. This may sound obvious but make sure you check the details thoroughly and get at least one other person to have a read through too. Look for spelling errors and make sure all the important details are correct (especially the date, time and location.) Most suppliers will charge you if they have to make amends – not ideal if you've chosen the self-print option to save money.
Test Run Your Printer
If you are printing your invites at home, make sure you do some test runs before the full print run. Ensure you have the right sized paper and that it is lined up properly within the printer so that the font is central. Before you start, check that the printer is on the correct setting and that you have enough ink! Also bear in mind that they may come out a slightly different colour than on the screen.
Research Printing Companies
It may work out cheaper to get your invites printed professionally. Ask friends for recommendations and get the best deal possible by using the same company for all your printing, incuding name cards, the order of service and any signage you may need for the big day.
Once your invites are ready to go out to your guest, you will need to think about how and when you send them. Check out our guide for when to send your wedding invitations.