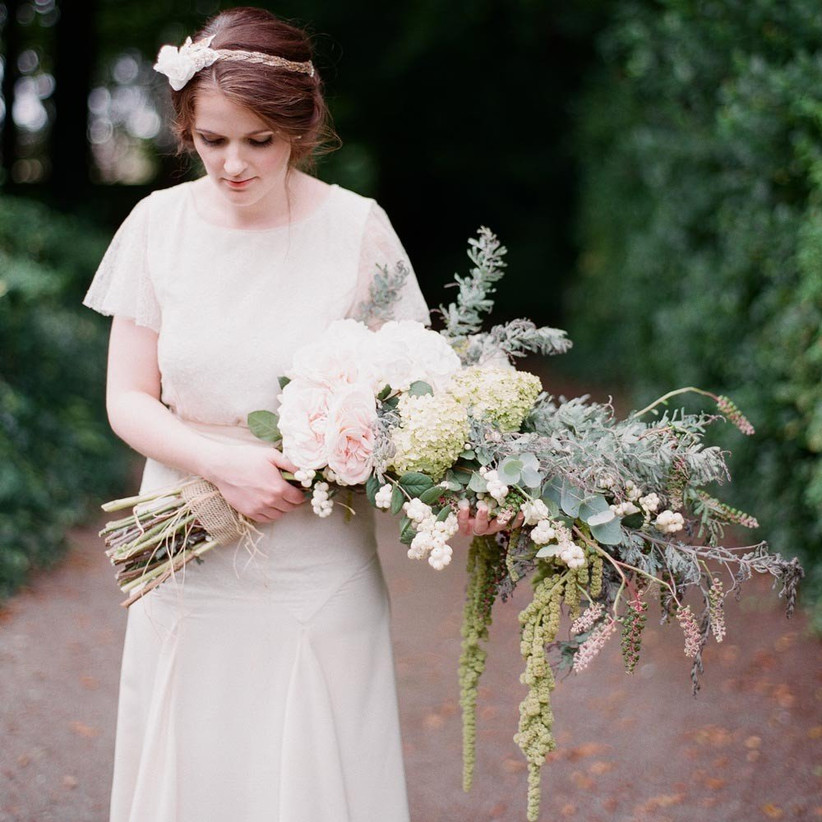 Picking your wedding bouquet can be a bit confusing – there are so many styles and types to choose from! Whether you want a themed wedding bouquet or a more traditional style, make sure you browse this guide to wedding bouquet styles, with everything explained in detail from expert florist and stylist Amy Bowley.
Amy Bowley runs Bo Boutique, a styling and floral set design studio based in London. She explains each style of wedding bouquet and what style of wedding and dress they'd suit!
Posy
A hand tied posy is a fairly tightly formed bouquet, perfect for a bride who likes simple clean lines with minimal fuss.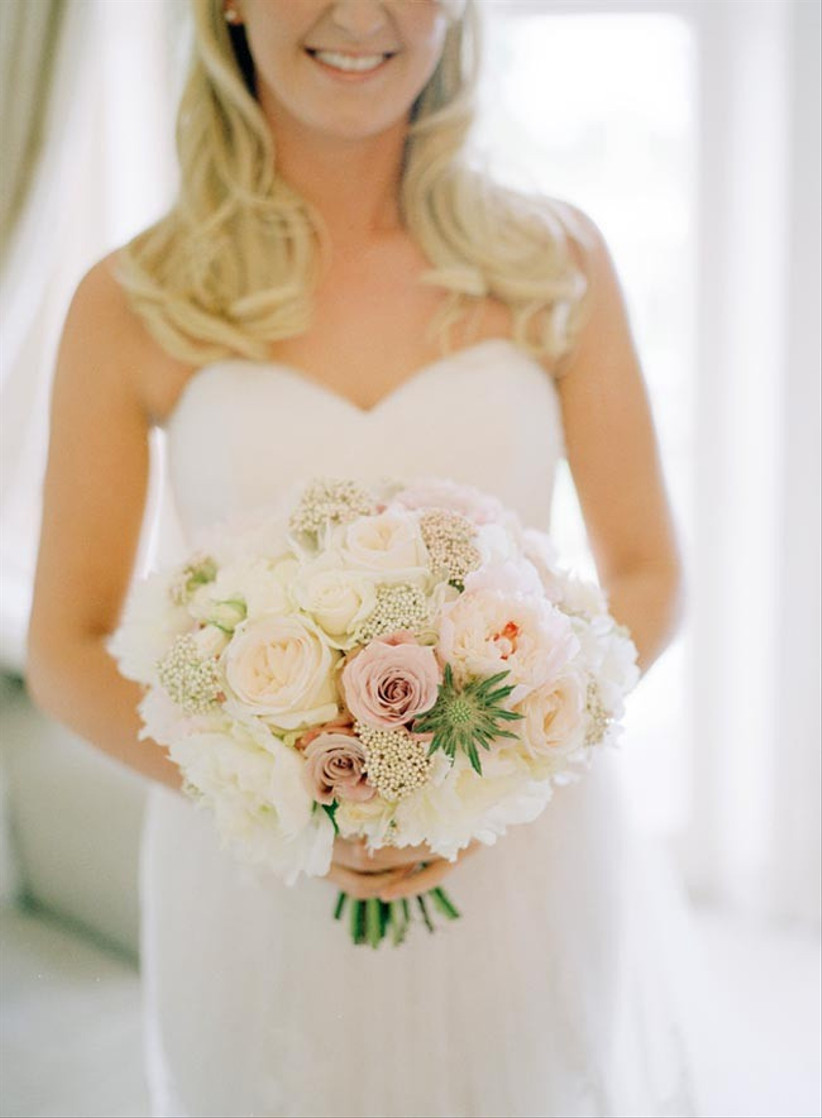 Image credit: Caught the Light Photography
Hand tied posies can range from a refined bouquet using just one type of flower, to a full blousy posy mixing a variety of flowers with large flower heads, such as roses, peonies and dahlias. Foliage is generally not incorporated in this style of bouquet, and if it is it is kept to a minimum and usually used to edge the bouquet. A hand tied posy is a great choice if you have an extravagant mermaid wedding dress and you don't want your flowers and dress to compete against one another. This style of bouquet is also perfect for bridesmaids, and works well alongside a rustic style of bridal bouquet.
Teardrop
This style of bouquet was very fashionable in the 70s and 80s, and is currently undergoing a bit of a revival. This style of bouquet requires ample wire work, where individual flowers are wired to form a layered trailing teardrop shape.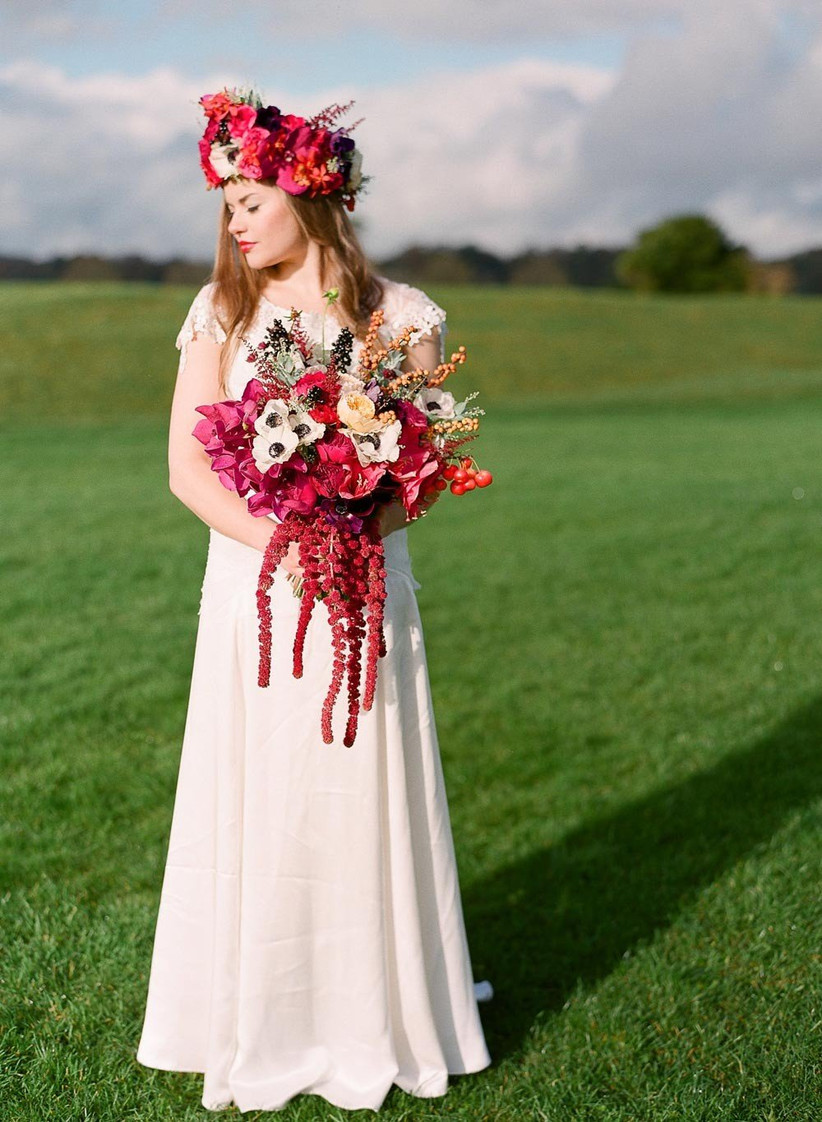 Image credit: Laura Murray Photography
The new movement of bouquets however, are embracing the teardrop shape but in a looser more relaxed form, using naturally trailing florals and foliage, such as trailing amaranthus to provide the shape but with natural movement rather than the rigidity of wired flowers. This style of bouquet can be as formal or as wild as you like, and would complement a simpler gown that can take a more statement bouquet.
Presentation
Again this is a style of bouquet that is gaining popularity among brides with a contemporary and chic style. Traditionally this bouquet incorporated more streamline flowers such as calla lilies, orchids, delphiniums and long stemmed roses.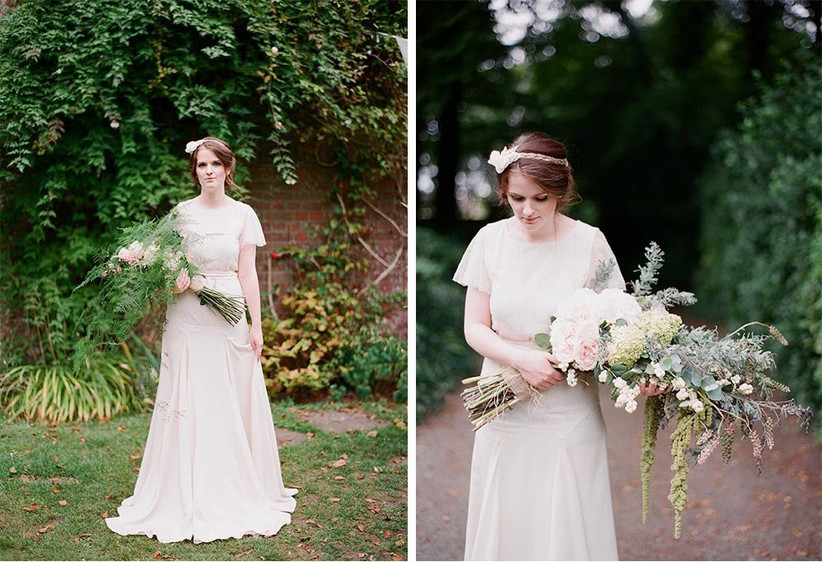 Image credit: Michelle Boyde
Nowadays though, with the contemporary movement of rustic and organic floral design, the presentation bouquet has become quite the style statement, creating a draped bouquet over the arm rather than a more structured bouquet which lies along the forearm. The new era of presentation bouquet uses oversized blooms such as hydrangeas, dahlias, and garden roses, with trailing elements such as amaranthus and asparagus fern. This style of bouquet works well with a streamlined or a simple A-line wedding dress.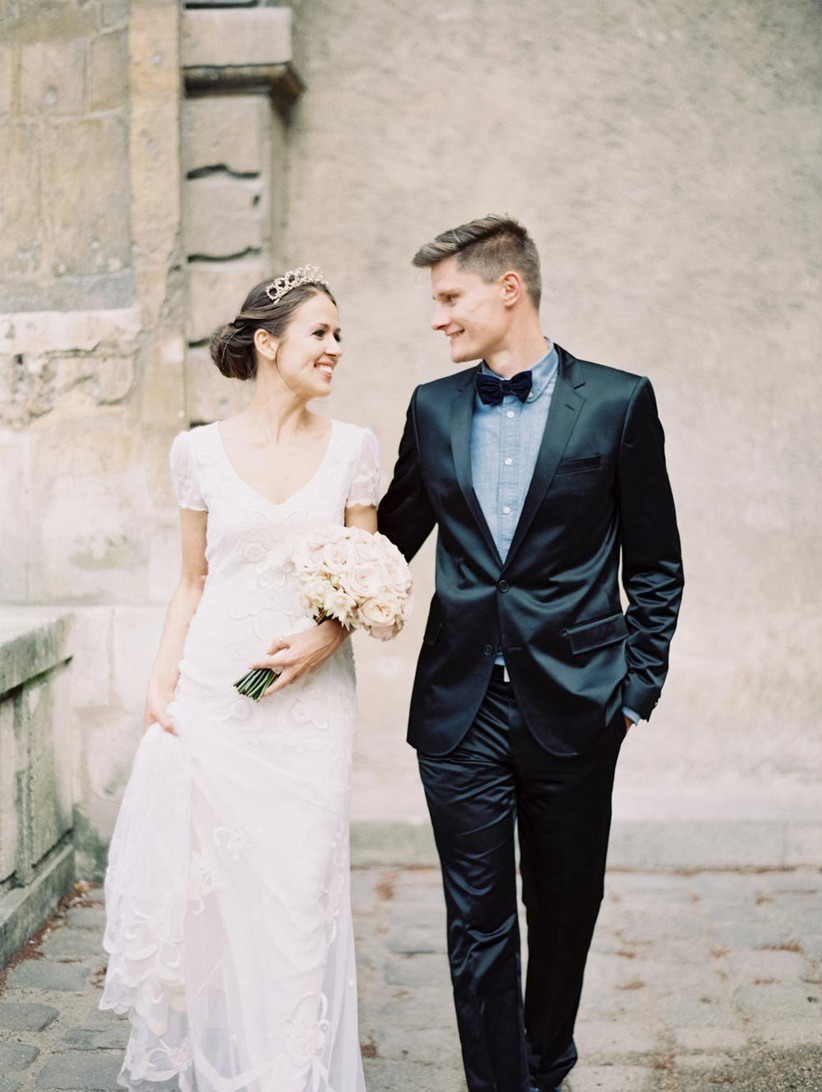 Image credit: Laura Gordon Photography
Nosegay
This style of bouquet is very similar to a posy however slightly smaller and usually incorporates more foliage. This bouquet would be an ideal bridesmaid bouquet!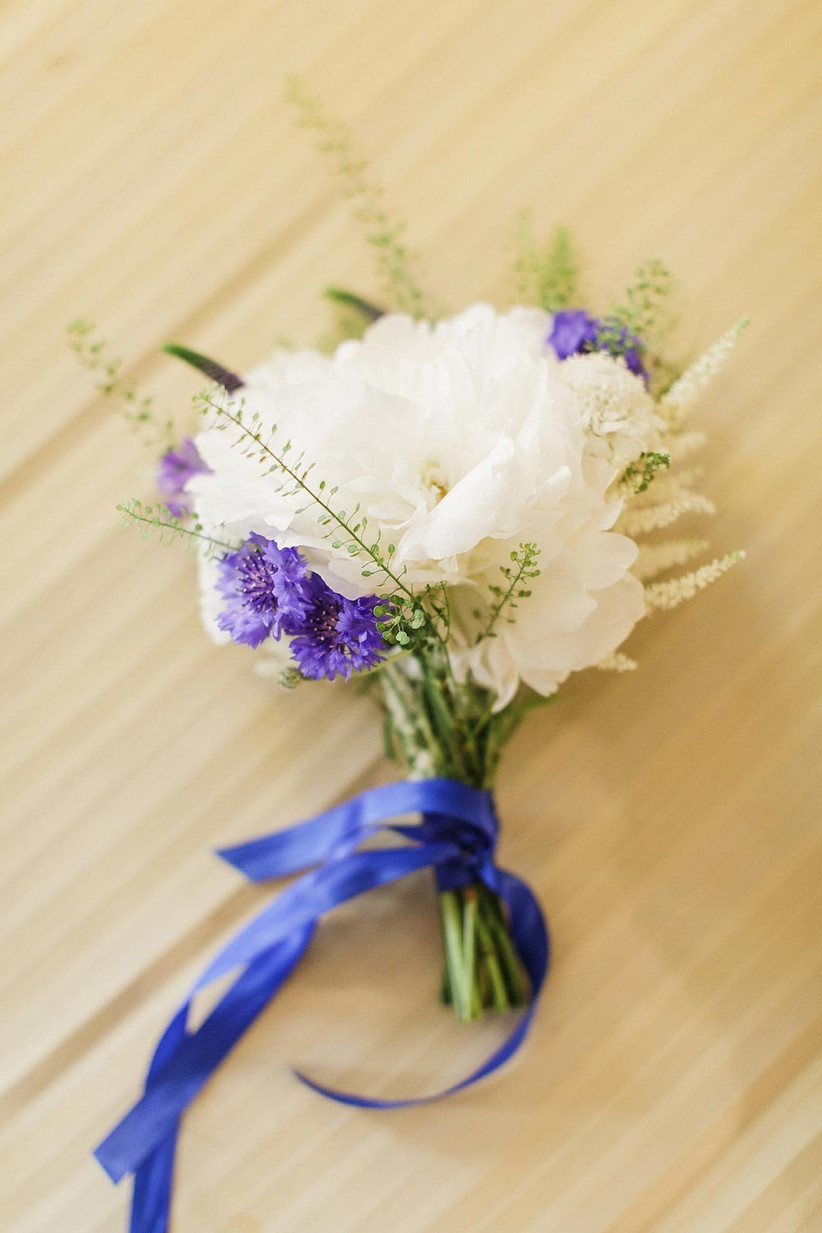 Image credit: Sarah Gawler Photography
Rustic
This bouquet is the most common among brides today, and this style has no bounds. Foliage and flowers with differing stem length are used to create a very relaxed bouquet which is far less formal and much more organic than the posy style.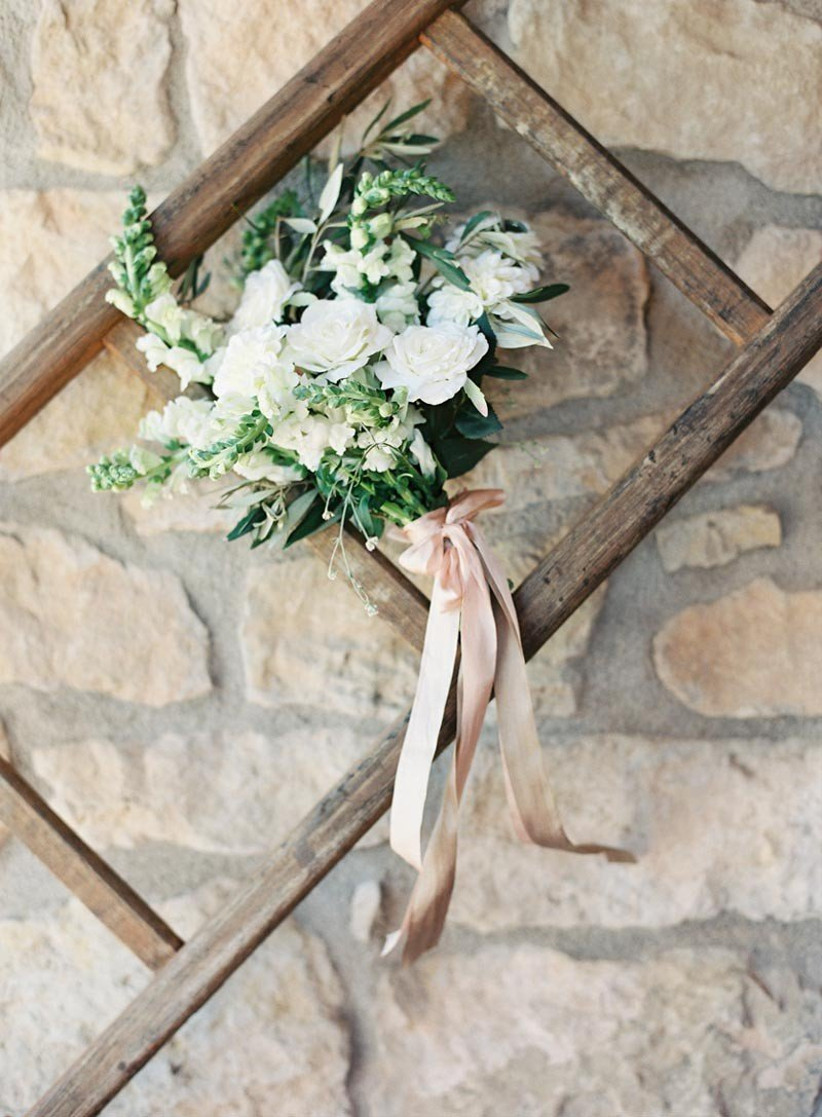 Image credit: Sarah Hanham Photography
There are no limits to the types of flowers and foliage used in this style of bouquet, which is why it is such a great choice for brides who want to put their own stamp on their wedding flowers, whether that be a country hedgerow style bouquet or a luxe and loose bouquet incorporating statement blooms. This type of bouquet suits a bride who wants to step away from tradition and convention and who wants to make a tasteful statement without going too over the top! If you want a rustic bouquet, why not consider a rustic wedding venue too?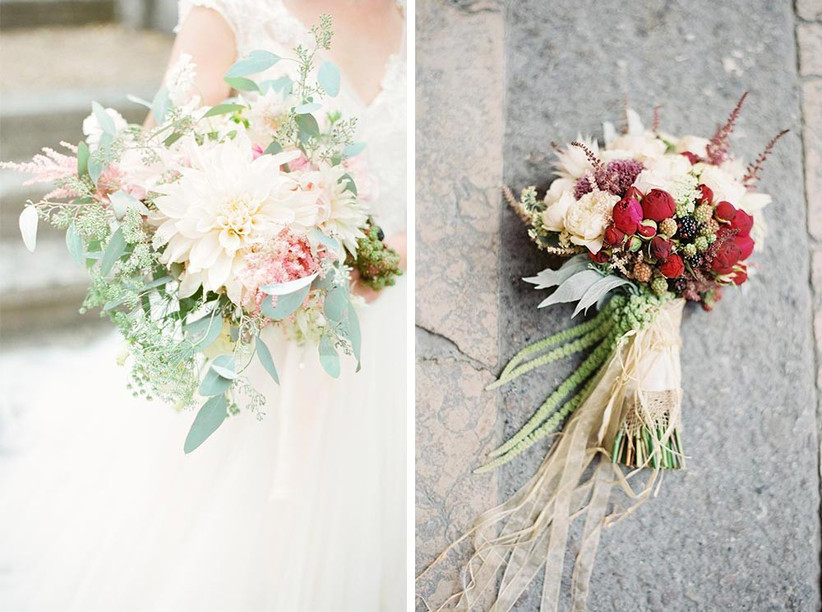 Image credit: Emma Wyatt Photography, Laura Gordon Photography
Fine Art Bouquet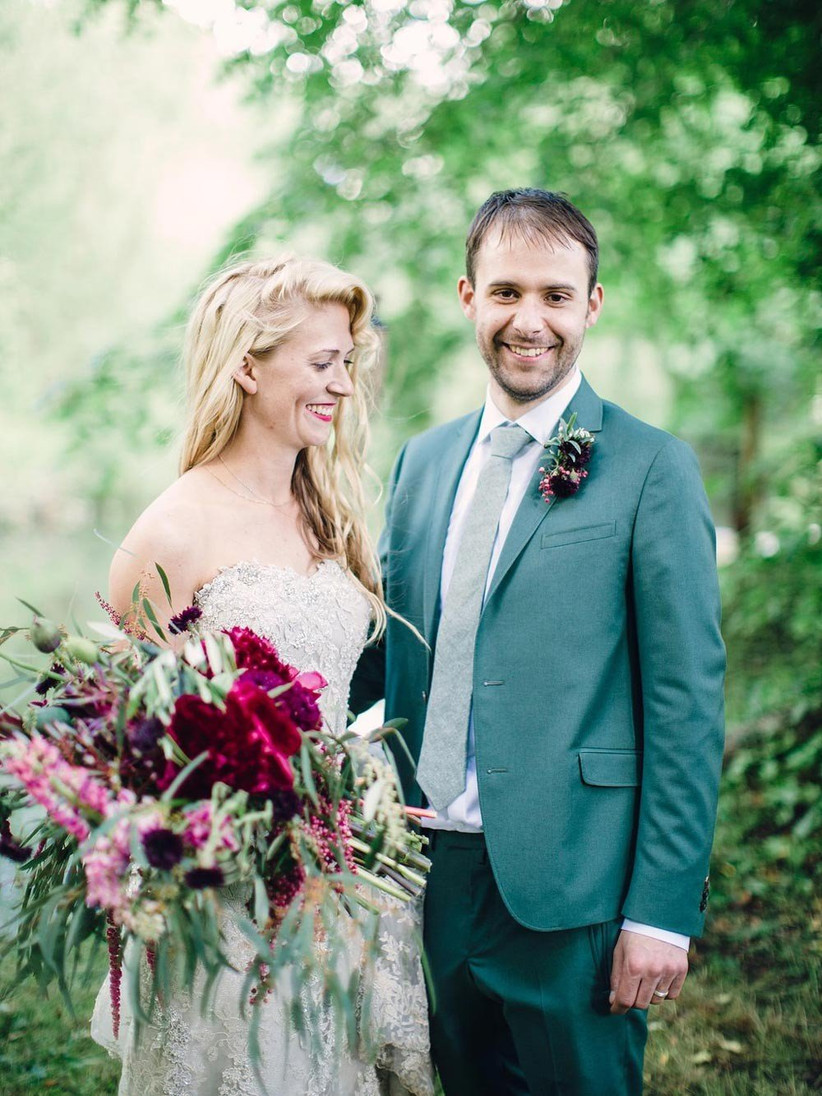 Image credit: Wookie Photography
This is the term used to describe the highly popular bouquet of the moment, which in principle is an expanded version of the rustic bouquet. This bouquet style is much larger and looser in form than the rustic bouquet, made with a base of foliage and large statement blooms incorporated within.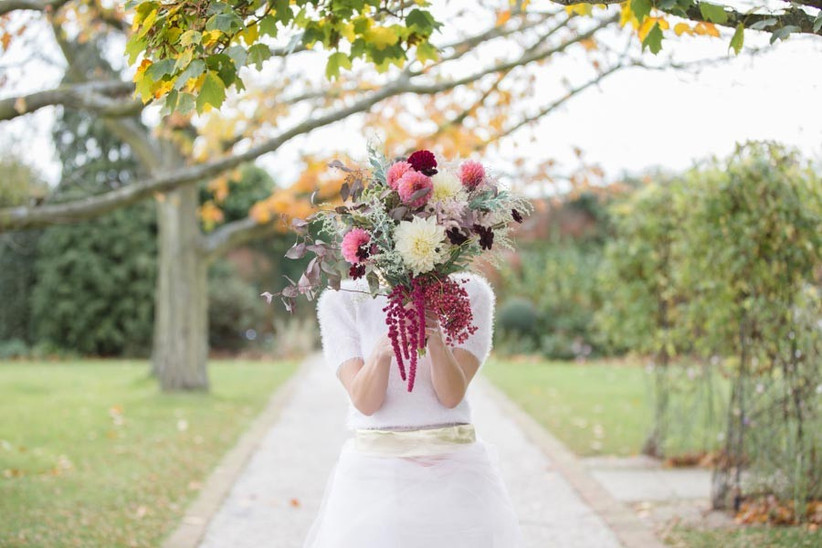 Image credit: Ilaria Petrucci Photography
The natural form and structure of each flower stem is embraced which results in an overall asymmetric shape with trailing tendrils and organic movement. This type of bouquet is often tied with long trailing silk ribbon in complementary colours, and is perfect for any bride who wants to express her personality and make a style statement.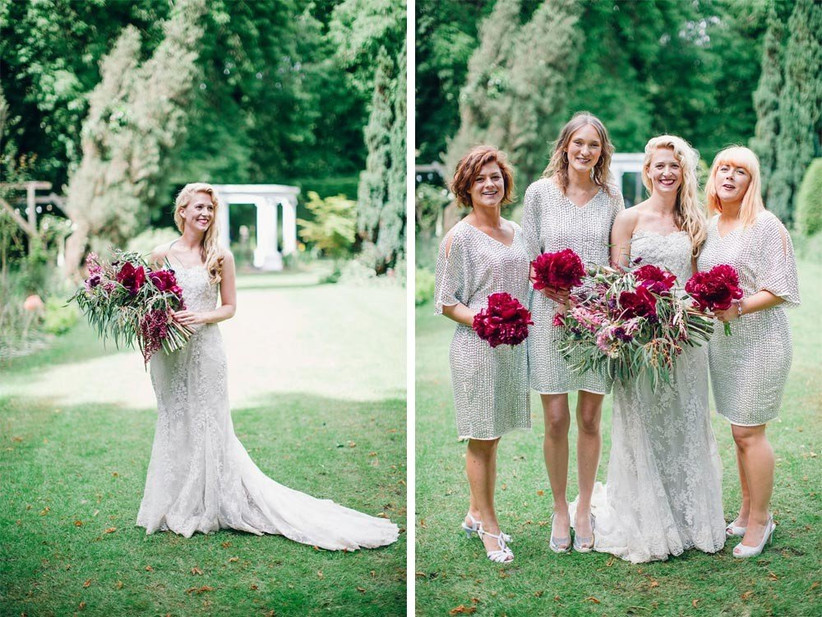 Image credit: Wookie Photography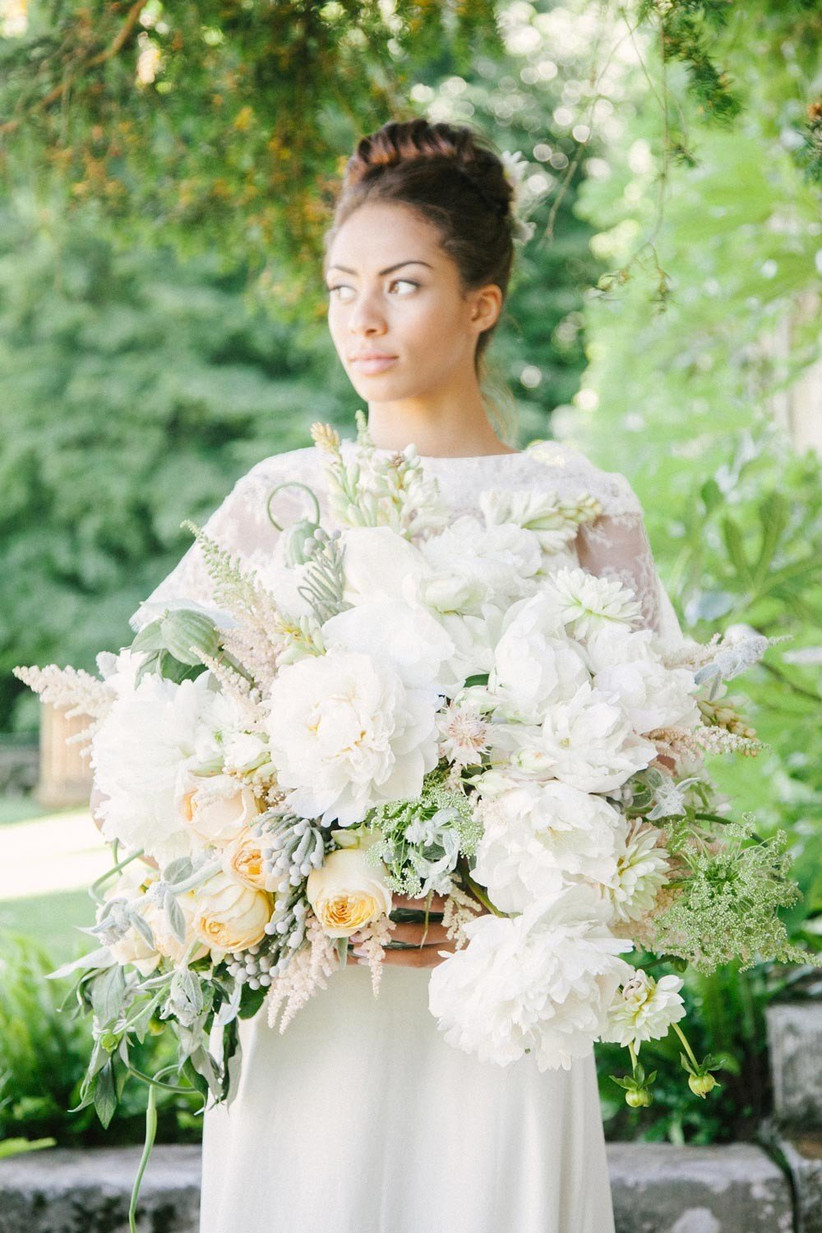 Image credit: Izzie Rae Photography
Crescent
This is a style of bouquet less commonly seen these days, and similarly to the teardrop style, incorporates wirework. This style of bouquet works well with spring flowers as well as orchids, to create that more structured shape. This would suit a bride with a more tailored look.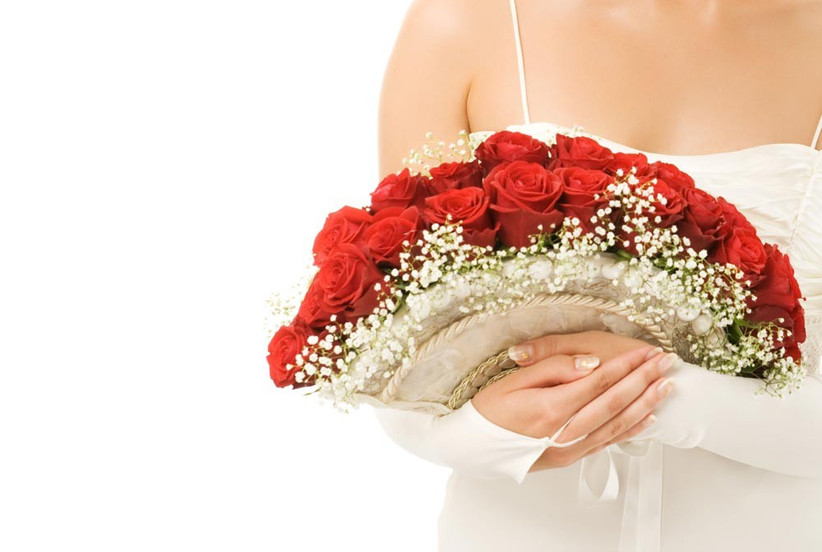 Pomander and Basket
Both of these types of bouquet are most commonly carried by flower girls. The pomander is a ball of flowers, usually roses, suspended from ribbon which is looped over the arm. This is a favourite for little flower girls who want to hold something and perhaps aren't comfortable with wearing a flower crown.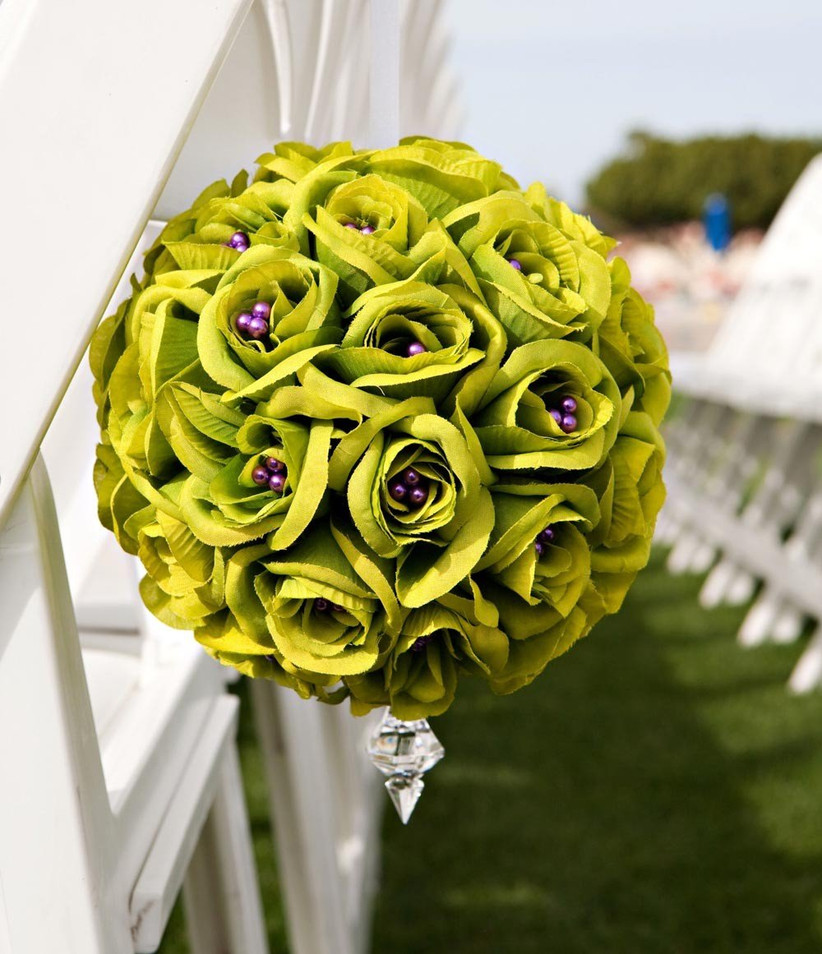 The basket is just that; a small handheld wicker basket filled with flowers, again usually roses or hedgerow style flowers. If you want an unusual or statement bouquet like the ones above, why not consider making paper wedding flowers?
For more information about Amy and Bo Boutique, you can visit her website.
Once you've decided on what style of wedding bouquet you'd like, why not look at making your own wedding bouquet?