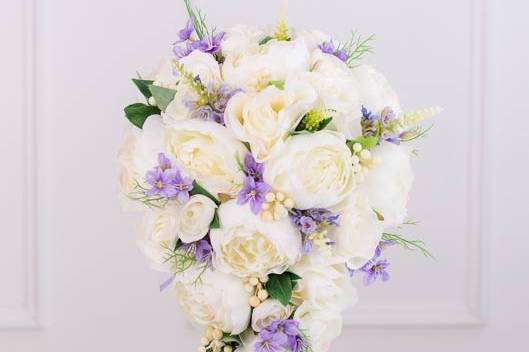 Wedding flowers are one of the prettiest aspects of a wedding and one way to increase the beauty even more is to have a cascading bouquet.
These floral arrangements trail so beautifully and whether it's a rustic bouquet or flowers fit for a glamorous wedding, this style of bouquet will always look incredible.
Pastel Cascading Wedding Bouquet
If your wedding colour scheme is everything shabby chic with pale pastel colours everywhere, then a bouquet like this will fit in perfectly. The beauty of a cascading bouquets is they can carry on for as long as you like so if you are totally obsessed with your wedding flowers, ask your florist to make it as cascading as they possibly can.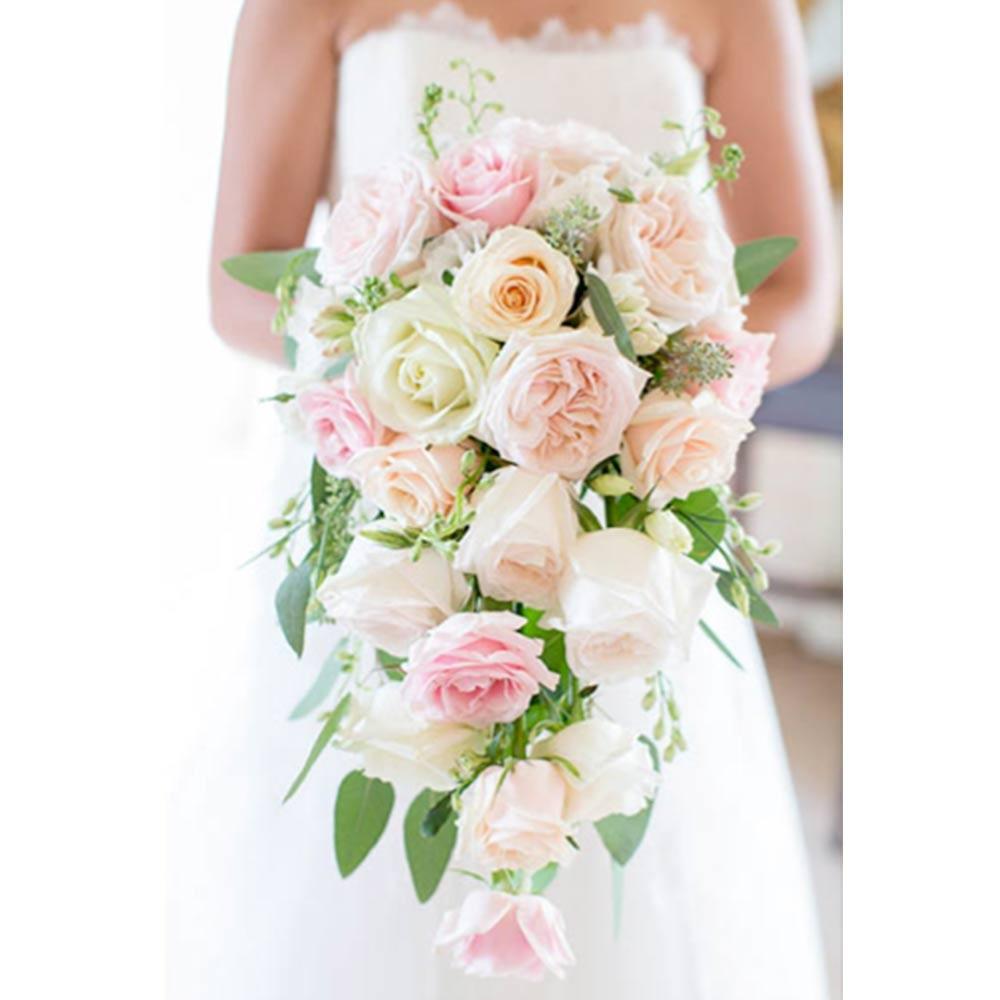 Florist: The Fine Flowers Company
Elegant Cascading Wedding Bouquet
This wedding bouquet took us all by a storm in the Hitched office. The mix of deep purple, pastel pink and ivory roses give the bouquet so much personality and elegance. We absolutely love the cascading element to it being made almost fully from botanical and leafy plants which fall so beautifully.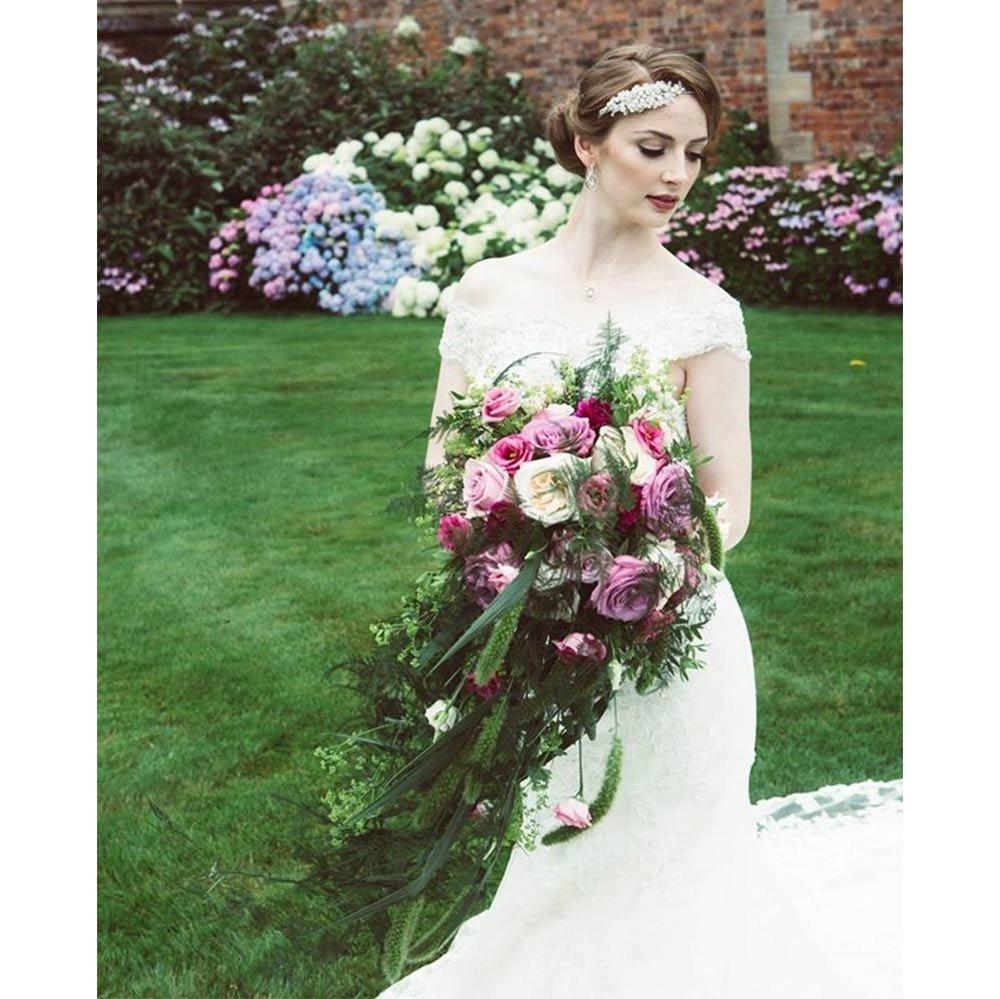 Image Credit: Dorfold Hall
Lilac and Ivory Cascading Wedding Bouquet
Brides who prefer a wedding bouquet which is put together with more of a structure to it will adore this beautiful arrangement. The clean V-shape comes to a lovely point and it cascades perfectly. The predominant ivory flowers are joined by the odd show of lilac which is such a beautiful touch.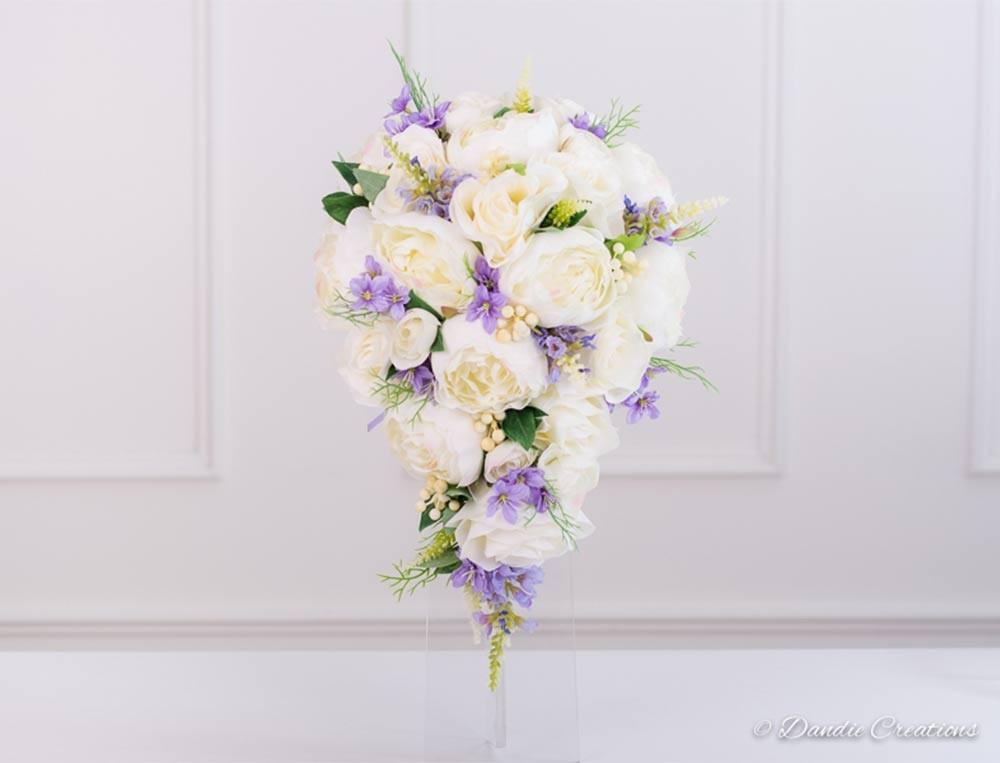 Florist: Dandie Creations
Rustic Cascading Wedding Bouquet
Rustic bouquets and rustic weddings go hand in hand and this particular arrangement of flowers is truly something special. The autumnal colours complement each other so well, we love the way the orange, mauve and dark green blend together.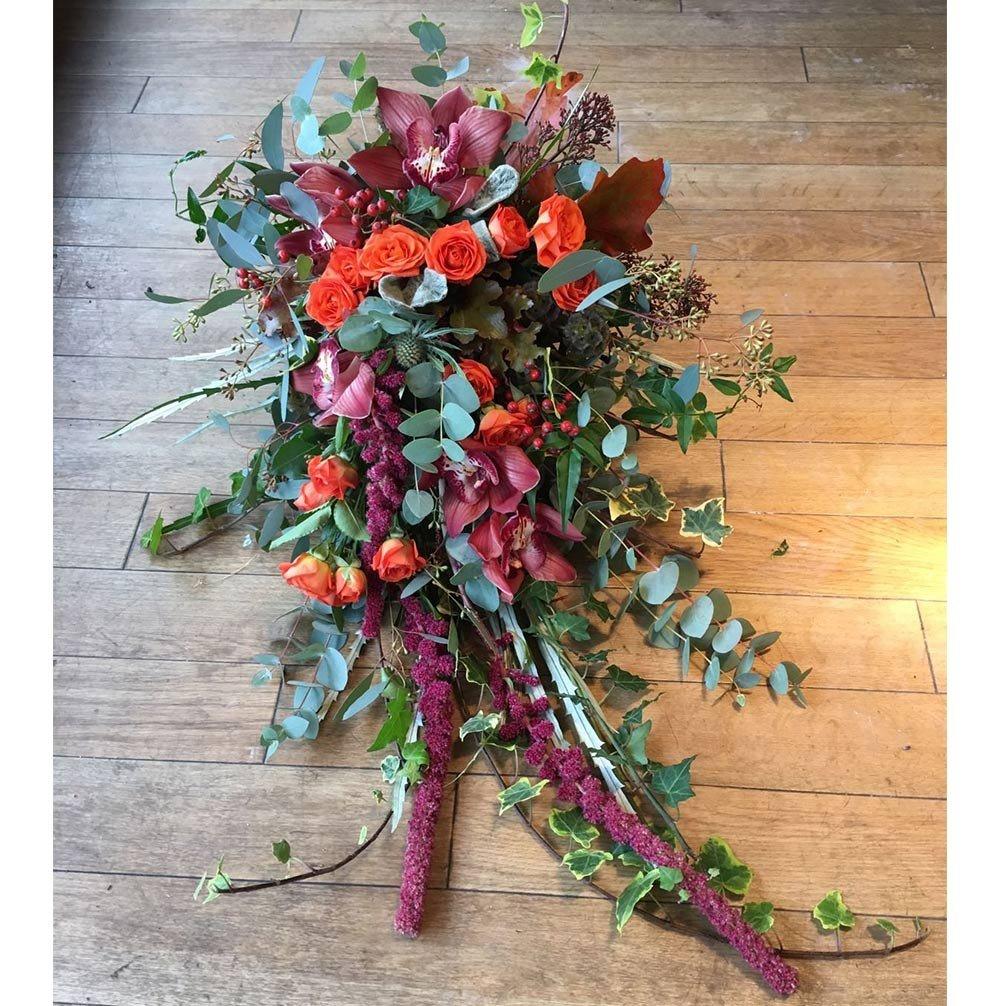 Florist: Sonning Flowers
Brightly Coloured Cascading Bouquet
For a vibrant look, colours like this electric blue and lilac can be great for a bouquet. This arrangement of cascading flowers has a thinner shape and trails beautifully. It's the perfect size for a bouquet with such gorgeous bright colours and would look amazing at a wedding in the height of summer.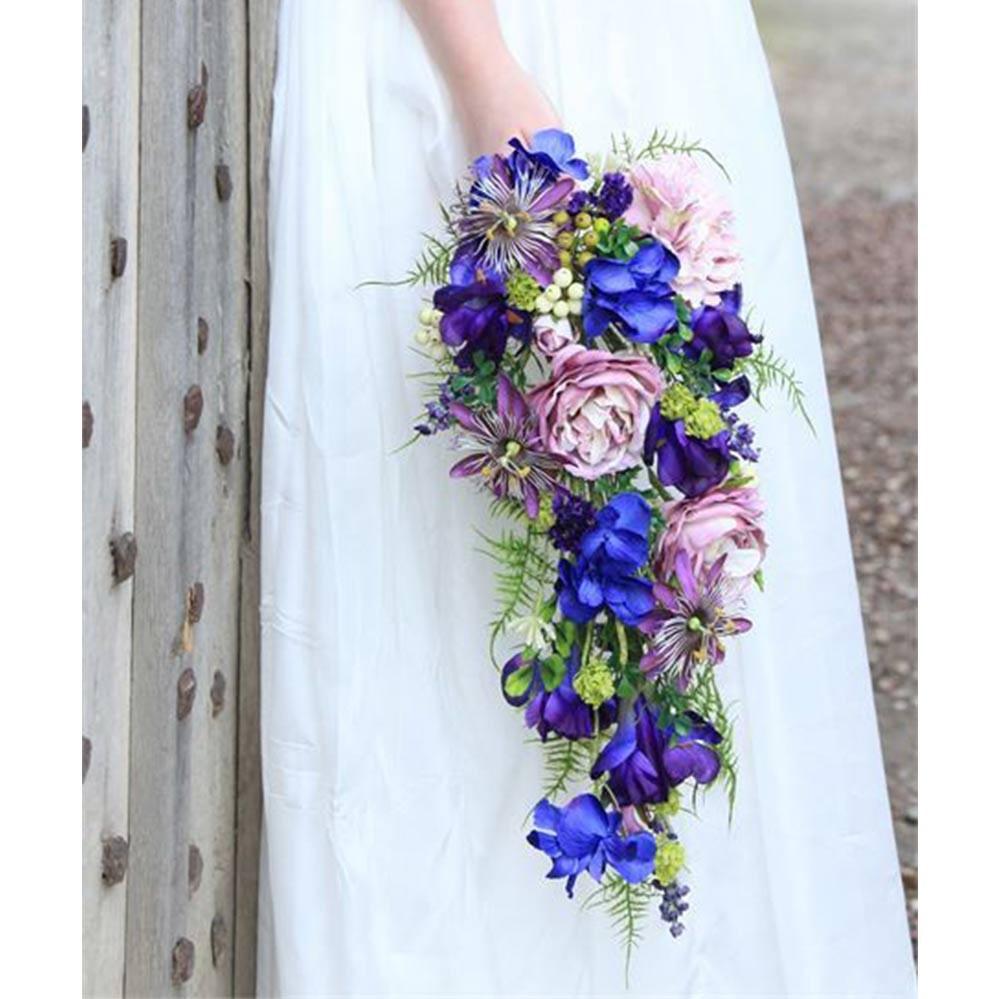 Image Credit: Ludlow Castle
Ivory Cascading Wedding Bouquet
A simple wedding dress and classic sophisticated make up is the perfect way to complement this beautiful ivory wedding bouquet. We love the elegance of the flowers and the shape is structured and stunning.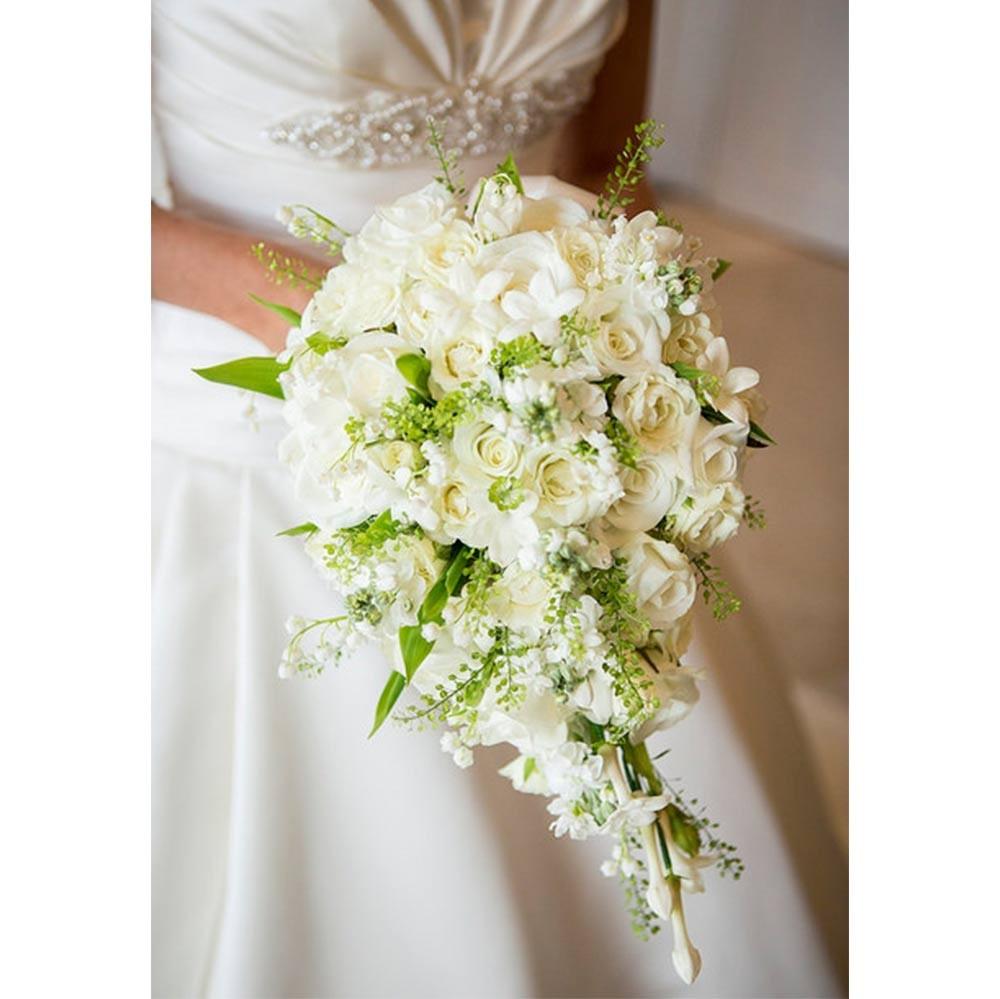 Florist: Moutan Florist
Pretty Pink Cascading Bouquet
This gorgeous flower set just makes for the prettiest picture. It's an amazing example of how your other wedding flowers such as your bridesmaid bouquet and buttonholes will look in comparison to your beautiful cascading bouquet and, well, it's plain as sight to see how well it works in this case. We love the way the pink bouquet has small white flowers cascading, it's so delicate!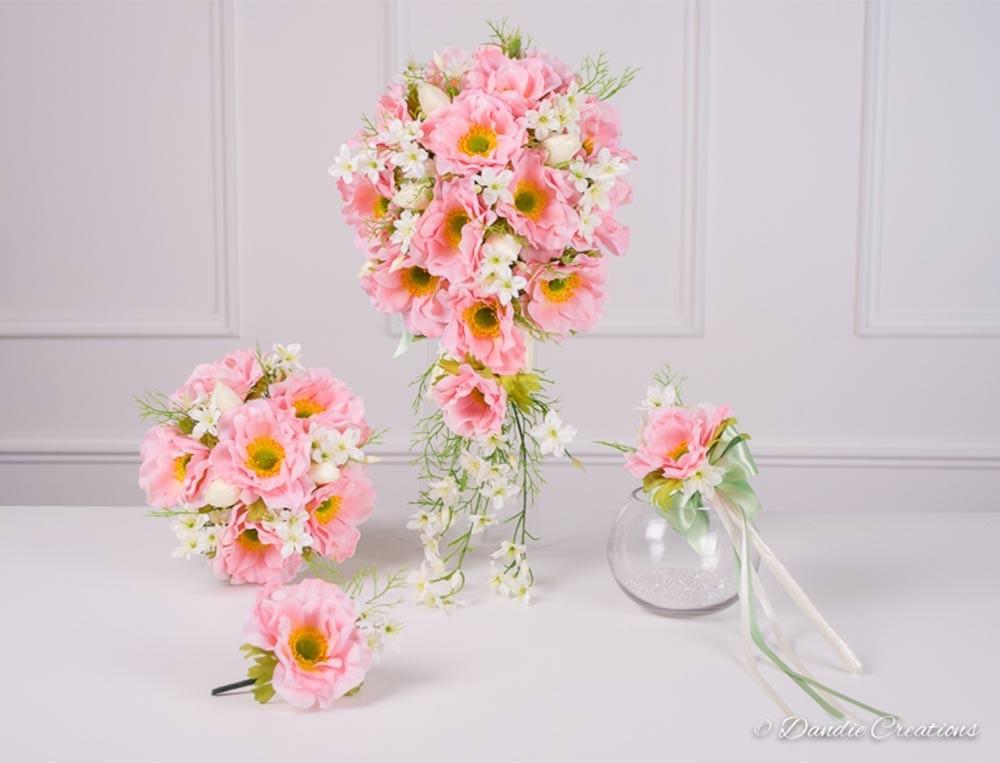 Florist: Dandie Creations
Mixed Floral Cascading Wedding Bouquet
The range of different flowers in this gorgeous cascading bouquet is really unique and it's beautiful to see how the different styles and colours all work so well together to create something totally worthy of a wedding. The pastel colours really stand out against the greenery and the way the leaves fall is really pretty to see.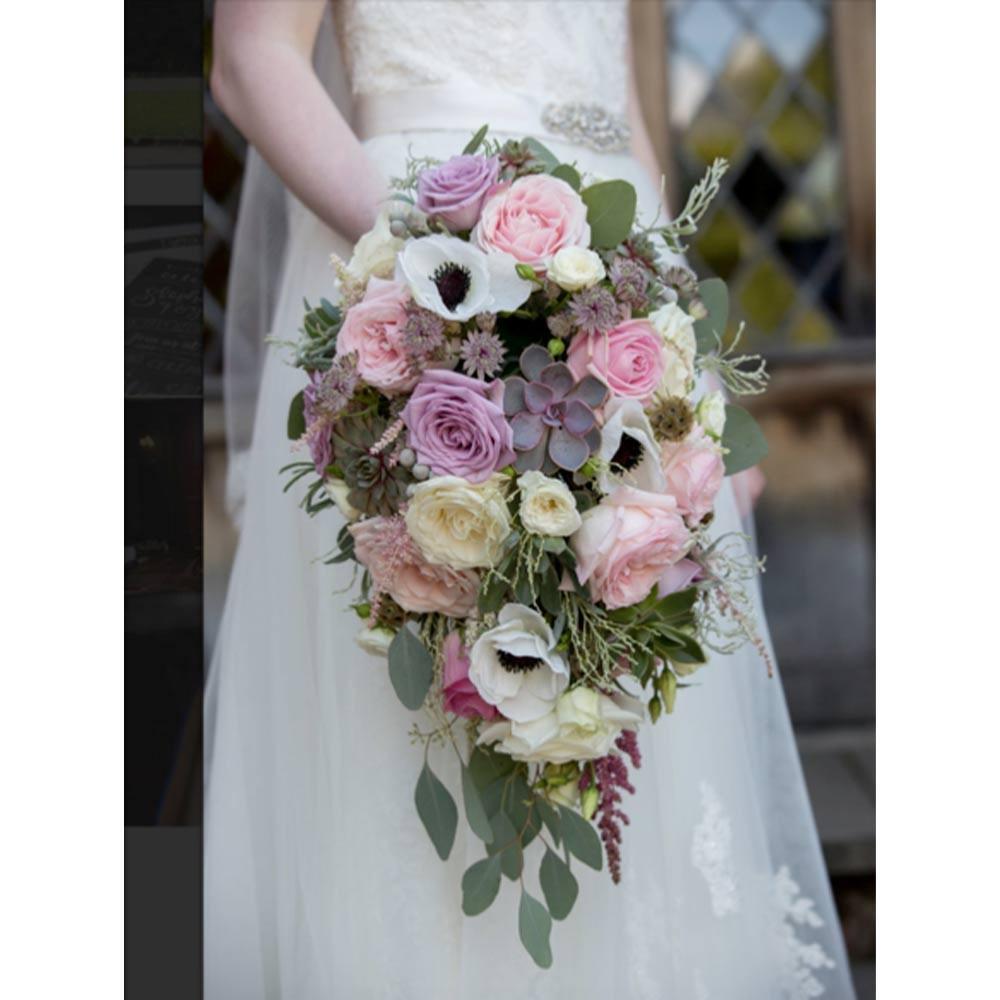 Florist: Fine Flowers Company
Stunning Cascading Wedding Bouquet
This is a really unique style of wedding bouquet. The sparing arrangement of the flowers and windy branches gives it the cascading feel, but much more casually. It's so perfect for a woodland themed wedding and the dark coloured flowers really stand out against everything else.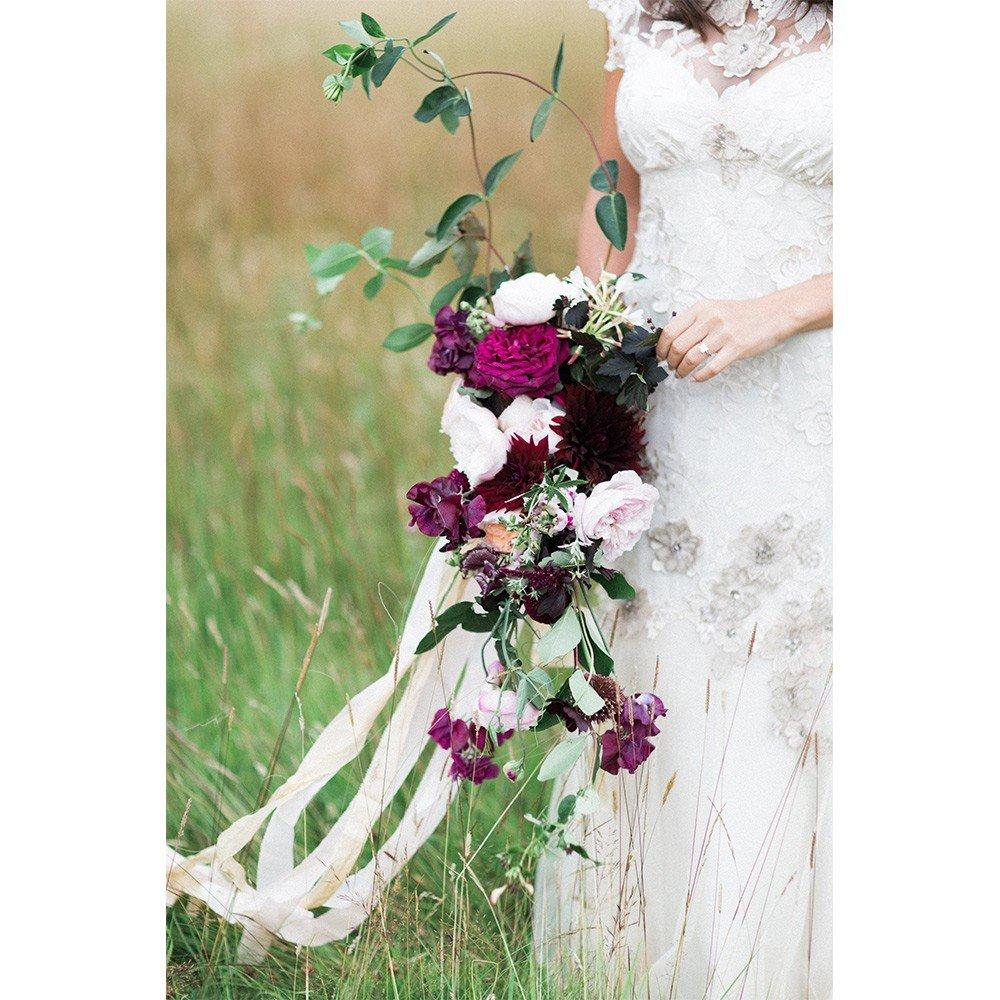 Image Credit: Holford Estate
White and Peach Cascading Wedding Bouquet
We absolutely love this bouquet, it's one of our favourite cascading floral arrangements. We love the heaviness of how many flowers and foliage the wedding florist has included, it looks beautiful. The more rectangular shape is a great option for brides who aren't tempted by the cascading V-shape which is also popular.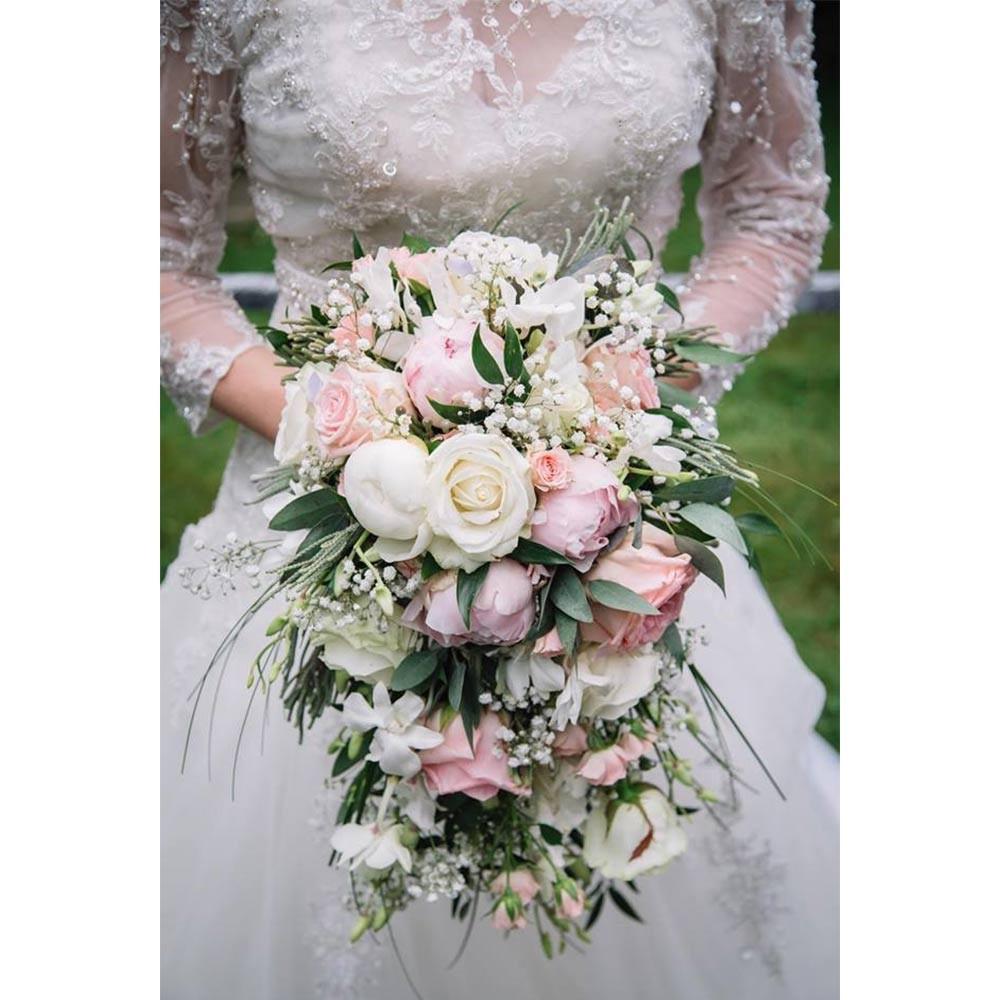 Florist: Flower Barn
Peacock Feathered Cascading Wedding Bouquet
Brides who want to include something different in their wedding bouquet should consider peacock feathers. They have the most beautiful pattern on them made up from gorgeous blue and green shades which are really easily paired with flowers that totally complement each other. This is such a great example of how this can be done and the strands which come off the peacock feathers make a lovely finish for the cascading shape.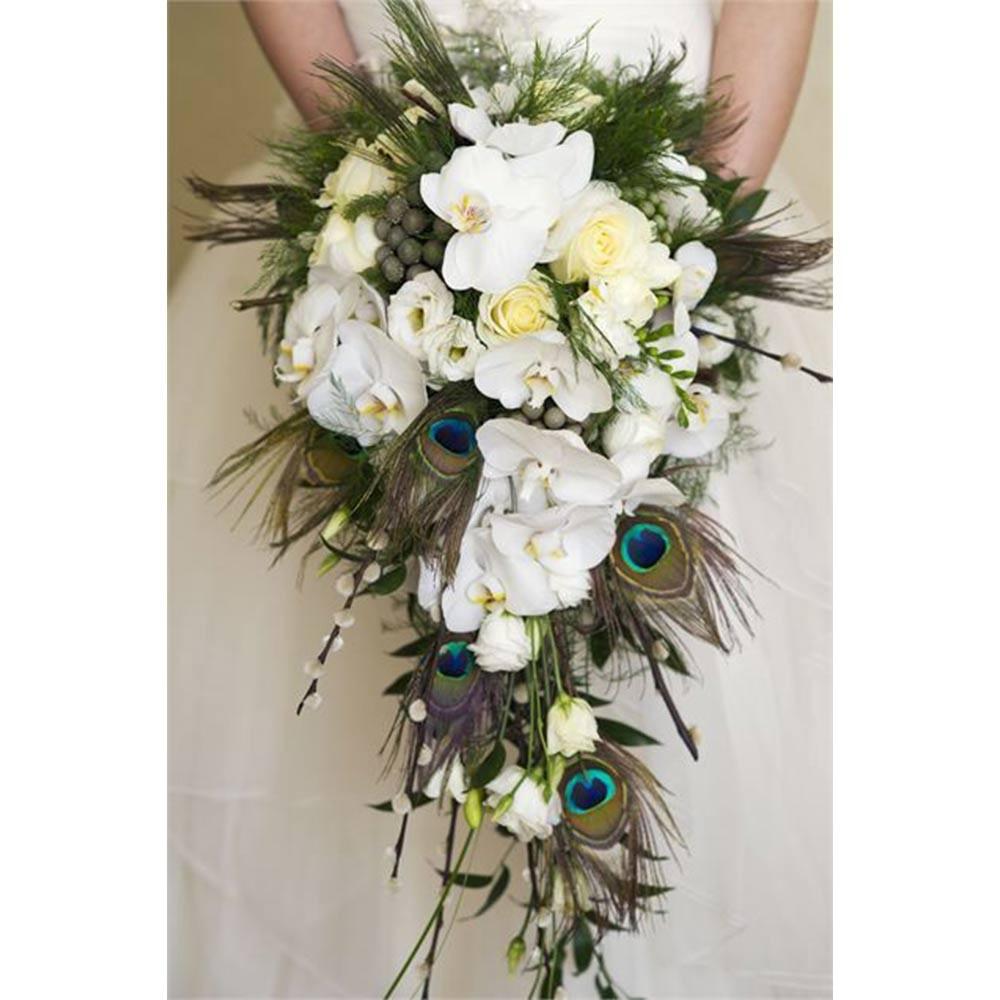 Image Credit: Sarah and Paul Photography
Blue and Purple Cascading Wedding Bouquet
These vibrate colours make for a ravishing wedding bouquet which will be sure to catch people's attention at you wedding. The trailing leaves and greenery make for a beautiful cascade and we love the way the bouquet thins out towards the end giving it a very intricate finish.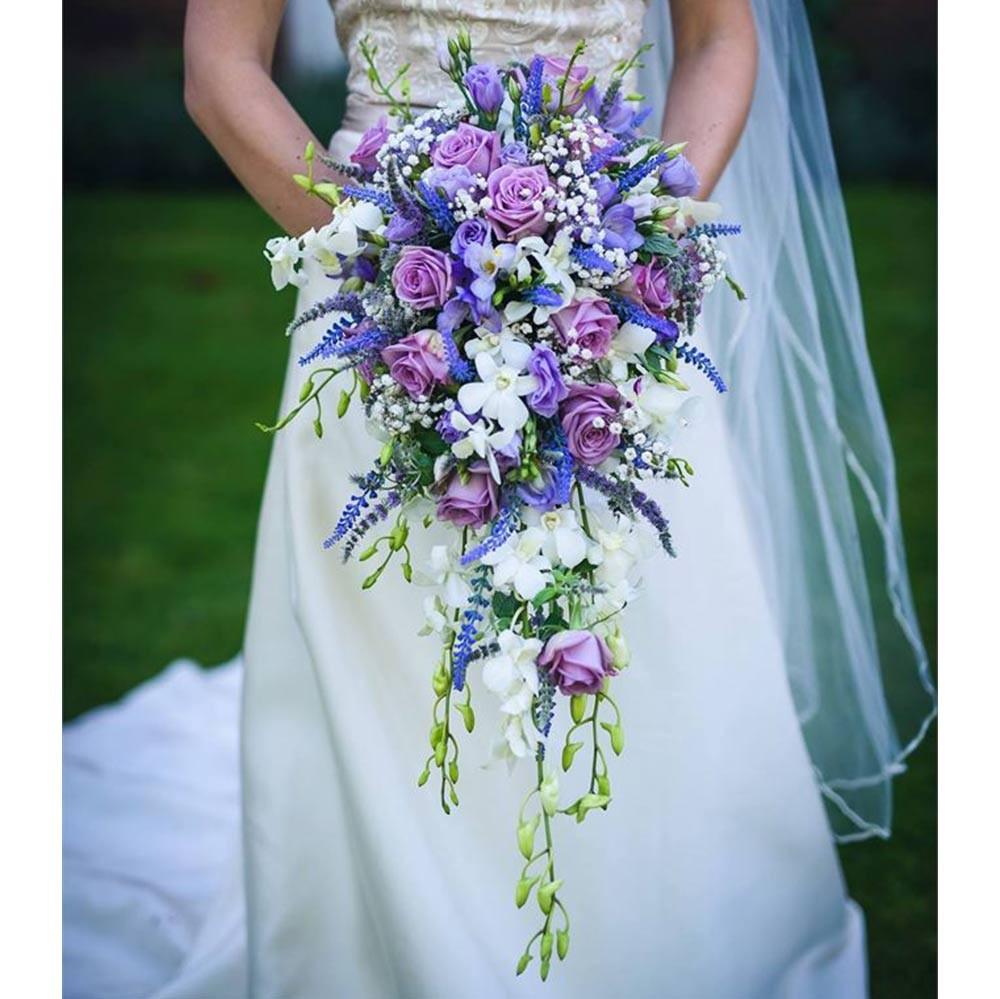 Florist: The Orchid Room Wedding and Event Floral Design
Neutral Coloured Cascading Wedding Bouquet
A beautiful arrangement of neutral and peachy coloured flowers with tonnes of greenery and foliage is always a recipe for perfection and that's perfectly shown in this wedding bouquet. The variation of leaf used gives it a more natural and earthy feel while the flowers keep it sophisticated and understated.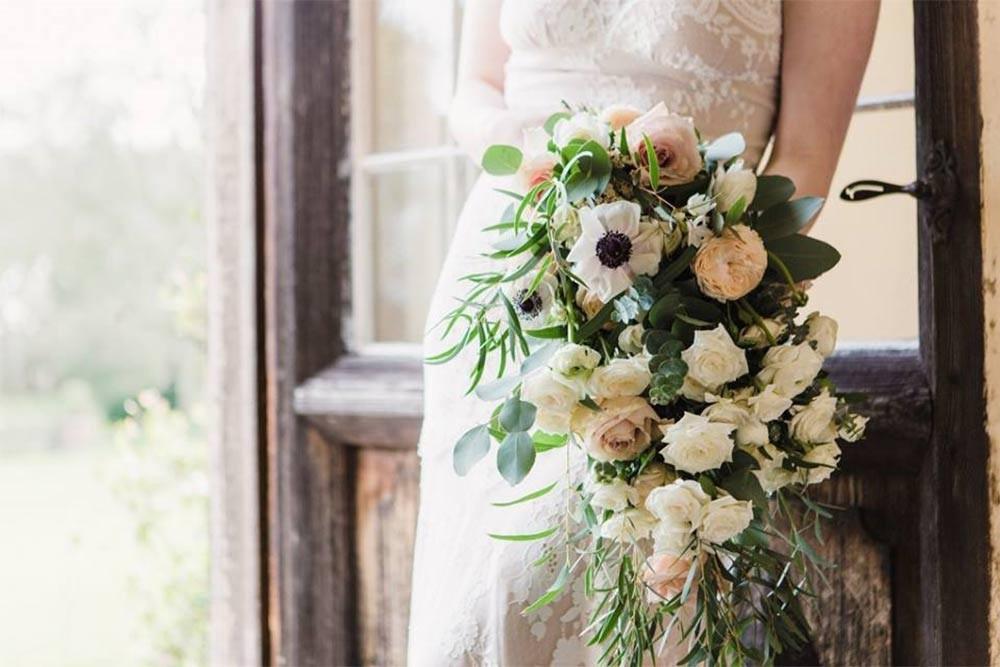 Image Credit: Dorfold Hall
Silk Cascading Wedding Bouquets
If real flowers aren't something that you wish to deal with, silk flowers are a great option and look just as gorgeous.
Silk Blooms do a beautiful range of cascading bouquets with hundreds of styles to choose from, but we've picked a few of our favourite examples to show you.
Pink Carnation Cascading Wedding Bouquet
This pink wedding bouquet of silk carnations is simply made up of the beautiful flower itself and some greenery shrubs surrounding it and we love it. The sheer size of the flower makes it a beautiful choice for a stand-out cascading bouquet and the result is just lovely to look at.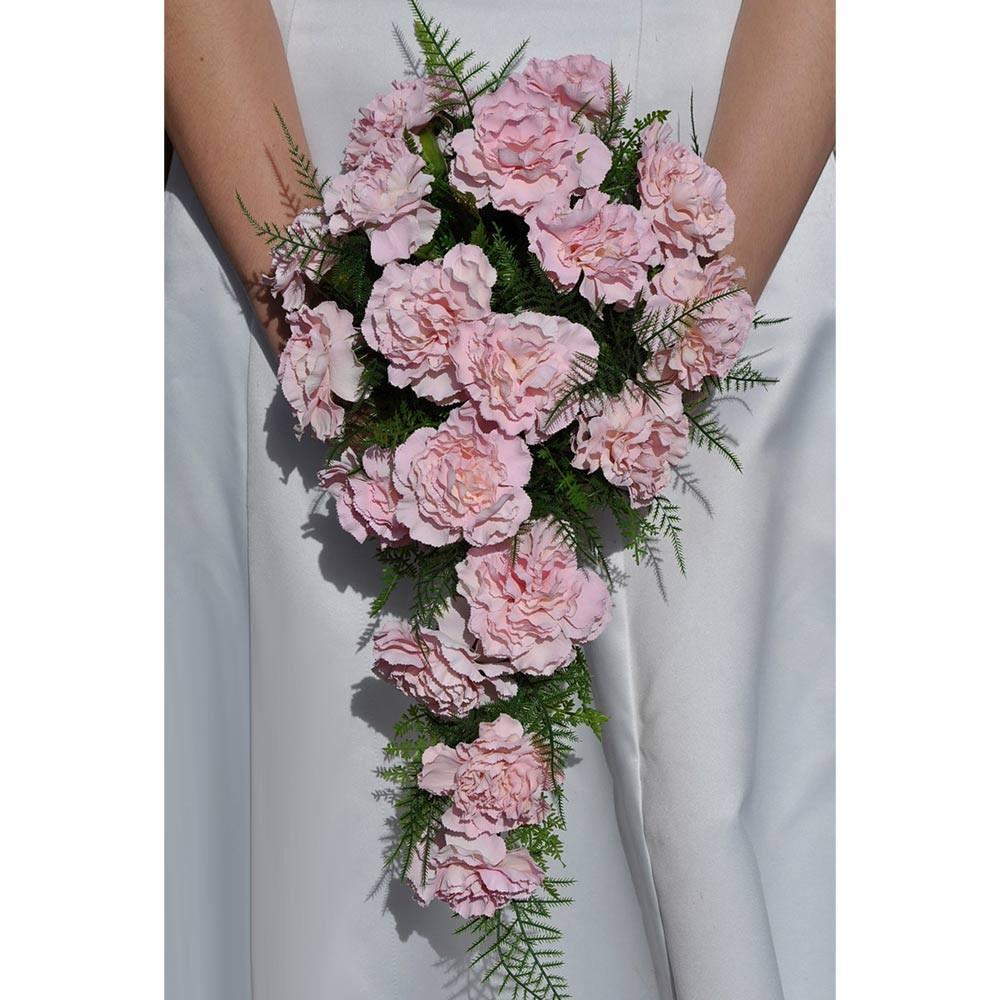 Cascading Wedding Bouquet in Purple Tones
Another beautiful silk wedding bouquet and this one is graced with gorgeous purple tones which we just adore. All of the colours used in this cascading creation go together like a dream and the small pink pearl embellishments are such a beautiful attention to detail that brides are sure to appreciate.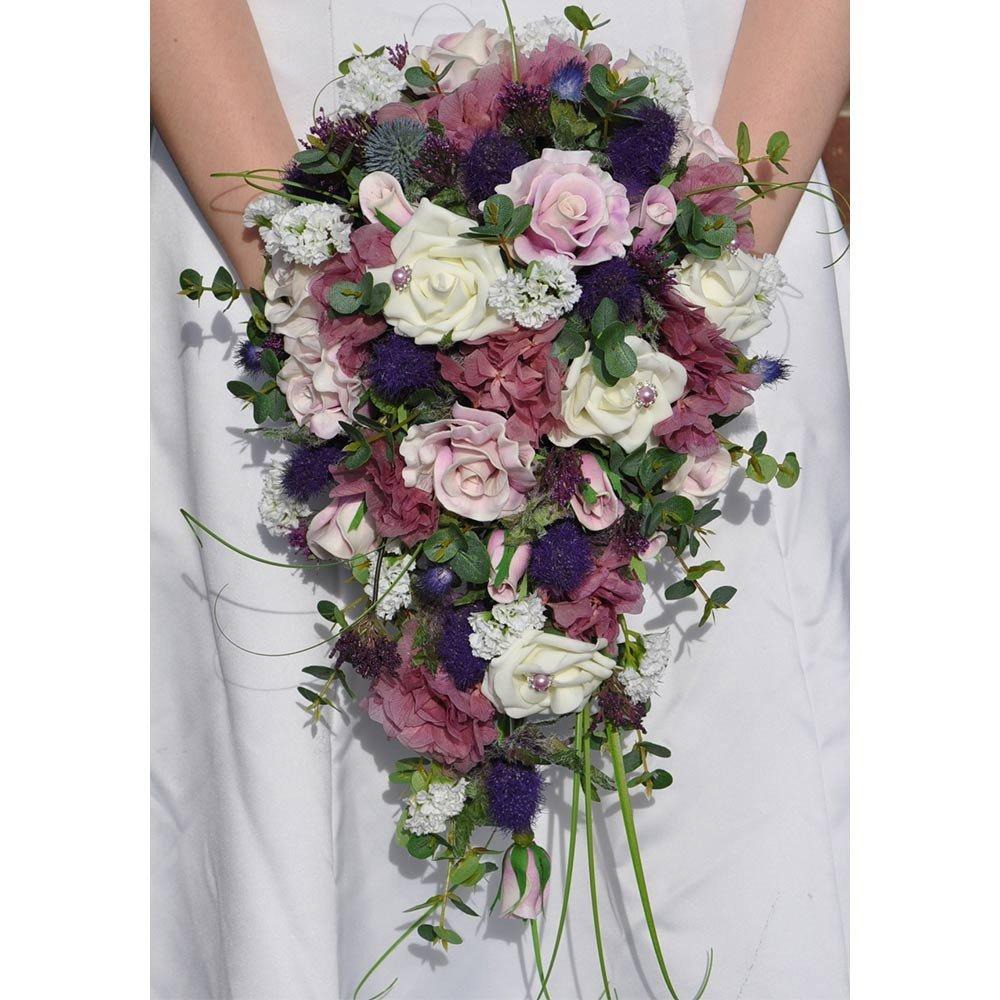 One thing to remember is all the important questions to ask your florist before you go ahead with your flower order!