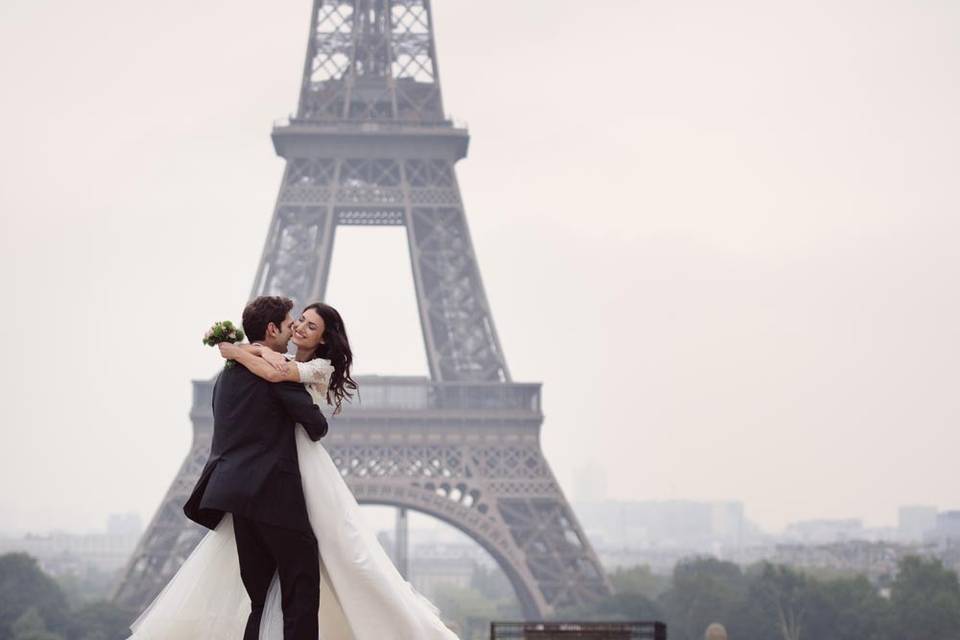 2014 was a golden year for love songs – particularly if you're a fan of upbeat pop music! We've picked out some of the best love songs from 2014 to inspire you, whether you're looking for a sentimental, romantic number to slow dance to, or you want a fun, cheerful love song to leave the wedding ceremony to. There's something for everyone – for more ideas, browse our top picks of 2014 songs.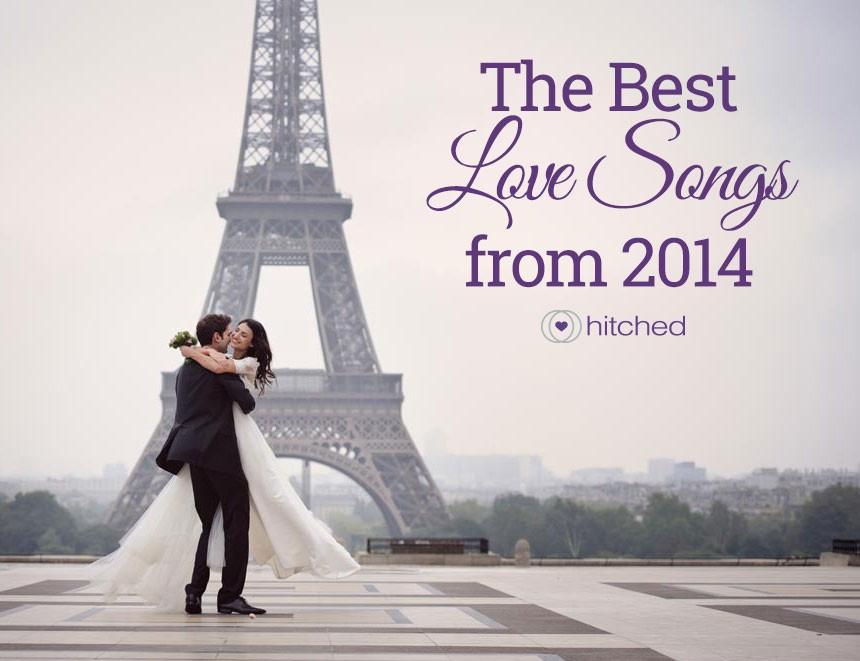 Thinking Out Loud – Ed Sheeran
This romantic ballad was written by Ed Sheeran and his frequent writing partner Amy Wadge, and was inspired by the pair talking about 'everlasting love'. Ed Sheeran actually referred to it as 'a walking down the aisle song', as if you needed any more encouragement to use it!
The song broke the record for the most streams in a single week in the UK in December 2014, and Ed was named Spotify's most streamed artist of all time – dethroning Eminem who previously held that record.
Our favourite lyric: Because honey, your soul could never grow old, it's evergreen/And baby, your smile's forever in my mind and memory
All of Me – John Legend
This song was technically released in 2013, but it reached number one on the Billboard Hot 100 in May 2014, and peaked at number 2 in the UK. It was the third best-selling song of 2014, with 12.3 million copies sold worldwide! So we're including it in our 2014 round up.
John Legend wrote the song about his now-wife, Chrissy Teigen, who he married in 2013. You can steal her wedding style by browsing our list of celebrity inspired wedding dresses. When he wrote it, the couple were engaged. The music video features footage from their actual wedding. If you wantto have your first dance to this song, why not watch our first dance tutorial?
Our favourite lyric: You're my end and my beginning/Even when I lose, I'm winning
How Long Will I Love You? – Ellie Goulding
Ellie Goulding covered rock band The Waterboys 'How Long Will I Love You?' in 2014 and changed weddings forever! It featured in the Richard Curtis film 'About Time' and was an official BBC Children in Need song.
Our favourite lyric: How long will I love you?/As long as stars are above you/And longer, if I can
Sky Full of Stars – Coldplay
Coldplay have always been known for gently rocky ballads, but in 2014 they collaborated with DJ Avicii to create 'A Sky Full of Stars', the band's first dance track.
It compares a lover to a sky full of stars – a beautiful thought and a great choice if you want a romantic wedding song that isn't slow and slushy!
Our favourite lyric: 'Cause you're a sky, you're a sky full of stars/Such a heavenly view/You're such a heavenly view
Rather Be – Clean Bandit ft. Jess Glynne
'Rather Be' is by electronic band Clean Bandit and has Jess Glynne on vocals. It debuted at number 1 in the UK and was the third fastest-selling song of 2014 and the highest-selling single released in January since 1996.
It's a song about someone who loves someone so much, there's nowhere else they'd rather be than with them. Our favourite lyric below sums up why it's a perfect love song.
Our favourite lyric: It's easy being with you, sacred simplicity/There's no place I'd rather be
Ready for Your Love – Gorgon City ft. MNEK
'Ready for Your Love' is a deep house song but it's still about love – ideal if you want a love song that references your love for house music. MNEK's vocals are a welcome addition to the track and bring the sentiments to life!
Our favourite lyric: Stars burn bright/Everything is changed between you and I/I was so apprehensive but I don't know why/Baby I'm ready for you to be by my side
Crazy Stupid Love – Cheryl Fernandez-Versini
This song is all about being crazily in love with someone, and features an amazingly catchy saxophone riff. Tinie Tempah also raps on the track. It topped the charts in the UK and the Republic of Ireland when it was realised.
It's a great choice if you want a really cheerful, upbeat love song at your wedding.
Our favourite lyric: You got me flying/Don't want to ever come down/I'm realising/I kinda need you around
I Got U – Duke Dumont ft. Jax Jones
2014 was the year of deep house love songs! 'I Got U' topped the UK Singles Chart in 2014. Duke Dumont was inspired by the recording of 'My Love is Your Love' and uses vocals from a session singer performing that song.
Our favourite lyric: Ask me what I did with my life/I spent it with you/If I lose my fame and fortune/Really don't matter/As long as I got you, baby
I Will Never Let You Down – Rita Ora
This song, which was written by Rita Ora's then-boyfriend, Calvin Harris, was her fourth UK number 1 single. By the time 2014 came to an end, the song had sold over half a million copies in the UK.
If you know you will never let your partner down, consider including this song in your wedding playlist.
Our favourite lyric: I will never let you down/When you're feeling low on love/ I'll be what you're dreaming of
Magic – Coldplay
This romantic offering from Coldplay is about loving in a magical way. The song itself sounds simple but the lyrics touch on how it's magic to be with the person you love and how precious the bond is.
Our favourite lyric: Call it magic, call it true/I call it magic when I'm with you
Real Love – Clean Bandit ft. Jess Glynne
Clean Bandit and Jess Glynne is clearly a winning combination! Following the success of 'Rather Be', they decided to team up again and created another deep house love song. It debuted at number 2 in the UK Singles Chart in November.
Our favourite lyric: Oh, before you I was searching for a rarity/Oh you showed me things I never thought that I would see
Boom Clap – Charli XCX
'Boom Clap' was used in the soundtrack to 'The Fault in Our Stars', a touching film about star-crossed lovers, based on the book by John Green. Whilst it's not your typical love song, the main theme focuses on the sound your heart makes when you're with the one you love.
Our favourite lyric: No silver or no gold/Could dress me up so good/You're the glitter in the darkness of my world
You & I (Forever) – Jessie Ware
The video for this song starts with a quote explaining what the song is about: "For me, 'You & I Forever' is celebrating the person you love being by your side. This is what is means to others…" The video then goes on to show a heart-warming array of people in a photo booth, all showing the different meanings of love; friends, siblings, all kinds of couples including an adorable elderly pair. There's even a little girl with her toy bunny. It's the perfect definition of love.
Our favourite lyric: We're gonna go until the wheels fall off/Til the wheels fall off/Can't you see it?/It's forever
Riptide – Vance Joy
'Riptide' was released in 2013, but it wasn't until 2014 that it had success in the UK. The song is about a shy guy falling for the girl of his dreams and how she's everything he's dreamed of.
It'd definitely suit a more rustic, boho wedding – ideal if you don't want a ballad but you're not up for electronic music either.
Our favourite lyric: Oh, all my friends are turning green/You're the magician's assistant in their dreams
I Know Places – Taylor Swift
Taylor Swift worked with Ryan Tedder from OneRepublic on 'I Know Places', a song about when you're first falling in love and it's 'very precious and fragile'. It's about hiding from the world and scrutiny when you're first with someone – and is rumoured to be inspired by her boyfriend, Calvin Harris!
Our favourite lyric: And you know for me, it's always you
We've got lots more wedding song inspiration in our ultimate wedding playlist, which features songs from the 1950s right up until the present day.