West Yorkshire's wedding venue options are as varied and vibrant as the county they call home.
From Bradford and Calderdale to Leeds and Wakefield, you'll find wedding venues to suit a range of styles, whether you're dreaming of a rustic barn, an elegant marquee or a place for an outdoor festival celebration.
There are also West Yorkshire wedding venues to fit with different budgets, from cheap-but-chic spaces to luxury on tap.
When you're choosing your venue, bear in mind where the majority of your guests will be travelling from. If many are coming to your wedding from outside the county, it's worth focusing your search on venues such as hotels with plenty of bedrooms on-site. Alternatively, make sure your chosen venue is in, or within easy reach of, one of West Yorkshire's cities or towns, so guests won't have to travel far to their accommodation.
In this edit, we've rounded up our favourite places to wed in West Yorkshire.
Most of these venues are highly versatile and will work for different guest list sizes, including smaller-scale festivities. All of them are certified stunning.
Happy venue hunting!
READ MORE:
1. East Riddlesden Hall – Bradford
East Riddlesden Hall is one of West Yorkshire's most magical wedding venues. Idyllic gardens surround a wonderfully atmospheric 17th-century barn with wooden beams and a cobbled floor.
While the barn is rich with history, it also has contemporary comforts, such as underfloor heating, a bar and cascading fairy lights.
The venue is a blank canvas to decorate as you wish. It's run by the National Trust, and profits go towards the upkeep of the building, so your wedding will help preserve this delightful piece of history.
2. The Woodman Inn – Kirklees
If you're planning a laidback wedding, a country pub is an excellent option. What we love about The Woodman Inn is that it offers couples three spaces to suit different styles of celebration.
The Country Room is warm and inviting, with rustic wooden beams and exposed brick, and hosts 40-80 people.
If you'd prefer a more contemporary feel, the light-filled Garden Room is sleek and stylish, seating 60-150 guests.
Alternatively, for a fully al fresco affair, you can set up a marquee in the beautiful gardens.
3. Holmfirth Vineyard – Kirklees
You don't have to leave the UK for a vineyard wedding – just head to West Yorkshire's Holmfirth Vineyard for delicious wine and stunning country views.
Weddings take place in the chic Solaris Suite, designed to make the most of the gorgeous scenery.
The room is licensed for civil ceremonies, and you can hold a reception there for a variety of guest list sizes, from an intimate party to a celebration for 140.
Make sure you stay over in the beautifully designed honeymoon suite – and there are a further 6 eco apartments on site for your closest friends and family.
4. Chilli Barn – Leeds
Looking for a West Yorkshire barn wedding venue with plenty of personality? Add Chilli Barn to your shortlist – you won't regret it.
The venue offers hire on a two-day basis, so you can put up your carefully chosen decorations without feeling rushed. As well as the charming barn itself, you'll have use of the lawn, complete with straw bales and fire pit. You can also add a tipi or marquee.
Chilli Barn specialises in vegetarian catering, from laidback buffets to more formal table service.
READ MORE: 13 of the Best Barn Wedding Venues in Yorkshire
5. The Venue Bowers Mill – Calderdale
We love industrial-chic wedding venues – particularly when they have the panache of The Venue Bowers Mill.
As the name suggests, this is a converted mill, and the styling is the perfect balance of original features and contemporary details.
Unusually for a warehouse-style wedding venue, Bowers Mill has a beautiful woodland setting, and you can have an outdoor ceremony at the lakeside pagoda.
6. The Hepworth – Wakefield
It's a natural move for an art-loving couple to get married in a gallery – and why not make it one of the country's most striking galleries? The Hepworth is one of West Yorkshire's most iconic contemporary sights, and it'll certainly provide the backdrop to some amazing wedding photos.
There are several different spaces for your celebration, from dedicated event spaces to the galleries themselves.
7. The Engine Shed – Leeds
The Engine Shed sounds like a bijou venue; in fact, it's one of the best spaces in West Yorkshire for a large-scale wedding. The Grade II-listed former goods shed caters for celebrations for 150-200.
The venue is licensed for civil ceremonies, and with its dramatic high ceilings, it's certainly an atmospheric space for your 'I do' – and a large-scale party afterwards.
8. Victoria Hall – Bradford
For more West Yorkshire drama, check out Victoria Hall, a unique venue in World Heritage Site Saltaire.
There are spaces to suit a variety of guest list sizes, from intimate to cast-of-Bridgerton large. The Main Hall is an undeniable draw if your wedding is on the larger end of the scale.
Brilliantly, there are no restrictions on suppliers (apart form drinks), but the venue will offer advice if you're not sure where to start.
READ MORE: The Best Unique Wedding Venues Across the UK
9. Manor House Lindley – Huddersfield
Lovers of cool interiors will be in paradise at Manor House Lindley, a chic boutique where every last design feature has been carefully considered.
The only downside to all this loveliness? Deciding which of the spaces to use for your celebration.
Will it be a relaxed dinner in flower-filled restaurant The Kitchen? A party in the glamorous Coach House? An outdoor affair on the rooftop terrace?
Wherever you choose, at the end of the night you can head to one of the 11 individually designed bedrooms.
10. The Arches – Calderdale
Ever thought you'd get married in the former premises of the world's largest carpet manufacturer? Us neither – but it's a distinct possibility now we've seen the pictures of The Arches.
The space has been cleverly transformed into a gorgeous spot for a celebration, incorporating industrial features such as the soaring ceilings and stone floors into the design.
While The Arches has capacity for up to 300 guests, the space can also be configured for smaller guest lists of 60 plus.
11. Oulton Hall – Leeds
There's much to admire at West Yorkshire country hotel Oulton Hall, not least the fact that they have clear wedding packages that you can adjust to suit your style, which should take a lot of stress out of the planning process.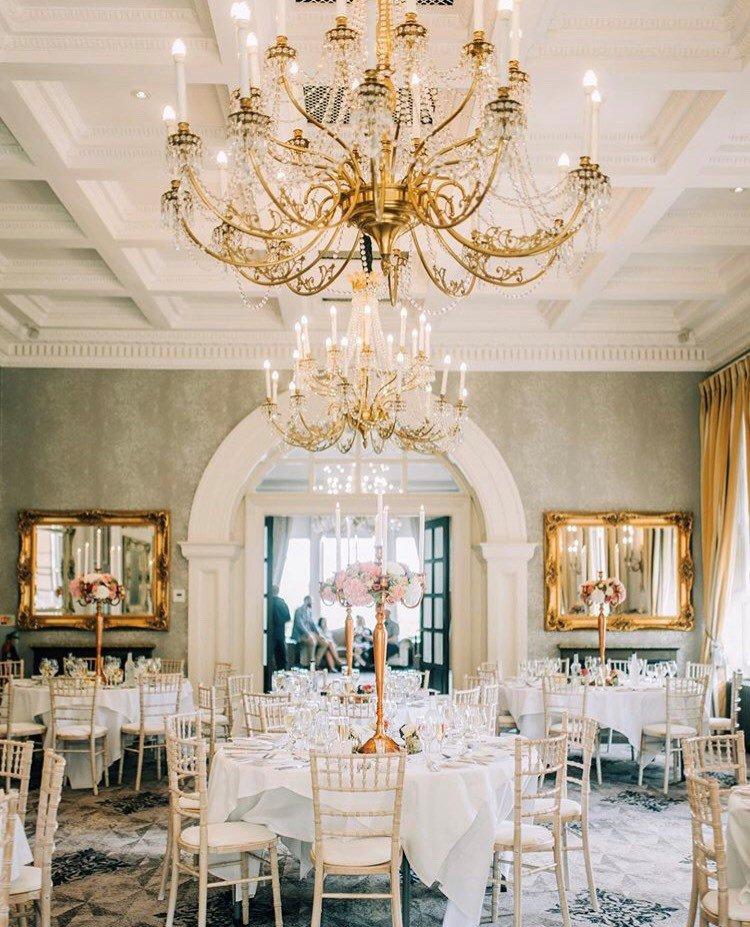 Facilities include a rather marvellous spa and health club, a golf course and a champagne bar – in other words, the ingredients of a blissful mini-moon if you choose to stay on after the wedding.
12. Bowcliffe Hall – Leeds
Bowcliffe Hall has everything you'd want from a high-end country house venue: a grand driveway; manicured gardens; and enchanting indoor spaces, including a glamorous drawing room and ballroom.
However, it also has something extra, unexpected – and rather exciting.
We're talking about the Blackburn Wing, a futuristic copper-and-glass treehouse shaped like the wing of an airplane. If you want to wow your guests with something unique, this is it.
READ MORE: The UK's Most Impressive Country House Wedding Venues
13. The Malthouse – Calderdale
If your idea of wedding heaven is a laidback day with a seasonal feast at its heart, you need to check out The Malthouse.
This country pub with rooms has authentic charm throughout, from the inviting bedrooms to the landscaped outdoor area.
There are no packages, so you can create your own ideal celebration, with practical support from the in-house team.
14. Denton Hall – Bradford
Denton Hall is ideal for a sophisticated wedding. This exclusive-use country house has 18th-century décor, period features aplenty and a variety of beautifully designed rooms for different stages of your celebration.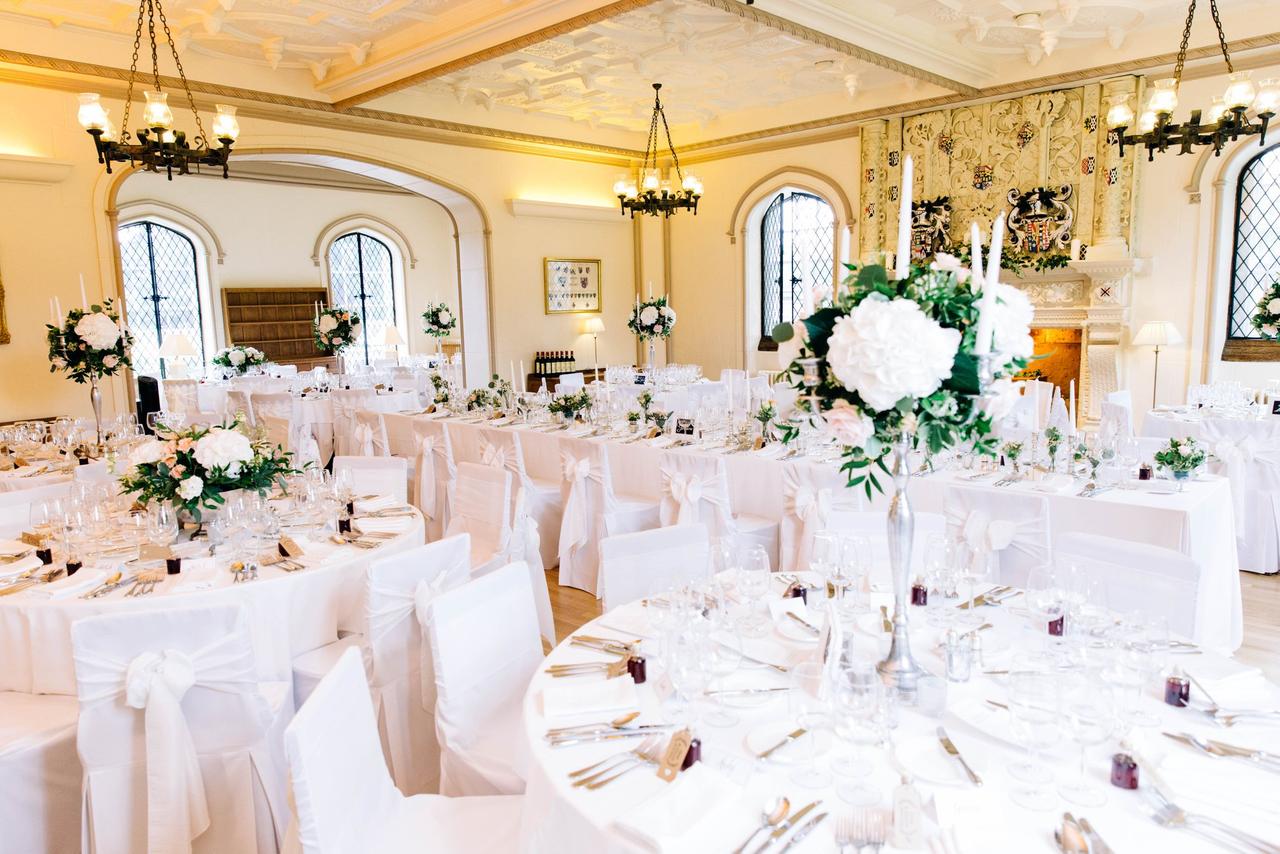 You get the Hall from Friday to Sunday, including accommodation, so you can plan a long, luxurious weekend of festivities.
15. Cockley Woodland Weddings – Wakefield
When it comes to unique wedding venues in West Yorkshire, Cockley Woodland Weddings is up there with the best. This area of – you guessed it – woodland is available as a blank canvas for couples dreaming of an outdoor celebration.
There's a covered area for the ceremony, complete with handmade wooden seating, and a reception area with fire pits, hammocks and even a space for children to play. There are also portable shepherds huts you can use as a bar or as food stations.
16. The Faversham – Leeds
Legendary Leeds club The Faversham has pivoted to live events, and while that's not-so-great news for clubbers, it's an excellent turn of events for couples looking for a unique wedding venue in West Yorkshire.
There are four stylish spaces that can be hired individually or as a whole for an exclusive event, including a spacious terrace adjoining the light-filled Conservatory.
On the practical side, it's just minutes from the city centre, and it even has private parking.
READ MORE: 19 of the Best New Wedding Venues to Say 'I Do'
17. Wood Hall Hotel & Spa – Leeds
Wood Hall may be conveniently close to West Yorkshire's major cities, but it still feels wonderfully secluded, surrounded by magical country views.
This is a venue that caters to all weddings great and small, with event spaces that can host up to 150 as well as options for celebrations on a more intimate scale.
There are spaces for both indoor and outdoor ceremonies – we're particularly taken with the idea of saying 'I do' in the picturesque Italian Garden.
18. Wentbridge House Hotel – Wakefield
Wentbridge House is a four-star hotel with a five-star sensibility – luxe touches abound, from chandeliers in the bedrooms to an award-winning wine list. This is a place to truly indulge your lucky guests.
The hotel only hosts one wedding per day whether you choose exclusive use or hire one of their stylish celebration spaces.
19. 1885 The Venue – Calderdale
A country pub is always a great choice for a relaxed wedding, and The Venue 1885 is a rural retreat with an inviting, laidback vibe.
There's no such thing as a 'typical' wedding here – the team at this family-run venue specialise in bespoke celebrations, so you can put together a personalised day.
To save on travel time, you can book one of the elegant bedrooms.
20. Hoyle Court – Bradford
Hoyle Court makes weddings easy. Firstly, it's exclusive use – so you'll have no worries about coming across other wedding parties on the day.
Secondly, this Edwardian style Baroque mansion and its gardens are breathtakingly beautiful, meaning your photos will be amazing.
Thirdly, the venue offers in-house decorating and theming, so you don't have to worry about sourcing decorations.
All you have to do is get married!
READ MORE: 32 Questions to Ask Your Wedding Venue
21. Left Bank – Leeds
Left Bank Leeds is a one of West Yorkshire's most unique wedding venues. A Grade II-listed former church, it has soaring ceilings and Gothic Revival features, making this an atmospheric place to party.
There's an in-house team to help you make the impressive space your own, including setting up and taking down your décor.
You can start the day with a blessing or humanist ceremony, before celebrating your love with up to 300 guests.
22. Temple Newsam House & Estate – Leeds
The interior spaces at Temple Newsam House & Estate are sublime, from the grand entrance to the Great Hall.
But what's got us particularly excited is the vision of a marquee wedding in the beautiful grounds.
You be hard pressed to find a more exquisite setting for outdoor festivities in West Yorkshire, with 1,500 acres of parkland, woodland and immaculate gardens.
23. Holdsworth House – Calderdale
Independent West Yorkshire luxury hotel Holdsworth House is pretty as a picture, from the fairytale exterior and gardens to the period features and fine design of the interiors.
It's also as practical as it is pretty, with an excellent range of packages to suit different sizes of guest list – and even if you're having a bijou wedding, yours will be the only one to take place at the hotel that day.
You can have an indoor civil ceremony in any room, or take it outside to the courtyard or garden.
24. Bagden Hall – Huddersfield
Bagden Hall has a quiet glamour that's inherently warm and inviting. You can choose a wedding package for ease, or the in-house team can put together a bespoke celebration.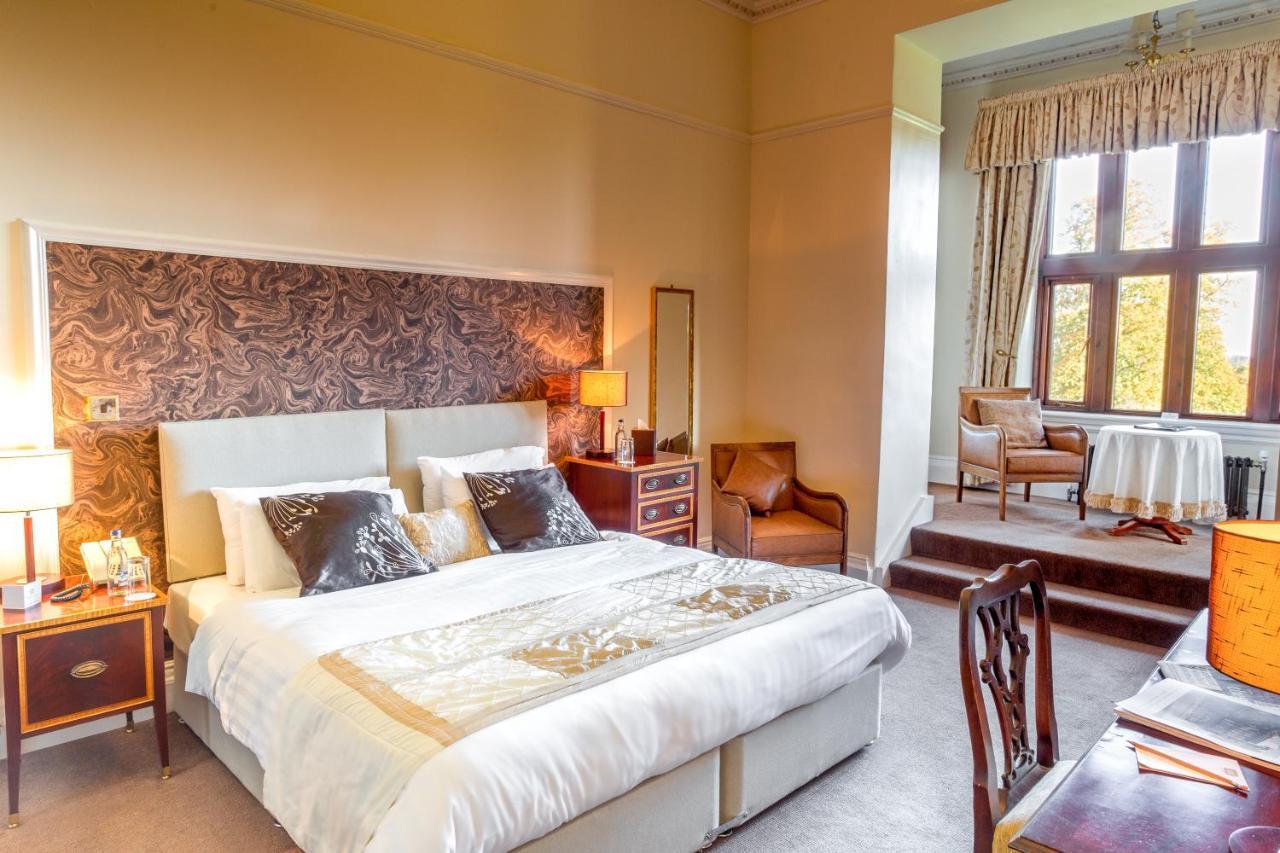 There's plenty of accommodation – 36 chic bedrooms – so you and your guests can really make a night of it.
25. The Mansion – Leeds
West Yorkshire icon The Mansion is the ideal backdrop to a luxurious wedding. Your guests can feast on the glorious views of the surrounding parkland – before feasting on a wedding breakfast prepared by award-winning chefs.
Personalisation is the order of the day when it comes to the food here: as there are no packages, you can design a menu that's true to you as a couple, whether you prefer fine dining or grazing stations.
The venue's interior styling is easily the equal of its stunning setting – think sparkling chandeliers, floor-to-ceiling windows, and a sweeping staircase that's an ideal spot for photos.
Want to check what's available in other parts of the county? Our guide to Yorkshire's best wedding venues will tell you everything you need to know.