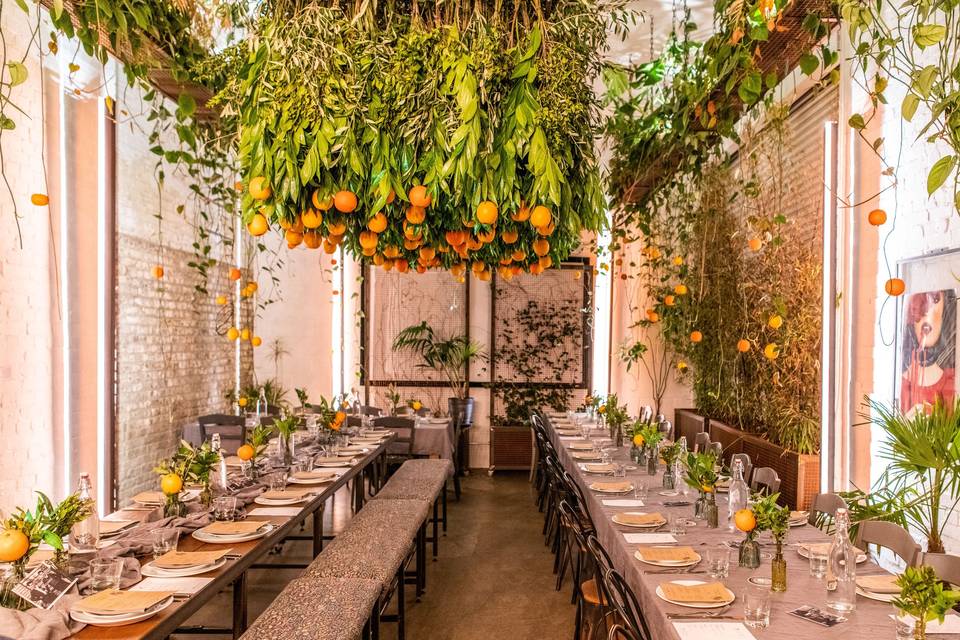 East London has earned itself a reputation as one of the most achingly cool parts of the capital. Its endless charm and undeniable ambience leaves a lasting impression on visitors and natives alike.
From quirky bars and innovative restaurants to revitalised lofts and contemporary warehouse spaces, the area is packed with creative neighbourhoods and trendy venues. Why not host the wedding celebration of your dreams in one of these contemporary, alternative settings?
The diverse area covers boroughs including Hackney, Tower Hamlets and Waltham Forest, taking in the uber-hip areas of Shoreditch and Dalston to the giant glass towers of Canary Wharf, markets of Spitalfields and dynamic development of Queen Elizabeth Olympic Park in Stratford.
Here are the coolest wedding venues in East London, ideal for any stylish couple looking for an urban venue that's out of the ordinary. Whether you're planning on hosting a grand soirée or an intimate gathering, you're sure to find the right space for your celebration.
1. Shoreditch Studios, Hackney
Shoreditch Studios is a unique warehouse wedding venue that is sure to leave a lasting impression on your guests. Exposed brickwork, industrial lighting, and elegant decor come together to create a warm, welcoming, and romantic environment, perfect for couples to host their wedding celebrations. Conveniently located by a vibrant nightlife district, couples can enjoy an unforgettable ceremony and formal dining experience before hitting the town with their nearest and dearest.
2. Lea Rowing Club, Clapton
Couples wanting something completely different can choose the unconventional setting of the Lea Rowing Club, a recently renovated boathouse perched on a tranquil stretch of the River Lea. Dance floor fiends will adore this venue; book your favourite live band or DJ and let the party continue until the early hours.
READ MORE: 23 Things To Give Up Now To Help Save For The Wedding
3. Town Hall Hotel, Bethnal Green
Bethnal Green's former town hall, this grand hotel marries stylish Art Deco interiors with cutting-edge modern architecture and painstakingly restored original Edwardian features for a design-lovers dream. If Art Deco, aged leather and polished oak are your thing, marry in the Town Hall Hotel's splendid Council Chambers, flooded with natural light. For urban glamour, pick the contemporary De Montfort Suite, or for luxury and elegance, Bethnal Hall is the perfect choice. Design geeks need look no further.
4. Museum of London Docklands, West India Quay
If quirky is what you're after then the Museum of London Docklands wins hands down. Its galleries time-hop your guests through London's history, from 17th century Pleasure Gardens to a stroll down the winding streets of Victorian Wapping – complete with a visit to a tavern and wild animal emporium on the way. Their impressive Rum Store can hold up to 240 guests so is ideal for a large venue.
5. MKII, Clapton
This unusual venue previously housed cows that grazed up the road on Hackney and Walthamstow Marshes. Now it's a versatile warehouse events space dripping in industrial aesthetic that's ideal for couples wanting a bit of character and quirk for their wedding day. MKII is also licensed for marriages so you can tie the knot here too. Most importantly, pets are welcome so get your dog ready to be ring bearer (probably best to not bring any cows back).
READ MORE: 17 Things Guests Hate Most About Weddings
6. Spitalfields Venue, Spitalfields
London's vibrant East End is home to Spitalfields Venue, a collection of unique venues set around the magnificently restored Baroque masterpiece of Christ Church Spitalfields. A stone's throw from the historic Brick Lane, host an unforgettable banquet among the grand columns of the Nave, the vast Crypt, or the life and character of the Huguenot chapel of Hanbury Hall where Charles Dickens used to do public readings. For more intimate weddings, the elegant panelled Old Vestry Room is full of charm.
READ MORE: The Most Gorgeous Wedding Stationery
7. The Octagon, Queen Mary's University London, Mile End
Wow your guests with the stunning setting of Queen Mary University London's Octagon. Like the name suggests, this vast eight-sided building is lined with shelves loaded with brightly coloured books and dotted with busts of eminent authors. Raise your eyes skyward to one of the most beautiful domed ceilings in London. This is every book lover's heaven.
READ MORE: How To Plan the Perfect Wedding For £25,000
8. East Wintergarden, Canary Wharf
Set in the heart of Canary Wharf, the 27-metre high arched glass atrium of East Wintergarden is a modern and iconic venue for your wedding. Your wedding photos will look spectacular among the show-stopping and bold curves of the Main Hall. Being in the centre of the financial capital, this venue is also wonderfully accessible from across London and beyond.
9. The Fable, Farringdon
Inspired by Aesop's fables, this colourful restaurant and bar in EC1 is chock-full with one-of-a-kind details, leather-bound books and vintage gems, like their book nook – an ideal spot for a wedding photo. Spread across three floors packed with wildflowers and overgrown greenery, The Fable is an enchanting location for a wedding reception that'll capture the romance and magic of your big day.
10. Tanner Warehouse, Bermondsey
Tanner Warehouse, located in the heart of vibrant Bermondsey, offers couples the opportunity to host their wedding celebrations in an unforgettable setting. This converted warehouse is the industrial wedding venue your Instagram has been waiting for. Its picture-perfect bar exudes old-school London charm and is the perfect spot to enjoy a drink with your new spouse in between your ceremony and reception. Out in the courtyard, you can mingle with guests under the twinkling lights while enjoying the undeniable ambiance. With its team of talented catering professionals, its ample space to boogie the night away, and its irresistible charm, this property may be the perfect place to host your festivities.
11. The Old Parish Hall, East London
You've been dreaming of your wedding day for a while now, so why not host your long-anticipated celebration in the dreamiest of venues? The Old Parish Hall is the perfect location for soon-to-be-wed couples looking for a blank canvas flooded with lots of natural light, high ceilings, and modern facilities. With a blend of traditional styles and contemporary touches, the property boasts an undeniable ambience that can only be found in the country's capital.
12. Shoreditch Town Hall, Shoreditch
Are you looking for a venue where you can host a wedding that is truly your own? Shoreditch Town Hall is a gloriously versatile space that encourages couples to put their stamp on one of the most vibrant locations in London. With its high ceilings, illuminating windows, brilliant white walls, and historic architecture, the property is rich in charm and character. This hall has played host to countless live music performances and cultural events - what better way to celebrate your day than adding to the list of unforgettable celebrations?
13. Dulwich College Events, Southwark
If you're looking for a wedding venue steeped in quintessential British charm surrounded by lovingly maintained grounds, look no further than Dulwich College. This property is a magnificently traditional venue that allows guests to feel as though they've stepped back in time. Enjoy a romantic ceremony in The Old Library before joining your loved ones in The Great Hall for an evening of fine dining and celebration. The venue's events team is eager to work with you as you prepare for your picture-perfect day.
14. Ironmongers' Hall, East Central London
Elegance, grandeur, sophistication - these are the words that will come to mind when you set foot in this remarkable wedding venue. Ironmongers' Hall oozes opulence at every turn, with stained glass windows, wood panelling, and eye-catching chandeliers to be found throughout the awe-inspiring property. You'll feel as though you stepped straight into a storybook as you dine in the Tudor-style banquet hall and enjoy time with loved ones by the fireplace in the Drawing Room. Are you ready to feel like royalty on your wedding day? If so, this may be the place for you!
15. Hackney Coffee Company, Hackney
This one's for all those coffee fanatics among us! Hackney Coffee Company is a beloved hidden gem of East London that offers a cool, contemporary event space to those planning to celebrate their nuptials in style. Originally constructed in the 19th century, this former brewery still prides itself on maintaining many of its original features, including its iconic exposed yellow stock bricks. Working collaboratively with local chefs, floral designers and more, the restaurant's team of event specialists will bring your dream wedding to life.
READ MORE: Everything You Need To Know About Choosing A Wedding Venue
16. The Admiral Hardy, Greenwich
The Admiral Hardy is a true celebration of the city's maritime history. Its open-plan event spaces are elegantly appointed and can be configured to suit your needs on your wedding day. While warm and welcoming like an old English pub, this venue can also host extravagant and luxurious soirées. The hotel's team of event specialists will work with you to ensure that every detail of your day is carefully considered and expertly executed.
17. The Roost and Dalston Heights, Dalston
The Dalston Heights venue (bottom) sits on the top floor of a former cardboard factory, with plenty of striking photographic backdrops and textures, including a gorgeous pitched roof with iron beams. The owners also have a third venue: the gigantic Friendly Place – a four-floor former spice warehouse, with a charmingly decaying conservatory, boudoir and huge studio spaces to house your guests – in nearby Deptford.
18. Arcola Theatre, Dalston
Dalston's Arcola Theatre – housed in a former paint factory – is an incredible community and arts space, championing established and emerging artists. You can support their fantastic work by hiring their studio space for a wedding. Studio 4 is a contemporary-looking, light and airy rehearsal space – all exposed brick and glossy wood floors – featuring its own bar that can serve drinks till 2.30 am. For couples looking for history, theatre and an offbeat reception venue choice, this is it.
19. The Brewhouse, London Fields
If you're a craft beer loving couple, then The Brewhouse – run by London Fields Brewery – could be the perfect spot. Nestled under two railway arches with a sunny courtyard in the middle, this unique space has already earned its cool cachet as a home for London music industry parties. Naturally, there are stocked bars in each arch packed with local beers, plus a wood fire pizza oven in the courtyard for a relaxed non-traditional wedding breakfast idea. (There's also a fully-functioning kitchen if sit-down is more your style.)
20. ArcelorMittal Orbit, Queen Elizabeth Olympic Park, Stratford
Yes, you can privately hire The Slide at ArcelorMittal Orbit, the world's highest and longest tunnel slide, for a thrill your guests will never forget. Show-stopping reception surprises are a huge favourite among couples this year who wanted to entertain and delight their friends and family. Is there any cooler way to do it than a slide that gives some of the best views on London on the way down? The Anish Kapoor-designed Orbit itself is licensed for wedding and civil ceremonies, but let's be honest, it's all about the slide.
21. Wilton's Music Hall, Whitechapel
Wilton's Music Hall is the world's oldest surviving grand music hall and one of the East-End's best-kept secrets. Tucked down a side street in Whitechapel, this huge barrel-vaulted hall seems almost untouched since its heyday, but is all the more charming for its wear-and-tear look. A balcony circles the room while a big proscenium stage stands front and centre. This is rustic, ramshackled and rough, but utterly beguiling.
For Londoners still in search of something different, check out these unusual London wedding venues or, from across the UK we've rounded up our favourite alternative venues for untraditional couples.