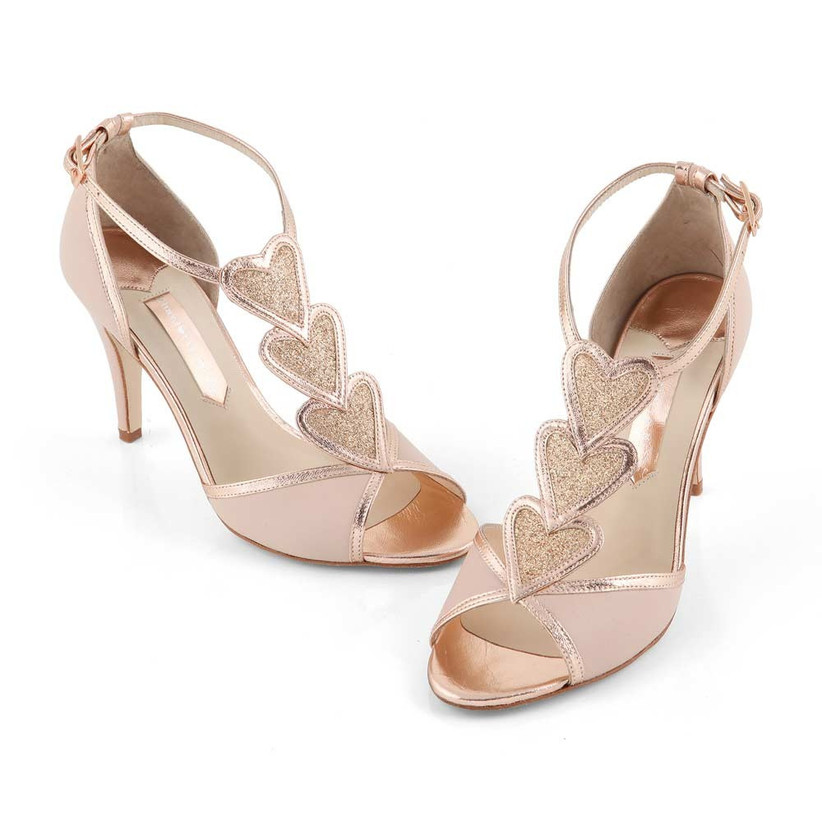 Choosing your wedding shoes is an incredibly exciting decision to make – almost as big as deciding which wedding dress to go for. However, it seems such a shame to wear something so special only the once – which is why we've rounded up some incredible wedding shoes you can wear again after your big day is done and dusted.
Stylish Nude Wedding Shoes
These nude pink court shoes from Charlotte Mills are ever so elegant with their pointed toe. The delicate colour goes so beautifully with the swirly rose gold pattern and there's even a silver sixpence in the left heel for good luck.
The Olivia Blush shoes from Emmy London are a gorgeous look for any bride. If you're wearing a simple wedding dress then these shoes are a lovely pairing, as they add a gentle wash of colour without overpowering your look.
These stylish Topshop beauties are perfect if you're looking for wedding shoes you can wear again. Fashionista brides will appreciate the long straps and sheer cut out detail.
These Kurt Geiger heels are effortlessly elegant with their nude colour and embellished floral strap. They would be a comfortable choice for a summer wedding as well as other parties, as they let your feet breathe and also have a block heel for added comfort.
Colourful Wedding Shoes
The Alexis peep toe heels from Charlotte Mills would add a whimsical pop of pink to your bridal look. The embroidered hearts and structured bow will make your feet feel as pretty as can be – plus this pair would also be perfect for wearing to other special occasions.
These acid yellow heels from ASOS are ideal if you're looking for unusual wedding shoes that you can make a statement in over and over again. The super bright colour and floral heel are not your conventional bridal look, but your guests certainly won't be able to take their eyes off them.
Flat wedding shoes can definitely be worn again as they're the most comfortable footwear option. The Charlotte Mills Anabel range features stunning white pumps adorned with hearts in a range of colours. The cute pink ones are perfect for girly girls.
If you're worried that colourful wedding shoes won't look formal enough for your wedding, opt for a chic court heel with a pointed toe for the ultimate in modern sophistication. We love the Olivia shoe from Emmy London which would look beautiful at any occasion. If you want to rock this hue from head to toe, choose a gorgeous pink wedding dress to go with these heels.
Remember those royal blue Manolo Blahnik shoes that Mr Big proposed to Carrie with in 'Sex and the City'? Yup, these are the ones. If Carrie is your spirit animal, channel her look by wearing the famous Hangisi shoes with your dress for a fashion forward bridal look – although hopefully you won't have the same wedding dramas that Carrie and Big had!
To see more footwear inspired by your favourite movies, take a look at our round up of famous shoes for your wedding.
If you liked the nude Charlotte Mills shoes we featured at the beginning of this piece but have your heart set on covering your 'something blue' with your shoes, then you'll be delighted to hear that the Ana shoes come in a lovely pastel blue too. Blue wedding shoes are very versatile as they work for many different occasions.
A good way to be savvy with your wedding budget is to choose wedding shoes from the high street that can be worn again. These pretty strappy sandals from Debenhams tick all the boxes and have a supportive ankle strap too.
Inject some personality into your bridal look with these burgundy pom pom shoes from ASOS. If you're a bride who is used to pushing style boundaries, why should your wedding look be any different?
We can't get enough of the Beatrice heels from Charlotte Mills – they're so versatile with their block heel and royal blue suede. Rock them with a knee length wedding dress to ensure that they stand out.
Customised Bridal Shoes
If you're torn between getting wedding shoes you can wear again and ones that are a traditional bridal white or ivory then don't worry, as now it's possible to have both! Rainbow Club offer a dyeing service on all their bridal shoes – so you can transform them with a colour of your choosing after the wedding is over.
"Our specialist hand colouring service lets you have your Rainbow Club shoes hand coloured to any shade you desire," says Jacqueline Hinson, Rainbow Club's Marketing and Product Co-ordinator. "After the wedding you can send your shoes directly to us, choose a colour, then we will hand colour them for you. You're essentially getting two pairs of shoes for the price of one."
Another fantastic way to transform your wedding shoes is by using Le Soulier's bespoke illustration service. Simply send designer Sonia Brown a pair of plain wedding shoes and she'll customise them with a design and theme of your choosing. If you want a customised pair for the actual wedding, she can also personalise them to fit in with your chosen theme and colour palette.
Metallic Wedding Shoes
Every girl needs a pair of LBS (that's Little Black Shoes) in her life, so why not surprise your guests by rocking a pair at your wedding? The Charlotte heels from Charlotte Mills feature the seriously glamorous combination of black and metallic gold – they're so good that she named them after herself!
The Charlotte shoes would also go perfectly with one of the gothic wedding dresses in our alternative edit.
Another shoe designer who is proving that black is a stylish colour for parties and weddings is Freya Rose. Snakeskin is a print that you wouldn't normally expect to see as bridalwear, but Freya Rose's black suede Marte heels have firmly sealed its status as one of the hottest new bridal shoe trends. The metallic shimmer of the snakeskin and the luxurious texture of the suede gives the shoe plenty of glamorous appeal.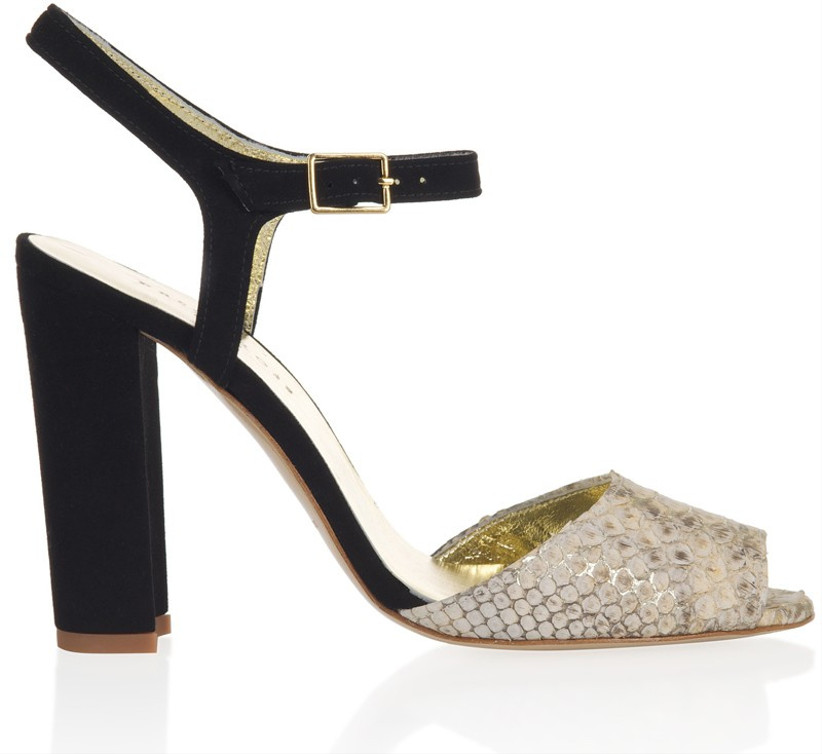 Metallics are all the rage right now and there's nothing prettier than adorning your feet in rose gold, right? These shimmery slip on heels from ASOS would beautifully match a rose gold engagement ring.
Not only is blue and silver a highly desirable colour palette for weddings, its also perfect for parties all year round. These Rachel Simpson heels confirm that blue and silver really are a match made in heaven – we also love the unusal scalloped shape which makes us think of ocean waves and seaside themed weddings.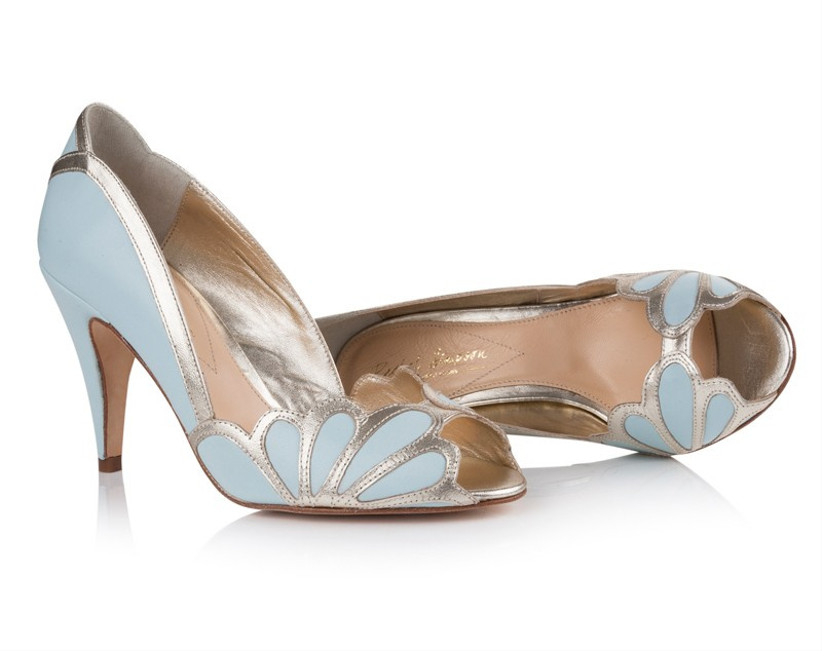 The Gavin heels from Kurt Geiger certainly rack up the style points with their cut out cage design and shimmery detail. They'd work just as well for your wedding as they would at a glitzy New Year's Eve party.
If you love all things gold, then you're sure to adore these metallic beauties from New Look. They'll cost you less than £30 and are an absolute steal in our opinion. Continue the colour palette in your bridal party by putting your girls in gold bridesmaid dresses.
Ravishing Red Wedding Shoes
These pillar box red Charlotte Mills heels would look amazing with a tea length wedding dress and some 1950s inspired make up. Match your heels to your lips and wear lipstick in a similar shade of scarlet – your other half will be blown away by how amazing you look.
We're not sure which part of this shoe we love best – the sparkly silver heel or the romantic red suede hearts. Charlotte Mills has done it again with the Andrea shoes which would add sparkle to your wedding and are also a fun choice for a night out with the girls.
Pretty Floral Wedding Shoes
These floral platforms are delightfully girly, plus they're from Dune so they're another high street steal. The print is definitely too special to just wear the once – why not rock them at a garden party or girly lunch as well? If you want to wear head to toe print for an unconventional yet eye catching bridal look, pair these heels with one of the gowns from our floral wedding dress edit.
If you'd describe your style as whimsical and a bit qurky, look for wedding shoes with an unusual design so that you can definitely wear them again – we're obsessed with the unique cut out floral design of these Harriet Wilde heels.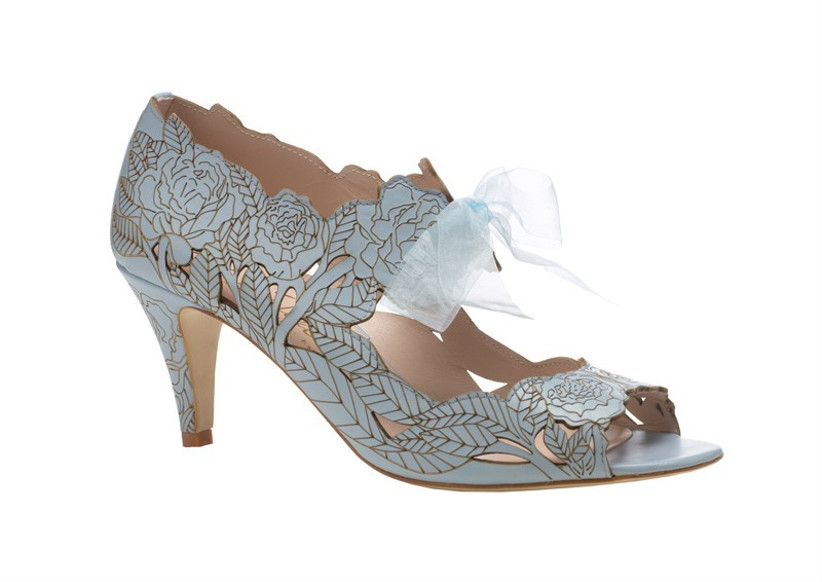 The Carmen T-bar heels from Charlotte Mills have a really interesting look with their ruffled floral detailing down the centre – this is another pair that could go straight from the wedding to a summer party in one smooth move. Rose gold and silver petals give the strap the dreamiest shimmer.
These ASOS platforms may be sky high, but the thick heel should give enough support to prevent any tripping disasters down the aisle. The iridescent floral embellishment at the strap goes surprisingly well with the brocade finish.
Wedding Shoes with a Touch of Sparkle
The sparkly gold bows and the metallic heels of the Beatrice shoe from Charlotte Mills are sure to appeal to any bride's inner magpie. Although the shoes would be amazing to wear all year round, the glitzy gold details make this pair perfect for the festive season.
Or how about the dreamy Blondie Rose shoes? The rose gold leather and glittery heart straps are making our hearts skip a beat – these are definitely worth treasuring forever.
Gold leaf detail is having a bit of a moment right now and we're not complaining! These grey suede Harriet Wilde heels are all about understated elegance at the front, whereas the back is designed to take your breath away with the intricate floral embellishment. The gold cherry blossom flowers even feature pearls and Swarovski crystal detailing.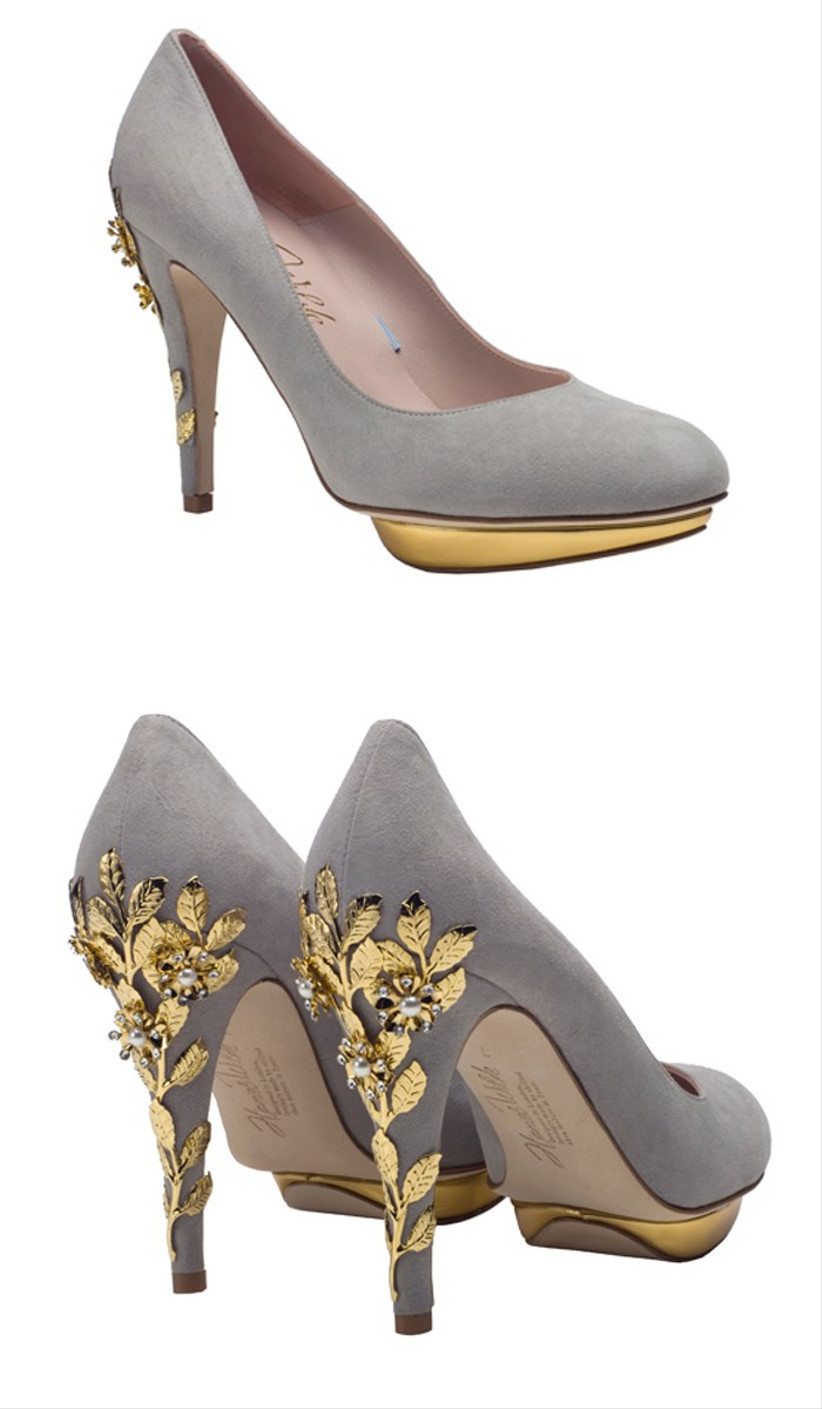 If you're a Star Wars fangirl and not afraid to show it, how about these quirky shoes from Irregular Choice? Whether you choose the glittery gold C-3PO flats or the dramatic Darth Vader block heels, they're both just too amazing not to wear again!
If you love the idea of adding movie references to your wedding, check out these awesome TV and film cake toppers.
These decadent bridal mules from Emmy London are finished off with a shimmery beaded pattern that you can't help but stare at. The mint green beads add a summery pop of colour that makes these shoes more than suitable for being worn again. We can picture these being worn with a Grecian wedding dress or a floaty maxi skirt.
If you're not good with heels and are nervous about teetering down the aisle wearing shoes that aren't strapped to your feet, the Coco cage heels from Charlotte Mills will ease your worries. The block heel and T-bar shape make them versatile enough to wear out but the blush pink hue is more than wedding-worthy.
The pretty Windsor shoes from Irregular Choice are glittering gold perfection. The daisy-esque decoration is so appropriate for spring and summer.
Charlotte Mills have done it again with these glitzy T-bar shoes – pair with a fabulous bridal cover-up for a winter wedding or glamorous gold accessories for a celebration in the summer.
Bridal Shoes with Cut Out Detail
Look for white or ivory shoes with cut out details if you want them to have a hint of tradition but with the versatility to be worn again. You may need to practise walking in these River Island heels before the wedding, but there's no doubt that they'd make a fashion forward bridal look.
Wedges as wedding shoes – a crazy idea or a stroke of fashion genius? Definitely the latter we say! Hey, sometimes it's okay to rewrite the wedding rules. The cork wedge of these Dune shoes makes them more stable to walk in and the laser cut floral pattern gives them a pretty bridal flourish.
Last but by no means last, Dune's strappy laser cut heels are another versatile pair that would look stunning on any bride. If you're planning to get pretty nail art for the wedding, these peep toe sandals would show it off beautifully.
Now you've got your own wedding shoes sorted, take a look at these stunning silver bridesmaid shoes for your best girls.