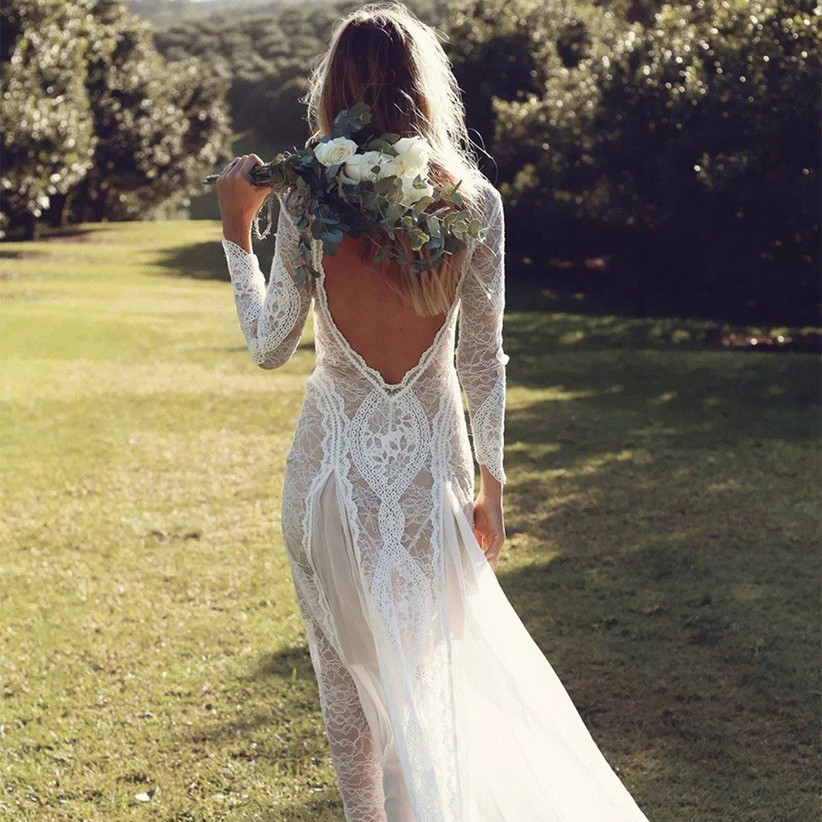 If you are still looking for your dream wedding dress for your 2019 or 2020 wedding then take a look at some of the most stunning bridal fashion trends.
READ MORE: How to Choose a Wedding Dress
We spoke to Peta Hunt – editor-at-large and bridal fashion expert at You & Your Wedding – as she shares her wedding dress trend predictions.
"After travelling around the bridal shows, seeing hundreds of amazing catwalks and thousands of dresses, here are 10 of my favourite trends for brides to be 2019.
"We must, of course, acknowledge the Meghan effect and celebrate the creative talents of so many designers, there has never been so much choice for the bride-to-be to find her perfect dress, whether this makes it easier or not, I don't know.
Clean and Modern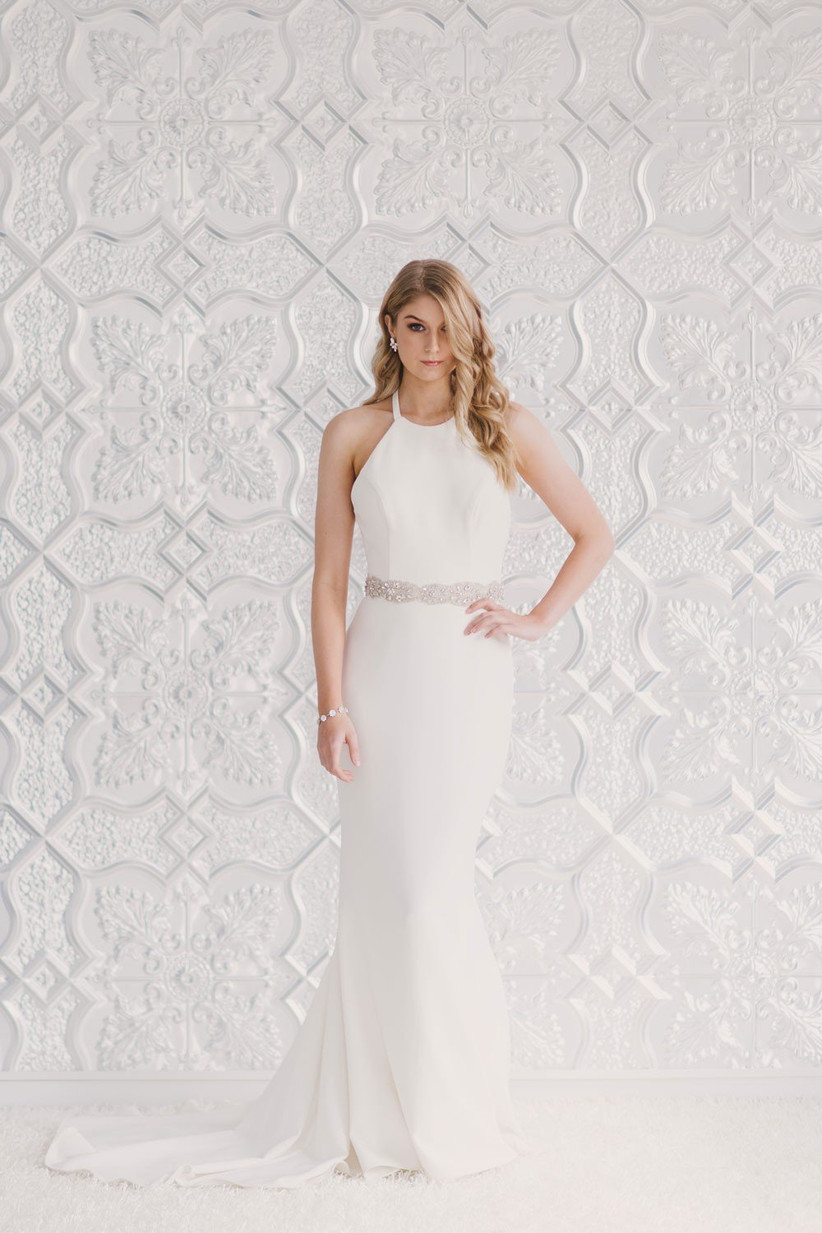 Image credit: Wendy Makin
Peta explains how the Royal wedding has had an impact on what brides are looking for. "Keeping it simple and with no massive adornments attached. This is the trend that Meghan embraced. Look out for silk, crepe and clean cut lines, perfect for the no fuss bride."
READ MORE: Simple Wedding Dresses for Modern Brides
Lace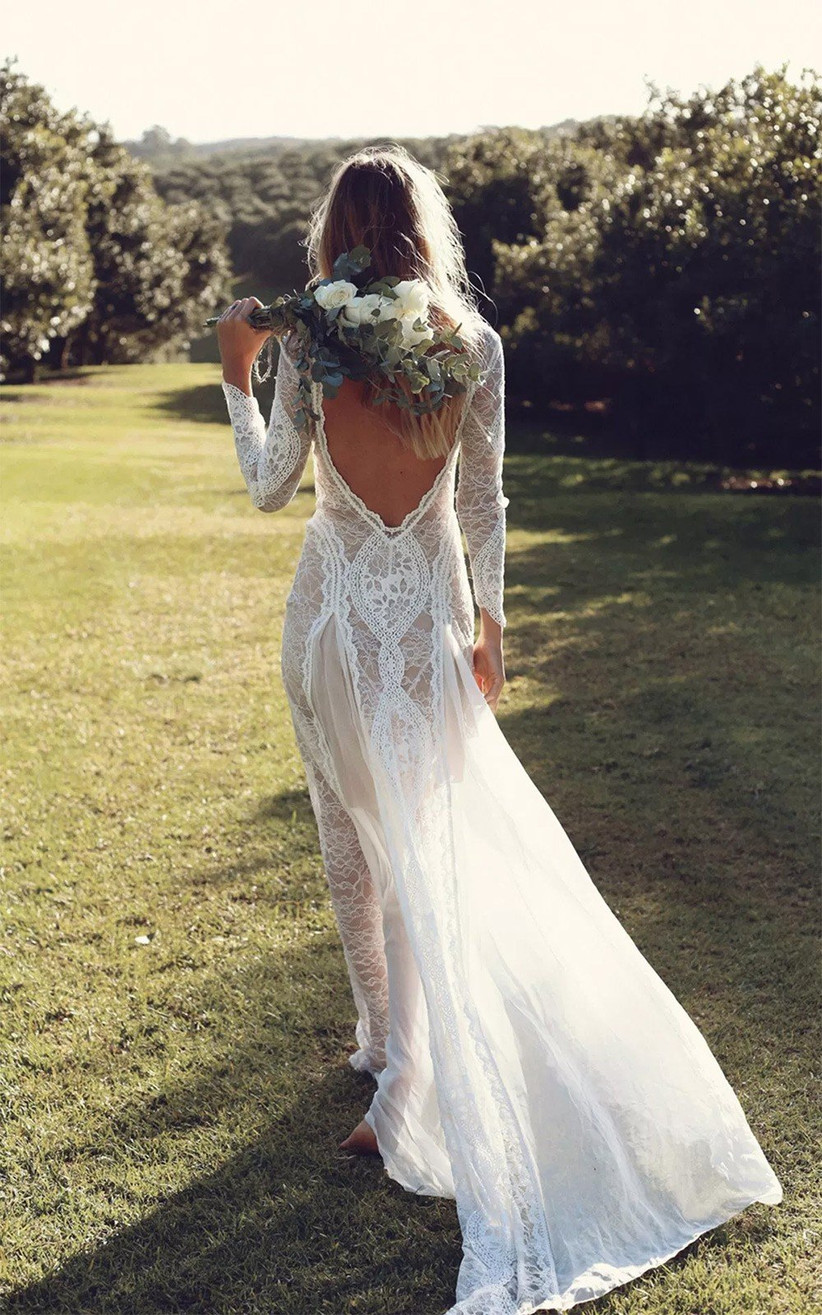 Image credit: Grace Loves Lace
Lace is always a popular fabric with brides but 2019 sees this traditional fabric have a 2019 makeover. Peta says "The eternal romantic bridal fabric but used in a much more stylish way, no twee old lady styles here, and with the introduction of stretch lace it is a really easy to wear look for any location."
READ MORE: The Best Lace Wedding Dresses
Going Large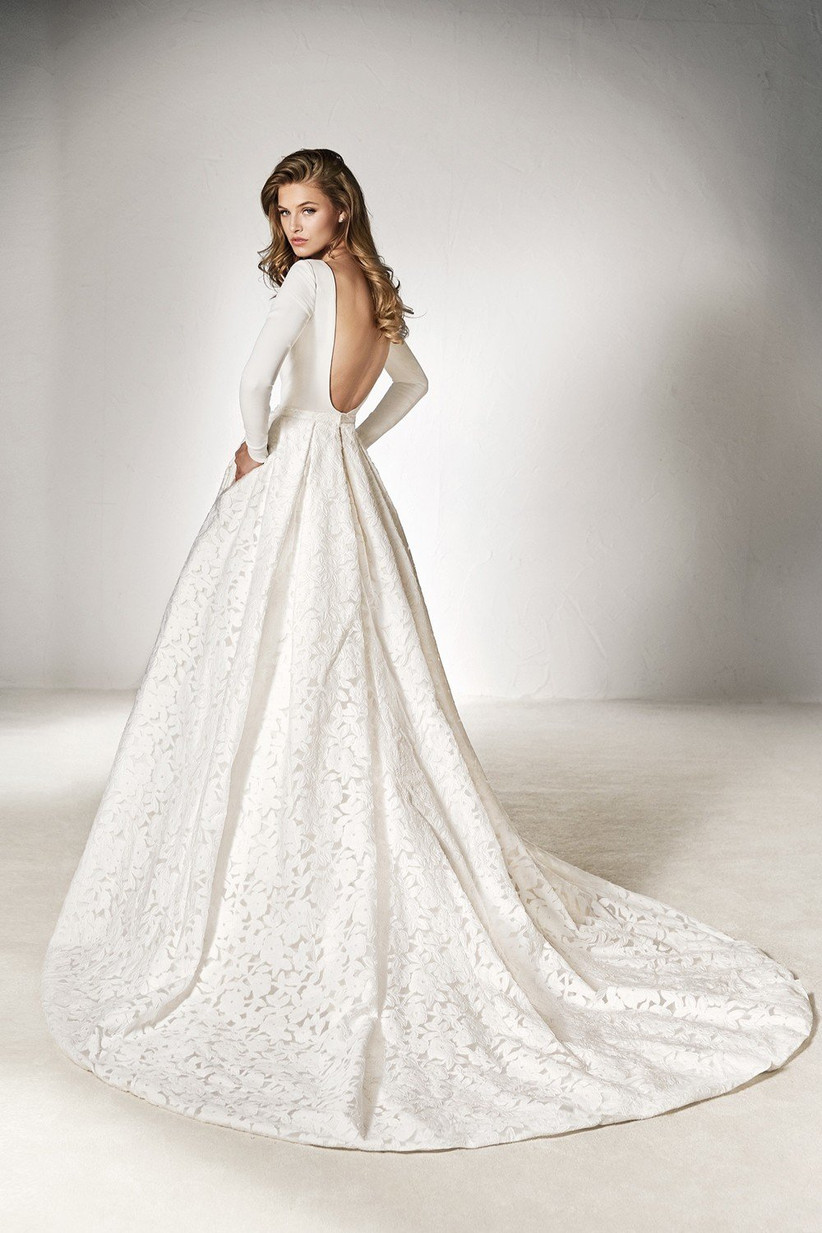 Image credit: Pronovias
2019 is most definitely the year of the Princess bride! Peta tells all "Big dresses are back but the big are not heavy and solid, the new ballgown is light and airy and allows you to move with ease and dance the night away."
Bows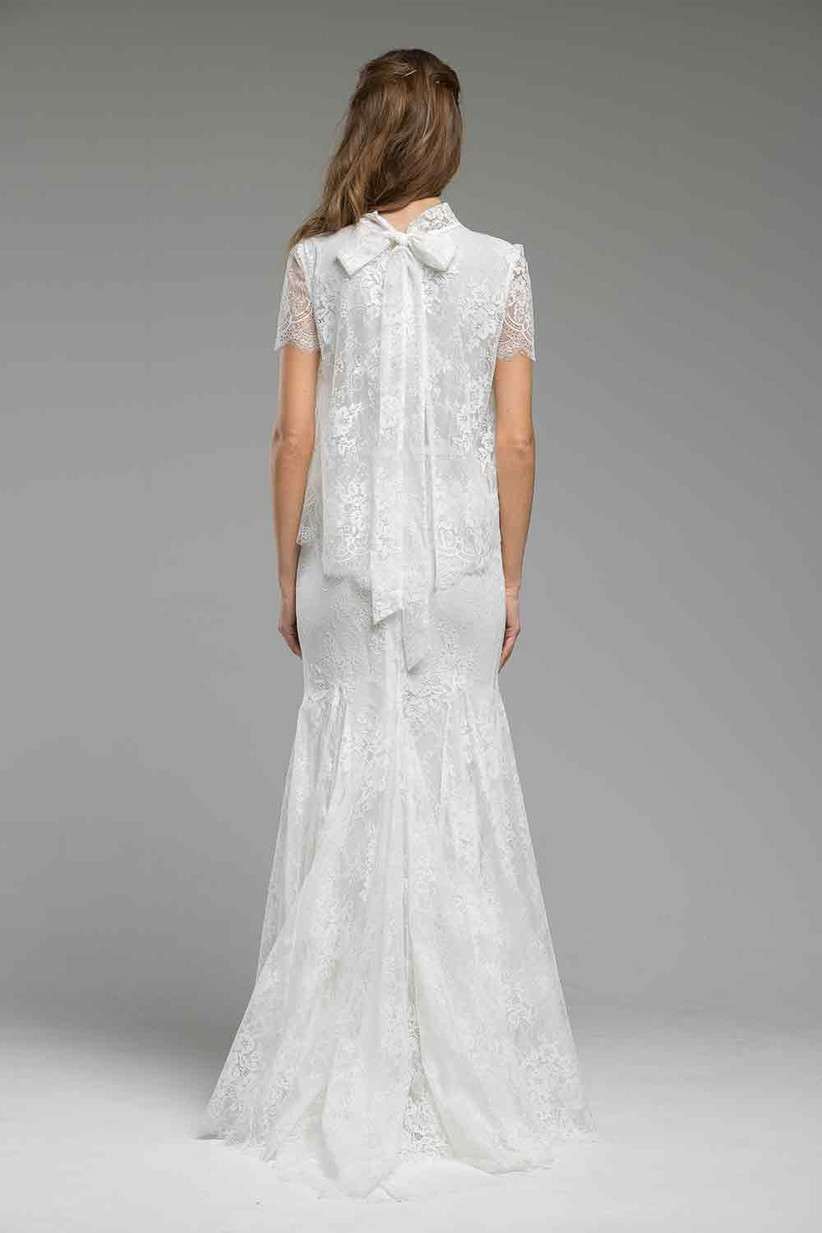 Image credit: Katya Katya Shehurina
If you are looking to add some high fashion style to your bridal look then wedding dresses with bows could be perfect for you. Peta tells us "This is the mini trend that we love, whether a huge bow at the back of your dress or a simple one on your neck, shoulder or waist, the bow was the trend that fashion editors loved at the shows, be prepared to see a lot in the future."
READ MORE: 17 Stunning Wedding Dresses with Bows
Colour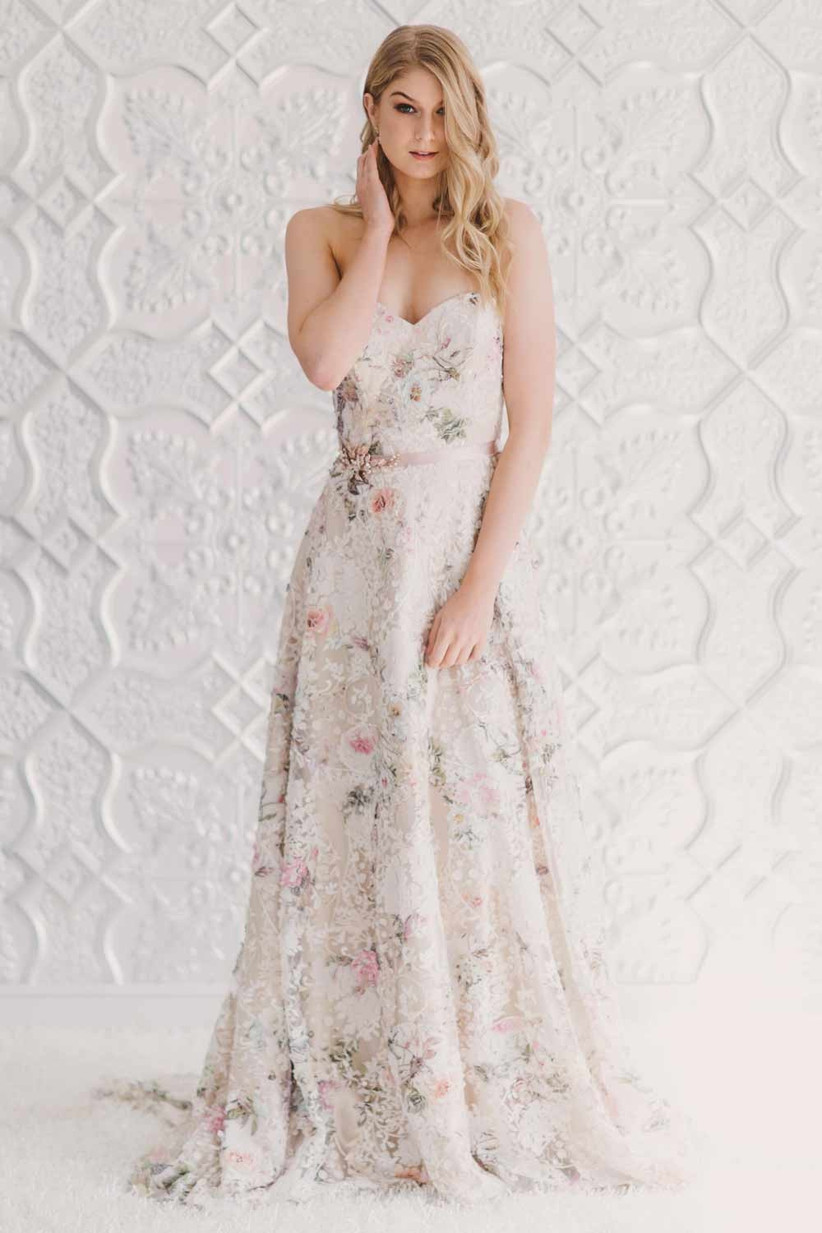 Image credit: Wendy Makin
2019 is all about breaking the traditional wedding rules. Don't want white? Peta says that you don't have to! "So much blush, pale blue, pink, red were on the catwalk this year and for the daringly different Vera Wang showed deep purple with touches of yellow."
Take the Plunge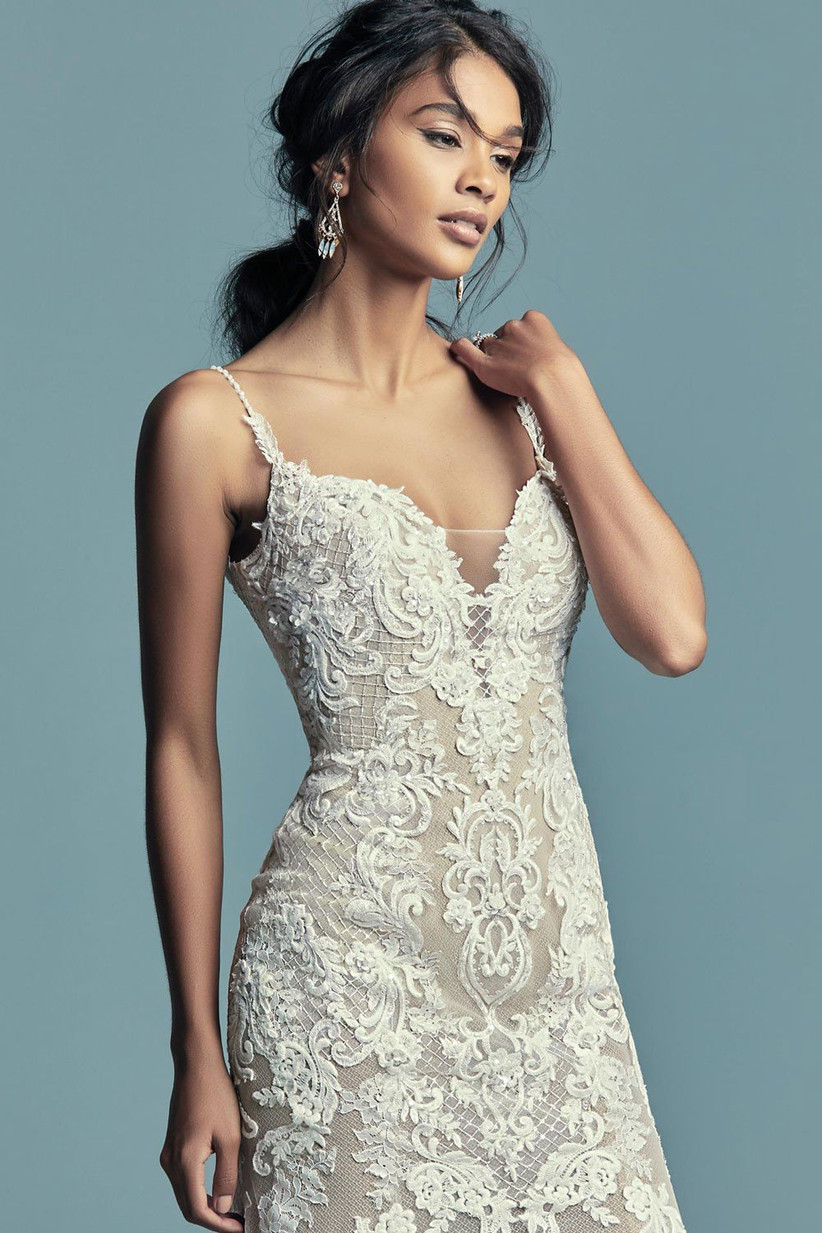 Image credit: Maggie Sottero
This trend is perfect for brides planning a destination wedding in a hot country or for brides that want to go a bit more daring with their bridalwear. Peta explains "V-fronts and backs are back, whether held in place with illusion lace or net. Plenty of flesh on show here, this is a great trend for the more daring bride, whose granny is not easily shocked!"
Ruffles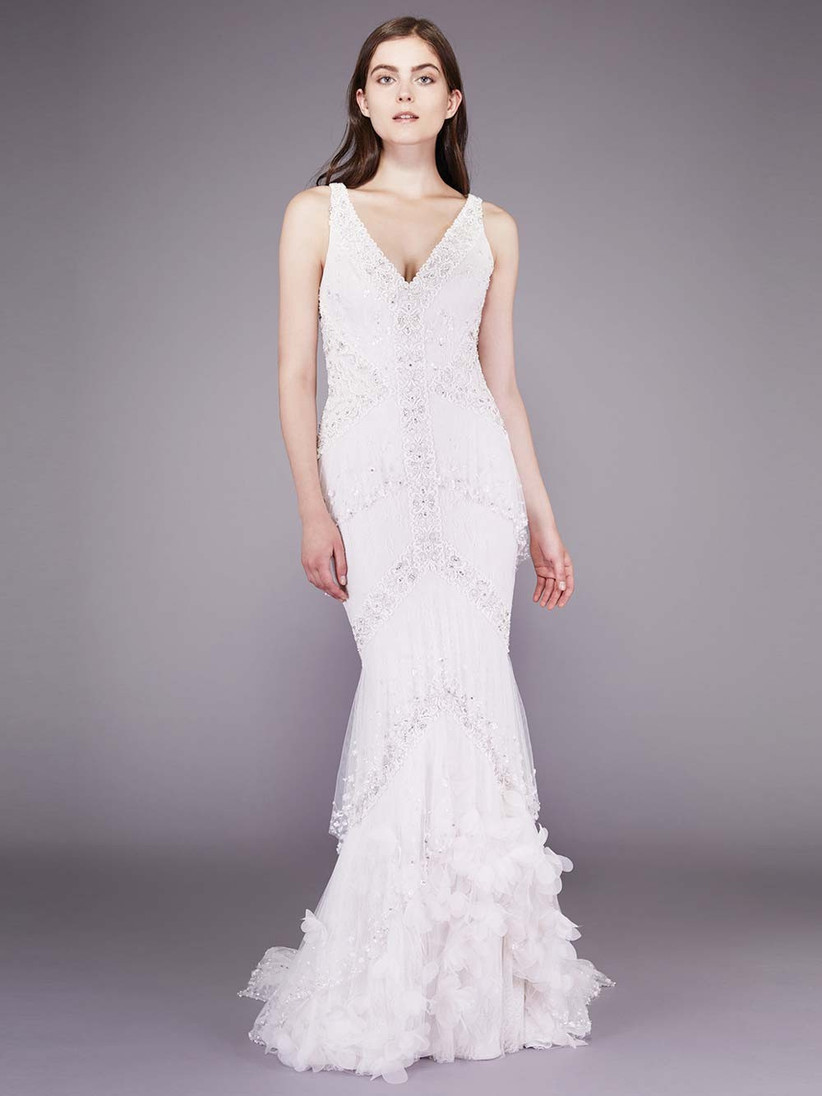 Image credit: Badgley Mischka
"No minimalists here" Peta continues, "ruffles are for the bride who wants to make a statement and yet very flattering, a ruffled skirt can hide any lumps and bumps, and ruffles on shoulder and round the neck add that extra romantic touch."
Shine On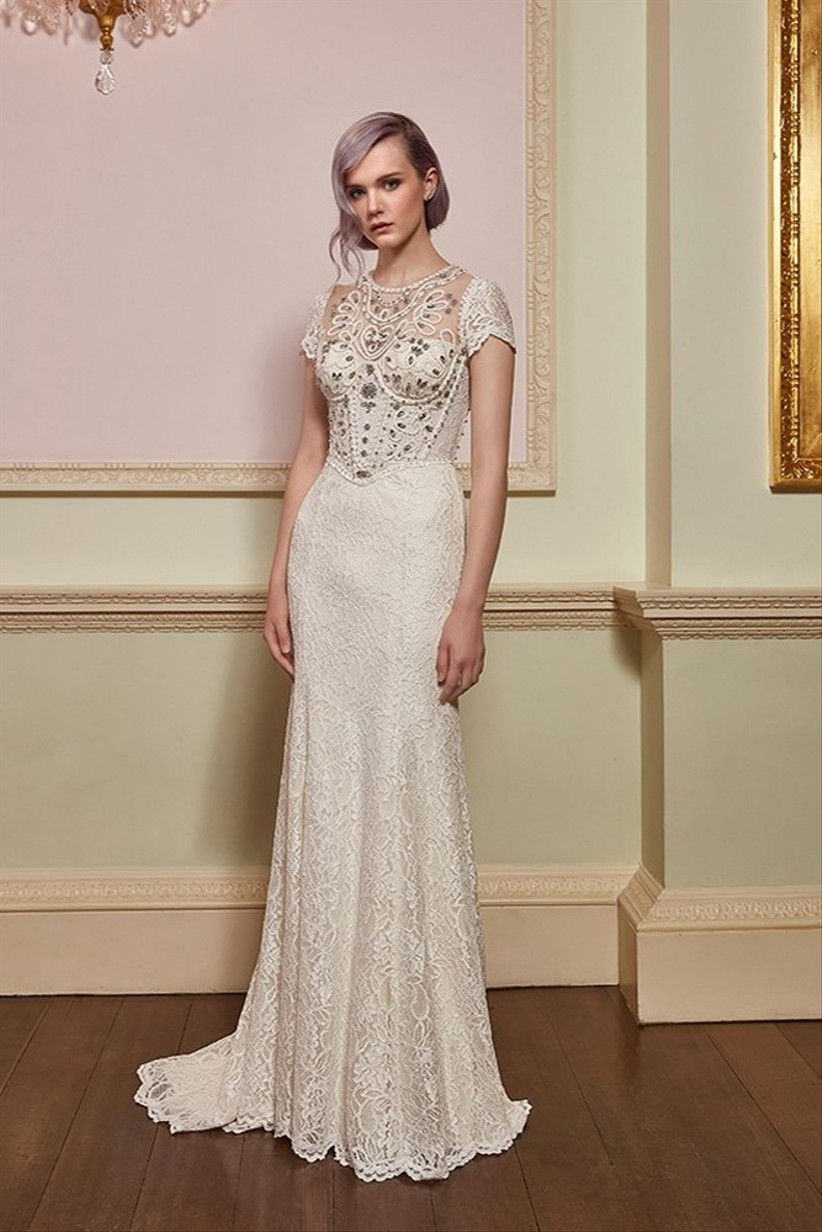 Image credit: Jenny Packham
Want that red carpet vibe for your big day? Peta says "I loved all the sequins and beading I saw shimmering down the runway, these dresses are the ultimate in modern glamour, keep your accessories to a minimum and sparkle down the aisle."
Short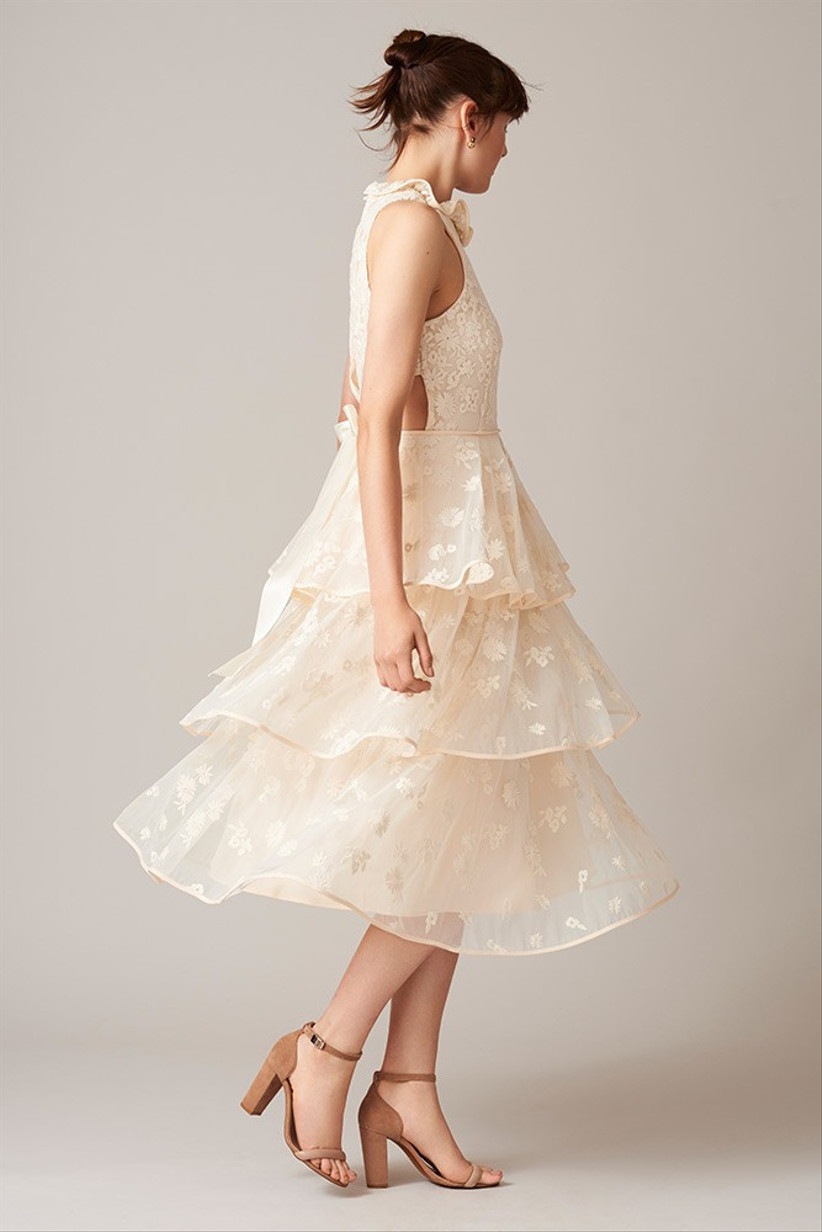 Image credit: Whistles
Not a big dress kind of bride? Well there is plenty of choice for wanting to go short. Peta explains "whether the high low dress or mini, the legs were out on the runways, perfect for beach and city weddings, or if you love your Choo's these are dresses that you can show them off in."
Trouser Suits
Image credit: Savannah Miller
Not a dress kind of girl? Fancy rocking a suit at the altar? This season saw so much choice, Peta tells all. "With strapless jumpsuits, oversized trousers or softer styles with overskirts. If this look is not for your main event how about wearing it for the evening?"
READ MORE: Brides Who Rocked Wedidng Suits
If you are looking for even more ways to make sure your wedding is on trend then don't miss our round-up of the hottest 2019 wedding trends.