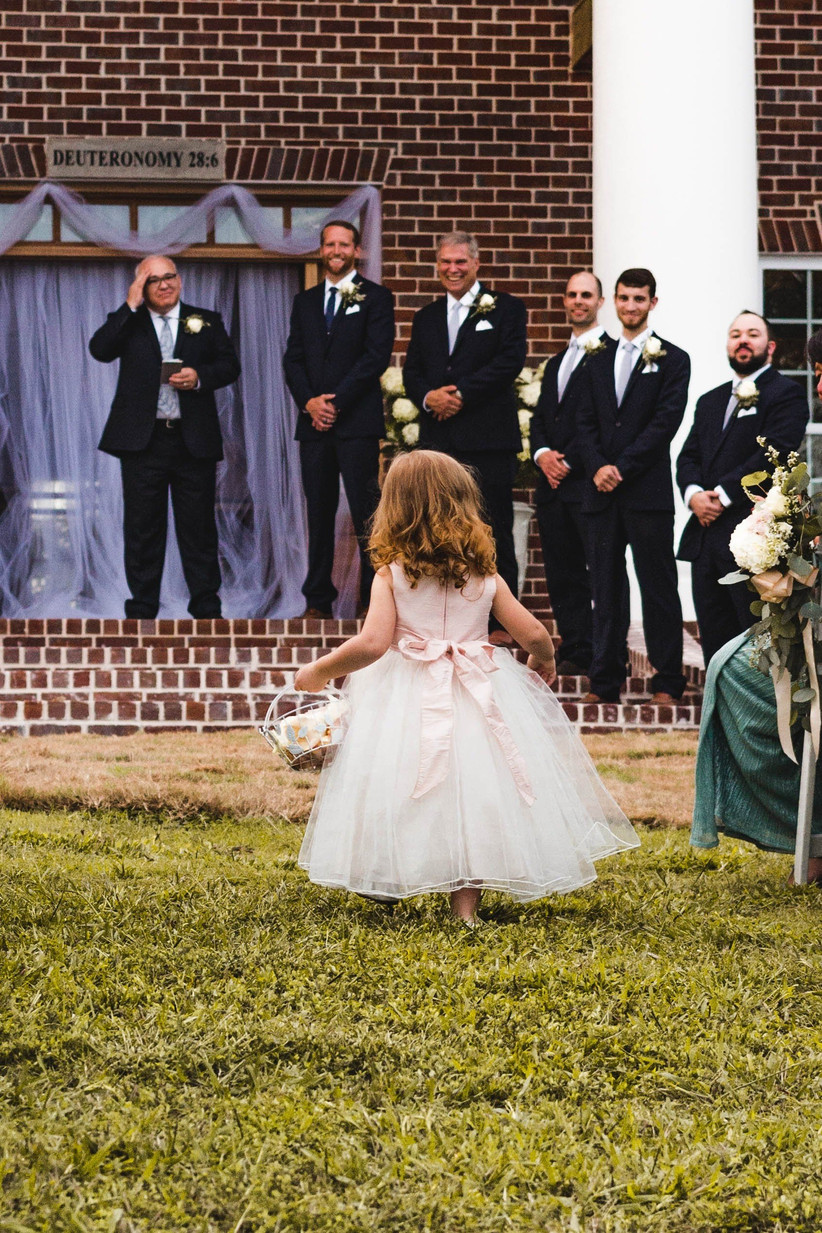 Amongst the adults in your awesome bridal squad, there is usually an angelic little girl, or maybe even a few, who get to play the all-important role of being your flower girls.
Dressing them is just as important as dressing your bridesmaids and we have put together a 23 of the world's cutest flower girl outfits that will suit every type of wedding.
Be prepared to 'aww' at every single one of these designs – they are seriously adorable.
If you want a full length style for your flower girl, why not opt for this pretty pink design from Dessy Flower Girls collection. The cute floral detail on the waist band is the perfect amount of girly detail for the dress and will have her feeling like the true princess that they are.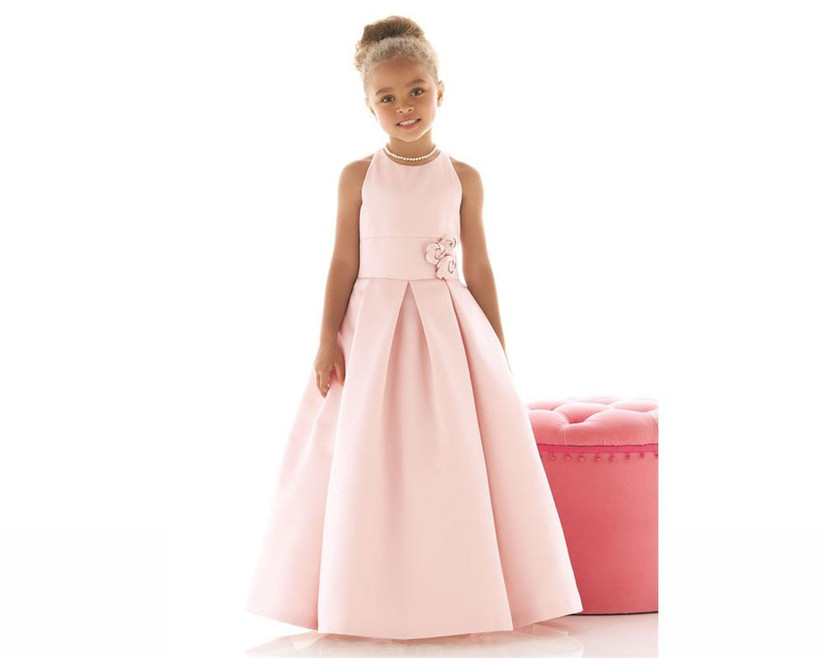 Brides who want an ivory coloured dress for their flower girl will love this tiered style. Any little girl who wears this dress will stun your guests on the day and the volume of this design will look gorgeous next to you if you opt for a ball gown wedding dress.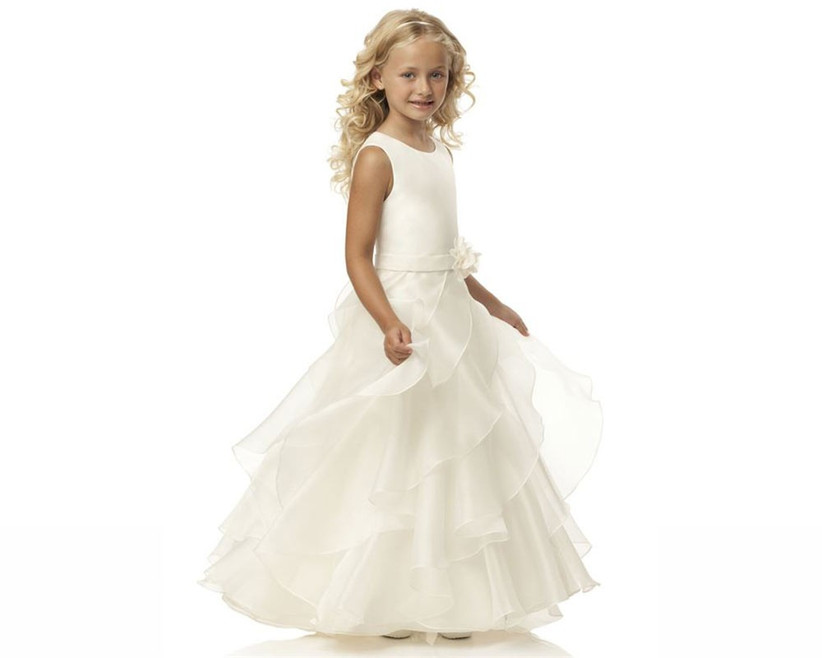 Full of volume and just adorable to look at, this gorgeous flower girl dress has everything a little girl could ever wish for. The fuller tulle skirt is fit for a princess and the big, beautiful flower on the side is girly and fabulous. We love the accessories that are shown with this design, that pearl necklace is a definite recommendation from the Hitched team!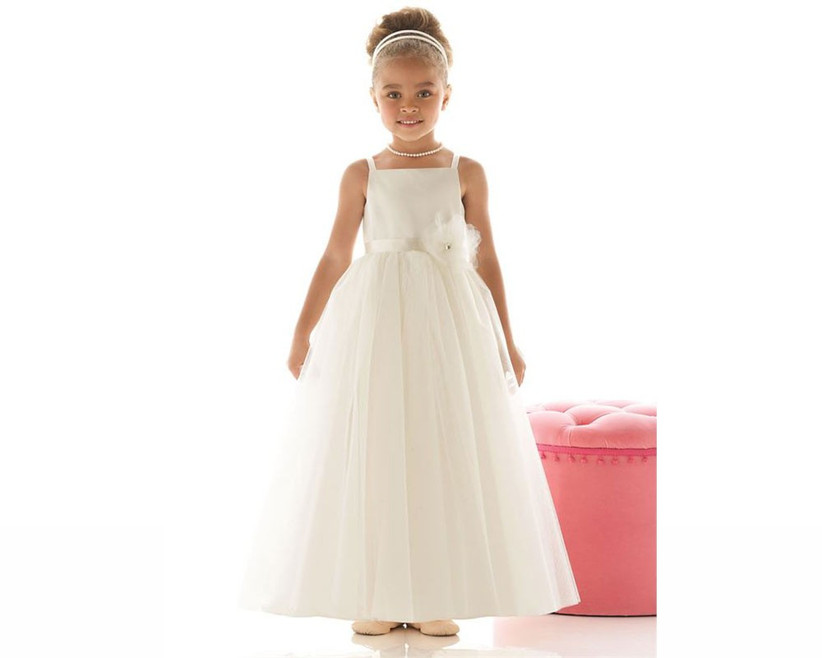 Having a vintage wedding? If so, there aren't many flower girl outfits that would fit better than this gorgeous Monsoon design. The soft grey colour is the perfect shade to bring out the lace detail and the cap sleeves are beyond cute.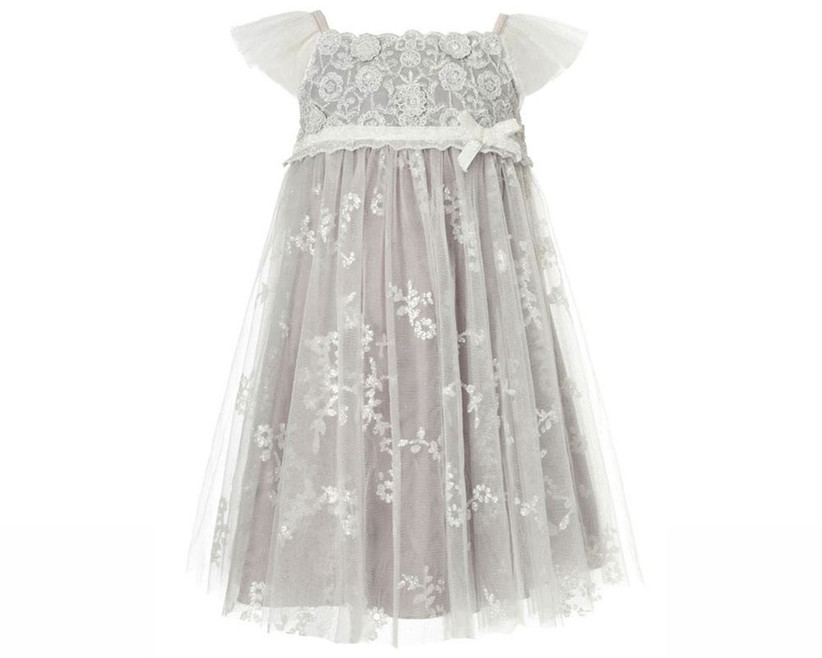 Summer weddings are exactly where this floral flower girl outfit belongs. If you are wearing a floral wedding dress yourself, what better way to accessorise than to have your adorable girl in a design like this. The bright colours and 3D floral embellishment are so charming.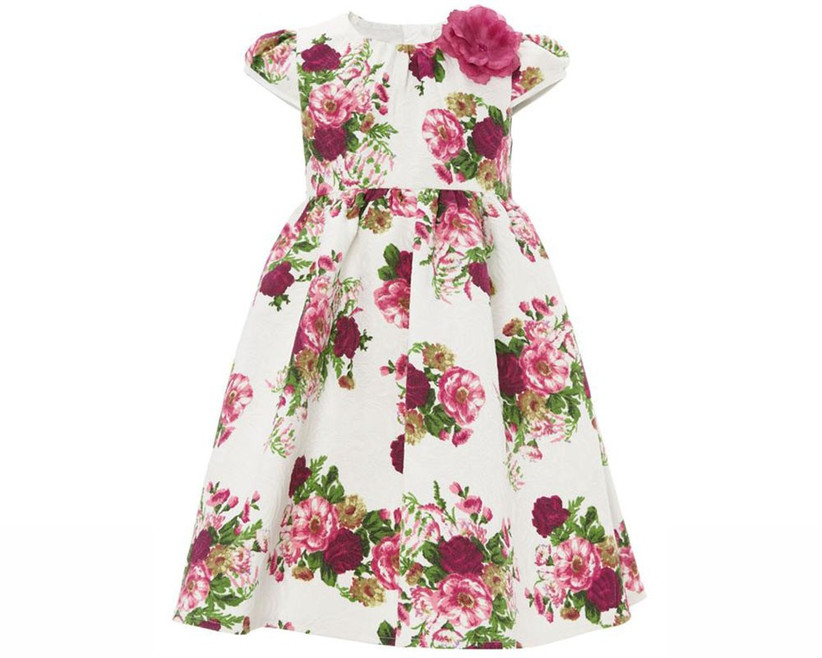 This champagne coloured flower girl outfit has a real autumnal feel to it with the leaf and floral embellishment on the shoulders. The full skirt gives it a beautiful shape, perfect for your flower girl to walk down the aisle in.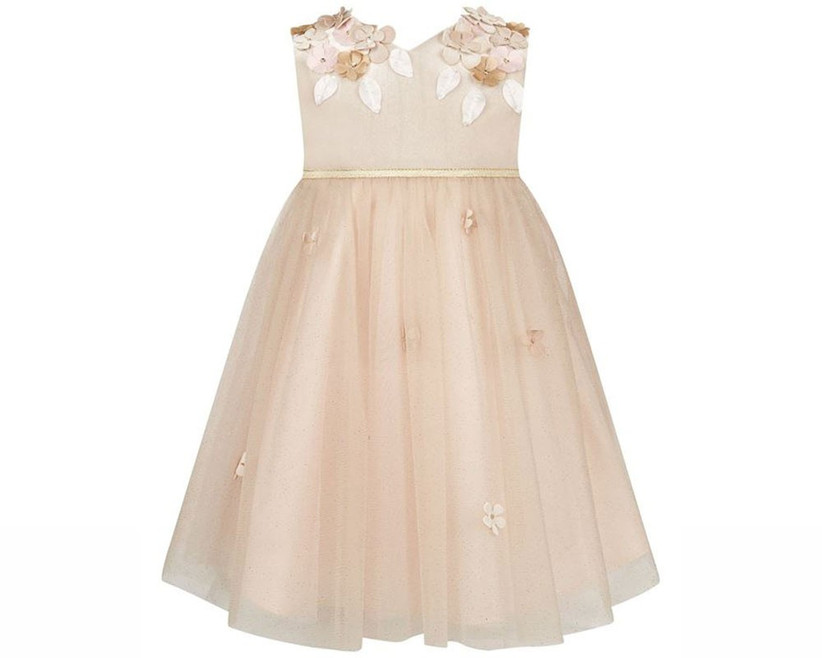 Brides who are having a glamorous wedding full of drama and style need their flower girl to match the theme and this exquisite dress from Baby Coco Bellea is the perfect fit. The dark colour, lace shoulders and feathered hem are seriously stylish together.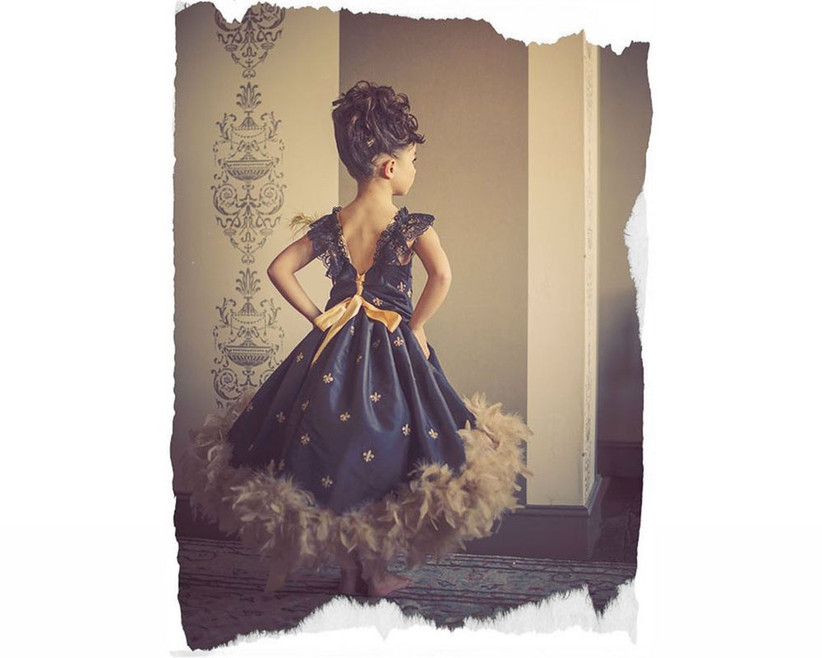 A floral flower girl outfit is something every fun-loving little girl needs when she has her magical moment at your wedding. This dress has so many elements to it that we adore, from the lace hem to the tiers of floral and textured patterns – it is just perfect.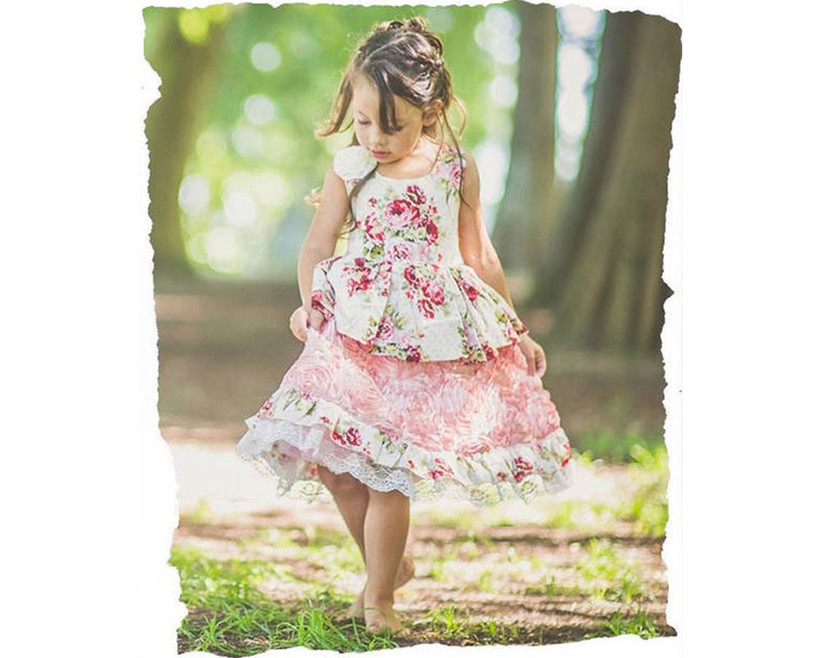 If your flower girl loves to look like a princess and dress up in the most beautiful of outfits, why not treat her to this gorgeous pale pink ball gown with a stunning feathered train. This dress is fit for a mini-diva who knows how to rock a fashion statement or two.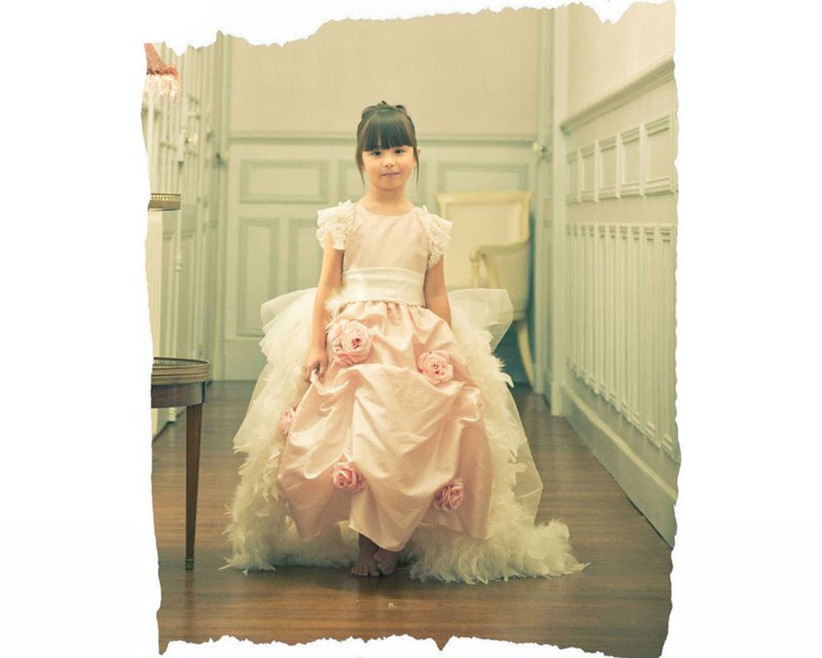 The stunning, frilly sleeves on this sheer jacket go perfectly with Emmerling's gorgeous flower girl dress.  It has a young and playful shape to it and the sparkly detail on the bodice is something every flower girl will enjoy wearing. Every girl needs some glitz in her life no matter what her age is.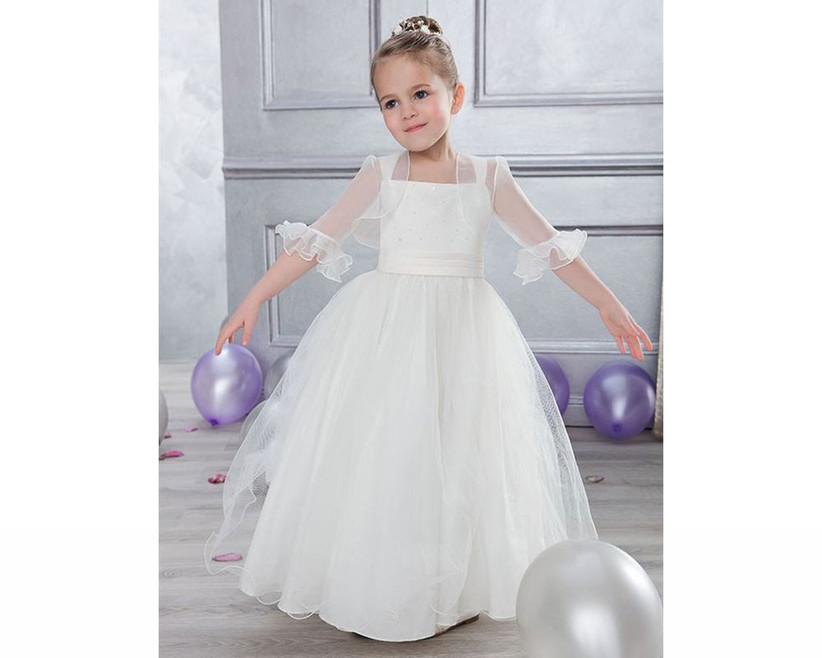 Both versions of this beautiful flower girl outfit are perfect in their own way. The splash of red on one version adds some real character to the design and is perfect if that is your colour scheme. On the other hand the simple ivory style is more classic and is ideal for a traditional wedding – either way; your flower girl will look gorgeous in either.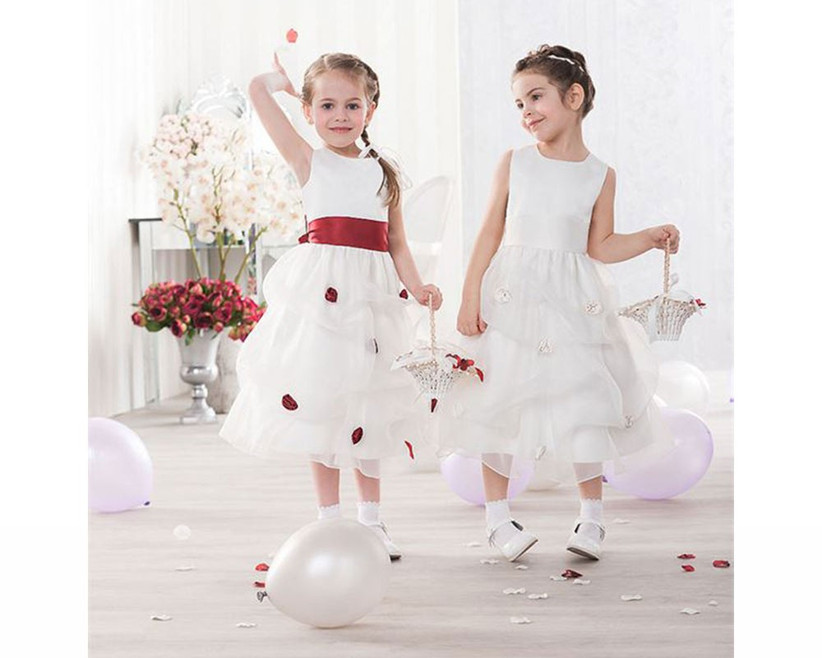 We absolutely adore this pink flower girl outfit from Jasmine Collection. The illusion neckline is so beautiful and we love the combination of tulle and lace, it really is a match made in heaven. The layers on the skirt give it a fullness that any flower girl will love running around in on your wedding day.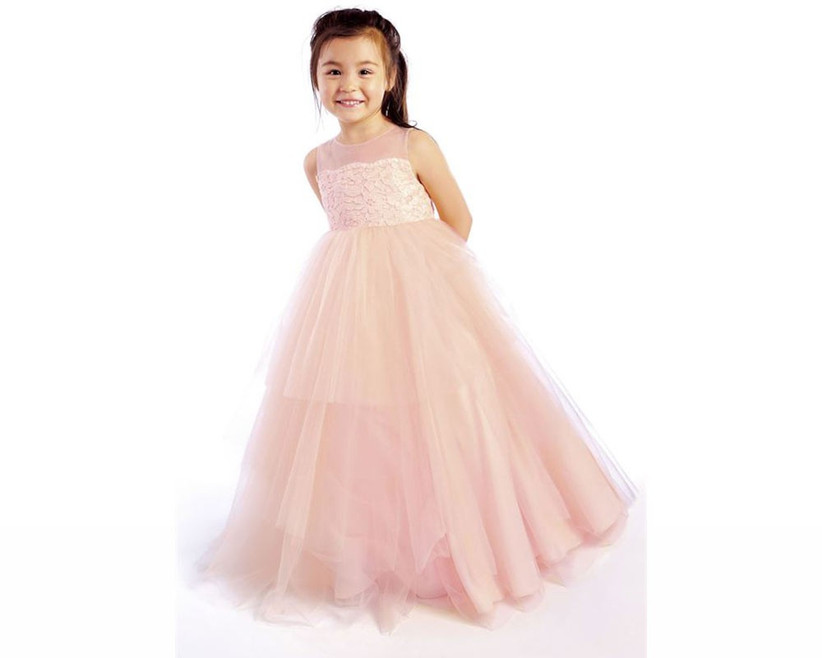 Another gorgeous design and this one really is as cute as a button. The pink satin waistband is a real stand-out feature within this dress and we love the sheer neck – it's so pretty. The length is fun and playful and perfect for brides who want a less formal look for their flower girl.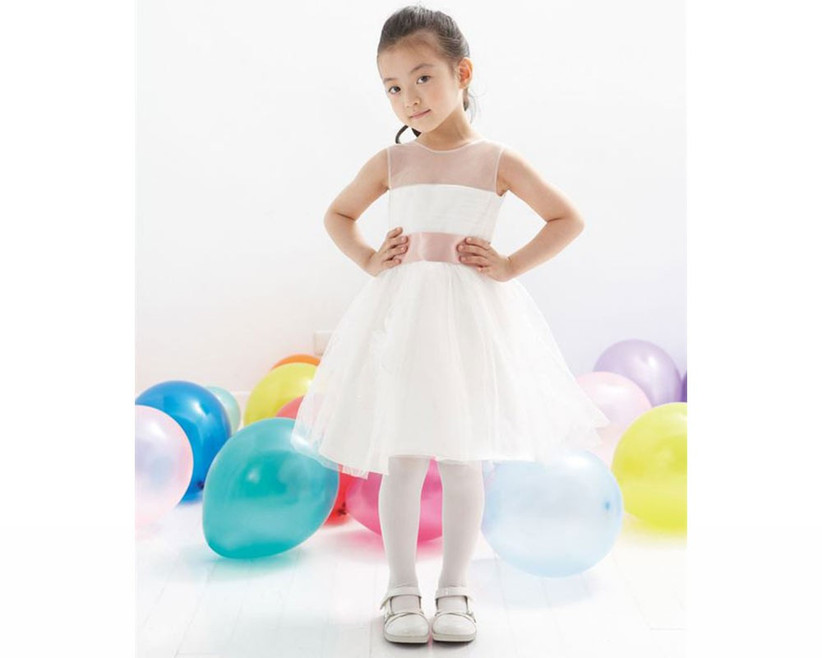 Having a black and white themed wedding? They are becoming ever-popular and this stunning flower girl outfit would be the perfect pick for one. The ruffled skirt is so on trend for the little ones and the thick black waist belt is a true statement. We love how the black detail is broken up by a white flower that ties in with the rest of the dress.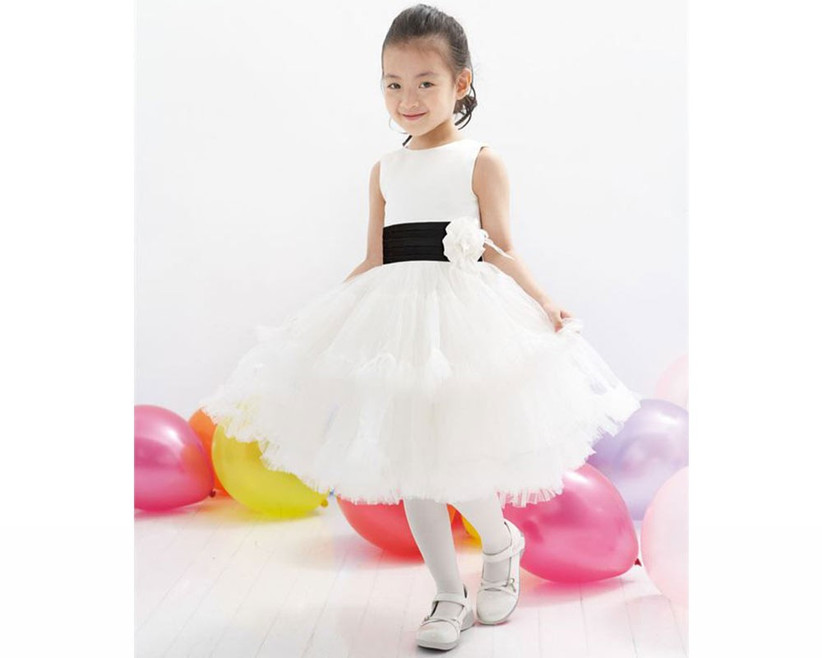 Have you ever seen anything so adorable? We definitely haven't! This Lilly Flowergirls design is crazy-cute. We love everything from the puff sleeves to the embroidered detail and the pretty length. Looking for the cute-factor for your flower girl, well this is it.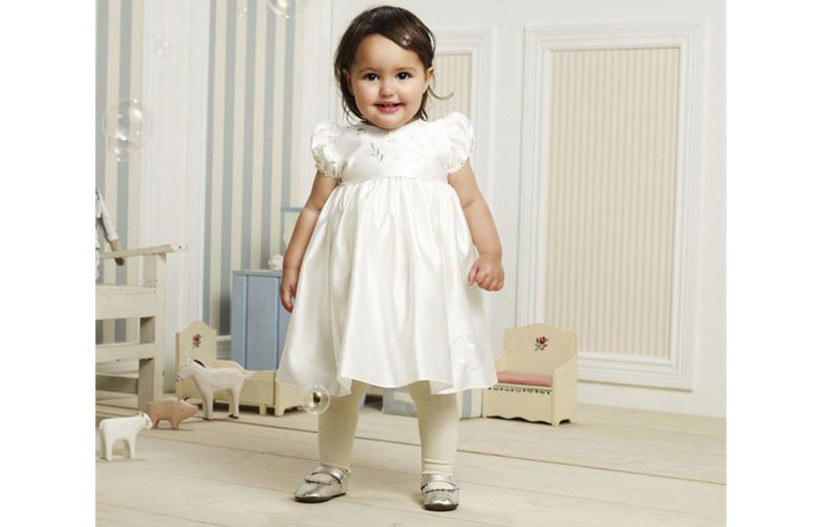 Flower girl outfits don't always have to be shades of pink, white or ivory. We fell head over heels in love with this stunning red dress that is perfect for a slightly older flower girl. She can stun everyone with her gorgeous wedding day look and accompany you down the aisle in a vibrant dress that is full of fun vibes.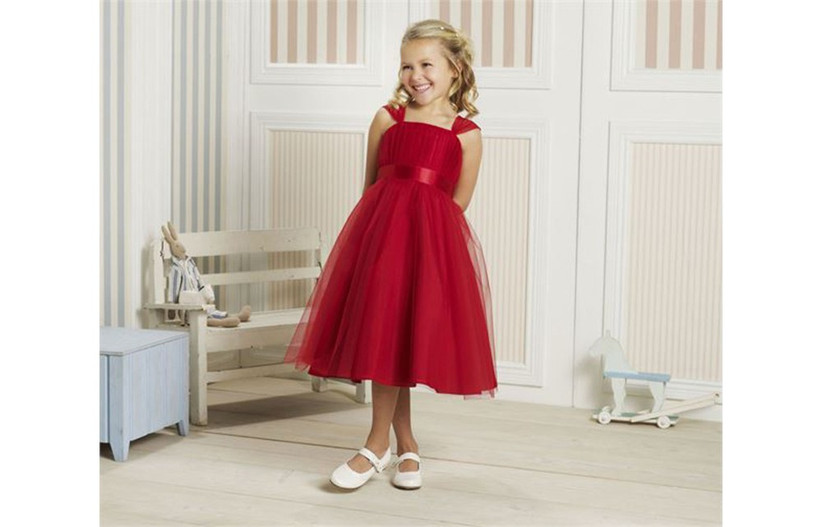 Just when we thought it couldn't possibly get any better, we came across this absolutely exquisite design. The lace hem detailing is impeccably done and the bow and waist belt was the cherry on top of the cutest cake for us. Such a classic flower girl outfit with all of the perfect trimmings.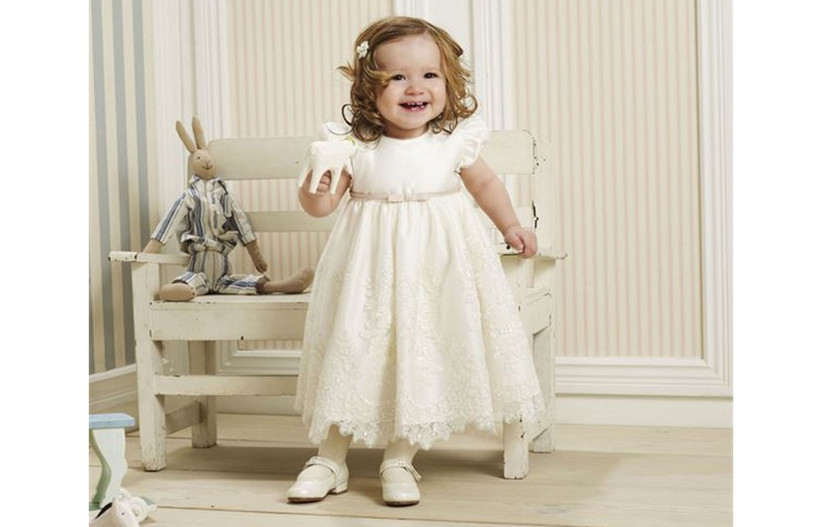 If you want to dress your flower girl in something a little different from the norm, why not try this Little Eglantine dress and jacket. The gorgeous gold colour is perfectly adorned with floral stitching and a pale pink waist belt which adds to its beauty.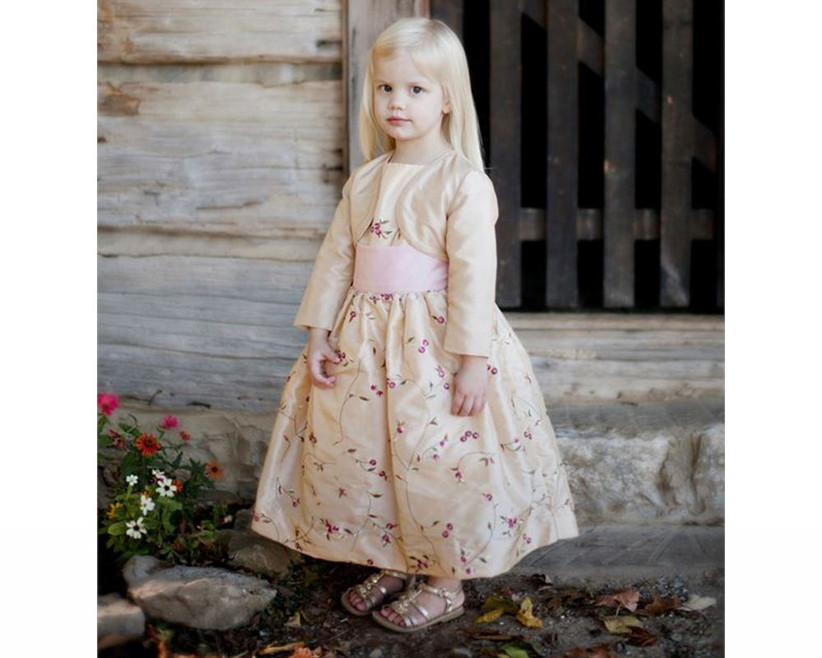 The gorgeous shine this flower girl dress has is so perfect for an outdoor wedding in the sunshine. The light material means she can walk innocently down the aisle with you one minute, and then play outdoors at the reception the next without a care in the world. The colour is breathtakingly sweet as well!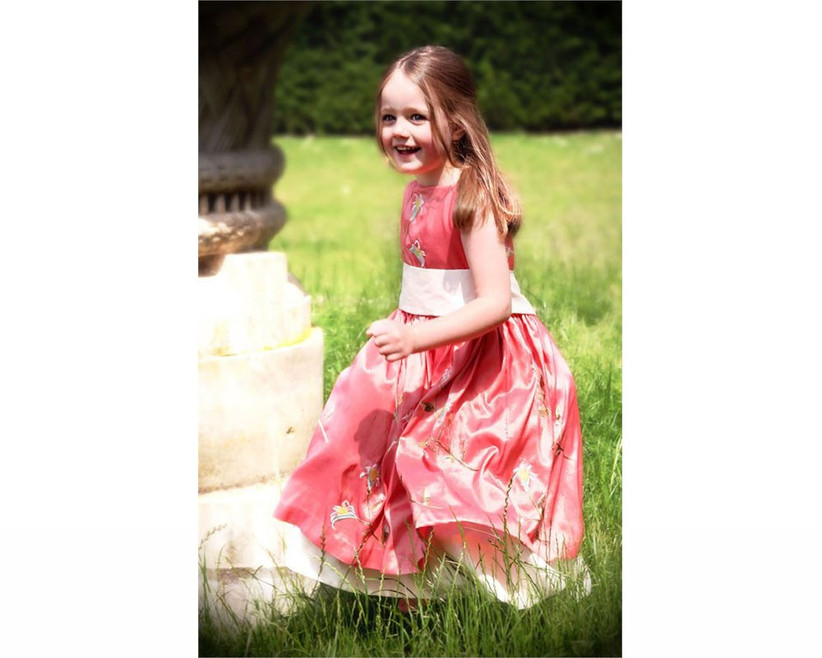 Ivory is a classic colour for a flower girl's outfit and the shape and style of this design shows elegance and prettiness the whole way through. We love the simplicity and think this would look so gorgeous next to an elegant wedding dress.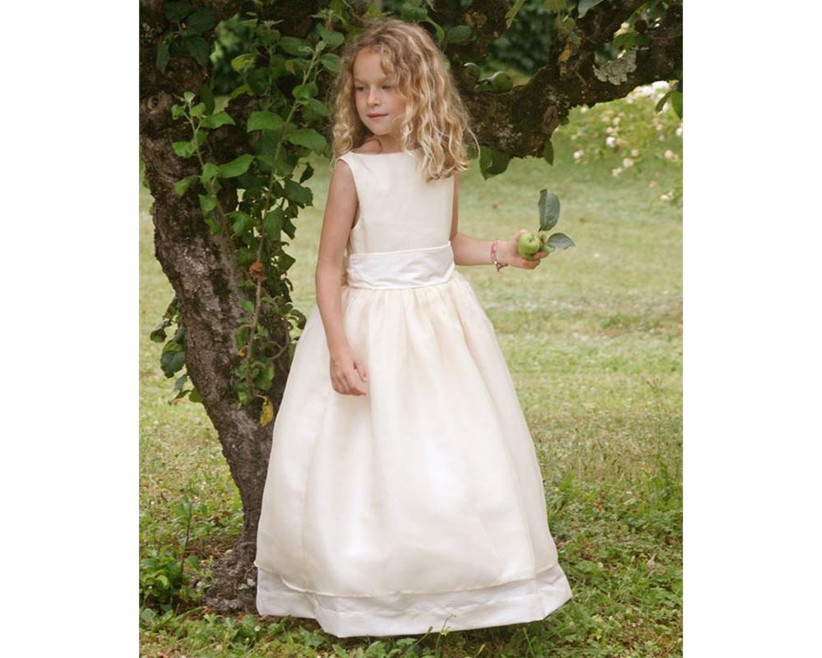 Little Mistress Girls: Flower Girl Outfits
If you are having red rose bouquets at your wedding, there is only one flower girl outfit that should be on your shopping list and it's this adorable design by Little Mistress Girls. The combination of white and red is a classic and magical pairing which comes together to create a look that is pure, pretty and fit for a princess.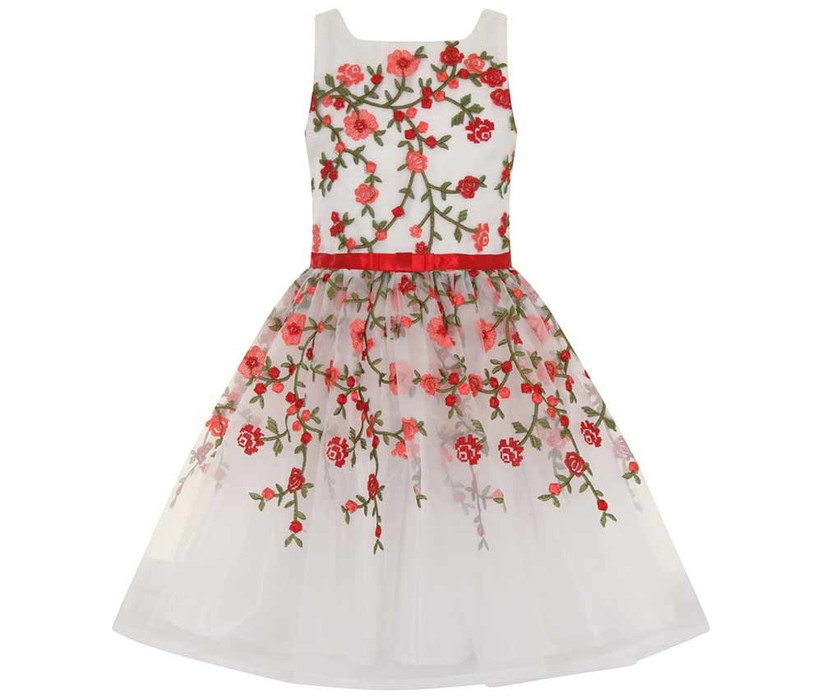 Taking it back to classics, this satin flower girl dress is the perfect pink and ivory collaboration. We love the way the floral detail embraces different shades and it is the ideal choice for brides who want a splash of colour in their bridesmaid and flower girl outfits.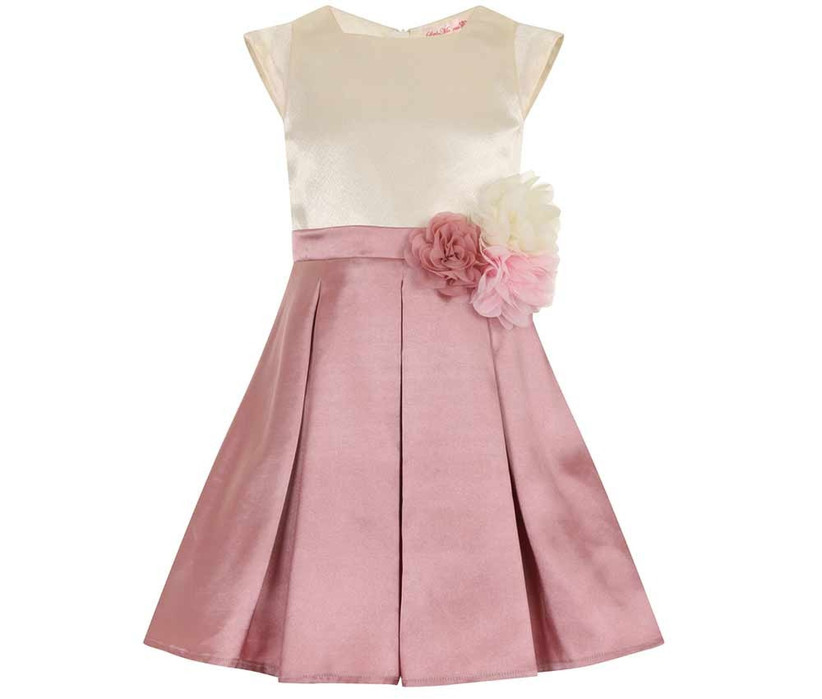 Having a super modern wedding and want your flower girl to look the part? Little Mistress's white and grey leopard print design is so gorgeous and trendy, with the most subtle pattern seeping through. The cap sleeves and girly shape are everything a flower girl could wish to wear and more.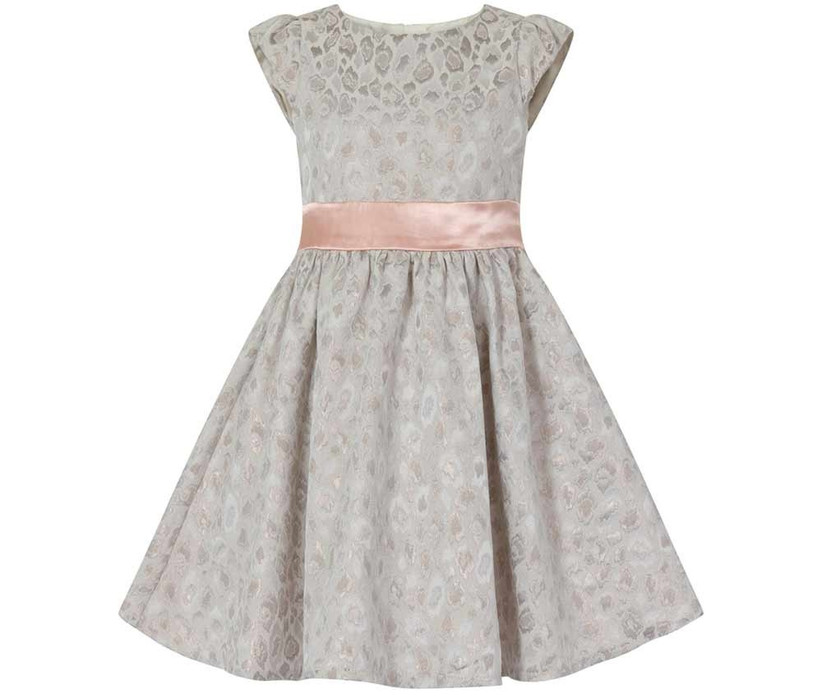 Now you have the dresses sorted, it's time to choose your flower girl flowers. They are going to fall in love with these beautiful bouquets!