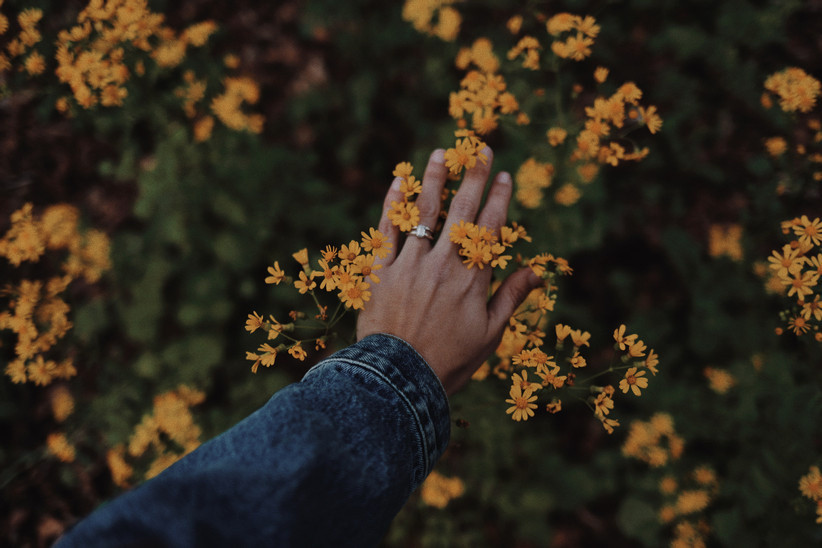 For a 'forever' piece of jewellery, and one that's been gracing prospective brides' left hands since ancient Roman times, you might assume that engagement rings were immune to the impact of shifting trends. Thankfully the iron rings of old have been replaced by decorative and meaningful designs that embrace creativity and innovation while also nodding to the past and conveying the unique style of the wearer.
From sought-after designs popularised by Royal engagements to demands for sustainability and a move towards unconventional cuts, gems and bands, here are the 2020 engagement ring trends to bookmark.
NB: We have included third party products to help you navigate and enjoy life's biggest moments. Purchases made through links on this page may earn us a commission.
Halo Engagement Rings (with a Twist)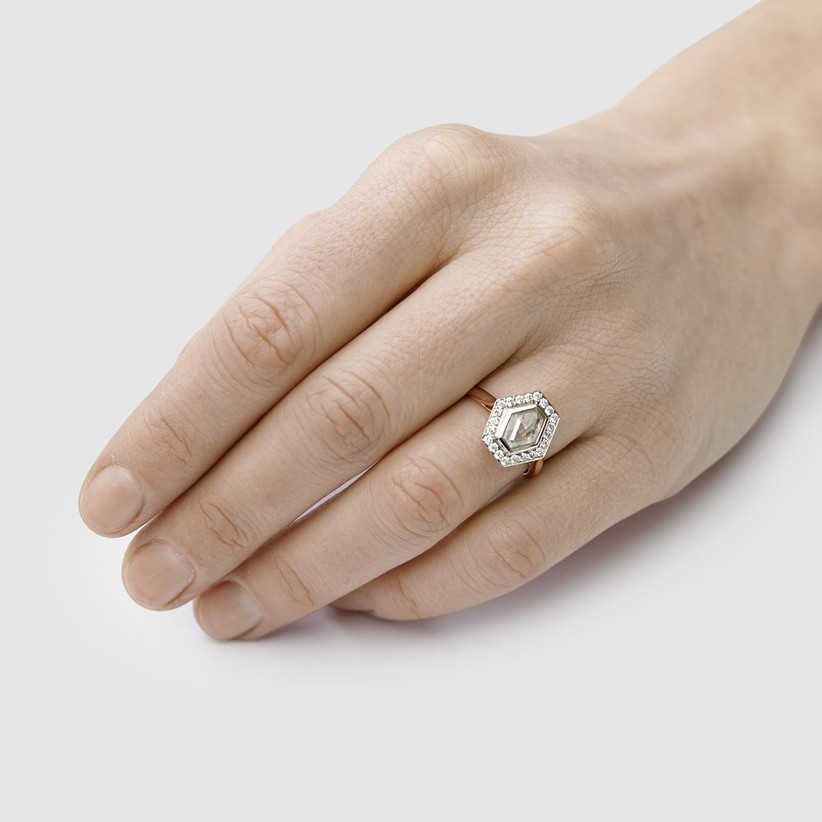 Halo engagement rings aren't dropping off the radar anytime soon, but the classic lineup of small diamonds encircling a round or cushion cut central gem has evolved for 2020 according to jewellery designer and certified GIA gemologist Emma Clarkson Webb:
"Over the past few months I have been seeing a huge demand for halo rings, in contrast to the trend for three stone rings which I saw at the beginning of the year. Hexagonal and octagonal shaped styles are particularly popular."
With the Duchess of Sussex's three stone engagement ring still inspiring ring designs at the beginning of the year, why the sudden passion for halo settings during the latter half of 2020? Emma underlines the appeal:
"I think that the halo setting is having a real moment because it's a wonderful design that offers up an opportunity to buy or create a very impactful style that also isn't prohibitively expensive."
Halo ring designs are quite literally more cutting edge than ever – from 'hidden halos' featuring small diamonds set below the centre gem to halos floating on thin, delicate bands and alternative shapes, see below for serious halo engagement ring inspo.
1. 18 Karat White Gold Octagon Halo Ring - £1,499, Fraser Hart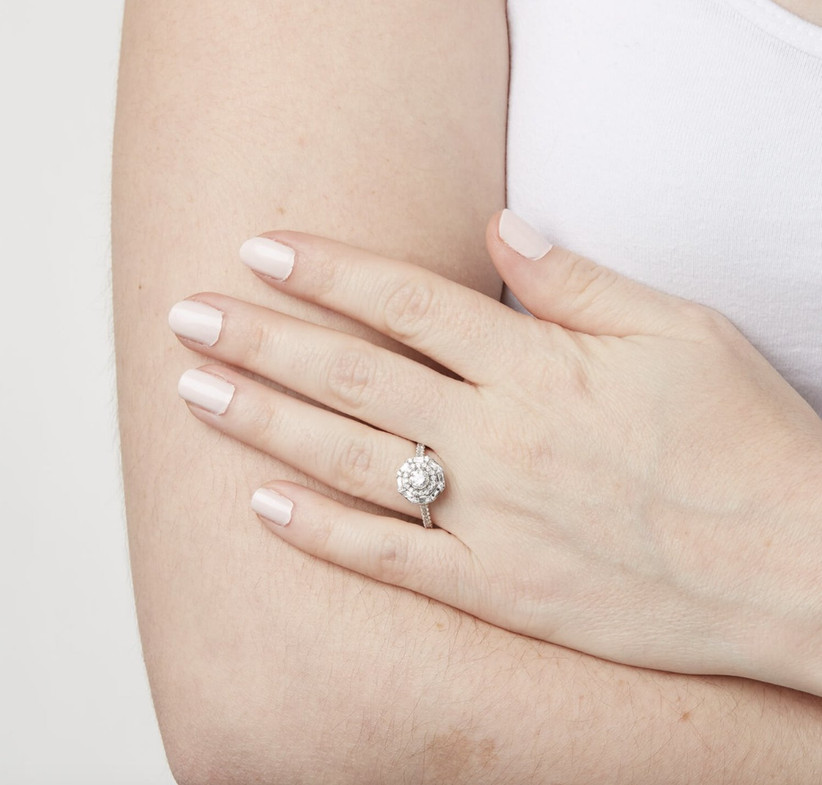 With three halos and diamonds for days, this octagonal gem catches the light at every angle. Even the band is diamond set – you might need your shades if you're saying yes to this one.
2. 18 Karat Gold & Diamond Bespoke Halo Ring - POA, Emma Clarkson Webb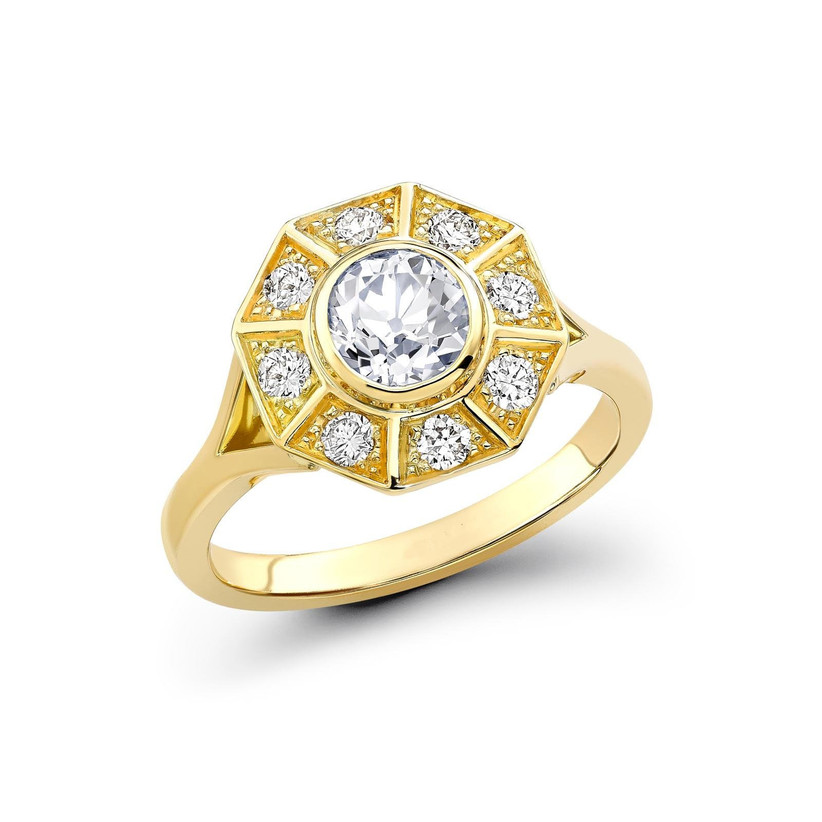 A circular central gem is bordered by a gold studded octagonal halo in this bespoke engagement ring. It was created using old diamonds passed down to the bride – as the 'something old and something new' adage goes, it doesn't get more special.
3. Round Art Deco Diamond Halo Ring in Platinum - £2,545, V by Laura Vann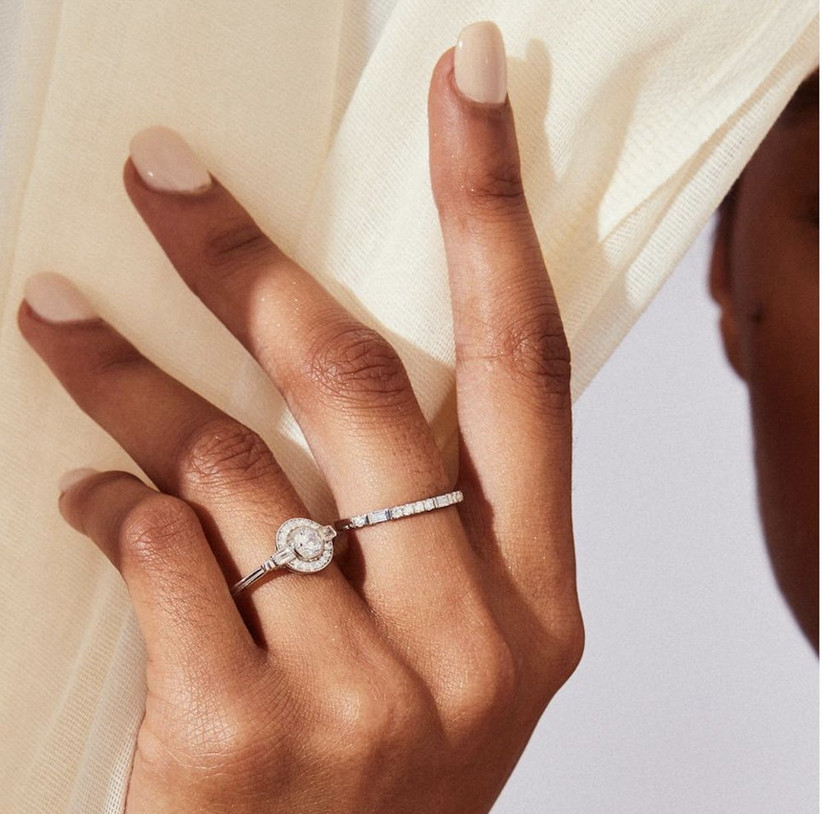 A round halo engagement ring with a 20s edge, this elegant diamond engagement ring is a fresh take on a traditional style.
4. Hex Engagement Ring - £9,565, Meadowlark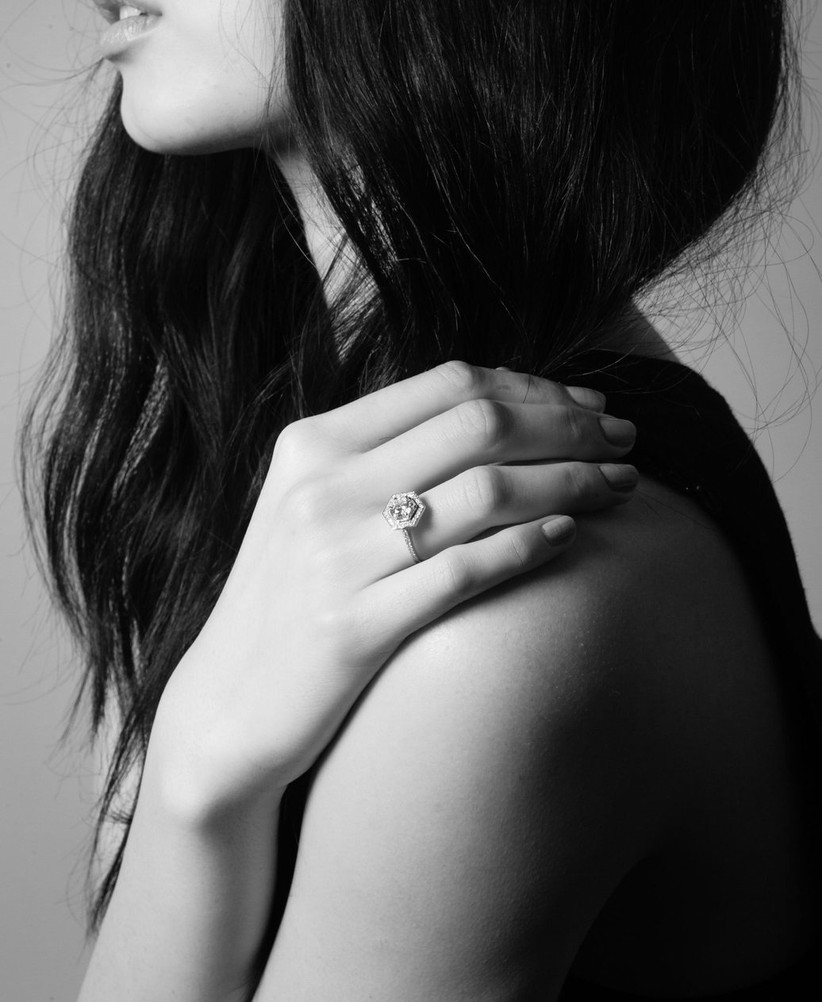 A blow the bank option but a bonafide breathtaking one. A 6mm round gem is surrounded by a diamond hexagonal halo with the band also set to halfway - it's opulent but not too flashy.
5. Maya Vintage Octagon Halo Engagement Ring - £11,719, V. Barboné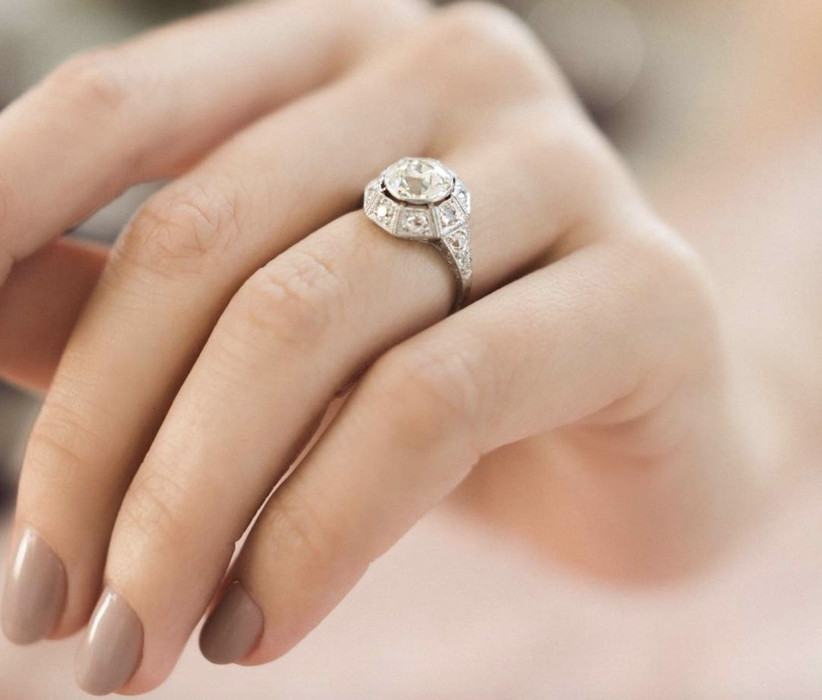 Speaking of opulence, this old European cut diamond vintage engagement ring is one of a kind. An exceptionally clear central diamond is surrounded by eight smaller diamonds in an octagonal halo, with a carousel of diamonds running down the band and hand engraved detail around the gems.
6. Callisto Ring - £2,895, Gee Woods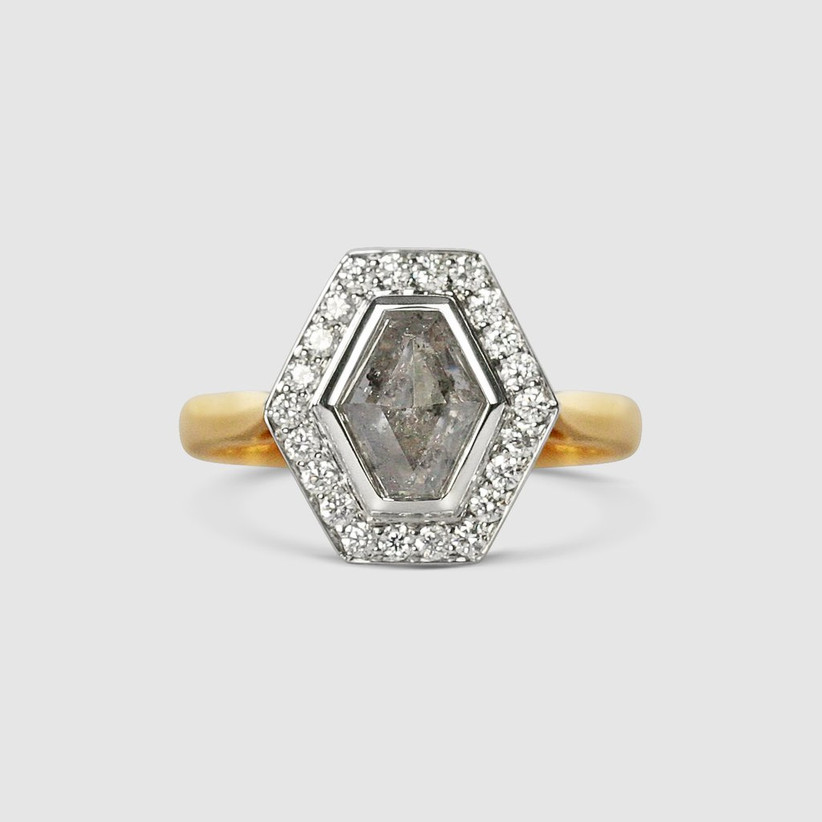 A fan of an unusual gem? The white diamond laced hexagonal halo in an 18 karat white and yellow gold setting showcases a unique salt and pepper diamond. It's pretty much the bejewelled embodiment of deep and meaningful.
7. 18 Karat White Gold and Diamond Bespoke Halo Ring - POA, Emma Clarkson Webb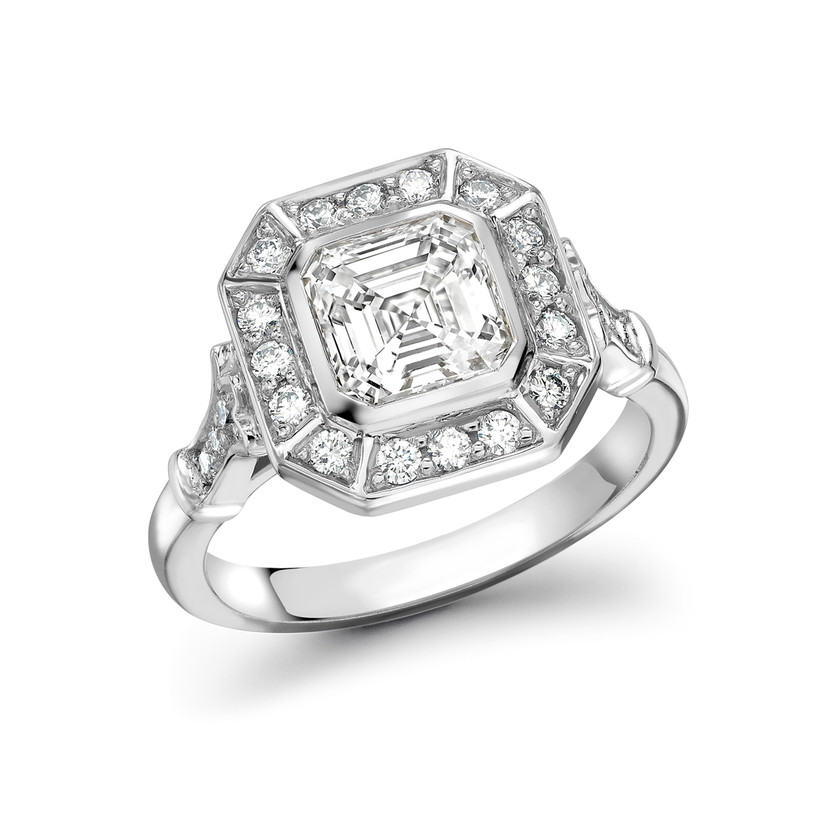 If the bride-to-be has a thing for antiques, this asscher cut diamond halo ring should go down a treat. Embellished diamond shoulders add back up to the spangle of the round white diamond octagonal shaped halo.
Green and Blue Engagement Rings
Emeralds and sapphires are making a real splash according to Emma:
"Coloured gems continue to be 'king' as far as 2020 engagement rings go. Blue and green stones such as sapphire, tsavorite and emerald are especially popular."
If you're feeling green fingered, Emma has a nugget of advice to consider before you rock up at the jewellers:
"Emeralds are softer than diamonds and many other precious stones and can be more susceptible to damage. For this reason I often recommend tsavorites and tourmalines to clients who love the vibrancy of an emerald but want a more durable gem."
If you are set on an emerald ring, by no means panic – just treat it with some TLC (read our guide to looking after your engagement ring at home for peace of mine).
8. Tourmaline and Diamond Ring - from £3,000, Michelle Oh Mint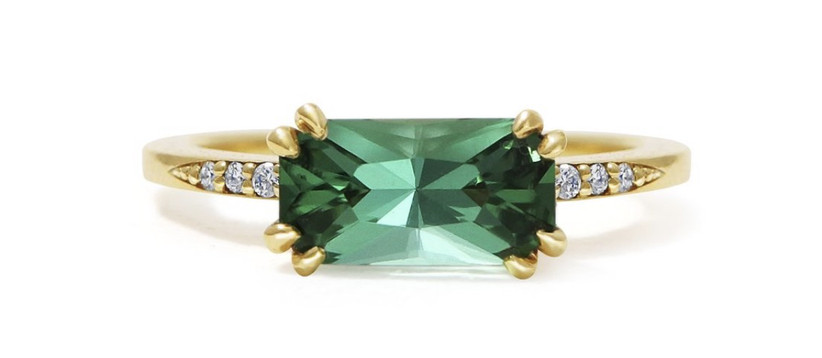 A sleekly cut, vivid natural gemstone looks resplendent against an 18 karat yellow gold band. A triple line-up of white diamonds either side of the gemstone adds further glimmer.
9. Oval Blue Sapphire Diamond Ring - £2,792.99, Capucinne Luella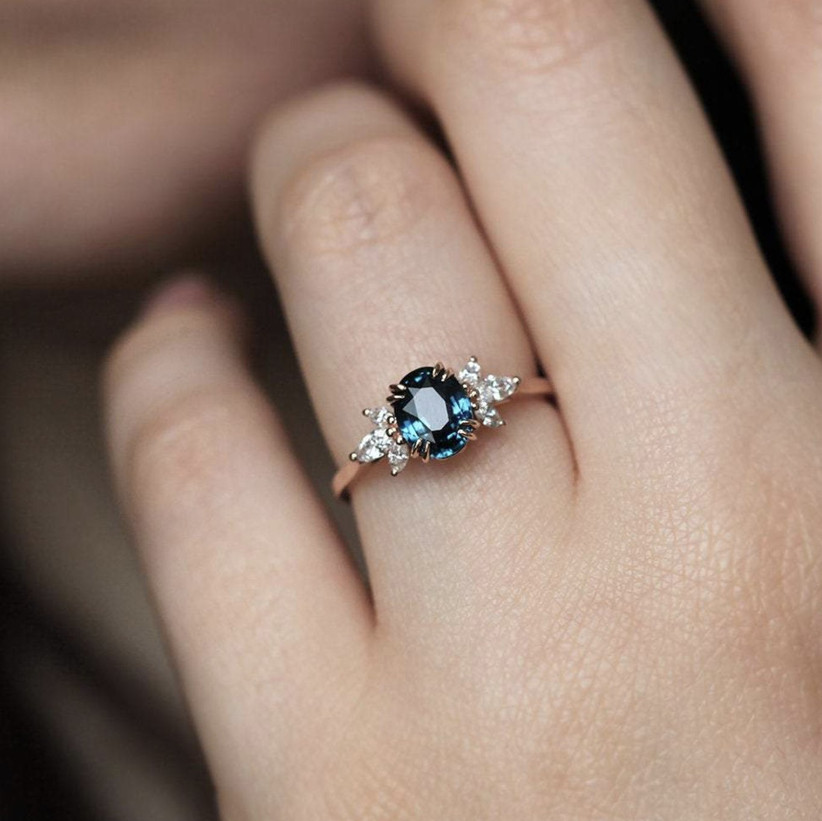 A deep blue natural ceylon sapphire bordered by petal-like marquise white diamonds - this engagement ring elegantly treads the line between dramatic and delicate.
10. 18 Karat White Gold Aquamarine Halo Ring - £1,950, Beaverbrooks
If icy, sky blues are more to your beloved's taste, this brilliant blue aquamarine diamond ring is sure to get a warm reception. The table cut aquamarine gem varies in shade from gem to gem, which makes it all the more distinctive, but the stone is quite literally as clear as day.
11. 18 Karat White and Yellow Gold, Diamond and Tsavorite Bespoke Ring - POA, Emma Clarkson Webb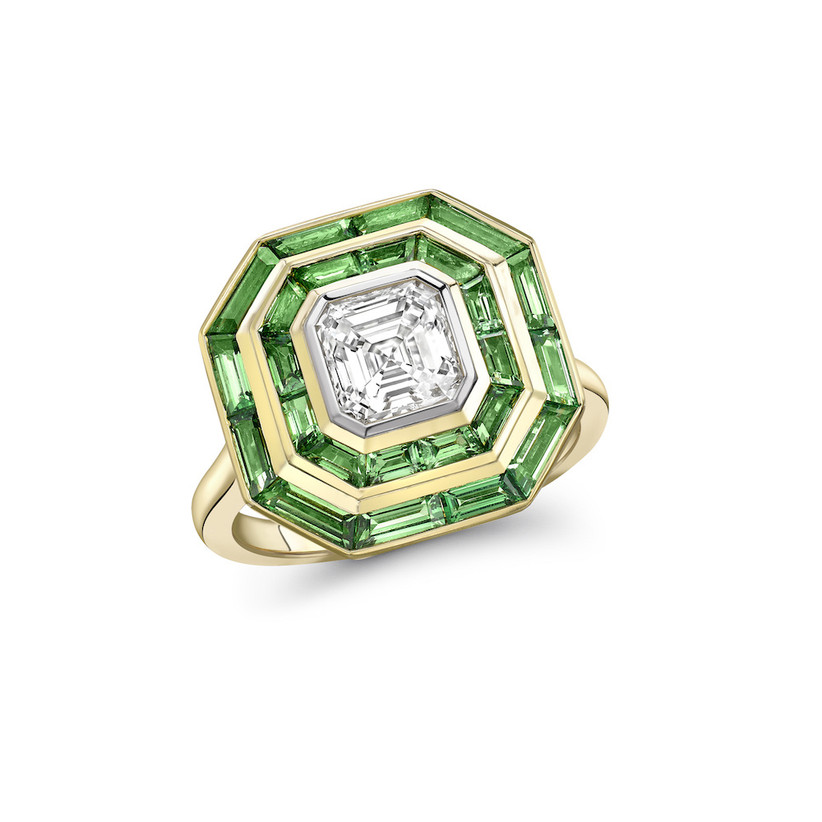 Bold, geometric and practically hypnotic to look at, baguette cut tsavorite gems make this bespoke engagement ring incredibly distinctive.
12. Sapphire Plum Ring - POA, Lark and Berry

A royal blue sapphire gets a modern update with a gleaming rose gold band (rose gold remains popular thanks to the fact that it makes every skin tone glow). Two architectural diamonds flank the deep blue gem for extra impact.
13. Carina Ring - £2500, Laura Lee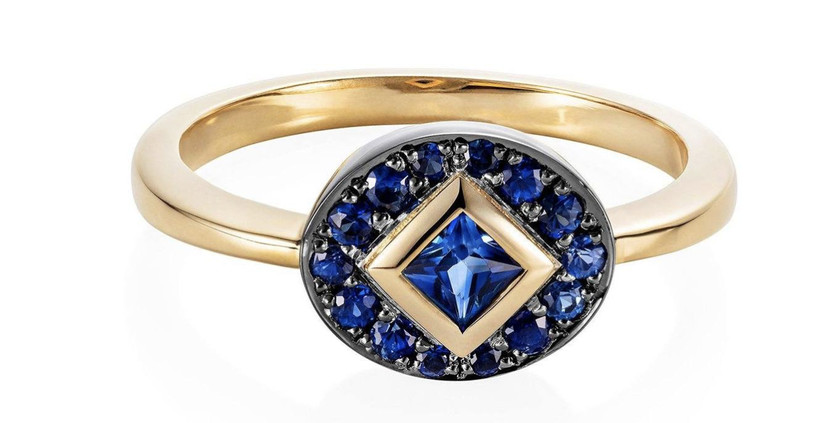 A sculptural 'sapphire on sapphire' engagement ring that will suit non-traditional brides-to-be to a tee. It fulfils the 'something blue' brief, and then some.
14. Peacock Sapphire Ring 14 Karat Rose Gold Ring - £2,018.90, Etsy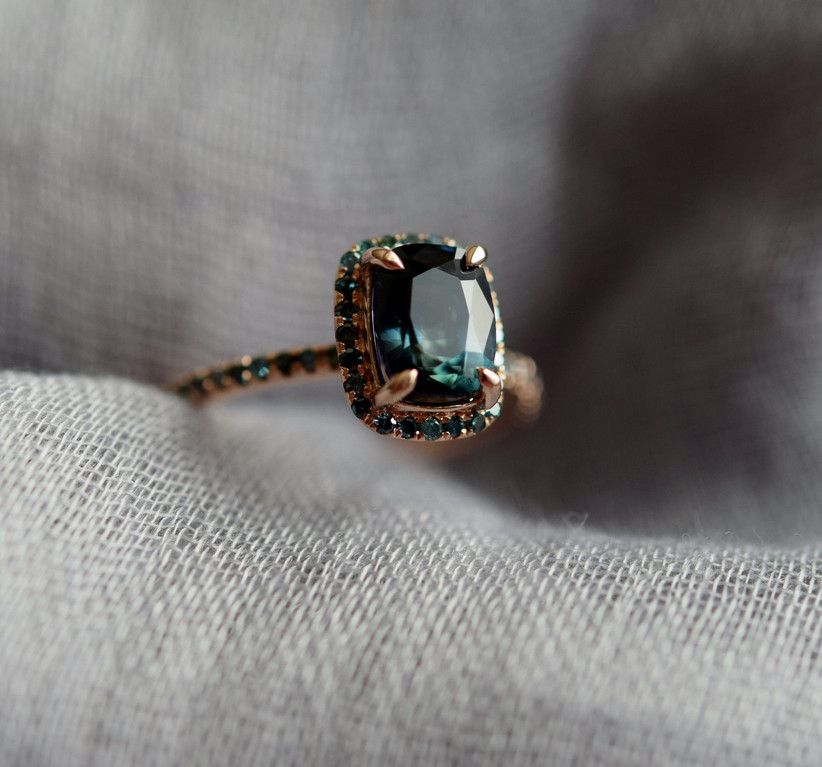 The oval sapphire shape may be traditional but the deep green hue, rose gold setting and sapphire set band add an edge to this shapeshifting engagement ring – the sapphire appears to change colour depending on the light.
15. 18 Karat Gold, Sapphire and Diamond Bespoke Octagon Halo Ring - POA, Emma Clarkson Webb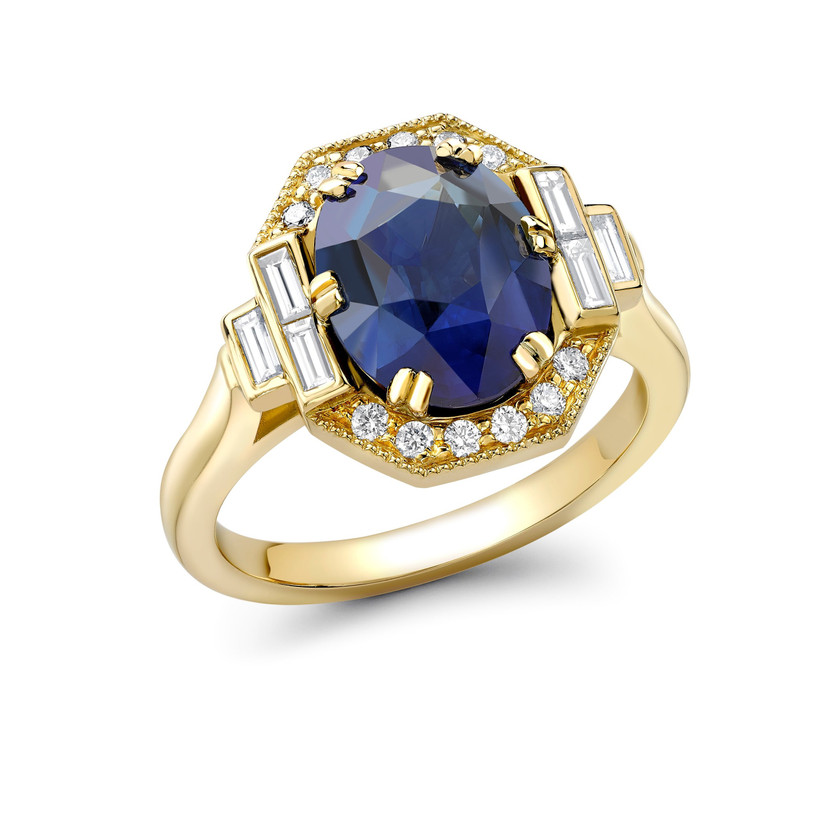 This statement engagement ring ticks seemingly all of the 2020 trend boxes while also retaining a classic appeal – the navy sapphire has shades of Princess Diana's engagement ring, now in the hands of the Duchess of Cambridge. No doubt that this ring would also become quite the family heirloom - it's a headturner.
16. Natural Ceylon Blue Sapphire 14 Karat Yellow Gold Engagement Ring - £419.93, Etsy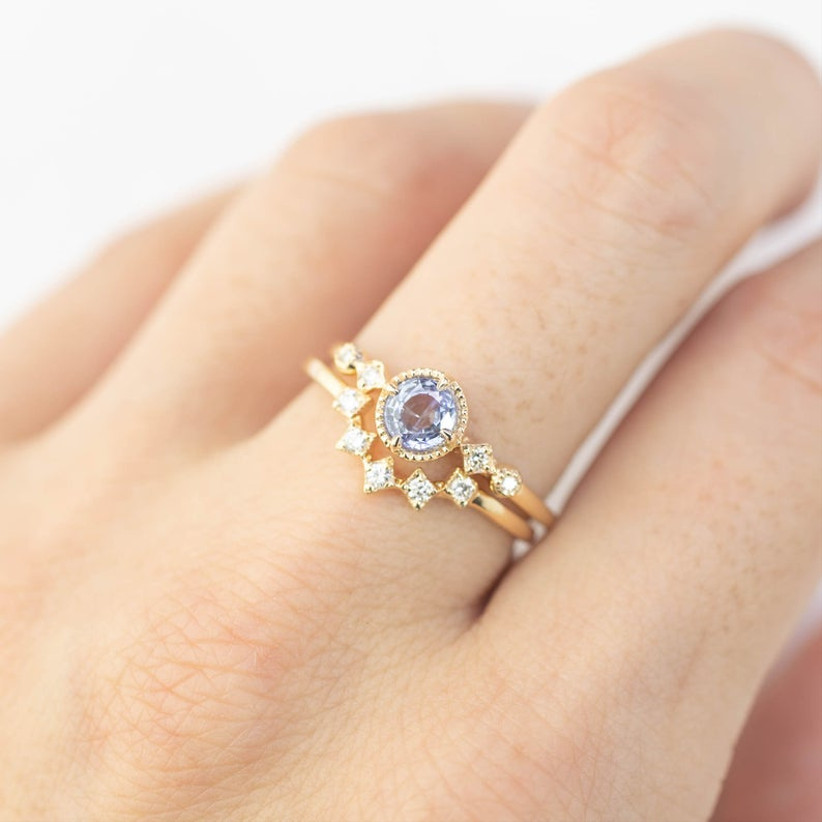 Dainty, ethereal and ideal for stacking, this affordable slim banded engagement ring is crafted with natural ceylon sapphires, recycled gold and dainty white diamonds.
17. Mangala Hexagon Diamond Ring - £5,490, Flora Bhattachary
It's not often that shoulders are the star player, but the green baguette cut tourmalines set either side of a brown hexagon cut diamond in this recycled gold ring are eye-catching from the off. The tonal combination of coloured gems and geometric cuts make this engagement ring a truly special choice – we doubt the receiver will have seen anything like it.
18. Trilogy Oval Emerald in Platinum - £2,750, Fenton & Co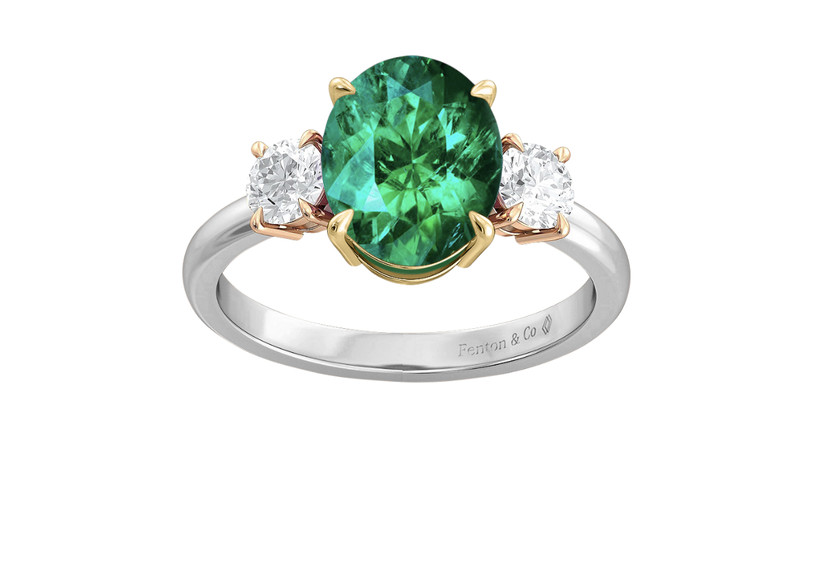 A sustainably sourced gleaming oval cut emerald glints on a recycled platinum band with two white diamonds adding to the drama either side. If you're proposing to a real emerald lover, this high grade gem speaks (well, shines) for itself. The yellow gold claws also tap into the next 2020 engagement ring trends…
Mixed Metal Engagement Rings
Emma emphasises that sticking to one consistent metal shade is no longer de rigeur. 2020 trends indicate that we're increasingly mixing our metals:
"Mixed metal mounts that combine rose, yellow and white gold are really picking up interest.
"There used to be very set rules about not mixing golds but I think that both men and women are becoming much more adventurous when it comes to choosing or designing engagement rings. They're seeking a piece of jewellery that is unique to them, rather than the cookie-cutter diamond ring that was once very much in vogue."
If you're looking to mix it up, bookmark the below.
19. 9 Karat Rose and White Gold Multi Stone Halo Cushion Cut Ring - £400, Goldsmiths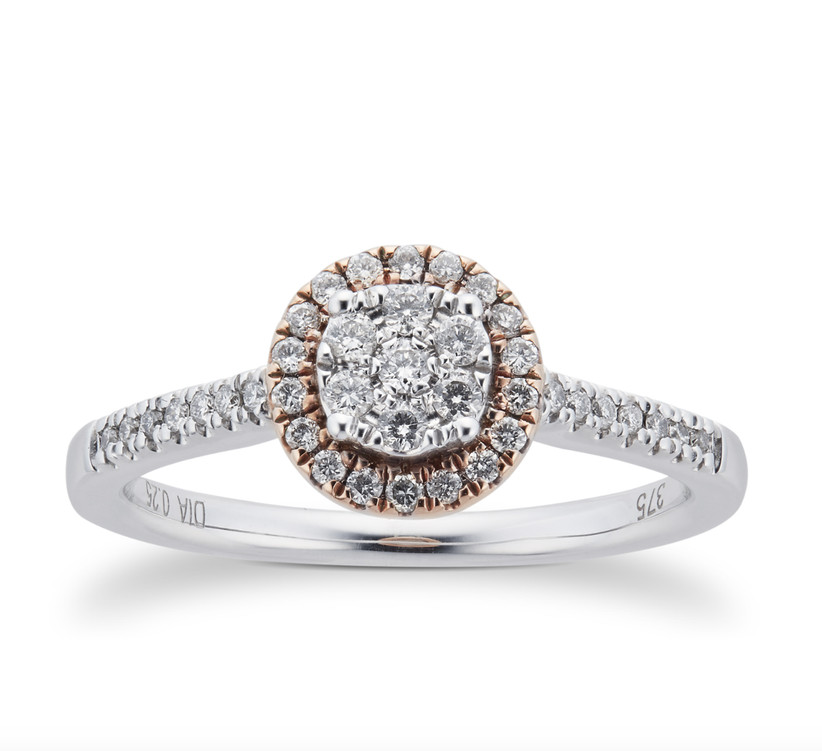 A rose gold mount makes this halo really stand out, emphasising the brilliance of the cushion-cut diamond that forms the centrepiece of the ring.
20. 14 Karat White Rose Gold and Diamond Ring - £1,199, Adrianna Papell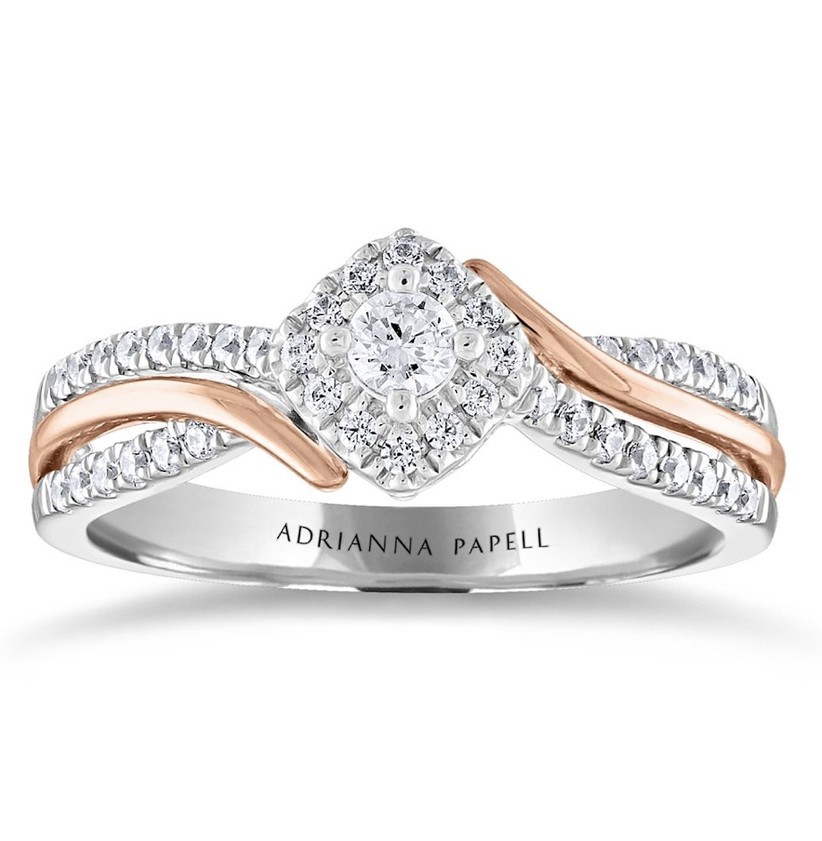 A rose gold twist gives this white band extra dimension while highlighting the diamond halo crown at the heart of the ring. The two-tone metal creates the effect of a stacked ring – another engagement ring trend with lasting power.
21. Millie Ring - £450, The Vintage Ring Company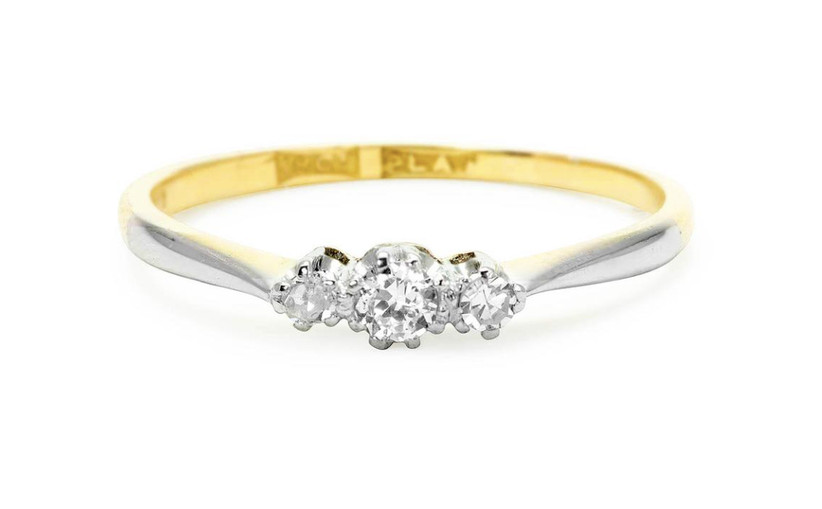 A Victorian engagement ring made modern thanks to platinum shoulder detail overlaid on an 18 karat gold band. The three diamonds set at the centre of this antique ring aptly represent past, present and future – a poetic start to any proposal.
22. 18 Karat White and Yellow Gold and Blue Sapphire Ring - £1,140, Catherine Mannheim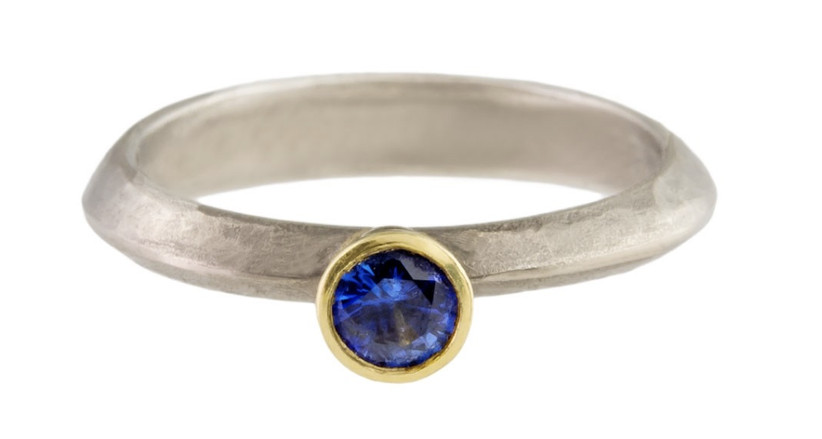 From antique to avant-garde, this mixed metal engagement ring references ancient jewellery crafting techniques and shapes. Mannheim particularly excels when it comes to combining matte gold metal with dazzling jewels, as this unusual but exquisitely simple engagement ring proves.
23. 18 Karat White and Rose Gold Diamond Ring - £5,499, Vera Wang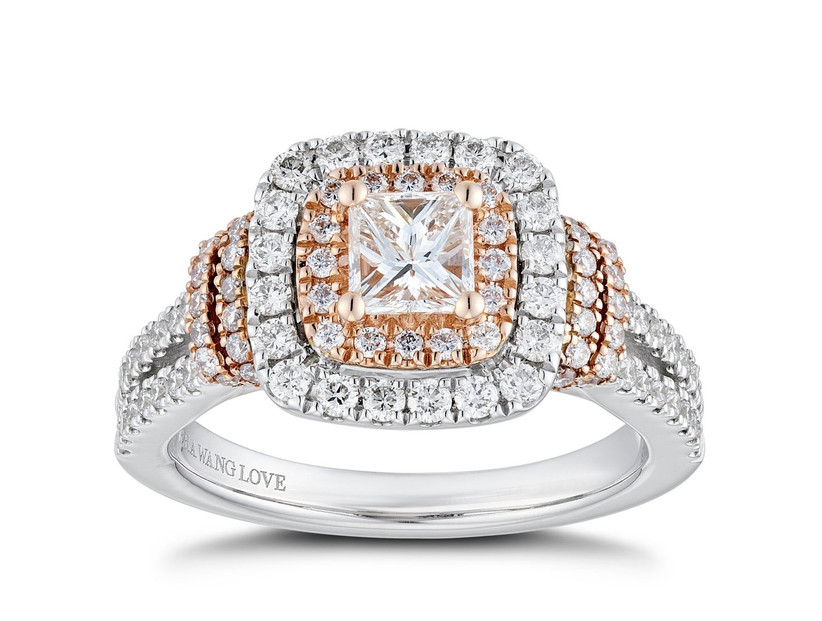 This engagement ring pulls out all the stops - mixed metals, a double halo around a pristine princess cut diamond, diamond adorned shoulders and a hidden sapphire in the 'gallery' below the central diamond. That's all of the trend boxes ticked.
Mixed Diamond Cuts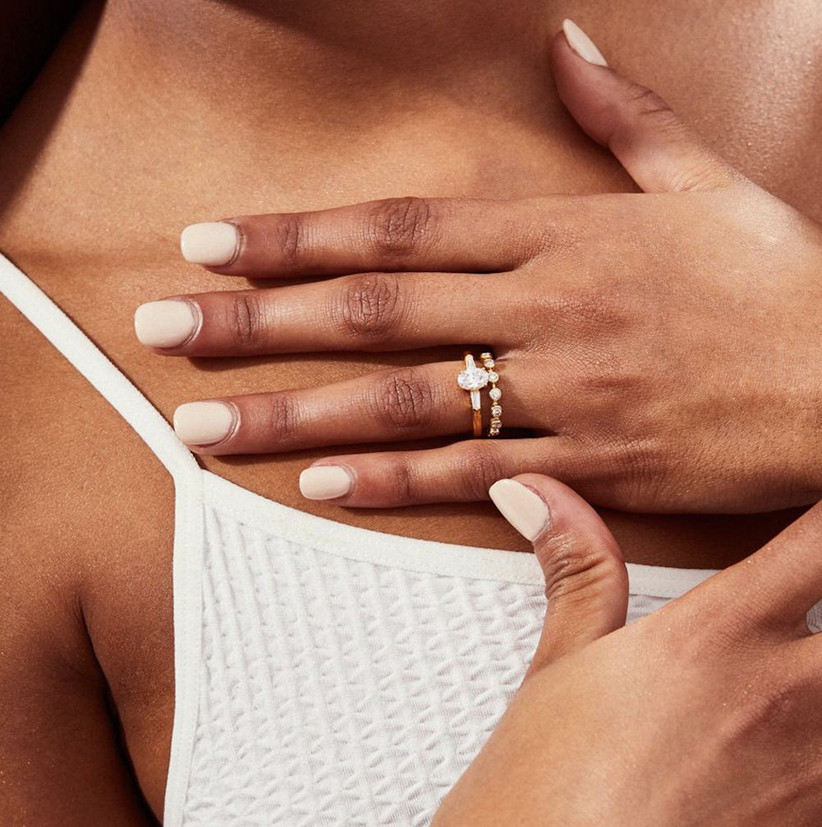 It seems that couples really are mixing up engagement ring tradition for 2020, as Emma confirms:
"I am seeing a real demand for mixing different cuts of diamonds within designs; combining baguettes with rounds, for example. It's a great way of referencing art-deco jewellery but in a very modern, unique way."
Indulge in some pick n' mix with the following...
24. Athena Ring - £2,670, Taylor & Heart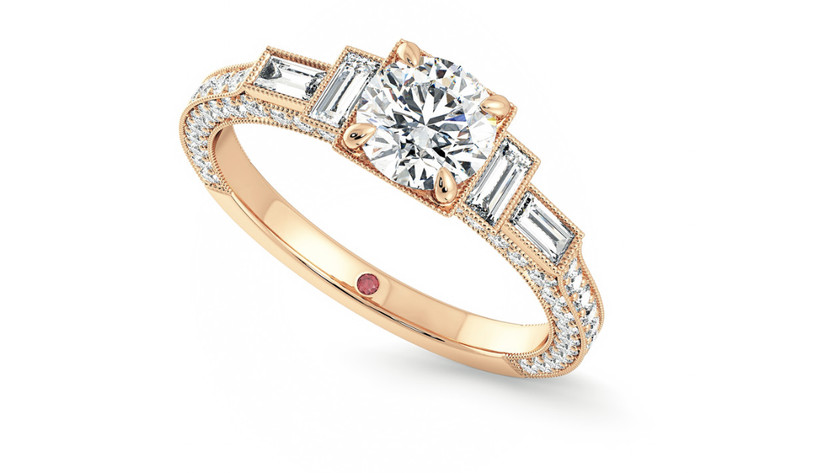 Contrasting a circular central diamond in a square setting with baguette cut diamonds and round diamonds that reach halfway across the rose gold band, this ring really throws some shapes. As will your bride-to-be when you propose with it, all being well.
25. 18 Karat White Gold and Diamond Bespoke Ring - POA, Emma Clarkson Webb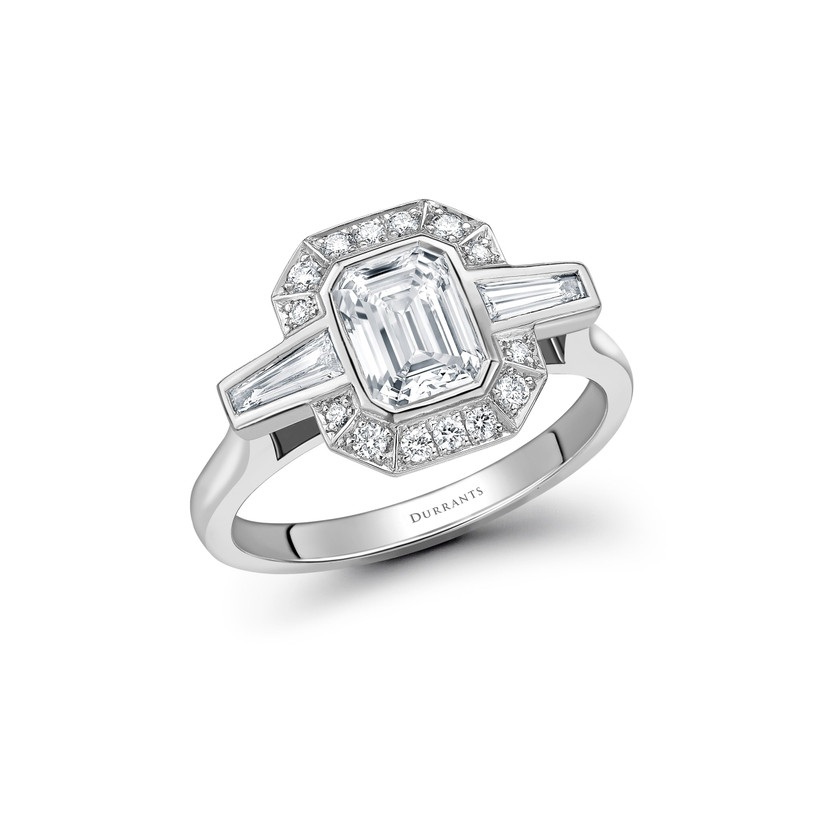 Why not give a halo ring wings? Two baguette cut diamonds span outwards away from a central emerald cut diamond before intersecting with an octagonal halo of round diamonds in this sophisticated, oh-so-cool white gold ring.
26. Geometric Diamond Ring - POA, Muse by Tomfoolery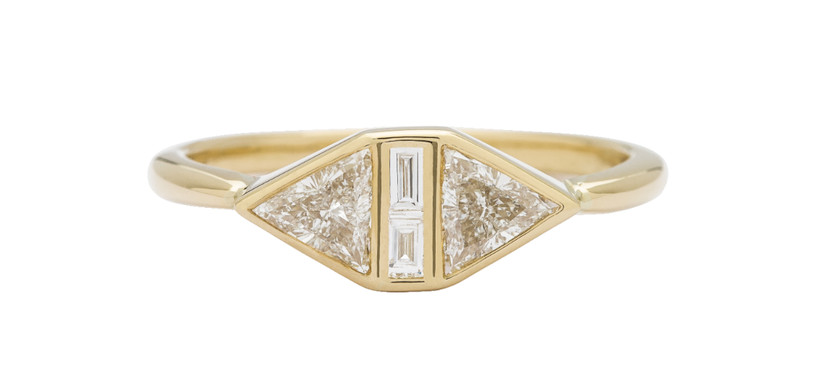 Never has geometry given us such a buzz – this understated 18 karat yellow gold handmade ring is just the thing for sartorially-included brides-to-be. Trillion cut diamonds wing away from two baguette set white diamonds in a ring that's stylishly symmetrical.
27. Illusion Bullet and Oval Cut Diamond Ring in Yellow Gold - £5,331, V by Laura Vann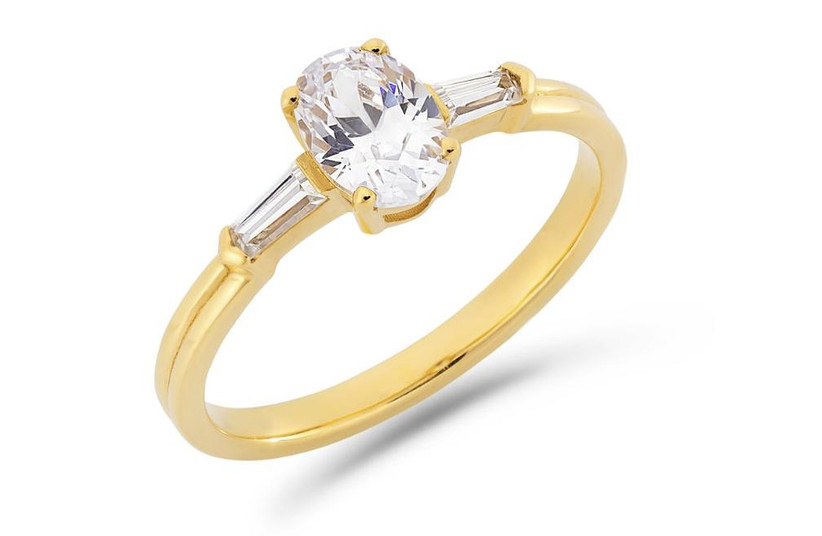 Oval cut diamonds are all over Insta and look to be popular for years to come – complement this elegant central jewel with art-deco inspired baguette cut diamonds embedded in the 18 karat recycled gold band.
28. Hexagon and Baguette Diamond Ring - from £3,000, Rachel Boston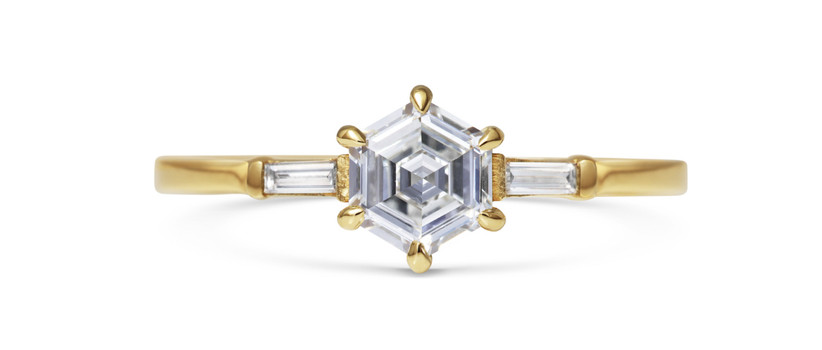 Into your angles? This 18 karat yellow gold ring is designed to a similar art-deco blueprint only featuring a hexagonal diamond at the heart of the ring.
29. Bear Ring - POA, Emma Franklin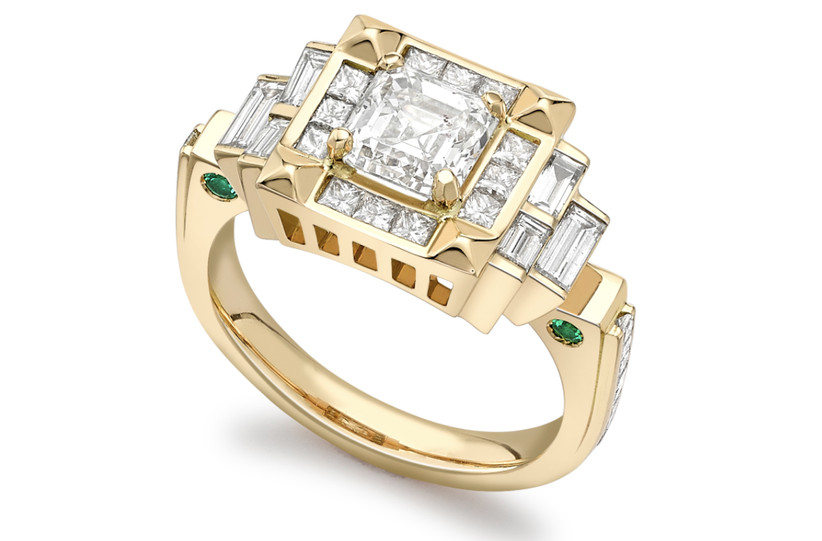 We'll end this edit with a bang – the fusion of rocks on this high and mighty 18 karat yellow gold band is nothing short of sensational. An asscher cut diamond heads up a pyramid of princess and baguette cut gems with four hidden emeralds embedded in the outer corners of the band. Pile 'em high.
Bespoke Engagement Rings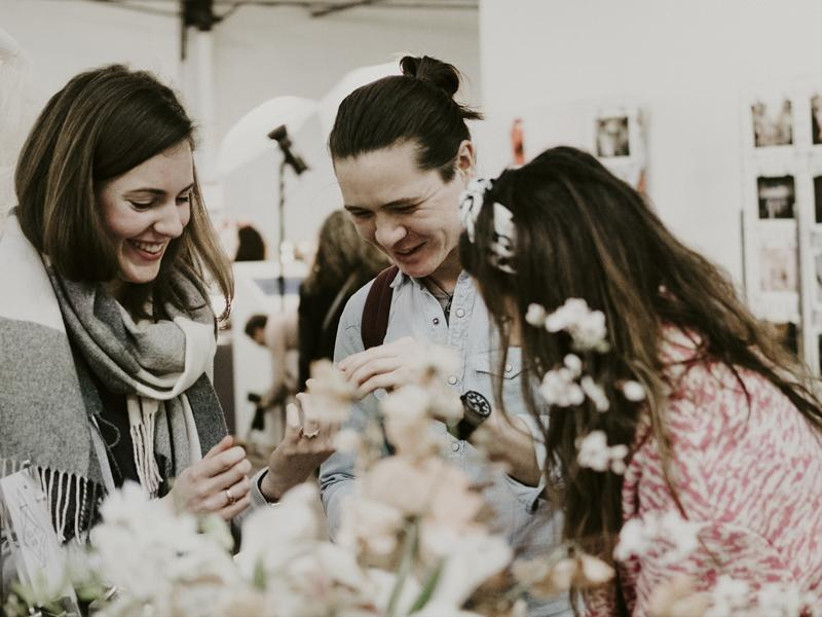 Bespoke engagement rings have long been a popular option but never more so than now, according to Emma:
"Over the last few months couples have been especially in the market for 'important' jewellery bound in sentiment and meaning.
"I would say that budgets have increased slightly as people are realising that beautifully-made, bespoke jewellery is a sensible investment. In a post-COVID 19 world my clients are certainly happy to spend more on pieces with emotional weight, appreciating more than ever that they will bring timeless joy and can be treasured now and down the line."
30. Bespoke Ring - POA, Ellie Air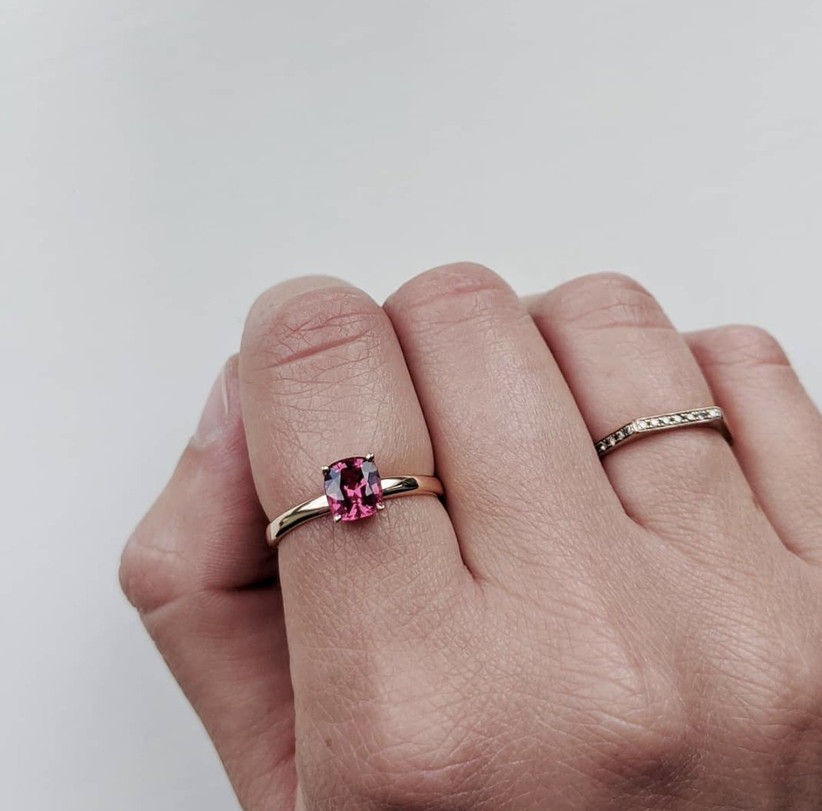 Whether you fall for a simple. delicate solitaire style such as this one or something more directional, contemporary fine jeweller and Ellie Air founder Lauren crafts unique pieces with mathematical precision using traditional techniques. She'll do a deep-dive on your tastes and vibe as a couple before asking you to hand select diamonds, gems and metals and designing a custom ring to your exact specifications.
31. Bespoke Compass Ring - POA, Shimell & Madden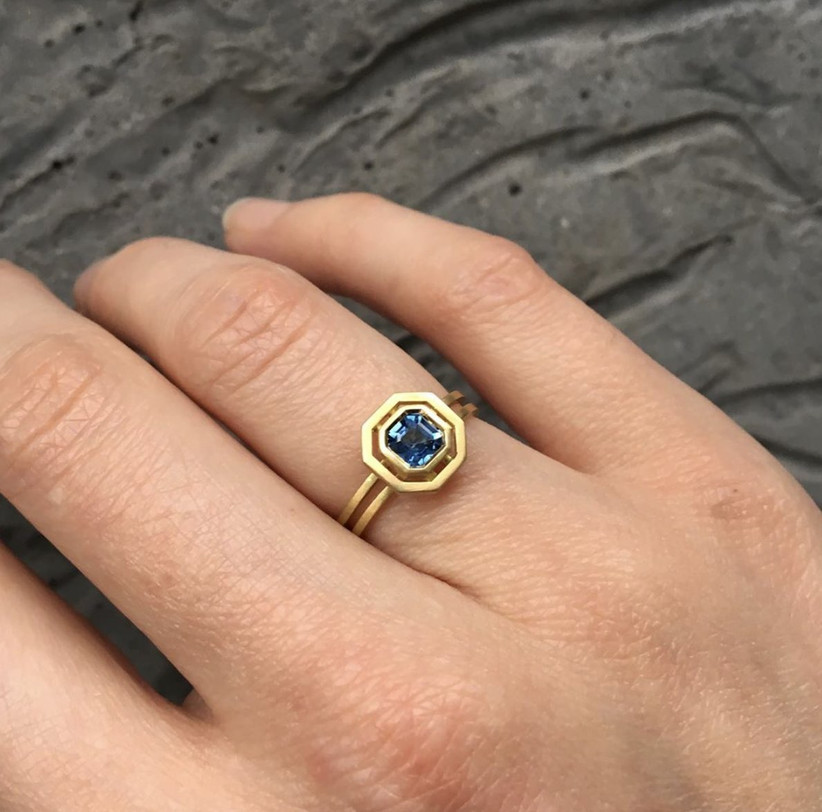 Handcrafted in a London-based studio, these bespoke creations are made using only the finest recycled metals and ethically sourced gems. The brand specialises in a distinct compass style that can be tailored to your brief in just six weeks.
32. Emma Clarkson Webb Bespoke Commissions, POA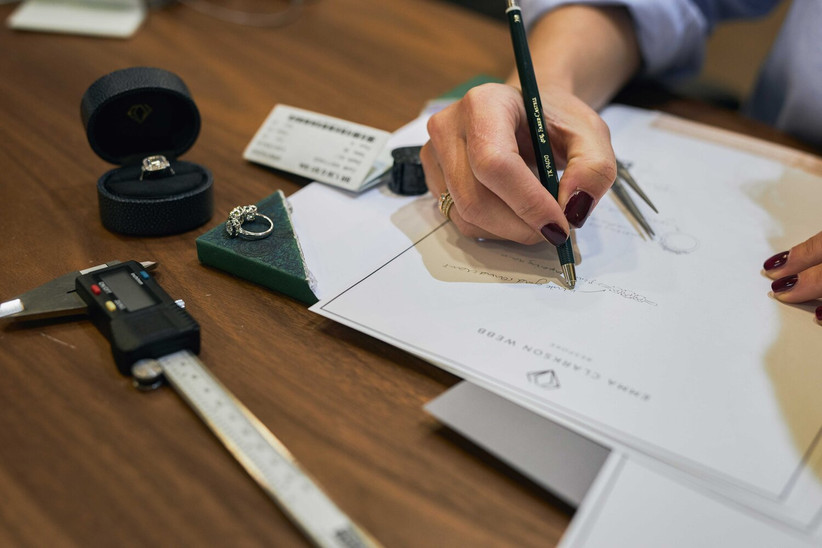 You know by now that Emma is ahead of the curve when it comes to 2020 engagement ring trends so who better to consult than this pro gem specialist? Emma will guide you through the process from initial inspo to technical sketches and crafting in her workshop so that you can ensure that every facet of your engagement ring is exactly to your liking.
If you're choosing an engagement ring on a shoestring, read our guide to the best budget engagement rings for 2020 before you commit.