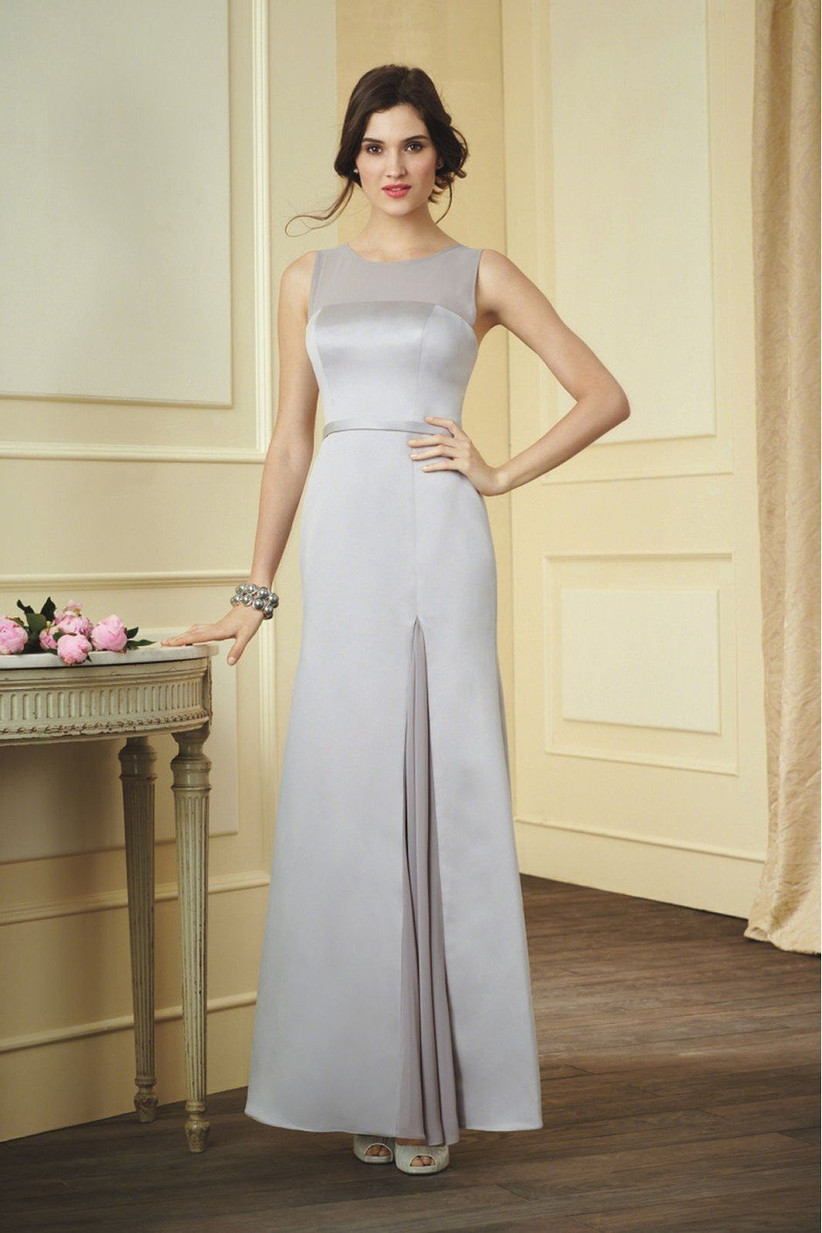 So you've booked an amazing winter wedding venue and have bought the perfect fairytale dress – check! Now all you need are stunning winter bridesmaid dresses for your bridal party.
From icy blue gowns that sweep the floor to sumptuous satin numbers crying out to be paired with a faux fur wrap, we've rounded up our favourite winter bridesmaid dresses that would be perfect for your big day.
Coast Bridesmaid – Felicity
The Felicity dress from Coast Bridesmaid proves that winter bridesmaid dresses can still be bold and bright. This fuchsia gown has a sweeping floor length skirt and clever panelling on the top half for a slimming effect. Pair the gown with this gorgeous feather bolero for a look that is both practical and appropriate for that winter wedding aesthetic.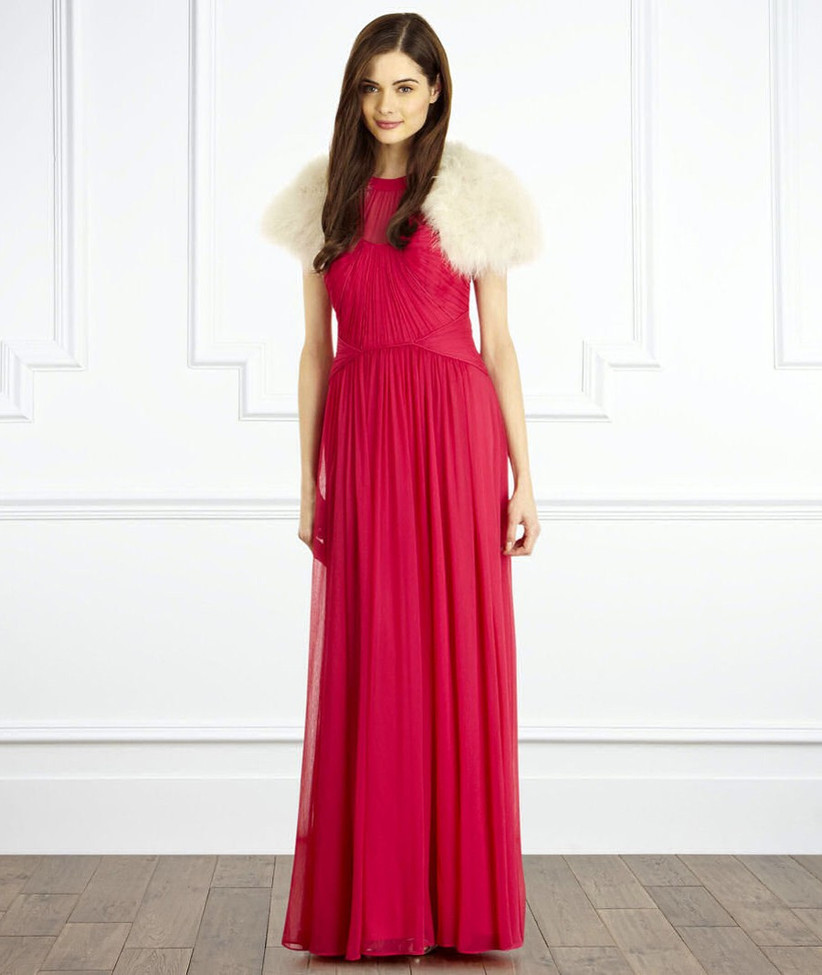 Alfred Angelo – Style 7285
This silver bridesmaid dress is perfect for a winter wedding colour scheme that's filled with beautifully frosty shades. Sleek and sophisticated, style 7285 from Alfred Angelo has a subtle side split for a flash of glamour and the illusion neckline is flattering on all bust sizes.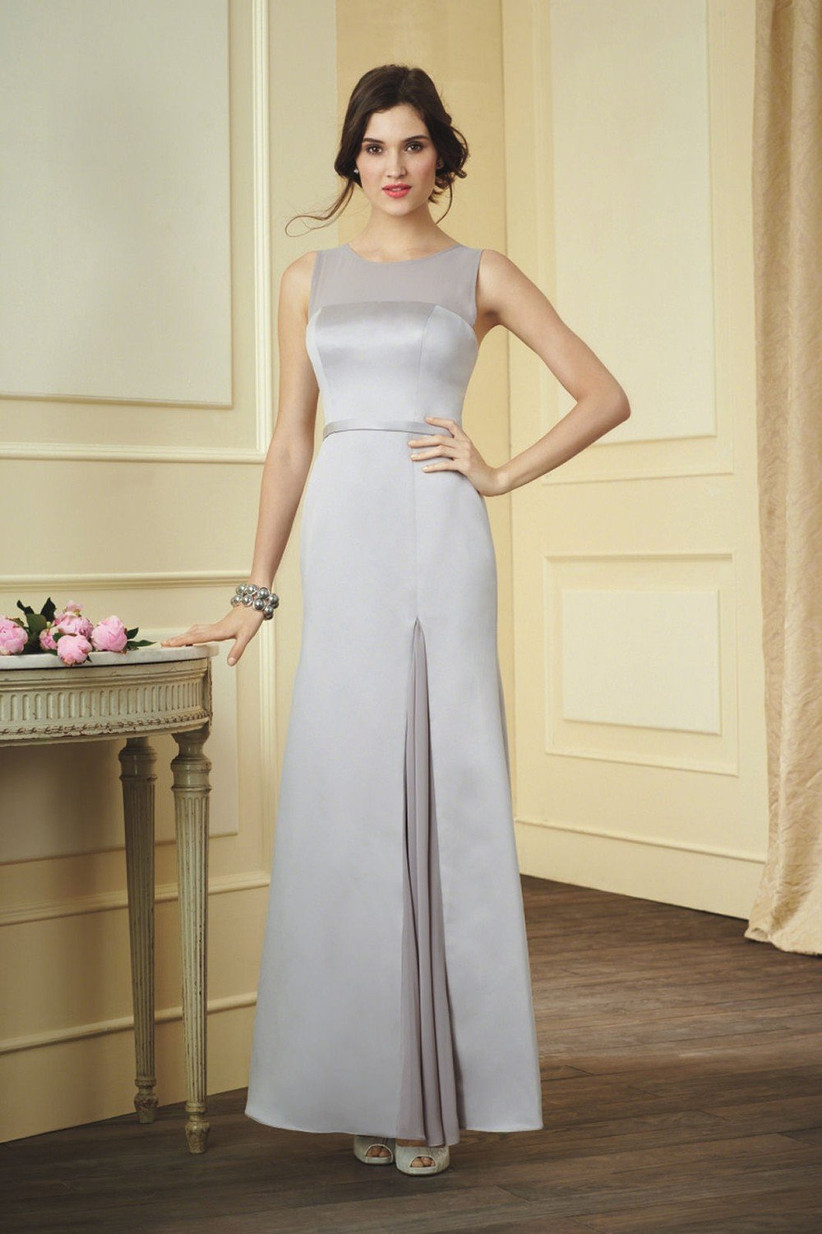 Sorella Vita – Style 8686
Wow – this sparkling gold bridesmaid dress is an amazing option if you want to make a festive statement with your colour scheme! This Sorella Vita gown (style 8686) has a stylish v-neckline that is balanced out with a sweeping floor length.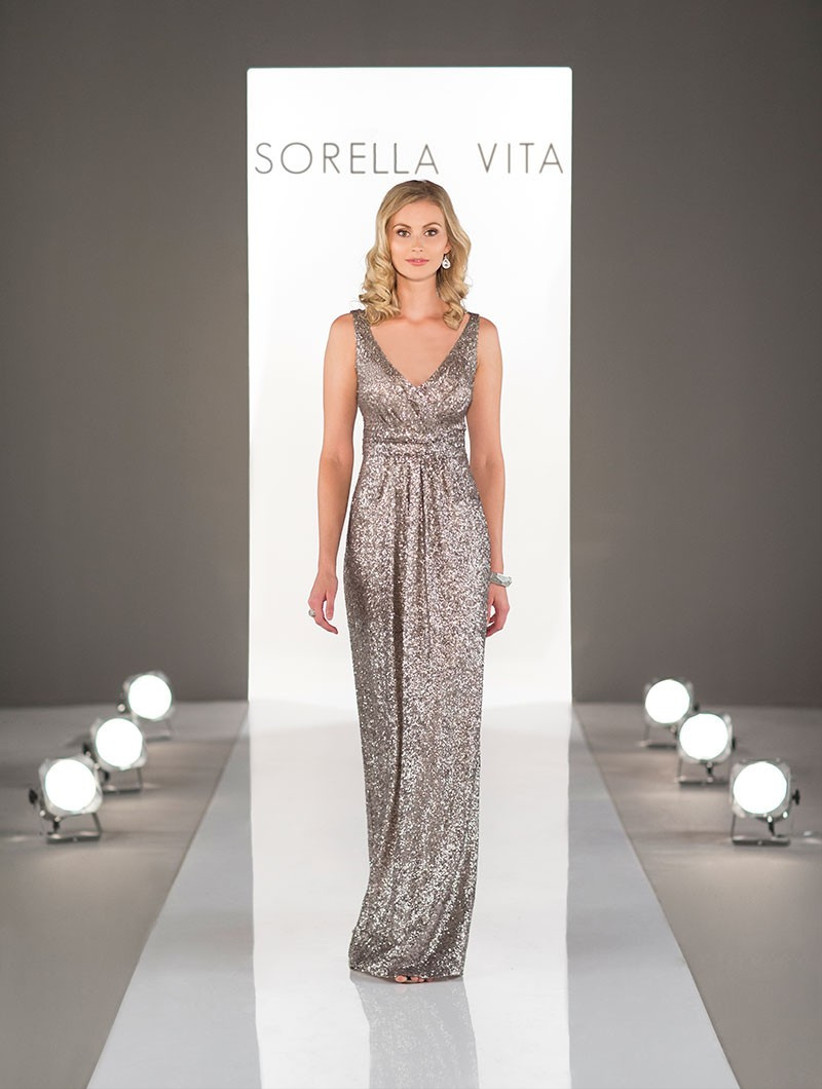 Kelsey Rose – Style 50177
This luxurious purple bridesmaid dress from Kelsey Rose (Style 50177) is ideal if you have lots of bridesmaids, as the gown can be styled in six different ways! However, we think the way it's been styled in this picture makes it a perfect winter bridesmaid dress. The sumptuous colour combined with the floaty, fairytale feel of the fabric makes for one enchanting look.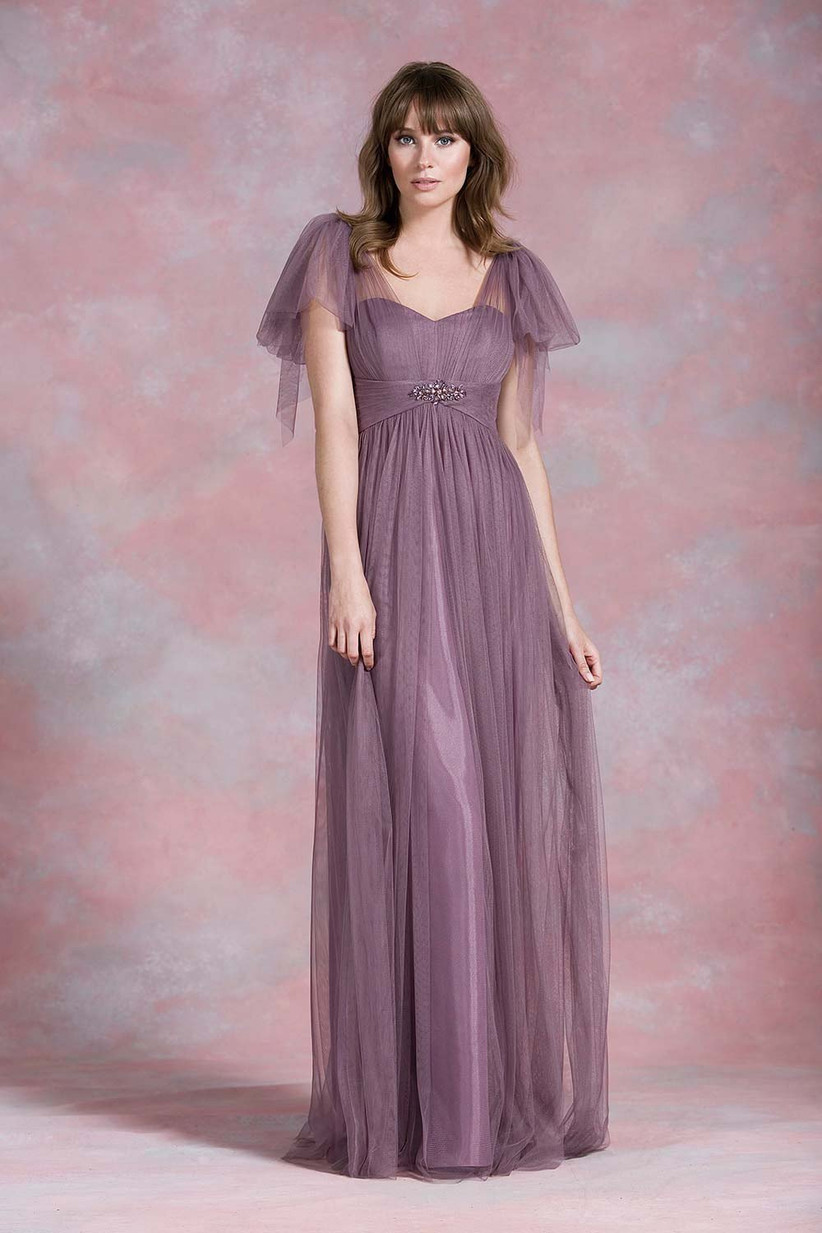 Belsoie – Style L164052
Rich colours such as the deep burgundy shade of this Belsoie gown (style L164052) are perfect for winter weddings. The long floor length is elegantly complemented with a V-neck bodice and a cinched waistband to create a small waist. Style L164052 would be a stunning accompaniment to a flowing chiffon wedding dress.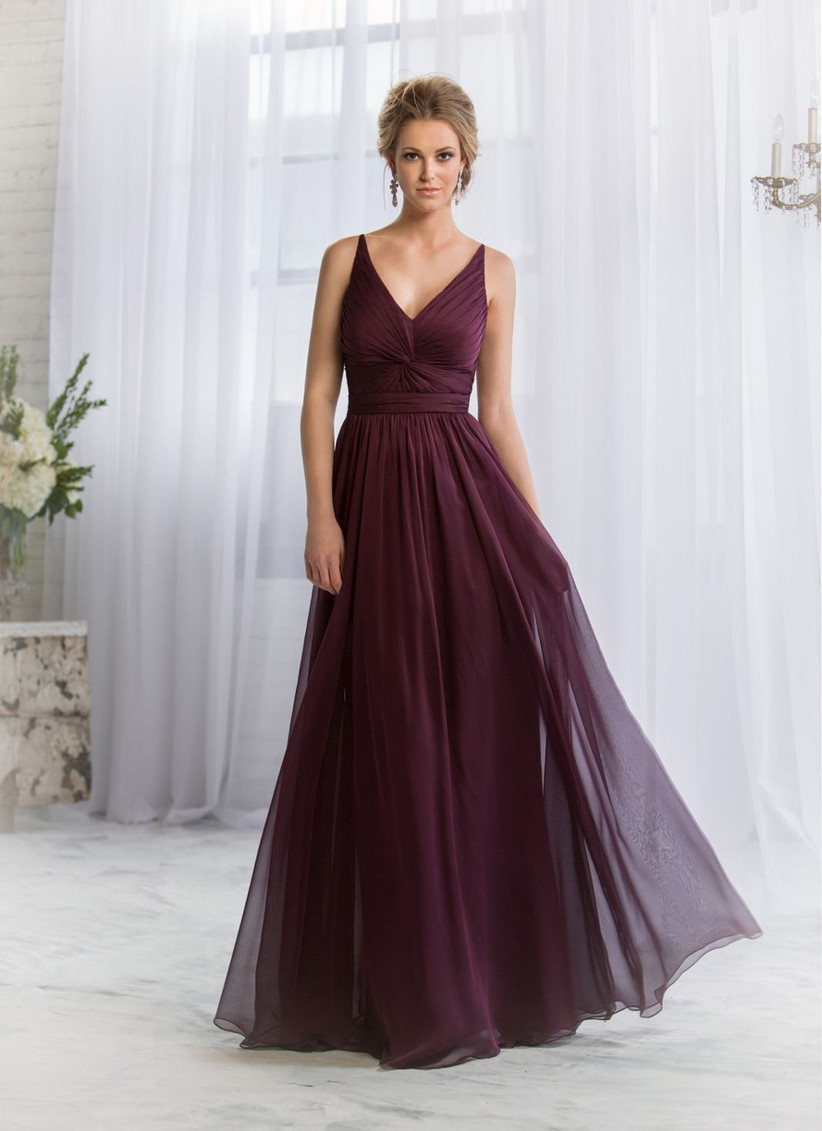 Mark Lesley – Style 1390
The icy blue shade of style 1390 from Mark Lesley would be well suited to a wedding with wintery touches. The illusion halterneck is a sophisticated look for your bridesmaids and this versatile dress is one that would suit all ages and body shapes. The beaded waistband adds a touch of sparkle to break up the simplicity of the dress.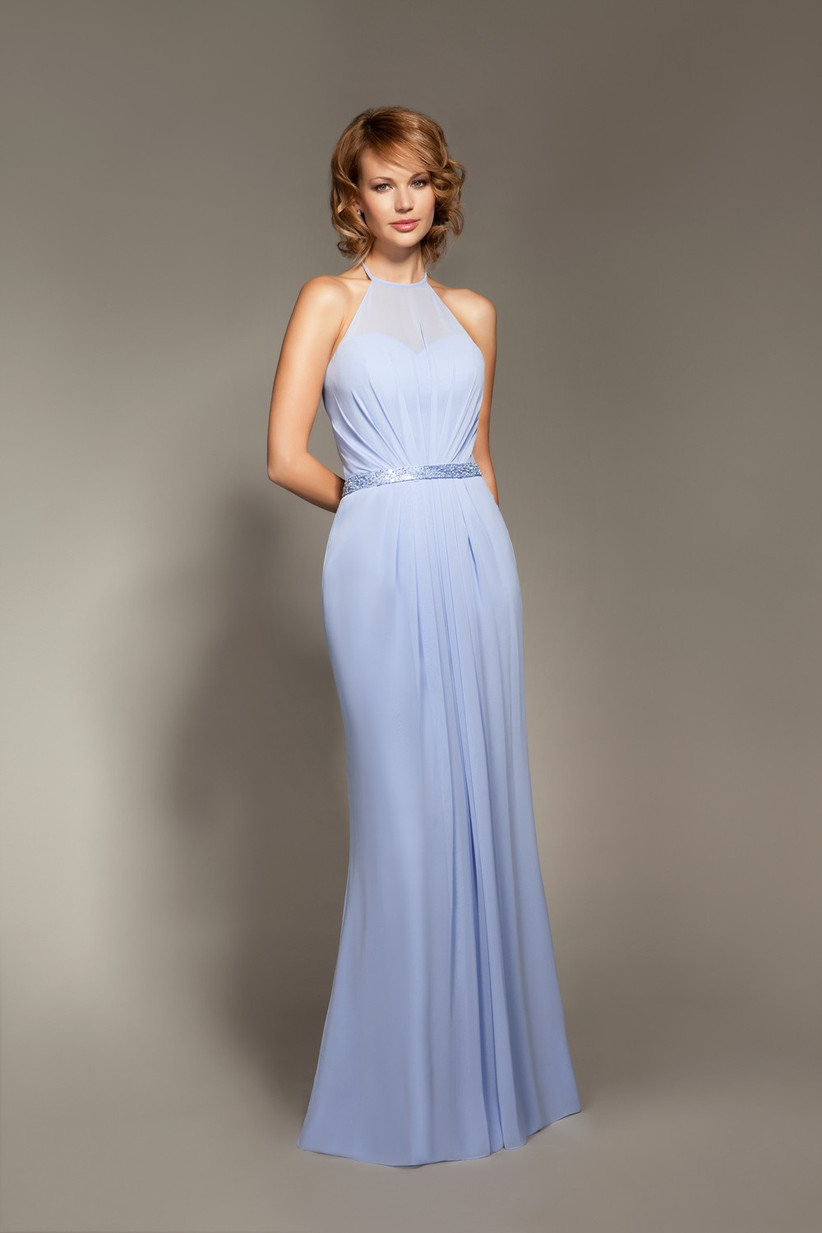 Dessy – Style 2864
Dessy offer this shimmering silver bridesmaid dress (style 2864) that would be ideal if your wedding dress and décor have accents of this opulent colour. The colour of this dress has us dreaming of a snowy winter wonderland and it is tied beautifully with a bow at the waist. This dress may not be very practical for your girls to wear again but it would certainly make a divine look for your bridal party.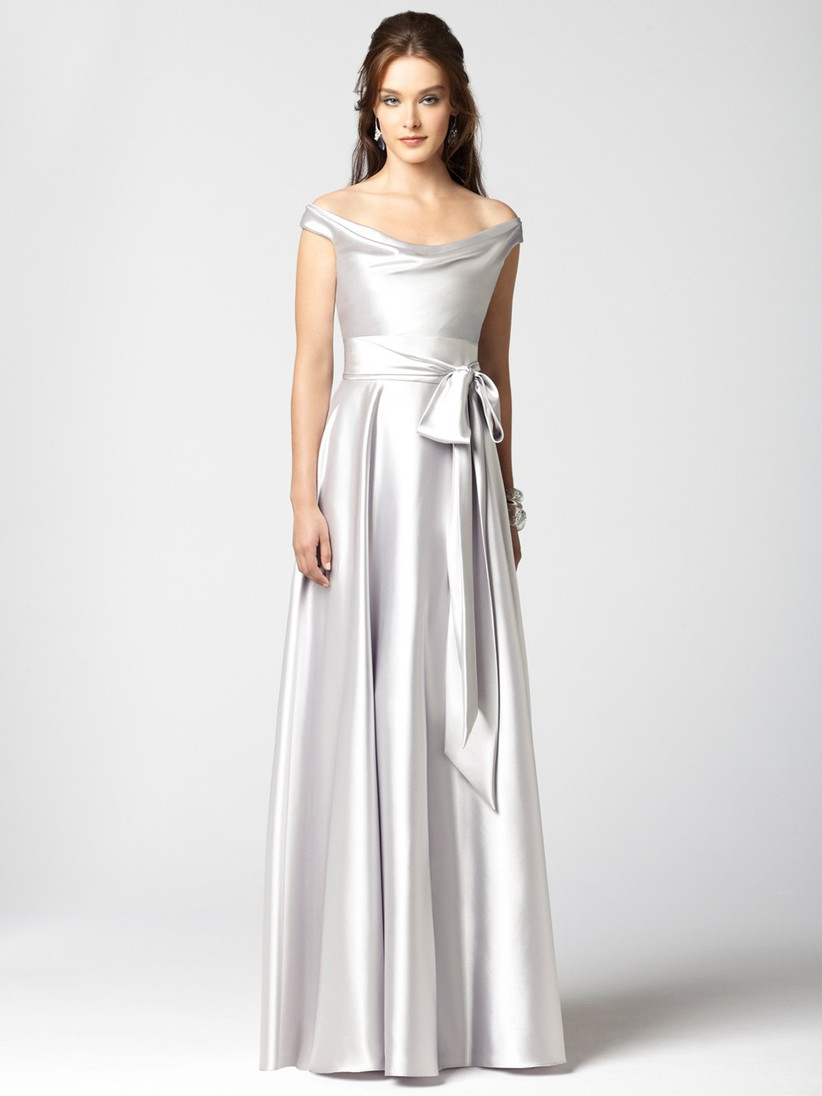 Belsoie – Style L174018
Another burgundy beauty of a winter bridesmaid dress, the satin finish of this strapless Belsoie gown would catch the light as your girls move around. This grown up dress is very versatile and would be a definite crowd pleaser if your maids have differing opinions over dress styles.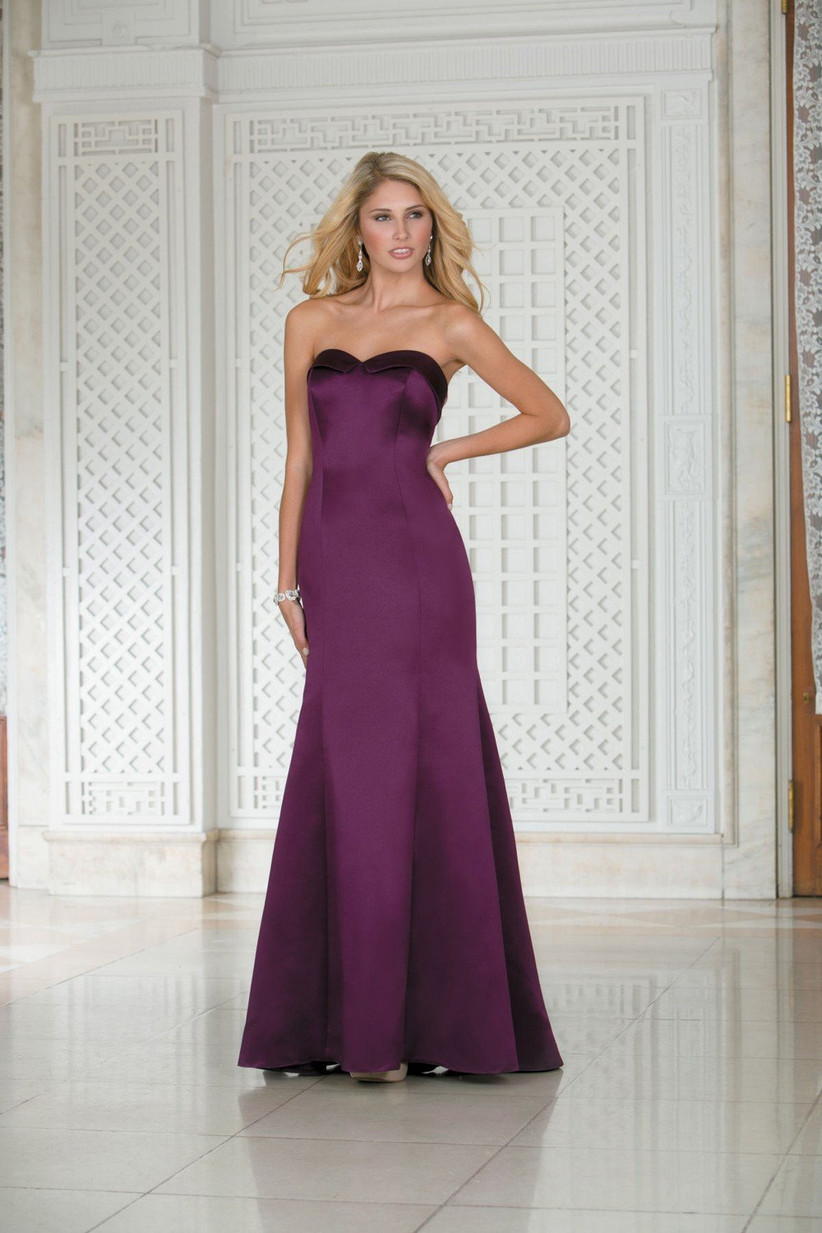 Mark Lesley – Style 1371
This strapless blue bridesmaid dress has a crossover pleated bodice for a fitted silhouette, which leads into an elegant floor length skirt. Style 1371 from Mark Lesley is another versatile option for your bridal party that would flatter most skin tones and body shapes. Grown up glam for your bridesmaids.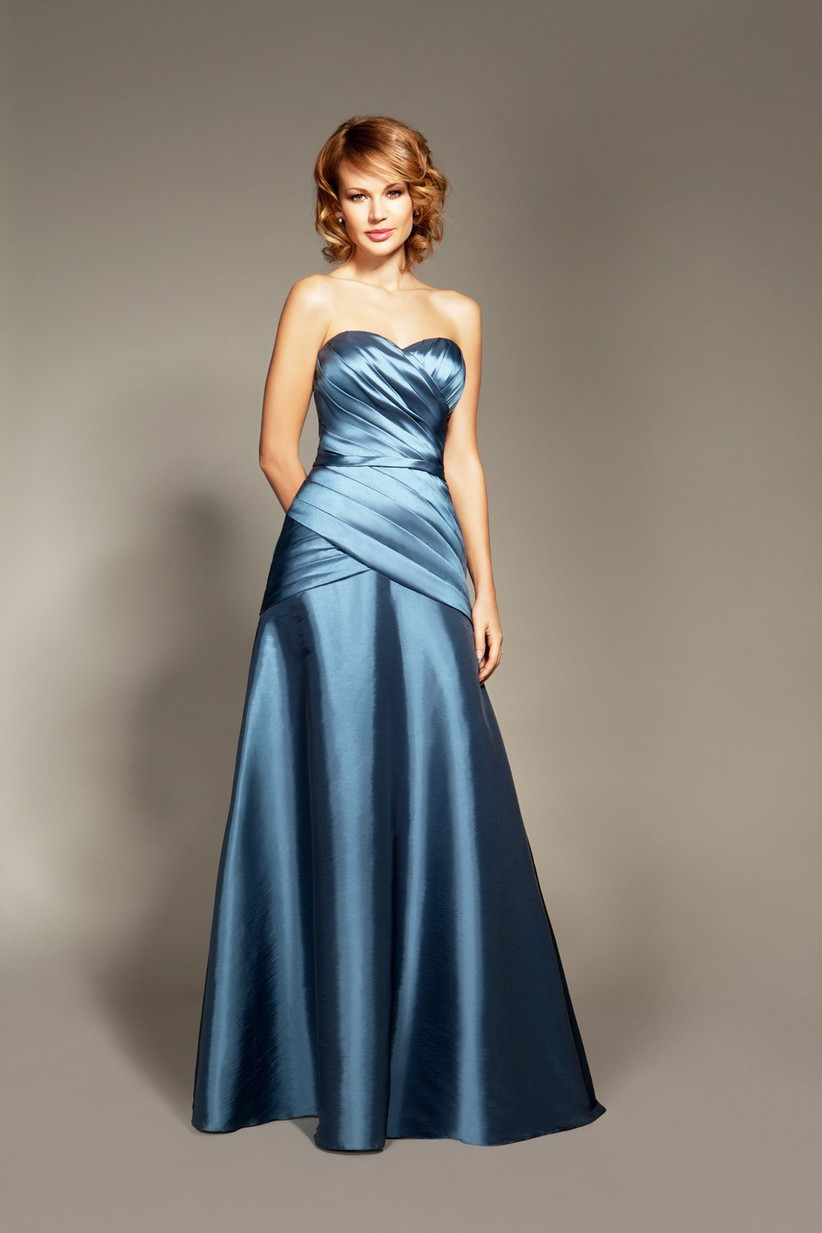 Special Day – Style D16524
If you're wearing a fairytale wedding dress and are looking for the perfect bridesmaid dress to accompany it, then why not consider style D16524 from Special Day Bridesmaids for your winter wedding? The shorter length is youthful, fun and also stops the dress looking too 'bridal'. The strapless neckline allows for the dress to be paired with a furry wrap or a jacket if you'll be stepping outside for some scenic winter photos.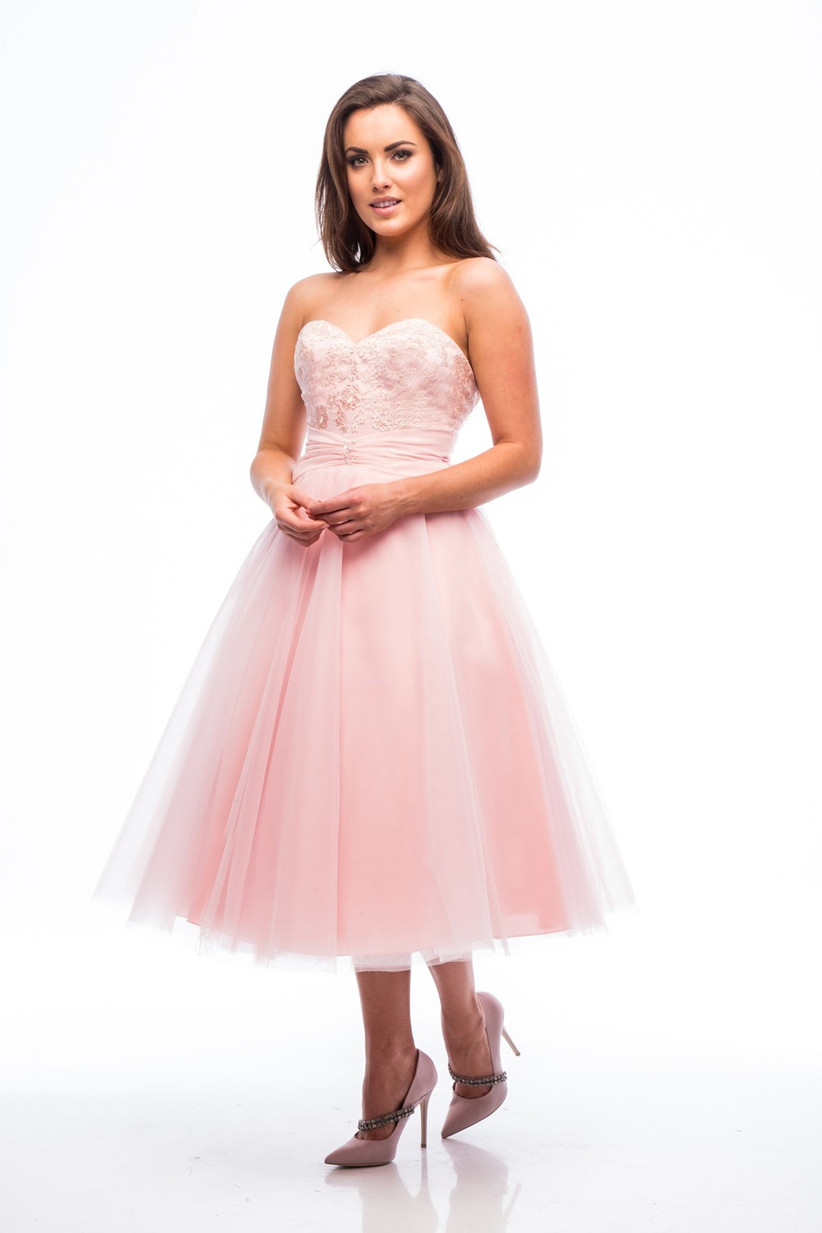 D'Zage Bridesmaid – Style DAB11065J/DAB11201
The deep, Cadbury purple shade of this D'Zage bridesmaid dress is a popular choice of colour for weddings, especially in winter because of the rich tones. The satin dress is ruched at the waist and highlighted with silver embellishment. The dress can be paired with a matching long sleeved jacket to keep away the chill if the temperature drops.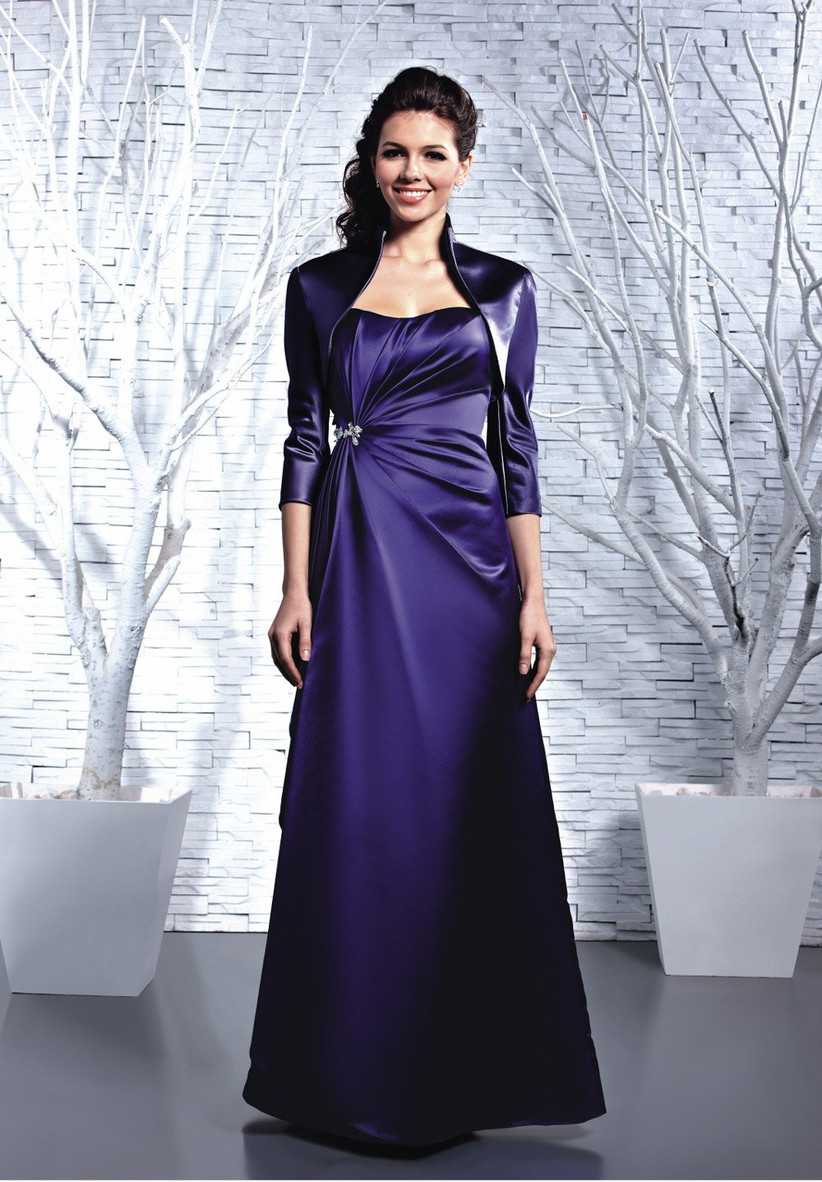 Alexia Designs – Style 4186
This feminine chiffon style from Alexia Designs (style 4186) is a gorgeous shape and comes in a sumptuous shade of blue. Not only does the bat wing sleeved bodice look beautiful but it will also keep your shoulders warm and is ideal for bridesmaid who are self-conscious of their arms. The low back of the gown is a stunning feature.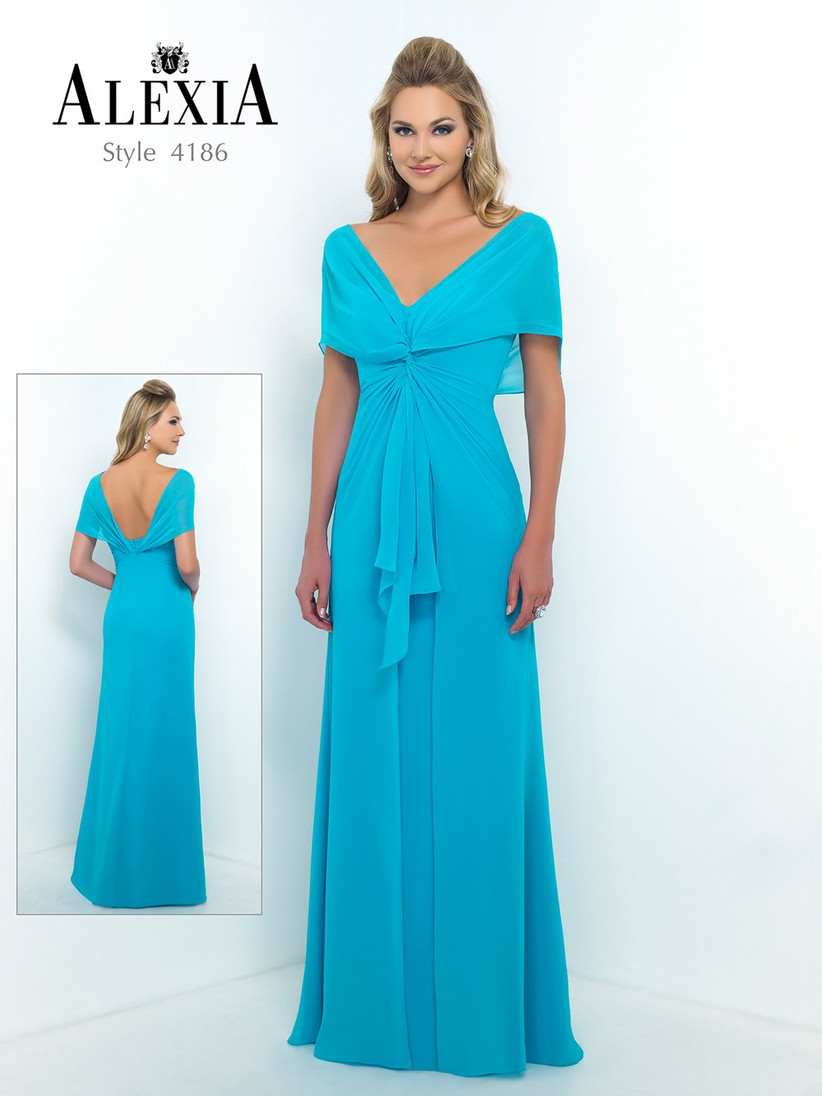 Mori Lee – Style 715
Red is a much loved shade for Christmas, so if you're planning a wedding near this time then a scarlet colour scheme and red bridesmaid dresses would certainly inject some festive cheer. This strapless gown from Mori Lee is a simple yet sultry look for your bridal party and the versatile style means you can choose any hairstyles and accessories to go with it.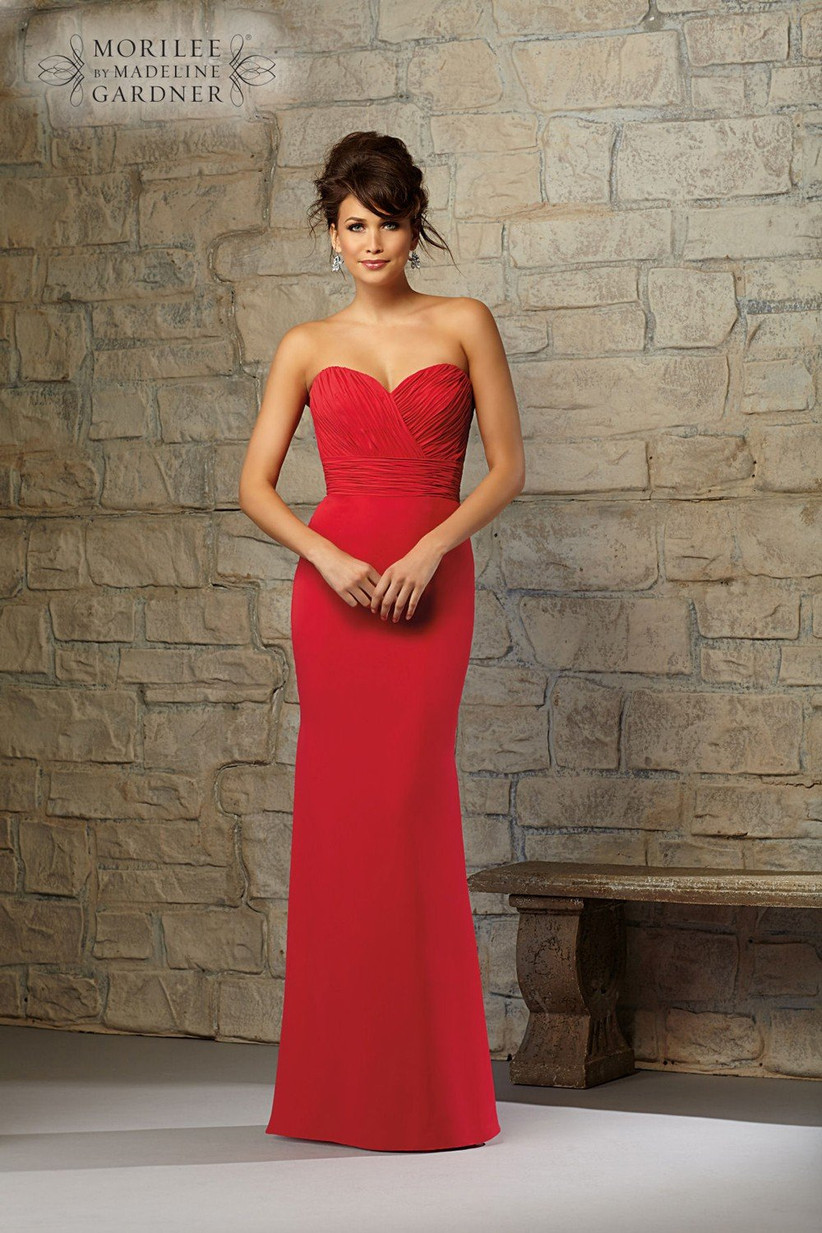 Dessy – Style 2878
Baring your legs during winter can be a tricky move, however the icy colour of this dress and pretty satin waistband would wonderfully complement a winter colour scheme – just make sure you have a nice jacket or wrap to layer up in if you have to go outside for the photos! The tea-length of this Dessy dress (style 2878) makes it comfy and wearable for your bridesmaids plus they could wear it again for any Christmas parties.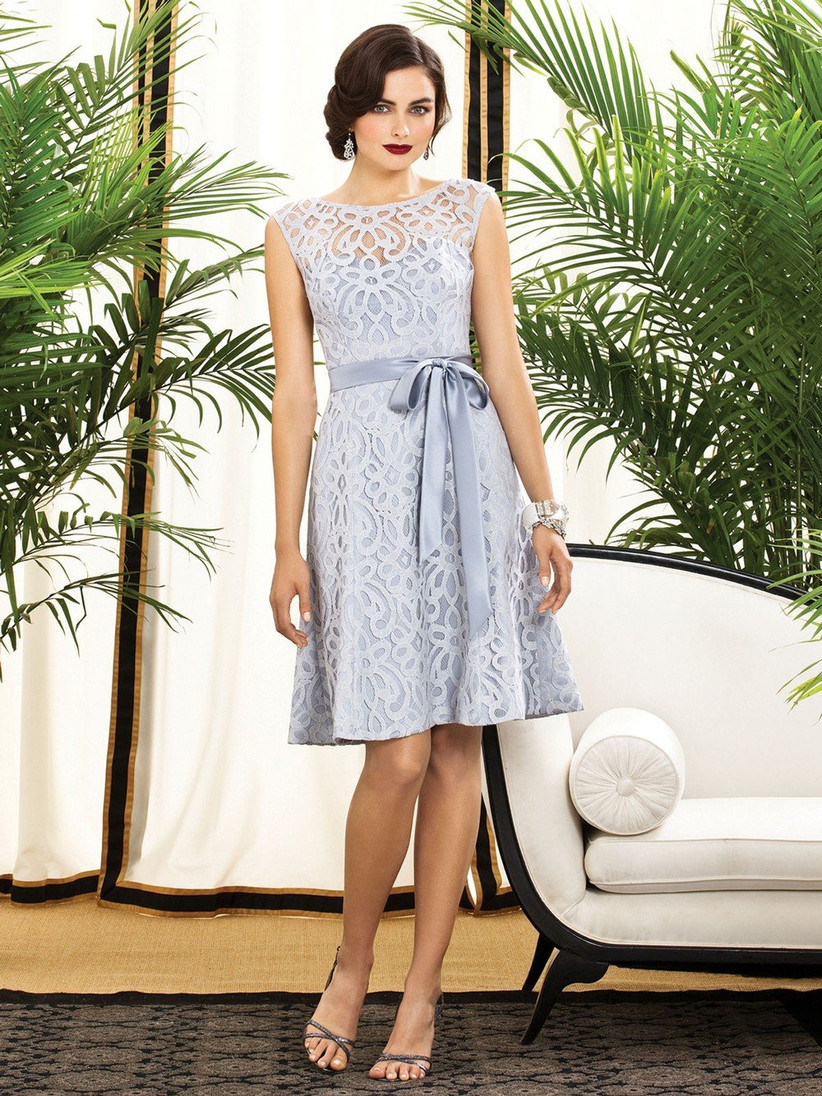 Jim Hjelm Occasions – Style 5305
If you're dreaming of a winter wedding… take inspiration from Kim K and Kate Middleton and put your bridesmaids in white bridesmaid dresses if you want to emulate the colours of this season. This sleek dress from Jim Hjelm Occasions has a gorgeous cowl neck and is a flattering yet minimalistic style, so that all the attention is kept firmly on you of course.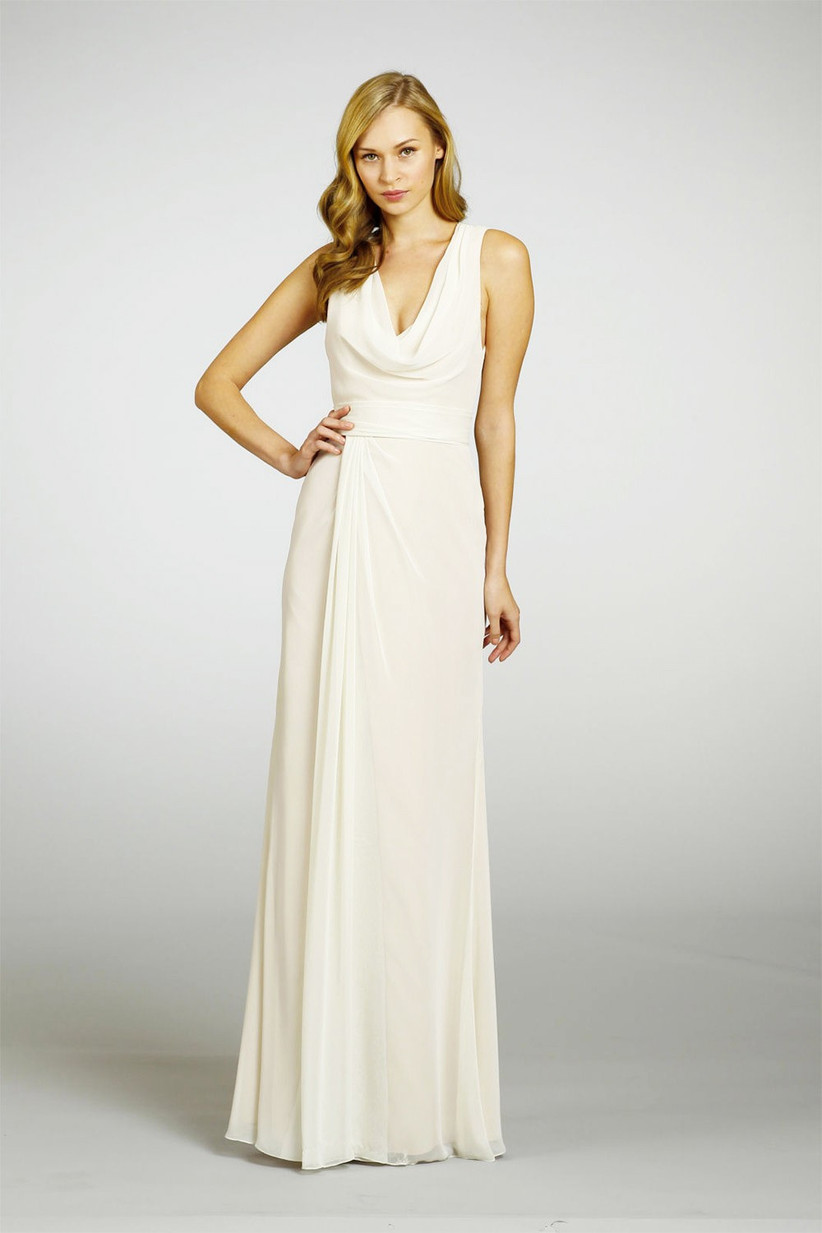 Top Tips for Choosing a Winter Bridesmaid Dress
Pair the bridesmaid dresses with a warm wrap or a co-ordinating jacket so that your maids don't freeze – you don't want their main memory of your wedding day to be them getting ill!
Don't put your bridal party in scarily high heels if pathways at your venue are likely to be icy – you don't want any nasty accidents!
If your bridesmaids are wearing full length dresses, then they can get away with wearing tights underneath for added warmth
If the bridesmaid dresses are shorter than floor length then make sure that their tights are skin coloured
Take into consideration their preffered style of bridesmaid dress if its forecasted to be particularly cold on your wedding day
Don't forget to thank your bridal party for their support by giving them a thoughtful thank you present after the wedding! Blown most of your pennies on the actual wedding? Don't panic, we've got bridesmaid gift ideas for every budget.