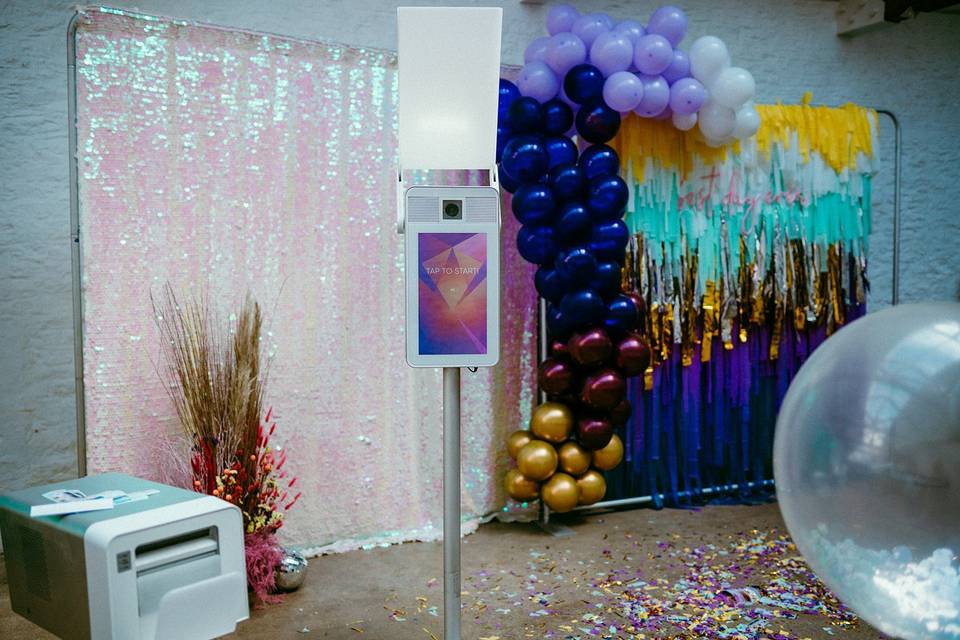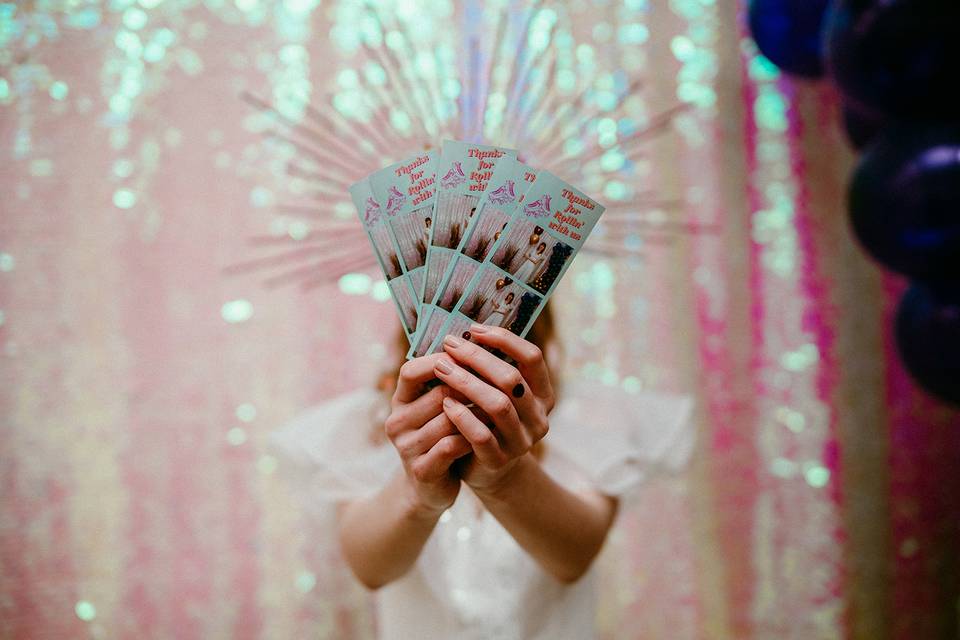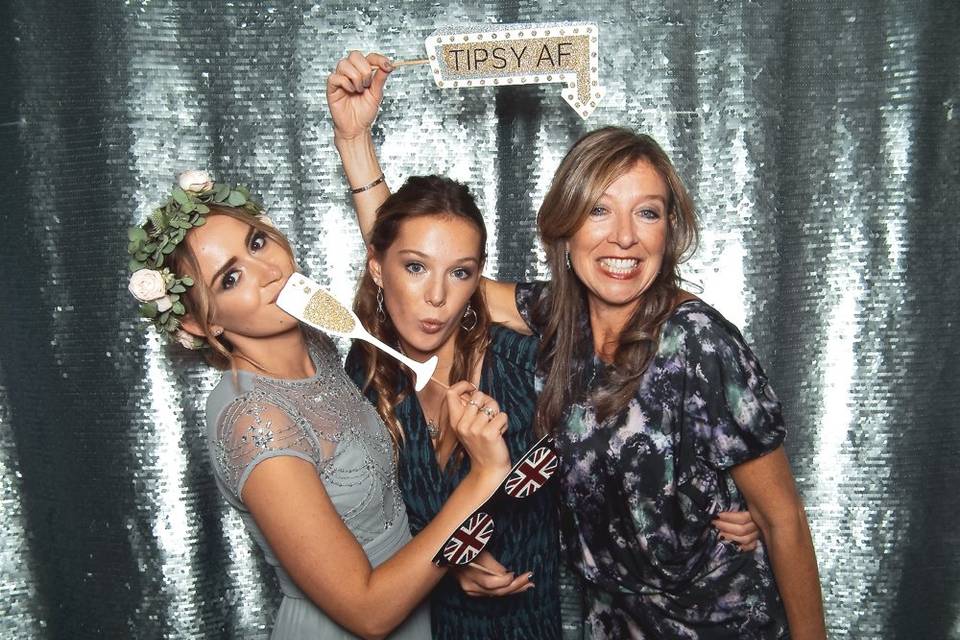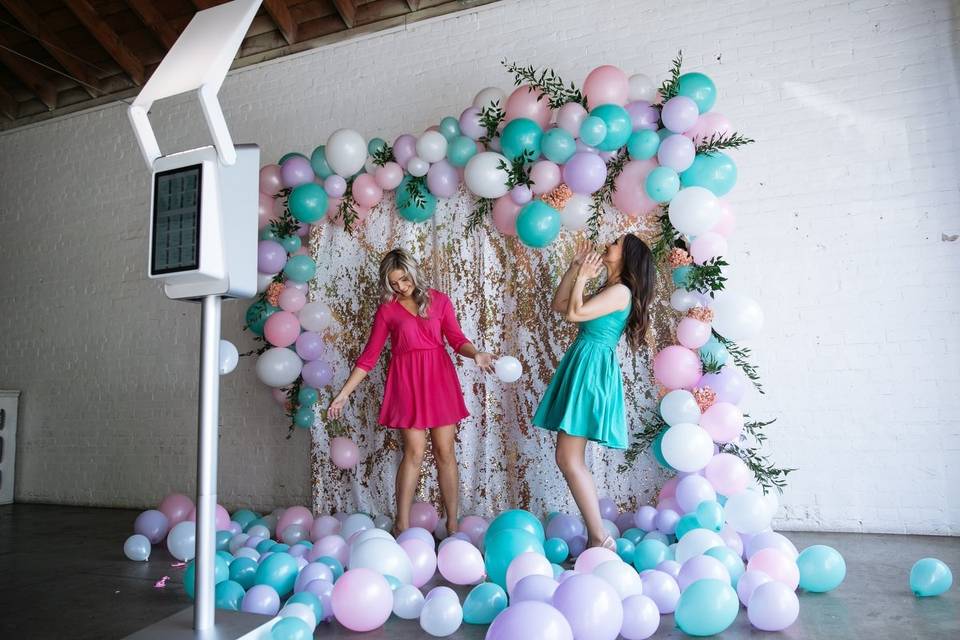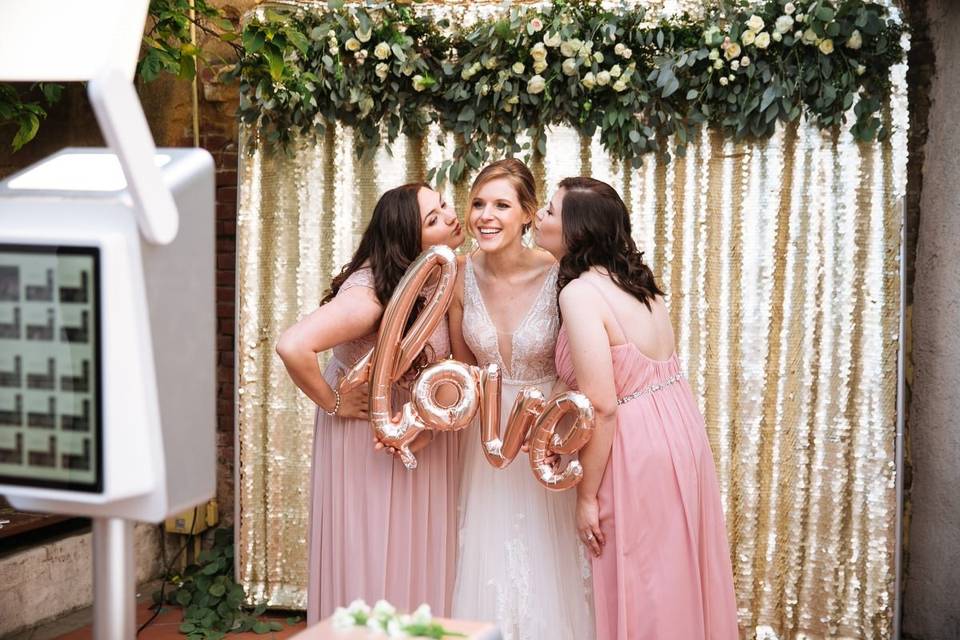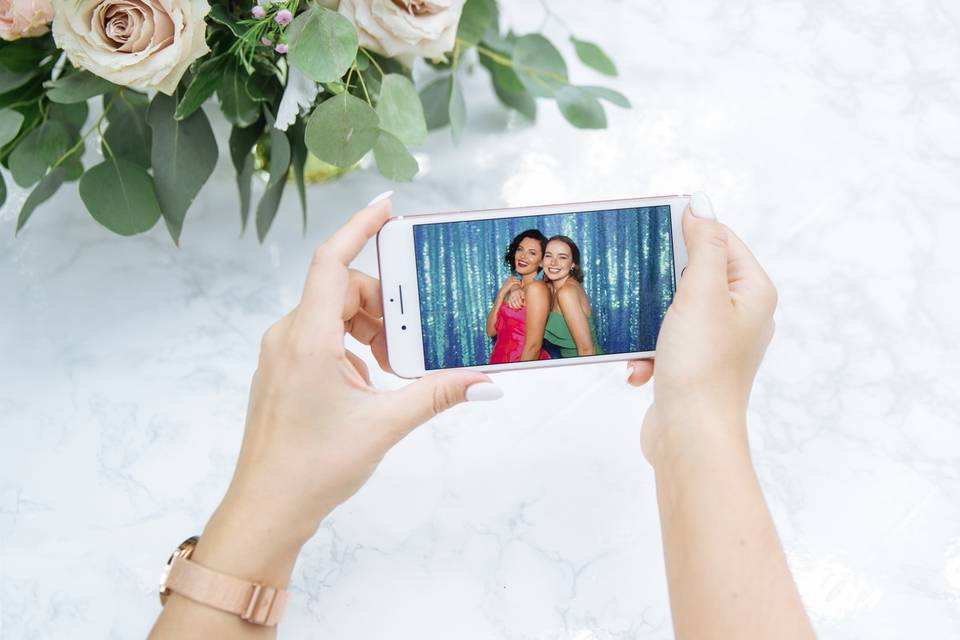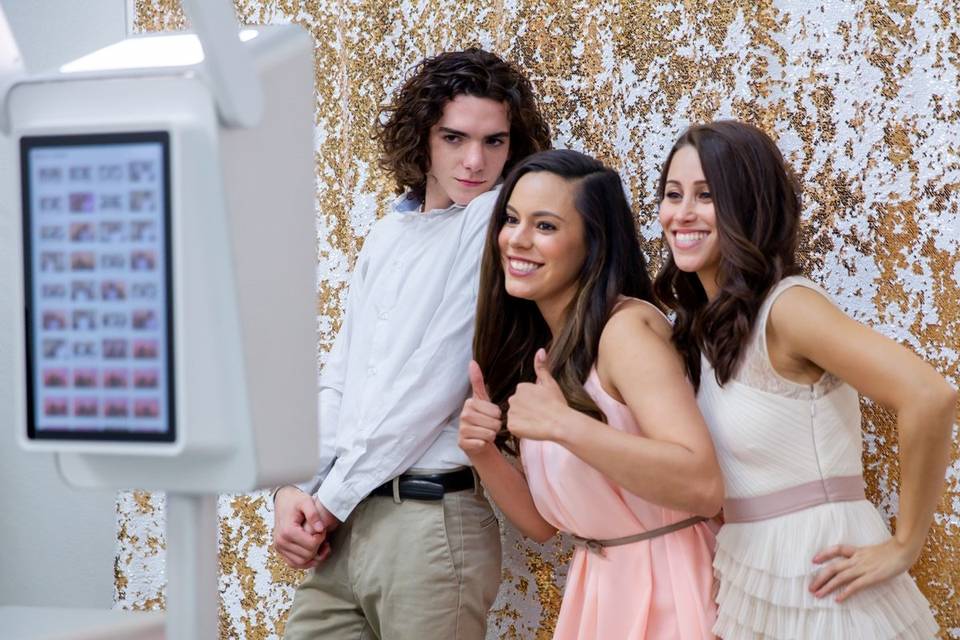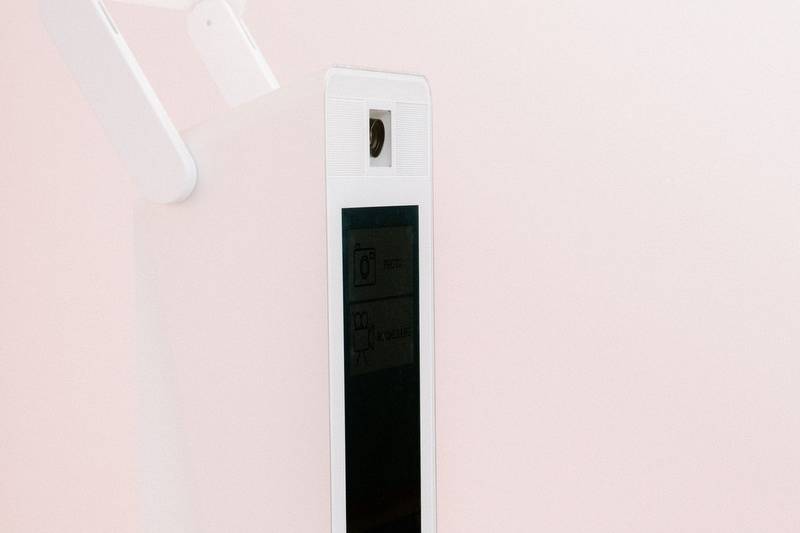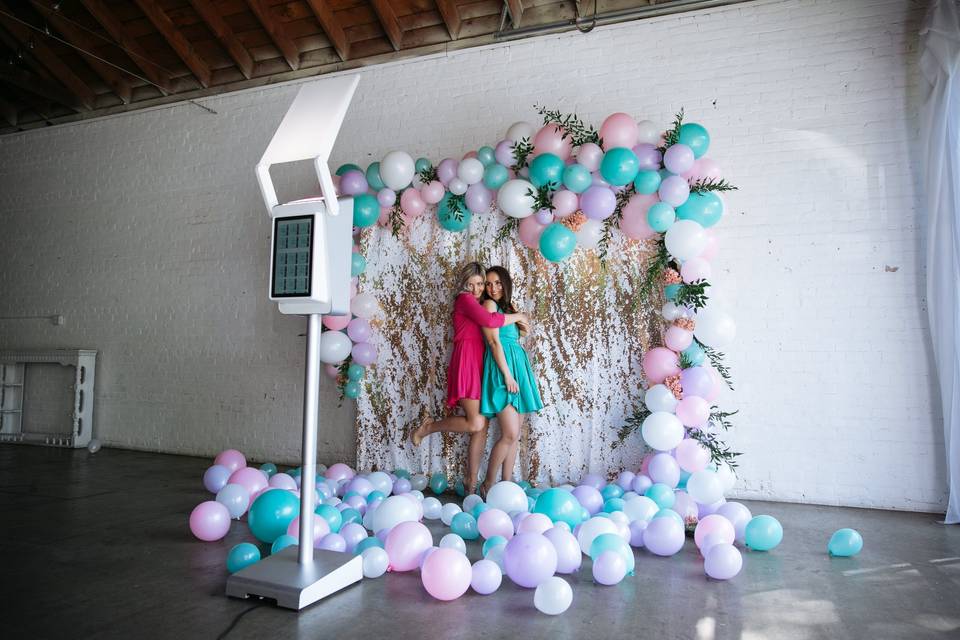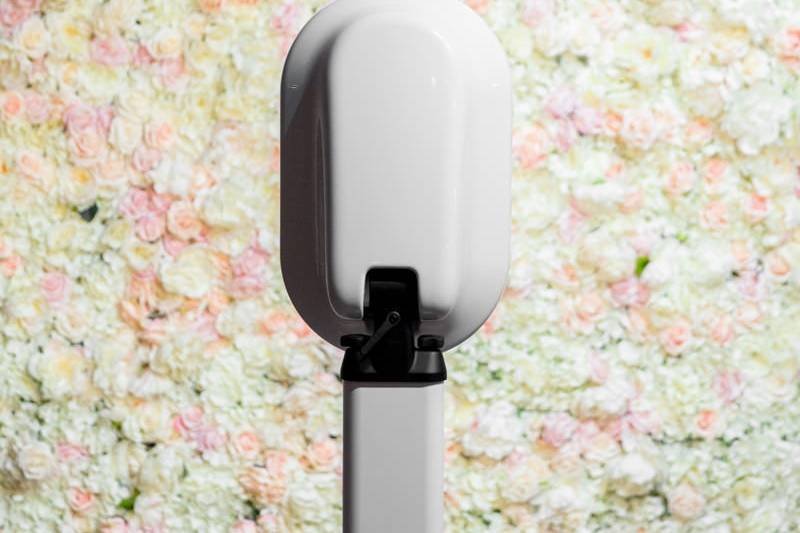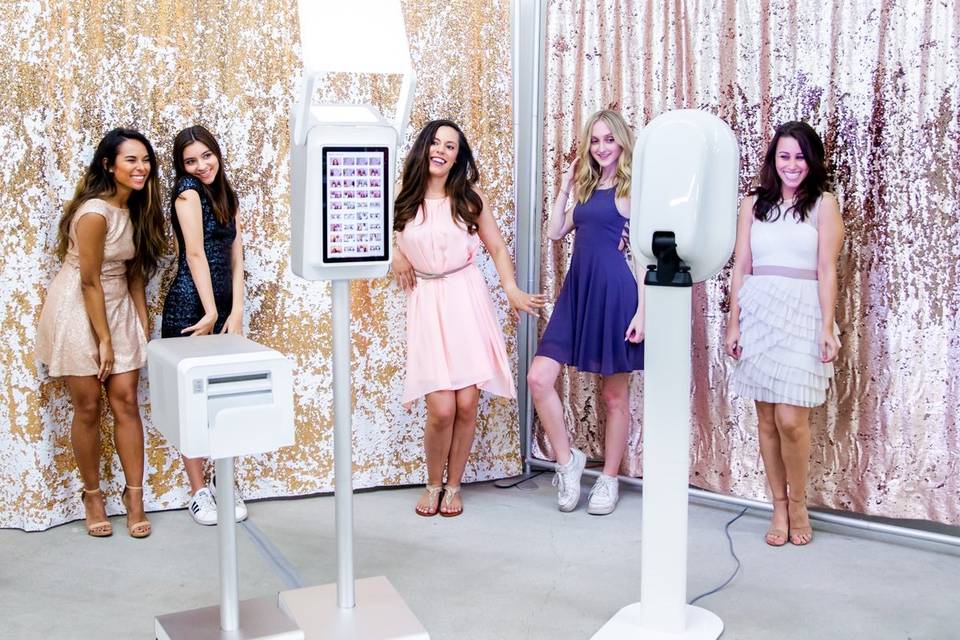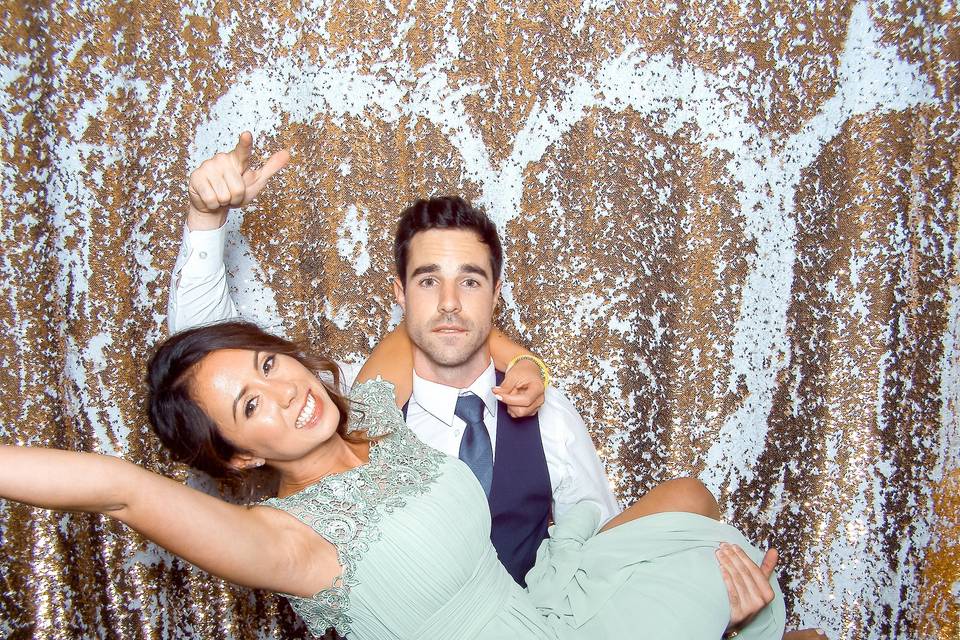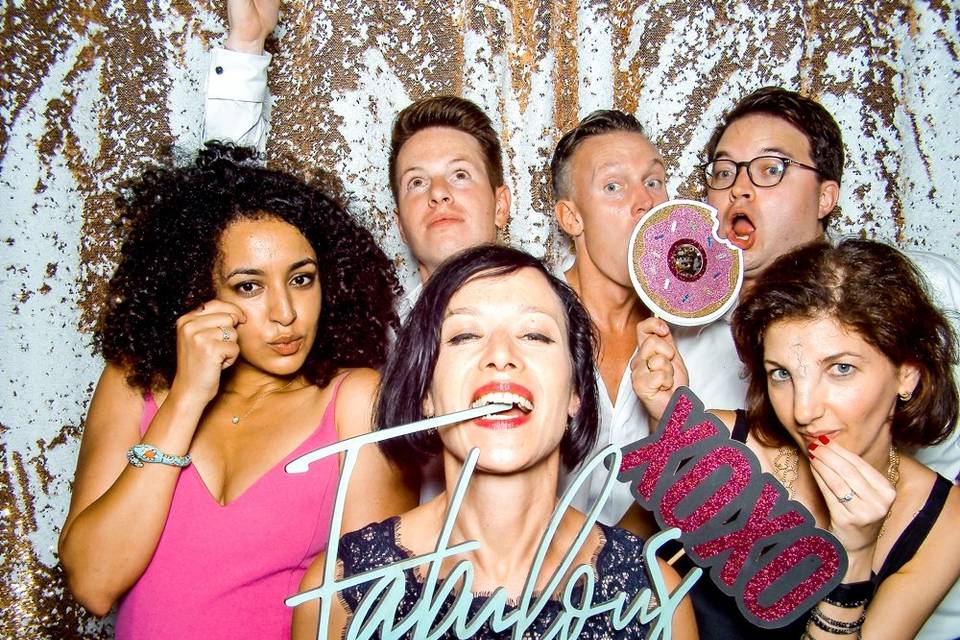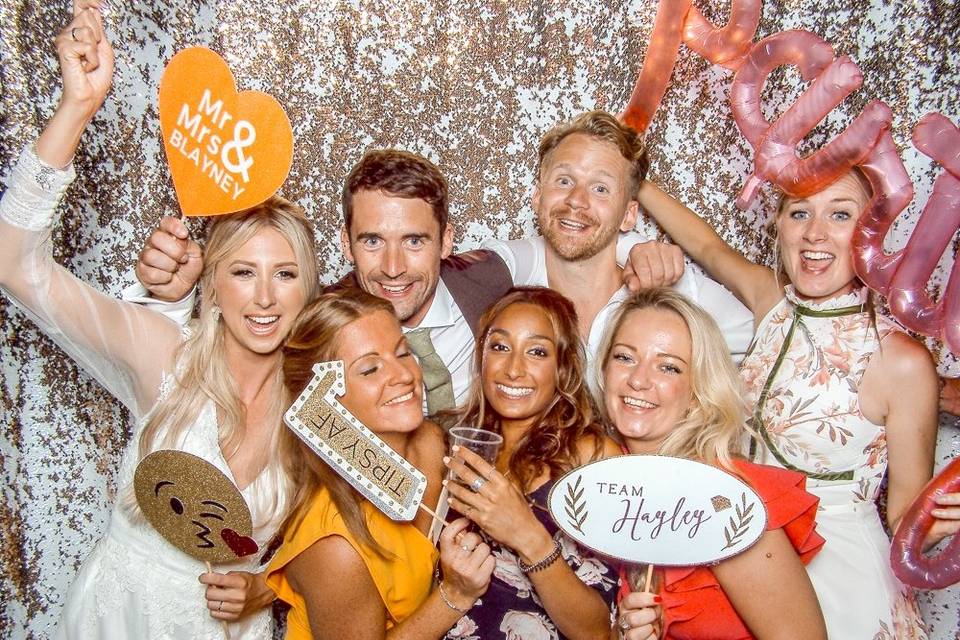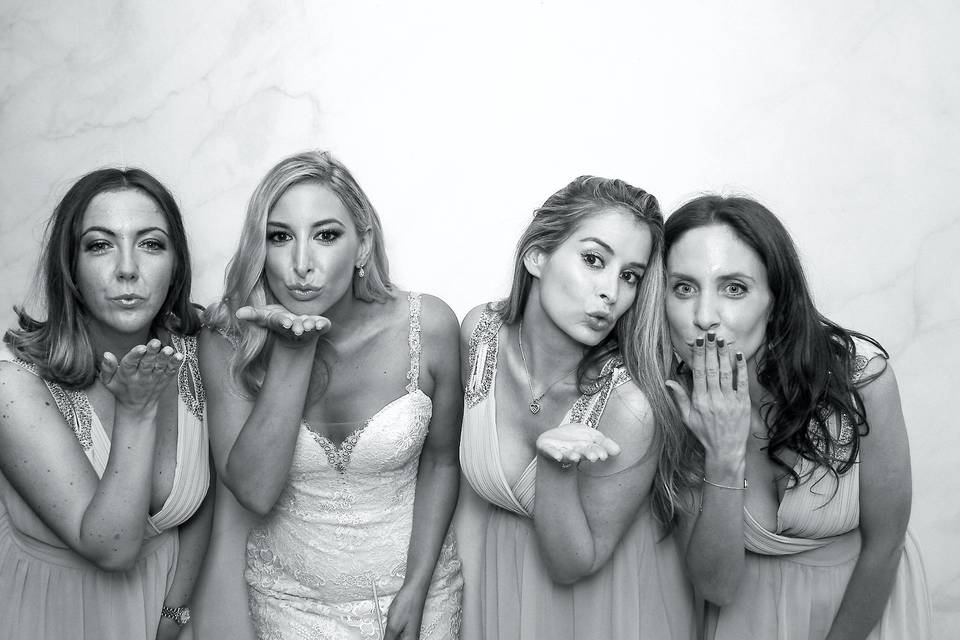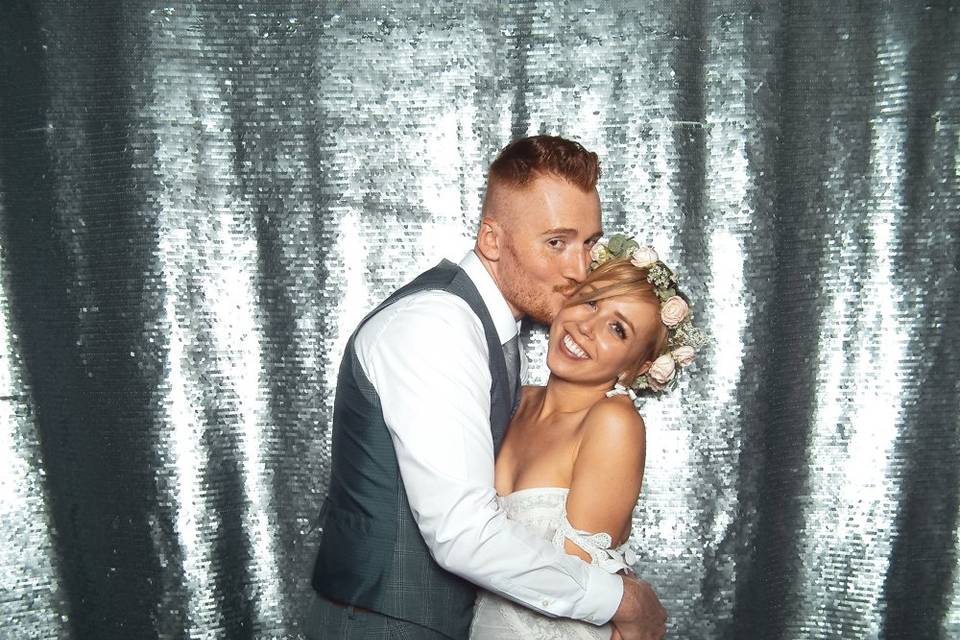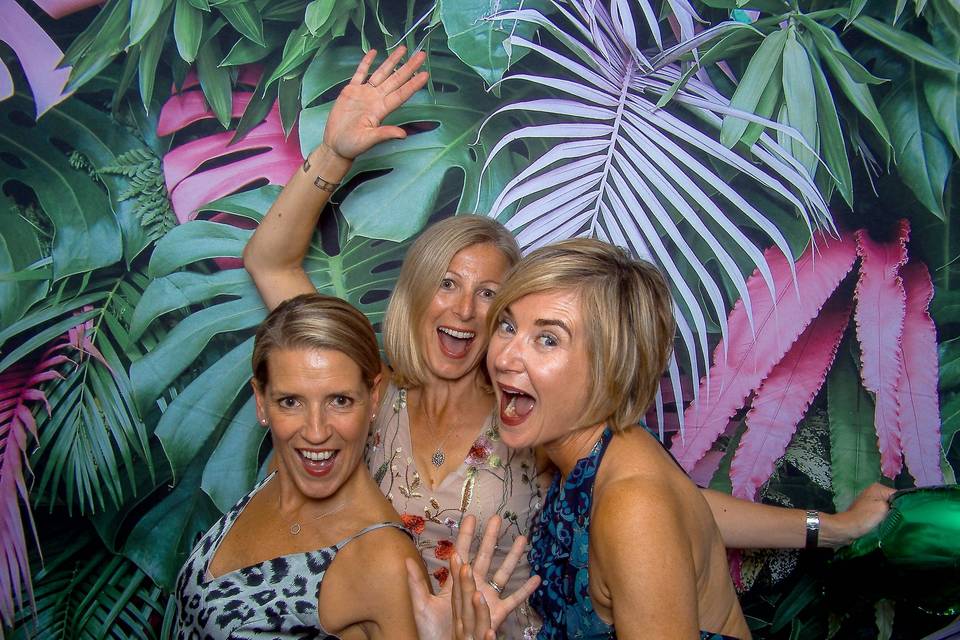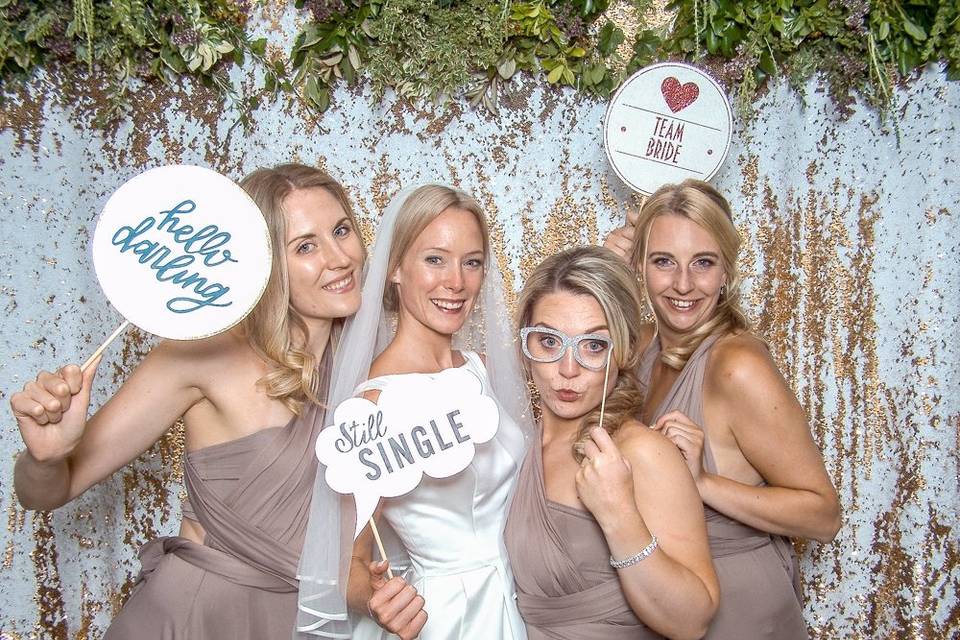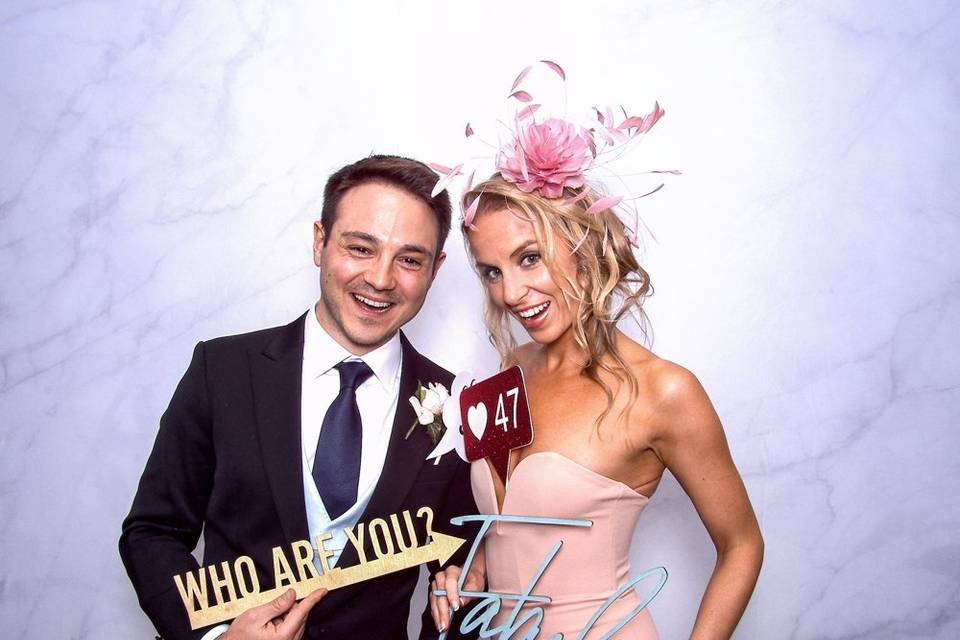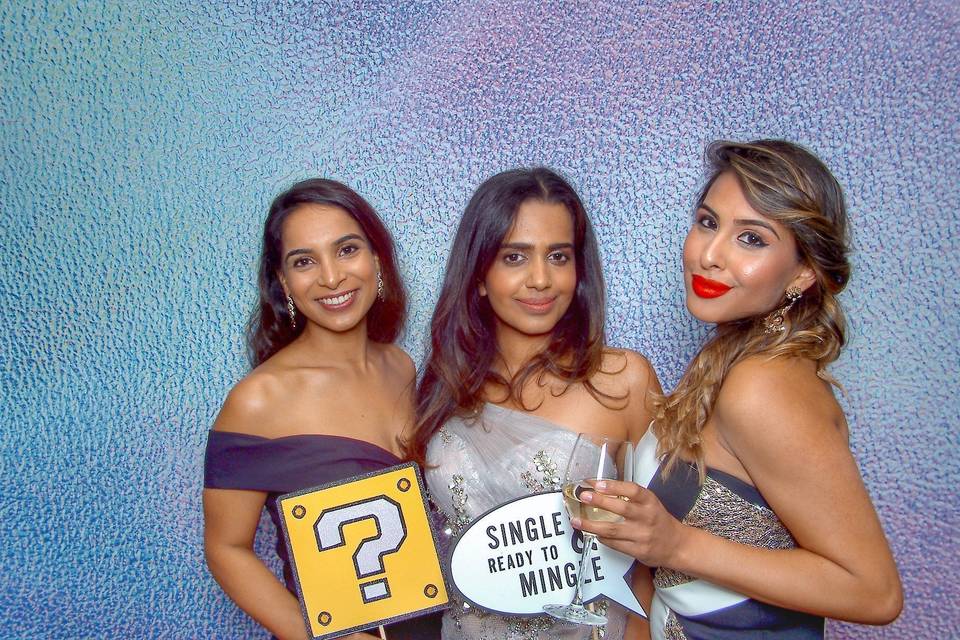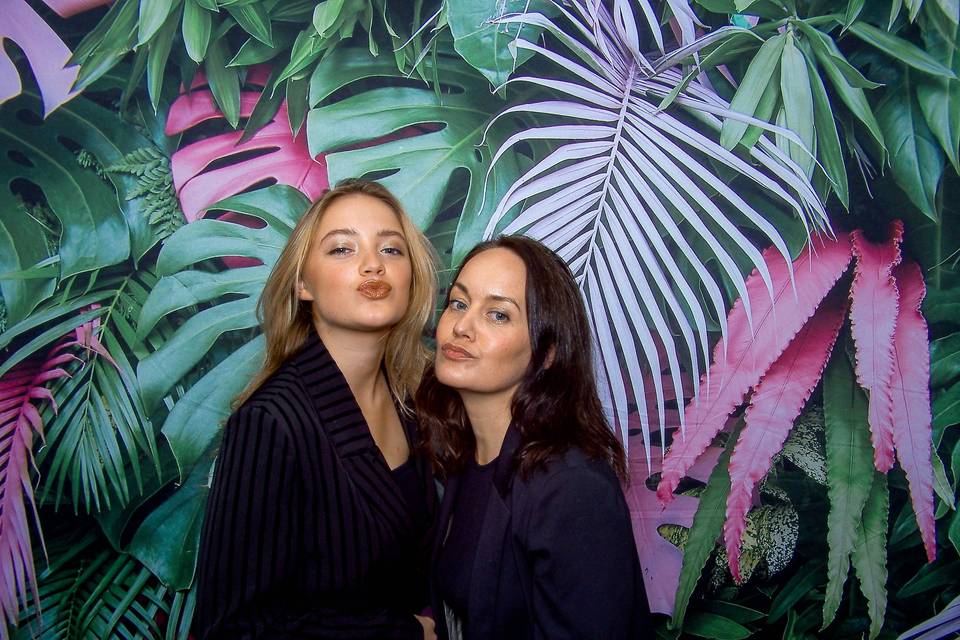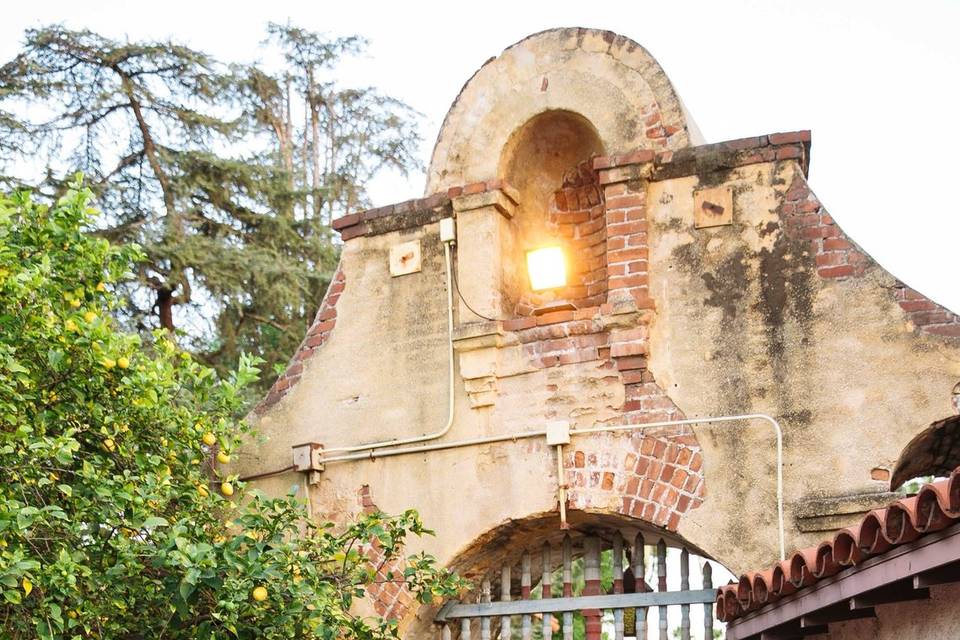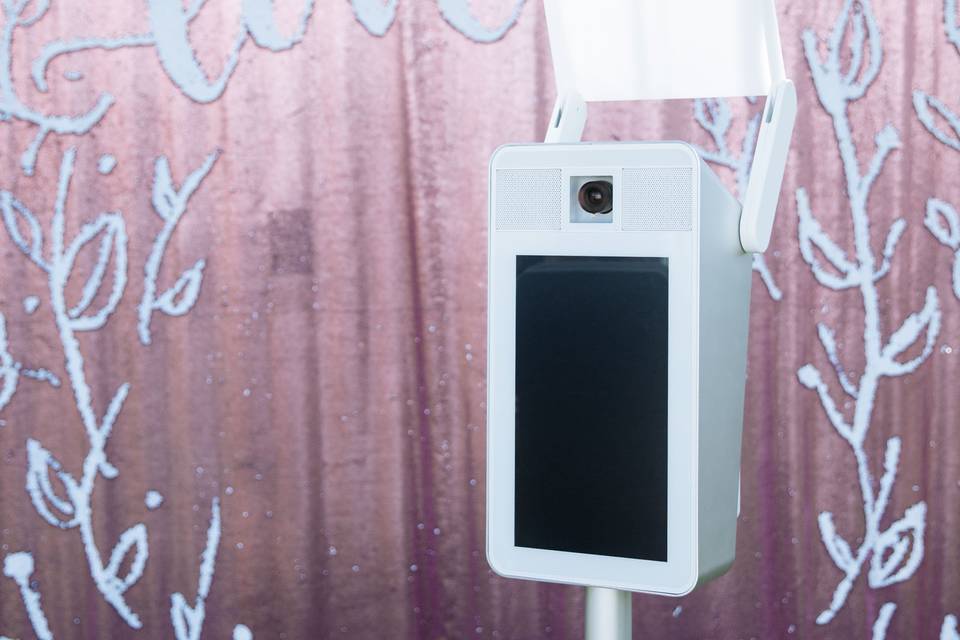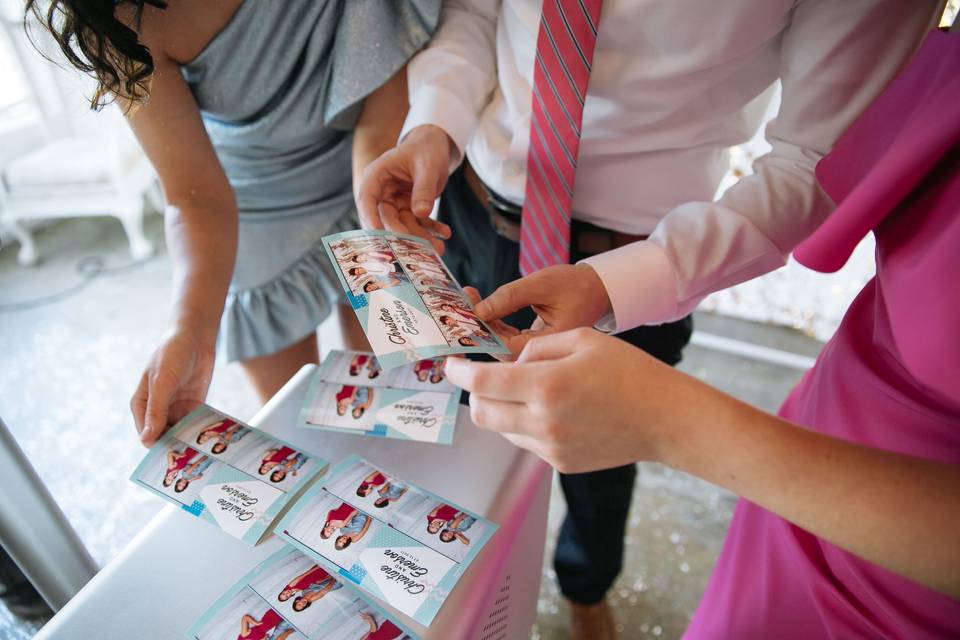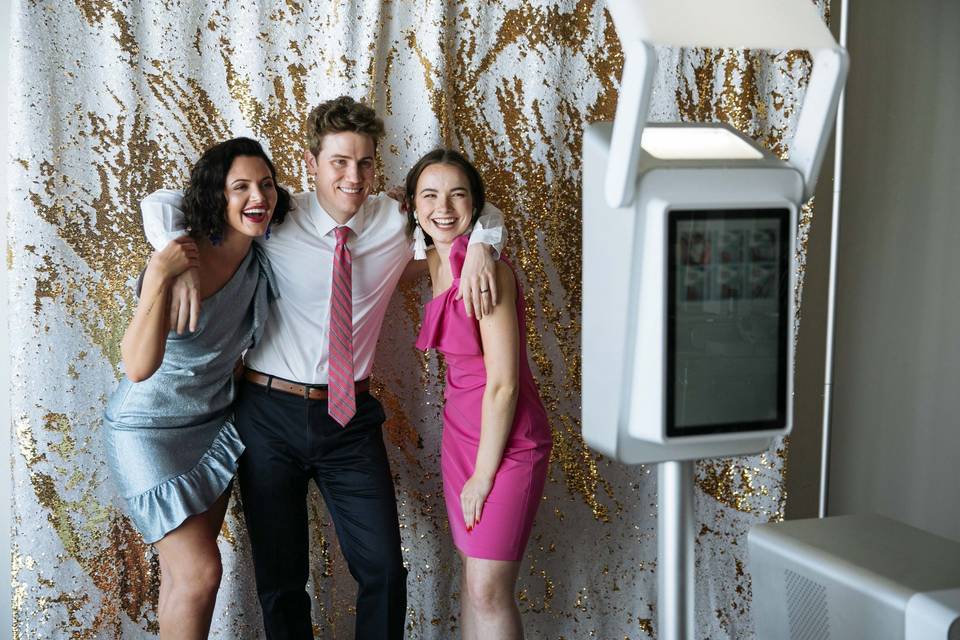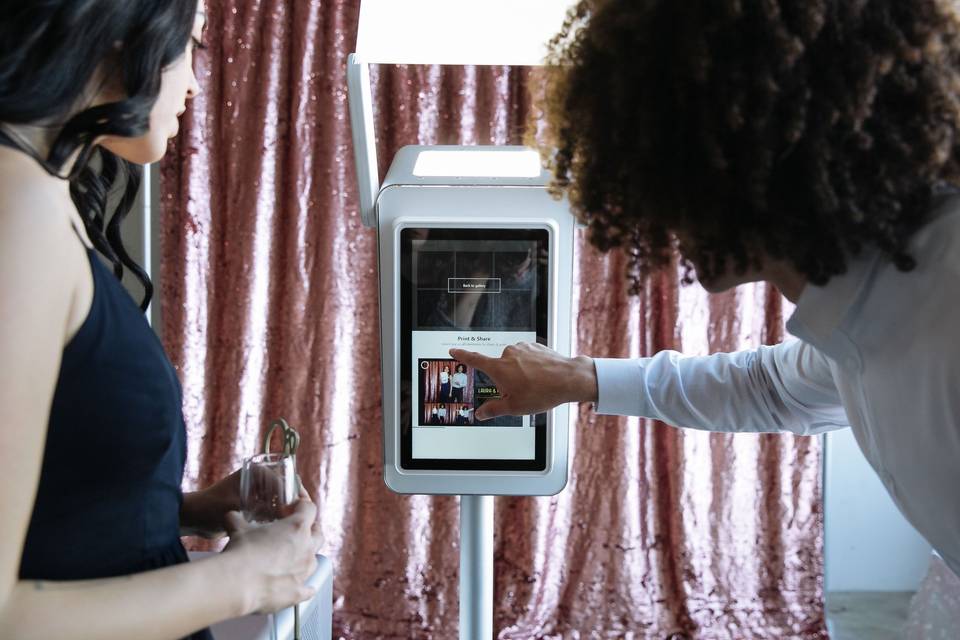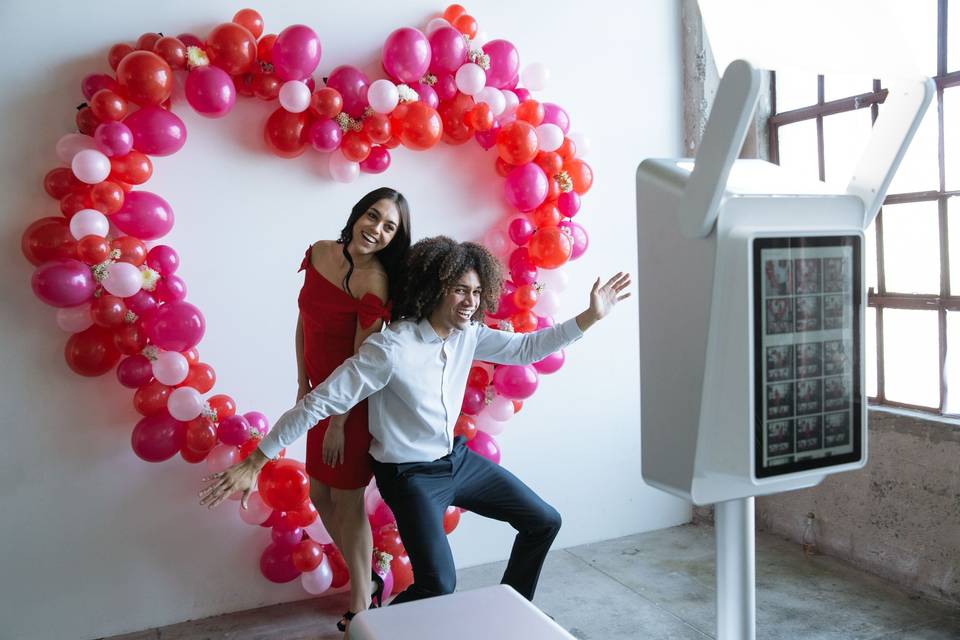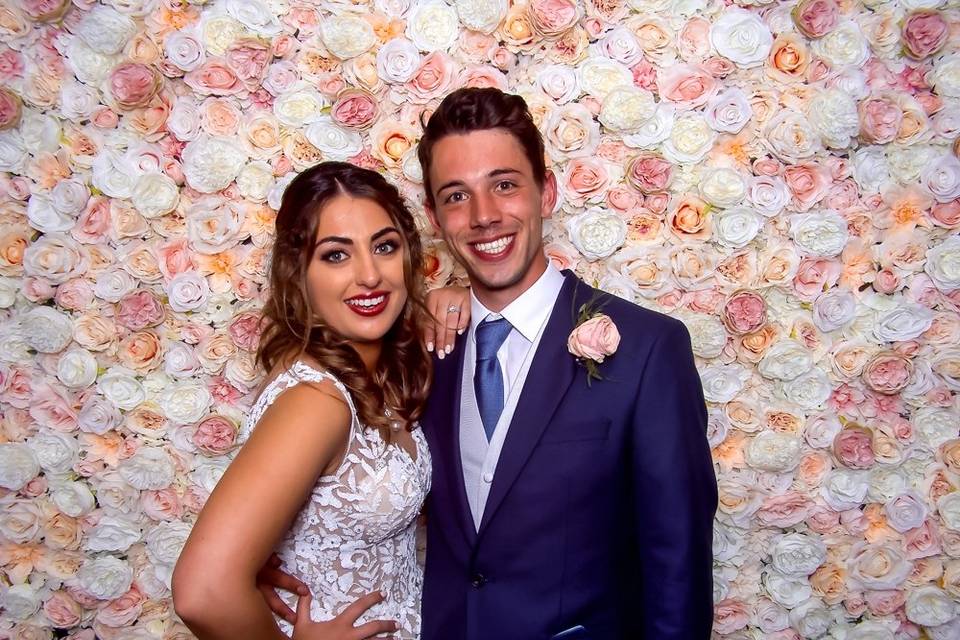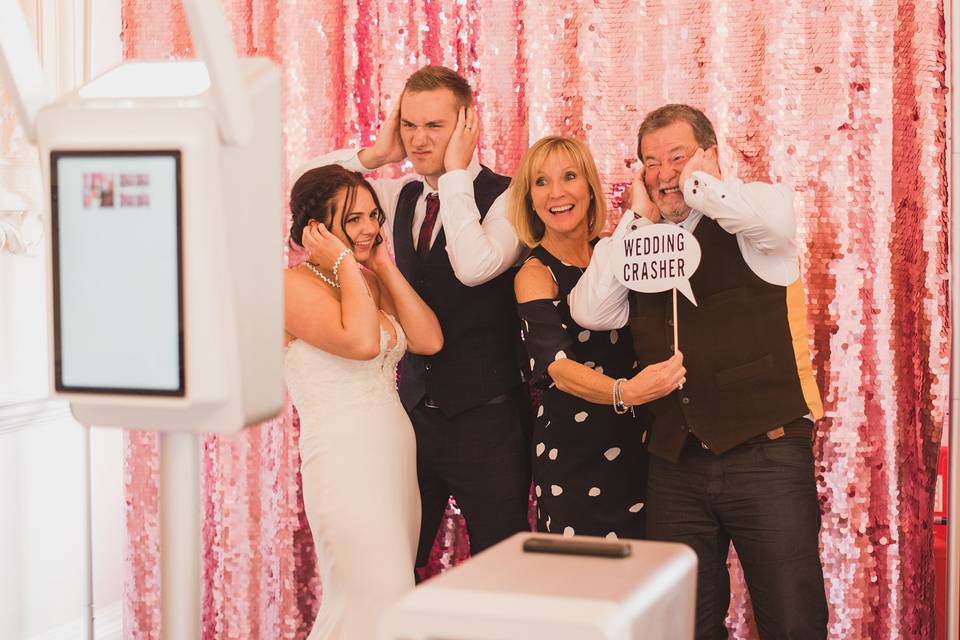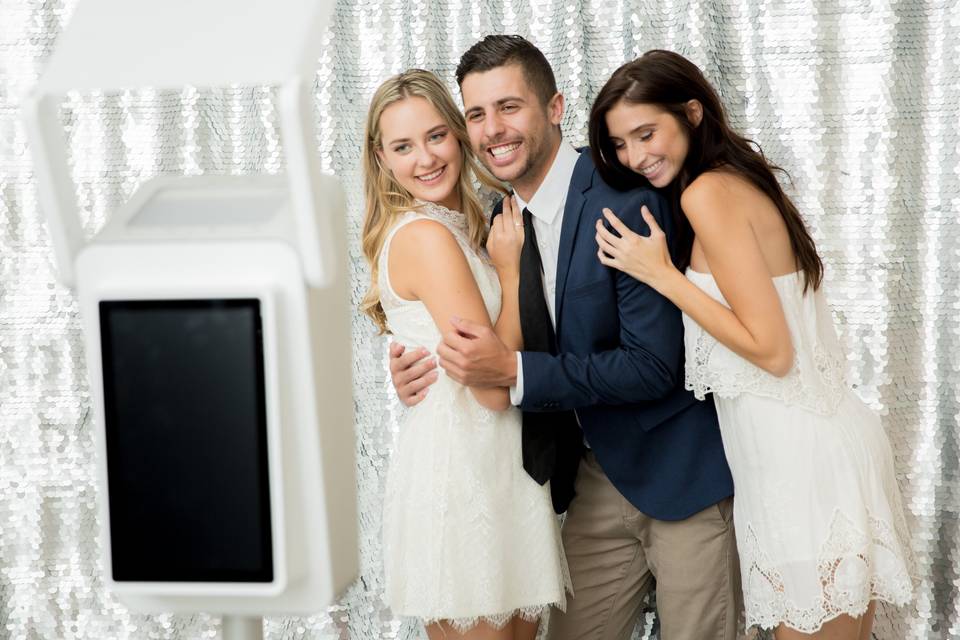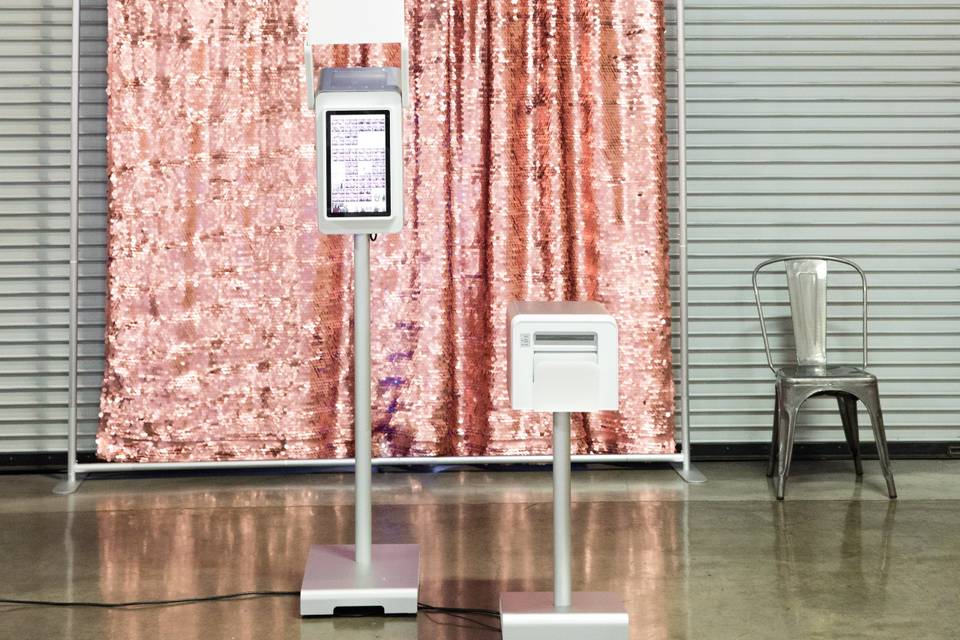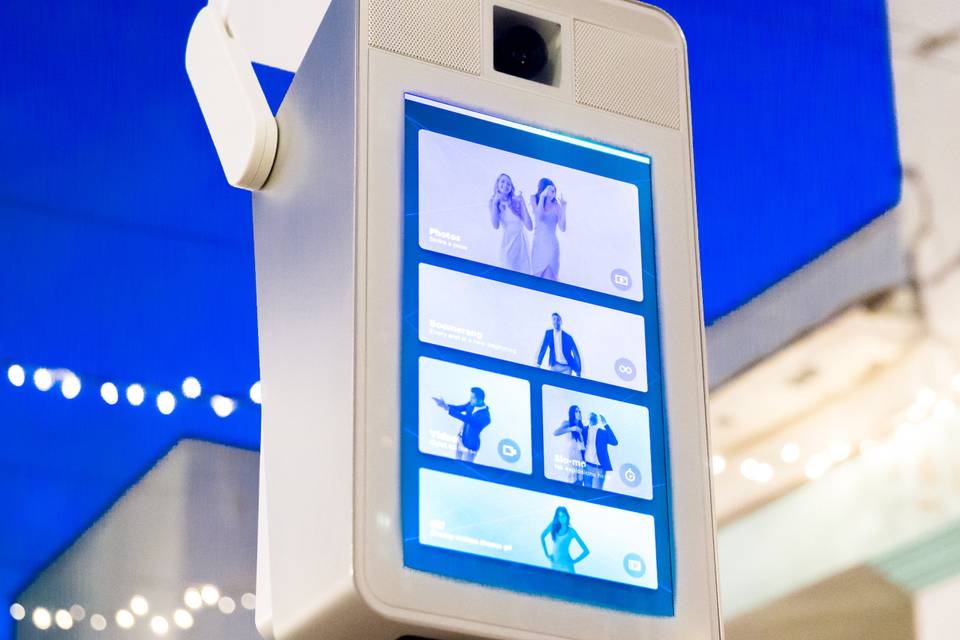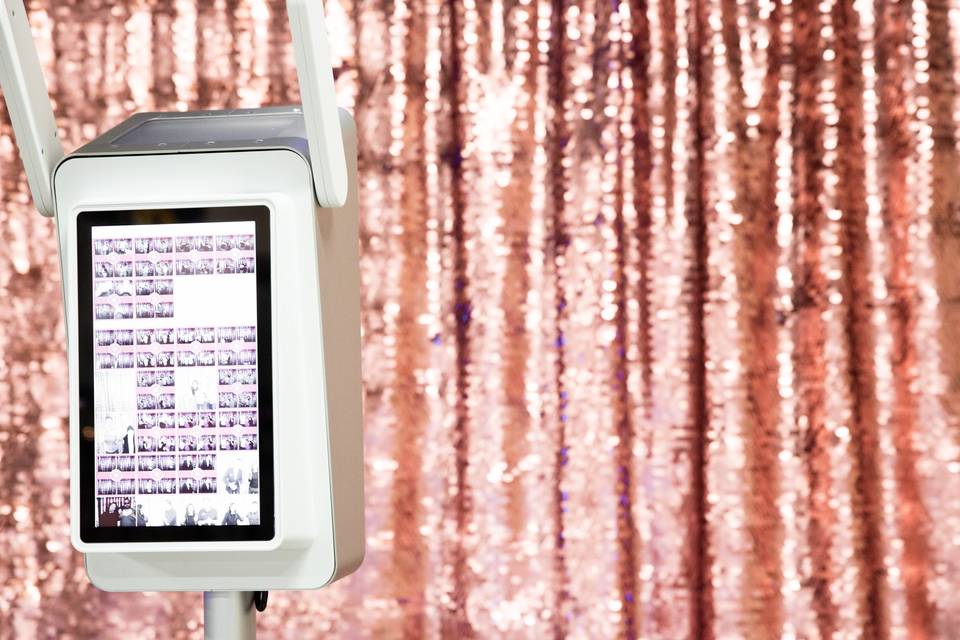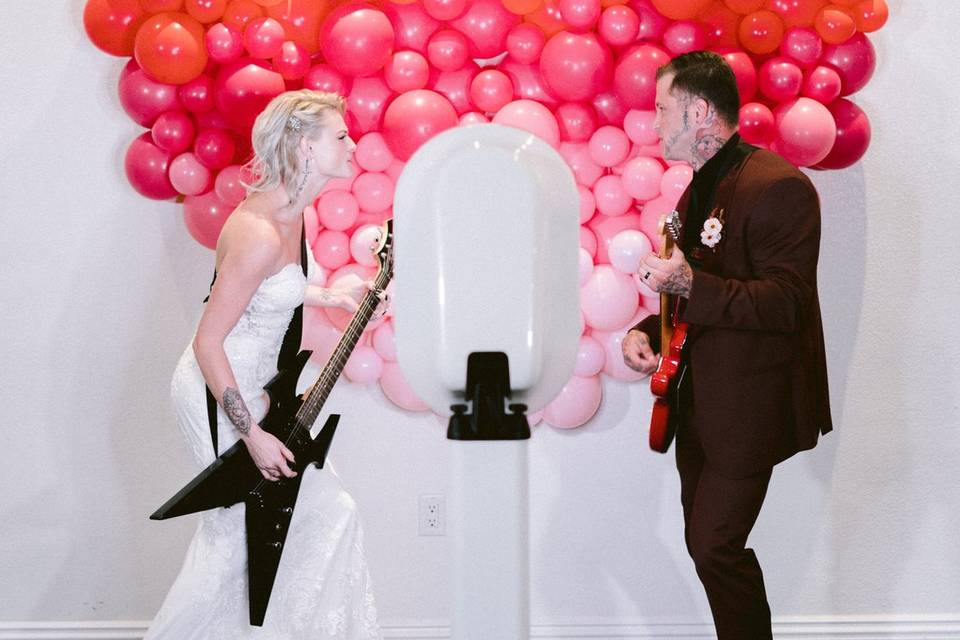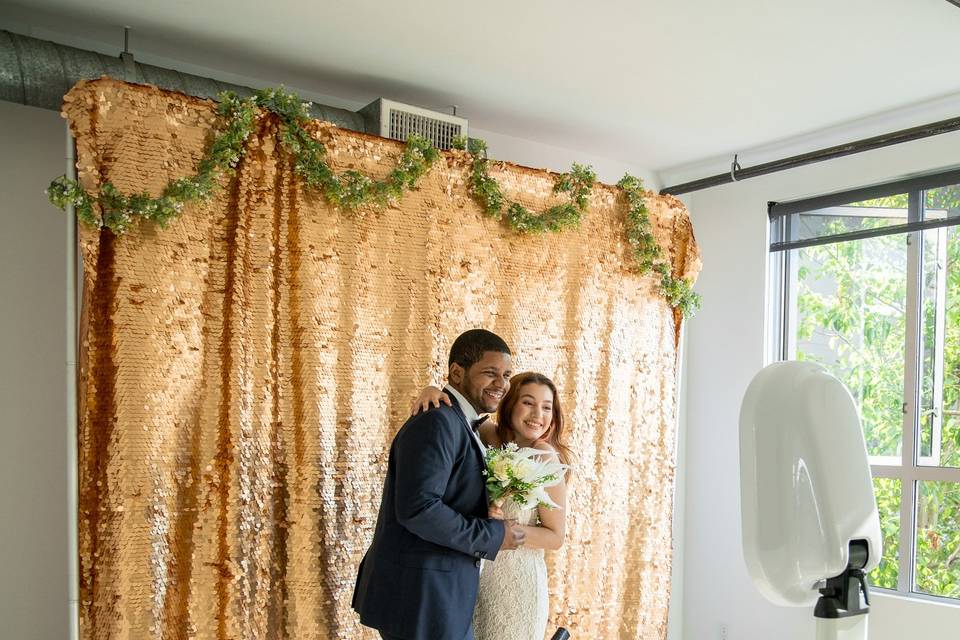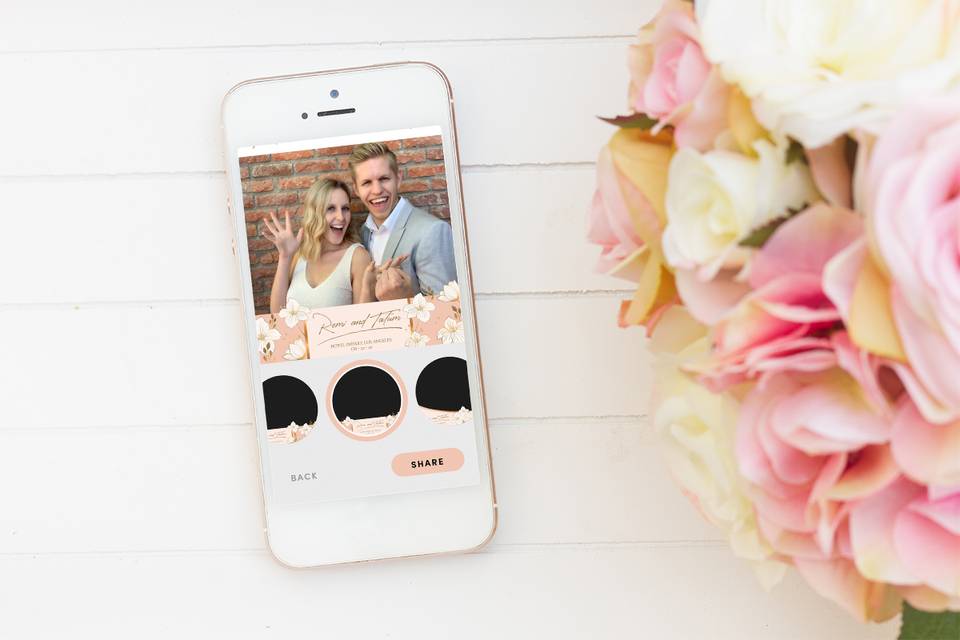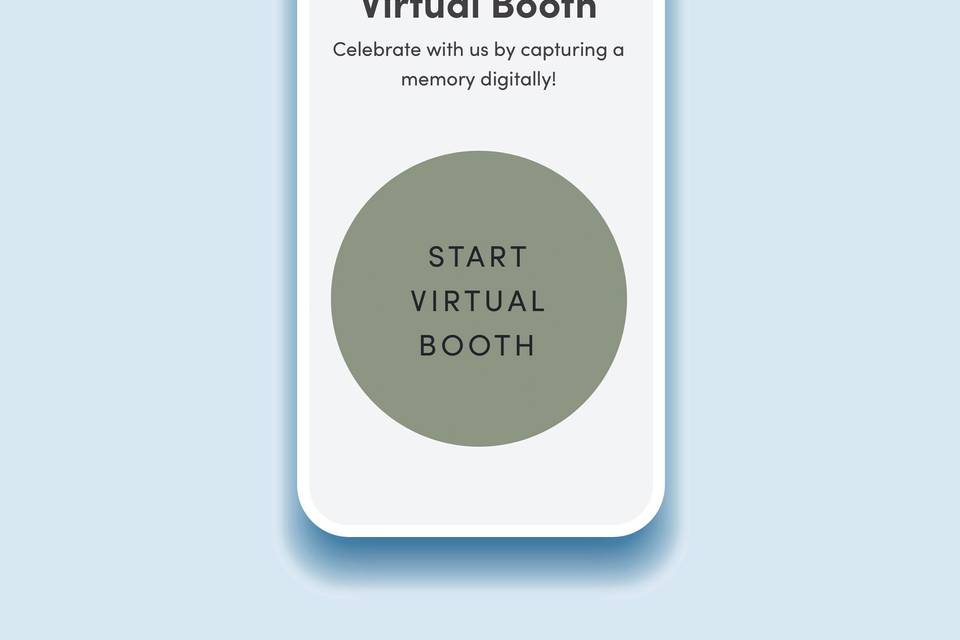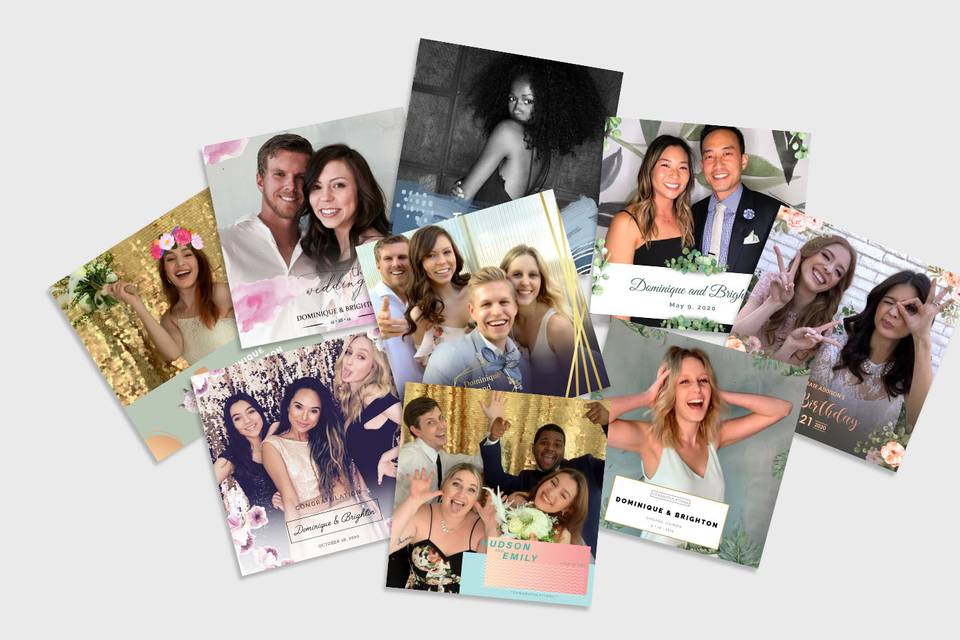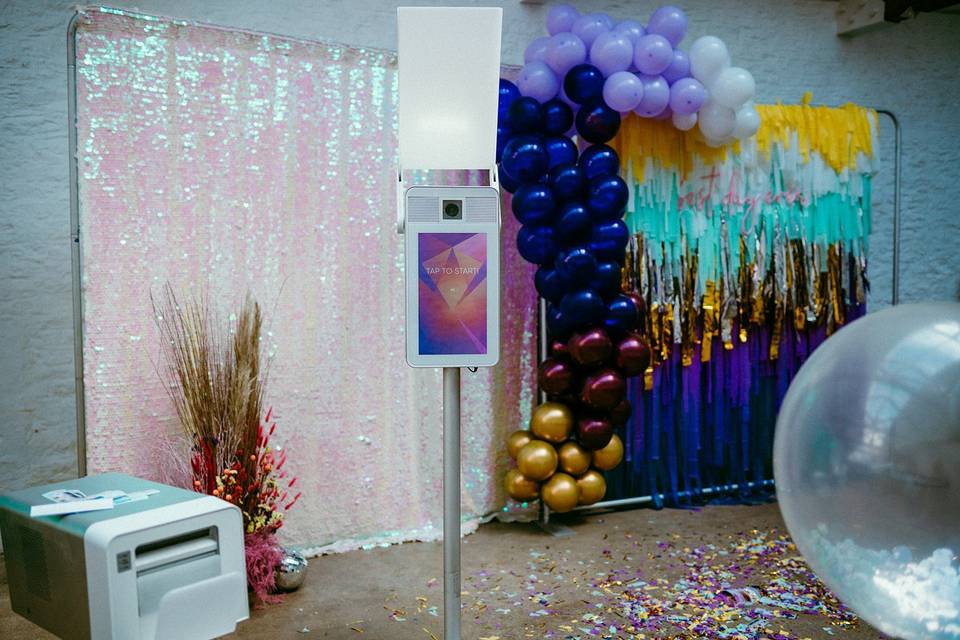 About
Say Hi to The Proper Booth!
The Proper Booth offer sleek unobtrusive open air booths providing a unique twist to the standard photo booth.
We have a variety of options to choose from including:
Unlimited Print Booths
GIF and Boomerang Booths
Kardashian styled Black and White Booths
Touch free Booths
Virtual Booths
Hashtag Booths
Our customisation options ensure that it will fit seamlessly into any style of wedding. Pair that with an offering of beautiful backdrops, balloon garlands, neon signs and handmade luxury props, The Proper Booth is an exciting and unique newcomer to the UK Photobooth market.
NEW FOR 2020-2021
All our booths are now TOUCH FREE. Just smile or wave to get the fun started.
Of the many losses COVID has brought about, one of the hardest has been big weddings filled with friends and family. Our Virtual photo booths have become a way to help ease that loss. With a virtual booth, family and friends from all over the world can be a part of that special day in a way that is memorable, fun, and safe. So Whether your guests are across the table or across the country, their photos wind up in the same album for a truly connected experience.
Want to give our wedding virtual booth a test? Try out our demo here: https://boothpics.com/booth/s9owio
ABOUT US
After falling in love with the idea of photo booths at their wedding in 2012, founders Huw & Charlotte decided to kick start a fresh and exciting photo booth company. After moving back to England from Antigua, The Proper Booth was created to bring new and advanced technology to the UK. The result is a platform and product where the honest emotion and natural fun of the day is portrayed through snappy imagery and fun animations & videos.
A great addition to any wedding! Plus it will keep your guests entertained for hours (and keep them away from the free bar! - You're welcome!)
It's time to do Photo Booths properly!
FAQS:
WHAT ARE YOUR COVID POLICIES?
In order to be as flexible as possible, we are offering a number of services to make the decision to book with us as reassuring as we can.
We are offering custom payment plans just for you
No fee to switch your date up to 2 times until the end of 2022 (due to COVID)
Touchless and drop off booths are available
Trained staff will wear masks, practice social distancing and sanitise regularly
DO YOU PRINT PHOTOS AT THE EVENT?
We actually offer UNLIMITED printing. Plus, we can print 4 different sized photos (2x6, 4x6, 6x6, 6x8) And unlike many photo booths you can select your photos outside of the customised print out. So if you want one of the three photos you have taken in your session you can select that one and print it out as an individual photo! No more off guard photos - choose the ones that you want.
WILL THERE BE SOMEONE THERE THE WHOLE EVENT?
Yes absolutely. We want to make sure that you and your guests have a fantastic Photo Booth experience. We'll be there the whole time to ensure things run smoothly the entire event.
If you opt for a drop off booth our masked attendants will setup and break down the booth. And Virtual booths require no attendant at all.

IS SETUP INCLUDED IN THE PRICE?
We include setup and the breakdown in our pricing. When you book your 2, 3 or 4 hour Photo Booth you will get all of that time for Photo Booth fun. If you want us to setup more than an hour and a half before your event, we do charge a small early setup fee.
WHAT ARE YOUR SPACE AND POWER REQUIREMENTS?
We always prefer an accessible space to ensure that all of your guests can use the Photo Booth. Tucked away in the corridor or up a flight of stairs isn't recommended at all. For the best Photo Booth experience we suggest a space 8' x 8' x 8'. We will also need access to one standard plug. We prefer to have an outlet that is specifically dedicated to the booth as we don't want to short out the DJ's equipment or the lights! We do have extension cords available, which gives us flexibility.
CAN THE BOOTH BE PLACED OUTSIDE?
Yes it can, but we do prefer to be protected from any inclement weather (we are in the UK after all!) and harsh sunlight as it can effect the quality of the photos.
Our digital booths are a perfect option for outdoor weddings as they can run on a small battery pack. No power point required! And if you want to add printing, we can setup up a printer at another location indoors.
DOES THE PROPER BOOTH HAVE SOCIAL SHARING AVAILABLE?
YES IT DOES! The Proper Booth is built for this exact purpose - it's a social sharing machine. There are loads of ways you can share your photos and videos, through our Live Gallery. The double screen feature of The Proper Booth allows guests to pick exactly which photo they want to share on the back screen and get it up on their social accounts in super fast time. No extra room required for a separate social sharing station.
DO YOU OFFER BOOMERANGS?
Absolutely! We also offer animated GIFs too. If you just want a Boomerang or GIF Booth please contact us for pricing.
DO YOU PROVIDE DIGITAL COPIES OF THE PHOTOS?
We always make all the photos digitally available after each event. This will either be in the form of our Live Gallery or a password protected gallery via our website. We also deliver all the photos either via We Transfer/Dropbox or USB drive. All photos are free to download after the event. We never charge extra for this.
WHAT ARE THE BACKDROP OPTIONS?
We have a selection of luxury sequin backdrops in a range of colours as well as other popular choices including Marble and a Tropical Wall. We are constantly adding to our collection so please contact us to find out all the options for your wedding. Or visit www.theproperbooth.com/backdrops
Balloon Garlands, Confetti Pools and Neon signs are also available to add some extra wow!
If there's something specific you are after we can create a custom backdrop for you based on your wedding's style. Email us for more information.
DO YOU PROVIDE PROPS?
Definitely! What's a Photo Booth without props? We always bring our standard set of wedding props, which includes awesome balloons, glasses, moustaches and other popular pieces. If you want something a bit more special - then keep reading on!
COVID UPDATE: As much as we love props, they have become a little problematic thanks to COVID. We are able to offer custom props. Our pose tips offer a great alternative to physical props, and we have updated these so theres hundreds of options that flash up before each photo is taken.
Our digital photobooths offer props that work just like insta and snapchat filters. This is a great alternative.
CAN YOU CREATE AND CUSTOMISE PROPS?
Yes we can! And we love it. We create all our customised props in house. If you want something personalised for your wedding, we can create pretty much anything. Contact us with your ideas and we'll create it for you.
HOW MANY PEOPLE CAN YOU FIT IN THE BOOTH?
The beauty of an open air Photo Booth is that you can fit a large number of people in the photos. If you don't mind getting close to your fellow party people you can fit a lot. Our record is 20.
CAN WE EXTEND OUR BOOTH TIME DURING THE EVENT?
You booked your booth package, but you and your guests are having so much fun that you want to extend the booth for an additional hour. Don't worry it happens more than you think. We are more than happy to accommodate this. Our standard charge for an additional hour is £100.
I ONLY HAVE A SMALL BUDGET FOR A PHOTO BOOTH WHAT ARE THE BEST OPTIONS?
We can offer custom payment plans to for you to spread the cost of our photo booths.
Or why not request the Photo Booth as a wedding gift? Splitting the cost of the Photo Booth rental between your bridesmaids and groomsmen or aunts and uncles makes an easy and reasonably priced gift. And you'll have tons of amazing photos of your fun loving friends and family to remember the day for years to come.
WHAT IS YOUR BOOKING PROCESS?
Let us know what experience you're looking for and we will send you through some package options and quotes. Once you're happy we will send through our booking form. At this point a 25% booking fee is required and our contract must be signed. The final payment isn't due until 30 days before your wedding date.
Frequently Asked Questions
Services:
Booth Attendant
Digital Copies
Instant Prints
Live Social Media Sharing
Photo Book
Video Messaging
Recommended by 100% of couples
Quality of the Service

Rating 5 out of 5

Response time

Rating 5 out of 5

Professionalism

Rating 5 out of 5

Value for Money

Rating 5 out of 5

Flexibility

Rating 5 out of 5
Emily

Married on 28/09/2017

'proper' memories made!

We had the best wedding day and our guests absolutely loved the booth! Charley and Huw were a pleasure to work with from the start to the big day and we really can't thank them enough. The mermaid backdrop was also a highlight, as was the amount of things the booth could actually do....PERFECT!

Natalie

So much fun!

Our guests absolutely loved our Proper Booth! It was a perfect activity for those in-between moments and for guests in the "quiet room" while the rest were dancing at the end of the night. The attendant was friendly and inobtrusive, and the props were lots of fun. We had the silver sequin background which was equal parts fun and elegant. Thanks Proper Booth!

Anonymous

Wedding at Blenheim Palace

Charley and her team were seamless, both leading up to the wedding and on our special day! Highly recommend The Proper Booth!! Jane & Tim

Anonymous

Amazing photobooth for both my hen party and weddi

Amazing photobooth for both my hen party and wedding! Thanks to The Proper Booth for making both days so special, such amazing photos of all my favourite people to keep forever! - Kate Taylor, Bride

Anonymous

A Photo Booth for all generations!

I can't thank you enough for the amazing booth, photos and service you provided for my daughters wedding. Everyone from the eldest, aged 91, to the youngest, 11 months, enjoyed using the props and striking a pose. It made the day and will definitely recommend. Sylvie Flay.