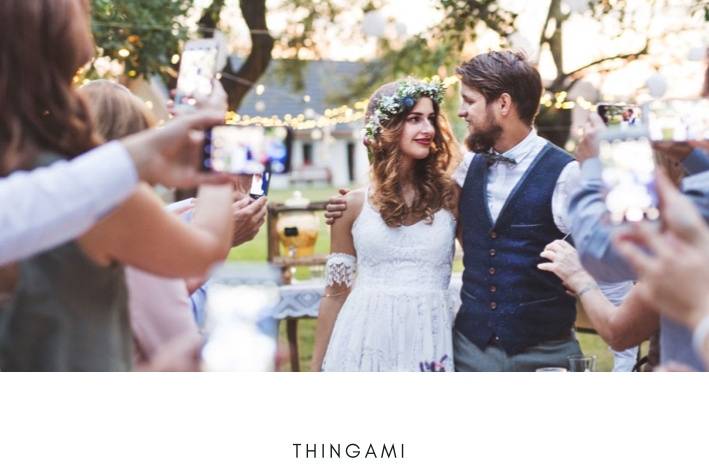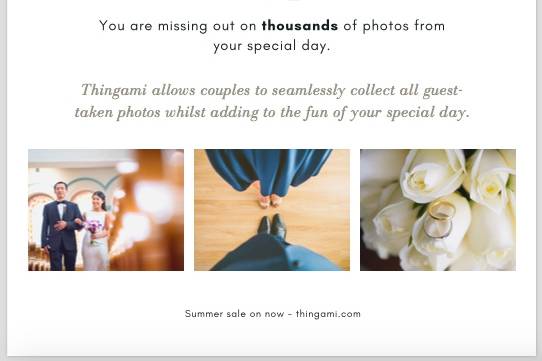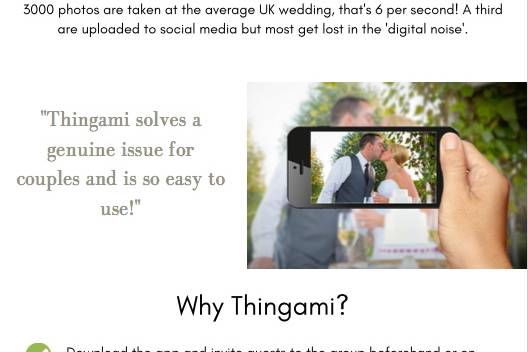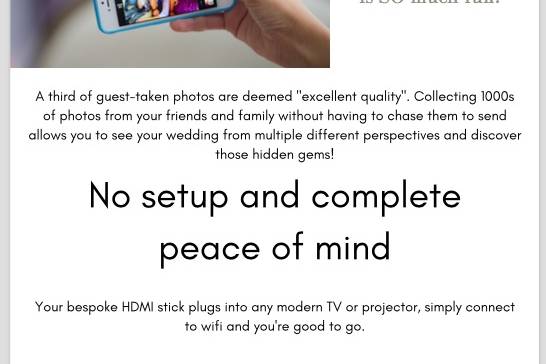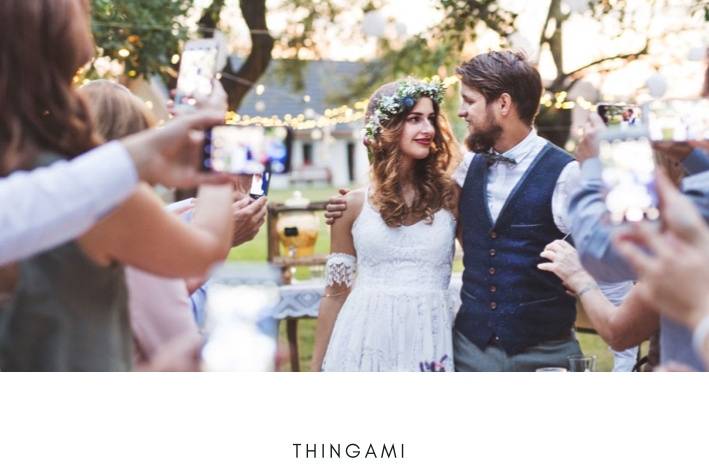 About
There are an average of 3000 photos taken at a UK wedding now, that's one every 6 seconds! But brides and grooms only end up seeing 20% of the photos taken at their big day. Timeless memories are fragmented across various social media platforms and messaging apps.
Thingami is a new way for couples to both collect the guest-taken photos at their wedding and live stream them as they're being taken.
The couple downloads the app beforehand, orders table cards informing guests they are using Thingami, guests can simply point their phone cameras at the table cards and they are added to the group, no app download required. When a guest takes a photo on Thingami or adds in old photos from their camera roll they are added live to the slideshow around the venue for everyone to enjoy. Couples have full control over what goes up on what screen as they can set certain screens to play certain albums.
After the wedding we will aggregate all the photos on social media with your wedding hashtag and add them to the collection too and back them up forever. Couples can truly enjoy their big day from the perspective of all their guests the very next morning without in four times the resolution quality of those sent on Whatsapp/social media, without having to chase people to send photos over or wait for the photographer to edit.
We are fully comitted to making your big day a truly special one, if you have any questions or requests please don't hesititate to get in touch on hello@thingami.com
Hope to hear about your big day soon!
Frequently Asked Questions:
Do my guests have to have Thingami?
No. You can invite friends and family to an event with a single shareable link or using your table cards/invites.
Do my guests need to download an app?
No. Guests can use their web browser or the app version - it's up to them.
Do my guests need to pay to access?
No. Only the host of the Thingami needs to have a paid event or subscription.
How much does it cost?
Full details of pricing are available on our Pricing Page
Who can see my photos?
Only those you invite. Thingami is safe and secure with explicit sharing per event.
What events can I use Thingami at?
Anything you want. Thingami aims to bring people together and collectively store and share your memories. Whether it's a wedding, gathering, children's birthday party, holiday or a strictly gluten free over-60s space themed barn dance - we cater to all. Simply the event on Thingami and start adding friends via email, text, WhatsApp, social media or your QR code cards.
Is it compatible with all devices?
Pretty much, there is an iOS and Android app as well as it being accessible in all popular browsers.
Can I store photos in collections for events not created on Thingami?
Absolutely. Thingami is the perfect place to give parties, weddings or any other past gathering their own place in the cloud. Simply create a new collection, add your photos and invite your friends and family to add theirs too!
Any other questions?
If you haven't found what you're looking for, or simply want to leave some feedback, please feel free to contact us on hello@thingami.com