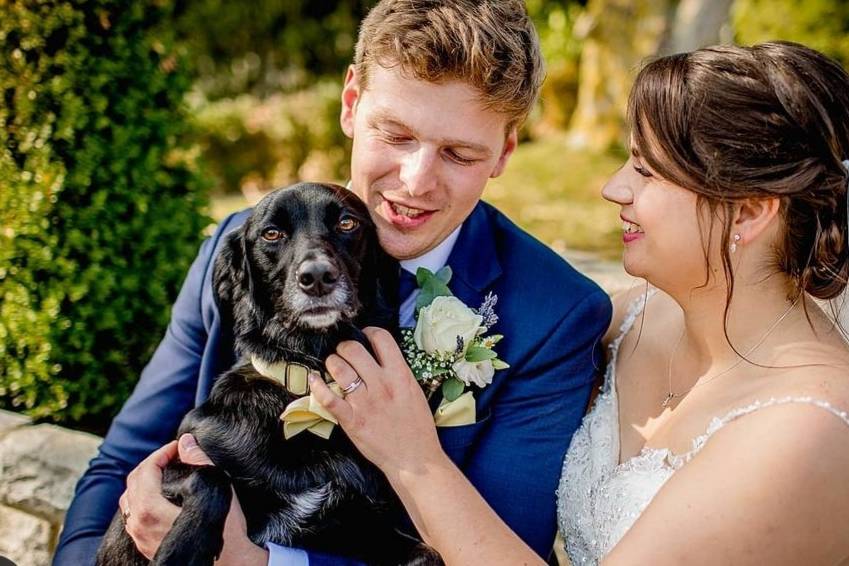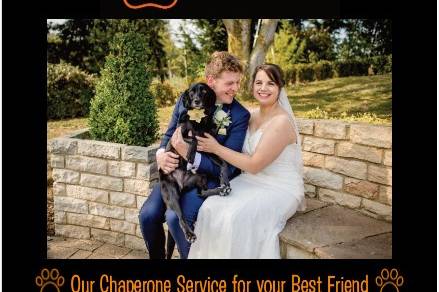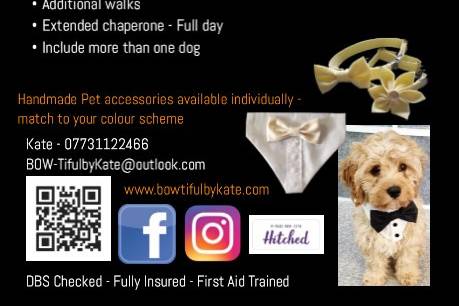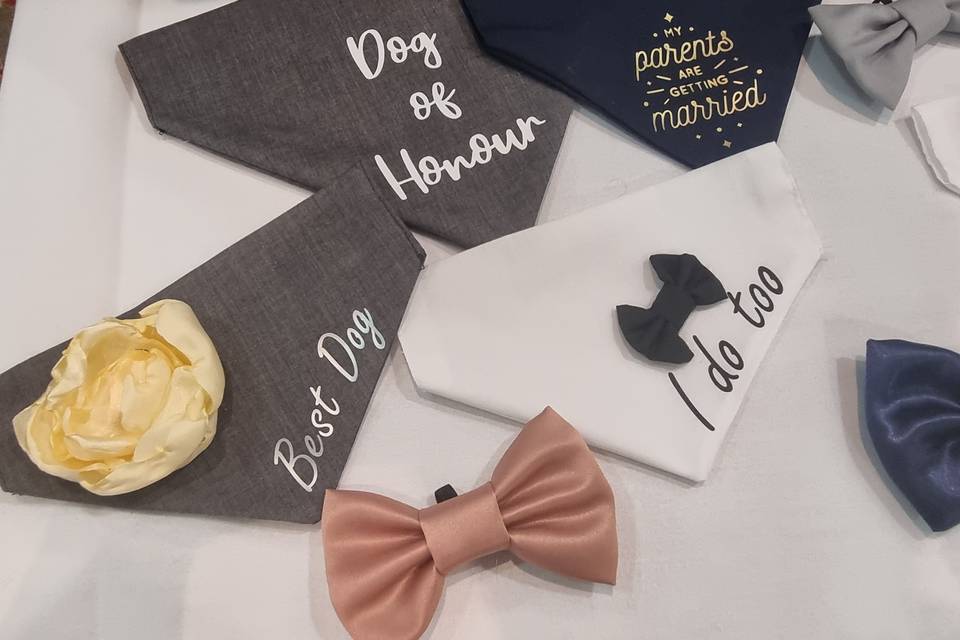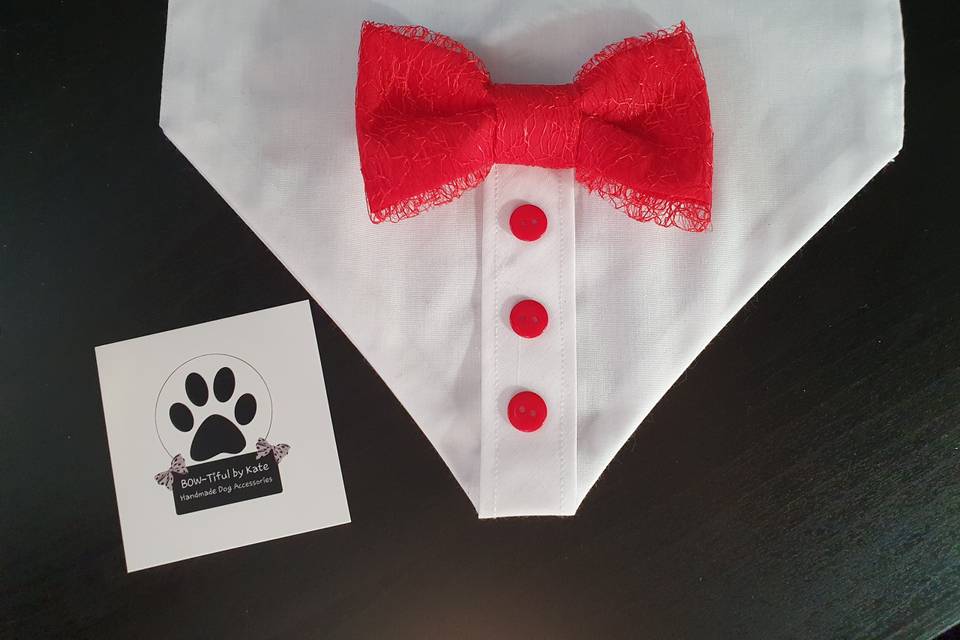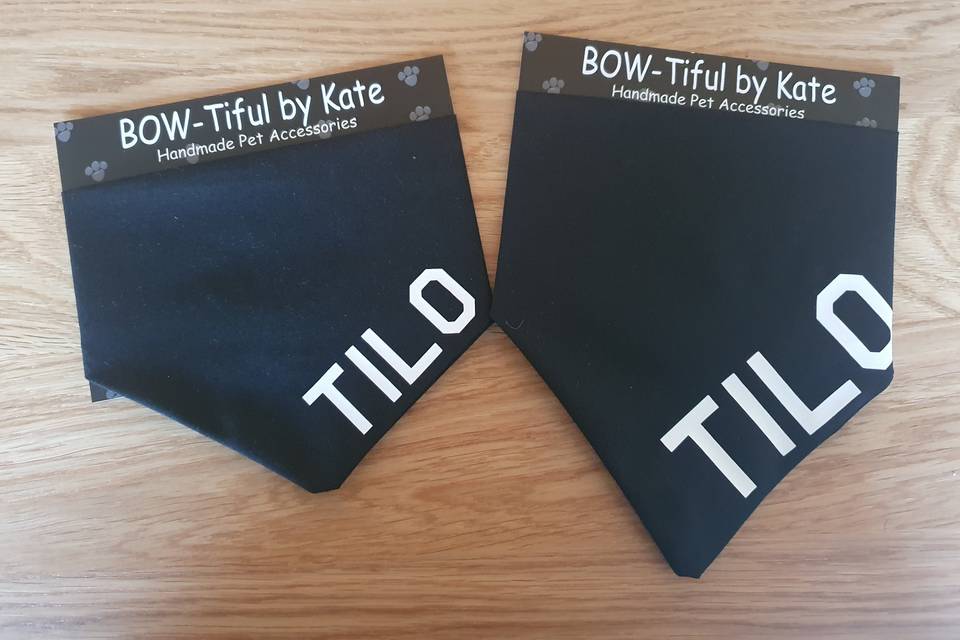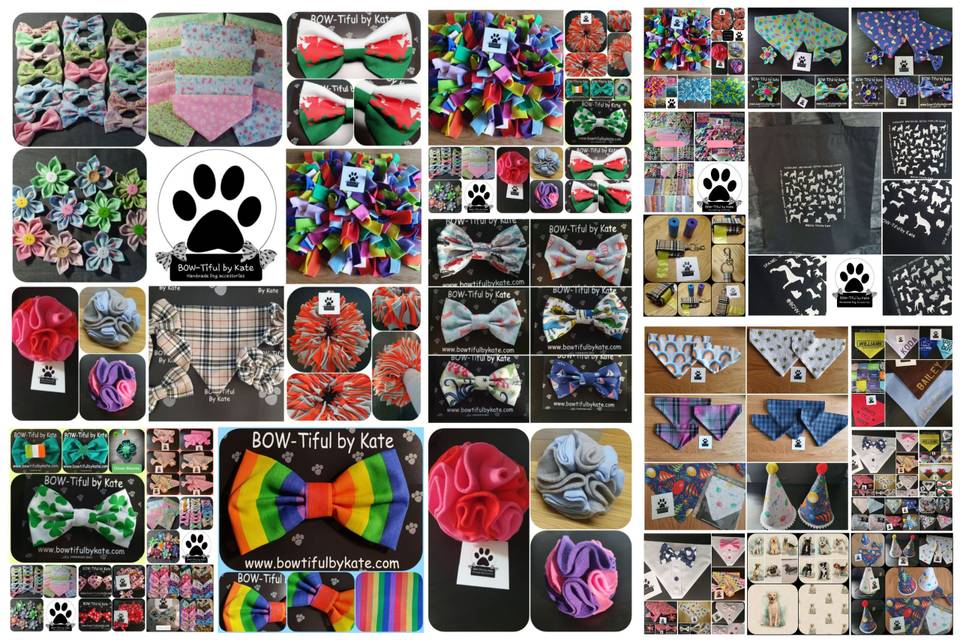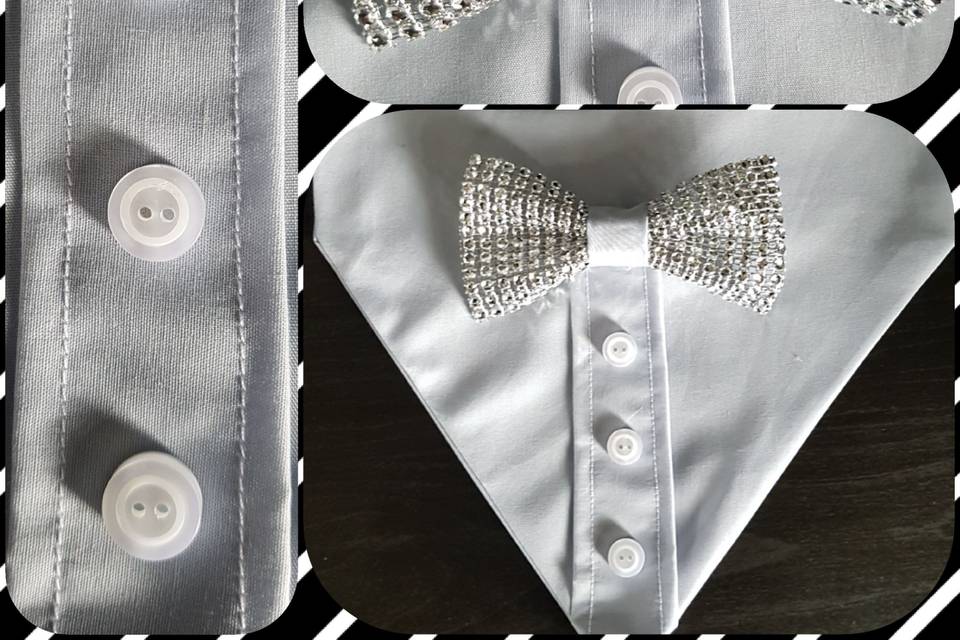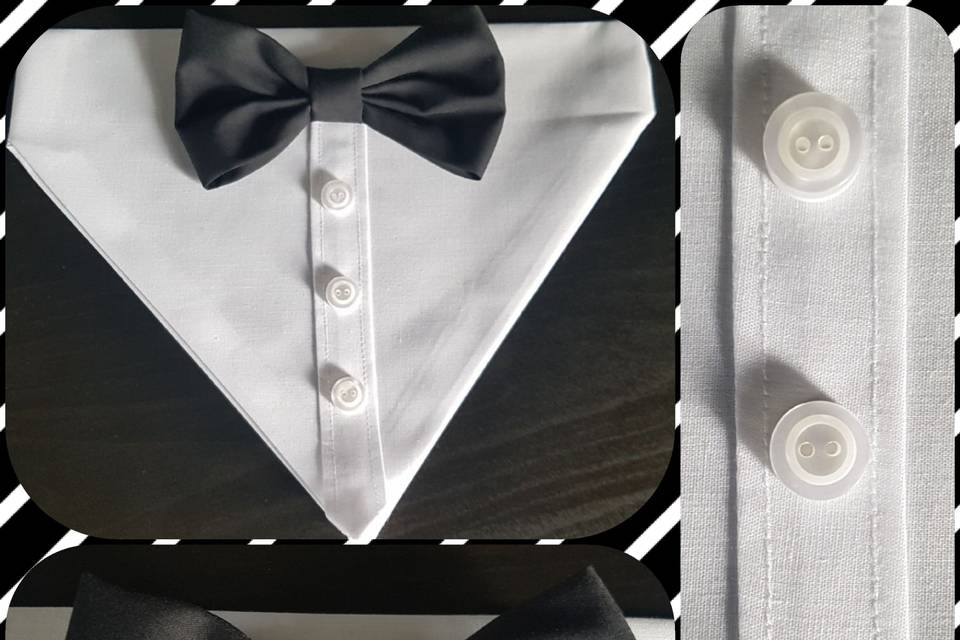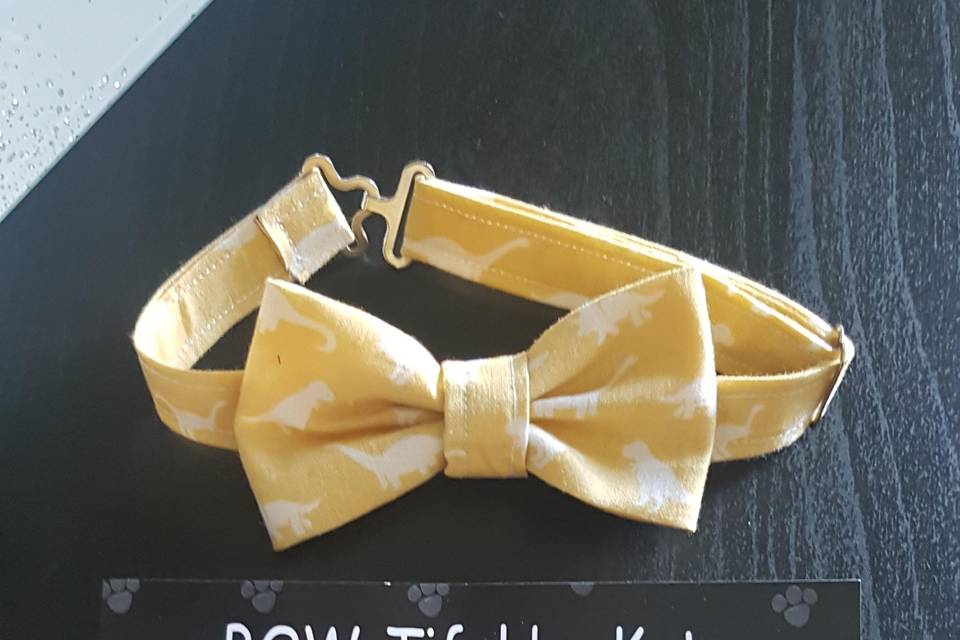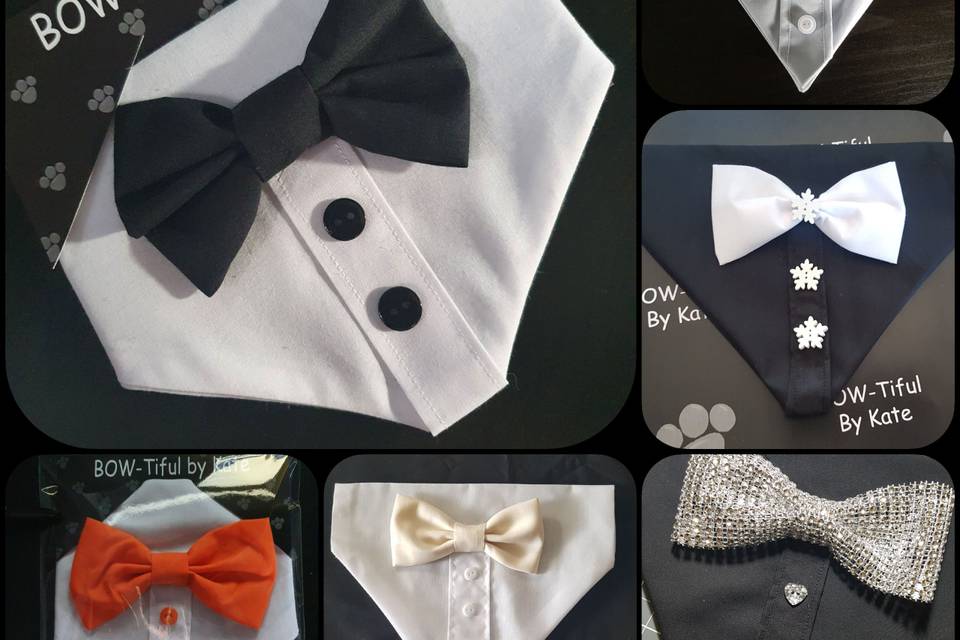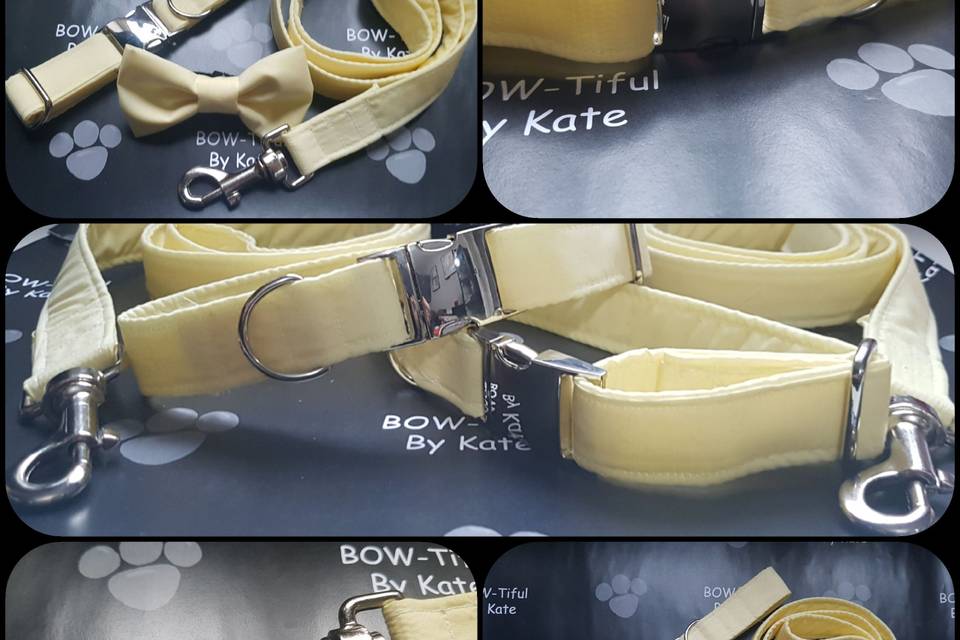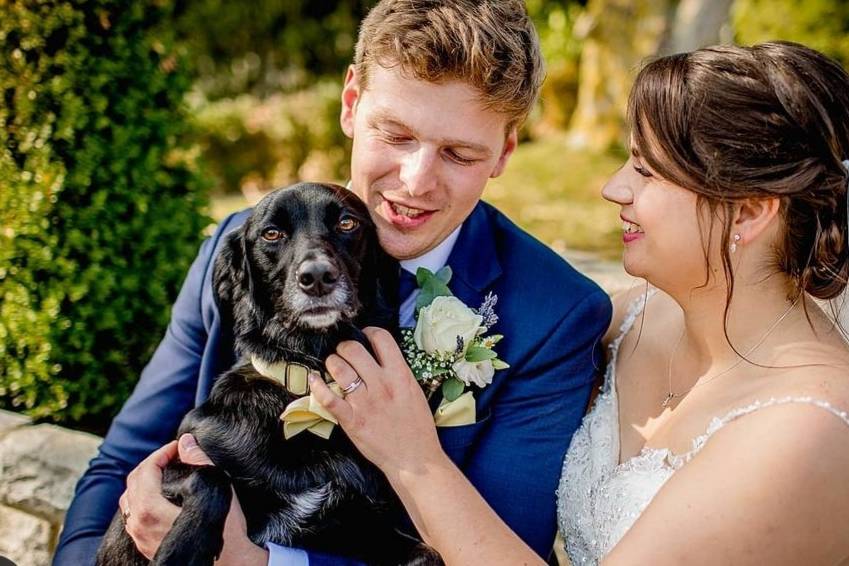 About
BOW-Tiful by Kate is a wedding pet accessory and chaperone company based in Chesterfield, Derbyshire, specialising in handmade pet accessories and offering a bespoke dog chaperone service for your wedding . This creative business has a wide array of pet neckwear and adornments that will be the finishing touches to your momentous occasion. From ring bearers to vital members of the wedding party, pets are becoming a big part of nuptial celebrations and BOW-Tiful by Kate can help incorperate your dog into your special day and they deserve to look the part too.
BOW-Tiful by Kate can also create unique and bespoke pieces for your animal companions to match your theme and bring your vision to life.
Services Offered
Wedding Accessories - BOW-Tiful by Kate has a fantastic range of accessories for pets, children, and your wedding party. From personalised collar and lead sets and bow ties to tuxedo bandanas, coats, harnesses, and more. Couples can also purchase toys to keep their pets occupied during the most important events of their magical day. They offer an excellent range of sizes from extra-small to extra-extra-large and can help your wedding parties coordinate with custom ties and pocket squares.
Wedding Chaperone Service - Our Wedding Chaperone Service for your Best Friend
Pets are a huge part of peoples live with over 50% of the UK population now owning a Dog, Brides and Grooms are asking to incorperate their furry family member into their day, we offer our Chaperone Service on the day of your wedding allowing all your guests to concentrate on enjoying your special day whilst meeting all the needs of your Best Friend.
Our Chaperone package includes
Initial Consultation with you and your Dog (a chance to meet your Best Friend and get to know them)
Pick up, short walk and mini groom before arriving at your Venue
Dress in Bow or Flower Bloom supplied by us Chaperone at wedding for Pre/Post Wedding Photos and Ceremony
Comfort breaks, treats, water and entertainment*
Walk & drop off at evening/overnight location
We also offer additional services to make your package bespoke to your Day
Accessories Upgrade from our Handmade Wedding Selection
A Professional Groom Dress Rehearsal at your Venue
Additional Walks Extended Chaperone Services
A Family Package for Couple with more than one Dog
Events
Open Door
The National Wedding Show
The Largest Wedding Showcase in the UK is being held at the NEC on Friday 23rd September - Sunday 25th September
With over 20000 visitors its jam packed full of suppliers suitable for your wedding.
BOW-Tiful by Kate are the only Pet Accessories and Chaperone Service in attendance on this date and we are extremely excited to be able 10 lucky couples the chance to win a pair of tickets to this event.
Visit our Facebook Page to find out more!
Date:
From 23/09/2022 to 25/09/2022 Schedule all day
Place:
NEC, Birmingham, West Midlands
Map
37 East Crescent, Duckmanton S44 5ES Chesterfield&nbsp(Derbyshire)